Here is a list of the top 5 star hotels in Nepal recognized by the Tourism Department officials. So far, 18 five-star hotels are operating in Nepal.
The 5-star hotels of Nepal offer top-class quality service at an affordable price. The hotel business in Nepal is a competitive field that has been enhanced over a decade. Due to their excellent hospitality and exquisite architecture, many five-star hotels have come into the limelight.
If you seek the best place to relax and have a good time while in Nepal, stay at a five-star hotel and you will not regret it. Most of the five-star hotels are located inside Kathmandu Valley. But, the five-star hotels that are located outside Kathmandu are also excellent in their service and hospitality.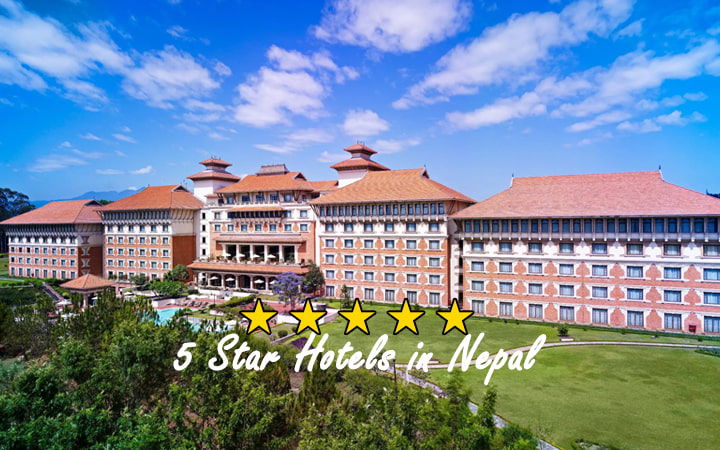 Most of the five-star hotels in Nepal have spectacular interiors as the designs have a rich influence on history and unique cultures. Besides the amazing interiors, these hotels provide excellent housekeeping service. The staff is polite, helpful, and fluent in English.
Safety criteria have always been a top priority in hotels in Nepal, and after the pandemic, safety measures are being strictly followed. Since five-star hotels are luxurious hotels, they tend to provide luxury comforts such as free wifi, LED TV, air-conditioned, clean and spacious bedrooms, a Spa, sauna, swimming pool, casino, restaurants, bar, gym, and free parking.
Earlier, the minimum criteria for 5-star hotels to open inside Kathmandu were at least 100 rooms. But, after alteration in the provision, five-star hotels can operate with 80 rooms.
List of 5 Star Hotels in Nepal
| 5 Star Hotels in Kathmandu | 5 Star Hotels Outside Kathmandu |
| --- | --- |
| Kathmandu Marriott Hotel | Soaltee Westend Premier |
| Soaltee Hotel | Tiger Palace Resort |
| Hyatt Regency Hotel | Hotel The Kingsbury |
| Hotel Annapurna | Hotel Mechi Crown Plaza |
| Hotel Radisson | Hotel Central Plaza |
| Shangri-La Hotel | Hotel Pokhara Grande |
| Yak and Yeti Hotel | The Fulbari Resort |
| The Hotel Malla | |
| The Hotel Everest | |
| Hotel Aloft | |
| Hyatt Place | |
1) Marriott Hotel

The five-star hotel called Kathmandu Marriott Hotel is located in Naxal, Kathmandu. It is a property with luxury bedrooms and several other attractions such as restaurants, bars, spas, yoga rooms, a fitness center, etc.
As you head for check-in, you will witness the eye-catchy painting of Kathmandu city in the lobby. The lobby area is no less than a museum decorated with antique traditional pieces and paintings. The local modern designs and wooden architecture relish an authentic Nepali ambiance the second you arrive at the lobby of Kathmandu Marriott Hotel.
This 5-star-rated property is a 10-story building holding 214 well-furnished rooms for guests. These include the Presidential suite, 10 executive suites, 10 junior suites, 32 club rooms, 159 deluxe rooms, 2 accessible rooms, and other adjustable rooms.
All the rooms of Kathmandu Marriott Hotel are clean and spacious making it suitable for guests to spend a cozy time. Besides the luxurious rooms, multi-compatible meeting rooms are also available for organizing meetings, conferences, events, and programs. The meeting halls have unique yet very minimal decoration.
Enjoy the perks of M club lounge, an exclusive lounge for Marriott Bonvoy members, that is also included in their suites and club room package. Also, relax and rejuvenate yourself at the M wellness spa, a soothing and aromatic place to have a body massage.
Looking outside the window, you get a 180-degree view of the city from the Marriott hotel. If you want to try some distinct delicacies then, dine at Thamel Kitchen. Similarly, enjoy various Asian cuisines at Edamame. Also, relax with some drinks on your hands while swaying to the live music at the Raksi music bar.
The staff members are extremely friendly and helpful. They will take extra care of you while your stay at the Marriott Hotel. The starting price for the deals and packages at Kathmandu Marriott Hotel is NRs. 25k. Booking rooms via an online platform is also available.
2) Soaltee Hotel

With strict safety protocols, Soaltee Hotel is serving its valuable guests at Tahachal, Kathmandu. Soaltee Hotel is one of the oldest five-star hotels in Nepal founded in 1966. The inauguration of this hotel was a significant event as the Late King Mahendra Bir Bikram Shah Dev himself inaugurated the hotel.
At that time, not many luxurious hotels were functioning. Soaltee Hotel was a pioneering luxury hotel that revolutionized the hotel business and tourism industry.
Regarded as a pioneer in the hospitality sector in Nepal, Soaltee Hotel was founded in 1966. This elegant hotel is extended over 12 acres housing around 285 well-appointed rooms and suites available for their guests.
Soaltee Hotel started with just 104 rooms but this excellence-striving hotel now hosts 285 luxurious rooms that include 7 regal VVIP suites. Soaltee Hotel has been the place for luxurious stays for global high-profile personalities, celebrities, and business tycoons who visit Nepal.
This five-star hotel has appointed more than 500 staff members determined to take the utmost care of the guests during their stay. Soaltee Hotel has around 10 distinct and huge venues for organizing meetings and conferences.
They have a capacity of holding up to 2,000 people indoors and 3,000 outdoors. This luxurious five-star hotel has Nepali architecture visible from its traditional roof's unique style.
Visitors love to spend time at the swimming pool located on the ground floor. The view of the hotel premise from the top floor looks spectacular.
People can relax by the swimming pool, club lounge, spa, restaurants, or music bar at Soaltee during leisure. Similarly, the rooftop pool on the 10th floor gives you a hawk-eye view of the Kathmandu Valley.
If you have a habit of exercising, you can use the well-equipped fitness room, yoga room, and spa to keep yourself rejuvenated. Soaltee Hotel has grown into a world-class luxurious five-star hotel that excels in providing top-notch hospitality in Nepal.
The exclusive rooms and facilities of the Soaltee Hotel start at NRs. 15,000. The cost of the package varies so make sure you inquire about the package details before booking.
3) Hyatt Regency Hotel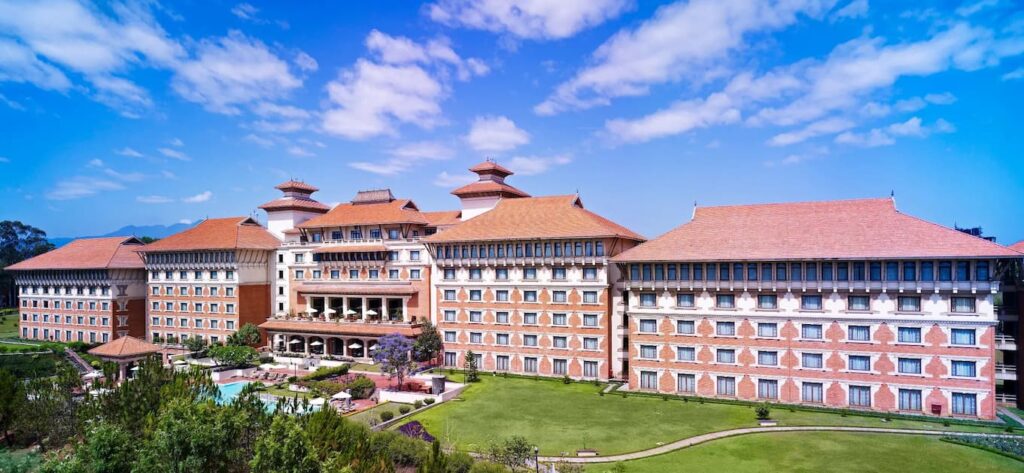 Located near the peaceful Boudha stupa, Hyatt Regency is one of the most luxurious five-star hotels in Nepal. Carrying culture and heritage simultaneously, Hyatt Regency has become one of the top-rated five-star hotels.
Extended over 37 acres of land in Boudha, Hyatt Regency Kathmandu has attractive Newari architecture. It was originally a King's palace, which later took the form of a hotel.
Hyatt Regency is conveniently located just 4 km away from the international airport. You can get a spectacular view of Boudhanath and Kathmandu city from the windows of the Hyatt Regency.
Accommodating above 280 rooms, the Hyatt Regency Hotel is best known for its top-class hospitality and facilities. They offer luxurious rooms along with other hospitality packages.
The outdoor swimming pool facing the hotel is enjoyable to children as well as adults. Also, Hyatt Regency has arrangements for Fitness enthusiasts on the third floor.
They have the new and latest gym and cardio equipment that are available from 6 in the morning to 10 at night for the guests. Similarly, there's an urban spa named Club Oasis that overlooks the beautiful Japanese garden. Suitable for relaxation, Club Oasis is open from 9:00 am to 8:30 pm.
The food options at Hyatt Regency are of a broad range. You can try international cuisine at The Café, and Italian cuisine at Rox Restaurant. Also, feel free to customize your menu if you have some specific needs.
You can have some me time at The Lobby Lounge, or enjoy healthy salads at The Terrace. Similarly, you can get a wide selection of beverages at the Rox Bar.
There are around 280 rooms that range from general rooms to presidential suites. You can book these rooms along with several facilities in a package. The price of the rooms at Hyatt Regency starts from NRs. 18,000 and varies with the type of package you choose. Check-in is only after 2 pm and check-out is only afternoon.
Not only for stay, but Hyatt Regency is one of the best hotels to organize special events and meetings. You can book the aesthetic and minimal wedding halls for wedding events.
The Regency Ballroom can accommodate around 600 guests. The services like a wedding cake, dance floor, DJ, decorations, audiovisual equipment, etc are also arranged by the team of the Regency Ballroom.
Not only wedding packages, but they offer Honeymoon packages too. So, you won't have to hassle with booking and arranging your lifetime moments.
For its excellent service, Hyatt Regency Hotel has won several accolades. The hotel has won the Service Excellence Award 8 times already in the years 2008, 2009, 2011, 2013, 2016, 2017, 2018, and 2019.
4) Hotel Annapurna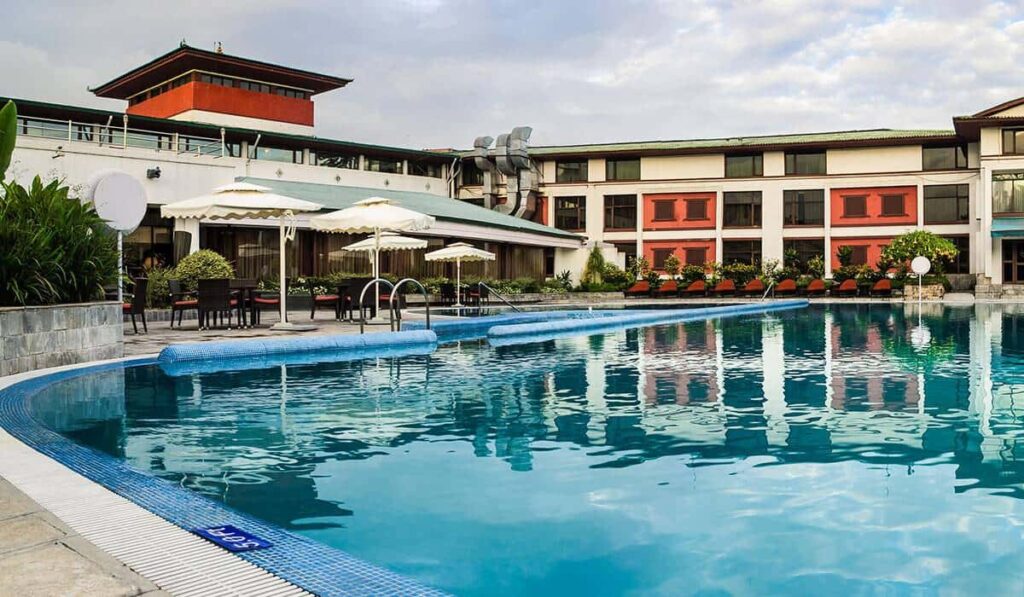 Hotel Annapurna, located in Durbarmarg, is synonymous with elegance in terms of hospitality. It is one of the prestigious five-star hotels in Nepal established in 1965.
The hotel is situated just a few meters away from the Narayanhiti Durbar. It has been providing excellent service in tourism and hospitality for over 50 years.
There's a spacious parking space inside the premise of Hotel Annapurna. A huge lobby decorated with traditional Nepali vibes welcomes you to Hotel Annapurna. You will see souvenir shops on the side, large thanka hanging on the wall, wooden decorative pieces on the table, and small statues and paintings enhancing the interior of the lobby.
An outdoor swimming pool is a sight to see. You can sit by the swimming pool and enjoy brunch. There's a separate dining hall too and a classy restaurant where you can enjoy the live kitchen.
They serve one of the finest food menus, which you can enjoy with live music too. Similarly, you can play casino at Hotel Annapurna which is an entertainment part. So, play it just for fun. The hotel does not promote gambling.
The cost of sleeping and dining at one of Nepal's finest hotels in Nepal starts from NRs. 12,000. The 153 bedrooms available are club rooms, heritage rooms, and deluxe rooms.
They are airconditioned with 24 hours internet connection, an attached bathroom, and a work desk. Cleanliness, hygiene, and safety are the hotel's primary priorities.
You can choose several packages from Hotel Annapurna that include services like a spa, body treatments, facials, and a fitness center. The room service at Hotel Annapurna is top-class. The staff members are kind and friendly. They listen to your requests and complaints if any and resolve them quickly.
You can have a fun evening at the bar/lounge by trying some of their exquisite drinks and snacks. Similarly, the cost for the buffet breakfast starts from USD 12.
Enjoy the Buffet breakfasts daily from 7:30 am to 10:30 am. The hotel does not allow pets but service animals can be allowed for an additional charge.
5) Hotel Radisson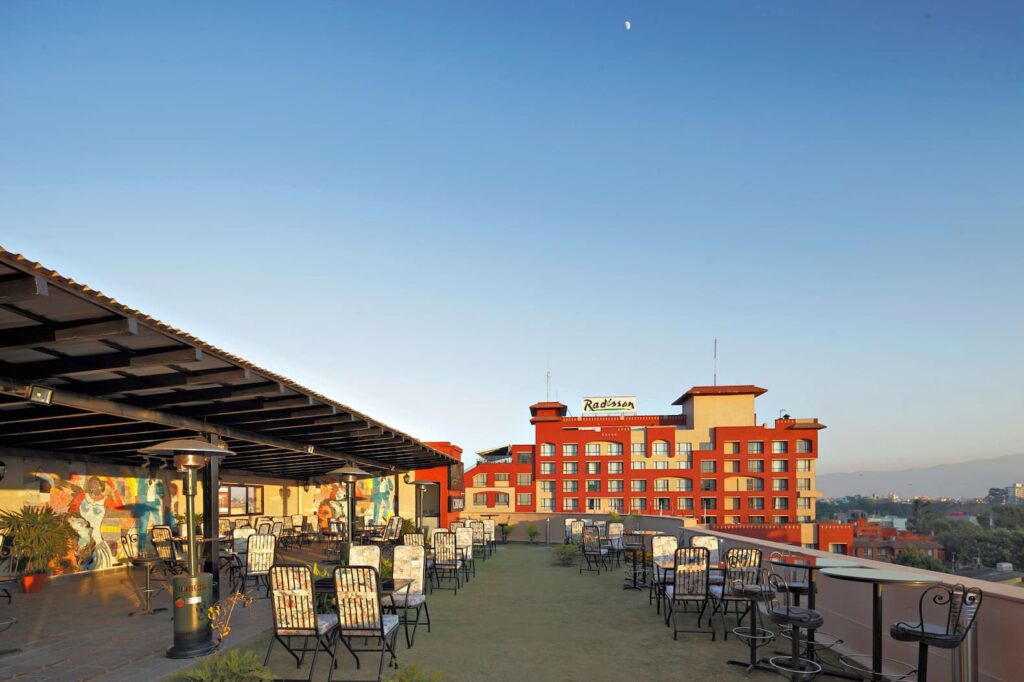 Conveniently located at Lazimpat, Hotel Radisson is one of the finest five-star hotels in Nepal. There are two buildings in Hotel Radisson. The old one and the new one. They usually lodge guests in the new building which is spacious and modern compared to the old building.
The location is good for visitors as it is just 1 km away from the buzzing streets of Thamel. You can easily hop on pubs and clubs of Thamel from the hotel Radisson without much hassle.
Hotel Radisson is a massive building housing over 260 rooms. After you arrive at the Radisson hotel, you can energize yourself with some of their remarkable Tranquility Spa. Similarly, sunbathing and enjoying the best view of Kathmandu city at their rooftop swimming pool would be great for visitors who have just landed in Kathmandu.
For recreational fun, you can enjoy the fascinating casino of Hotel Radisson. If you are not fond of casinos, then you can try some workouts at the gym, or relax in the sauna. Similarly, you can enjoy unique cuisines at their on-site restaurant.
Either for long-hour meetings or small meet-and-greets, Business travelers can get their work done in the Business Class Lounge. After a hectic day, you can relax with some chilled drinks at the on-site bar. You can also call it a day after a scenic terrace dining at Hotel Radisson.
The rooms of Hotel Radisson are air-conditioned, clean, spacious, comfortable, and equipped with free Wi-Fi, a minibar, coffee, and tea facilities, complimentary toiletries, a flat-screen TV, and a dedicated workspace.
The 7 dining outlets of Hotel Radisson are elegant and well-maintained. The rooftop restaurant serves some of the best Indian cuisines.
Starting from just NRs. 12000, hotel Radisson offers superior rooms, deluxe rooms, premium rooms, superior double or twin rooms, deluxe double or twin rooms, and business class for their guests. You can quickly go through the price of the package on their website or you can inquire by contacting them directly through social media.
6) Shangri-La Hotel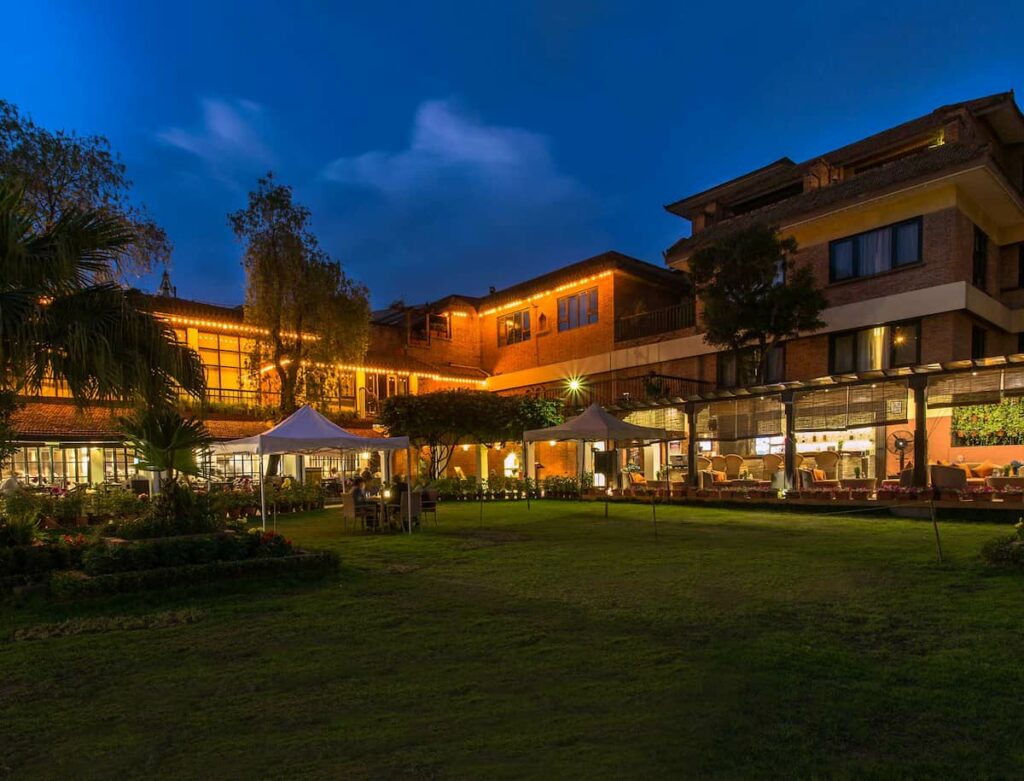 Another luxurious and convenient place to stay in Kathmandu is the five-star Shangri-la Hotel. Located about 7-kilometer far from the airport, the Shangri-La Hotel is a massive hotel that has traditionally been built.
The Nepali authenticity is visible in their decorations too. It has an incredible environment where guests can feel relaxed and comfortable.
As you enter the premise of the Shangri-La Hotel, you will be welcomed by greenery and beautiful flowers. The attractive Shambala garden in front of the hotel elevates the beauty of the territory.
This five-star hotel has several options for rooms that include a Deluxe suite, Executive club, Junior suite, Deluxe, and Deluxe suite. They have a comfy bed, TV, free wifi, an attached bathroom, and some snacks.
The interior of the rooms has minimal colors and stuff. So, it gives aesthetic vibes and leaves more space in the room.
Beside the lobby is the spectacular-looking James Hilton Bar named after the English novelist. The bar is a properly insulated room with a fireplace. It is a perfect place to hang out during winter.
The hotel provides a wide variety of packages for guests that include fine dining, recreational activities, a spa, a gym, swimming, yoga, and so on. The food items here are of international standards. There is also a spacious oriental room to organize events.
There is also ample space on the premise of the Shangri-La Hotel to park private vehicles. Regarding the safety protocols, the staff of the hotel disinfects you and your luggage before entering the hotel.
The staff members are polite, experienced and offer special attention to your needs. You will feel pampered with luxury in the Shangri-La Hotel.
The price for the rooms at Shangri-La Hotel starts from NRs.12,000 and the price varies with the package you choose and the room you select to stay in.
7) Yak and Yeti Hotel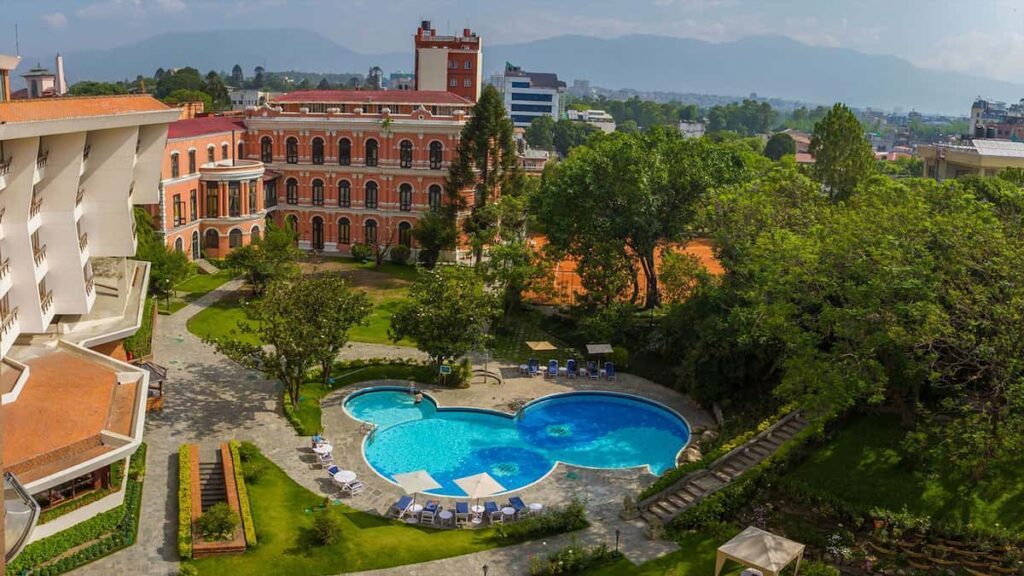 Yak and Yeti, a regal hotel located at Durbarmarg, has been serving the hospitality business for 45 years. Its excellent service and contribution have made it one of the finest five-star hotels in Nepal.
It is one of the popular five-star hotels in Nepal where luxury meets international standards. The heritage and legacy of Yak and Yeti are rich as it dates back to the Rana regime. Before Yak and Yeti came into effect as a hotel, it was a palace for Rana rulers. It was built in 1885 with unique and artistic architecture.
The guests have a selection of 270 rooms at Yak and Yeti hotels. All of these rooms exhibit royal vibes as the furniture and stuff inside the room have traditional royal artistic wooden designs.
The overall hotel is stylishly decorated with paintings, artifacts, and antique furniture that expresses the rich culture and history of Nepal. From the Deluxe rooms to the Presidential suite, the rooms are facilitated with free wifi, TV, minibar, safe locks, smoke detectors, a desk, etc. You will love the fusion of tradition and modern art experience here at Hotel Yak & Yeti.
The Business executive floor is for business travelers. The whole hotel staying experience escalates when you will try the delicious cuisines exclusively prepared by the devoted chefs.
The extended food menus of Yak and Yeti Hotel are all healthy, hygienic, and mouthwatering. The dining experience at Spice Room located amid a vibrant garden is one of the best parts of dining at Yak and Yeti. Enjoy the glittery evening at the lively bar where you can find skilled bartenders offering you varieties of options of cocktails and wines.
Yak and Yeti are also known for arranging spectacular dream weddings. If you are thinking of having a lavish and magical wedding at a five-star hotel, then Yak and Yeti can be the perfect wedding destination. The stunning Regal Ballroom and Crystal Hall of the Historic Lal Durbar are usually the offered romantic venues for wedding receptions.
The hotel staff manages all the arrangements. You can tell them what you wish to have in your dream wedding if you want to personalize your wedding ceremony. Yak and Yeti are also suitable for enjoying a honeymoon. You can book the honeymoon package else there are the Yonanza package and Casino Yonanza.
8) Hotel Malla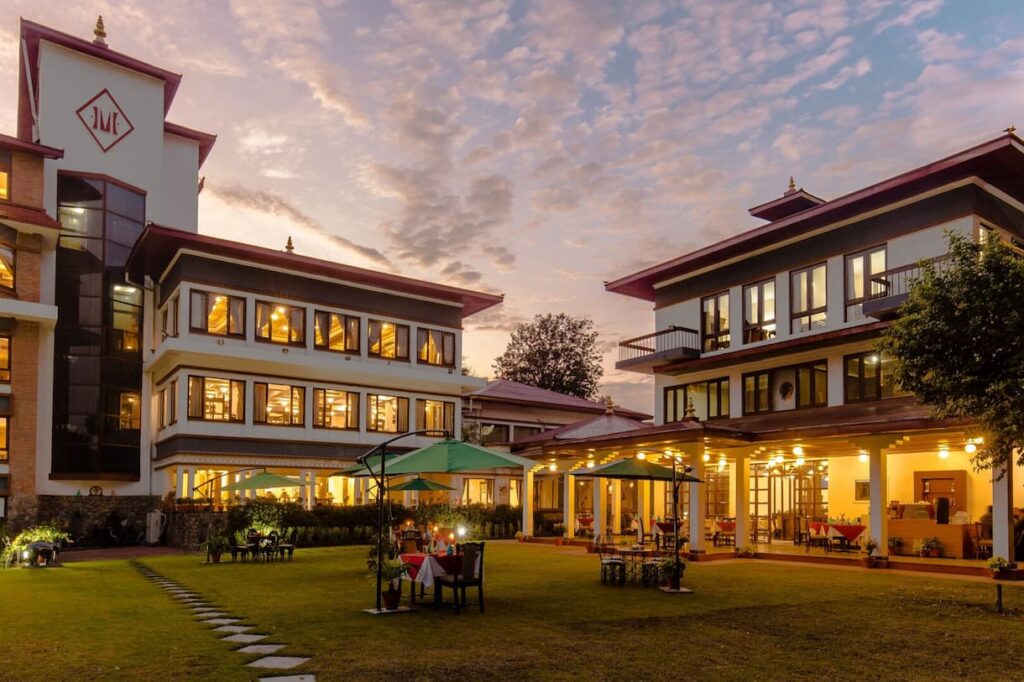 Contributing to the hospitality sector since 1975, the Malla Hotel is one of the finest five-star hotels existing in Kathmandu. Residing in the proximity of Narayanhiti royal museum and the tourist hub, Thamel, Hotel Malla is a destination where comfort and relaxation are addressed with utmost priority.
Hotel Malla stands tall in a huge area that includes a spectacular garden at the entrance, a spacious parking area, a swimming pool, and outdoor dining. The hexagon-shaped swimming is one of the major attractions of Malla Hotel as it enhances the overall top-floor view of the area.
Housing more than 100 rooms, they have categorized 44 rooms as standard rooms. The single room will cost you USD 110 and the double is USD 120.
43 of them are deluxe rooms that are available for USD 130 for a single room and USD 140 for a double. 3 Junior suite rooms cost USD 150 for a single and USD 160 for a double.
Similarly, 4 rooms are Deluxe suite rooms having a rate of USD 300 for single ones and USD 320 for double. All the rooms have free wifi connections, LED TV installed an attached bathroom, an air-conditioner, beautiful view of the green garden.
The health club of Hotel Malla offers various useful facilities such as a sauna, spa, steam bath, Jacuzzi, body massage, Ayurvedic yoga session, etc. At the gift shop, you can purchase beautiful souvenirs and hang out at the Garden Coffee Shop of the Patio and Casino Bally's for a wonderful time.
They have well-furnished conference rooms, meeting rooms, wedding halls, business lounges, and many more. The Malla Hotel also offers Continental and buffet breakfast items every morning.
9) Soaltee Westend Premier
Soaltee Westend Premier is the only five-star hotel in the Nepalgunj district. It is situated 2 km away from Nepalgunj airport.
This stunning destination located in Nepalgunj for travelers to spend luxurious days is mainly known for its unique water-to-recycle system that follows sedimentation filtration and various chemical process for the purification and recycling of water.
The prodigious building of Soaltee Westend Premier overlooks the entire terrain of Nepalgunj to the horizon. The open-air gloss pale blue swimming pool residing at the terrace of Soaltee Westend Premier is magnificent scenery. Relax in this peaceful environment with some cooling drinks and snacks by the side.
Soaltee Westend Premier has a well-equipped place for fitness freaks so that you don't have to skip your fitness routine. The gym is open 24 hours a day and guarantees all kinds of equipment and devices are in a functioning state.
Another recreational and relaxation activity you can do while staying in Soaltee Westend Premier is enjoying the soothing spa. The luxurious spa of this five-star hotel offers different kinds of body massages, therapies, saunas, facials, and many more.
Their service will help you revive your energy, feel relaxed and fresh, and have a peaceful moment with yourself. After that, you can stay in the jacuzzi for a while.
A fun game experience at Soaltee Westend Premier for foreigners can be a casino. Experience a vibrant night of Nepalgunj at a casino where the fun is never extinct. Also, enjoy some calming live performances from popular Nepali, Bollywood, and global performers that add a thrill to your memorable experience.
Soaltee Westend Premier has been awarded Best Debut Green Hotel in Nepal. Similarly, Soaltee Westend Premier is also a strong contender in LEED certification due to its use of remarkable techniques in the operation of different services in the hotel such as a Building Management System (BMS), Sewage Treatment Plant (STP), Water Treatment Plant (WTP), Heat Recovery Unit (HRU), Rain water harvesting, and so on. These systems directly or indirectly help in keeping the environment clean and sustainable.
For organizing meetings and conferences, they have a Board room with free wifi, air-conditioner, comfortable seating, etc.
The beautiful Megh Manjari hall is also useful for conducting special events like weddings, receptions, meetings, and programs as the room interiors are stunning.
To satisfy your appetite, try amazing cuisines from Sunrise Cafe. It is clean, the foods are tasty and hygienic. You can choose from a list of menus or you can ask for their specials for a unique experience.
Similarly, the sunset bar has chill vibes where you can sit down and explore various cocktails.
Regarding rooms in Soaltee Westend Premier, there are three types of rooms that you can book. The Disable accessible room costs $78 per night, the Deluxe room costs $93 per night, the Suite room is $174 per night, and the club room costs $106 per night. All the rooms include LED TV, free wifi, and Bed coffee.
There are about 80 rooms in total. The staff members are friendly and provide great service to the guests. The hotel also hosts an evening BBQ party every Friday from 6:00 pm onwards.
10) Tiger Palace Resort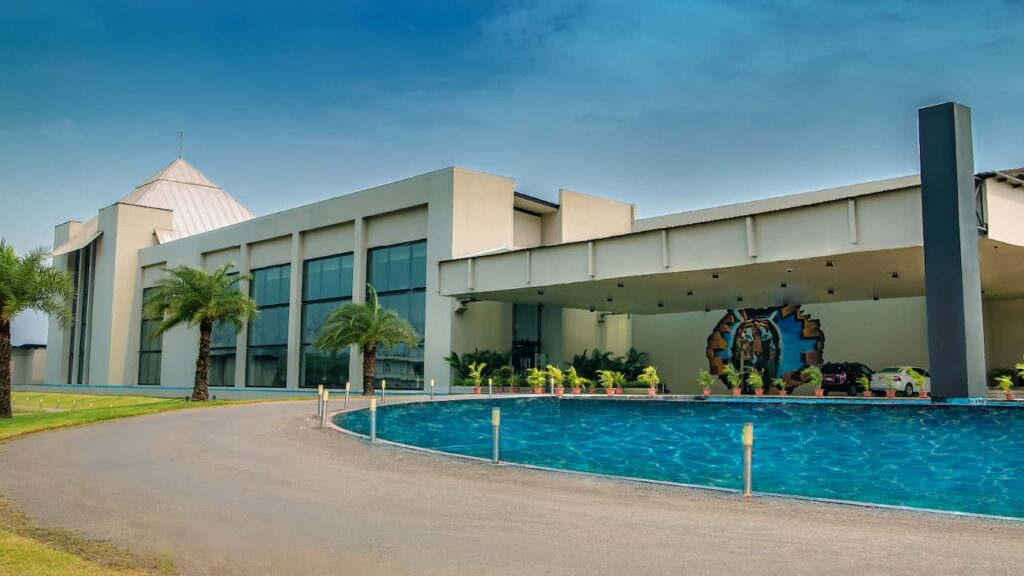 A five-star hotel with exquisite comfort and modern amenities located in Tilottama, Lumbini is Tiger Palace Resort. It is a heavenly paradise for travelers to spend quality time in.
When you visit the birthplace of Lord Budhha, it is a long journey. You need to stay at a lavish place where you feel pampered. From TIA, you can take a 35 minutes flight to Bhairahawa Airport.
The rooms at Tiger Palace Resort have great interiors with a touch of elegance. You can select four types of rooms, that is, Deluxe rooms, Deluxe rooms twin, suites, and VIP villas.
The Deluxe rooms have an area of 28 sq.m. It is a small-scale room with various necessary amenities like high-speed free wifi, a minibar, and so on.
The Deluxe twin room is a slightly large room with posh interiors. It has twin beds with an attached bathroom. Similarly, the suites are more luxurious rooms with an area of 42-62 sq.m. The comfy king-size bed elevates the impression of the space.
The two exclusive VIP Villas are of a generous area of 120 sq.m. It is one beautiful room with private pool access, an al fresco shower, and a spectacular view of Lumbini.
Tiger Palace Resort has given a significant focus on recreational activities. There are three distinct gaming zones where you can challenge other players and have immense fun. At this fun-packed venue, find a separate VIP area of international standards for playing games, ensuring a fair deal and a fun night for their guests.
After tiring fun games, rejuvenate the energy at a relaxing spa and sauna. Then, fulfill your appetite at the jackpot buffet where they serve a variety of platters. The multi cuisines are available 24 hours.
Similarly, Machaan is another top-class restaurant that serves lip-smacking snacks. The venue is open in the Daytime only.
For those who love to enjoy drinks and smokes, then Madira is the perfect place. Try some of the exquisite cocktails and beverages at Madira to elevate the party experience.
Similarly, Cabana Avenue and Ramro Chowk are also two fantastic restaurants that serve excellent lunches and dinners. Enjoy Asian and European cuisines if you want to try some unique ones.
This five-star hotel is also a convenient place to organize special events like weddings and conferences. The luxurious hotel takes care of the arrangements of wedding decorations, meals, accommodation, entertainment, and so on. The Tiger Palace Resort's professional wedding planners will arrange pre and post-wedding functions and you can customize culinary specialties as per your wish.
11) The Hotel Everest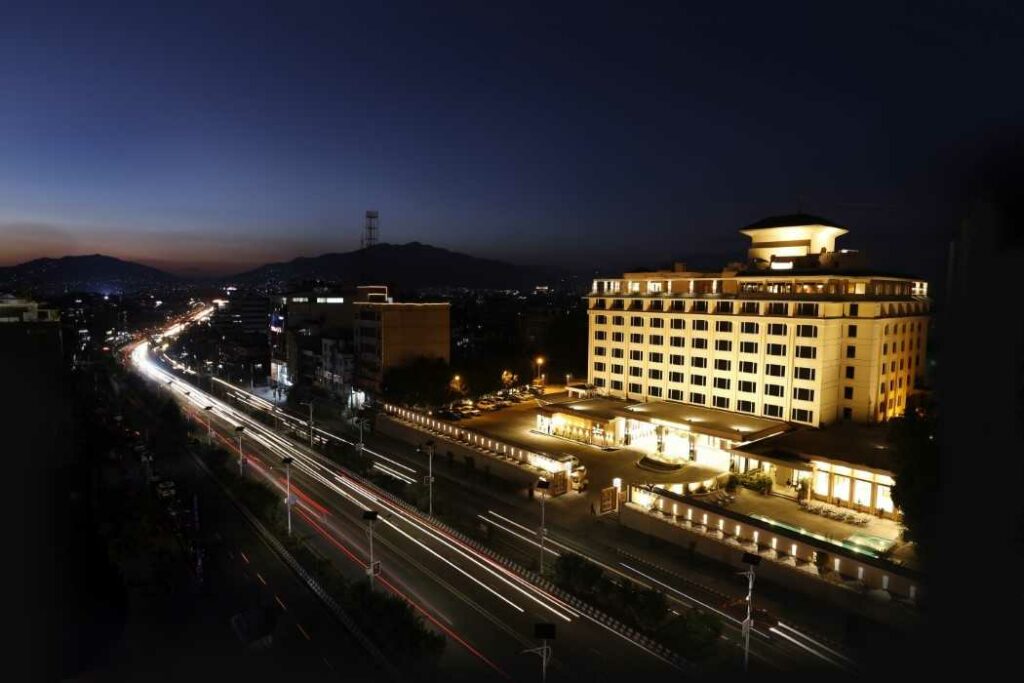 The Hotel Everest is one of the best five-star hotels in Nepal that has been offering excellent service in the field of hospitality since 2010. Located in New Baneshwor, The Hotel Everest is about 3 km away from Tribhuvan International Airport.
It is a hotel with spectacular scenery, high-maintenance professional staff, mouthwatering cuisines, and many more. The window view of Hotel Everest features majestic mountain views and a spectacular landscape view of the entire Kathmandu city.
The rooms are clean, spacious, and equipped with various amenities such as LCD television, minibar, free wifi, attached bathroom, etc.
The restaurants at the Everest Hotel operate 24/7 and serve several continental cuisines. They also serve authentic Nepali and Indian food items. Vegetarians, Vegan, and non-vegetarians have options so every guest can enjoy their type of meals.
The live kitchen at the specialty Pan Asian restaurant is fun to watch as you wait for the food. The chefs are friendly and they share interesting and fun facts about food that stimulate a sense of congeniality at the table.
The bartenders at Bugles & Tigers Bar serve you a range of cocktails. Similarly, the Pastry Shop has a range of delicious hand-crafted cakes, desserts, bread, pies, and pastries.
This well-designed hotel has a chromatic interior, comfortable seating, classy dining settings, a crystal chandelier, decorative walls, and so on. Free private vehicle parking is also available at the hotel premise.
The hotel Everest has four types of rooms with different bedding available for booking for guests. The Deluxe King room is an air-conditioned room of 30 sq. m.
It is a beautiful room with a double bed, a minibar, LCD TV, free wifi, free toiletries, a bathrobe, towels, slippers, a hairdryer, a telephone, a closet, and many more. The booking of this room features free access to a swimming pool, fitness center, and sauna. It is available for booking at NRs. 10,956.
The Suite has an area of 48 sq.m. with similar amenities to the Club King room. This spacious room features Club benefits including free breakfast, express check-in/out, Lounge access, and free return airport transfers. It is available for booking at NRs. 16,112.
The Deluxe twin room is suitable for those who prefer separate beds in a single room. It has 30 sq.m. of an area with two single beds. This twin room features similar amenities as the above rooms have. It is available for booking at NRs. 10,956.
The Club twin room​​ is just like the Deluxe twin room. It has an area of 30 sq.m. with two single beds. The Family room is a 48 sq.m. room with 2 single beds and 1 double bed and facilities and services just like other rooms. It is available for booking at NRs. 13,533.
12) Hotel The Kingsbury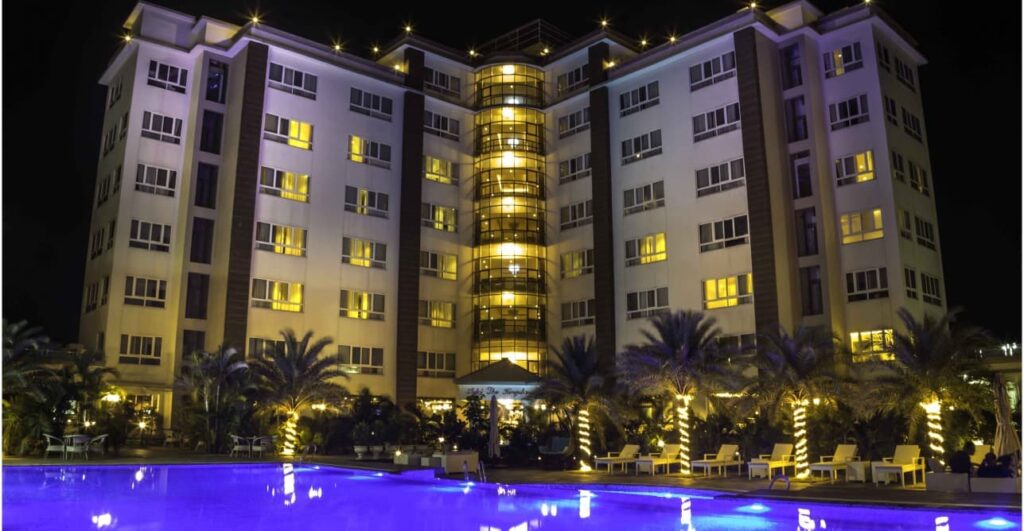 Located in Jhapa, Birtamod, Hotel the Kingsbury is a luxurious destination for travelers who seek comfort and grandeur.
It is the only five-star hotel in Jhapa. If you want to experience the five-star service at Jhapa, then you are recommended to stay at Hotel the Kingsbury.
Enjoy a feast at their dining restaurant where you will be offered a delightful range of food items. Similarly, vegetarians can have separate dining too.
They also have some activities for your entertainment and relaxation. The Rooftop bar is a luxurious bar with high-quality imported drinks on its serving list.
A Poolside bar aside from the swimming pool elevates your experience. Our technologically sound fitness center can be a paradise for fitness enthusiasts.
This hotel houses around 82 luxury bedrooms that include several amazing amenities. The different types of rooms here are stylish yet comfortable.
A good place of grand luxury, the staff is professional and friendly. The 24-hour room service is available in six Suites, five Executive rooms, and seventy-one deluxe rooms.
The Deluxe Single Room is a wonderful accommodation for people who wants a single room. Our Deluxe rooms are soundproofed and equipped with high-tech comforts such as high-speed internet access, USB ports, smart TV, and a private bathtub to make your stay comfortable and luxurious. These rooms can accommodate you for your business trip or your leisure.
The Deluxe twin rooms come with two single beds and have several modern facilities like high-speed free wifi, desk, chair, telephone, LED TV, charger sockets, great lighting, attached bathroom, and so on. Such rooms are suitable for Business or Leisure.
The luxurious Deluxe King room can accommodate up to two people. It is a Deluxe room with high-tech comforts such as high-speed wifi, USB ports, LED TV, a private bathtub, etc that makes your business trip comfortable and luxurious.
Similarly, the luxurious Semi suite rooms offer a spectacular window view. It also includes the amenities like other VIP rooms. The stylish bathrooms of semi-suites have both Shower Cubicles and Bathtubs.
The Executive room is suitable for people visiting Jhapa for corporate purposes. It is equipped with a single king-sized bed, which can accommodate up to 2 adults.
To relax and spend quality time at a cool place, Royal Lounge is a suitable spot at Hotel the Kingsbury that includes comfy couches and soothing drinks.
Moreover, they also have King's Banquet for organizing large parties and special events. You can conduct seminars at meeting halls where the hotel manages the decorations and all necessary pieces of equipment required for large parties and meetings.
13) Hotel Mechi Crown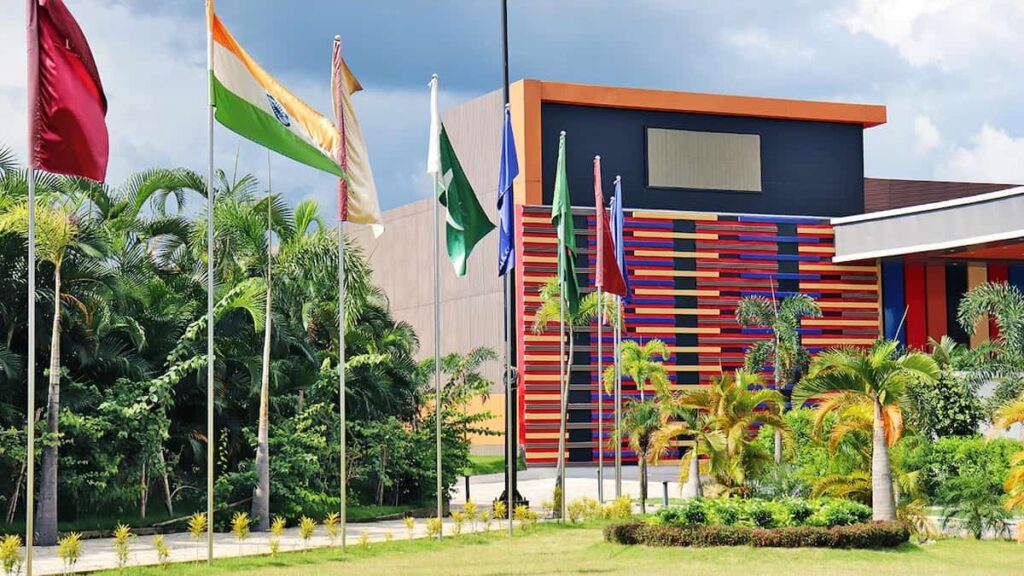 Known as Nepal's first five-star Deluxe Hotel, Hotel Mechi Crown is a heavenly place for travelers to stay overnight. With top-class service and luxurious hospitality, Hotel Mechi Crown has been winning the hearts of people.
Eastern Nepal is a hidden gem that needs to be explored. Traveling to Eastern Nepal doesn't usually makeup people's bucket lists. People may think of it as a place that has nothing to offer to visitors.
But, it is not true. Eastern Nepal is a heavenly place to travel and explore. With the presence of Hotel Mechi Crown, now travelers have a choice to stay lavishly while in the Eastern region.
Hotel Mechi Crown is a luxurious hotel with several attractive services and facilities offered to guests. The rooms are of international standards as they are well-furnished and have digital connections.
The staff at Hotel Mechi are professional and friendly. They pamper you and make you feel at home during your stay.
Hotel Mechi Crown accommodates over 105 luxurious rooms. 65 Deluxe rooms are having a private balcony that offers a stunning view of Eastern Nepal. With an area of 29.13 sq.m, the Deluxe room is a two people room that consists of 1 single/ Double bed and one bathroom.
These Deluxe Rooms have all the modern amenities such as free tea and coffee facilities, air-conditioner, attached bathroom with toiletries, LCD TV, free wifi, mini-fridge, shower and hair-dryer, and many more.
Designed with royalty in mind, the Mechi Club room is an elegant room with a separate living room. The five Mechi suites have an unmatched beauty. Attached to an open terrace, the Mechi suite has one king-sized bed and an attached jacuzzi. The design of the room and furniture have traditional and antique influences relishing a royal essence.
If you are tired of living in a building, enhance your visit to Eastern Nepal by experiencing a stay in a villa. The hotel also offers a villa for guests to stay in. Five luxurious villas designed with love and dedication. The rooms are spacious and have an attached balcony, separate living room, bathtub, and all the comforting amenities.
A garden-facing Executive room is the most comfortable and relaxing room. 5 executive rooms have a calming decor and several necessary amenities.
If you want to explore the cuisines of Eastern Nepal, try mouth-watering dishes at three of these restaurants. Not only the food, but the drinks they offer are also exotic.
Experience world-class dining at Basecamp restaurant and bar where international options of breakfast and dinner are served. Not only international foods, but traditional Nepali foods are also their specialties.
Meche Bar & Cafe is a poolside bar where you can try a range of booze and cocktails. The bartenders entertain you and offer a world-class selection of alcoholic and nonalcoholic beverages.
You can even enjoy drinks beside the grand swimming pool. But, the entertainment package doesn't end here. Their full-fledged international-style casino is mood-boosting.
A fine selection of event halls is available for booking. Kanchenjunga Hall and Sagarmatha Ballroom are luxurious venues with spectacular decor and arrangements.
14) Hotel Aloft

Hotel Aloft is a massive hotel located in Thamel, Kathmandu. Thamel is a popular tourist hub in Kathmandu where local and global experiences meet.
Aloft is only a 20-minute drive from the Airport. If you plan to explore Thamel, then staying in Hotel Aloft will be a plus point.
Hotel Aloft is a modern-era hotel that is equipped with the latest technologies and pieces of equipment. The hotel premise has high-speed wifi, a spacious parking spot, an attractive gym, ultra-comfortable rooms, elegant restaurants, a swimming pool, a bar, etc.
Hotel Aloft is one of those hotels in Kathmandu equipped with the latest AV technology. Such technology makes the hotel convenient, user-friendly, and tech-savvy.
The dining experience at Hotel Aloft can be a memorable one. Among six dining outlets, 24-hour dining is offered by Re: fuel by Aloft Deli and WXYZ Bar. You can also enjoy Holistic spa massages and relaxation therapy. For recreational activity, you can spend your time at the indoor swimming pool.
There are five types of rooms at Hotel Aloft. The Guest room with 1 king-size duvet bed has two options for booking. For room only, it costs NRs. 12,200 per night for 2 adults. Similarly, for the room with breakfast package, it costs NRs. 14, 740.
The rooms at Hotel Aloft have a well-furnished bathroom, 24-hour room service, mini-refrigerator, high-speed wifi, LED TV, sofa, desk, air-conditioner, closet, and a spectacular view of the city.
The room with twin/single beds is suitable for those who prefer 2 beds in a room. The room-only package will cost you around NRs. 11,450. Similarly, a room with breakfast costs around NRs. 14,740.
One King bedroom is available with a room with breakfast at NRs. 11,455. The room with breakfast and dinner package costs around NRs. 18,813.
The two twin beds room has an area of 269 sq.m. The room with breakfast package costs around NRs. 11,450. The room with breakfast and dinner package costs around NRs. 18,813.
Four event rooms have a capacity of 550 seatings. It can be used for wedding receptions and other special occasions. The hotel takes care of the arrangements, making it easy for the guests to enjoy their special day.
You can find Gift shops with endearing items which you can purchase as souvenirs. The Convenience store in the vicinity helps you with groceries shopping. You don't have to go in search of departmental stores just to buy a few essentials.
15) Hotel Central Plaza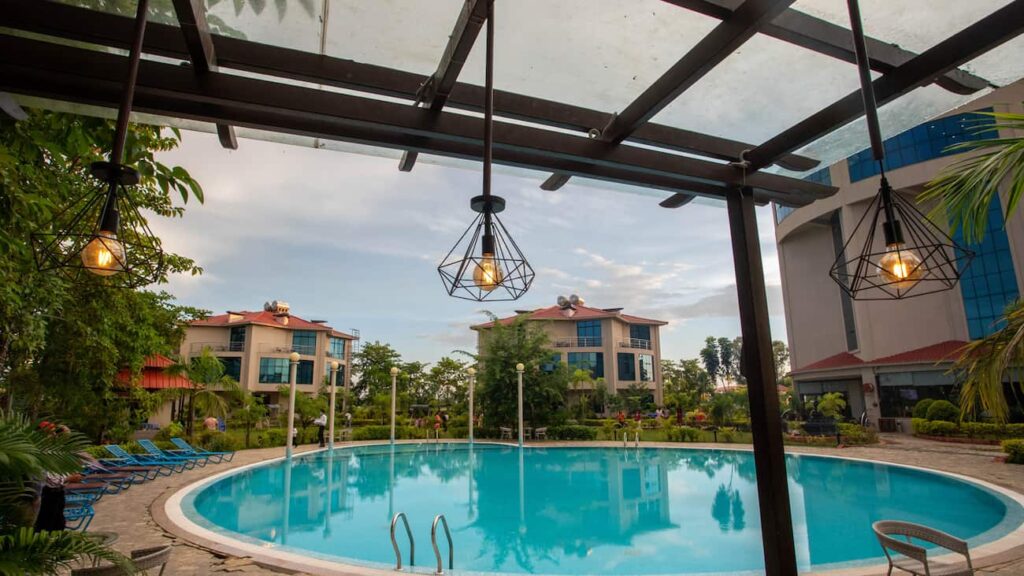 Hotel Central Plaza is the only luxurious five-star hotel in Kohalpur, Banke district. Travelers traveling to Nepalgunj can stay at this reputed hotel where comfort comes first.
Hotel Central Plaza is 15 minutes drive away from the domestic airport. Visit the Hotel Central Plaza Resort where you can relax and enjoy your valuable time in Nepalgunj.
The hotel covers an area of 2.5 Acres and houses around 80 rooms. The Standard Deluxe is a cozy room that overlooks the attractive swimming pool, green garden, and elegant restaurants.
The room includes free wifi, a fruit basket, a bottle of wine, an attached bathroom, 2 seatings, a mini-bar, an air conditioner, a safe deposit locker, and many more. The single-bed standard deluxe costs $50 per night, a Double bed costs $55 per night, the Master bed costs $85 per night, and the Extra bed will cost $15.
Executive Suite is slightly more expensive than Standard Deluxe. It costs $110 per night. Similarly, Family Suite is the most reasonable among all packages. It costs $95 per night. The lavish Presidential suite is the most expensive one. It costs $150 per night.
For a wonderful time, treat yourself to delicious cuisines at Sarovar. Located in the lobby area, Sarovar offers mouthwatering Indian, Chinese, Western, and Local cuisines.
The vibrant Cruise Bar is situated on the first floor. You can enjoy the tricks of experienced bartenders and try some exotic cocktails.
The best way to start your morning can be by sipping a hot cup of coffee and bakery items at Coffee Lounge. It is open from 7 am to 10 pm. They have varieties of pastries, cakes, and loaves of bread to accompany the coffee.
The hotel has arrangements for business meetings and wedding receptions too. The Banquet hall residing on the second floor expands up to 5500 sq. ft. It has 220 seatings.
The Hotel garden with a cool ambiance is located on the ground floor. It has an arrangement of 350 seatings. Similarly, the Executive meeting is in a hall on the first and second floor with up to 35 seatings.
If you are dreaming of a destination wedding, then Hotel Central Plaza can be a perfect venue. Plan your wedding events at Hotel Central Plaza for a memorable one.
16) Hotel Pokhara Grande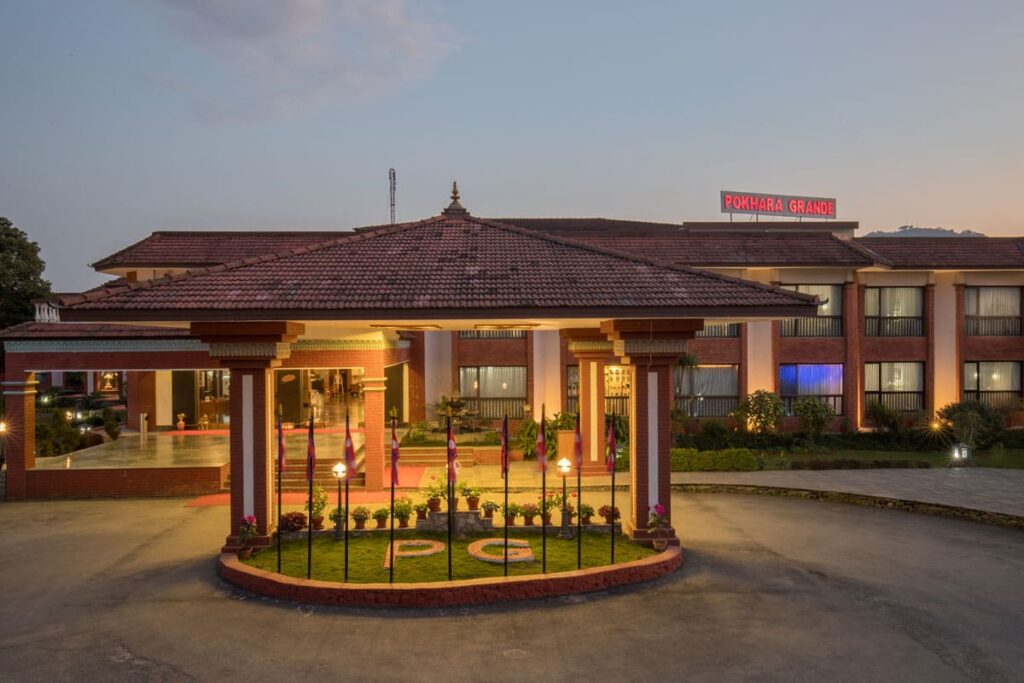 A five-star hotel with spectacular architecture situated in the city of lakes, Pokhara is Hotel Pokhara Grande. The hotel provides exclusive accommodations for the visitors and they get to experience unique and best hospitality while in Pokhara.
Comfort and elegance go hand in hand at Hotel Pokhara Grande. With around 140 rooms, the hotel offers several facilities and amazing services that are included in packages.
The suite room of Hotel Pokhara Grande is a comfortable one. With amenities like free wifi, King size or twin bed, LCD TV, attached bathroom, air conditioner, toiletries, desk, and many more, the suite is the best option for travelers who likes comfort and relaxation. It costs $220 per person
The Deluxe room is a luxurious room at Hotel Pokhara Grande that costs around $525 per person. All Deluxe rooms come with a handy minibar, free wifi connectivity, and telephone service with availability to make local and international calls.
Hotel Pokhara Grande offers a range of cuisines at different restaurants and bars. Thasang Restaurant is one of those restaurants that offer a wide range of Breakfast buffets.
Thasang restaurant, located on the first floor, is open from 12 pm to 2 pm for Lunch and from 6 pm to 10 pm for Dinner. Their specialty is a typical Thakali dish with authentic seasoning and ingredients.
Similarly, Kundali Restaurant is another venue located in the Lobby that offers a range of traditional and international cuisines. It is open from 6 am to 10 pm.
Another outdoor venue at Hotel Pokhara Grande to relax, and sip cooling and refreshing imported beverages right next to the pool are Bagaincha. It also offers light meals, sweet and freshly baked bread, salads, and other tidbits.
In summer, the evening cool breeze makes Bagaincha a perfect outdoor venue to relax. In winter, a campfire and BBQ will make it a warm evening for the guests.
You can resort to the ​​Trishna Bar, where experienced bartenders will serve you some exotic and refreshing cocktails, Beers, Wines, and spirits as well as other drinks perfect for sharing with friends. It is open from 11 am to 10 pm.
Hotel Pokhara Grande accommodates five conference halls named Manalu, Annapurna, Himchuli, Dhaulagiri, and Lamjung which are well-furnished. The hotel can also arrange wedding events including photography, videography, decorations, music, food, etc.
You can enjoy recreational activities such as a swimming pool, gym, spa, and sauna. For its excellent service, it has won numerous accolades. One of the prestigious awards that Hotel Pokhara Grande has achieved is the 2018 Traveler's choice award.
FAQs
What are the basic amenities offered by 5-star hotels in Nepal?
5-star hotels in Nepal offer a range of amenities including 24-hour room service, laundry service, dry cleaning, concierge service, complimentary breakfast, Wi-Fi, and more.
How much does it cost to stay at a 5-star hotel in Kathmandu?
The rate of five-star hotels in Nepal depends upon the different seasons and locations. However, the average room rate for a five-star hotel in Nepal is around NPR 20,000 per night.
What are the popular 5-star hotels in Nepal?
Some popular five-star hotels in Nepal include the Soaltee Hotel in Kathmandu, the Hyatt Regency Kathmandu, the Marriott Hotel in Kathmandu, and the Annapurna Hotel in Pokhara.
What activities are available at 5-star hotels in Nepal?
Activities available at 5-star hotels in Nepal vary but may include a fitness center, swimming pool, spa, and casino.
What 5-star hotels in Kathmandu have nice views?
The 5-star hotels in Kathmandu with lovely views are Marriott Hotel, Soaltee Hotel, Hyatt Regency, and Yak & Yeti.