Every year hundreds of flights travel from Australia to Nepal. Most travelers seek information regarding traveling from Australia to Nepal but, only a little information is available on the internet.
The traveler has to consider several things before flying from Australia to Nepal for a hassle-free journey. If you don't have enough information about your journey, you will have problems in decision-making and may become clueless when some risk occurs.
Having important information beforehand enables travelers to have a safe and secure journey, a budget-friendly trip, and lesser problematic situations during travel.
This blog aims to provide as much information about the traveling process, the cost of the Australia – Nepal flights, and much more. It focuses on helping travelers with important information useful in planning the trip from Australia to Nepal properly.
Australia to Nepal Flight Information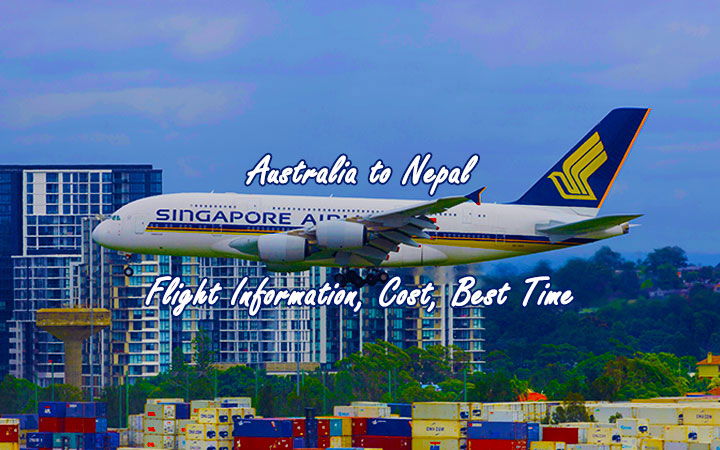 1. Airlines that fly from Australia to Nepal
Several airlines fly from Australia to Nepal but no direct flights are available. All the available flights flying from Australia to Kathmandu are connecting flights.
Though Nepal has three international airports but mainly Tribhuvan International Airport is a major airport in Nepal, Australia has many such as Melbourne Airport, Sydney Kingsford Smith Airport, Brisbane Airport, Perth Airport, and Adelaide Airport.
Here are some of the major airlines that operate flights between Australia and Nepal. These airways mainly connect flights from different airports to Kathmandu, Nepal.
Emirates
Qatar Airways
Thai Airways
Singapore Airlines
Malaysia Airlines
Etihad Airways
China Southern Airlines
Qantas
Cathay Pacific
Batik Air
Srilankan Airlines
Please note that flight schedules and routes are subject to change, so you better check the updated information from the airline or a travel agent.
After the COVID-19 pandemic, a lot of rules and protocols have changed and gotten tightened. It has impacts on flight availability and schedules too. So, there may be limited flight schedules, and increased restrictions or cancellations.
2. Flight duration
The length of the flight can vary depending on the airlines, season, and other factors. Usually, the flight from Australia to Nepal can take from 13 hours to over 38 hours. It varies according to airlines. Note that the earlier the booking, the cheaper the cost of the flight. Similarly, during peak season, ticket prices become costly.
3. Stopovers
Since there are no direct flights from Australia to Nepal, there have to be some stopovers in between. The flights may have one, two, or three stopovers depending upon the schedules of the airlines.
For example, Malaysia Airlines has a scheduled 15 hr 25 mins flight from Adelaide to Kathmandu with 1 stopover at Kuala Lumpur.
Batik Air has a scheduled 18h 35m flight from Sydney to Kathmandu with 1 stopover at Kuala Lumpur. Other stopovers can be Bangkok, Delhi, Kolkata, Doha, Columbo, Hong Kong, and so on.
4. In-flight amenities
Have a comfortable journey to your destination with the In-flight amenities. Hours and hours-long flights can be tedious if you don't get comfortable seating, meals, entertainment facilities, etc.
The airlines flying from Australia to Nepal ensure you experience some finest facilities on board such as In-flight meals including both veg and non-veg snacks, and drinks depending upon the type of reservation you take.
The amenities vary depending upon the reservations of First class, Business class, Premium Economy, and Economy class. Economy class is the cheaper one of all.
5. Baggage Allowance
The baggage allowance also varies according to the reservation of class. In Economy class, the baggage allowance may range from 25kg to 35kg. Similarly, in Business class, the baggage allowance may range from 35kg to 40 kg. And, it can exceed 50kg in First class. For additional baggage, you have to pay additional charges as per the rules of the airline company.
Cost of the Flight
The cost of the flight is one of the important factors to consider while going on an international trip. Traveler looks for budget-friendly flights so that it doesn't burden their other expenses.
The prices of flight fluctuate frequently as it is influenced by various factors such as booking time, the availability of flights, etc.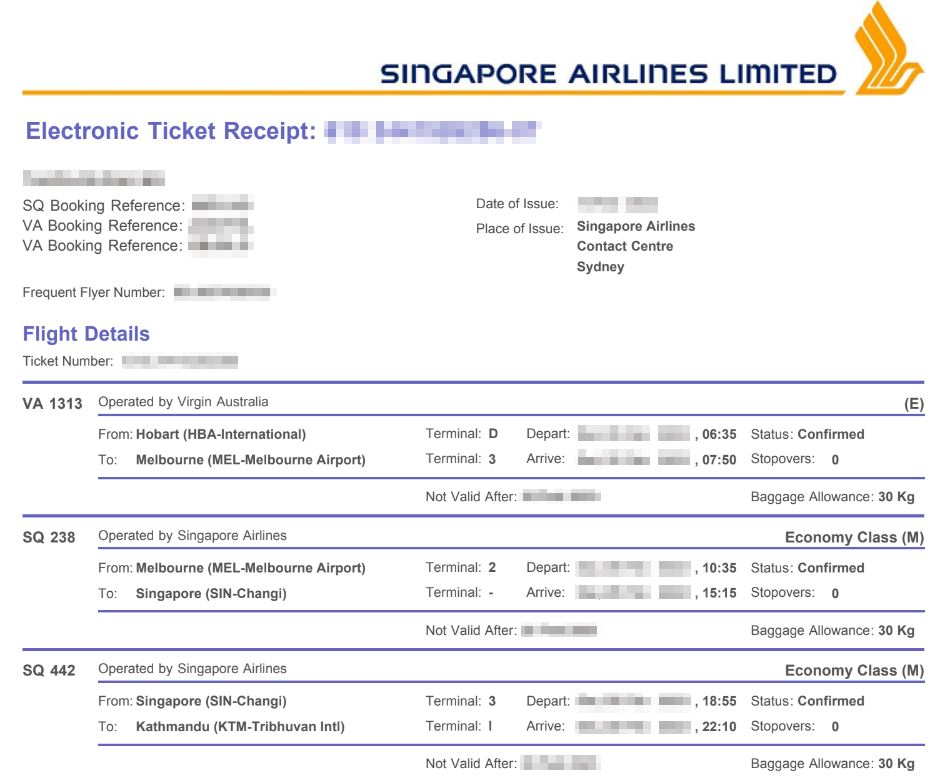 1. Average airfare from Australia to Nepal
The average airfare from Australia to Nepal depends on some factors such as the airline, time of year, length of the flight, and cabin class. A flight from Australia to Nepal typically costs between AUD 600-1800 or more. The cost is usually high during the peak travel season and low during the off-season.
2. Factors affecting the cost of the flight
The cost of the flight is affected by various factors. The flight cost is ought to increase during peak season which is usually from September to November. Similarly, Last-minute flights are costly and the chances of any kind of discount are lesser.
Factors affecting the cost of a flight from Australia to Nepal include:
Time of year: The cost of flights can depend on the time of year. Generally, peak travel seasons like spring and summer can be slightly costly compared to off-season periods.
Demand: If there is a high demand for flights to Nepal from Australia, ticket prices may increase.
Flight Route: There are various routes and stopovers in Australia to Nepal flight. Some specific routes can have an impact on the cost. For example, some flights with multiple stopovers may be cheaper than others. You have to check the route and price before booking it.
Airlines: The cost differs with different airlines too. Some airlines charge lesser for the same route while another might charge heftily. It's better to compare the prices of various airlines on the same route and choose the best deal for you.
Time of Booking: The cost of the flight depends on the time of booking too. Last-minute bookings are slightly more expensive than advanced bookings.
Duration of Stay: Similarly, the length of your stay after arrival also influences the cost of your flight. Staying for a longer period and booking return tickets in advance can be reasonable.
Class of Service: The reservation of class you choose (economy, business, or first class) can also impact the cost of your flight. Usually, first-class tickets have high costs than economy class.
For example during festival seasons like Christmas, Dashain, Tihar, or even during the new year, the flight cost tends to be higher than usual.
How to Find the Best Deals on Flights from Australia to Nepal?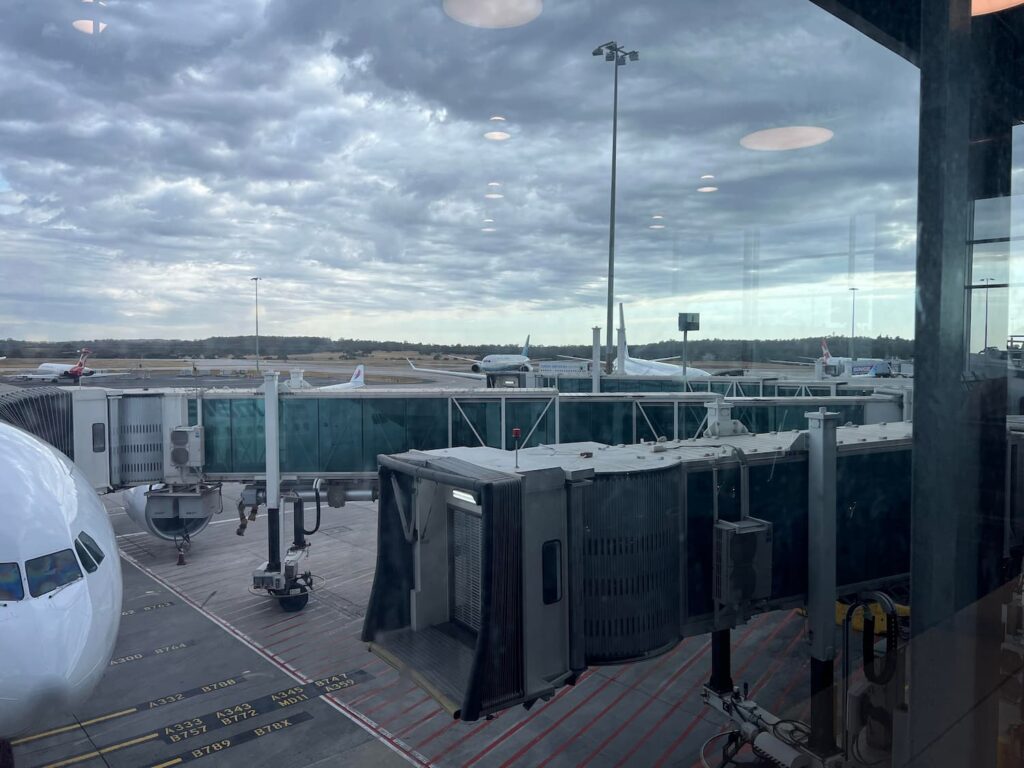 If you are searching for the cheapest flight ticket for your trip to Nepal from Australia, find some best deals from the websites of Skyscanner and booking.
Go to either skyscanner.com or booking.com where you will find a list of some of the cheapest airlines that flies to Nepal from Australia for you to choose from.
You can select the cheapest, the fastest, or high-demand tickets from these sites within a minute without any hassle as per your requirement.
Browse the quickest and cheapest flights from Australia to Nepal easily on these websites and omit the hassle of getting stuck in traffics, writing emails for queries, bargaining for reasonable tickets, and stressing about running out of time.
In this way, you can save time and energy and get the best deals on the tip of your fingers without any stress.
Best Time to Visit Nepal
1. Weather conditions in Nepal
The weather conditions in Nepal are pretty decent most of the time. The distinct topography welcomes four different seasons in Nepal: Spring (March to May), Summer (June to August), Autumn (September to November), and Winter (December to February).
Terai region is known to be the hot region where the temperature exceeds 40 degrees Celsius in Summer. Winters are mild and the monsoon season includes heavy rainfall.
In the hilly region, the temperature is usually moderate. In Summer, the temperature fluctuates from 20 to 30 degrees Celsius and during Winter, the temperatures drop to around 2 degrees Celsius and rise to around 12 degrees Celsius. The monsoon season is the season of heavy rainfall in the Hilly region.
The Himalayan region is the coldest region. The temperature drops below zero degrees Celsius. The winter is freezing cold with massive snowfalls. The monsoon season in the Himalayan region is quite dangerous due to heavy rainfall.
The weather in Kathmandu is moderate during all times of the year. The city sometimes encounters hurricanes, storms, heavy rainfall, and thunder when the weather is transitioning to monsoon season. It's important to check the weather forecast before traveling to ensure safety.
2. Peak tourist season
Peak tourist season is during Spring and Summer seasons. In fact, Spring and Summer are considered peak seasons in Nepal to travel from Australia.
Spring season begins in March and lasts around May.
Different festivals occur during the Spring season and the weather is great for mountain viewing and trekking so, travelers usually choose the Spring season to come to Nepal.
Similarly, the Summer season lasts from June to August. The temperature is high during the summer but the sky is clear.
The monsoon season is the low season as the nation can go through heavy rainfall and snowfall in different areas. Winter season is also suitable to land in Kathmandu.
3. Off-season and its benefits
The off-season refers to that time of year that witnesses fewer tourists or visitors. When the number of travelers arriving at the destination is high, then that period is referred as the peak travel season. The off-season is also characterized by less favorable weather conditions, fewer events, other and activities.
But off-season has some benefits too. Here are some benefits of traveling to Nepal during the off-season:
Lower costs: If you want cheap flights, purchase tickets during the off-season. The prices for flights, hotels, and other activities are generally lower during the off-season. Choosing off-season for traveling can save you a lot of money.
Lesser crowd: If you don't like the crowd, the off-season is favorable. Traveling during the off-season means there will be fewer tourists. In peak season, it is difficult to find rooms in hotels, which is not a problem in the off-season. Also, you can have a peaceful time among the mountains and experience relaxation in the tranquility of nature.
More depth in experience: Since there will be fewer travelers in the off-season, you can easily get connected with the local people. In peak season, lots of people try to talk with the locals. So, you might have to hurry and miss the chance to get a closer glimpse of their lifestyle. But, in the off-season, exploring local people is more convenient. They will let you learn their lifestyle in depth without being hasty.
Better service: With fewer tourists around, service providers, tour guides, and hotel staff can centralize their attention and service to individual travelers.
Unique weather conditions: The off-season is generally considered not suitable for trekking. But there is so much more that you can do in Nepal. You can explore different ancient places, temples, monasteries, palaces, museums, etc. You can experience a homestay, explore various festivals while celebrating them with locals, try different authentic foods, and many more.
Overall, traveling during the off-season is not a bad idea if you desire to save money, avoid crowds, and have a more authentic and distinctive travel experience. However, it's important to consider the weather conditions and choose the right time to travel from Australia to Nepal.
4. Recommended months to visit Nepal
To be honest, all four seasons are the best times to visit Nepal. All the seasons carry some significance and always have something best to offer to visitors. But, the most recommended months to visit Nepal are September to November and March to May.
If you are traveling to Nepal for trekking, the peak season for trekking is from September to November. March to May has warmer weather and is suitable to visit Nepal. This period is generally ideal for exploring wildlife, jungle safari, adventure sports, and other outdoor activities.
The monsoon season in Nepal is not considered a favorable season by travelers. The heavy rain causes landslides and flooding. The season is not suitable for trekking in the Himalayan region.
If you want to enjoy snowfall in Nepal then arrive during the winter season in Nepal. Though the temperature drops immensely, you can wear warm clothes and have hot beverages to keep yourself warm. Also, enjoy the spectacular view of snow-capped mountains during winter.
In short, depending on the activities you're interested in, you can visit Nepal at any time of the year. The recommended best time would be during the spring season and Summer but it solely depends upon your plans.
FAQs
What are the required travel documents for Australians visiting Nepal?
Australians need a valid passport and a tourist visa to enter Nepal. Visas can be obtained on arrival or in advance through a Nepalese embassy or consulate.
What is the best time to visit Nepal from Australia?
The best time to visit Nepal is from September to November and March to May. During these months, the weather is mild and ideal for sightseeing and outdoor activities.
How can I book my flight from Australia to Nepal?
Flights from Australia to Nepal can be booked through travel agencies or airlines' websites. Comparison websites and online travel agents may also offer competitive prices.
What are the transportation options for getting around in Nepal?
In Nepal, the most common forms of transportation are taxis, buses, and flights. Hiring a private car or motorcycle is also possible.
Can I travel to Nepal right now from Australia?
Yes, you can travel to Nepal right now without any restrictions. Just issue your visa from the embassy and get your ticket to Nepal. Also, if possible check with the local authority, airlines, and government travel advisory.
Is there a direct flight from Australia to Nepal?
As of now, there is no direct flight from Australia to Nepal. However, there are non-direct routes and you need a transit flight to land in Nepal.
Flight Related Posts:
Conclusion
If you want to travel from Australia to Nepal, you have several options for selecting airlines, cheapest flights, and hotels. For a smooth and quick planning process, refer to the skyscanner.com and booking.com websites that provide various options and discounts to back up your journey plan.
You can choose the best time of the year, best deals, cheap flights, and hotels as per your convenience while planning Australia to Nepal tour.
Traveling from one country to another is not an easy task. It concerns a long process of planning and decision-making. Don't depend on your impulsive choices.
It will rather spoil your incredible journey from Australia to Nepal. Rather, spend some of your valuable time gathering information and choosing the right packages and deals.
This blog has tried to include most of the vital information required for an average person to understand before heading for a journey from Australia to Nepal.
Nepal is a wonderful country that has been immensely blessed with mother nature. It is the place where the world's highest peak stands tall and where the Lord Buddha was born.
You are highly recommended to explore this land at least once and delve into its authentic cultures. You will certainly find the spirituality that cleanses negative energy, the humanity that touches your heart, and the divinity that enriches the history of Nepal.
Also, please check Australian Embassy Nepal to get more information about visa services and everything about Nepal before visiting.
If you have any queries about the Australia to Nepal flight, you can drop your questions below. We will certainly get back to you and answer all your questions.
Love this Post? PIN ME!!!