Backpacking in Nepal is a popular activity that travelers prefer to do while they explore different places in Nepal. This is the ultimate guide for backpacking in Nepal that includes various information, facts, suggestions, and recommendations useful for safe and extraordinary backpacking journeys in Nepal.
Read the blog till the end to learn everything about Nepal backpacking.
Nepal is a small landlocked country well-known as the home of the world's highest mountain, Mount Everest. Nepal shelters around the 10 highest peaks that measure above 8000m.
Avid trekkers are interested in climbing high rocks and mountains in Nepal as the route, climate, and environment are just perfect for an adventurous and enthralling journey.
Likewise, you will find Nepal as an important landmark for those who are inclined toward spirituality and god. Pilgrims here in the majority follow Hinduism and Buddhism. You will witness the religious and cultural influence in the presence of temples, rivers, and religious places in almost every corner of Nepal.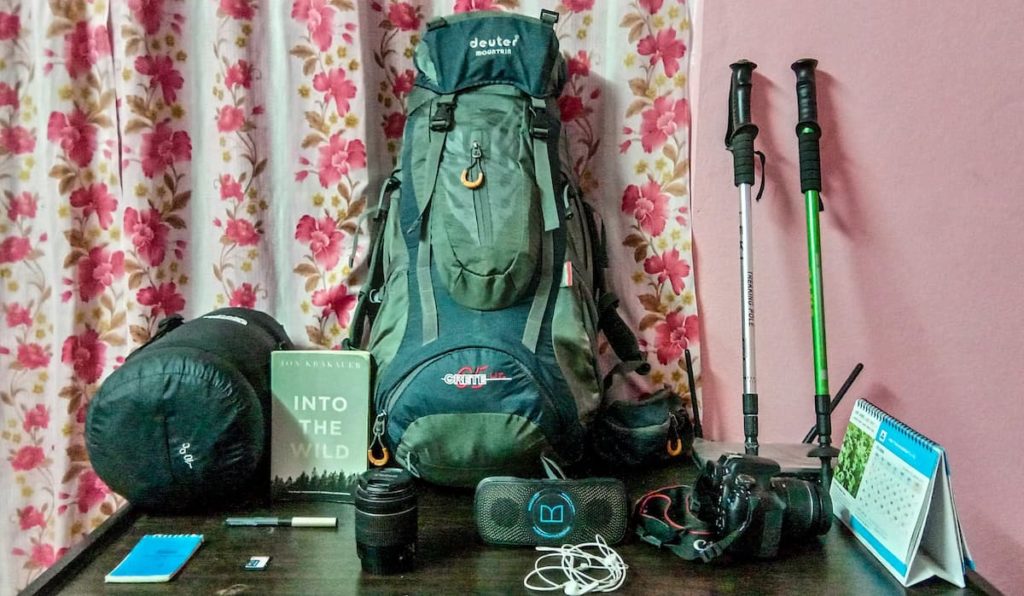 If you are new and want to know more about Nepal then please read our Getting Around Nepal starter guide to get basic about this Stunning Country
Why Go Backpacking in Nepal?
Backpacking is not only fun and exciting, but it also allows you to widen your horizon regarding nature and various cultures.
It is because you get a chance to explore nature from closer while you embark on the various landscapes and corners of Nepal. You meet various people, communicate with them, and learn about them in a short period of time.
Religion and centuries-old traditions have shaped the architecture founded in Nepal and the people's lifestyle is also heavily influenced by them.
There are several communities, ethnic groups, and indigenous groups in Nepal that have been following their values and culture for centuries. Though they are different from each other, they live in harmony.
Nepal is a beautiful land dominant with distinct wildlife, flora and fauna, Himalayan beauty, and much more.
Nepal has several national parks and conservation areas that preserve rare animals from extinction. You can watch wild animals, birds, insects, and plants there that are found nowhere else. The wildlife in Nepal is also appropriate for wildlife photography.
Best Time for Backpacking in Nepal
The best time for Backpacking in Nepal is when you can thoroughly enjoy the journey with fewer problems and more adventure.
You can choose any one of the four seasons for backpacking in Nepal but, all of them may not be suitable for an enjoyable trip.
The risks in the Himalayan landscape are unpredictable and uncertain. Similarly, the risks vary with the geography and we should be aware and prepared to tackle such risks if they occur untimely.
So, for a better experience, you are recommended to select the best time to backpack in Nepal.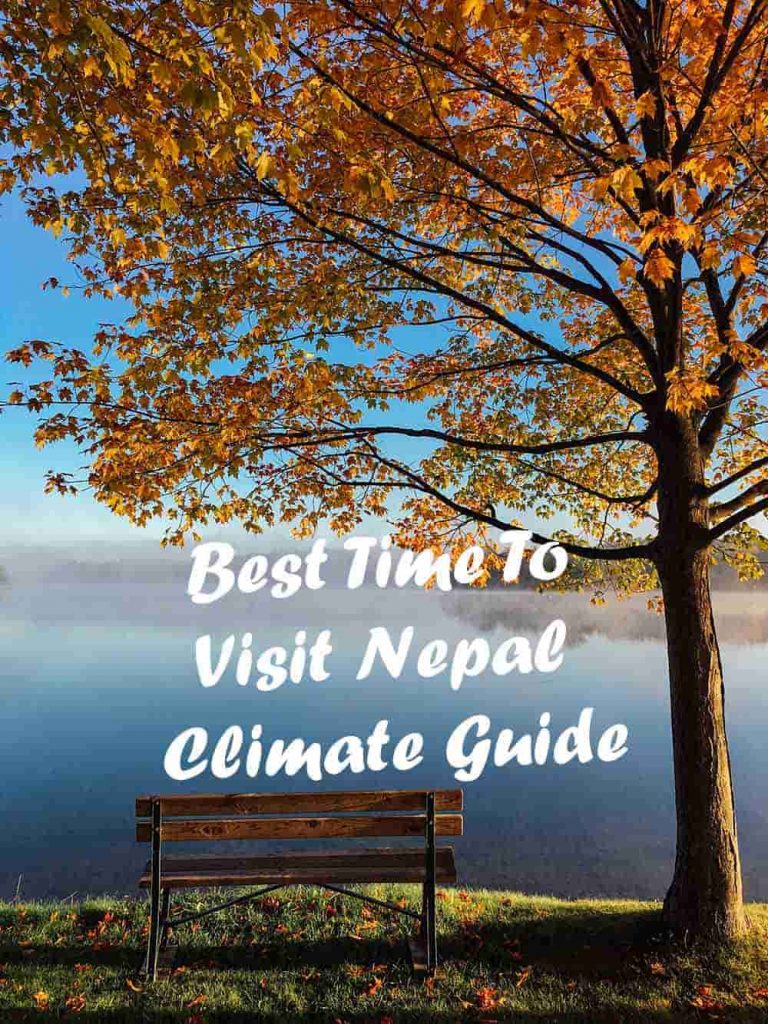 1. Winter Season
The Winter season falls during the months of November-December and January-February. So, this season is probably the best time to celebrate the new year. You can visit the hill station and enjoy the chilly weather with snow.
Go backpacking to places like Daman, Kalinchowk, Bandipur, and Chitlang where you can stay overnight and observe spectacular snow-capped views in the morning. Read our Hill Stations in Nepal guide to know more about it.
2. Spring Season
The Spring season occurs during the months of February-March and April-May. It is the time of blooming of various flora and fauna including some rare ones. Choose the spring season to explore distinct vegetation in different geographies.
It is also suitable for adventure activities and trekking to places such as Pokhara, Ghorepani, Ilam, Annapurna, and so on. During spring, the temperature is neither too high nor too low so it makes us comfortable to walk for hours. The sky is clear for mountain viewing too.
3. Summer Season
The summer season takes place during the months of May-June and July-August. The hot days of summer in Nepal are just suitable to try some healthy and refreshing foods and drinks such as the famous Juju Dhau. It is a delicious and cooling traditional yogurt you should try during summer.
The temperature is really high so, it is better if you avoid trekking activities. You can explore the city areas, and visit cultural heritages, museums, restaurants, and national parks. In this way, you can escape the heat and explore the amusing hidden gems in the corners of busy cities.
4. Autumn Season
The Autumn season in Nepal is refreshing and fun. It occurs during the months of August-September and October-November. The rainfall in Nepal has significant importance since it consists of a major agricultural society where people rely on agriculture for a living.
The farmers celebrate agriculture during autumn with some unique and exciting festivals. These festivals reflect the dedication and hard work of the farmers who work during the rain to grow crops.
You can also participate in those festivals with the farmers and enjoy a traditional yet new experience in Nepal. They sing, dance, prepare traditional foods, cultivate crops, play in the mud, and chat. You get to hear about primeval stories, myths, and facts in their own words.
Solo Backpacking in Nepal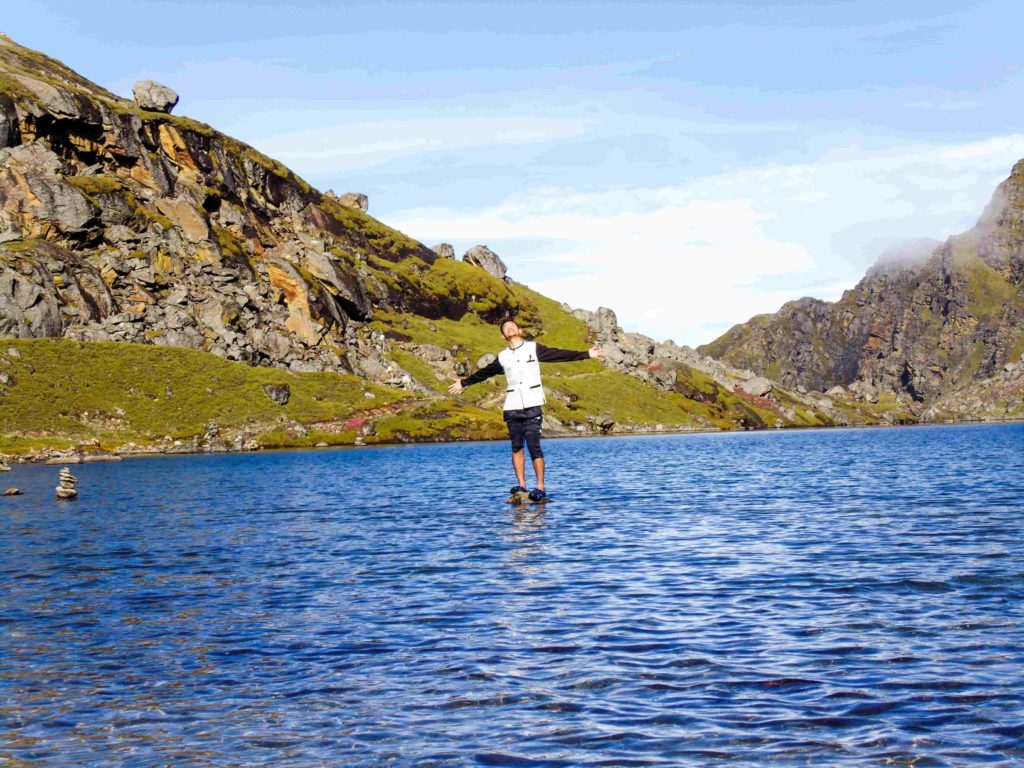 Backpacking in Nepal is quite popular among solo travelers. You can go backpacking alone in Nepal as it is safe and convenient. Take a map with you to ensure you don't lose track. Carry all the essentials required for backpacking and embark on the adventurous journey solo.
For solo backpacking too, we recommend hiring a guide who will guide you through the journey. They know the streets and surroundings very well. They have experience in tackling unpredictable risks and problems.
You can plan your backpacking trip with the guide. He will provide details of the route, destination, budget, accommodation, food, itinerary, etc.
Backpacking Solo Essentials
The experience of solo backpacking depends upon how you prepare for it. There are various things on which you should focus while preparing for solo backpacking.
Here are some essentials required for solo backpacking in Nepal. These are some instructions you are recommended to go through before going for solo backpacking.
Deciding on Destination
Don't go anywhere on earth without some research and knowledge about that area. Likewise, while embarking on solo backpacking in Nepal, do some homework on the place you want to visit.
You can ask the travel agent or guides for detailed information. Have a few options initially. Collect enough information and then make a final decision based on that information.
Budget Limit
Plan your solo backpacking tour within your budget. Without a plan, you will not know how much will be your expense. Find out how much you will be spending where. Do not go for expensive stuff.
Budget planning also helps in determining the destination for backpacking. Once you have an idea of the numbers, you can head to the next step accordingly.
Solo backpacking in Nepal is pocket-friendly. It doesn't go hard on your budget. You can have a small-budget backpacking solo tour in Nepal.
Itinerary planning
Backpacking Nepal alone is a fun activity. You have no boundaries of time as you can go at your own pace and not compromise with what you want to do on the journey.
But, you must plan the itinerary beforehand and follow it during backpacking. Decide whether you want a long backpacking tour or a short one.
The length of the tour also impacts the budget. Decide where you're going to stay, eat, and which path you would take to reach your destination. Planning in advance will help reduce several problems of backpacking.
Small Backpack
If you don't plan on a long backpacking tour, settle for a small backpack that is comfortable to carry and travel via bus or while walking.
Look for comfort rather than expensiveness. A backpack that holds your essentials is enough for you. It's better if it has several steps that wrap around your body and multiple compartments. Look for a backpack made up of waterproof material.
Backpacking Kathmandu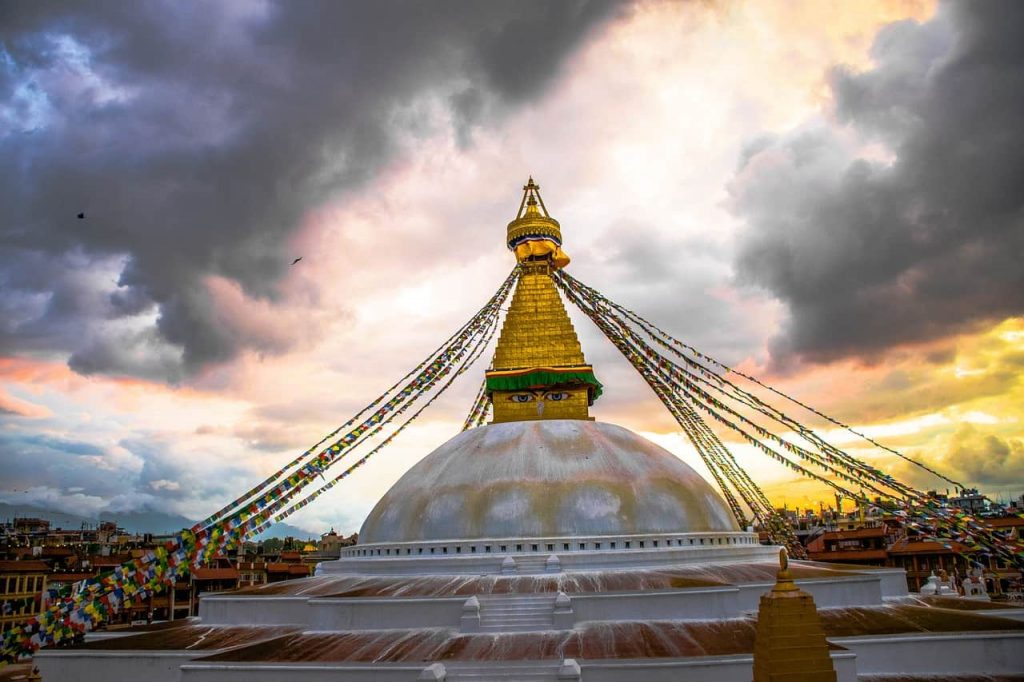 Kathmandu, the capital city of Nepal, is the busiest city you will find in Nepal. The centralized urbanization has made Kathmandu Valley the most technically advanced, crowded, and attractive valley for Nepalese people.
You will find everything going on in Kathmandu city. You will see Business complexes, restaurants, theatres, shopping malls, showrooms, big houses, etc. In the midst of these modern things, you will find historic and sacred temples, cultural heritages, sculptures, and traditional houses, at several places preserved for ages.
One such place is Kathmandu Durbar Square, which is a popular hangout hub for people of all ages to spend quality time.
The arena includes a temple of the living goddess Kumari, Ganesh temple, Hanuman Dhoka palace, Kal Bhairav temple, Swet Bhairav temple, Krishna temple, Shiva Parbati temple, Hanuman idol, Taleju temple, and more.
The streets of Basantapur are always busy. Pilgrims visit the temples in the morning and youngsters gather here in the evening time. Besides, you can visit places like Swayambhunath, Pashupatinath, Bouddha, Narayanhiti Palace Museum, Garden of Dreams, and so on.
Backpacking Bhaktapur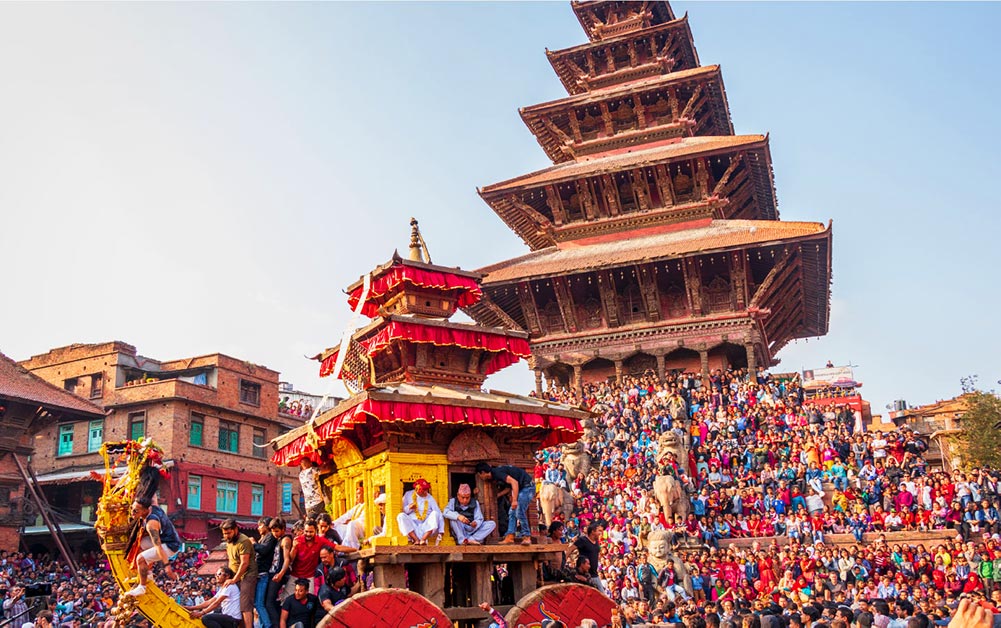 Bhaktapur is a historic place to visit during backpacking. Take a tour of the cultural heritage sites in Bhaktapur and blend your journey with the taste of traditional and unique delicacies.
Bhaktapur has a thick settlement of the Newar community. You will see Newar people busy in their occupations such as making claypits, weaving bags, making dolls, carpets, etc.
Several Newari restaurants serve their guests with mouthwatering Newari cuisines. One of them is Juju Dhau. It is a special yogurt prepared in a clay container. It has a unique sweetness and acts as a cooling agent in summer.
Explore some important landmarks of Bhaktapur like Nyatapol temple, 55 windowed palaces, a statue of Bhupatendra Malla, Bhairav Nath Temple, Dattatraya temple, and many more. These are Hindu temples and have pagoda architecture with an artistic exterior.
Backpacking Bhaktapur is not expensive. The meal and the tour will come under USD 10 a day.
Backpacking Pokhara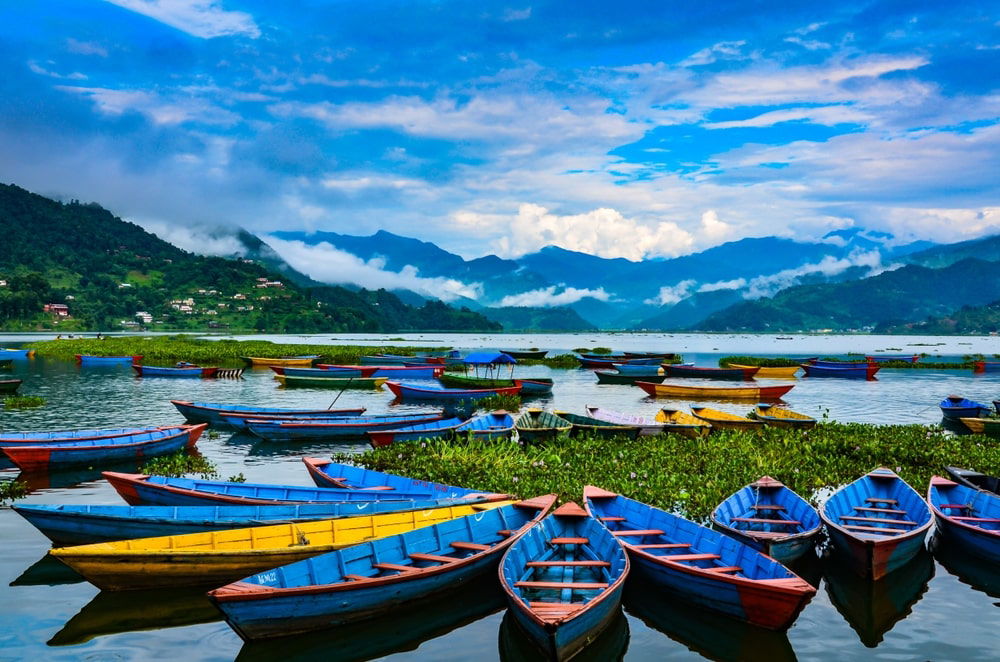 Pokhara, a beautiful city of lakes, is a place on earth full of mesmerizing views. It is no less than a gift from the god of nature. Hundreds of caves, forests, lakes, and mountain views make Pokhara a lively destination for travelers to spend a memorable time.
The second largest lake in Pokhara, Fewa Lake, is one of the attractions of Pokhara. The tranquil lake accompanied by the sunrise view from the mountain range in the morning is something you should not miss in this lifetime.
Similarly, crawl out of some of the deepest and darkest caves of Pokhara that will enhance the adventure of your journeys such as Mahendra Cave and Bat Cave.
Another major attraction of Pokhara is the Davis Fall. It is a huge waterfall which was named after a person who fell into it and died.
The waterfall becomes dense during the rainy season so, you are recommended to visit Pokhara during autumn. Similarly, visit the Brindabasini temple, which is located in the middle of Fewa Lake.
On the outskirts of Pokhara are some beautiful places you are recommended to visit while you are in Pokhara.
One is Sarangkot. Just a 15-20 minute uphill drive from Pokhara will take you to one of the most amazing places on earth that seem to be floating on clouds. Sarangkot is best known for its sunrise view and spectacular panoramic view of the Annapurna range, Dhaulagiri, and Manaslu.
The view tower at the top of the Sarangkot offers an extensive view of Pokhara City. Sarangkot is also one of the best locations for paragliding.
The third biggest lake, Rara Lake, also lies a few distances from Pokhara city. If you want a stunning lake view and go fishing then visit Rara Lake.
Begnas Lake is also a popular lake for boating. The view of the serene lake gives a glimpse that it has no end. You can see the reflection of hills on the lake, which is just perfect for photography.
Also Check: 20 Reasons to Visit Pokhara, Nepal
Backpacking Chitwan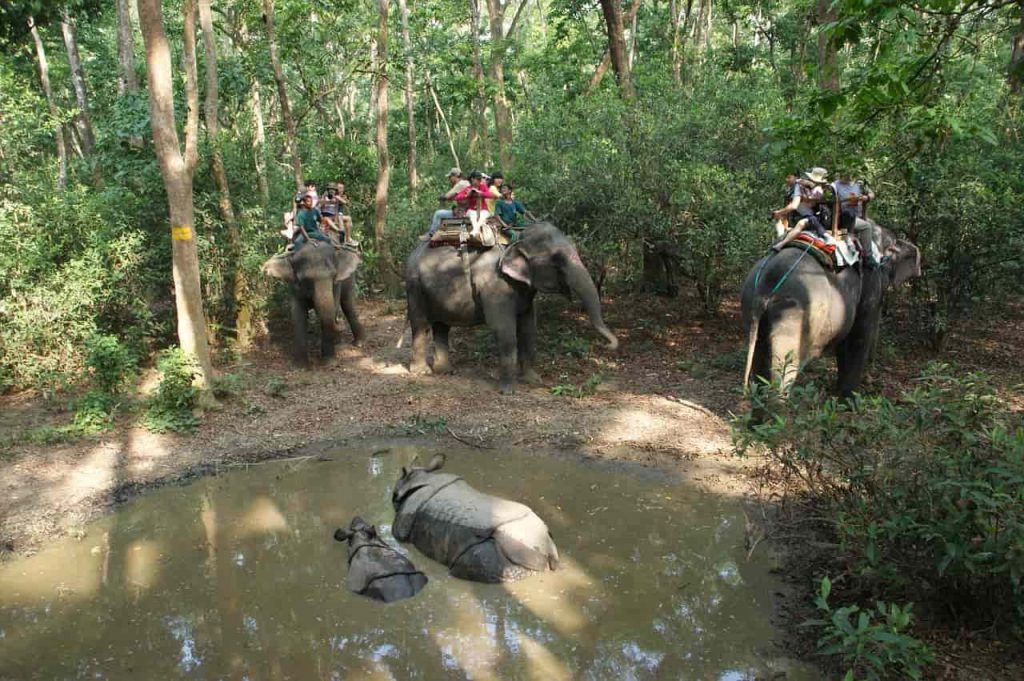 Located in the southern region of Nepal, Chitwan National Park is the first national park in Nepal. It has a dense forest with thousands of species of plants, birds, insects, and wildlife to explore.
Backpacking Chitwan will allow you to explore the forest of Chitwan, which is quite famous for the occasional visibility of the Royal Bengal tiger. Other than the royal Bengal tiger, there are one-horn rhinos, alligators, bears, leopards, and deer.
You can take a Jungle safari tour in two ways. Either an elephant ride or a Jeep ride. Walking through the jungle is not recommended as it is dangerous among wild animals.
Besides jungle safari, you can enjoy some canoeing at the Rapti River and elephant bathing. The Chitwan National Park tour cost varies according to your nationality.
It is categorized into Nepalese, SAARC nationals, and foreigners. Backpacking Chitwan cost may not exceed NPR 20,000 which includes accommodation, food, travel, and entrance cost.
Backpacking Lumbini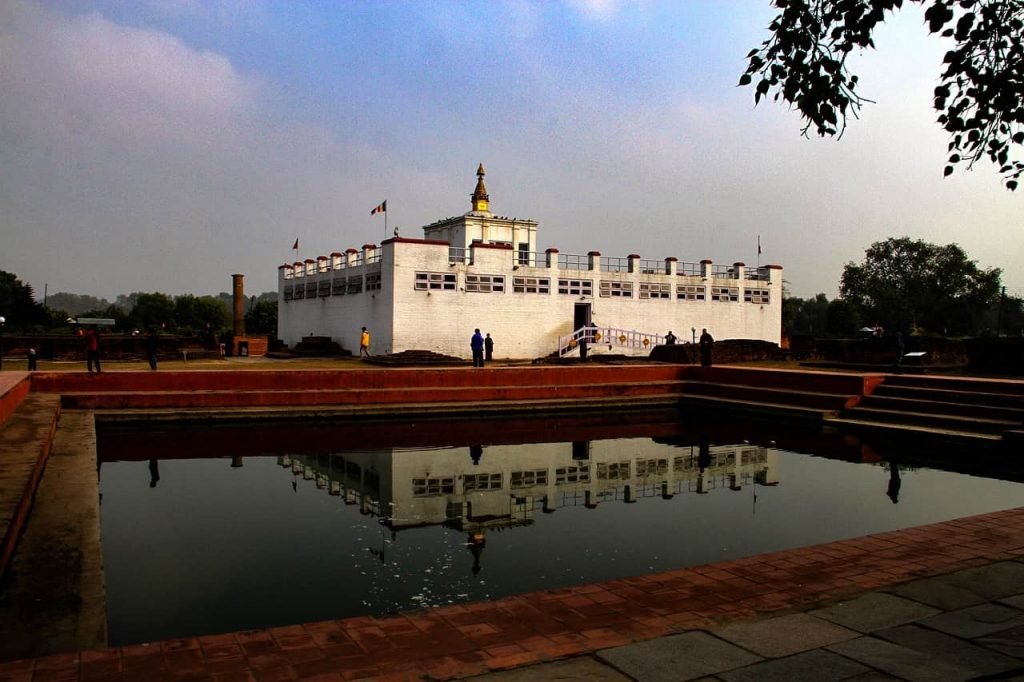 Lumbini is a holy place for the followers of Lord Buddha. Lumbini is cited as a cultural heritage by UNESCO where thousands of visitors are expected every year in Lumbini.
The Lumbini Museum, Maya Devi Pond, Ashoka Pillar, and the Sal tree are some major attractions of Lumbini. Inside the museum, you will see the ancient bricks laid as they were while constructing the palace of King Suddhodhan and Queen Mayadevi.
The sal tree under which Mayadevi gave birth to Lord Budhha is also preserved to date. The Mayadevi pond is where she used to take a bath and Lord Buddha also took a bath there after birth.
The Ashoka pillar stands in front of the museum where you can see manuscripts written on it. Similarly, several nations have built Buddha temples, which are unique and show the influence of Buddhism in their country.
Countries such as China, Malaysia, Cambodia, Myanmar, and Japan have constructed a temple that reflects the artistic construction influenced by Buddhism. Similarly, the World Peace Pagoda is the symbol of peace that is erected in white and golden color.
Even a whole day won't be enough to completely explore the Lumbini complex as it is expanded into a massive arena. You have to walk a lot. It is slightly difficult to find accommodation of your choice in Lumbini. Hotel rooms can be expensive. For only 1 or 2 days, your expense may not exceed NPR. 10,000.
Backpacking Bandipur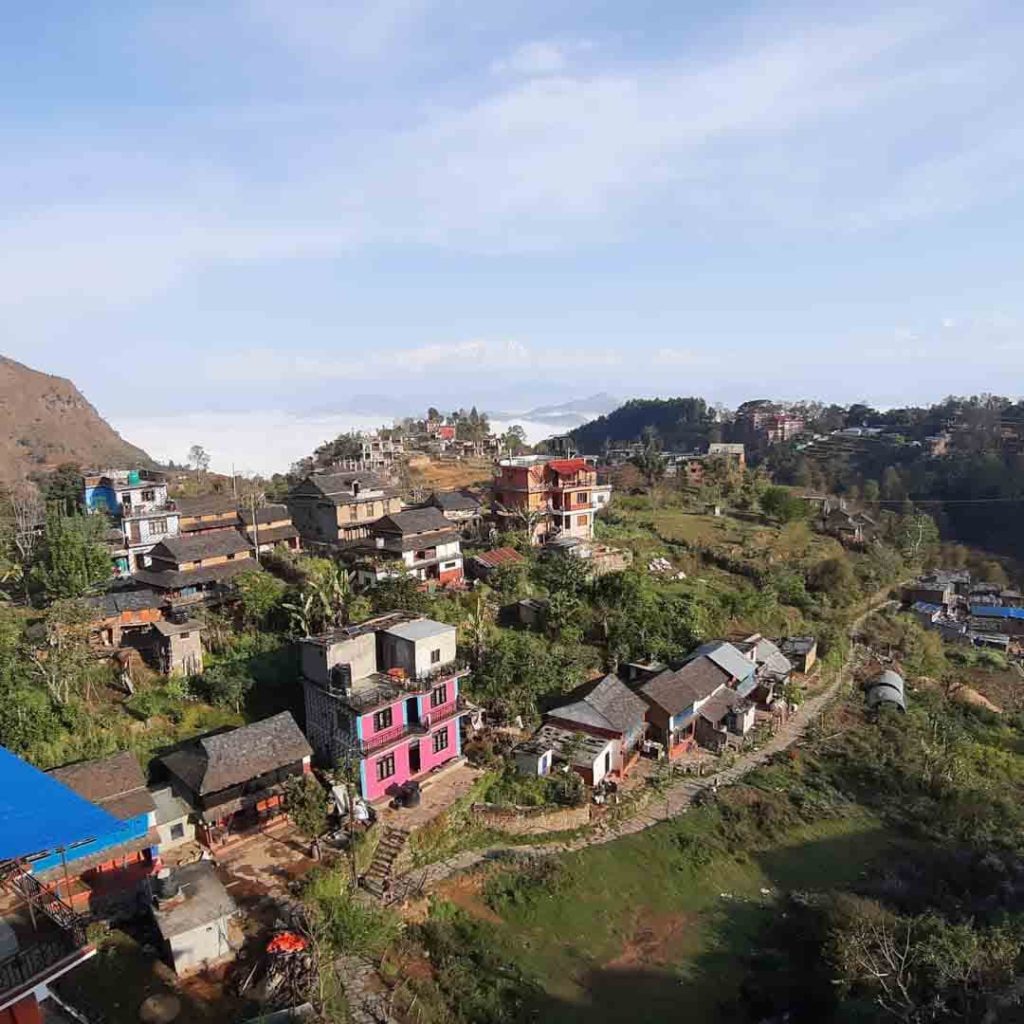 Bandipur is one of the spectacular places in Nepal that is perfect for hiking but, I don't know why it hasn't gained much popularity as other destinations. Bandipur is a small village with the thick settlement of Newar.
The village is a living museum of Newari culture. The Newari culture is reflected in the artistic architecture of houses, traditions, people, and lifestyles. They have still preserved the centuries-old tradition and the constructions that express the essence of Newari culture.
Walking the stone-paved trail surrounded by ancient houses is what you don't want to miss. The village gives a spectacular view of Himalayan ranges such as Dhaulagiri, Annapurna, and Manaslu.
Don't forget to interact with the locals and explore the village even more. The village is not much influenced by advanced technologies so, Bandipur offers an authentic and traditional experience, which you thrive on a short trip far from busy cities.
It will take a minimum of 3 days to complete the backpacking tour to Bandipur so the cost of Bandipur backpacking may not exceed NPR 7,000. It is an affordable place that welcomes tourists and visitors to enjoy the place during their stay.
Backpacking Everest Base Camp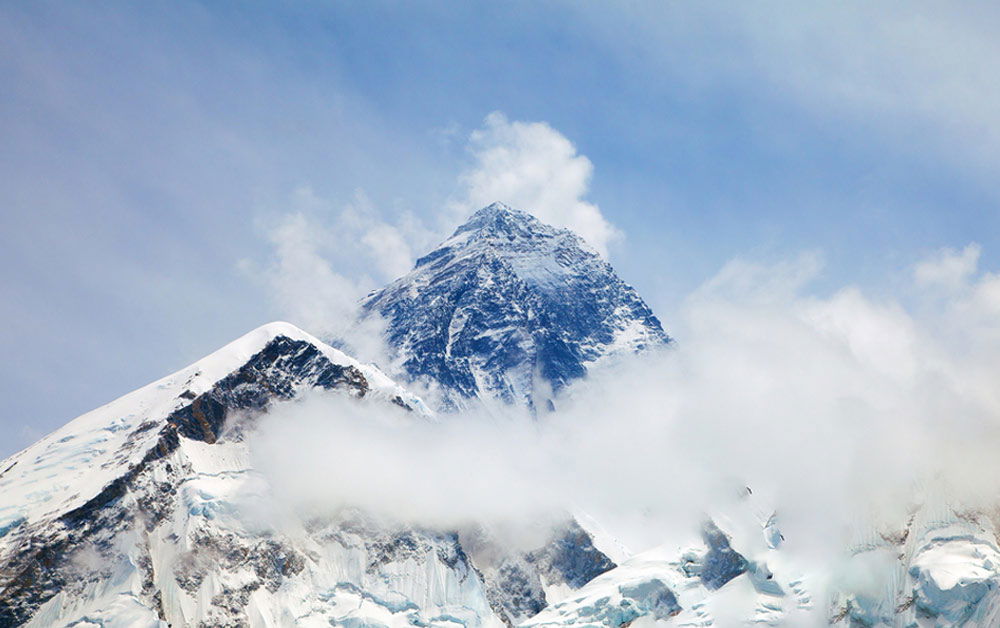 One of the popular destinations for Backpacking in Nepal is Everest Base Camp (EBC). Those who want a closer view of the World's highest mountain, Mount Everest, tend to pick Everest Base Camp backpacking.
You can either choose a short trek or a long trek to EBC according to your free time. You must apply for permits to be able to complete the trek. The best time for Backpacking Everest Base Camp is from March-April to August-September.
The trek to EBC starts by taking a flight to Lukla. From Lukla, you will walk daily and stay at various locations overnight, and eventually reach Everest Base Camp.
During the trek to EBC, you are suggested to explore Namche Bazaar thoroughly. It is a gateway to EBC where tourists can purchase essentials.
This place is suitable for acclimatization and during acclimatization explore the town and enjoy the spectacular view of nature it offers.
It is easy to find hotels and restaurants during the trek. You can stay there and try various local cuisines too. The cost of backpacking at Everest Base Camp may come under USD 1000 for solo backpackers.
Check Out:
Backpacking Annapurna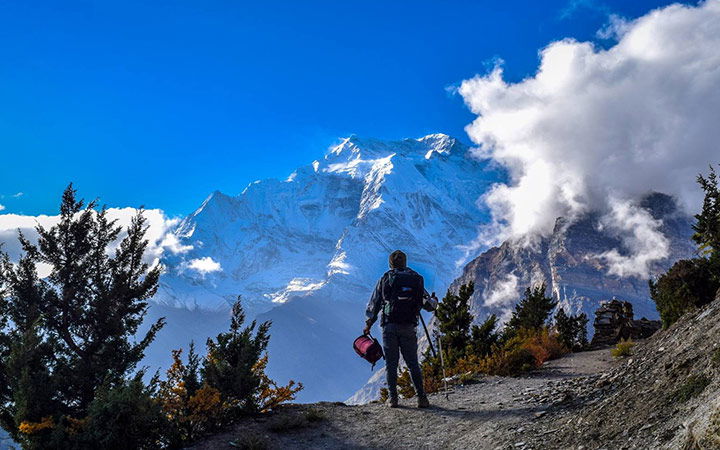 Annapurna is one of the best backpacking destinations due to the unmatched scenic views it offers. Another exciting and adventurous backpacking is at Annapurna Base Camp.
In the Annapurna region, you have several choices to choose the destination. Some of them are the Annapurna Base Camp trek, Ghorepani Poon Hill trek, Annapurna circuit trek, Panchase trek, Khopra Danda trek, and many more.
You can go for either a short or a long trek in the Annapurna region. Backpacking in Annapurna is thrilling but, various risks can occur such as altitude sickness, and nausea due to high altitude.
So, acclimatize as much as you can to adapt to the height and environment. The best time to go backpacking in Annapurna is from March-April to August-September.
The weather is clear and suitable for mountain viewing. You will get to observe high peaks like Annapurna massif, Machhapuchhre, Dhaulagiri, Pisang Peak, Manaslu, Tilicho Peak, Gangapurna, etc.
The short backpacking trip in Annapurna is comparatively cheaper than the long one. The short backpacking trip may range from $20 per person per day.
The area has hotels, teahouses, and lodges in abundance so you won't have problems with food and accommodation. You should carry warm clothes and water bottles as it gets windy with the increase in altitude, and you should keep yourself hydrated.
Backpacking Gorkha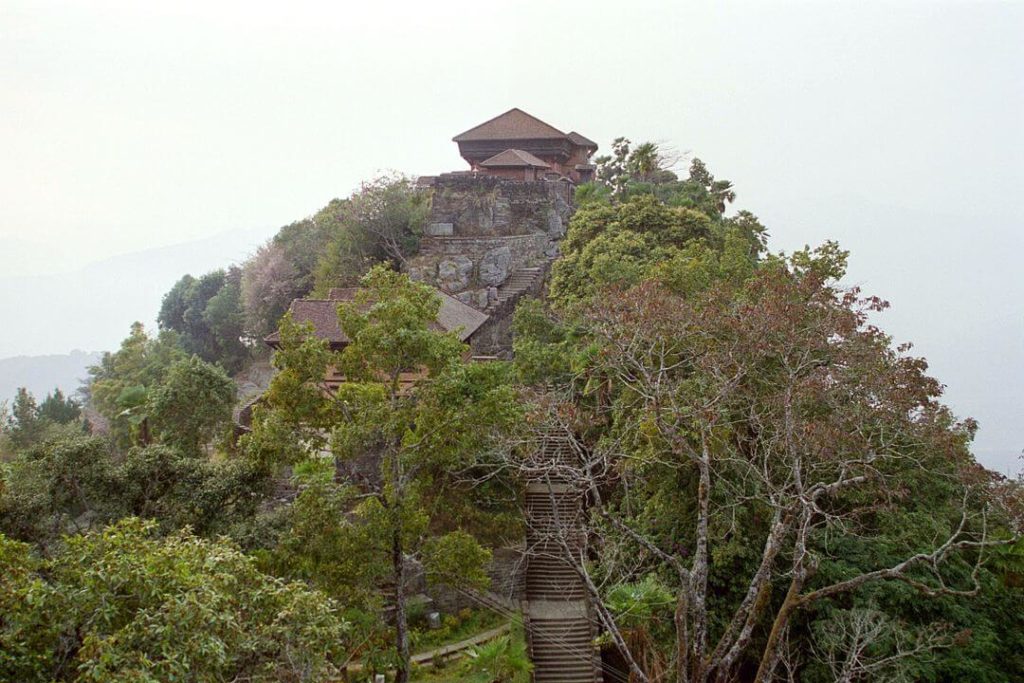 Gorkha is one of those places that holds the secrets of the ancient history of Nepal. It is the birthplace of King Prithvi Narayan Shah who unified Nepal.
Gorkha is a beautiful village where lies the Gorkha palace of King Prithvi, the temple of Gorakhnath, the Manakamana Devi temple, and so on.
The Gorkha Palace is the birthplace of King Prithvi Narayan Shah. The architecture of the place has a traditional influence. It was only slightly affected by the massive earthquake of 2015.
The palace is now a museum where you can see the royal throne, weapons, rooms, pictures, and many more.
Similarly, King Prithvi Narayan Shah used to be a huge devotee of Lord Gorakhnath. There is a temple dedicated to Lord Gorakhnath.
The sacred temple of Manakamana also lies in Gorkha. It takes around 3 hours to reach Manakamana from Kathmandu. The Manakamana Devi is said to fulfill our wishes.
Hindu pilgrims visit Manakamana with utmost belief. Manakamana temple can be reached via cable car. You can take a bus to Kurintar from where you can ride the cable car to the foot of the Manakamana temple.
NPR 5000 will be more than enough for backpacking Gorkha. There are adequate hotels and restaurants in Gorkha where you can stay and have a meal.
Recommended Reading: 20 Things Not To Do in Nepal
Backpacking Do's and Don't for Beginners
All of us may not necessarily know everything about backpacking. For beginners, here are some do's and don'ts that will help you with backpacking.
1. Wear trekking or running shoes
Since you will be walking for hours on paths you don't know will be rough, steep, or convenient. You should be prepared to walk on any path. So do not wear boots, heels, or sandals rather wear running or trekking shoes that are of your size and are comfortable.
2. Avoid Heavy backpack
Don't unnecessarily carry clothes and stuff that will just increase the weight of your backpack. Go as minimal as you can with the items in your backpack so that you won't have trouble carrying them and walking.
3. Always carry water
Carry a water bottle with you and avoid drinking water wherever. The tap water is not hygienic here. So you need to carry clean water in the water bottle to keep yourself hydrated while walking.
4. Carry a first-aid kit
One of the important items that you should have in your backpack is the first-aid kit. It is for any kind of unexpected injuries during the tour. You should keep first-aid materials handy.
5. Carry Nepali Currency
Exchange some Nepali currency with you beforehand so that you don't have to bother exchanging it when you have started your journey. In remote areas, there may not be ATMs for you to take out cash and the hotels in such areas do not accept cards. They deal in cash.
Conclusion
Hope this backpacking in Nepal ultimate guide comes to you as a help in the future. Backpacking in Nepal is an exciting activity and is highly recommended.
If you have any queries regarding backpacking in Nepal, you can drop your queries in the comment box below. Your queries will be addressed immediately.
Love this post? PIN it now, Read it later