If you are looking for Bhairahawa to Pokhara Flight Ticket Price deal then you can find the compiled airfare between BWA to PKR.
Bhairahawa is one of the commercial hubs and is also known as the second-largest trading area in Nepal. Bhairahawa is also the gateway religious place of Lumbini and also connects Butwal city.
In other words, Pokhara is another famous destination that tourists prefer to visit due to its stunning scenery and outdoor adventures and also during the peak season, it is crowded.
Both of these destinations are well connected by air and offer travelers an opportunity to experience the unique culture and natural beauty of Nepal.
Flight options for Bhairahawa to Pokhara
Buddha Air is one of the most popular airlines operating in Nepal, offering regular flights between Bhairahawa and Pokhara. The airline operates one flight each day, with a flight time of approximately 20 minutes.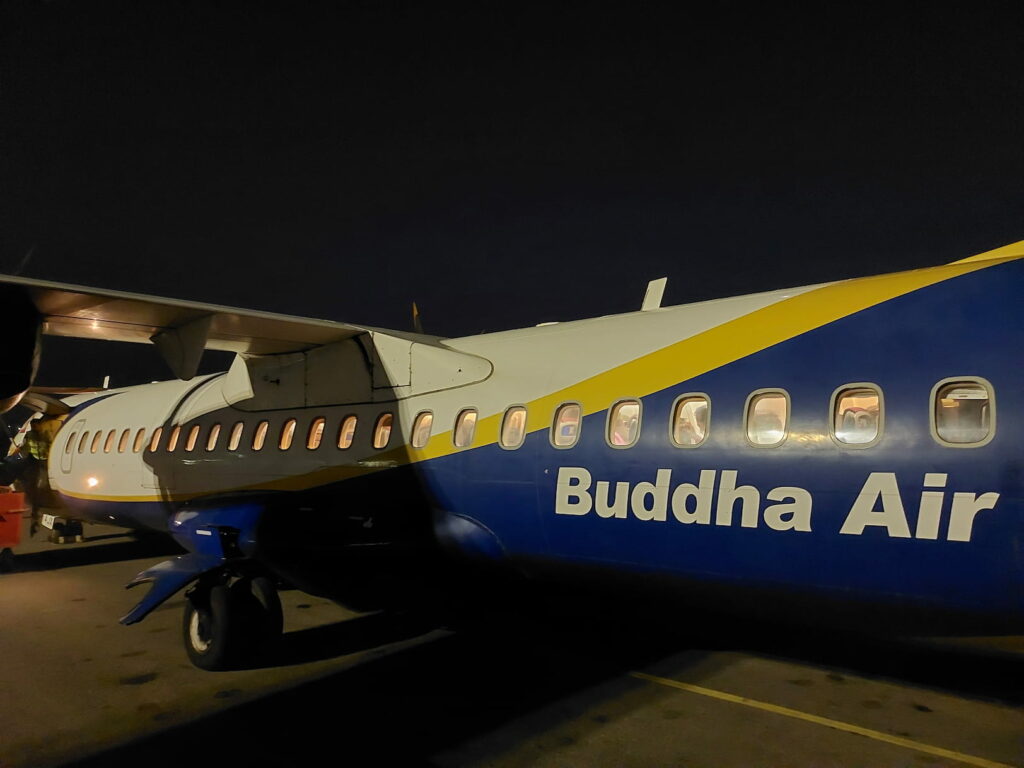 i.e. There is only one option to fly from Bhairahawa to Pokhara or Bhairahawa to Kathmandu and it is a direct flight. Currently, Yeti Airlines, Saurya Airlines, and Shree Airlines don't offer any flights.
Related Reading: Plane Ticket Price from Kathmandu to Pokhara
Average Plane Ticket Prices for Bhairahawa to Pokhara
The average ticket price for a flight between Bhairahawa and Pokhara can vary based on several factors such as the time of the year, the airline, and the booking method.
During peak tourist seasons, ticket prices tend to be higher, while during off-peak seasons, the prices may be lower.
On average, a one-way Bhairahawa to Pokhara Flight Ticket Price for Nepali is between NPR 3000 to NPR 6000, depending on the airline and time of booking.
On average, the one-way ticket can cost for Bhairahawa to Pokhara for foreigners is between USD 70 to USD 90, depending on the airline and time of booking.
How to Book a flight ticket from Bhairahawa to Pokhara?
If you are a domestic traveler then it's always best to check with the local travel agent. The best way is to use Online Payment Services in Nepal like esewa, Khalti, IME Pay, etc.
If you are an international traveler then booking a flight ticket between Bhairahawa and Pokhara can be done quickly through online booking portals or travel agents.
One of the best ways to book a ticket is using Skyscanner which offers travelers to compare prices and book the best deal.
If you are with your guide or travel agent then they can also assist you the provide the best deals possible and also other information about the flight and the destination.
Tips for getting the Best Deal for BWA to PKR Flight
Travelers looking for the best deal on a Bhairahawa to Pokhara flight ticket can follow a few simple tips.
Book your flight ticket in advance and select the flexible travel dates.
Look for the official website for deals and discounts.
Always use an online portal like Skyscanner to compare prices.
Subscribe to the newsletter to get coupons etc.
Apply for the premium club in airlines if you are a frequent traveler.
Use a travel rewards credit card If you frequently travel.
Book and travel during off-peak times.
Follow airlines on social media where they may provide exclusive deals and promotions to their social media followers.
Consider alternative transportation options such as buses or private cars.
Also Read: Australia to Nepal: Flight Information, Cost, Best Time
Conclusion
In conclusion, having a clear idea about the Bhairahawa to Pokhara Flight Ticket Price is crucial when planning a trip to Nepal. You can get the cheapest as well as most affordable airfare rate between BWA to PKR with a range of flight options too.
With the help of the information provided above, you can easily choose the most convenient and affordable option for your travel needs.