Dashain Festival in Nepal, also known as Vijaya Dashami is the biggest and longest festival celebrated by Hindu Origin Nepalese all over the world.
Dashain lies in the month of Ashwin (September/October). Ashwin is the happiest month, which brings joy and smile in the face of Nepalese people.
During Dashain, all the Government and private institutes remain close for 10-15 days. People who are far away from the home get to visit their place. The main beauty of this festival is happiness where you get to meet your loved ones.
Dashain falls in late September and early October. Also, the weather during this month is neither hot nor cold. so it is a favorable time to celebrate Nepal's most auspicious festival.
Check Out: Tihar Festival in Nepal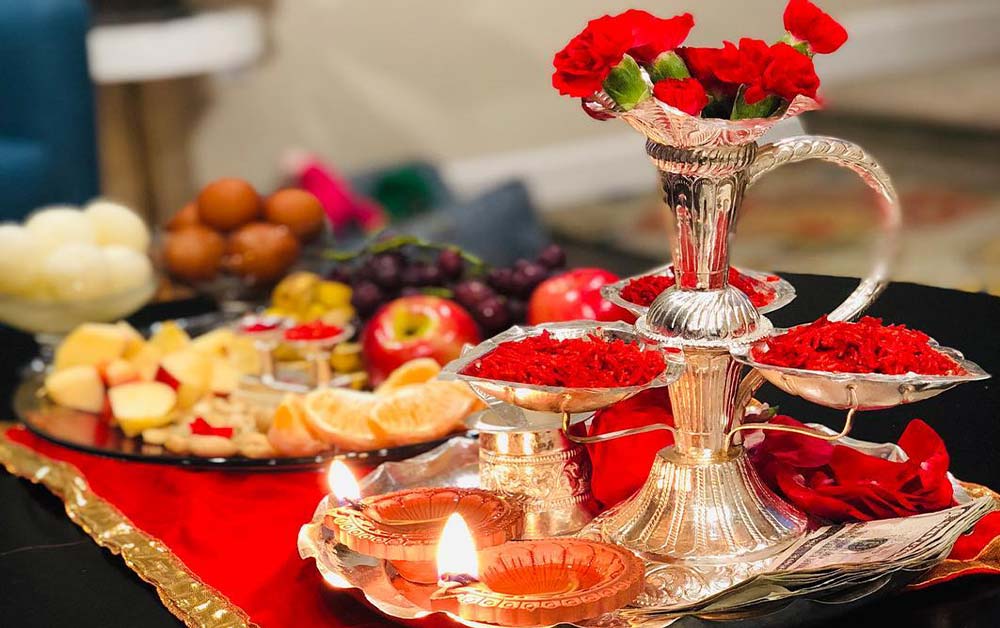 Importance of Dashain Festival in Nepal
According to Hindu Mythology, the demon namely Mahisasur from the underworld created a troubled environment in the Devalok (where God lives).
So, Goddess Durga battled with the demon for ten days and killed Mahisasur. Therefore, Dashain is the festival of a win over evil.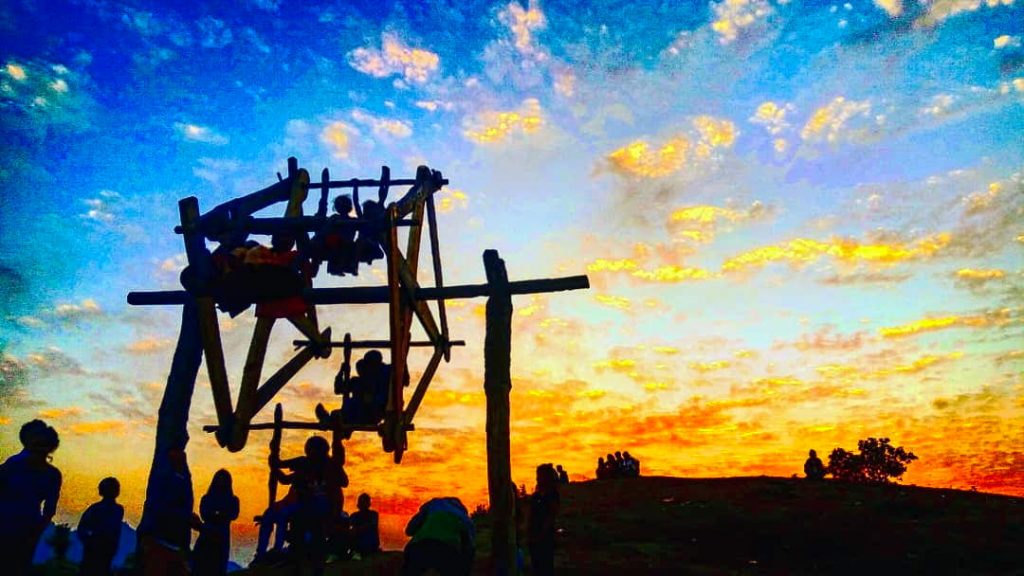 We called Dashain as Bijaya Dashami or Vijaya Dashami. Vijaya means victory and Dashami means tenth. So, the tenth day of Dashain is the most important among all. After that, the last five days of the festival is the celebration of the victory.
Dashain Festival in Days
Bijaya Dashami is 15 days long festival starting from Shukla Paksha (Bright Lunar Fortnight) and ending on Purnima (Full Moon).
Among all fifteen days, the most important days are the first, seventh, eighth, ninth, tenth, and fifteenth day.
Also Read: Best Season to Visit Nepal
The First Day – Ghatasthapana
Ghatasthapana is the first day of Bijaya Dashami where Dashain actually begins. The day starts with establishing the Ghada(Kalash), which is a holy vessel or pot.
The first day of Dashain is really important since we sow Jamara (Sacred yellow grass).
So what is the process behind sowing Jamara?
The Kalash symbolize the Goddess Durga. A sandy rectangular place is established where the Kalash is filled with clean and pure water. Normally, Kalash is kept in the centered covered with cow dung and sewn barley, corn seeds.
The whole process takes place in Puja/Dashain Ghar, which is a sacred place in the house. The sandy rectangular area is kept away from the rays of direct sunlight and needs to watered daily.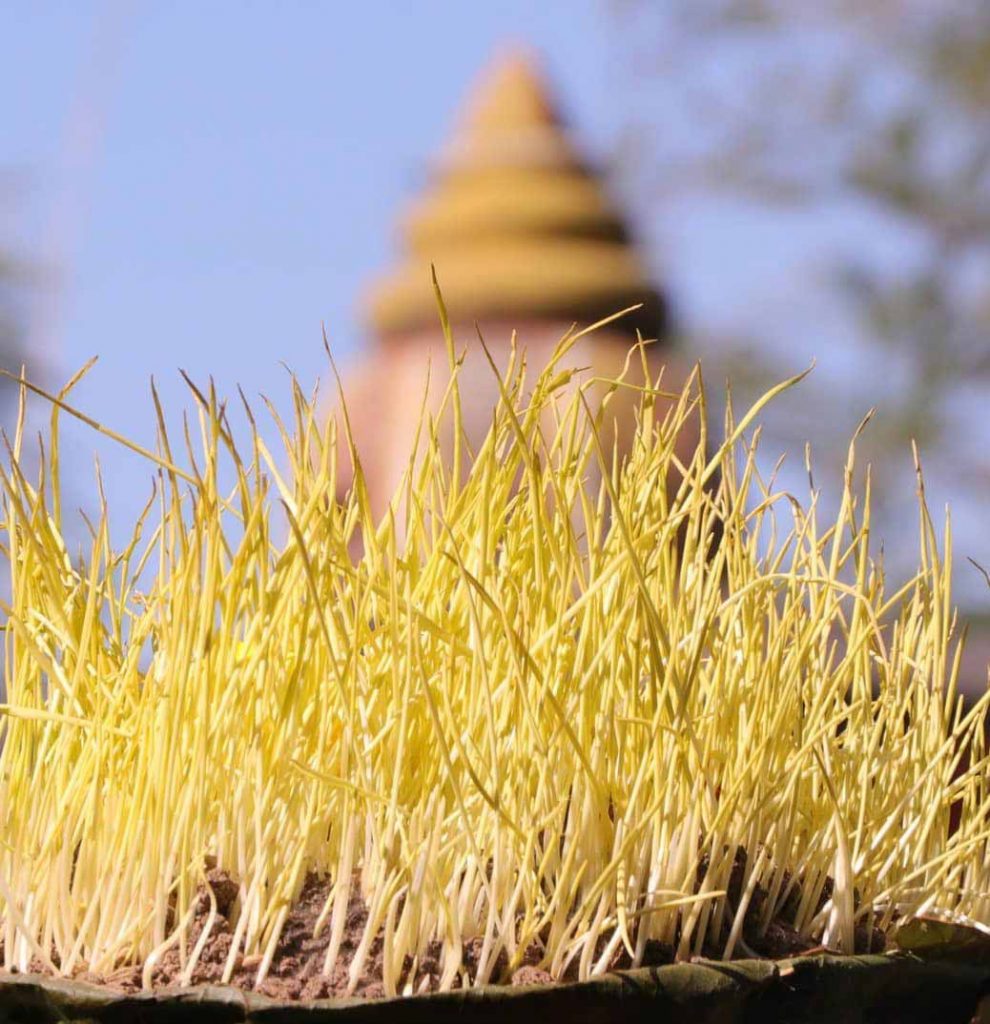 Usually, the eldest male family worship the Kalash twice a day, one at early in the morning before eating breakfast and another at evening before dinner.
The process continues for seven days. At the end of seven/eight days, we can see long grown yellowish sacred grass known as 'Jamara.'
The Seventh Day – Fulpati
The Seventh-day is known as Fulpati. Usually, at Fulpati, people start to clean and decorate the house. Ful means flower and Pati mean leaves so, Fulpati literally means flower leaves.
Traditionally, on the day the Brahmin priest brings the royal Kalash, banana stalks, Jamara, and sugar cane tied with red clothes from Gorkha to Kathmandu.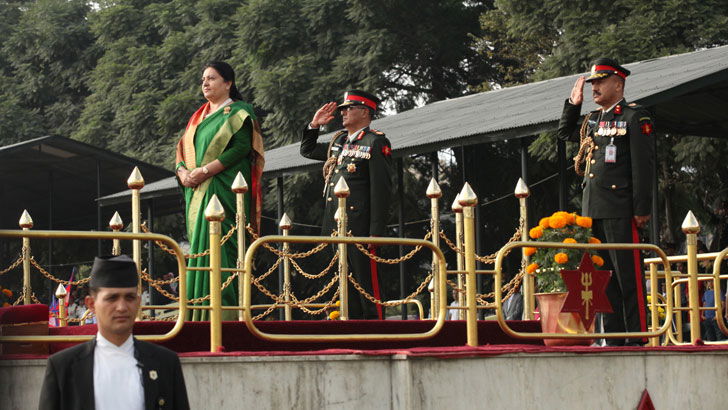 Also, a fulpati parade is held in Tudhikhel(Kathmandu) which is observed by the President and other officials. A parade is organized by Nepalese Army when phulpati arrives from Gorkha.
This is a century-long tradition where the army fires a weapon in the honor of Phulpati. And after the ceremony at Tudhikhel, the phulpati is taken to Hanuman Dhoka.
The Eighth Day – Maha Ashtami
The eighth day of the Dashain festival is known as Maha Ashtami. On this day both Durga and Kali are worshipped by devotees. This is known as the day when the most fierce of Goddess Durga's manifestation, Kali, appeared from the sacrifice of the animals like buffaloes, hens, ducks, and goats. Devotees offered blood to the Goddess as a symbol of fertility.
The eighth day is also known as the Kal Ratri (Dark Night). People consumed the meat of Ducks, Goats, Buffaloes, Hens as prasad(gift) from the Goddess. The meat lasts up to the fifteenth day of the Dashain festival in Nepal.
The Dashain festival in Nepal reaches its peak because it's the day before Vijaya Dashami also known as the Tika day. The 9th day is also known as Maha Navami is the last day of Navaratri.
Kali and Durga's temple are full of devotees to worship their favorite Goddess. Maha Navami is the day of Viswakarma (The God of Creativity).
On this day all the machinery items like Bus, Car, Bike, Cycle including household things like Knife, Axe, Khukuri are worshipped.
The Tenth Day – Vijaya Dashami
Vijaya Dashami is the most auspicious and tenth day of Dashain festival in Nepal. In this day the elder person in the house usually parents put Tika (a mixture of rice, yoghurt, and Vermillion Powder) and Jamara (Sacred yellow grass) also provide blessings with Dakshina (money) and gifts.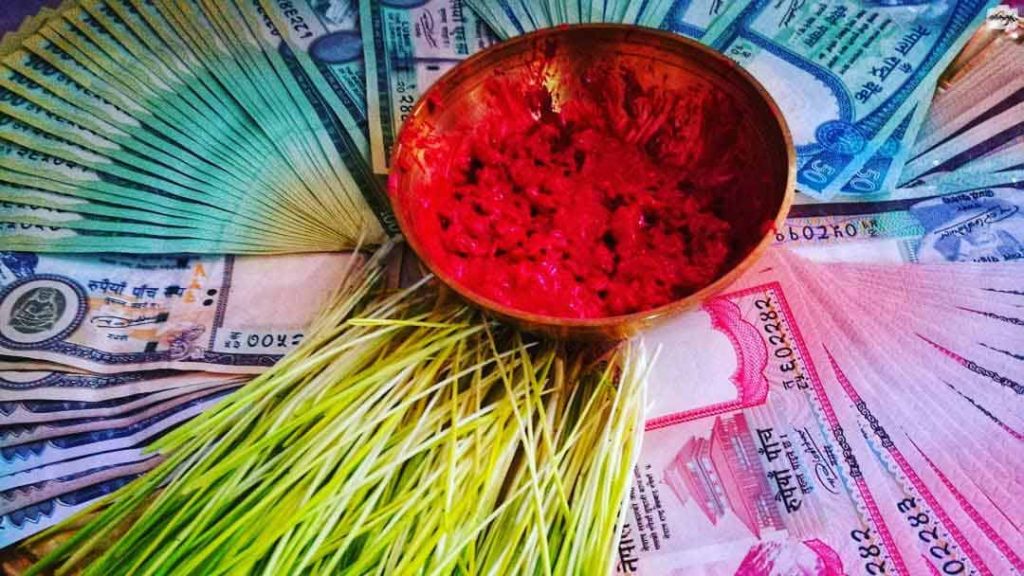 People usually travel to the relative house to put tika and blessing from elder ones. This tradition lasts up to four days. Relative gather together and have varieties of food.
The Fifteenth Day – Kojagrat Puja
The last day of the festival is called "Kojagrat" which falls in Purnima (Full Moon). Kojagrat means "who is awake." The celebration of the festival that started from Ghatasthapana (1st day) ends at full moon (15th day).
There is a myth that if you are awake all night in Kojagrat Purnima, then Godness of Wealth, Laxmi will give wealth to all the devotees.
Also Check: Teej Festival in Nepal
Dashain Festival Date in Nepal
| Year | English Date | Nepali Date | Festival Day Name |
| --- | --- | --- | --- |
| 2022/2079 | Oct 2 | Ashwin 15 | Phulpati |
| | Oct 3 | Ashwin 16 | Maha Ashtami |
| | Oct 4 | Ashwin 17 | Maha Navami |
| | Oct 5 | Ashwin 18 | Vijaya Dashami |
2022/2079 Dashain Festival
| Year | English Date | Nepali Date | Festival Day Name |
| --- | --- | --- | --- |
| 2023/2080 | Oct 21 | Ashwin 5 | Phulpati |
| | Oct 22 | Ashwin 6 | Maha Ashtami |
| | Oct 23 | Ashwin 7 | Maha Navami |
| | Oct 24 | Ashwin 8 | Vijaya Dashami |
2021/2078 Dashain Festival
How People Celebrate the Dashain Festival in Nepal?
There are certain things Nepalese usually do during Dashain time like playing cards, flying kites, buying clothes, etc. Let's find out more…
1. Flying Kites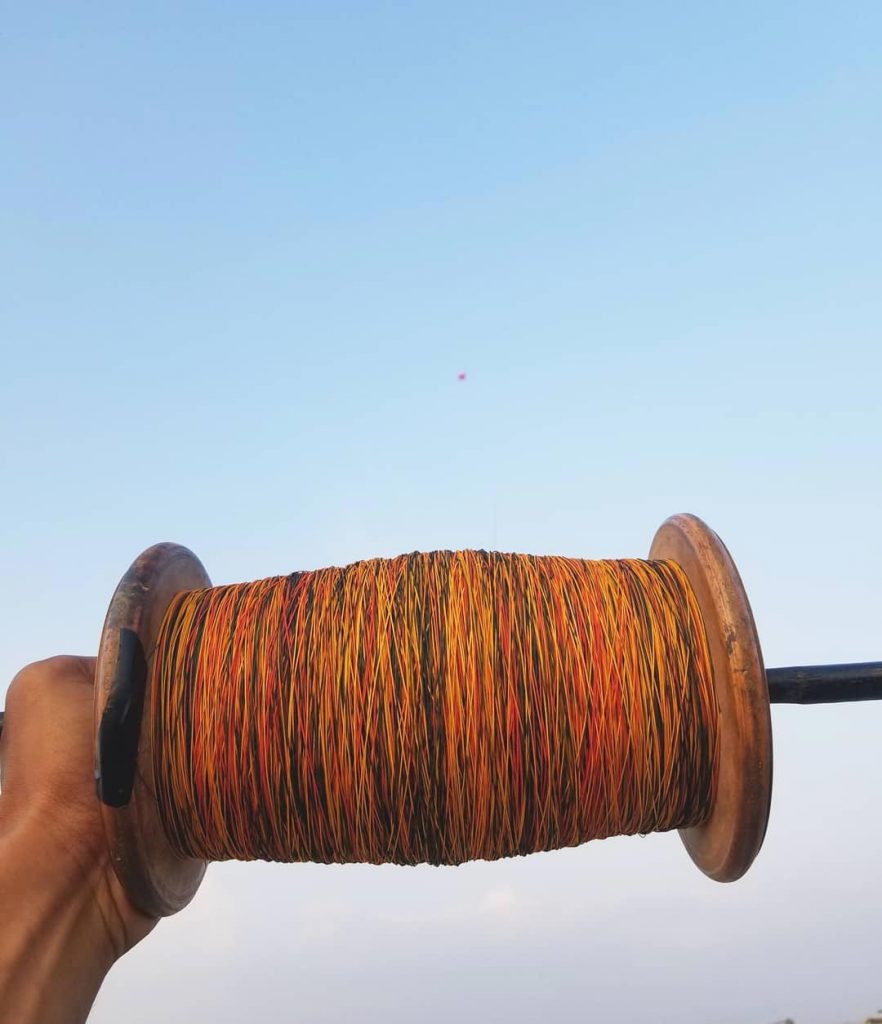 Kite flying is famous among teenagers. You can see colorful kites flying in the sky and children shouting "Changa Chet." Also, you can see a street full of kids running after kites and playing with each other.
2. Playing Card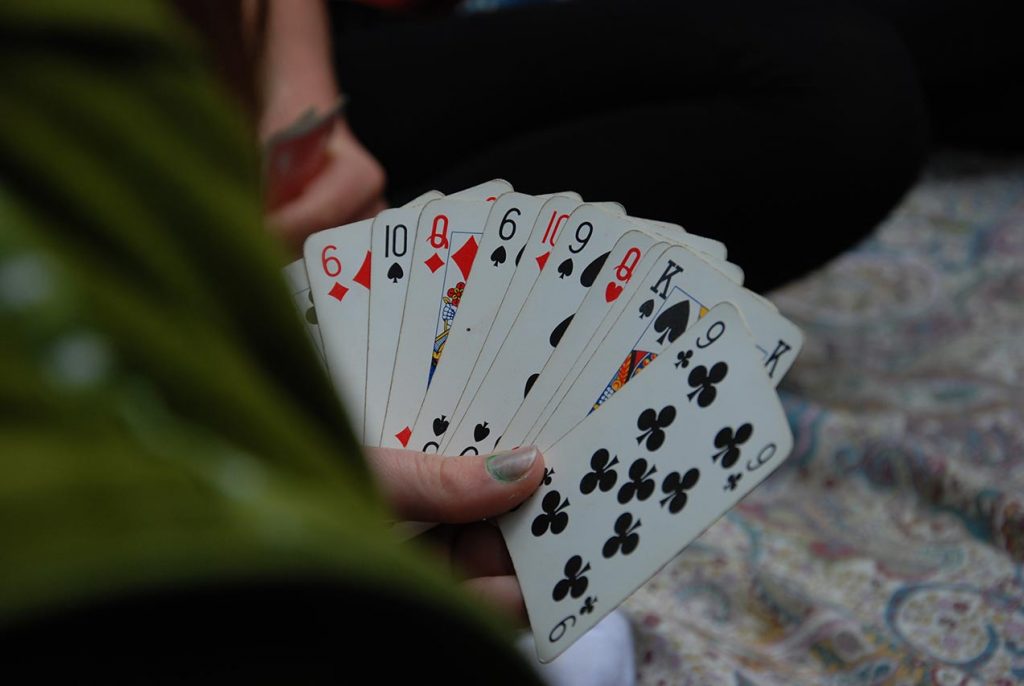 Playing card is most popular in Dashain. Usually, family members sit together with money and get fun together. Also, neighbor gathers in a place and bet money while playing card.
3. Decorating Home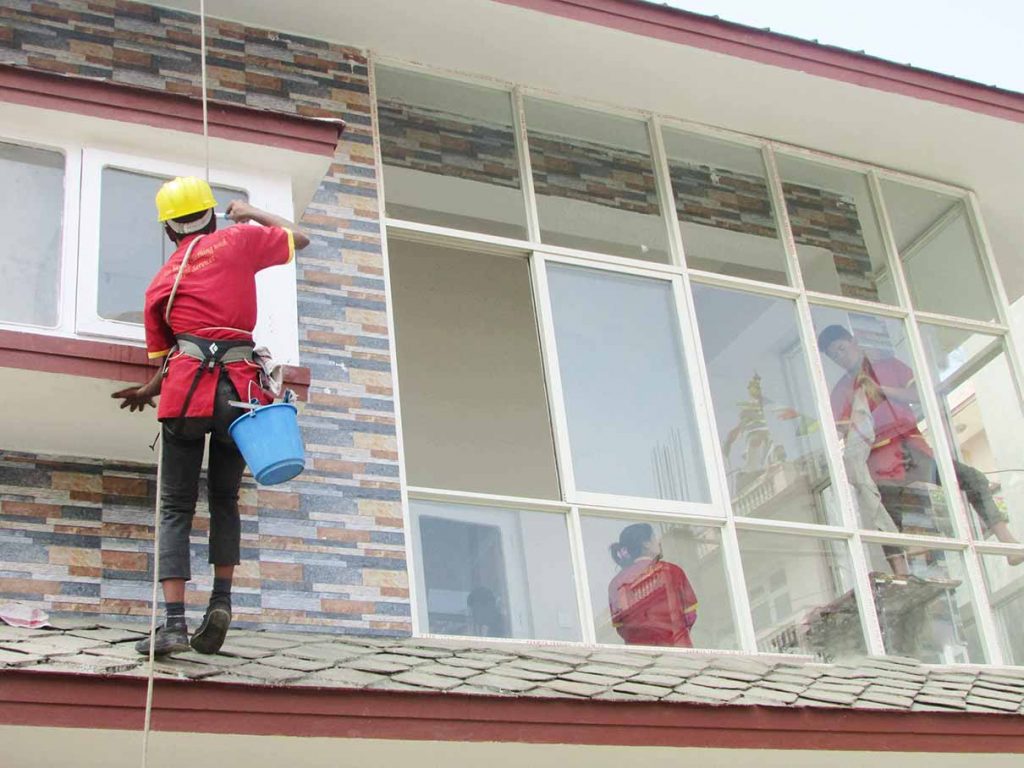 Decorating and cleaning home is a part of this festival too. Since decorating your house and welcoming goddess, Durga brings the luck to you and your family. Also, your relatives visit your residence, so it is good to make your house more beautiful and clean.
4. Buying New Clothes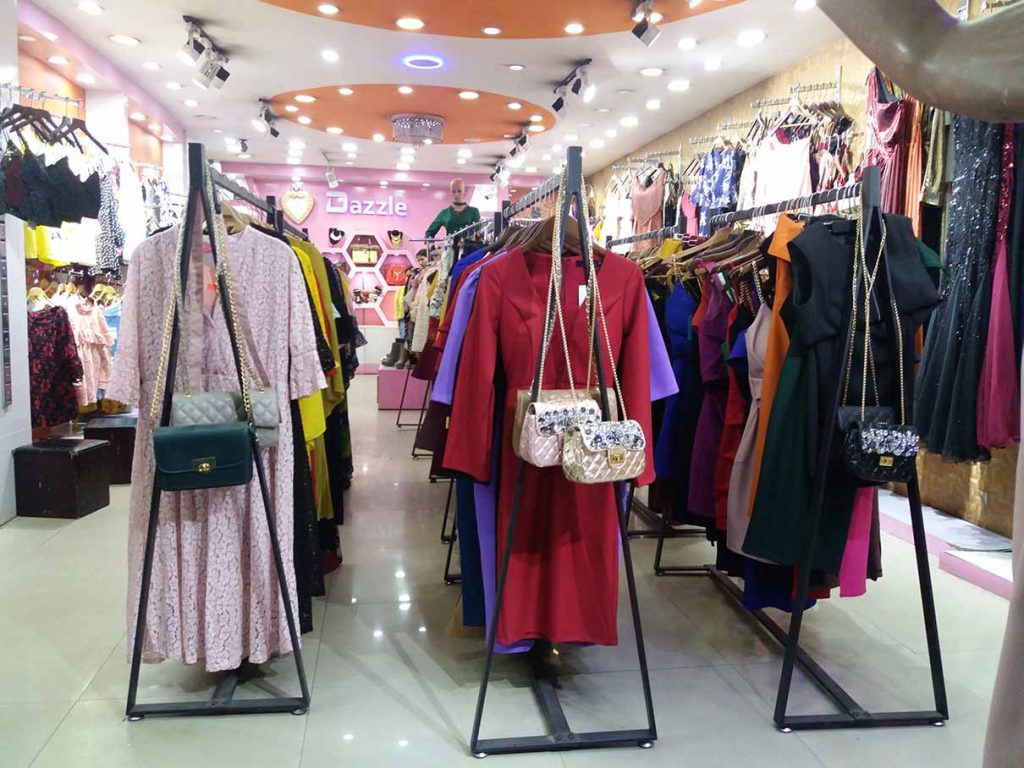 Since Dashain is a joyful festival and buying new clothes is yet another essential part of the festival. Especially, purchasing new clothing brings excitement to the children. We see a massive crowd on clothing, shoe stores. Also, you can get plenty of festival sale discount at this time.
5. Playing Swings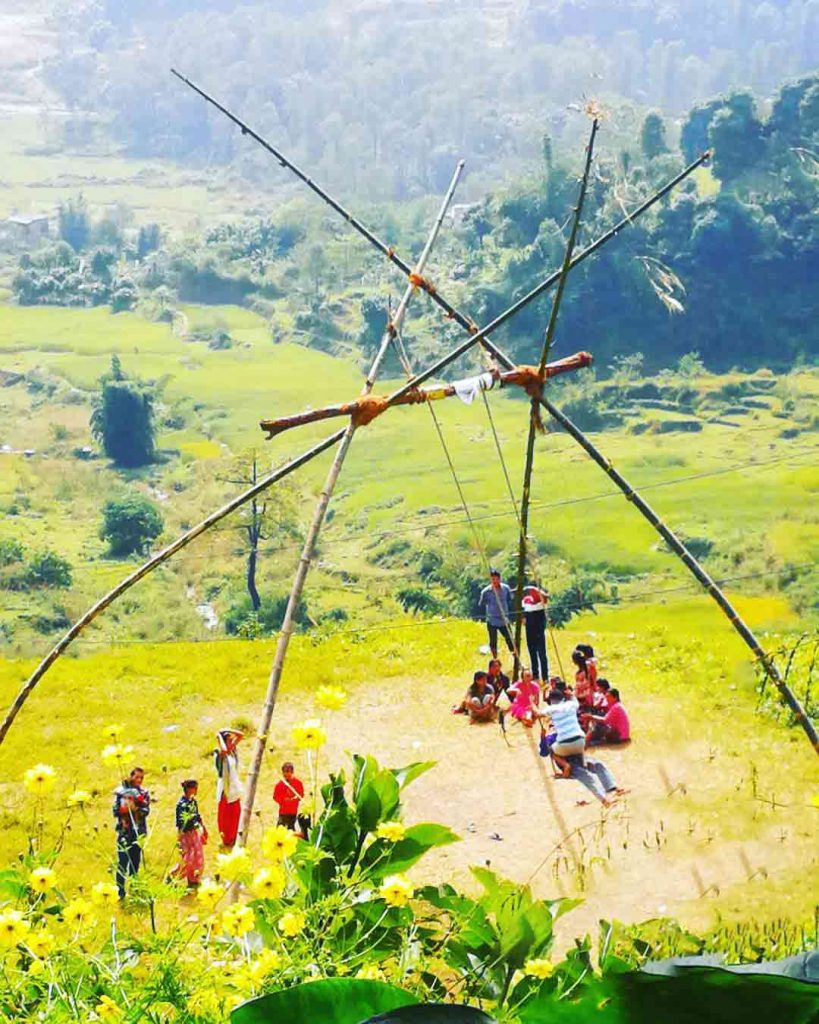 Usually, we can see tall swing made of bamboo installed in open areas which is popular among kids and Adult. The myth behind the swing is that one should leave the ground at least once in Dashain so that you can make your path to heaven after death.
Know about: Holi Festival in Nepal
Final Words
After celebrating Dashain Festival for 15 days, we go back to normal life, and we wait for another biggest festival Tihar.
Moreover, many foreigners enjoy being in Nepal, and if you want to celebrate Dashain with Nepalese, then you can visit Nepal during the festival time.
We hope you liked our Dashain Festival in Nepal article. If you have any feedback, please feel free to leave a comment.
Love this post? PIN ME!!!