Are you an adventurer at heart looking for a place to visit near Kathmandu? Well, Dhap Dam is a stunning location for one day trip to keep you refreshing.
Dhap Dam is easily accessible and can be reached by either using your vehicle or by taking a hiking route for those who are up for it.
In this article, we will provide you with all the information you need to know about Dhap Dam, including its location, distance, hiking route, etc.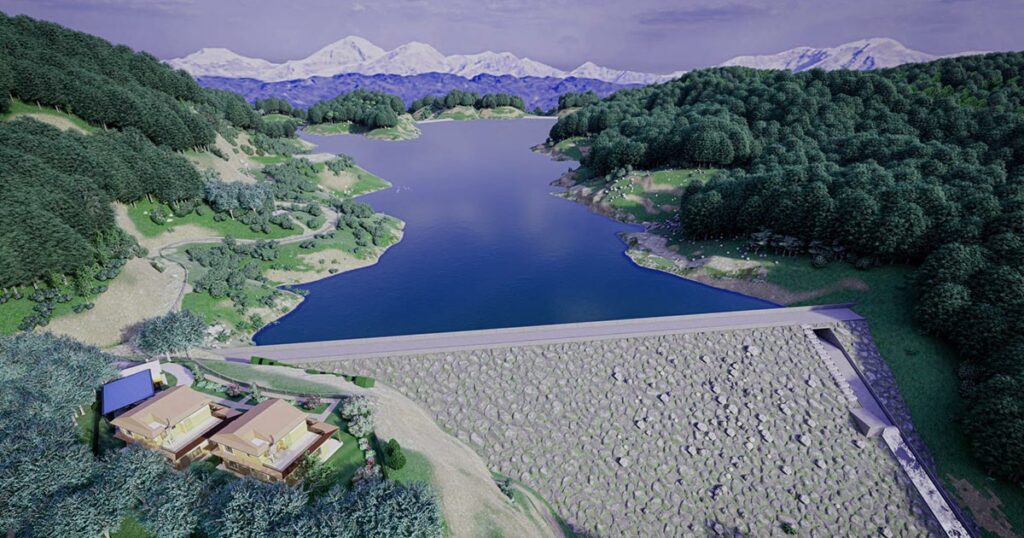 Dhap Dam Overview
Dhap Dam is an exceptional destination located in the Bagmati Province of Nepal, situated about 26 kilometers from Kathmandu. This dam has a height of 24 meters and a width of 175 meters, with a maximum water storage capacity of 850,000 m3.
The main purpose of constructing the dam was to augment the water flow of the Bagmati River in the dry season.
The area surrounding the Dhap Dam provides excellent hiking opportunities and offers fresh trekking locations near Kathmandu.
Visitors can participate in various outdoor activities such as nature hikes, observing wildlife, and experiencing the rural way of life.
Dhap Dam Location & Distance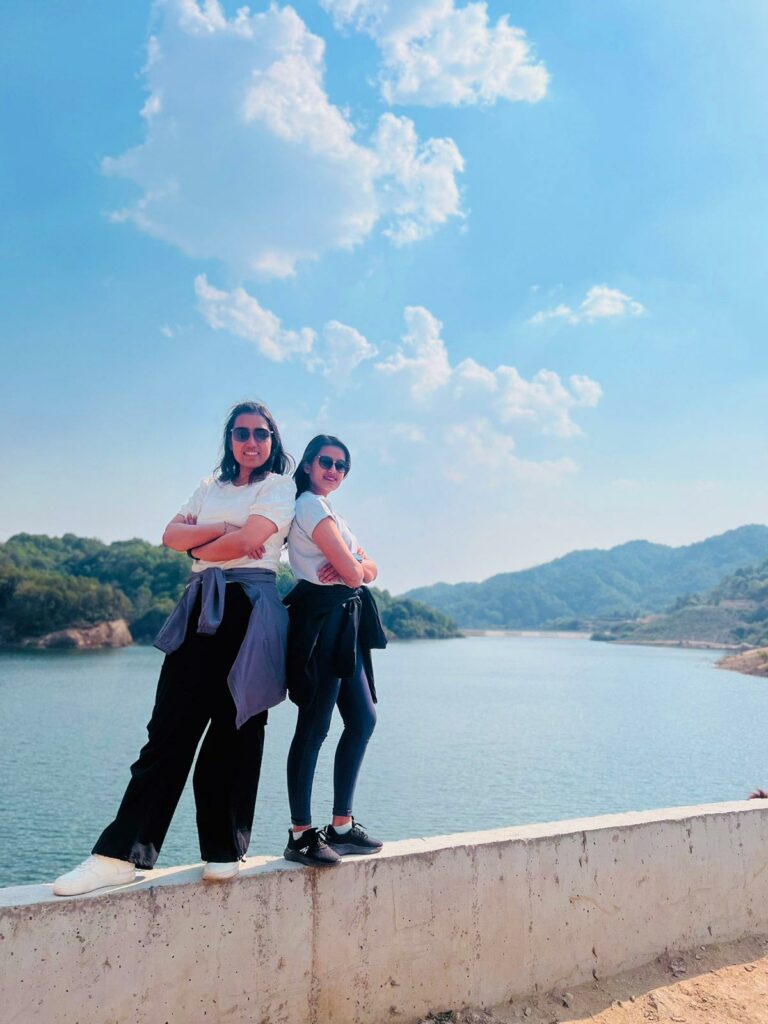 The journey to Dhap Dam begins from Kathmandu, which is located 14 kilometers away from Sundarijal.
The trek leads to Mulkharka village, where the trail forks into two paths; one leads to Chisapani, while the other leads to Haibung. The route presents stunning views of the mountains, rivers, and villages along the way.
If you are near Sundarijal, it can take up to 4 hours to reach Dhap Dam via the Chisapani road, or 2-3 hours if you go by vehicle.
However, the exact duration of the journey can vary depending on your pace of walking or riding. You may reach the dam quicker than the estimated time mentioned above.
Dhap Dam Hiking Route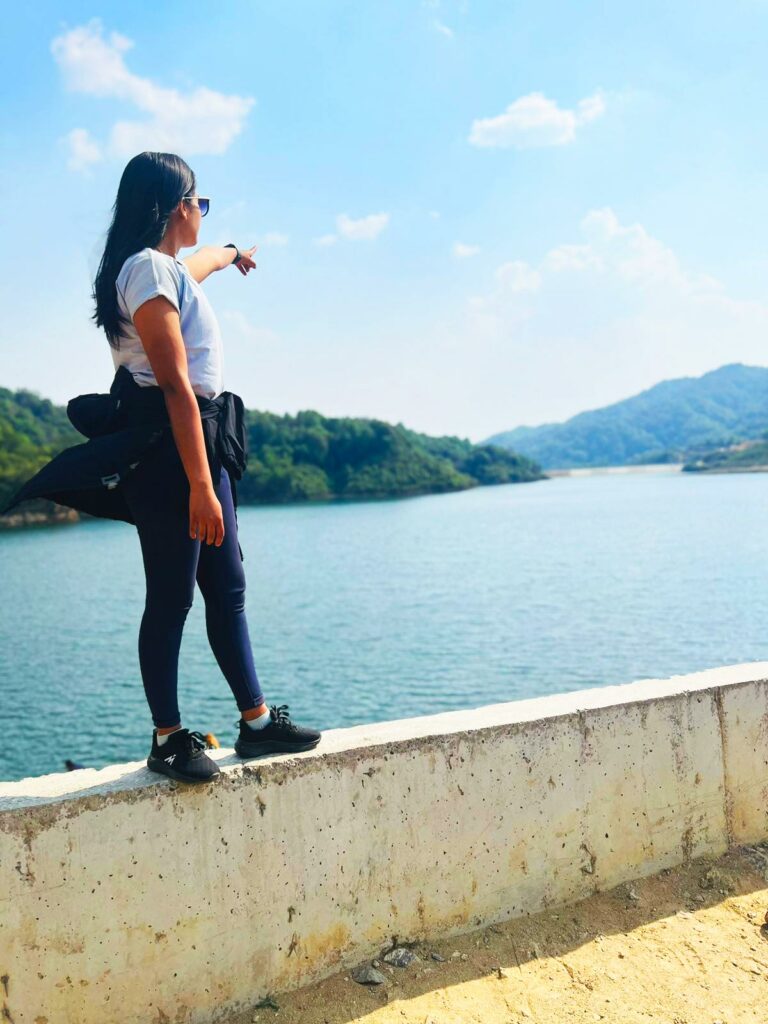 Embark on a one-day hike to Dhap Dam from Kathmandu with the following itinerary:
Start your journey early in the morning by taking a bus from Ratnapark to Sundarijal.
Obtain entrance tickets for Shivapuri National Park upon arrival.
Begin your hike from Sundarijal along an off-road trail towards Mulkharka Village, taking in the picturesque jungle, streams, and birdlife.
After hiking for approximately 1.5 hours, reach Mulkharka Village.
Resume your hike for another 1.5 hours to Haibung, where you can admire the stunning views of the Kathmandu valley and surrounding green hills.
From Haibung, hike for an additional 20-30 minutes to reach Dhap Dam. Relax on the dam's wall, have lunch, and soak in the breathtaking scenery.
After spending a few hours at Dhap Dam, begin your descent back to Kathmandu
To reach the dam, visitors must first go through the Shivapuri Nagarjun National Park. The route to Dhap Dam starts from the Chabahil-Gokarna-Sundarijal road.
The distance between Chabahil and the dam is around 35 kilometers, and the route leading to Chisapani is accessible via Sundarijal.
After reaching Sundarijal, visitors can take the main road on the right side, leading to Chisapani, or the road on the left side, which leads to the lake via Mulkhark.
The main road is accessible to both two-wheelers and four-wheelers, while the Mulkhark route is only accessible to two-wheelers. The distance from Mulkhark to the lake is around 10 kilometers.
After reaching Haibung, you need additional 20-30 minutes to reach the destinations where you can enjoy the dam itself.
If you want to stay overnight then hike to Chisapani which is three kilometers away from the dam where you can spend overnight.
FAQs
Where is Dhap Dam located?
Dhap Dam is a popular destination for domestic tourists located in Gokarneshwor Municipality-1, Shivapuri Hill, near Kathmandu Valley.
Is Dhap Dam accessible by car or bike?
While it is possible to reach Dhap Dam by car, bike, or scooter, the road leading to Dhap Dam is an off-track road with rough patches and steep inclines. Therefore, it is recommended to use a high-clearance car for your safety.
How long does it take to reach Dhap Dam from Kathmandu?
The time it takes to reach Dhap Dam from Kathmandu depends on the mode of transportation and traffic conditions. By car or bike, it usually takes around 2 to 3 hours.
Are there any homestays or guesthouses in Dhap Dam?
As of now, there are no homestays or guesthouses available near Dhap Dam. Therefore, visitors are advised to bring their food and water while visiting the area. The resort is around 1 km away from this spot.
Conclusion
Once you arrive at Dhap Dam, you'll be refreshed with its beauty. It's the perfect dating place for couples or you can even enjoy it with your friends.
In summary, if you're looking for a one-day trip near Kathmandu, Dhap Dam is worth considering.
With its accessibility, hiking routes, and natural beauty, it's sure to be a refreshing and rejuvenating experience.
Let me know your trip experience if you have been to Dhap Dam already.