Are you traveling to Nepal or planning to travel soon? If yes, here are a few essential documents you must carry with you.
TL;DR: You need to have the mentioned document requirements. For more details, you can read the full blog.
A valid Passport.
Travel Visa
Travel Insurance
Foreign Currency
Flight Documents
Health Declaration paper.
So on…
List of Essential Documents to Travel Nepal
To make sure your next trip abroad is as enjoyable as possible, you must do some research beforehand-especially when it comes to the documentation! Whether this is a family vacation or a solo adventure.
As all of you know that Nepal is a country full of monuments, beauty, and adventure. Travelers who want to explore Nepal from abroad need to follow some important rules per the country's rules and regulations.
Here are some essential documents required while traveling abroad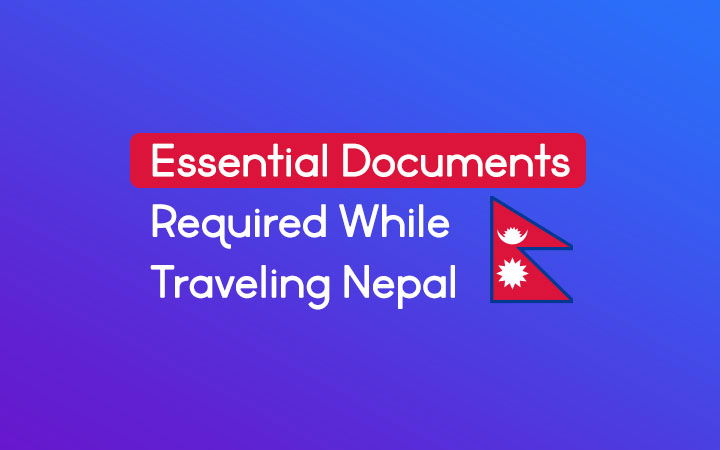 1. Valid Passport
A passport is one of the most essential documents required while traveling abroad. It is a document issued by the country for its citizen, granting the right to enter and leave the country for which it was issued.
A passport is often needed when applying for visas, particularly if you are visiting another country or willing to stay in another country longer than three months.
A passport also provides evidence of your identity so that law enforcement agencies know who they deal with if you are arrested or detained.
A valid passport will be accepted where ever you go, but it is recommended that you complete additional paperwork before entering some countries.
First and foremost, you will need a valid passport. Make sure that your passport is up to date and will not expire while you are in Nepal.
2. Travel Visa
Next, after having a valid passport, you need to obtain a visa. You can apply for a visa via online process or at the Nepalese embassy in your country or consulate in your home country. Moreover, Visa on Arrival is also possible at the airport but it's best to issue a visa via the above process.
The visa will allow you to stay in Nepal for 15, 30, or 90 days. If you plan to stay in Nepal for longer than 90 days, you will need to apply for a permit from the Department of Immigration.
3. Travel Insurance
Travel insurance is a form specifically designed to protect a traveler against unforeseen circumstances. The company providing the insurance will cover expenses incurred from injury, loss of luggage, or even medical treatment.
Travel insurance can be particularly helpful if you travel on a cruise or to a country without many hospitals.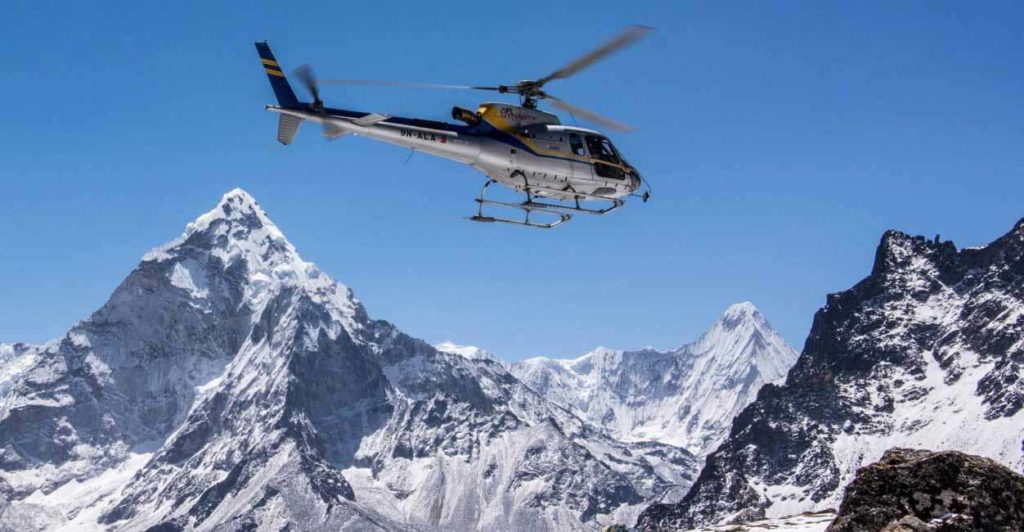 Travelers with pre-existing conditions who may have difficulties getting comprehensive coverage for those conditions from their current insurer should also purchase travel insurance.
Once you have your passport and visa, you will need to get a travel insurance policy. This is essential in case you need to be evacuated from Nepal due to an emergency.
Make sure that your travel insurance policy covers your trekking and mountaineering insurance, as these activities are not covered by standard policies.
4. Flight Tickets
If you are visiting to Nepal then traveling through the land is only possible from India. so, you need to travel by air.
Be sure to book flight tickets as early as possible since flight documents are required when it comes to traveling.
You will need to carry copies of these documents so that they may be inspected before entering the airport and boarding the flights.
Your flight document normally includes three things:
A ticket for your flight (confirmation, or boarding pass).
The passenger's passport number.
The date of the trip.
5. Foreign Currency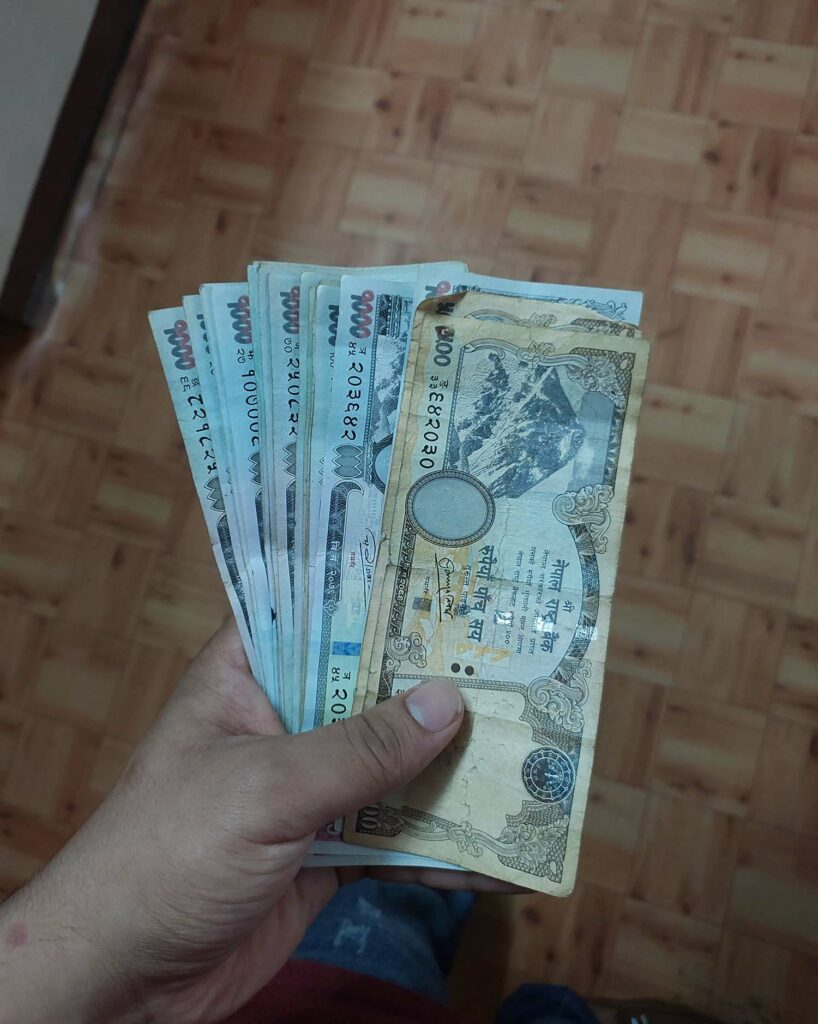 Nepal's currency is called the Nepalese Rupee (NPR). Nepal's central bank, the Nepal Rastra Bank, has strict controls in place regarding the use of foreign currency.
It is best to exchange your currency in your home country if possible and carry the exchange bill as it may be required at the airport.
Also at Tribhuvan International airports, there is one bank counter at the departure lounge and two currency exchange counters upon arrival.
If you are bringing foreign currency into Nepal, you are required to declare it on your customs declaration form. You are allowed to bring up to $5000 worth of foreign currency into the country.
If you are leaving Nepal, you are allowed to take up to $5000 worth of foreign currency out of the country. If you have more than $5000 worth of foreign currency, you must obtain approval from the Nepal Rastra Bank.
6. Health Declaration paper
If you are planning to visit Nepal, you will need to complete a Health Declaration paper. This paper will ask you questions about your recent travel history, health status, and vaccination history. You will need to provide this paper to the Nepalese authorities upon arrival.
The Health Declaration paper is necessary to help the Nepalese authorities screen for potentially infectious diseases. By providing information about your recent travel history and health status, they can more easily identify any potential risks.
Additionally, the vaccination history section will help them determine if you are up-to-date on your vaccinations.
If you have any questions about the Health Declaration paper or the vaccination requirements, please contact the Nepalese embassy or consulate in your home country.
7. Other Documents
Please carry a few passport-sized photos with you as it may be required while issuing permits for trekking, national park entry, etc. Nevertheless, you can also use a local photo studio as they offer quick photos.
Moreover, you can also carry a driving license as it can be useful if you hire a bike, or car here. Proof of sufficient funds, hotel reservation documents, etc. may also be required to carry these documents with you while traveling to Nepal.
Takeaway
Traveling abroad is time-consuming since you have to plan everything in detail. To make your trip smooth and less daunting, take these documents.
Be sure to contact the embassy before traveling to Nepal.
Passport, flight documents, travel insurance, embassy-issued documents, national identity, visas, currency, etc are the essential documents required while traveling to Nepal by air or land.
Suppose you travel from or through a country affected by the COVID-19 or any other pandemic. In that case, additional paperwork may need to be provided, including a health declaration form and an emergency contact form.
Make sure all of this documentation is up to date before leaving for your destination!
Happy Traveling!!!