Indra Jatra festival in Nepal is an eight days long festival that is celebrated on Bhadra Dwadasi to Ashwin Krishna Chaturdasi. It is a major Newa festival that is also known as Yenya in Nepal Bhasa.
It features different ceremonies each day which include Kumari Jatra and Bhairav Jatra as the main events. Initially, all these three festivals were celebrated independently.
Though there is information about the inception of Indra Jatra and Kumari Jatra, the origin of the Bhairav Jatra is still unclear.
The Majipa Lakhe dance is another enticing event held during the Indra Jatra. Similarly, Kumari Jatra is marked by pulling chariots.
The street comes to life with thousands of devotees pulling chariots in the streets of the old cities of Kathmandu. People also pay tribute to their deceased family members during Indra Jatra.
Events during the festival include traditional dances, chariot pulling of Kumari, lord Bhairav, and Lord Ganesh, and playing traditional instruments. Lakhey dance is enjoyed the entire week accompanied by traditional instruments.
One of the most enthralling parts of Indra Jatra is worshipping different avatars of Bhairav. An event where the devotees struggle in the crowd to drink traditional Newari alcohol as a blessing is a sight to see.
The alcohol gets poured from the mouth of Swet Bhairav and locals try to drink it while standing in the crowd.
Symbolic foods are an integral part of the celebration, and Samay Baji is a must-have. Beautifully decorated Samay Baji is placed in the vicinity of old Newa settlements. Different Newari items are prepared and offered to deities then Lakhe distributes them amongst the devotees.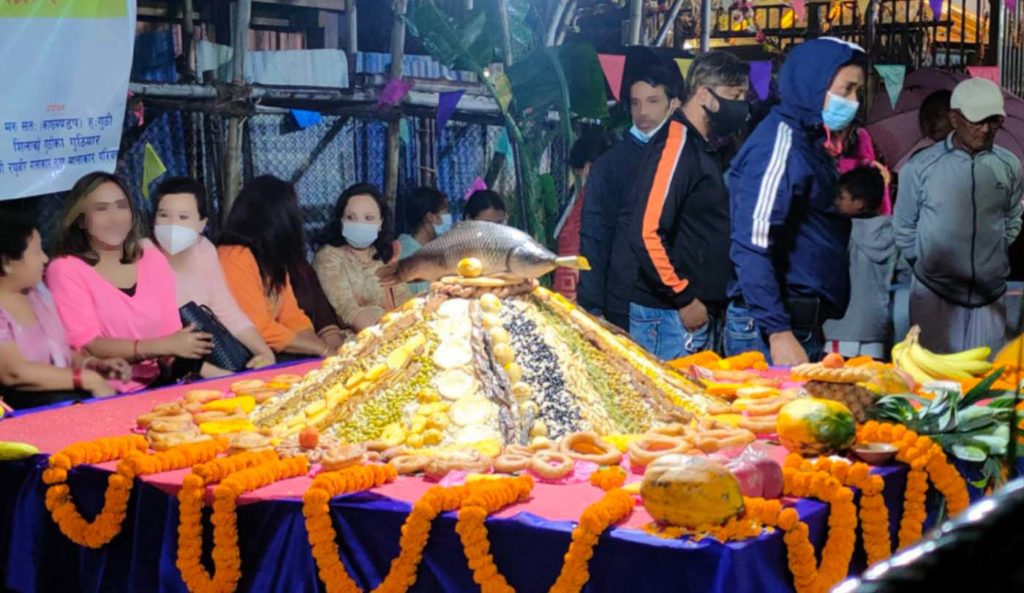 It is believed that the Jatra started during the reign of Gunakama Deva in the 10th century. The festival has cultural, religious, and, social importance among the Newari people. It unites the Nepalese no matter which cast group they belong to.
The tale of the origin of Indra Jatra varies based on the people's beliefs. Some say it is celebrated to thank Indra for the rain and some believe it is celebrated to honor Lord Bhairav as he destroys evil.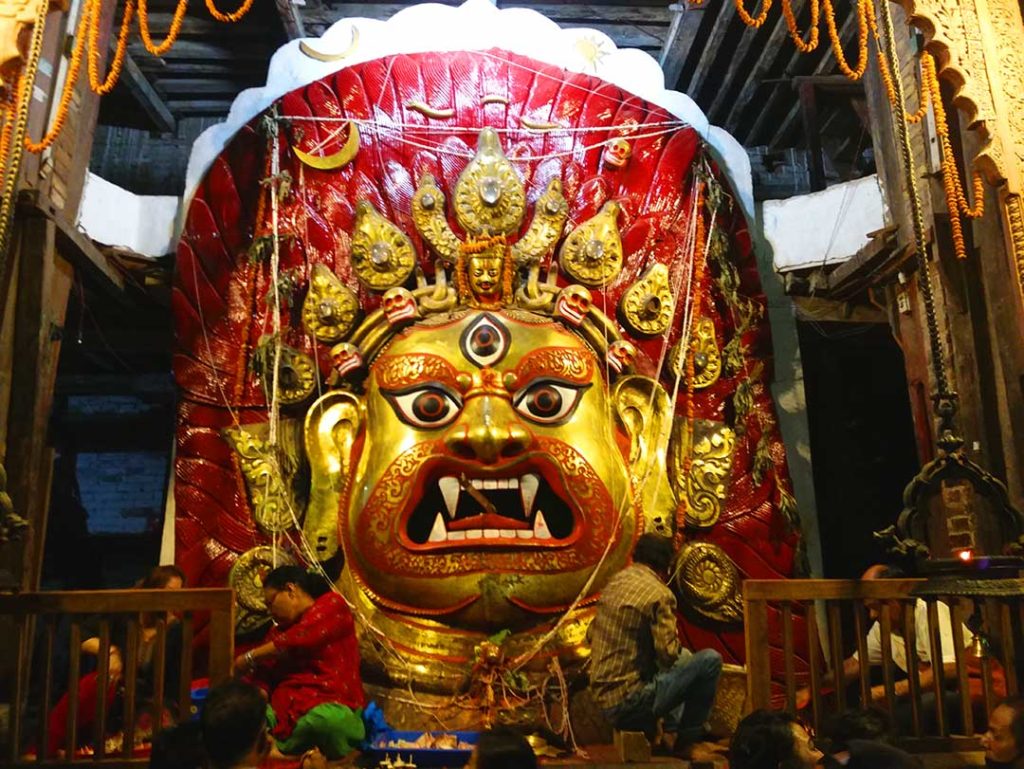 Nonetheless, it is the celebration that embraces thankfulness, goodness, and change. Besides, Kathmandu city, the festival is celebrated with great enthusiasm in Bhaktapur and Lalitpur.
The eight-day-long festival celebrated in Bhaktapur features traditions and practices distinct from Kathmandu.
Placing a scarecrow known as bukhyacha in various places is a common practice in Bhaktapur. It is done to celebrate the change of season and highlight the significance of fertile land.
Why is Indra Jatra celebrated?
In different cities, there are different legends about the commencement of Indra Jatra. However, among them, the most popular one is about the God of Rain Indra.
It is said that once god Indra descended from heaven dressed as a peasant. He came to earth to find a special flower called Parijat translated as jasmine.
His mother Basundhara had a fast and she needed the flower and fruit to worship. So, to collect the flower, Indra came to earth concealing his real identity.
While collecting the flowers in Maruhiti, locals caught him. He was stealing the flower and no one knew his real identity.
They treated him like a common criminal and imprisoned him. Since he was hell-bent on not revealing his identity, he was not released and put on a display in the town square. During the festival, this incident is enacted by displaying the image of the god Indra with his hand bound in Maru.
Since Indra didn't return for a long time, his elephant 'Pulu kisi' panicked and started to search the nuke and corner of Kathmandu city with the hope of finding his master.
Back in heaven, his mother Basundhara started to get restless due to her son's disappearance for an extended period.
Without wasting any more time, she descends to Kathmandu and starts to search for her son. (In the reenactment of this event, Pulu kisi runs through the city in search of Indra and the procession of Goddess Dagini takes place)
Unlike her son Indra, the mother made her and her son's identity clear to everyone. Soon, the captors realized what they had done and released Indra without hesitation.
After Indra was released, Basundhara was very glad thus she promised locals to provide them with enough dew in winter to ensure a good harvest. It is believed that Kathmandu started to experience fog during winter after this incident.
Additionally, she made a promise to them that she would take their deceased family member who died that year to heaven. After the incident, commoners and the king celebrated their fortune with a feast, dance, and procession.
Since then this day has been celebrated with great enthusiasm. It is said that the locals enact those incidents during Indra Jatra.
How do people celebrate Indra Jatra in Nepal?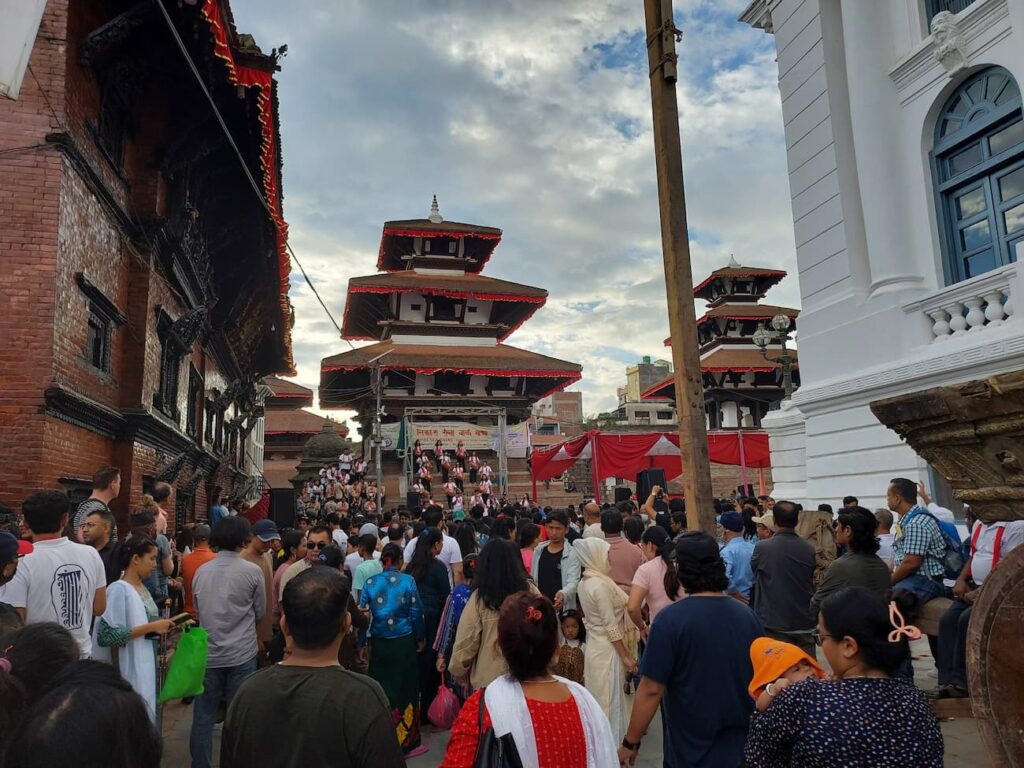 Preparation for Indra Jatra begins days before the actual event. To prepare for the festival people from the Manandhar family gather in Nasal Chowk in Hanuman dhoka to bring the Indradhowj.
After performing a few rituals they head to Nala in Bhaktapur to look for the Pine tree that fits the criteria. In Nala, they first eat Samay baji as prasad then search the tree then worship it by making an animal sacrifice.
First, they hit the tree with silver and golden axe then finally cut it with an iron axe. After dragging the log for a while, they worship it one more time.
The log is brought to Kathmandu through the route of Bhaktapur, Madhyapur Thimi, and Baneshwor. The log is placed in Bhotahiti by performing special rituals.
On the day of Yelathwa aasthami, devotees worship Indradhoj again and then bring it to Basantapur through Asan, Indra Chowk while playing traditional instruments.
The story behind Kumari Jatra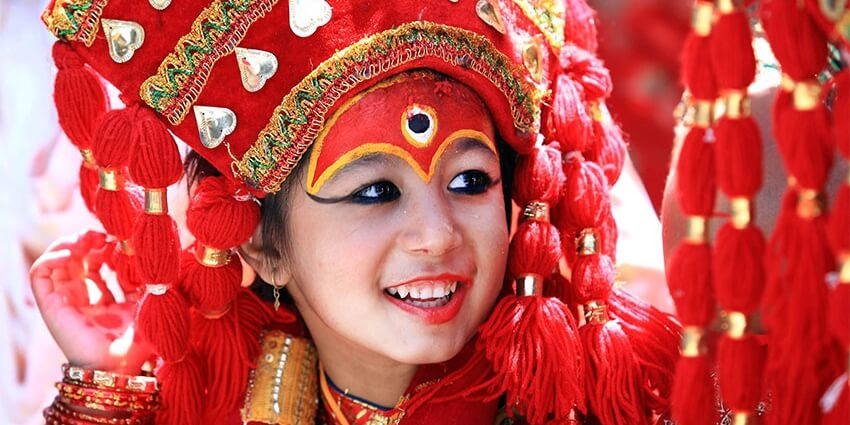 Living Goddess Kumari is considered to be an incarnation of goddess Taleju. Starting in 1756 AD, Kumari Jatra has a very interesting story behind its inception.
Many years ago, the king of Kathmandu used to worship the goddess Taleju and she was very much impressed by him. They used to play dice together.
One day while playing the dice, King wondered if he could marry her. Soon Goddess Taleju realized his intention and got furious.
She disappeared immediately. Though the king realized his mistake, the damage was done already.
He was very regretful. That same night, Goddess Taleju appeared in his dream. She expressed her disappointment and told him she would never appear in the palace again.
But, she agreed to look after the kingdom in an avatar of a young girl. Nepal is the only country where a living goddess is worshipped.
One day while the king was strolling around the kingdom, he came across a little girl. She started to laugh at him hysterically.
King was surprised by her so, asked his helper to find out the reason behind her behavior. When asked by the helper, the girl replied that the king knew why she was laughing.
King was baffled by her answer. After returning to the palace, he pondered about the little girl a lot. He then remembered the dream he had and wondered if she was the same girl Goddess Taleju mentioned earlier.
So, he decided to find out who she was. After inquiring about her, he found out she is from a Shakya community and resides in Kathmandu.
He thought it must be the same girl that the goddess had stated so the king decided to visit her and asked for her forgiveness. She forgave him and blessed him by putting tika.
After that day, the king decided to construct a house for Kumari near the palace. Since then the tradition of celebrating the Kumari Jatra started.
Majhipa Lakhey Dance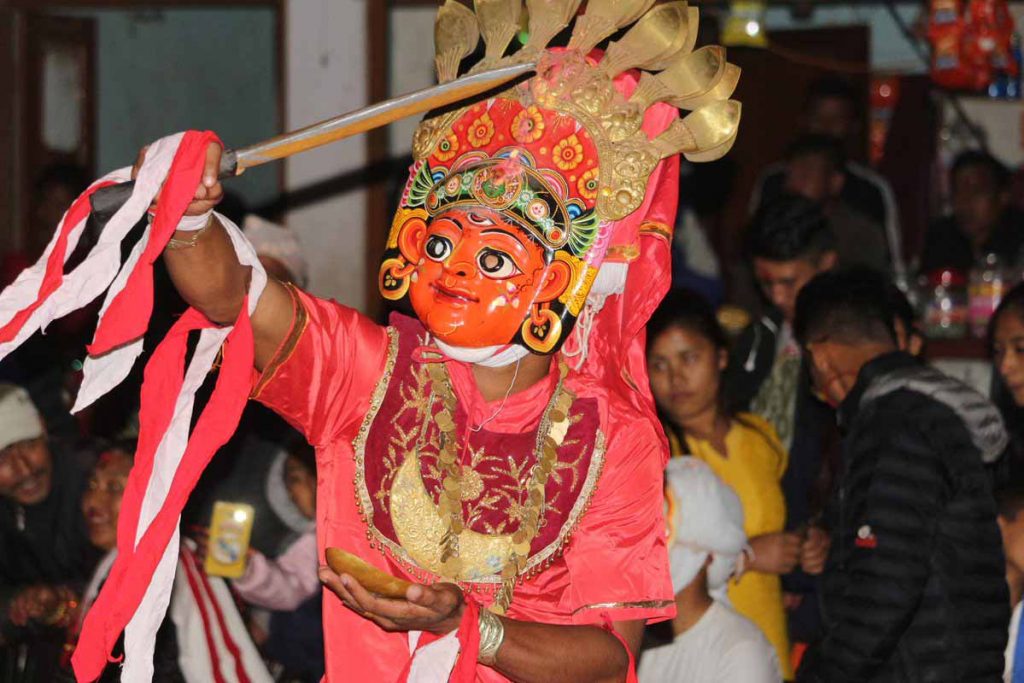 Known as the protector of children, Majipa Lakhe is popular as a peaceful Bhairav. Though different types of Lakhe dances are performed throughout the year, Majipa Lakhe is performed during Indra Jatra only.
There are a few very interesting stories behind the inception of the Majipa Lakhe Dance. It is said that Hanuman and Aakash Bhairav requested Majipa Lakhe to banish two cannibal children who were sons of the king.
Majhipa Lakhe threw them away from the city. But they returned during Indra Jatra to claim the city and Majipa Lakhe chased them away. This story is enacted during the festival too.
According to another mythology, Majhipa Lakhey fell in love with a girl residing in Majipa. So, he used to disguise himself as a human and visit the girl. But unfortunately one day he got caught by locals.
They presented him in front of the king. The king promised him to give a place in the city if he looked after the children and saved them from other demons and performed in Indra Jatra.
Indra Jatra Festival in Days
Day 1
On the first day of Indra Jatra, devotees erect a wooden pole in Basantapur Durbar Square. For the ceremony, a large number of devotees and spectators gather at Basantapur.
People from the Manandhar family gather in Hanuman dhoka along with a white horse, guruju paltan, and armies to erect the pole at an auspicious time. While erecting the pole, there is a tradition of showing Di pyakhan Devi dance.
Indra's statue is placed at the bottom of the pole. Swachanta Bhairav is worshipped in front of Gaddhi Baithak.
Similarly, the Pulu kisi dance takes place in the evening. Another dance Sawa bhakku is also performed.
Lakhey is worshipped in Lakhey ghar before they perform the Lakhey Dance. In the evening, thousands of devotees worship Swet Bhairav in Hanumandhoka.
After offering Samay bhaji to Swet Bhirav, it is distributed among the devotees. Living Goddess Kumari is taken to Taleju and worshipped.
The event indicates that she has been invited to Indra Jatra. On the same day, people whose family members were demised that year perform a special type of ritual called Upaku Wanegu.
Newar people pay homage to their deceased family members by placing oil lamps throughout the old streets of Kathmandu city while singing hymns. The tradition is believed to be initiated by King Mahendra Malla.
The event of the chariot pulling then begins in the evening. A special kind of dinner 'Bala bhaye' is served to those who are assigned to pull the chariots.
Day 2 to Day 4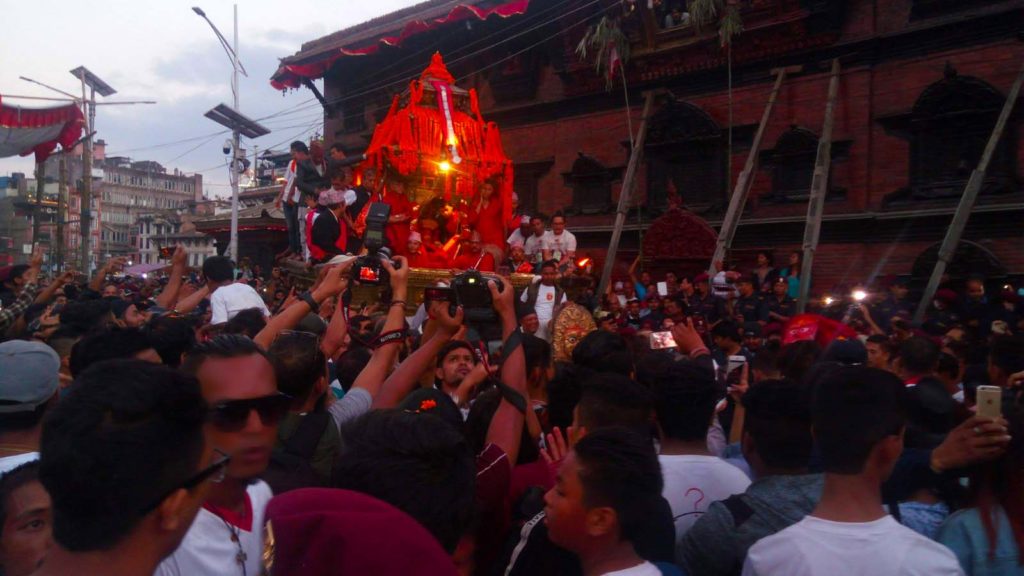 Kwoneyaa starts from the second day. It is the main event of Indra Jatra. On this day, Lakhe, pulu kisi, and sawa bhakku dance are performed in front of the president.
After decorating the chariot and placing Lord Ganesh, Lord Bhairav, and the living goddess Kumari in it, the procession starts. Traditional instruments, Lakhe, and sawa bhakku dancers lead chariots.
During the jatra, Di Pakyakha Devi dance is performed. The route starts from Basantapur and goes through maru Tole, Chikamuga, Jya Baha, Lagan Tole.
From here, the chariot is taken to Hyumat through Brahma tol. In Hyumat, a rotating light is displayed. The traditional wooden rotating light looks utterly beautiful. Chariot is taken to Basantapur through Bhimsinthan and the Jatra ends for this day.
After the Kumari chariot returns to Basantapur, Dangi Jatra starts. Dangi is the mother of Indra.
Along with Dangi, people whose family members died that year make a tour. The tour starts from Hanuman dhoka and circles through Yapa, Nyata, Bange muda, Asan, Jana bahal, Akash Bhaira then returns to Kasthamandap. During the Dangi procession, People from the Manandhar family prepare to take out baumata (lights in bamboo).
Day 5 to Day 7
The fifth day of Indra Jatra is called Thaneyaa. Jatra starts from Basantapur. Just like in Koneyaa, chariots follow Lakhe, pulu kisi, and sawa bhaku, however, this time chariots tour the northern part of the city.
Chariots are not taken out for the next two days. At Indra Chowk, Di bhankhya Devi dance is performed and traditional instruments are played. After the chariots return to Hanumandhoka, the jatra ends.
Day 8
The concluding of the 8-day-long festival is known as Nanichayaa. The major attraction of this day is women pulling the chariot of goddess Kumari.
The tradition of women pulling the chariots started in 2012 BS. The route is the same as Thaneyaa, however, after reaching Naradevi the chariots take a detour.
Dancers lead the chariot just like in kwoneyaa and Thaneya. Many spectators and devotees gathered in Basantapur where the pole was erected.
The festival officially ends after taking down the Indradhowj. The statues that were kept on display are taken back to their respective temples then immersion of Indradhowj takes place in the Bishnumati river.
Frequently Asked Questions
Who celebrates Indra Jatra?
Newa communities of Kathmandu, Lalitpur, and Bhaktapur celebrate Indra Jatra with great enthusiasm.
When do we celebrate Indra Jatra?
Indra Jatra is celebrated in September annually for eight days. The festival commences from Bhadra Dwadasi to Krishna Chaturdashi.
Is Indra Jatra celebrated only by the Newar community?
Indra Jatra is one of the major festivals of the Newar community. Thus, it is primarily celebrated by them. However, people from all over Kathmandu gather to witness this grand festival. Foreigners also visit Nepal during Indra Jatra and are also seen enjoying it.
What special food is prepared during the Indra Jatra festival?
Samay Baji is a special delicacy prepared during Indra Jatra. The meal consists of beaten rice, puffed rice, sliced ginger, savory lentil patties, fried soybeans, vegetables, cereals, fruits, dried fish, and marinated meat along with a local wine named aila. Each dish is related to god, for example, the vegetable is for Amongsiddhi (demon-devourer), Bara is for Amitabha, beaten rice for Mahavairocana, and ginger with aila for Ratnasambhava. Eighty-four different items are prepared which are served to devotees by Lakhe.
What kind of traditional dances are performed during Indra Jatra?
Dances like Pulu Kisi (elephant) dance, Majipā Lākhey dance, Sawa Bhakku dance, Devi Pyakhan dance, and Māhākāli Pyakhan dance are performed throughout the festival.
Who funds the Jatra procession?
Nepal Government, State Government-3, Kathmandu Metropolitan, and Guthi jointly fund the procession.
Who started Indra Jatra in Nepal?
King Gunakamadeva started Indra Jatra in the 10th century. However, Kumari Jatra was started in the mid-18th century. It is still unknown who and when Bhairav Jatra started.
Who started Lakhe Jatra?
Jaya Prakash Malla started Lakhe Jatra and Kumari Jatra in 1746 AD. 
At Last
The Indra Jatra festival in Nepal is one of the biggest festivals during which several important events take place.
Kumari chariot is pulled, and people parade through the streets of Kathmandu city while playing traditional Newari instruments and displaying statues of gods and goddesses.
Samay Baji is beautifully piled at Basantapur, a traditional Newari liquid is served as a prasad, several traditional dances are performed, and many more.
Indra Jatra is a must-visit festival in Nepal. Take some time out of your busy schedule in September and enjoy the vibrant festival of Indra Jatra.
You will have a lifetime experience, which you will remember with a smile throughout your life.
If you have any queries or feedback, feel free to leave a comment below. We will get back to you quickly.