If you are looking for Kathmandu Airport Guide then here you are going to know about getting out of the Tribhuvan International Airport, airport guide, all flight status, lost and found guide, airport facilities, regulations, free WiFi service etc.
Tribhuwan International Airport Overview
Tribhuwan International Airport, Kathmandu is one of the most important airports in Nepal. The airport was inaugurated on 15th June 1955 by King Mahendra but the first landed single-engine aircraft was in 1949. It is located at the heart of Kathmandu, about 5.56 km east of Kathmandu city.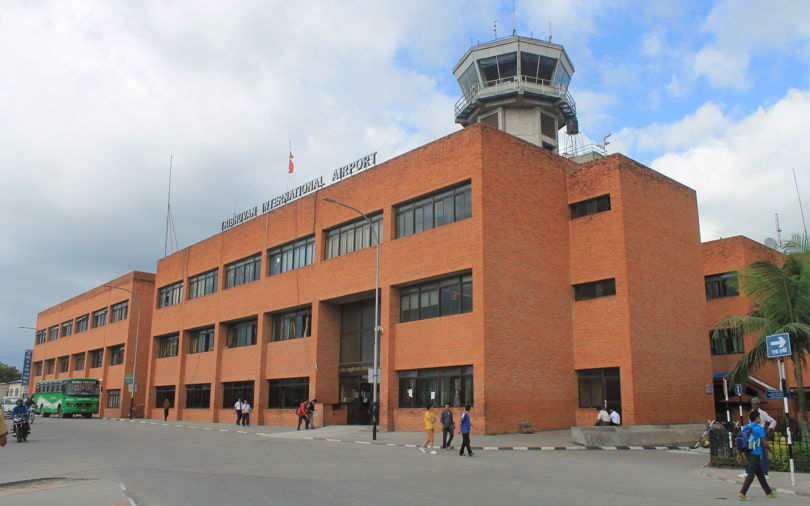 Tribhuwan International Airport is one of the busiest airports in Nepal and a fully operated TIA can handle over 90,000 passengers daily.
Tribhuvan International Airport is the primary airport serving Nepal's capital, Kathmandu. It is located in the center section, within the city's ring road, and the airport code is KTM.
The airport opened in 1949 and was later renamed after King Tribhuwan Bir Bikram Shah Dev. The airport has two terminals: domestic and international. In addition to being a hub for domestic flights, Tribhuwan International Airport serves as a gateway for tourists visiting Nepal.
Kathmandu Airport Guide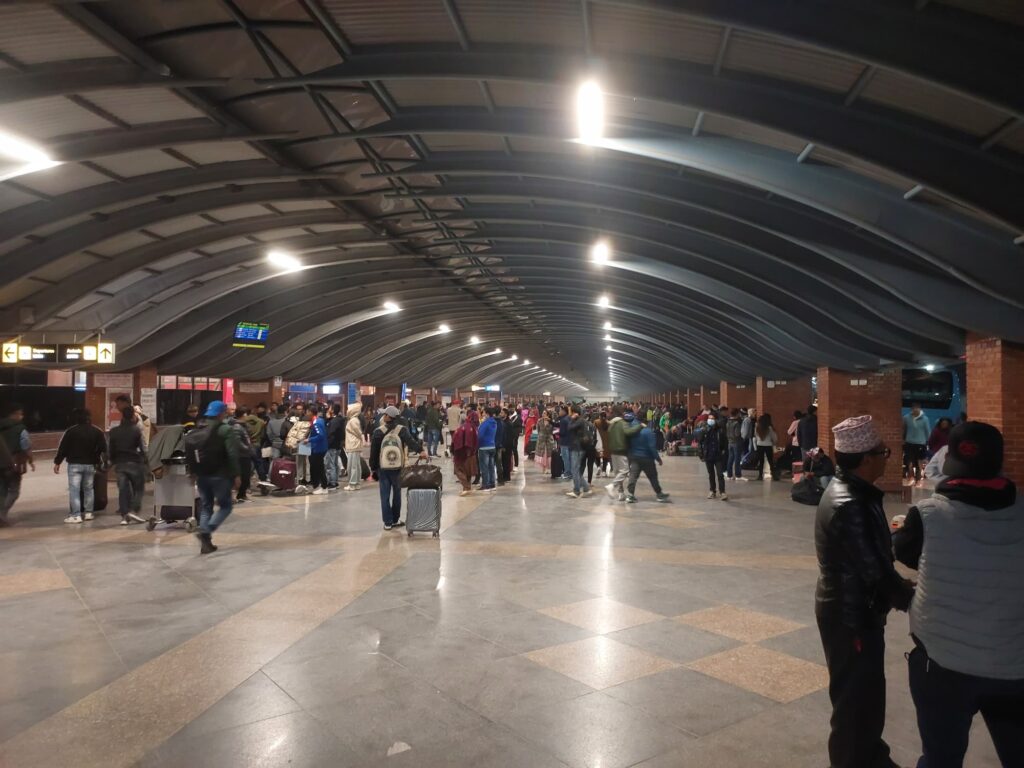 | Category | Information |
| --- | --- |
| Airport Name | Tribhuvan International Airport |
| Airport Code | KTM |
| Location | Kathmandu, Nepal |
| Coordinates | 27°41′47″N 085°21′32″E |
| Elevation AMSL | 4390 ft. (1,338 m) |
| Runways | 1 |
| Runway Length | 3,350 meters (10,990 ft) |
| Runway Direction | 02/20 |
| Terminal | 2 |
| Airlines | Over 30 airlines, including Nepal Airlines, Air India, and Qatar Airways |
| Passengers | 7.5 million (2019) |
| Facilities | Duty-free shops, restaurants, lounges, ATMs, currency exchange, baggage, Info desk, etc. |
| Website | https://www.tiairport.com.np |
Flight Information
To obtain flight information from Kathmandu airport, you have two official options as well as third-party alternatives.
The first official method is to download the official TIA (Tribhuvan International Airport) Android or iOS app. This app provides comprehensive details about both arriving and departing flights.
The second official approach is to visit the official website of Kathmandu Airport. On the homepage of the website, you will find two tabs specifically designated for Arrival and Departure information. By clicking on these tabs, you can access the respective flight details you are seeking.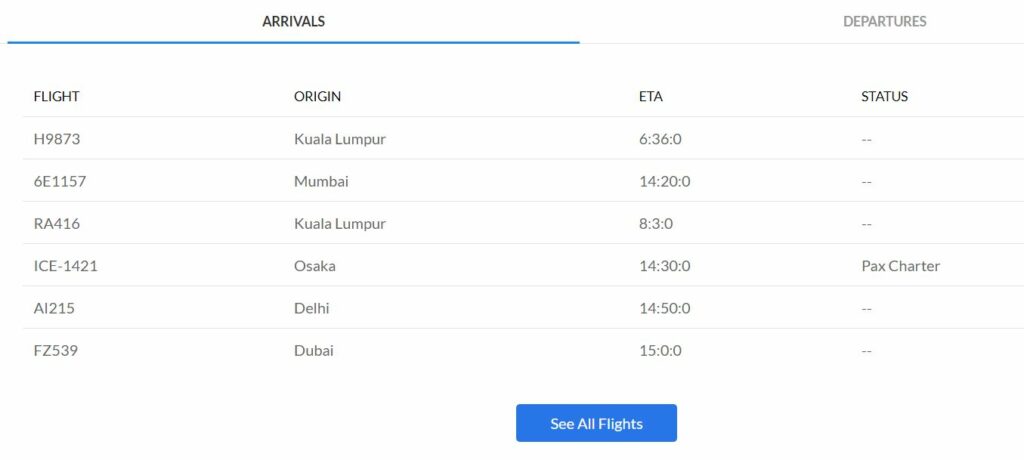 In addition to the official methods, there are third-party alternatives available as well. One such option is to download an additional app called Flight Radar. This app offers real-time flight information, allowing you to track flights and stay updated with the latest details.
Overall, whether you choose the official TIA app, visit the official website, or opt for third-party apps like Flight Radar, you have various means to acquire flight information from Kathmandu airport.
Free Wi-Fi and Charging Stations
There are free WiFi services at both domestic and international terminals in association with WorldLink Communications. Check SSID: Free_TIA_Worldlink_WiFi for free WiFi at the International Terminal Area of TIA.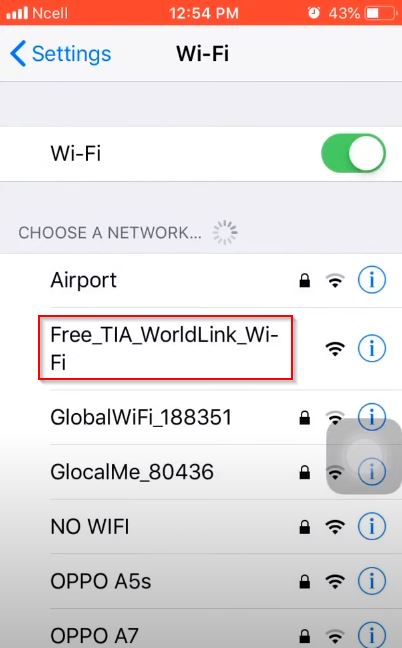 There are also charging stations available for travelers to recharge their smartphones, tablets, and laptops.
On Arrival Visa
At Tribhuvan International Airport in Kathmandu, Nepal, eligible travelers can get their visa when they arrive at the airport.
To do this, they need to fill out a form, show their passport and other required documents, and pay the visa fee.
It's important for travelers to check the visa rules and what documents they need before they travel, so they can have an easy time getting their visa at the airport.
Kathmandu Airport Parking
You can park both two-wheeler and four-wheeler vehicles in front of the international terminal building at Tribhuvan International Airport.
The parking area has space for up to 275 vehicles at once. This includes regular vehicles as well as pre-paid taxis, VIP, diplomatic, and government vehicles.
Here, you need to pay the parking fee on an hourly basis and the fee is charged for private vehicles including cars, bikes, scooters, cabs/taxis, etc.
Cabs and Taxis
After exiting the arrival gate at Tribhuvan International Airport, you will find the pre-paid taxi service on your right-hand side.
If you decide to use this service, you can pay in advance. The rates are clearly displayed on a board for your safety and convenience.
Alternatively, you can book your ride in Pathao or InDrive, which is like Uber in Nepal. Read our Getting Around Nepal guide to know more about everything you need to know.
Airport Lounge
For individuals who want to relax while handling the formalities you can use CIP Lounge, you need to pay Rs 450 per hour, per person, which includes VAT at TIA.
Restaurants and Cafeteria
There is a Thai Royal Silk Lounge on the first floor of the departure hall in the international terminal building. It can be found after passing through immigration.
Additionally, the Radisson Hotel is also located on the first floor of the departure hall in the international terminal building.
Besides these, there are various tea and coffee shops at both the departure and arrival gates.
Note that airport restaurants and cafes tend to cost higher than expected.
Kathmandu Airport Facilities
After the airport renovation, it has several amenities like
Nepal Tourism Board Information Counter
Press Rooms
Cargo Facilities
Trolley Services
Police Help Desk
Banking Facilities
Post Office
Restaurants and Cafeteria
Medical Services
Foreign Exchange
Shopping centers
Parking lots for vehicles in front of both domestic and international terminals.
Kathmandu Airport Tricks and Tips
Arrive early to avoid rushing and crowds if you are departing.
Be prepared for long lines and queues.
Bring a Book or something to get yourself engage.
Check your flight status before heading to the airport. You can visit https://www.tiairport.com.np/all-flights to check the current status.
Don't forget to exchange your currency i.e. Nepali rupees (the official currency of Nepal).
Taxi/cab services are available 24 hours and also may overcharge tourists so always bargain.
Get Pathao, and InDrive if you want to avoid cab/taxi service. it's like Uber in Nepal.
Get SIM Cards and subscribe to the data plan.
Connect to free WiFi within the airport to connect with your family but it is usually limited.
Download Offline Maps if possible.
Learn a few basic Nepali words and phrases like Namaste (Hello, Hi), Dhanyawaad (Thank You), etc.
Airport hotels are usually expensive so book a bit far away from it. Check Skyscanner, and Booking for better deals and discounts.
How to out the Kathmandu Airport and Catch Guide?
To exit from Kathmandu Airport (Tribhuvan International Airport) and catch your guide, follow these steps:
Complete all the visa process by filling up the forms on your arrival, it may take time.
Go through the official custom check and immigration process.
Collect your luggage and keep your tags handy in order to pass the final check.
Once you are outside, look for your guide holding your name, usually a cardboard or something with your tour or trekking company's name.
Use the official information desk for reliable info and avoid unofficial offerings or services.
Can you sleep in Kathmandu Airport?
According to the latest rule implemented by CAAN (Civil Aviation Authority of Nepal), Kathmandu Airport is now operational 21 hours a day. However, due to its small size and limited facilities, the Airport Police strictly prohibit overnight sleeping at the airport.
Sleeping overnight at Kathmandu Airport is not comfortable due to the lack of amenities. Additionally, the Airport Police enforce this restriction for security reasons.
Although you might come across photos depicting people sleeping at the airport during flight delays, it's important to note that such instances are temporary and not permitted by the authorities.
If you need to sleep, you may want to consider staying at a hotel or hostel near the Tribhuvan airport.
Related Reading:
FAQs
How busy is Kathmandu Airport?
Kathmandu's airport, Tribhuvan International, is often very busy and crowded, especially in the departure areas of both the domestic and international terminals. It can get quite crowded due to the high number of travelers passing through.
How many terminals are there in Kathmandu airport?
Kathmandu Airport (KTM), also known as Tribhuvan International Airport, has two terminals: the International Terminal and the Domestic Terminal
How much time before departure should I arrive at Kathmandu airport?
If you have a short flight, it's best to get to Kathmandu Airport at least two hours before your flight is supposed to leave. If you have a long flight, it's best to get there three hours before.
How to check the status of a specific flight arriving and departing at Kathmandu airport?
To find out the status of a particular flight arriving or departing from Kathmandu Airport, you have a couple of options. You can visit the official website of the airport at https://www.tiairport.com.np/all-flights, where you will find information about all flights. Alternatively, you can use third-party apps such as Flight Radar to track the specific flight you're interested in.