Kathmandu, the capital city of Nepal, is where dreams come true for most Nepalese. A bustling city with skyscrapers, Kathmandu is Nepal's largest and most developed city. What is more remarkable is that the city hasn't sacrificed its rich culture, history, and spirituality for urbanization.
Located at an elevation of approximately 1,400m above sea level, Kathmandu is one of the oldest cities, which was initially known as 'Kantipur'. Kathmandu is centralized in the Bagmati zone, where other two big cities named Patan and Bhaktapur lie adjacent to it.
With the highest population density, Kathmandu has a thick settlement of people with diverse ethnic groups and cultures living in harmony. Kathmandu has been a center of attraction among tourists because this place is an amalgamation of spirituality and commercial businesses existing simultaneously without hindering one another.
Historically, Kathmandu has been a settlement for the Newar community. The ancient Newari culture mostly reflects in the carves of temples, wooden houses, ethnic foods, festivals, pottery business, sculptures, paintings, and artifacts.
Similarly, Kathmandu is notable for being home to a few UNESCO world heritage sites such as Pashupatinath temple, Swoyambhunath temple, Hanuman Dhoka Durbar Square, and Boudhanath temple. People of diverse cultures are found celebrating their festivals during different seasons in Kathmandu.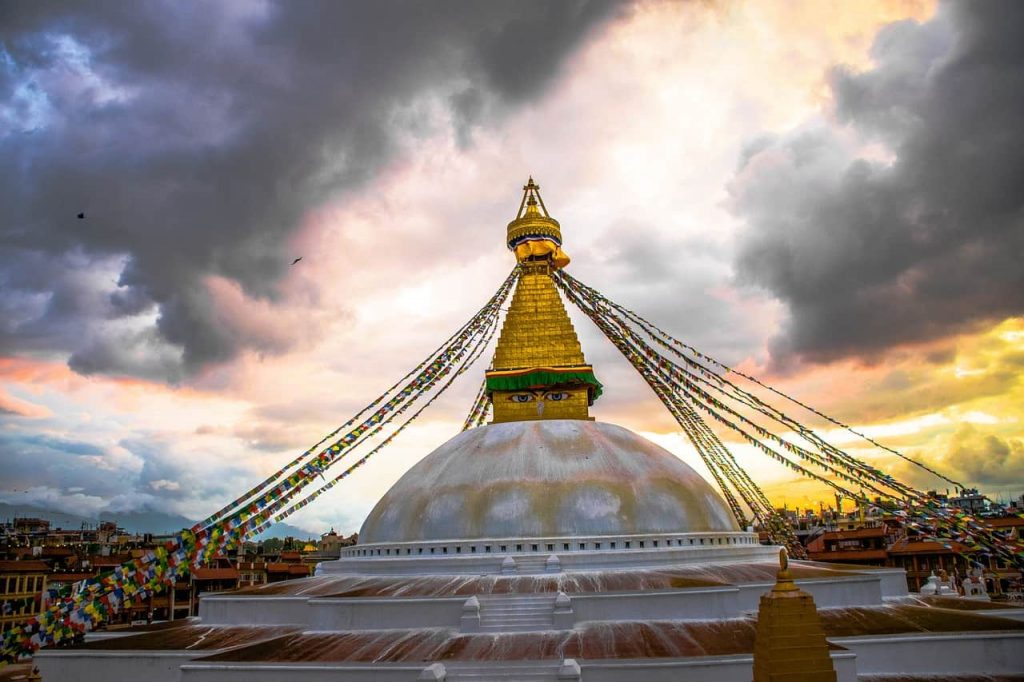 Kathmandu is a valley of myths. Every temple, monument, palace, literature, culture, and festival is backed by its own origin stories. These stories have been handed to the younger generation by the older generation and that's how the fascinating myths, folk stories, and legends have been preserved.
Kathmandu – A Historical Perspective (History of Kathmandu)
It is said that Kathmandu was a lake before its discovery. Two legends are found in history that explain how Kathmandu Valley was formed.
According to Hindu mythology, Lord Vishnu chopped the Chovar hill with his 'Sudarshan Chakra' and drained the water out. Similarly, according to Buddhist mythology, a Demi-God from Tibet, Manjushree Bodhisattva, chopped the Chovar hill with a sword and drained the water to form Kathmandu valley.
When the lake drained, Swoyambhu was said to bloom out of a lotus and so was named Swoyambhu, which means 'self-created'. There is an interesting legend about the formation of the Pashupatinath temple too.
According to Hindu myth, a cow named Kamadhenu used to give milk to a specific place, which was unknown to the villagers. Seeing the same activity every day, villagers became curious and dug in the soil. To their surprise, they found a beautiful shining lingam of Lord Shiv. The Pashupatinath temple was established in the area where the lingam sits.
Kathmandu used to be a separate kingdom before it was conquered by King Prithvi Narayan Shah. King Prithvi Narayan Shah won the battle against King Jay Prakash Malla in 1768 and became the king of Kathmandu. It was only after winning Lalitpur and Bhaktapur, he named the territory 'Nepal' and began the Shah dynasty.
The Royal massacre of 2001 is regarded as a dark phase in the history of Nepal. The massacre claimed the lives of nine members of the royal family. Thereafter, King Gyanendra wore the crown but he was dethroned in 2008, which marked the end of the monarchy and Nepal became a republic country.
Where is Kathmandu in Map of Nepal?
As you know that Kathmandu is the capital city of Nepal and is located in the central region of the country. On the map of Nepal, it can be found in the northern central part of the country, surrounded by a few districts such as Lalitpur, Bhaktapur, and Kavrepalanchok.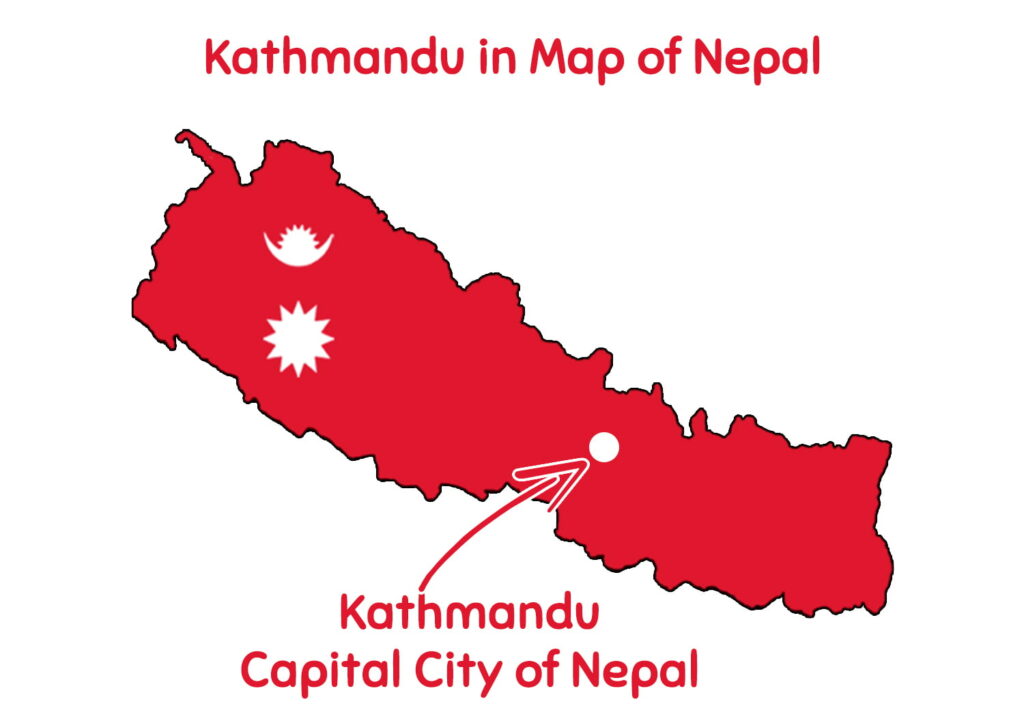 The Infrastructure of Kathmandu
Kathmandu used to be the place where Kings and rulers lived. Kings would build many amazingly sculpted palaces and live with their queens. The two popular palaces Hanuman Dhoka Durbar Square and Narayanhiti Palace are now preserved as museums, whereas the Singha Durbar functions as the Nepal government's office.
Chandra Shumsher built Singha Durbar in the early 1900s after becoming the Prime Minister of Nepal. It was a lavish palace spread over 50 hectares of land where the Rana rulers used to live. The last Prime Minister of the Rana dynasty to live in Sigha Durbar was Mohan Shamsher.
Extended over 5 acres of land, Hanuman Dhoka Durbar was built in mid 16th century by a Malla King. The Shah dynasty was the last to live there and later shifted to Narayanhiti Palace in 1886 where the last monarch of Nepal lived till 2008.
Narayanhiti Palace is also known for the Royal massacre that took place in 2001. The massacre claimed the lives of nine members of the royal family. You can visit the Narayanhiti Palace Museum in Durbarmarg and spot some of the gunshot scars and blood stains on the wall of Narayanhiti Palace.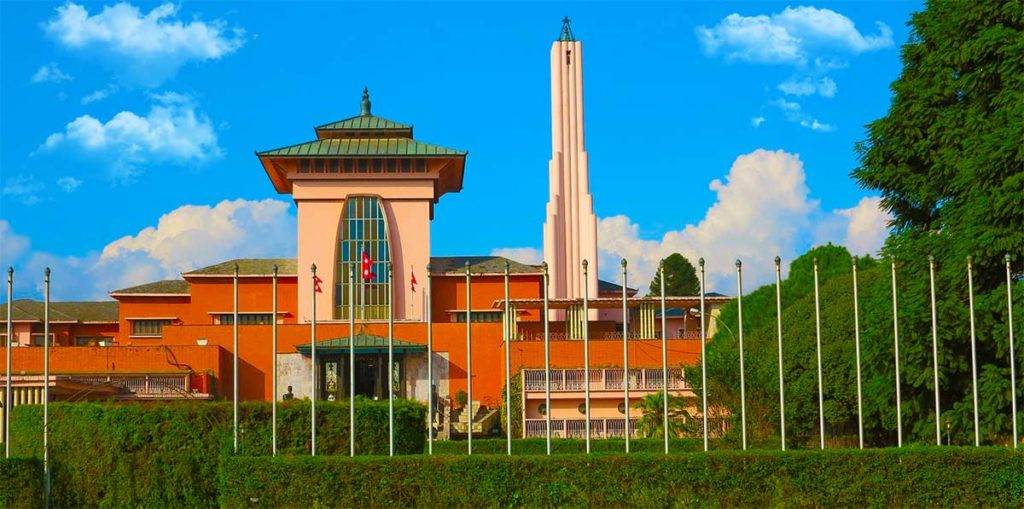 The capital city was renamed after a beautiful temple called 'Kasthamandap'. The two-story wooden temple was built by King Gunakamadev and was believed to be constructed from the trunk of a single tree.
Unfortunately, the centuries-old Kasthmandap got destroyed by a 7.8 magnitude earthquake that occurred in 2015. But, the reconstruction of Kasthamandap is complete. Now, you can again witness the same traditional designs and carves in the newly built Kasthamandap.
Several notable buildings and roads were constructed in Kathmandu during the Rana regime. The renowned building called 'Dharahara', which used to be the tallest building in Nepal, was built by Nepal's first Prime minister, Bhimsen Thapa in 1832.
It was initially constructed as a watchtower. But later it gained fame as Nepal's tallest building till it was demolished by a massive earthquake in 2015. Beside the ruins of the old Dharahar erects a new Dharahara, inaugurated by former prime minister KP Sharma Oli.
The Dharahara directly faces Sahid Gate, which is a monument created as a tribute to the martyrs of Nepal. Adjacent to Sahid Gate is a multi-purpose ground of Tudikhel, where people celebrate festivals, organize music concerts, and so on.
Close to Dharahara lies Nepal's first high school, Durbar High School, established in 1854 during the Rana regime. The high school faces a beautiful artificial pond named Ranipokharai. It was built by King Pratap Malla and it is one of the religious landmarks in Kathmandu that holds historic importance.
Just across the Ranipokhari stands the eye-catchy clock tower, known as 'Ghantaghar'. Kathmandu's only stadium, Dashrath Stadium is located at Tripureshwor, which is known to organize different national level games and offers various sports training to athletes.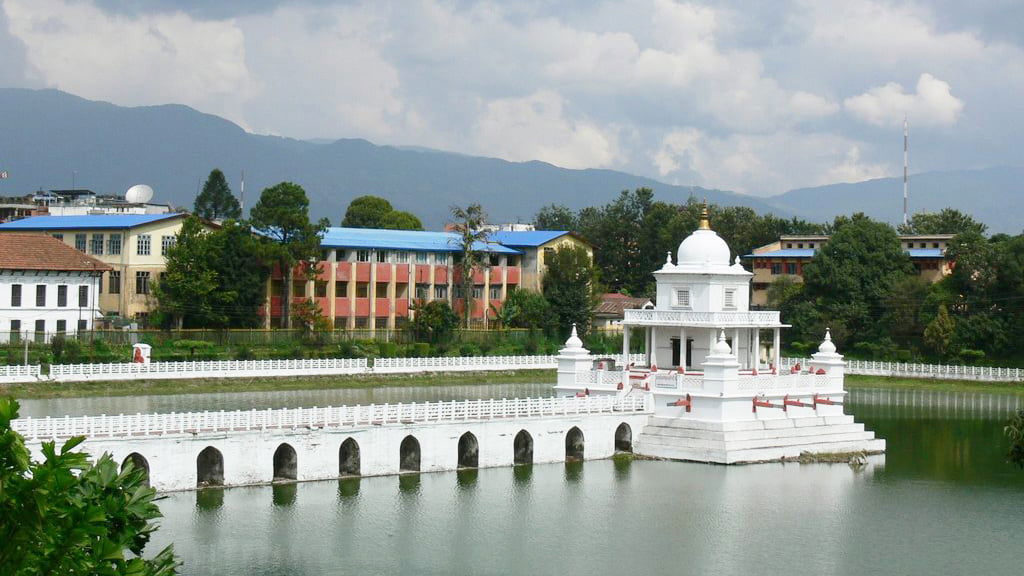 Nepal's one international Airport is Tribhuvan International Airport (TIA), where both domestic and international flights travel. Similarly, Nepal's reputed and first university, Tribhuvan University is situated in Kirtipur, another ancient native city of Newar.
Several sacred landmarks in Kathmandu are famous among pilgrims and they have been carrying religious importance since their creation.
The most sacred temple for Hindus, Pashupatinath temple, is located at Gaushala. Similarly, the most sacred temple among Buddhist pilgrims is the Swoyambhunath temple at Swoyambhu and Boudha Stupa at Boudha.
On the outskirts of Kathmandu valley towards the north lies the beautiful city of Budhanilkantha, where resides the sacred temple of Lord Bishnu is. Budhanilkantha is also the entry point to the Shivapuri national park. Similarly, on the outskirts of Kathmandu Valley towards the southwest lies the sacred Chandragiri temple at Chandragiri Hill.
Another place with religious importance situated at the center of Kathmandu is Basantapur which includes the Hanuman temple, Kumari temple, Kalbhairav temple, Shivparvati temple, Akash Bhairav temple, and many more. It is a popular hangout destination among domestic tourists as well as foreigners.
Also Read: Top 20 Places to Visit Near Kathmandu
The City Today
Kathmandu is a popular tourist destination with diverse places to explore. It is the most technically equipped city, where various facilities and services are available. Foreigners usually exchange money and take out cash from ATMs in Kathmandu before they leave for trekking in the Himalayan region.
The city has evolved so much in the past few decades. The population density has increased as people from different parts of Nepal come to Kathmandu for good education and career. The growth in the number of restaurants, companies, educational institutions, hospitals, shops, clubs, and many more has increased exponentially.
The present mayor of Kathmandu city is Balendra Shah, who won the independent candidacy in 2022. He is a qualified structural engineer and also a hip-hop artist from Nepal. Similarly, a young enthusiast Sunita Dangol became the Deputy mayor of Kathmandu Valley and won the title of the Miss Newa pageant in 2011.
Nepal Telecom (NTC) and Ncell are two popular network service providers in Kathmandu. Several internet service providers are offering excellent service in Kathmandu, such as WorldLink, Vianet, Subisu, and many more.
Worldlink provides free wifi hotspots in hundreds of locations inside Kathmandu and thousands all over Nepal. Several stores and restaurants in Kathmandu now use digital platforms for payment, such as esewa, Khalti, IME Pay, and so on.
Youths nowadays are more appealed to entrepreneurship, so you can find numerous small-scale businesses producing original and handmade products in Kathmandu.
The Climate of Kathmandu
It will be easy to understand the climate of Kathmandu by dividing the geography of Nepal into three horizontal parts. The lowermost part is the Terai region, which has the hottest climate. The uppermost part is the Himalayan region, which has the coldest climate, and the central part is the Hilly region, which is neither too hot nor cold.
Kathmandu lies in the Hilly region. It is regarded as the place with the most suitable climate in Nepal. Kathmandu welcomes four seasons throughout the year. Each season has its importance among people, and they rejoice in these seasons with various festivals.
1. Spring season
Spring season marks the end of winter and begins from mid-February to mid-May. The weather is refreshing as the blossoming flowers enhance the view of the city. Few streets of Kathmandu are decorated with the colorful Jacaranda in the Spring season. The temperature is mild, and the sky becomes so clear that you can see the mountainous view from rooftops. The festivals that occur in the Spring season are Mahashivrati, Holi, Ghode Jatra, Nepali new year, etc.
2. Summer season
Summer season arrives in mid-May and could stay till mid-September. The temperature peaks during the summer. The days are long, and the nights are short during summer in Kathmandu. Some festivals that occur during summer are Teej, Gai Jatra, Janai Purnima, Bhoto Jatra, etc.
People try to beat the scorching heat with cooling agents. Yogurt is one of the most popular refreshments in Kathmandu. The 'Lassi' made out of yogurt is a sweet and cooling drink that sells most in Kathmandu during summer. Similarly, ice teas and boba teas are some summer drinks you can try at different outlets in Kathmandu during summer.
3. Autumn season
Autumn occurs around mid-September and lasts till late November. It is the time when the streets of Kathmandu are the most crowded since some of the significant festivals fall during the Autumn season. People anticipate purchasing new clothes and new furniture in Dashain and Tihar.
4. Winter season
The Winter season approaches in late November and stays till early February. The temperature measures lowest during the winter. Schools here provide winter vacations of around 22 days to the students. People are seen basking in the sun most of the time during winter. They even bake vegetables like radishes, spinach, meat, and tomatoes in the sun to make prickles.
People sometimes skip the chilly weather by savoring hot and delicious momos, which is the most beloved food item in Kathmandu. They also splurge on the warm Thukpa, spicy sekuwa, Dal Bhat, tongba, tea, coffee, and so on to beat the coldness. Also, Yomari Punhi falls in winter. Savoring Yomari keeps our bodies warm.
The wedding halls and banquets in Kathmandu are usually booked in the winter season because the most favorable dates for weddings fall between November and February. The weddings in Kathmandu are beautiful. You can watch the customs and rituals and enjoy wedding ceremonies in Kathmandu.
The Geography of Kathmandu
Kathmandu lies in the Hilly region of Nepal. It is a bowl-shaped valley surrounded by beautiful hills, forests, and mountains.
The Bagmati River separates Kathmandu from Lalitpur. The Bagmati River has religious importance, and several Hindu temples are present at the bank of the Bagmati River.
Pashupatinath stands on the bank of the holy river of Bagmati. The Hindus have a tradition of cremating the dead at the bank of the Bagmati River. Across the Bagmati river at Pashupatinath is the Shleshmantak ban, where Hindus believe Lord Shiv and Parvati took the form of Deer.
Similarly, the Bishnumati River is another sacred river that flows in Kathmandu at different locations. It is named after a Hindu God, Bishnu. The river originates at Tokha and runs through several parts of Kathmandu.
There are few forests on the outskirts of Kathmandu. Forests like Raniban, Shivapuri, Nagarjun, and Sleshmantak Ban are dense and shelter some distinct birds and wild animals.
Kathmandu is also a focal point for practicing Buddhism. Several ancient monasteries are present at different places inside Kathmandu that have significance in the life of Buddhist pilgrims.
Kopan Monastery, Tharlam Monastery, Pranidhi Purna Mahavihara Monastery, Shechen Tennyi Dargyeling Monastery, Rigon Tashi Choeling, and White Gumba are some beautiful monasteries located inside Kathmandu. They are open for visitors to explore.
The Demographics of Kathmandu
| Demographic | Estimated Percentage |
| --- | --- |
| Population | 1.5 million |
| Gender Ratio | 85.49 males per 100 females (2021) |
| Religion | Hinduism, Buddhism, Islam, Christianity, Kirant |
| Ethnic Groups | Newar, Tamang, Sherpa, Magar, Chhetri, Brahmin, Thakuri, Tamang, etc. |
| Literacy Rate | 96.6% |
| Average Household Size | 6.6 (Estimated) |
The Economy of Kathmandu
The tourism industry is one of the main sources that generate revenue in Kathmandu.
| Economic Indicator | Description |
| --- | --- |
| Major Industries | Tourism, handicrafts, textiles, small-scale manufacturing, and agriculture. |
| Major Exports | Handicrafts, textiles, clothing, pashmina products, and Nepal's famous coffee & Tea. |
| Unemployment Rate | The estimated unemployment rate in Kathmandu is around 2.5%-5.5%. |
| Average Income | The average income in Kathmandu is around USD 3,000 – 4,000 per year. |
The Culture of Kathmandu
Kathmandu is like a beautiful garden and the people living here are like flowers of different species blooming together. Here, people of diverse cultures from almost all corners of Nepal are living in harmony.
One of the best attributes about the people of Kathmandu is that they are welcoming and great at hospitality. People here have a culture of living with family under one roof. It means Grandparents, parents, children, and grandchildren usually live under the same roof. They have a culture of respecting and obeying elders.
People in Kathmandu have Dal Bhat for lunch every day. The food items they savor also depend upon their culture. Brahmins do not consume meat items and alcohol whereas Newar culture accepts meat cuisines and alcohol and are main items during festivals.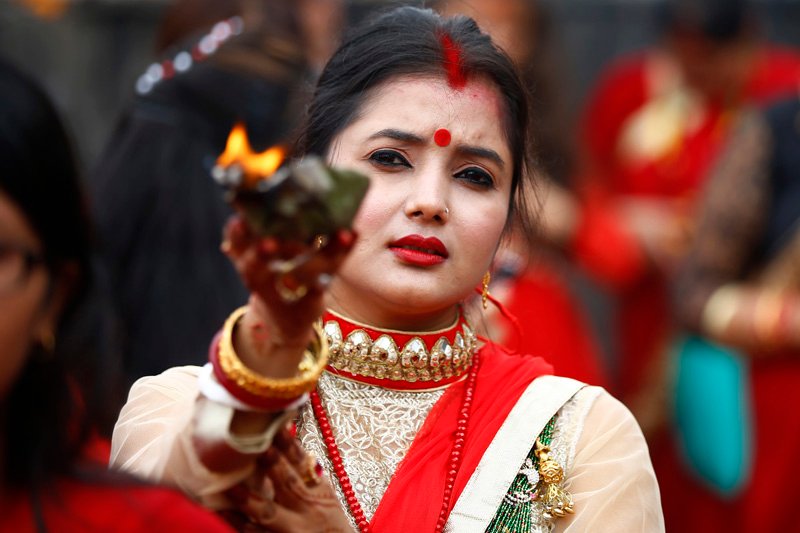 According to Hindu culture, women fast for their husbands during the Teej festival and visit the sacred Pashupatinath. Similarly, Hindus have a tradition of worshiping Lord Ganesh first and then other Gods. They believe Lord Ganesh blesses them for successful endeavors.
Though Kathmandu is a modern city, people are still connected to their roots. Their culture reflects in the attire they wear, the food they eat, their hospitality, their language, and many more.
The indigenous cultural group of Kathmandu is Newar, and they have been preserving their culture and festivals all these years. Each festival is organized in the same way they have been celebrating it for ages, such as Indra Jatra, Lhosar, Gai Jatra, Teej, Chhat, etc.
The Attractions of Kathmandu
Kathmandu is one of the cities that houses several World heritage sites. They are the main attractions of Kathmandu among tourists.
Travelers mainly visit the sacred Pashupatinath temple, which is a huge complex beside the holy Bagmati river. Another major attraction in Kathmandu is Swoyambhunath. It sits at the top of a hill, and you have to walk 365 stairs to get to the top. Also, witness the spectacular Kathmandu view from Swoyambhunath temple.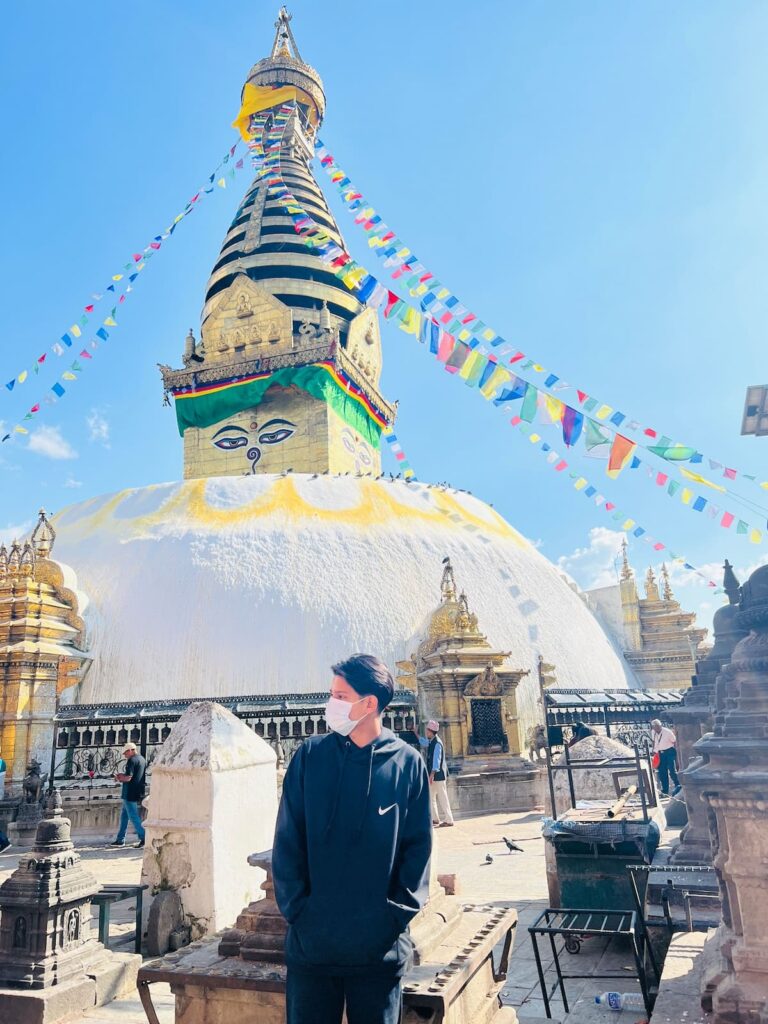 Similarly, Boudhanath is quite popular among travelers. They enjoy the tranquility and peaceful environment of Boudha while rotating the white scared Stupa. Another significant attraction of Kathmandu that people love to visit is the Kathmandu Durbar Square. It is a popular area among youths for hangout.
It is also called the Basantapur area, which includes the Kumari Ghar, Kalbhairav temple, Kasthamandap temple, and the Hanuman Dhoka palace. It is one of the best places for shopping in Kathmandu as shops selling all kinds of stuff are present here.
Tourists usually stay at Thamel, where hotels, restaurants, and nightclubs are abundant. Thamel is a venue mainly for night owls who seek to spend the night on the dance floor.
How to get to Kathmandu?
Kathmandu is easily accessible from inside as well as outside of Nepal. Most parts of Nepal are connected to Kathmandu via road. Public buses and private jeeps are easily available transports to move from one location to another in Kathmandu.
Some parts of Nepal are even connected to Kathmandu via flights such as Pokhara, Jiri, Bhairahawa, Lukla, and so on. For foreigners to land in Kathmandu, flights are the only option. SAARC countries may have direct flights to Kathmandu whereas other countries may not have direct flights.
What to see and Do in Kathmandu?
There is so much to see and do in Kathmandu. It is a big city so a single day won't be enough to explore everything.
You are highly recommended to try different delicacies in Kathmandu. Various restaurants sell Nepali ethnic foods such as momo, thukpa, Dal Bhat, Sel roti, sherpa stew, Dhido, Thakali set, and many more.
Then, you can spend the daytime visiting several beautiful places in Kathmandu, such as the Narayanhiti Museum, Jawalakhel Zoo, Garden of Dreams, Kathmandu Durbar Square, Bouddha, Chandragiri, and so on. Also, explore some places and parks suitable for recreational activities like Kathmandu fun park, Whoopee Land, Funland Nepal, and many more.
Similarly, you can explore the nightlife of Kathmandu at different nightclubs. Kathmandu's nightclubs are one of the best clubs in the world.
If you want to explore the different cultures of Kathmandu, visit Kathmandu during festivals. You can participate in various festivals in Kathmandu, such as Indra Jatra in September, Dashain in October, Tihar in November, Lhosar in January, Teej in August, and many more.
Conclusion
An ancient city with beautiful places, different cultures, and friendly people, Kathmandu is a divine place to live and visit. Exploring Kathmandu City is going to be a wholesome experience. People visiting Kathmandu for the first time ought to visit the city again and again.
Hope this blog is helpful for you to understand Kathmandu city including its history, culture, and lifestyle. If you haven't yet visited Kathmandu, then you are majorly missing a great experience.
If you have already visited Kathmandu, tell us in the comment section what was the best part of your visit to Kathmandu. We would love to hear!