Kathmandu fun park, a popular fun park located at Bhrikuti Mandap, is one of the oldest and most enthralling amusement parks in Kathmandu. Consider this post an ultimate guide for first-time visitors to Kathmandu fun park.
Enjoy a day immersed in fun, adventure, and spectacular views at Kathmandu fun park. Here is everything you need to know before you plan your fun-filled adventurous trip to Kathmandu fun park.
No matter how old we become, the inner child will always be the same. That's why Kathmandu fun park is the best place to hang out for kids as well as adults.
It is the place where we can relish our inner child and relive childhood. You are free to become a child once again here and reminisce about the good old days.
Playing fun games with family and friends always brings a smile to our faces. It helps reduce stress and anxiety, stay physically fit, and help in mental well-being. So, we should spend some of our valuable time playing games and being happy.
Kathmandu fun park, also known as Bhrikuti Mandap Park, is an ideal place for children to spend weekends. It is a place where you can go again and again and have a new experience each time.
If you visited Kathmandu fun park many years ago and don't feel like visiting the same place again, then let me tell you the fun park has added lots of games and decorations during these years. You'll have a new experience with those newly added amusements.
You can bring food, and water and have a small dry picnic with family and friends here. Kathmandu fun park is a huge playground with several recreational activities to get engaged with.
Similarly, it is a suitable spot for dating. During your date, you can participate in various fun games, ride boats, eat food, and stroll around the garden. There is so much to see and do at Kathmandu fun park during leisure time.
About Kathmandu Fun Park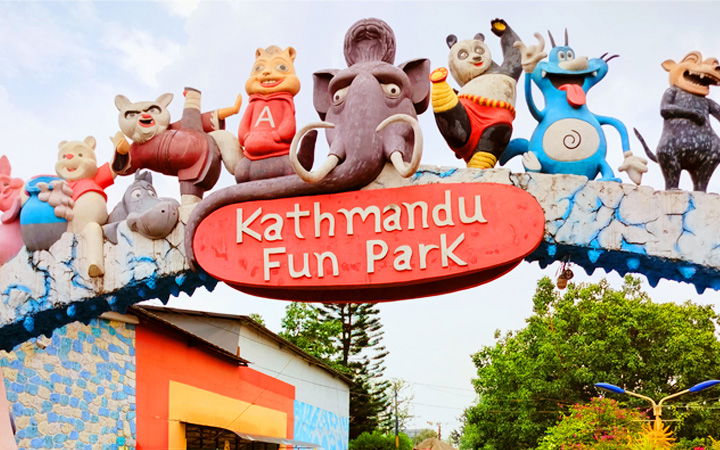 Kathmandu is considered the first fun park in Kathmandu and it used to be the only fun park till 2012. Later, several fun parks opened in Nepal like Whoopeeland in Chovar, Kathmandu fun valley in Palase, and Fun Land on Bhadrakali Road.
Kathmandu fun park is located at Pradarshani Marg, Bhrikuti Mandap. It is an easily accessible place.
You can use a public vehicle as well as a private vehicle for transportation purposes. You can park your bike outside of the park as long as you want.
You can see the ticket counter on your left side as you enter the fun park premise. You can buy entry tickets there.
The tickets are reasonable. They even offer various discounts for students, children, and old people so, make sure you ask for a discount on the ticket price.
Note that it is only the entry fee that you pay outside the entrance gate. Each game costs you a certain price inside the fun park.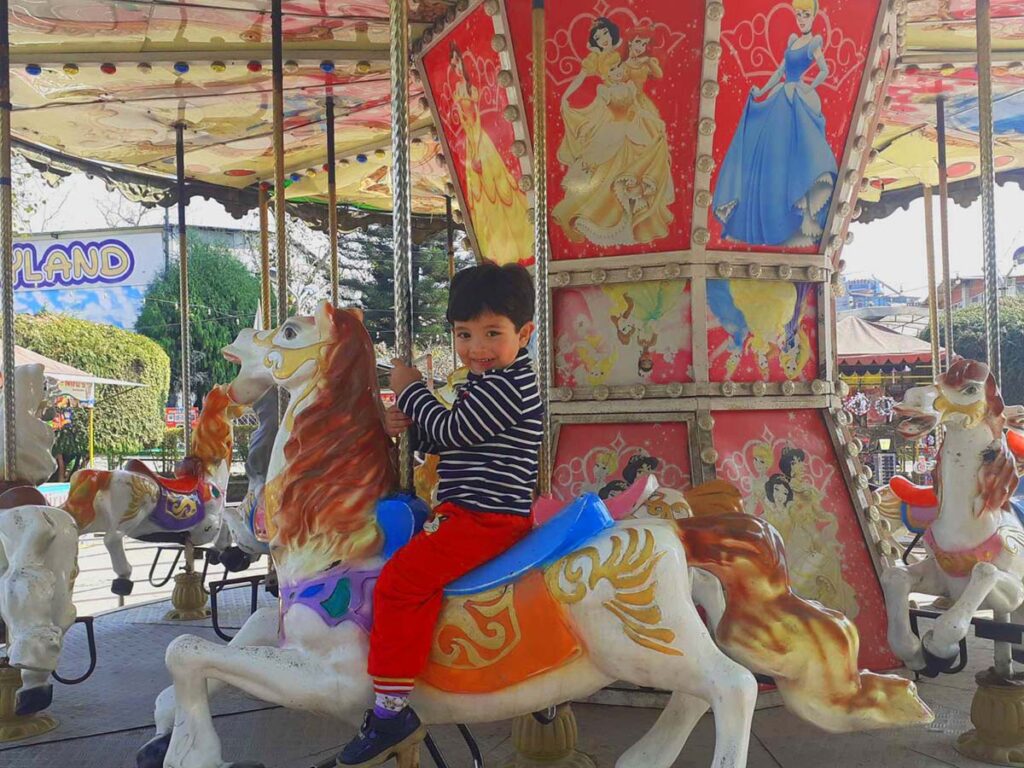 The fun park is visually attractive too. There are cartoon statues and wall paintings that attract children mainly.
As you walk inside, you will notice various shops offering fun games. You can start by playing those games. You have to hit different targets and win different gifts. Different targets held different points so it becomes quite competitive and fun if you play with your friends.
You can even hear visitors playing Ferris wheel and Columbus screaming with thrill. It just increases the excitement to enjoy the games.
There's a giant Ferris wheel and Columbus, the main attractions of Kathmandu fun park. You can have a hawk-eye view of Kathmandu city from the Ferris wheel. Due to the high speed and elevated height of the Ferris wheel and Columbus, it is recommended for adults rather than children, as children may get scared and fall ill.
Similarly, the horror house is amusing but it is better if children skip it. The horror house is best for adults to enjoy.
There are different games and activities for children. So, make sure you choose the right activity for your children.
Besides thrilling and fun games, the park also caters to food courts that offer delicious foods, cold drinks, ice cream, and snacks. Horse riding is highly recommended for children as it is amusing and thrilling for them.
Another fun activity for children to enjoy is boating. It is suitable to beat the heat too.
The landscape of the fun park is scenic. It is beautifully decorated with cartoon statues in different places. The green trees and beautiful flowers make the ambiance calming and a perfect place for families to hang out with their kids.
The Kathmandu fun park train is also a fun ride loved by both adults and children. It is a short train ride that takes you around the park.
You get to observe everything inside the fun park during the train ride. Children are usually excited to ride the train at the Kathmandu fun park.
Kathmandu fun park futsal is more well-equipped, clean, and spacious than most Futsal in Kathmandu.
Check Out: Funland Nepal
Kathmandu Fun Park Futsal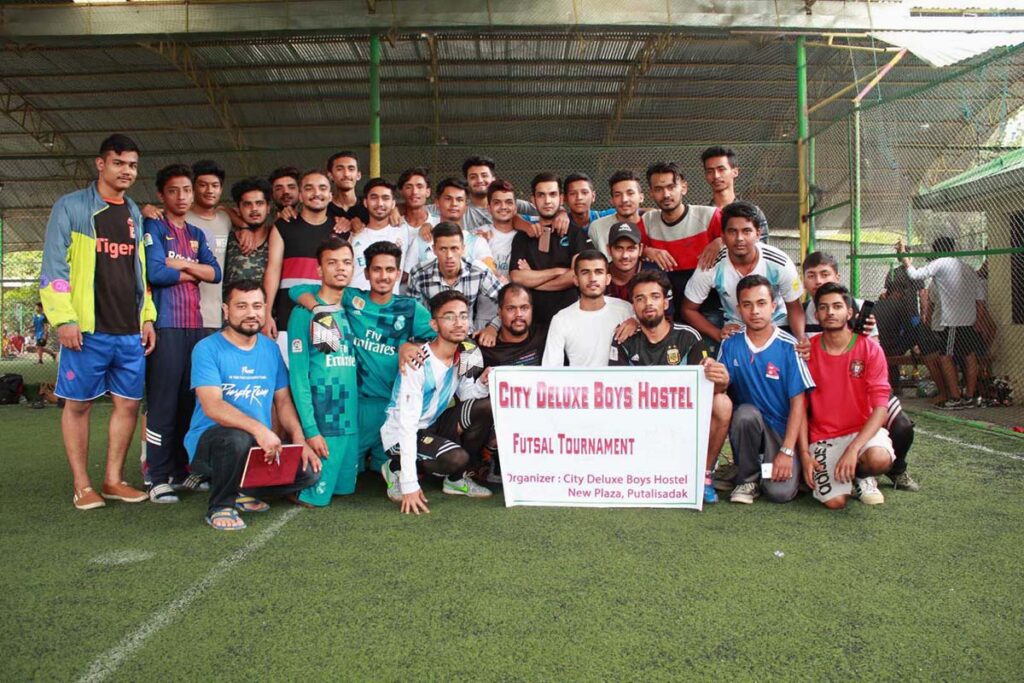 Another impressive feature of Kathmandu fun park is the futsal ground named Goalz Futsal. Football lovers can come here to play football any day of the week.
Goalz futsal Kathmandu fun park has two futsal grounds. One ground is bigger than another.
To book it, you can simply contact them. Kathmandu fun park's futsal contact number is 9803641222.
The bigger ground costs around NRs. 1500 for 1 hour. Similarly, the smaller ground costs around NRs. 1,200 per hour.
The smaller ground is suitable for kids while adults can play football on the bigger ground. Adding a sports venue to the fun park has attracted more visitors to the fun park.
Kathmandu Fun Park Opening Hours
Kathmandu fun park is open 7 days a week from 12 am to 7 pm. Every day the fun park opens and closes at the same time, but the closing time may vary during the winter season.
You have to buy an entry ticket on the same day as your entry. It means you cannot book tickets for another day.
Kathmandu Fun Park Ticket Price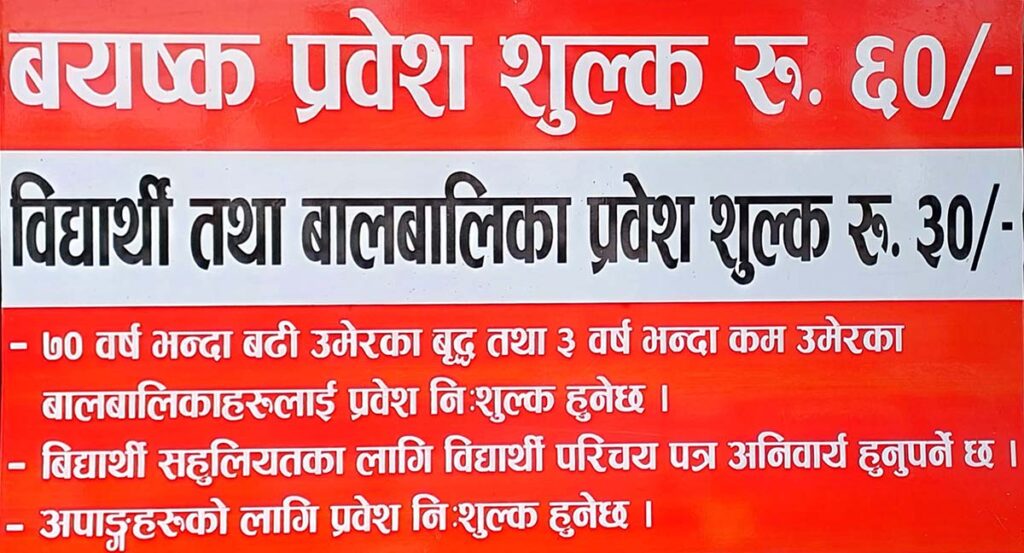 The Kathmandu fun park ticket price is quite reasonable compared to other similar venues in Nepal. The Kathmandu Fun Park ticket price for Nepali is NRs. 60 only.
They also have a student card discount for students. If you show a student card, they give you Nrs. 30 discount so the student ticket is also available at NRs. 30 only.
Similarly, the fun park entry for children under the age of 3 years and old people over 70 years is free. It is free for disabled people too.
The entry ticket price is separate from the game price. The game price inside the Kathmandu fun park may range from NRs. 50 to NRs. 100 per game.
Frequently Asked Questions
What is Bhrikutimandap Kathmandu Fun Park?
Kathmandu Fun Park located at Bhrikutimandap is an amusement park located in Kathmandu, Nepal. It is one of the largest amusement parks in Nepal and features a variety of rides and attractions.
What are the operating hours of Kathmandu Fun Park?
Kathmandu Fun Park Bhrikutimandap is open every day from 12:00 pm to 07:00 pm but it may vary during the winter season.
What are the rides and attractions available at Fun Park in Bhrikuti Mandap?
Bhrikutimandap Fun Park in Kathmandu features a variety of rides and attractions, including a Ferris wheel, a carousel, a roller coaster, a water park, and a variety of other rides and games.
Are there any food options available at Kathmandu Fun Park Bhrikutimandap?
Yes, you can find varieties of food options available at Bhrikutimandap fun park, including fast food, snacks, drinks, etc.
What are the fun games for kids in Kathmandu fun park?
There are many fun games for kids in Ktm fun Park, such as bumper cars, arcade games, horse riding, and slides, etc.
Conclusion
Kathmandu fun park is the best place in Kathmandu to spend the weekend with family and friends. It has fun games for people of all age groups. Visiting Kathmandu fun park for refreshment, relaxation, and spending quality time with children would be a good idea.
You don't even need lots of money to spend here. It is a budget-friendly place and easily accessible place residing inside Kathmandu. You can visit this place any time of the year. It is open every day.
Kathmandu fun park can be your happy place where you can relive your childhood with other children. Plan a day out at Kathmandu fun park, you can play various games and also play football at Goalz Futsal.