The Lakes in Nepal are some of the most beautiful and relaxing destinations to spend quality time. Here is a list of 20 beautiful lakes for your next holiday to elevate your experience with family and friends.
Nepal shelters some of the most amazing lakes in the world. Most of them are located at high altitudes resting at the foot of snow-capped mountains, while some reside in nearby city areas and are easily accessible.
These 20 lakes are located in different corners of Nepal. They are different in size, location, altitude, depth, and many more but a common feature they share is that they are all visually spectacular.
The scenic view you wish to enjoy when you are at the lakeside is fulfilled by these lakes for sure.
List of 20 Lakes in Nepal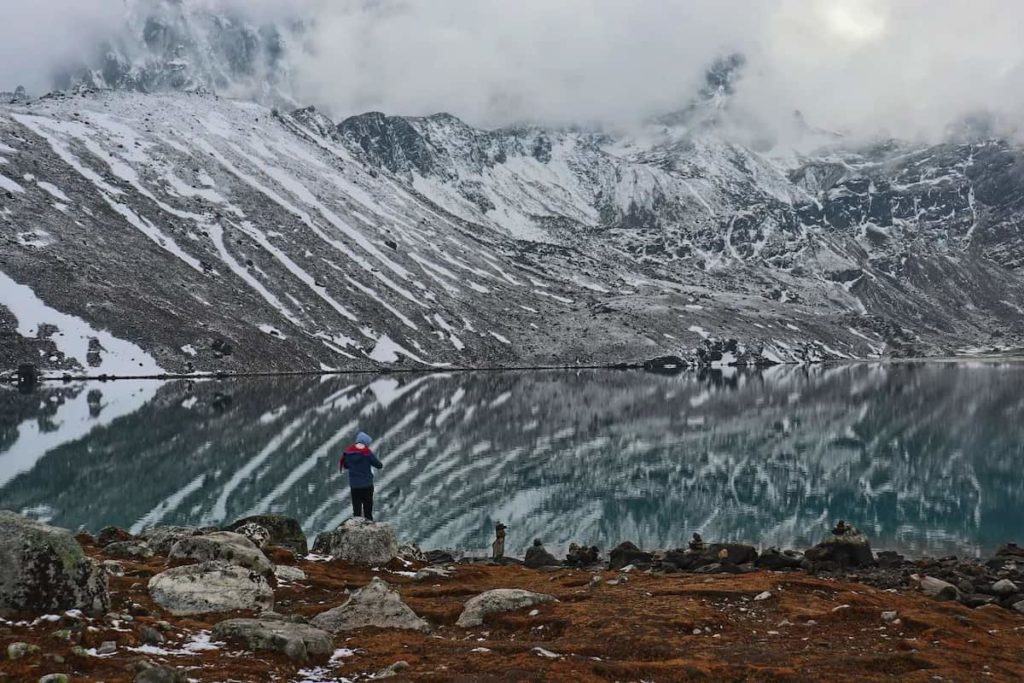 Some of these lakes are renowned not just for their stunning beauty, but also for their religious importance. Various mythologies and myths are associated with these lakes.
Hundreds and thousands of pilgrims visit such lakes for spiritual purposes any time of the year, but mainly during special festivals and occasions. The below-listed lakes are only those lakes that are accessible.
The lakes that are beautiful but not physically accessible won't be listed here. So, let's dive directly into the list of 20 lakes in Nepal.
1) Rara Lake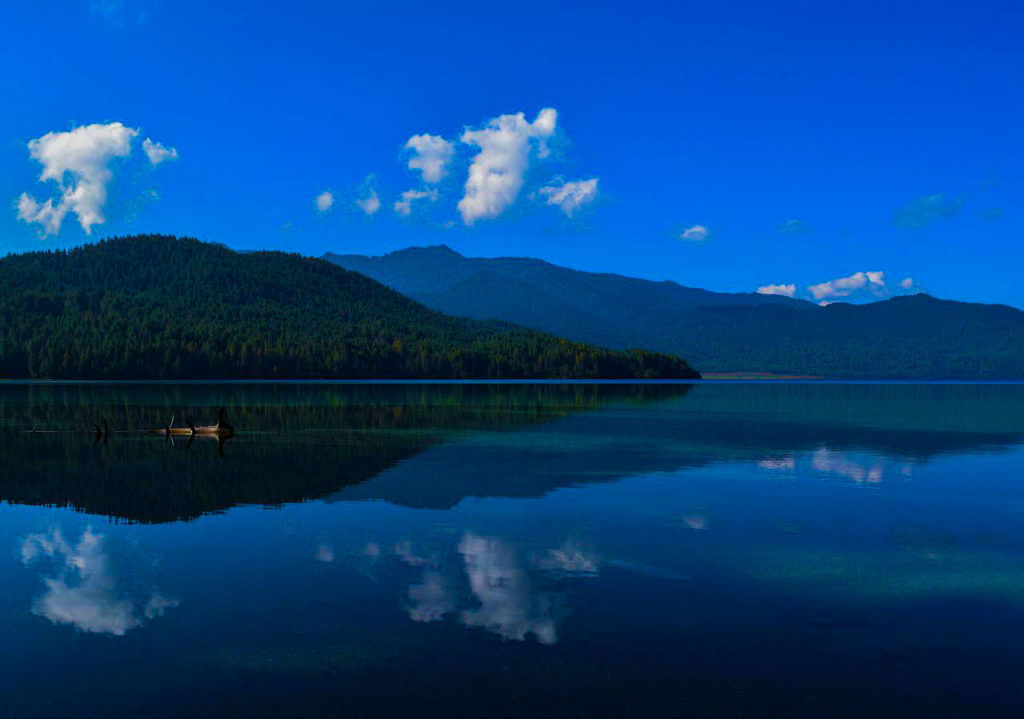 Rara, the largest lake in Nepal, resides at an altitude of 2,990m above sea level. Located in the Jumla and Mugu districts of western Nepal, the Rara Lake is the biggest lake in Nepal that covering an area of 9.8 sq km.
There is a convenient way to arrive at Rara. You can simply take a flight from Kathmandu to Nepalgunj airport, which is approximately an hour-long flight.
Then, from Nepalgunj, take a quick 30 minutes long flight to Talcha airport. Talcha Airport is considered Nepal's second-most dangerous airport, Lukla Airport being the first.
Sometimes, the path to Rara is unfavorable for a vehicle ride. At that time, you can hike a bit and then take a horse ride to your hotel.
This remote area of west Nepal lacks nice roads and houses so you will find stone-paved roads and houses.
The locals are great at hospitality, so you can choose a homestay to experience their lifestyle, authentic food, and the Deuda dance.
The hike from Talcha to Rara Lake is not going to be a piece of cake. Make sure you are physically fit and able to walk rough paths continuously.
In the midst of a dense forest, surrounded by hills and mountains lies the pristine Rara Lake. You can walk up to the view tower at Murma top to capture the hawk-eye view of Rara Lake.
The combination of white clouds above a blue lake circled by a green forest is the most stunning view you'll ever see in your life.
Similarly, Rara Lake is said to comprise three distinct varieties of trout found nowhere else in the world.
Enjoy a relaxing walk on the lake and then have a peaceful boat ride across the lake for a memorable experience.
2) Shey Phoksundo Lake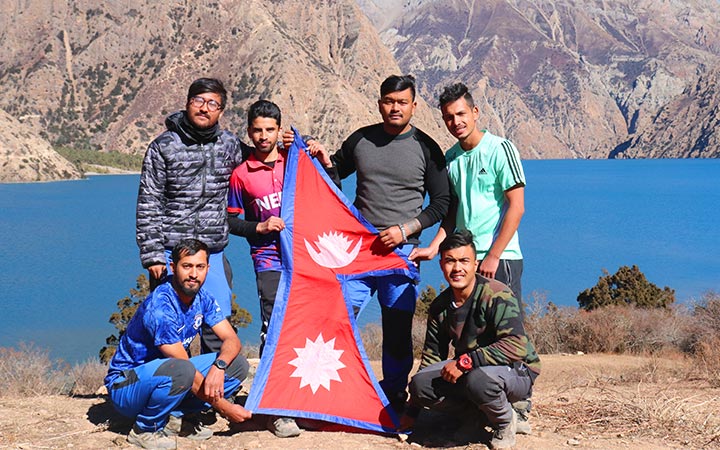 ​​Shey Phoksundo Lake, a beautiful lake located in the Dolpa district,  is an alpine freshwater oligotrophic lake. Conserved by Shey Phoksundo National Park, it is 145m deep and covers an area of 4.94 sq. km.
The lake of Shey Phoksundo is located at an altitude of 3,600m, which is quite high for any traveler to conveniently reach there.
An optimum way to arrive at Shey Phoksundo Lake is to choose the Shey Phoksundo trek package.
The trip starts with a 55-minute flight from Kathmandu to Nepalgunj. From Nepalgunj, take another flight to Jufal, from where the trek to Shey Phoksundo Lake actually begins.
You will come across some of the most beautiful villages, waterfalls, small gorges, traditional houses, and kindhearted locals that will make your stay at Dolpa a memorable one.
Crossing a vintage suspension bridge over the Bheri River has to be one of the major attractions of the journey.
Walking difficulty can be categorized as moderate. Since the trekking routes are quite friendly, you will easily cover long routes in minimal time. That's one of the reasons why Shey Phoksundo Lake is one of the best trek destinations in Nepal.
One of the stunning traditional villages of Dolpo is Ringmo village located at the southern end.
From the bird's eye view, the village looks amazing as it sits on the thousands of years old landslide dam that helped form the lake.
Passing through the dam, you will come across a 167m tall waterfall that decorates your journey with bliss. With so much to explore and experience, you will finally arrive at the most-awe inspiring Shey Phoksundo Lake.
The deepest blue color of Shey Phoksundo Lake lays out no clue that it is actually 145 m deep. The view of crazy blue water that is as clear as a crystal, encircled by alpines in all directions, and white clouds floating over the lake is as heavenly as it can be.
Visit the nearby ancient monasteries that are regarded as the home of gods by the locals. The art, sculptures, scripts, prayer flags, and paintings of those monasteries pass on some powerful energies that will energize your soul and calm your mind.
3) Tilicho Lake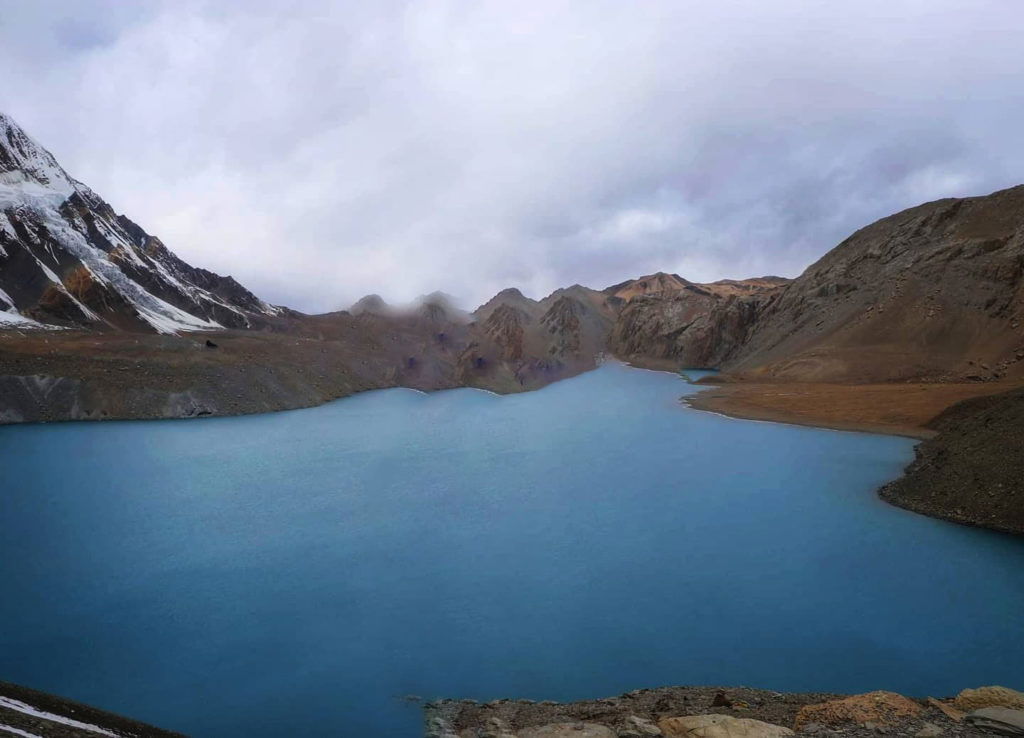 Tilicho Lake, situated at an altitude of 4,919 m, is the world's highest lake. If you select the Annapurna Circuit trek, one of Nepal's classic treks, you can blend the trek to Tilicho base camp into the itinerary.
Located in the beautiful Manang district, Tilicho Lake is conserved by the Annapurna Conservation Area. Tilicho Lake is a popular trekking destination that resides on the foot of the Annapurna range.
Annapurna circuit trek is usually a 10-day long trek. Add around 3 to 4 days more to get to Tilicho Lake.
It takes you initially through Besisahar from Pokhara, then Chame, Pisang, Manang, Shree Kharka, and finally to Tilicho Lake. It is crucial to acclimatize at Manang as altitude sickness is very common at such elevation and it can limit your speed.
From Manag, your next stop will be at Shree Kharka at an altitude of 4075m. The next day's destination is Tilicho Lake at an altitude of 4949m.
The uphill walk from Tilicho base camp to Tilicho Lake is a difficult one. You won't be able to walk at the same speed as you were earlier since the landscape changed into a landslide area with just rocks and sand everywhere. It is around 3 hour's walk from the base camp to Tilicho Lake.
But, your hardship will pay off once you witness the magnificent view of Tilicho Lake sitting in silence in admiration of snow-capped mountains from all directions. You will also see the Annapurna range, Gangapurna, and Tilicho peak in the vicinity.
Brace yourself for the chilly weather up there. Wear warm clothes to confront the continuous cool breeze. A teahouse by Tilicho Lake serves hot tea, which will warm your body while observing the beauty of Tilicho Lake.
4) Phewa Lake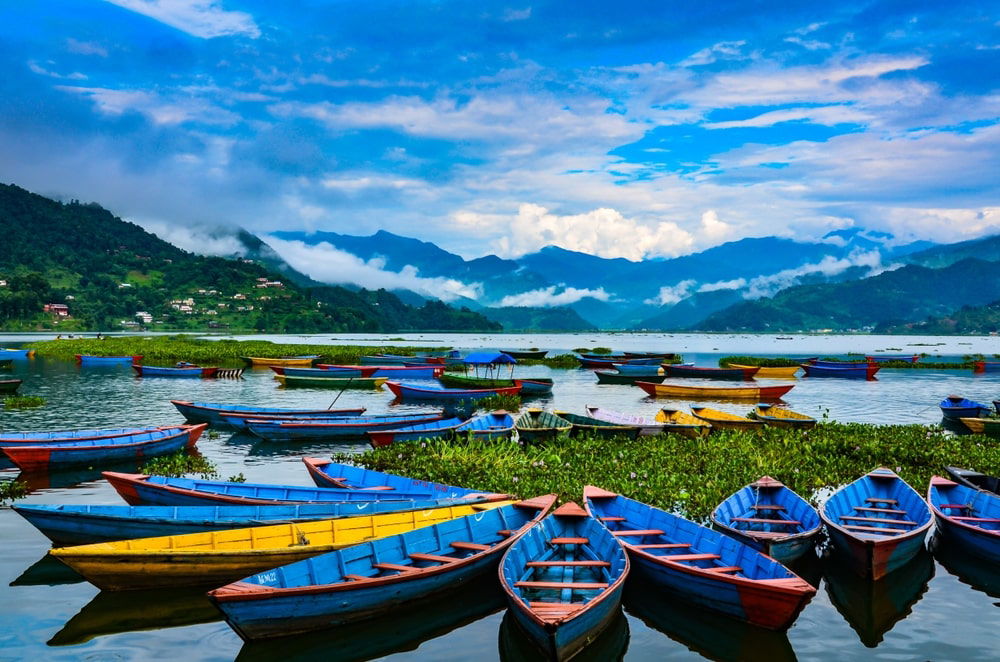 One of the most popular lakes in Nepal among both domestic and foreign travelers is the Phewa Lake. Located in Pokhara city, Phewa Lake covers an area of 5.72 sq. km.
It is a great place to spend weekends and short vacations relaxing with families and friends. Phewa Lake can be conveniently reached from Kathmandu via various means of transportation.
You can take a direct flight from Kathmandu to Pokhara, which takes approximately 25 minutes. Similarly, you can hire a van or take local transport from Kalanki. The local transport may take 7 to 8 hours to arrive in Pokhara.
Known as the largest lake in the Pokhara Valley, Phewa Lake is the second largest lake in Nepal. It has a maximum depth of 24m.
Phewa Lake has a spectacular view as the tranquil lake is surrounded by high snow-capped mountains, forests, and green hills. The sunrise view from Phewa Lake is a major attraction among travelers.
When the sun rises from behind the majestic mountains, the view of the sunrise with shimmering Phewa Lake looks amazing. The best time to witness this magical scenery is during the spring and autumn season.
You can also enjoy boating at Phewa Lake. Visit a small island in the middle of Phewa Lake that shelters the sacred temple of Tal Barahi.
After an hour of the tour around Phewa Lake, take brunch at the lakeside resort while enjoying the view of Phewa Lake in the evening. Phewa Lake is also known for paragliding. Enjoy the hawk-eye view of Phewa Lake during paragliding.
5) Gokyo Lake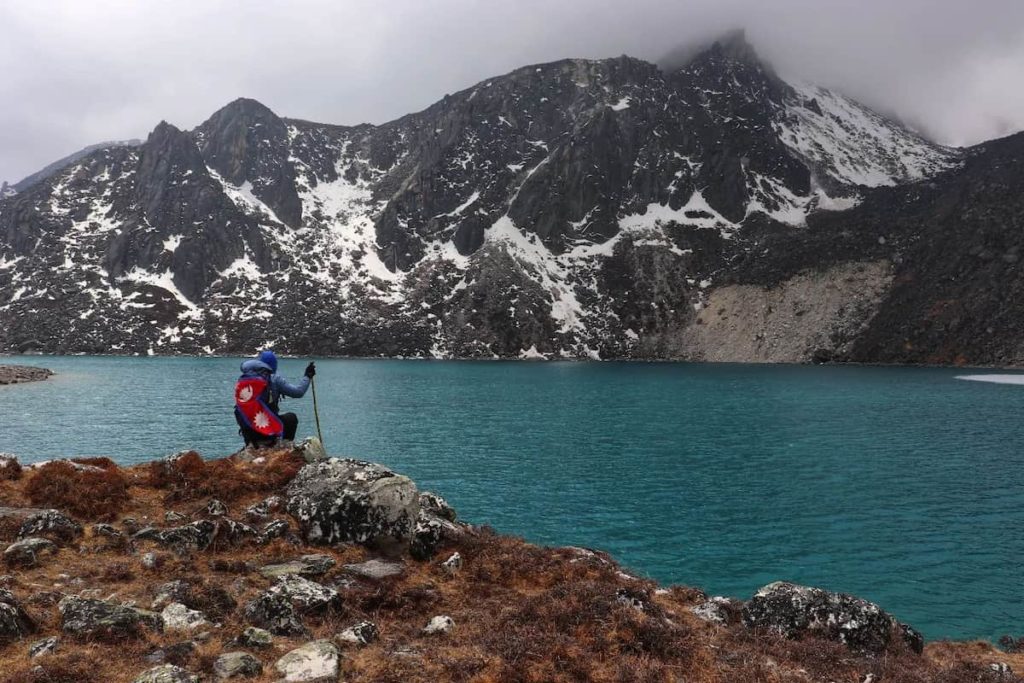 Enclosed in the engrossing Sagarmatha National Park in the Khumbu region is Gokyo Lake. It is one of the stunning lakes located at the highest altitude in the world. 
At the foot of the world's sixth-highest mountain, Cho Oyu of 8,188m in height, lies the mesmerizing Gokyo Lake. The lake is formed from the melted Ngozumpa Glacier, the longest glacier in Nepal.
It is named after the beautiful Gokyo village. The scenic view of the beautiful Gokyo Lake with Mount Cho Oyu in the background will leave you in awe.
Located at an altitude of 4,750m, Gokyo Valley is regarded as one of the highest settlements in the world. When you select a Gokyo Valley trek package, you will be exploring the Gokyo Valley as well as the Gokyo Lake.
It takes around 7 days to reach Gokyo Lake. You can take a route from Kathmandu to Phakding, Namche Bazaar, Dhole, Machhermo, and finally Gokyo Valley.
The distance between Macharmo to Gokyo is 8.5 km. Hiking for 3hrs uphill from Machhermo will take you to Gokyo Valley.
Gokyo Lake comprises six lakes. They are Gokyo Cho, which is also known as Dudh Pokhari, Thonak Cho, Gyazumpa Cho, Tanjung Cho, Longbanga Cho, and Ngozumpa Cho.
The accommodation facility is very well maintained by the locals at Gokyo Lake. You can have a warm cup of tea while enjoying the stunning view of the glassy and serene Gokyo Lake from the teahouse.
Lakeside inns have well-insulated rooms and attached bathrooms with facilities like hot and cold water.
You will also notice rare and distinct birds enjoying the calmness of Gokyo Lake. Gokyo Lake is one of the most picturesque lakes in the world.
Choose seasons like spring and autumn to visit Gokyo Lake during which the weather is clear.
6) Begnas Lake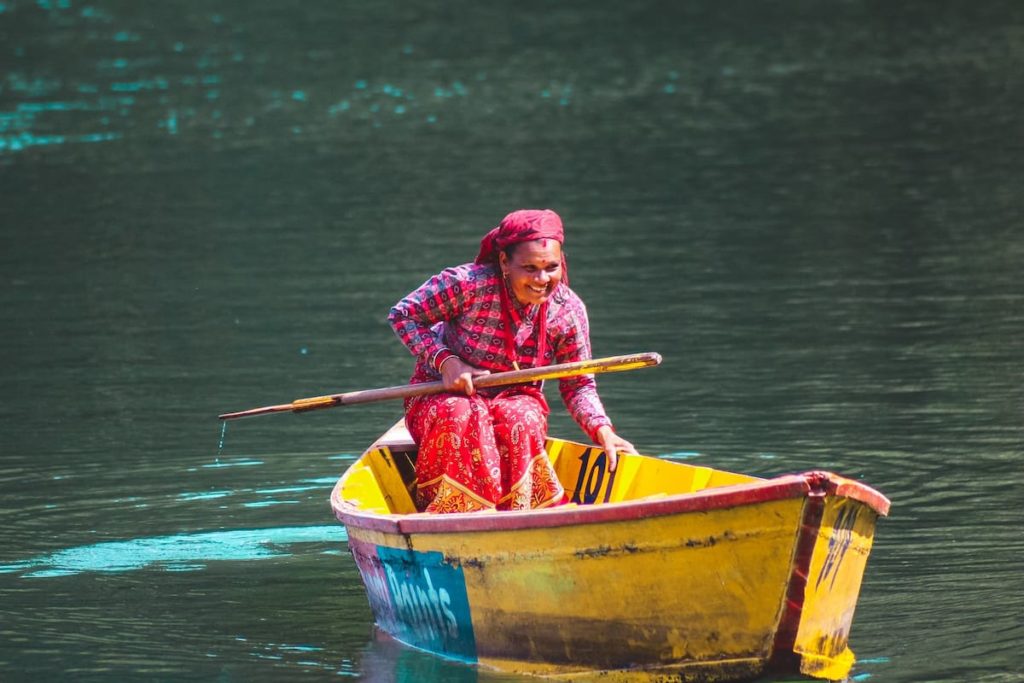 A lesser-known lake located nearby Pokhara Valley in the Kaski district is Begnas Lake. Just head 40 minutes southeast of Pokhara, and you will arrive at one of the most stunning lakes to exist on Earth.
Untouched by the noises of urban areas, this place is suitable for spending a relaxing time in the midst of nature. It has a peaceful ambiance and a beautiful landscape to please your eyes.
Begnas is just 15 km away from Pokhara. From Talchowk, it is just 8 km away. You can easily find public transport or you can go on a bike ride too.
A place called Majhikuna in Begnas is famous for its delicious fish cuisine. Travelers do not miss trying the organic Majhikuna fish items while visiting Begnas.
It is said that there are 25 distinct species of fish found in Begnas Lake. You can even enjoy fishing at Begnas and ask the hotel to cook that fish for you.
Another fun activity you can enjoy at Begnas is boating and swimming. The people there also provide life jackets while you go boating and swimming in this 7.5 m deep lake.
As you stroll around the lake, you will see a stunning view of the reflection of mountains Annapurna and Manaslu on the surface of the clear freshwater of Begnas Lake. It appears like a painting as the water stands still and the view of the perfect reflection escalates your Begnas experience.
The lakeside resorts and hotels offer adequate facilities like parking space, lunch, breakfast, accommodation, wifi, BBQ, campfire, and many more for the visitors. Any time of the year is the best time to visit Begnas Lake as the weather is optimal throughout the year.
7) Imja Tsho Lake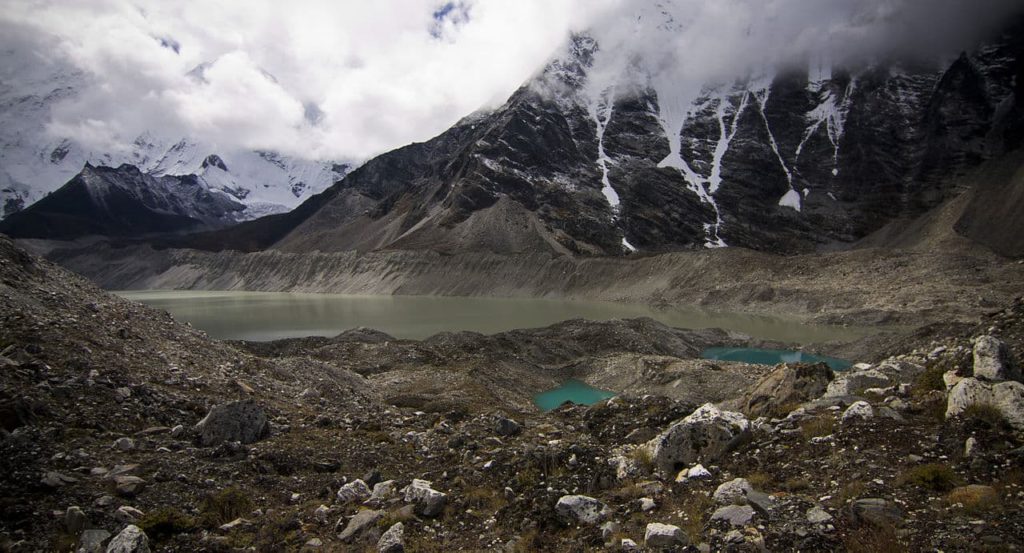 Imja Tsho Lake is one of the high-altitude lakes that is located in the Hinku village of the Everest region. Formed from the Imja glacier, the lake resides at a 5,010m elevation.
With a depth of 90m, Imja Tsho Lake is considered one of the most dangerous lakes in the valley. Though the Khumbu region is best known for Mount Everest and the Everest Base Camp trek, Imja Tsho Lake is also a stunning lake that needs to be explored more often by travelers.
Imja Tsho Lake is an essential site for Nepal's tourism economy as the lake is immensely beautiful, situated at the foot of Mount Lhotse, surrounded by a scenic landscape, and an exciting trekking experience.
Trek to Imja Tsho Lake is quite difficult compared to other lake treks because of the geography and lack of facilities. There are no proper roads, no bridges to walk by.
You have to walk across piles of rocks and pebbles for several days. Crossing the river is also difficult yet enthralling. This remote valley trek can extend up to 8 days.
Imja Tsho Lake is said to be at high risk. The lake is found to be expanding 70m every year, which increases the risk of flooding the nearby settlements.
There is a thick settlement of Rai and Limbu groups in Hinku village. They are kind and great at hospitality. You can explore their lifestyle during the homestay.
Scientists and engineers from different countries have come here to study the lake. Later, they built dams to protect the lake. Even they were astounded by the stunning beauty of the Imja Tsho Lake.
8) Ghodaghodi Lake
Ghoda Ghodi Taal (Lake) is one of the beautiful lakes of west Nepal. Ghodaghodi Lake of Kailali district sits at the foot of Siwalik Hill at an altitude of 205m from sea level.
Ghodaghodi Lake is a freshwater lake that was formed in 2003 at the Ramsar site. The lake is said to have 388 vascular plants including 5 pteridophytes, 130 monocots, and 253 dicots.
Ghodaghodi Lake covers an area of 25.63 sq. km. Lately, it has been a popular tourist destination for relaxation. After various additional features and maintenance by Ghodaghodi municipality at Ghodaghodi lake area, around twenty thousand visitors are observed every year here.
Ghodaghodi Lake is located in the midst of a dense forest and comprises 9 different lakes named Ghodaghodi, Baishwa, Budhi, Chaitya, Nakhrodi, Sunpokhari, Ojhuwa, Purbi Pjhuaw, and the Ramphal.
The lake has been a shelter for several distinct birds so visiting Ghodaghodi Lake is also suitable for bird watching. Distinct flora and fauna can also be observed in various seasons.
Ghodaghodi Lake is considered a paradise for photographers who love to capture nature with their lenses. The entrance fee for Ghodaghodi Lake is NRs. 10 per person.
Various folk stories can be heard regarding the formation of Ghodaghodi Lake among which is, a story related to Lord Shiva that is popular among locals. It is said that Lord Shiva and Parvati visited the lake where they turned into horses and circled around the lake. Hence, the name is Ghoda Ghodi Lake.
The lake is also available for boating. It offers you a chance to observe water animals like crocodiles, alligators, crabs, and fish of various species with a closer glimpse. The water of this lake is also used for irrigation.
9) Panch Pokhari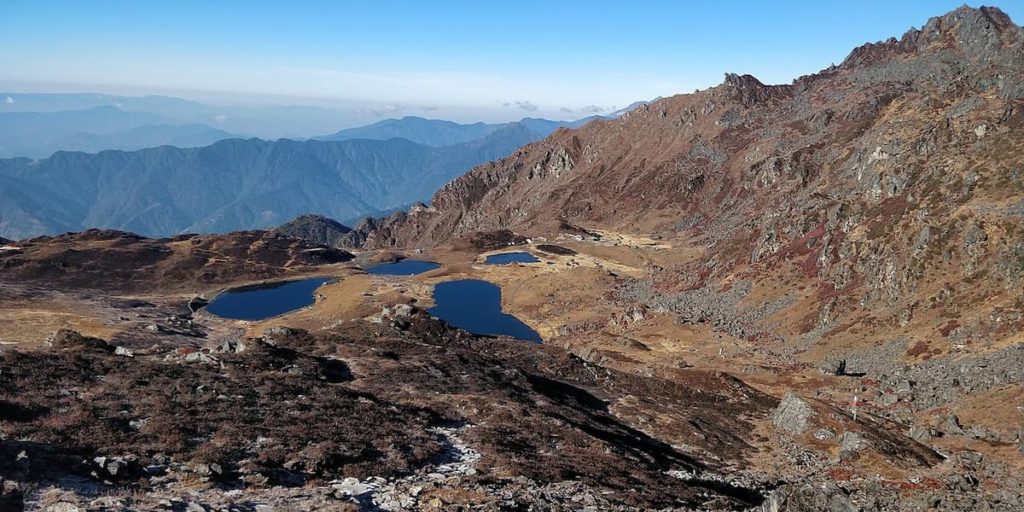 A less explored lake located in Sindhupalchowk is Panch Pokhari. Located at an altitude of 4,100m, Panch Pokhari belongs to the Langtang National Park.
Panch Pokhari is a religious site where a huge crowd is seen during the Janai Purnima festival. During Janai Purnima, the locals gather in Panch Pokhari and perform special rituals dedicated to deities.
Devotees from different corners of Nepal come to Panch Pokhari to worship Lord Shiva at the nearby temple and take several dips in the lake. During Janai Purnima, pilgrims take baths and dips in one of the five lakes early in the morning and change their Janai.
The names of those five lakes are Nagkunda, Ganeshkunda, Bhairabkunda, Saraswatikunda, and Sel Nhurpu (Suryakunda). From Panch Pokhari, you can see the Jugal Himal massif including lakpa Dorje (6,966m) and Phurbi Ghyachu (6,637m). The spectacular view is elevated by the presence of colorful and distinct flowers.
Panch Pokhari is not so far from Kathmandu but still, the lake is a hidden gem that needs a spotlight. From Kathmandu, within 5 to 6 hours, you will reach Bhotang village. It is a small village with a beautiful landscape.
From Bhotang, your trekking to Panch Pokhari begins. Along the trekking trail, you will be greeted with amazing waterfalls along the way and you also get to cross an enthralling suspension bridge.
You will arrive at Dukhang (2,100m) from where a more uphill hike will challenge your strength. Passing through Narsim Pati, Chhata Adkine thau, you finally reach Panch Pokhari at 4,100m.
10) Tsho Rolpa Lake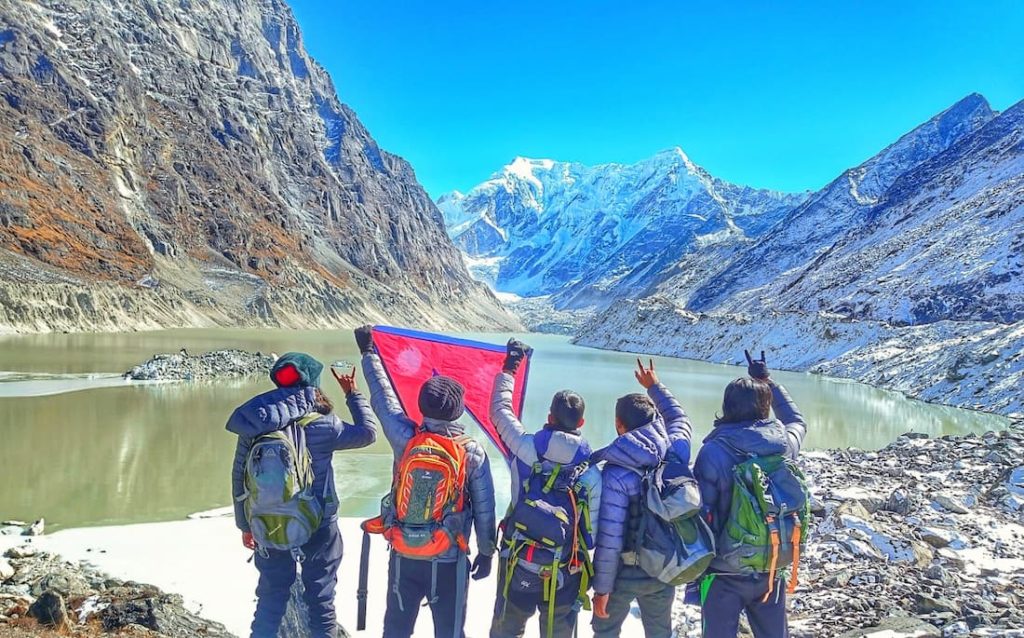 Considered one of the largest glacier lakes in Nepal, Tsho Rolpa Lake sits on the lap of Gaurishankar Himal at an altitude of 4,580m. Tsho Rolpa Lake covers an area of 1.537 sq. km. and has 135m in depth.
Tsho Rolpa Lake is located in the Rolwaling Valley of the Dolakha district and is conserved by the Gaurishankar Conservation Area Project (GCAP). Nepal's second cantilever bridge is at Rolwaling Valley.
One side of this bridge is unsupported so we have to walk carefully. If the second cantilever bridge is in the Rolwaling Valley, the first cantilever bridge is in Gorkha.
To reach Tsho Rolpa Lake, you can choose the Tsho Rolpa Lake trekking package which is a 15 to 17 days long trip. During this trek, you get a chance to explore several remote villages including Rolwaling, Chetchet, and Beding, observe beautiful waterfalls like Bhorley jharna, walk through enthralling trails between dense forests, explore Sherpa culture, and more.
The view of Tsho Rolpa Lake is enhanced by the spectacular view of Gaurishankar Himal (7,134m), Melungtse (7,181m), and many more. The trekkers consider the best time to visit Tsho Rolpa Glacier Lake is during the Autumn season (September to November) and the Spring season (March to May).
The trekking trail to Tsho Rolpa Lake is one of the finest trekking trails but you have to walk for long hours every day. Initially, you will come across trekking trails that are stair-shaped. Walking for hours on elevated stairs can be exhausting.
11) Rupa Lake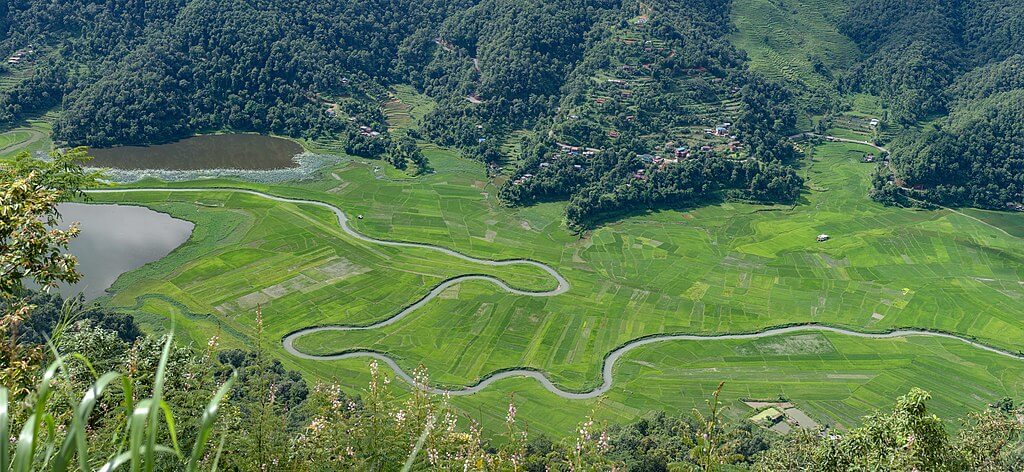 Known as the third largest lake in Nepal, the stunning Rupa Lake is located in Rupakot in the Kaski district. This freshwater lake occupies an area of 1.35 sq. km. and has a 6min depth.
Rupakot is about one hour drive from Pokhara Valley. Rupakot Resort is one of the resorts in Rupakot from where you get a spectacular view of Annapurna Massif, Begnas Lake, and Rupa Lake.
As you head towards Rupa Lake, you will come across a Muslim village which you may explore if you like to know about the ancient Muslim village in a remote area. It is said that King Prithvi Narayan Shah settled the Muslim refugees from Bangladesh in this village when they helped the king in the war.
If the sunrise view from Sarangkot is considered the best then, the sunset view from Rupakot has to be the best one. Similarly, Rupa Lake is one of the best destinations among youth for dating, honeymoons, family trips, short vacations near Pokhara Valley, picnics, etc.
The best time to visit Rupa Lake is any time of the year but you are suggested to avoid the monsoon season when heavy rain falls. During heavy rain, the road becomes muddy and slippery making it difficult for travelers to reach Rupa Lake.
At the hilltop resides a place with historical and religious importance called Kot Bhairav. Rupa Lake is a 25-minute drive from Kot Bhairav.
When the weather is clear, you can enjoy boating, and fishing, and behold the view of majestic peaks. Rupa Lake is home to several waterbirds, fish, floral, and fauna species.
12) Gangapurna Lake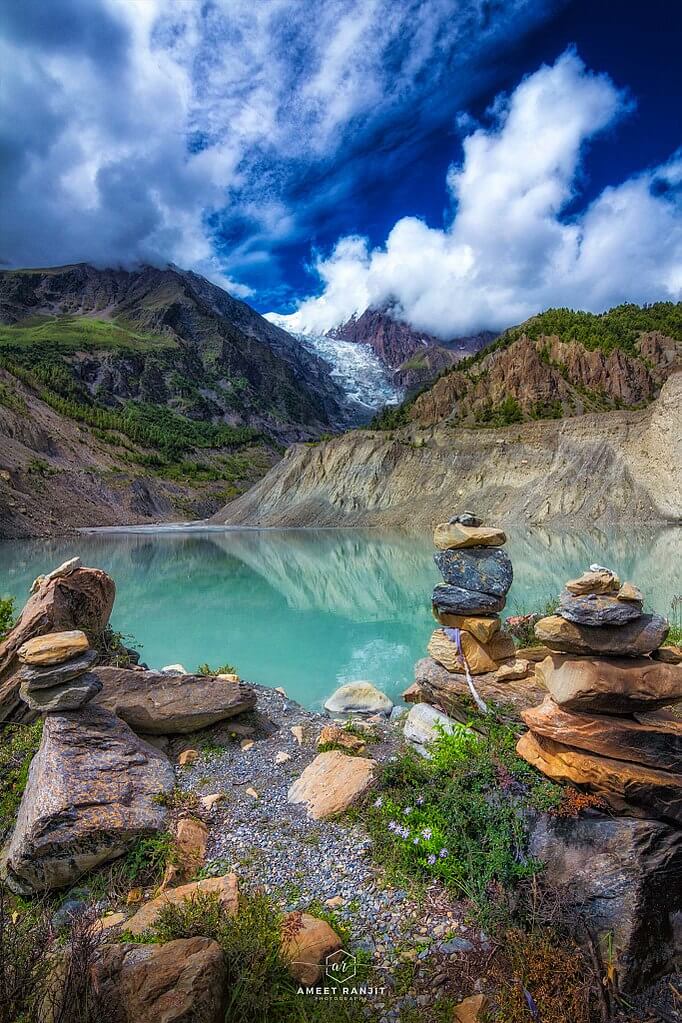 A stunning glacial lake located in the Manang district is Gangapurna Lake. Located at an altitude of 3,540m, the lake was formed from the melted glaciers of Mt Gangapurna, Annapurna IV, Khangsar Kang, and Glacier Dome.
The trip to Gangapurna Lake starts with the 7 hours-long journey from Kathmandu to Besisahar. Then, the next day, you arrive in Manang via an 8-hour jeep ride from Besisahar.
From the Manang village located at an altitude of about 3,500m, you have to walk for approximately 30 minutes to end up at Gangapurna Lake.
It's an easy walk where you will encompass some beautiful scenic landscapes, distinct flora and fauna, Marsyangdi River and the suspension bridge to cross it, and monasteries, all surrounded by Annapurna massif.
At the lap of Annapurna Massif lies the exotic Gangapurna Lake which is named after one of the peaks of Annapurna Massif, Mount Gangapurna, which is 7,455m tall. Also, expect a spectacular view of Manaslu Himal and Lamjung Himal.
One of the easiest ways to land up at Gangapurna Lake is to go for the Gangapurna Base Camp Trekking package, which is about a 9-day long trip. The package includes accommodation, three meals, and a guide.
There are fine hotels with well-conditioned rooms for accommodation at Manang. You can plan a short trip to the beautiful Gangapurna Lake with your friends and families.
13) Dudh Pokhari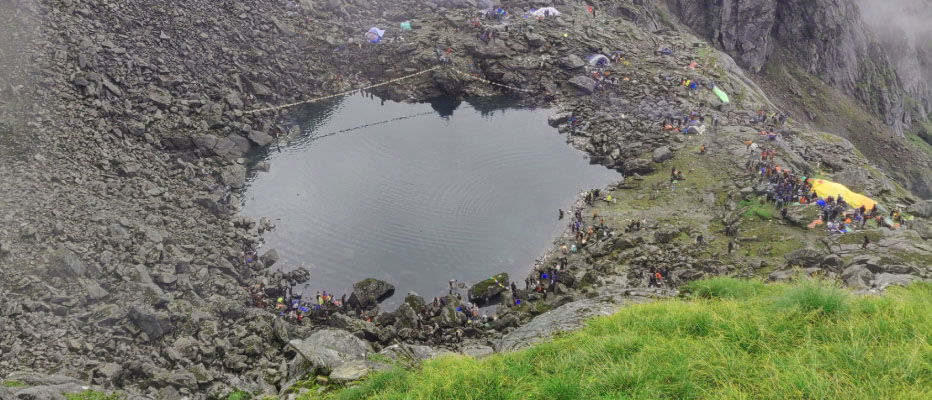 A lake located in the spectacular landscape of Lamjung district is Dudh Pokhari, also known as Dudhpokhari kunda. Sitting still at the foot of Himalchuli, Dudhpokhari is undervalued for the heavenly beauty it has.
It is a little difficult task to reach Dudhpokhari since it resides at an altitude of 4,560m. Such high elevation makes Dudhpokhari one of the highest lakes in Nepal.
Dudhpokhari Kunda is not only a great trekking destination in remote areas but is also a popular religious destination. Thousands of Hindu devotees visit Dudhpokhari mainly in the month of Shrawan during Janai Purnima.
Pilgrims take dips in Dudhpokhari during Janai Purnima and change their old Janai with a new one. The trekking package to Dudhpokhari is usually 12-14 days long. As it is a high-altitude trek, frequent acclimatization is vital.
Dudhpokhari has one of the most beautiful hiking trails as it is covered with colorful flowers, and is surrounded by green hills, snow-capped mountains, and a cool breeze.
You will come across several small lakes if you take the path along Dumre to Deurali Chowk. From Deurali Chowk, head towards Lipe Danda at an altitude of 3,300m. A continuous uphill hike will take you to Dudhpokhari.
When you are visiting Dudhpokhari, it can also be the best time to explore the Rai and Gurung cultures in Lamjung. They had been the residents of that locality since about three thousand years ago.
The view of the milky-colored Dudhpokhari Lake is stunning from March to May and September to December. So, you are suggested to visit this mesmerizing lake during the Spring and Autumn seasons for the best experience.
14) Nagdaha
Nagdaha is located at Dhapakhel in Lalitpur district. This place is not so far from Kathmandu so people tend to visit Nagdaha frequently during their free time.
Nagdaha is believed to be a home for sacred snakes called Nag. This hexagon-shaped lake is not deep around the shore but gets deeper and deeper as you move to the center of the lake.
There are several interesting myths related to the formation of this lake as per the locals. It is said that once Manjushree came to Kathmandu Valley to visit Swoyambhu.
At that time, the Kathmandu Valley was a lake and no humans lived there. So, he decided to drain the water and create a valley where people can live.
As a result, he chopped the Chovar hill and released all the water. Along with the water went the snakes that were living in the lake.
The king of snakes, Karkat Nag became furious with Manjushree as the snakes now had nowhere to live. It is then believed that Manjushree created Taudaha for Nag and Nagdaha for Nagini.
You can see two parts of Nagdaha as one is believed to be the body and tail part of the Nag and the small lake located on the east side of it is believed to be the eye of the Nag.
Nagdaha is a religiously significant lake among pilgrims. People visit the temple of Nag at Nagdaha and often notice snakes around the lake.
During Nagpanchami, a huge fair is observed at this place. There is also a belief among pilgrims that worshiping Nag at Nagdaha eliminates the fear of snakes.
Apart from its religious importance, the location of Nagdaha has a beautiful and calm environment. The place is suitable for relaxing and spending quality time with friends and family on weekends.
Surrounded by green trees, tall hills, and a thick settlement of locals enhances the scenic beauty of Nagdaha. The holy lake has been an important attraction among domestic tourists due to its religious significance.
Foreigners who are interested in exploring theologies are also seen visiting this place. The picturesque lake looks even more stunning during the monsoon season.
15) Taudaha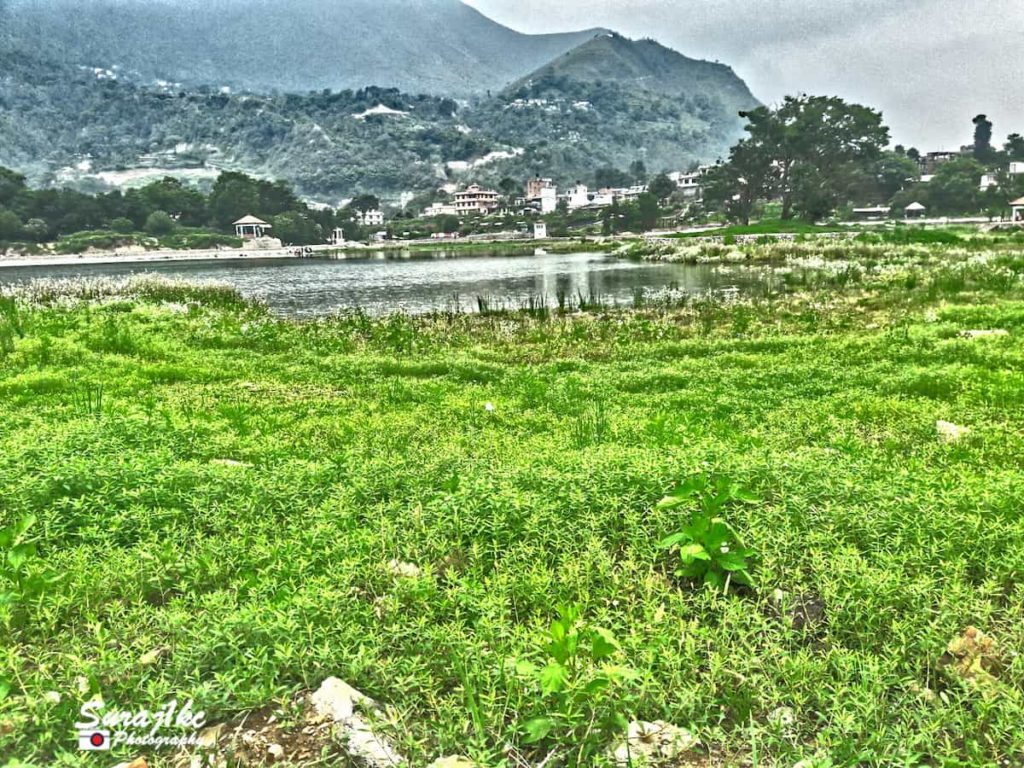 Taudaha is one of the most popular lakes among Nepalese and is located on the outskirts of Kathmandu Valley. The only natural lake in Kathmandu, Taudaha Lake, has a religious significance.
Taudaha occupies an area of 4.63 sq. km and is just 5 to 10m deep. Taudaha belongs to the Kirtipur municipality.
As per the mythology mentioned above, when Manjushree created Nagdaha, Taudaha was also created. It is said that the King of serpents, Karkata Nag lives in Taudaha.
That's why the Lake of Taudaha is important among pilgrims. A sculpture is also established nearby the lake that symbolizes the Karkata Nag.
A huge crowd can be noticed during Nag Panchami, where people worship snakes. These snakes are considered our protectors.
Taudaha has a beautiful landscape that is suitable for spending a day off in the vicinity of nature. Since this place is not that far from the city area, it is one of the best dating spots in Kathmandu.
You can relax by the lake while feeding the distinct fish of the lake. Similarly, Taudaha is a suitable place for bird-watching as well.
Around 65 different species of birds are recorded at Taudaha such as Black kite, Barn swallow, White-throated kingfisher, Black drongo, Rose-ringed parakeet, cattle egret, Common myna, Red-vented Bulbul, and many more winter migrants.
Entry to this religious lake requires a ticket which costs around NRs. 30 for Nepalese and around NRs. 50 to 70 for foreigners. Private parking space is also available, whose cost starts from NRs. 25.
You can take a transport from Kalanki that will drop you directly at the gate of Taudaha Lake. There are several hotels and lodges with good facilities nearby, so you can even stay overnight at Taudaha.
16) Gosainkunda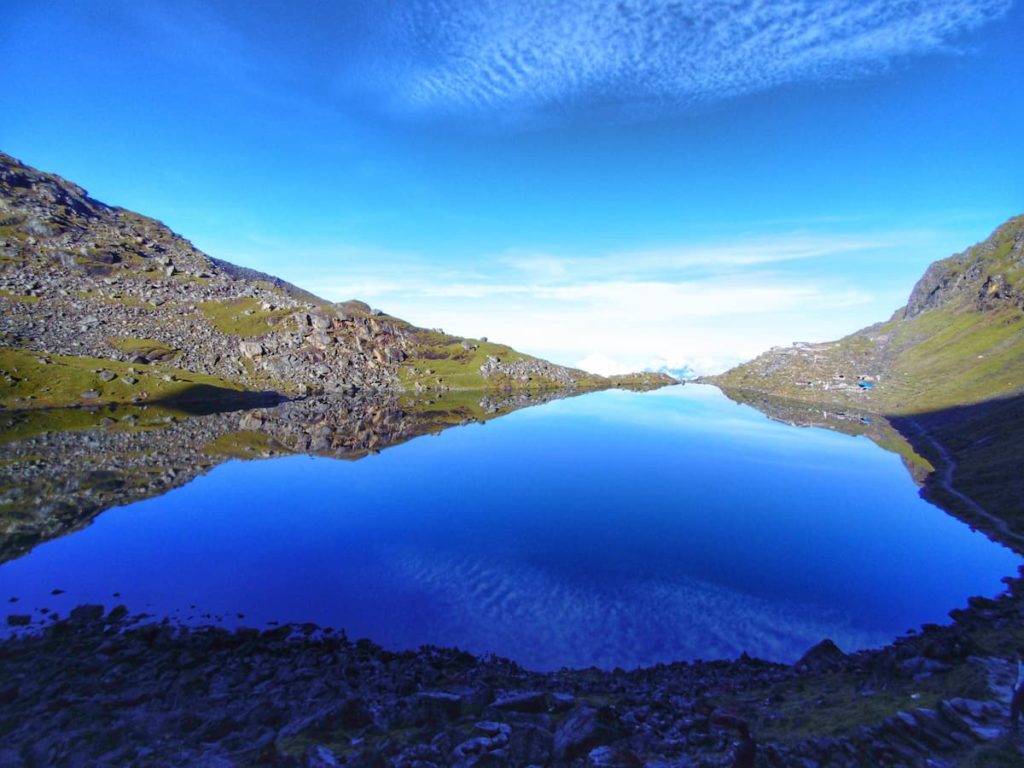 A beautiful lake sheltered in Langtang National Park, Gosainkunda, sits high at an altitude of 4,380m in the Rasuwa district of the Langtang region.
The lake remains frozen for six months from October to June as the temperature drops dramatically in winter. That's why it is sometimes also referred to as the frozen lake of Nepal.
If you want to swim and take dips in Gosainkunda then, visiting the lake during winter is not recommended. Not only is Gosainkunda a major trekker destination, but is also a holy lake among Hindu and Buddhist pilgrims.
It is believed that Lord Shiva is relaxing in the depths of Gosainkunda. As per Hindu mythology, when Lord Shiva engulfed the poison that emerged during 'Samudra Manthan' to save the world, he didn't completely swallow it.
Rather, he stored it in his throat. As a result, his throat started burning, so he dived into the cold water of Gosainkunda, which calmed him down.
A temple of Lord Shiva also stands at the lakeside. Besides that, the panoramic view of Ganesh and Langtang Himal surrounding the lake also manages to catch the attention of travelers.
A huge crowd is noticed at Gosainkunda during special occasions like Janai Purnima and Dashain. There is also a belief among the devotees that taking numerous dips in Gosainkunda Lake fulfills one's wish.
In the vicinity of Gosainkunda, there are almost 108 more ponds, some of which are Aamakunda, Bataaskunda, Bhairabkunda, Chandrakunda, Dudhkunda, Ganeshkunda, Kumachokunda, Nagkunda, Raktakunda, Saraswatikunda, and Suryakunda.
You can include Gosainkunda in your Langtang Valley trek as you can customize the itinerary at your convenience.
If you wish to walk up to Gosainkunda, then it will take around 10 to 15 days. You can even choose a quick alternative of taking an 18 to 20 minutes long helicopter ride from Kathmandu (TIA) to Gosainkunda.
17) Mai Pokhari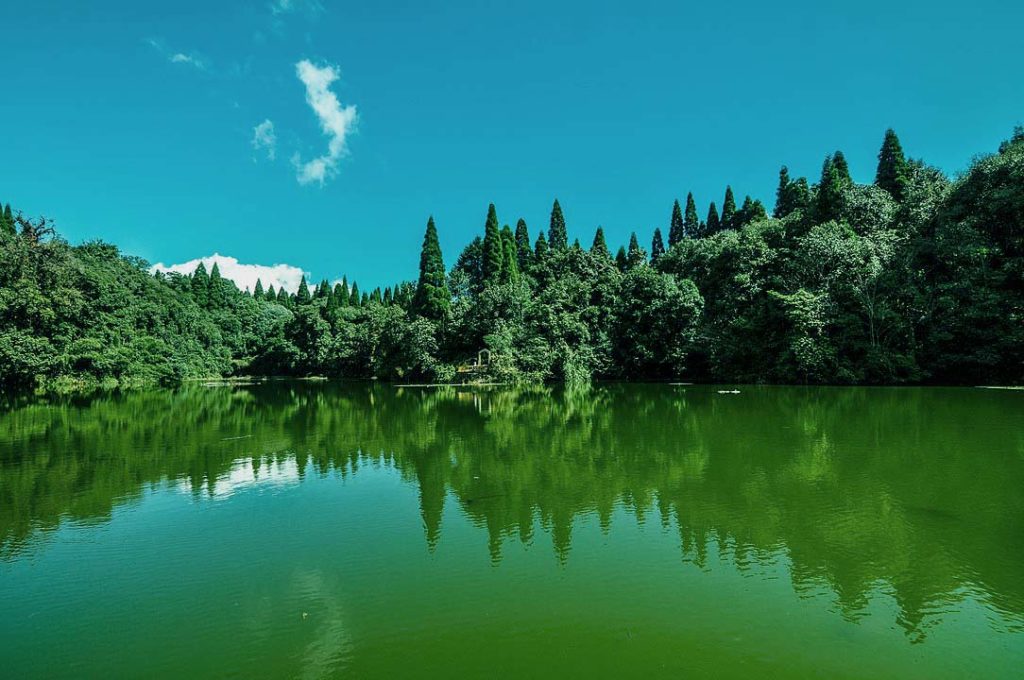 Mai Pokhari, a serene lake, located 15km north of Ilam lies in the Ilam district of eastern Nepal. With an area of 220 acres, this lake resides at an altitude of 2,100m amid a dense forest.
Ilam is well-known for producing and exporting high-quality tea seeds all over the world. There is a huge tea garden in Kanyam, where locals can be seen plucking tea leaves to transform them into tea seeds in the factory.
When you visit Ilam and the tea garden, don't forget to visit the Mai Pokhari, which has a religious significance. The lake is surrounded by trees and mountains, and there is also a Bhagwati temple near the lake.
Mai Pokhari is a rich wetland with distinct flora and fauna. There is the existence of distinct wildlife inside the dense forest.
The hiking trail is an easy one as it is not rough. You can enter the lakeside free of cost. A gate with several bells hung in it welcomes you giving you a religious vibe.
Mai Pokhari is suitable to visit at any time of the year, but you are recommended to visit Mai Pokhari for the best experience during the Spring season (March to June) and autumn season (September to November).
During these seasons, the weather is good, the scenery looks vibrant, and the mountain view also looks beautiful.
To go to Mai Pokhari, you can either choose a flight or road trip according to your budget. From Kathmandu, you can take a 40-minute flight. Then, from Bhadrapur, take a vehicle to Ilam, which takes approximately 1 hr 30 minutes.
For a road trip, take a means of public transport or hire a jeep from Kathmandu to Kakadvitta, which is a 10-hour trip. From Kakadvitta, the journey to Ilam is around 1 hr.
18) Gahana Pokhari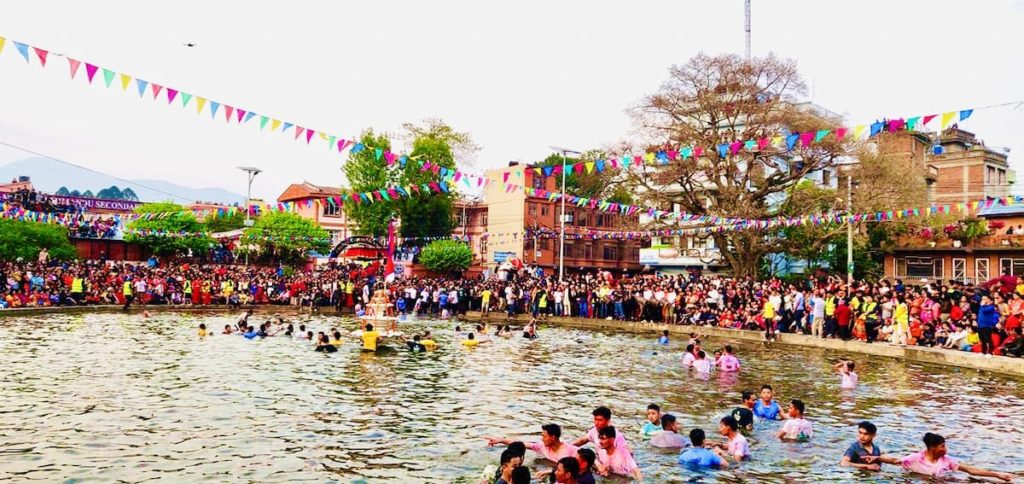 Hadigaun is known as a city with unique festivals. The festivals celebrated in Hadigaun are celebrated nowhere, and the traditions and rituals attached to those festivals are unique and interesting.
Gahana Pokhari, a religious lake among locals is located in Hadigaun, Kathmandu. Every year the Newa community of Hadigaun celebrates Gahana pokhari Jatra with joy.
This festival is called 'Gahana Khojne Jatra', which literally means a jewel-finding festival. Local people believe that the Gahana pokhari (lake) confines jewels that Bhairav Devi lost.
With traditional instruments playing and people dancing to its tune, the locals pull the chariot of Tundaldevi on their shoulders and head towards the lake. The people continue chariot pulling into the 136m deep lake as they also start their search for jewels.
The chariot of Bhatbhateni Devi also carried, which is collided with the chariot of Tundaldevi 3 times at the end of the festival. During this festival, unique idols are prepared from steamed rice and worshipped.
The day before chariot pulling day, a huge celebration is seen at the temple of Tundaldevi followed by worship of Bhatbhateni at Naxal. The festival officially starts on Chaitra Chaturdashi by erecting Linga every year.
According to Hindu mythology, Tunaldevi of Hadigaun, Mahamaya Devi of Naxal, and Bhairav Devi of Nuwakot, the three sisters, came to take a bath at Gahana Pokhari. It is said that while bathing, Bhairav Devi lost her jewel in the lake.
She didn't have enough time to search for the jewel as she had to return to Nuwakot, so she asked Tunaldevi and Bhatbhateni Devi to search for it. Hence, as a remembrance of this day, Gahana khojne jatra is celebrated in Hadigaun.
This festival is said to have started in the Lichhavi period, but no one has ever been successful in finding jewels inside the lake.
19) Bish Hazari Lake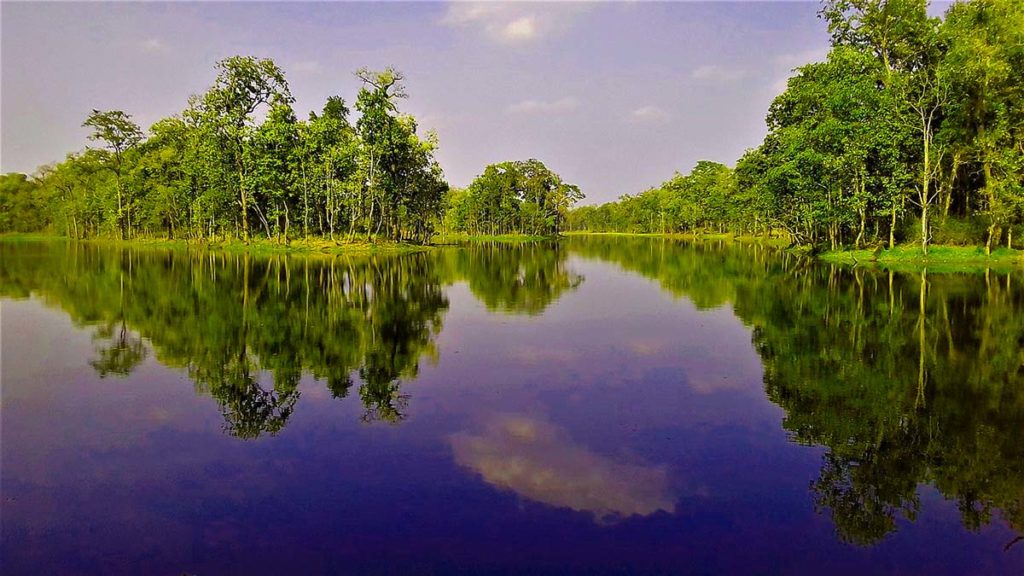 Bish Hazari Lake, located in the Chitwan district is a magnificent lake in central Nepal. Occupying an area of 7,900 acres, Bish Hazari Lake is a Ramsar site residing between the Mahabharat range to the north and the Siwalik range to the south.
Bish Hazari Lake is conserved by Chitwan National Park. This local heritage of Chitwan is a habitat for the various distinct birds and serves as a paradise for bird watchers.
Similarly, the lake is surrounded by dense forest so this lake area houses instinctive wildlife and vegetation. Bish Hajari literally means Twenty Thousand (20,000).
It is believed that Bish Hazari Lake looks like 20,000 when observed from the sky. Similarly, several small and big lakes sum up to 20,000 lakes.
Bish Hazari Lake is a great place to explore when you are in Chitwan. The ambiance here is peaceful and suitable to get close to nature.
The best time to visit Bish Hazari Lake is any time of the year. But, if you want to observe distinct birds then, you should visit the lake during winter. In winter, the birds from the northern Poles fly here to escape from the massive cold.
It is easy to get to Bish Hazari Lake. It is accessible either via air or road. You can take a flight from Kathmandu to Bharatpur and then, take a road trip to Chitwan. Alternatively, take a public vehicle from Kathmandu to Sauraha.
The Chitwan National Park will charge you a certain entrance fee. Then, you can proceed to visit the Bish Hazari Lake during a jungle safari.
20) Ramaroshan Lake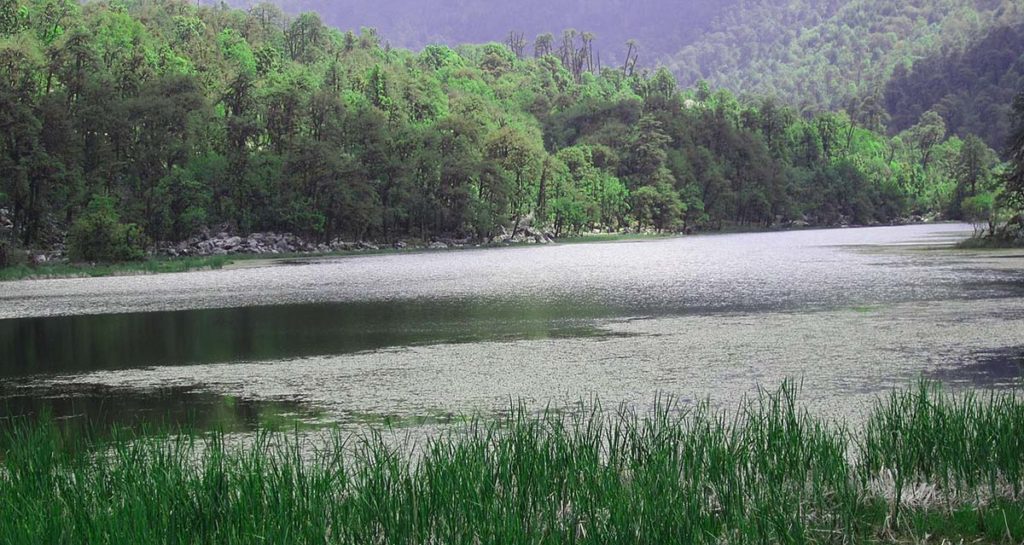 Ramaroshan site is a major tourist attraction as it is known as the land of 12 lakes and 18 patches of meadow. If Jigale Lake is the largest lake in this area then, Taune Lake is the smallest lake here.
Residing at an altitude of 2,400m, Ramaroshan Lake is a heavenly place for nature lovers. The presence of nearby Badimalika and Nanda Mata temples has given religious importance to the lake.
Located in the Achham district in the far western region of Nepal, Ramaroshan Lake is also known as one of the habitats of the Lophophorus (Danfe), and Rhododendron (Laliguras).
Similarly, a majestic view of Mount Api and Mount Saipal can be seen that elevates the beauty of Ramaroshan Lake.
There are various stories related to how the place had the name Ramaroshan. Some say that two brothers Rama and Roshan first came to graze their cattle in that area so, it was named Ramaroshan.
Similarly, others say Lord Shiva and Goddess Parvati came to visit Ramaroshan Lake as Rama and Roshan.
Ramaroshan Lake is surrounded by a forest, green hills, Snowcapped mountains, and lush green land. This charming landscape view attracts visitors every year.
The lake is also available for boating lately. You can watch wildlife and birds while boating across the lake as it increases the possibility of encountering their view.
The locals offer accommodation and food facilities for visitors as homestays. Ramaroshan Lake can be a perfect destination for picnics, hiking, excursions, etc.
The lake is suitable to visit any time of the year. During winter, you can enjoy snowfall here while in Spring, the place is decorated with various colored rhododendrons.
FAQs
How many Lakes are there in Nepal?
According to the National Lake Conservation Development Committee (NLCDC) small and large lakes, including Glacier Lakes (2323), there are around 5358+ total lakes in Nepal.
Which is the deepest lake in Nepal?
Shey Phoksundo Lake, a beautiful lake located in the Dolpa district is the deepest lake in Nepal that is 145 meters deep and covers an area of 4.94 square kilometers.
Which is the highest lake in Nepal?
Located in the beautiful Manang district, Tilicho Lake is conserved by Annapurna Conservation Area, Tilicho Lake is the highest lake in Nepal and is situated at an altitude of 4,919 meters.
Which is the largest lake in Nepal?
Located in the Karnali Province (Jumla and Mugu districts of western Nepal), the Rara Lake is the biggest lake in Nepal and covers an area of 9.8 sq. km.
How many lakes are there in Pokhara?
Pokhara is also known as the city of 10 lakes. The popular lakes are Phewa Taal, Begnas, Rupa Taal, Khaste Taal, Dipang Taal, Maidi Taal, Gude Taal, Niureni Taal, Kashyap Taal, and Kamal Taal.
How many lakes are there in Chitwan Nepal?
There are 56+ lakes in Chitwan including popular lakes like Anjana Taal, Baikunthe Taal, Bishazari Taal, Chepang Taal, Chisapani Taal, Gaduwa Taal, Ghaila Taal, Kasara Taal, Nanda Vauju Taal, Rani Pokhari, Rhino Taal, Tamorghaila Taal, Tikauli Taal, etc.
Bottom Line
At last, lakes in Nepal are some of the most beautiful lakes in the world. The peaceful ambiance of these lakes calms your mind and soul.
Far from the busy streets of cities, you can relieve stress and relax with your friends and families at these 20 lakes in Nepal.