Narayanhiti Palace Museum in Kathmandu is like a chamber of secrets that confines some untold history of the Kings of Nepal. Let's take a tour of this fascinating and mysterious royal palace of Nepal that is now known as Narayanhiti Palace Museum.
Narayanhiti museum, initially a royal residence of the Shah Kings of Nepal, is located in the heart of Kathmandu. It was established by the late King Mahendra Bir Bikram Shah Dev in 1963. He and his successors lived in Narayanhiti Royal Palace till 2008. King Gyanendra is the last King of Nepal, who was dethroned in 2008.
After Nepal became a Federal Democratic Republic country, King Gyanendra left the Narayanhiti palace. Narayanhiti palace was no more the residence of the Kings. It's been almost 10 years since the building is opened to the public as a museum. People can buy tickets at the entrance gate and enter the Narayanhiti palace museum.
About Narayanhiti Palace Museum
The word Narayanhiti derives from the Newari language, 'Narayan' means 'Lord Bishnu' and 'Hiti' means 'water spout'. Narayanhiti Palace Museum occupies a land of around 3794 sq.m. The museum is surrounded by tall walls and tight security.
There is a Lord Bishnu temple in the Narayanhiti premise, which faces a statue of Garud. You can see a beautiful garden and water sprouts lined up. The Narayanhiti palace building has a pagoda-style construction.
The Narayanhiti palace is divided into three wings: The Private wing, The Guest wing, and The State wing. There are altogether 52 rooms in the palace. The rooms have names of districts of Nepal. The rooms and halls of the Narayanhiti museum are decorated with valuable items and artifacts.
The Reception Hall, known as Kaski Sadan, is a massive room decorated with tiger skin, a King's portrait in sequence, and many sculptures of deities. The Makeup room for the Queen is named Sindhuli. The waiting room for guests before they meet the King is called Jhapa.
The room for special guests to hold meetings is Ilam. The room Sunsari was used to perform rituals of Janai Purnima. The Saptari room was used to celebrate birthdays. The Dhanusha Baithak was used to celebrate Dashain by offering tika to ministers and officials. The room was also used to conduct award ceremonies.
The throne room, known as Gorkha Baithak, has a height of 60 feet. It has a pagoda-style architecture with a huge chandelier surrounded by huge paintings of Hindu Deities. Underneath the extravagant chandelier is the throne of the King made up of gold and silver.
The room where the King was killed is left as it is. So, the room walls have bullet scars and bloodstains. People are more interested in observing those unsolved pieces of evidence of the royal massacre inside the Narayanhiti palace museum.
Massacre of Royal Family of Nepal
The infamous Royal massacre took place in Narayanhiti Palace on 1st June 2001. It is considered a dark event in the history of Nepal that will always bring grief to people's hearts when brought up even after two decades.
In this royal massacre, the whole family of King Birendra was murdered. The mass shooting killed 10 members of the Royal family including King Birendra Bir Bikram Shah Dev, Queen Aishwarya Rajya Laxmi Devi Shah, Princess Shruti, Crown Prince Dipendra Bir Bikram Shah Dev, and Prince Nirajan Bir Bikram Shah Dev.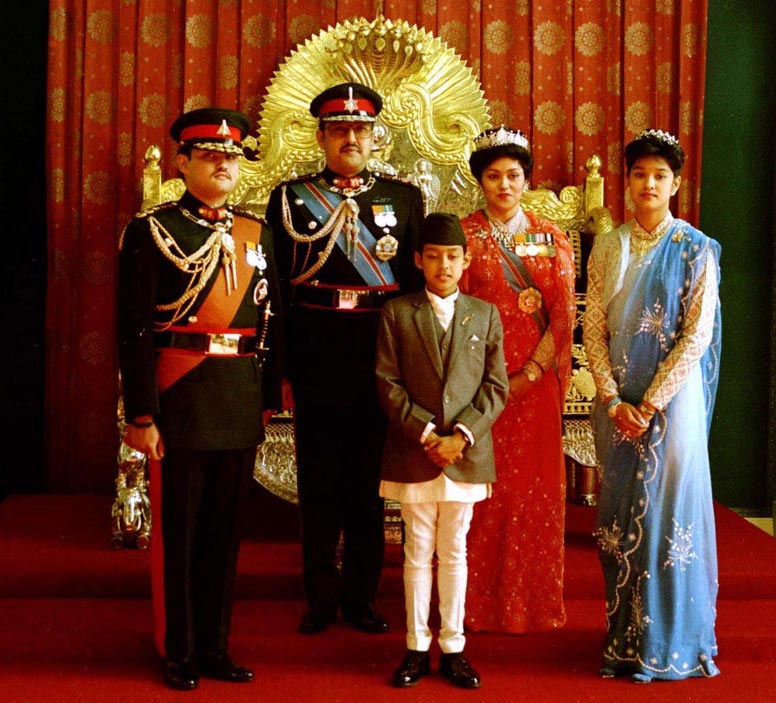 Various conspiracy theories exist regarding the Royal shootout as there is no legit evidence of the event that verifies the murderer. There are several questions unanswered.
One of the popular conspiracy theories is that crown prince Dipendra killed his whole family on a Friday after a lavish party that was held on the premise of Narayanhiti palace. Crown Prince Dipendra, in a drunken state, gunfire his whole family and then shot himself.
It is said that Crown Prince Dipendra wanted to marry his love Devyani Rana who was from a royal family of Indian descent. His family was not ready to accept Devyani Rana as their daughter-in-law so in a rage he shot everyone dead.
Another suspected conspiracy theory is that the brother of Late King Birendra, Ex-King Gyanendra is behind the massacre. None of his family members were killed but were injured.
After the death of King Birendra, the crown Prince Dipendra was announced King in his coma. After 3 days of coma, King Dipendra also died. Then, King Gyanendra took the throne. Similarly, other theories are saying it was a conspiracy of foreign countries to make Nepal unstable.
Some say more than one Crown Prince Dipendra was holding a gun in hand. There are various facts and statements that both support and deny such conspiracy theories, but nothing is legit.
Opening Hours – Narayanhiti Place Museum
Narayanhiti Palace Museum opens every week except Wednesday. It remains closed on public holidays too.
You can visit the Narayanhiti Palace Museum from 10:30 AM to 3:30 PM (Thursday – Monday) & 10:30 AM – 2:00 PM (Tuesday). The ticket counter is open during this time.
Narayanhiti Museum Ticket Fee
The entrance fee for Nepali Students is NPR 50, where students need to carry an identity card, NPR 200 for all other Nepali Citizens. Moreover, the entry fee for SAARC and Chinese Nationals is NPR 500 and NPR 1000 for all other foreigners.
| Nationals | Entrance Fee |
| --- | --- |
| Nepali Students | NPR 50 |
| Nepali Citizens | NPR 200 |
| SAARC & Chinese Nationals | NPR 500 |
| All other Foreigners | NPR 1000 |
Also Read: Bungee Jumping in Nepal
Frequently Asked Questions
What is the cost of the Narayanhiti Palace Museum visit?
The Narayanhiti Palace Museum Cost varies as follows:
The entry fee per head for Nepali Citizens is NRs. 200.
The entry fee per head for Nepali Students is NRs. 50 if the student shows an identity card.
The entry fee per head for SAARC and Chinese Nationals is NRs. 500 and NRs. 1000 for all other nationalities.
For children below 3 years old, entry is free.
When was Narayanhiti Palace Built?
Narayanhiti Palace was built in 1963 by Late King Mahendra.
Who built Narayanhiti Palace Museum?
Late King Mahendra built Narayanhiti Palace in 1963. The Narayanhiti palace was announced as Narayanhiti Palace Museum in 2008.
Who was the youngest king of Nepal?
Ex-King Gyanendra is the youngest King of Nepal. He is the only King who became King twice. He was announced King at the age of 3 from 1950 to 1951. Later, he again became King following the Narayanhiti royal massacre in 2001. He is the last King to rule Nepal and also the last king of the Shah dynasty. He got dethroned in 2008.
Who is the present King of Nepal?
Nepal is a Federal Democratic Republic country. King Gyanendra was the last King of Nepal who got dethroned in 2008. Therefore, there is no King in Nepal now.
How did King Birendra of Nepal die?
Late King Birendra died in a royal massacre on 1st June 2001 inside Narayanhiti. His entire family was shot dead.
Was Nepal ruled by the British?
No, Nepal was never ruled by the British.
On which day did Narayanhiti Palace Museum close?
The Narayanhiti Museum remains closed on Wednesdays and during Public Holidays.
How many rooms are there in Narayanhiti Palace Museum?
There are 52 rooms in Narayanhiti Museum and they are named after 75 districts of Nepal.
How many days are required to visit the Narayanhiti Palace Museum?
It is a short tour inside the Narayanhiti Palace Museum. It can be completed in a single day. So, only one day is required to visit the Narayanhiti Palace Museum.
Can I take pictures and videos inside Narayanhiti Palace Museum?
No, taking pictures and videos inside the Narayanhiti Museum is strictly prohibited. You can take photos and videos from outside the palace building from the garden and parking space but not inside the building.
What is the Narayanhiti Palace Museum Ticket price for students?
The ticket price for Nepali students to enter Narayanhiti Palace Museum is just NPR 50 only. For discounts, students must show their identity cards during ticketing.
What's the best way to see the Narayanhiti Palace Museum?
The best way to see the Narayanhiti Palace Museum is by visiting Kathmandu. In a Kathmandu tour package, you can visit various historical and cultural places to explore ancient Kathmandu. You can include visiting the Narayanhiti Museum in it by consulting the travel agency.
Where is the royal crown of Nepal?
The royal crown of Nepal that symbolizes the long history of the existence of Kings in Nepal is on display in Narayanhiti Palace Museum. The crown is said to have 730 diamonds, over 2,000 pearls, and other precious gems studded in it. The royal attire, swords, ornaments, and everything that the royal family wore or used are put on display in Narayanhiti Palace Museum. They are carefully being preserved but are open to observation by the public.
When did the Monarchy end in Nepal?
The 239 years old monarchy ended on 28th May 2008.
Bottom Line
Narayanhiti palace museum is the only witness to the history of royals and the mysterious royal massacre of Nepal. It is a gold mine for those researchers who want to study the history of Nepal.
The fascinating architecture of this ancient museum is unique and artistic. You can explore the mysterious history of royals by visiting the Narayanhiti Museum in Kathmandu. Contact us for more information.