Newari food has a separate fan base in Nepal as the love for traditional Newari cuisine has been unmatchable for centuries. The best way to try Newari food in Kathmandu, Nepal is to savor different Newari dishes at authentic places.
Don't worry if you don't know what authentic Newari food is and where to find them. In this article, you will find a list of Newari food that you must try in Nepal.
Spend your valuable time exploring Newari food which is rich in flavor and authenticity. Go with your friends and families and enjoy the feast.
What is Newari food?
Newari food is a food derived from ages-old Newari culture. Newar is an indigenous group in Nepal that has its own unique and rich culture.
Newar is known for its unique dialect, attire, ornaments, dance, songs, and food. They use ingredients and spices that are locally available, and this Nepali food recipe is passed from generation to generation.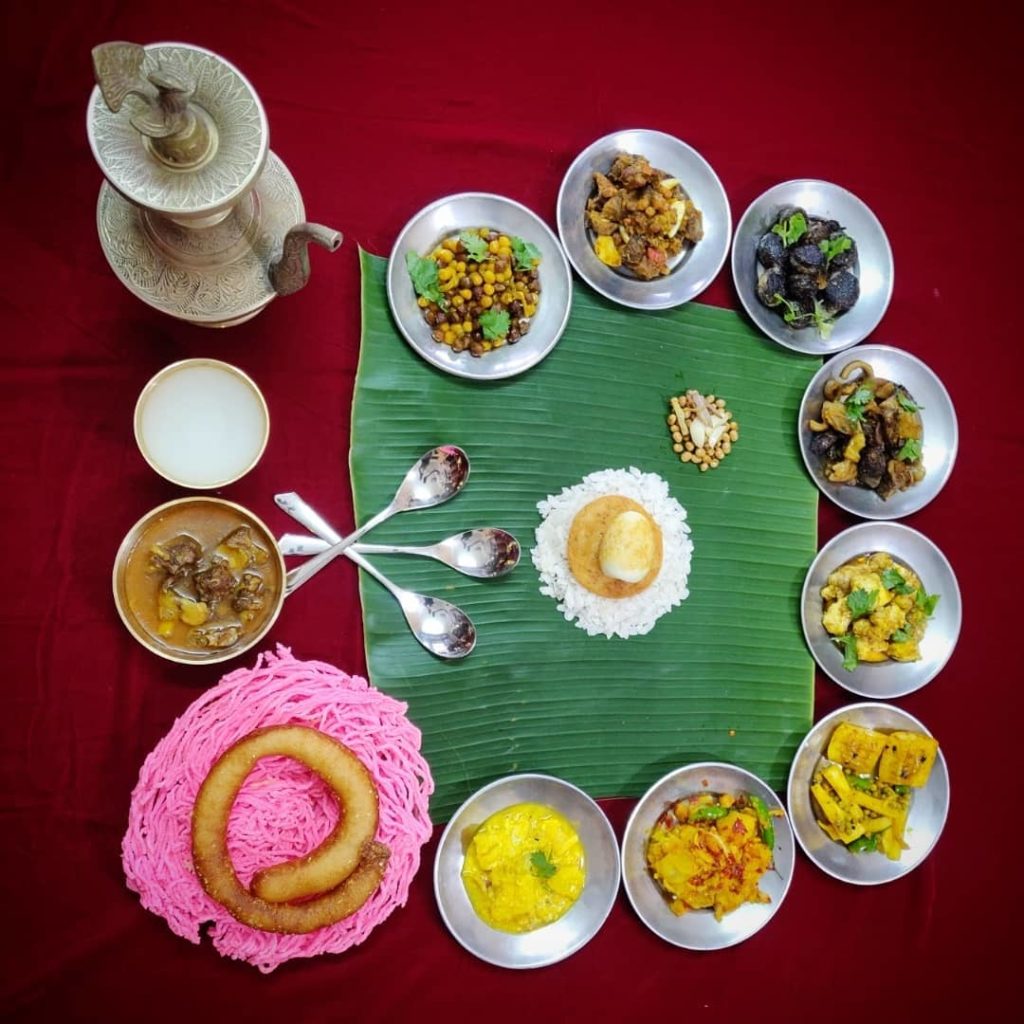 There was a thick settlement of Newar people in Kathmandu, and Newari food was only limited to the Newari feast that they would prepare only during some special occasions or festivals.
Now that Kathmandu is a settlement of diverse people, people from any culture are enjoying Newari food. We can find several Newar people selling Newari food with secret ingredients bestowed from their ancestors.
Newari Food in Kathmandu
Here is a list of some of the Newari food that you must explore when you are in Nepal. Newa food is the best Nepalese food to try out while your visit to Kathmandu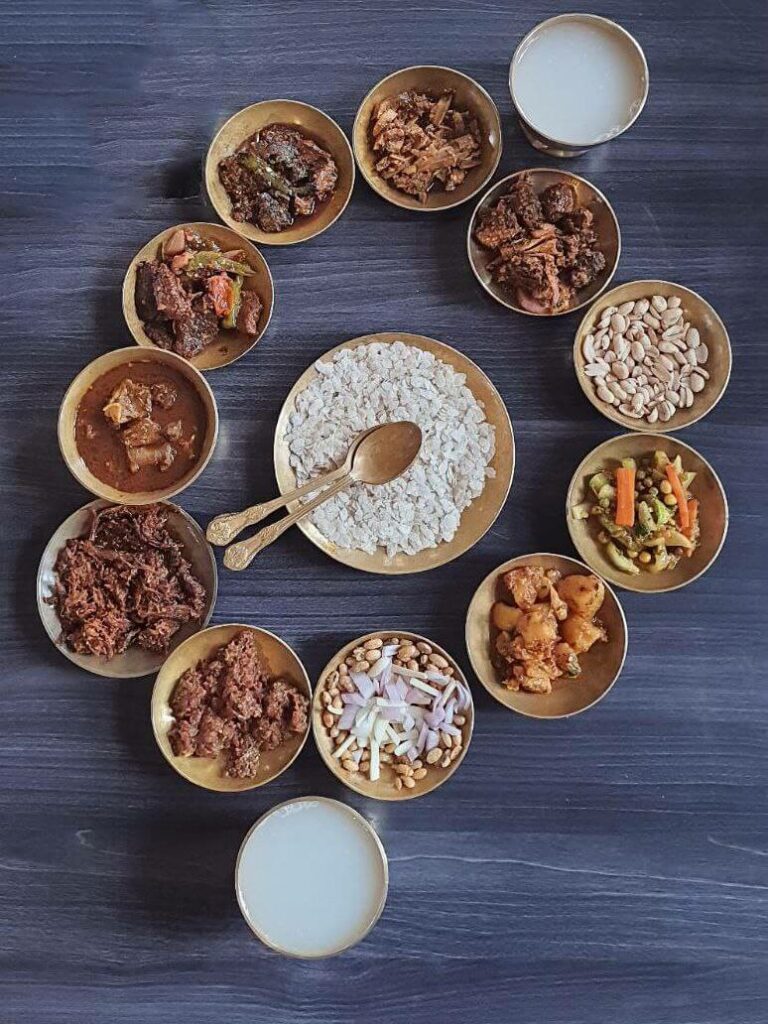 1) Selroti
Selroti is a celebrated food item among various Nepalese ethnic groups. It is mainly prepared by Nepalese during the Tihar festival. Selroti is said to be of Newari origin. Newar includes this food item in most of their festivals.
Selroti is a traditional Newari food that has a sweet taste. It has a ring-like structure that looks like a doughnut. It is made up of rice flour.
Though it is deep-fried in hot oil, it is soft and chewy. It is best served with aalu achaar. The combination of sweet selroti and spicy aalu achar will be like a carnival for your tastebuds.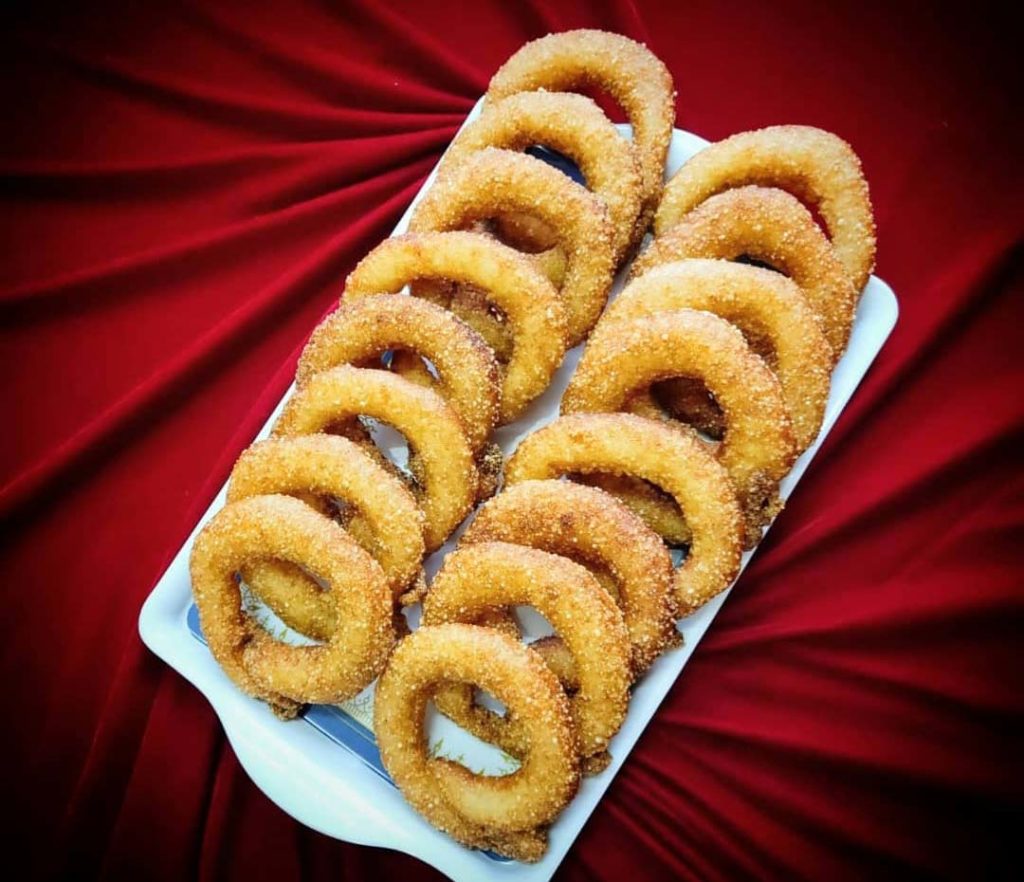 Though you can have selroti anytime anywhere you like, most people prefer selroti for breakfast with tea.
Selroti is available mostly in a sweet shops, but if you want to taste authentic selroti, you are recommended to visit the Newari restaurant in Basantapur, Banglamukhi, or Kirtipur.
2) Yomari
Yomari is a Newari food that is both unique in structure and taste. It also has a unique recipe as it doesn't contain various spices like any other Newari cuisine.
It is made up of rice flour. From rice flour, prepare a white dough. Hot water is added to prepare the dough otherwise the dough becomes hard.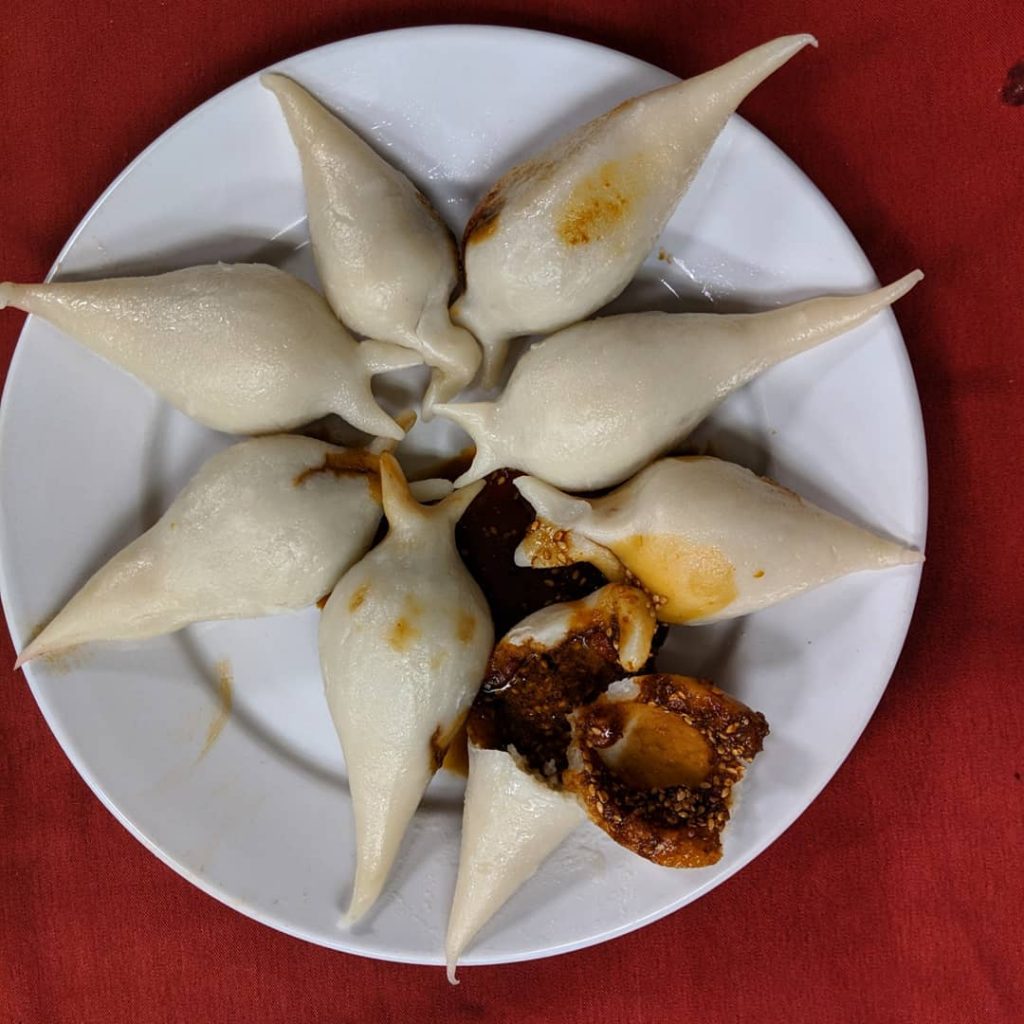 The soft dough is then covered with a cloth so that it doesn't cool down immediately. A cup-like structure is made out of a scoop of dough. Then Chaku is filled into it as filler.
Chaku is a brown paste that is sweet in taste. Coconut dust is also added to enhance the taste. Khuwa is also used as a filler in yomari.
Then it is steamed for around 10 minutes, and yomari is ready to savor. It is usually preferred in the winter season as it keeps the body warm. Newar celebrates Yomari punhi in November/December during the winter season.
During Yomari Purne, many entrepreneurs put on Newari attire and sell yomari. A huge fair is organized where you can enjoy not only yomari but other Newari food too. Usually, you can find yomari restaurants on some of the busy roads of Kathmandu, Bhaktapur, and Lalitpur.
3) Sapu Mhicha
Sapu Mhicha is a flavorsome dish prepared from the bone marrow of buffalo. You will love its soft, juicy, and chewy texture for sure. The process of preparing it is distinct as the buffalo leaf tripe is stuffed with bone marrow.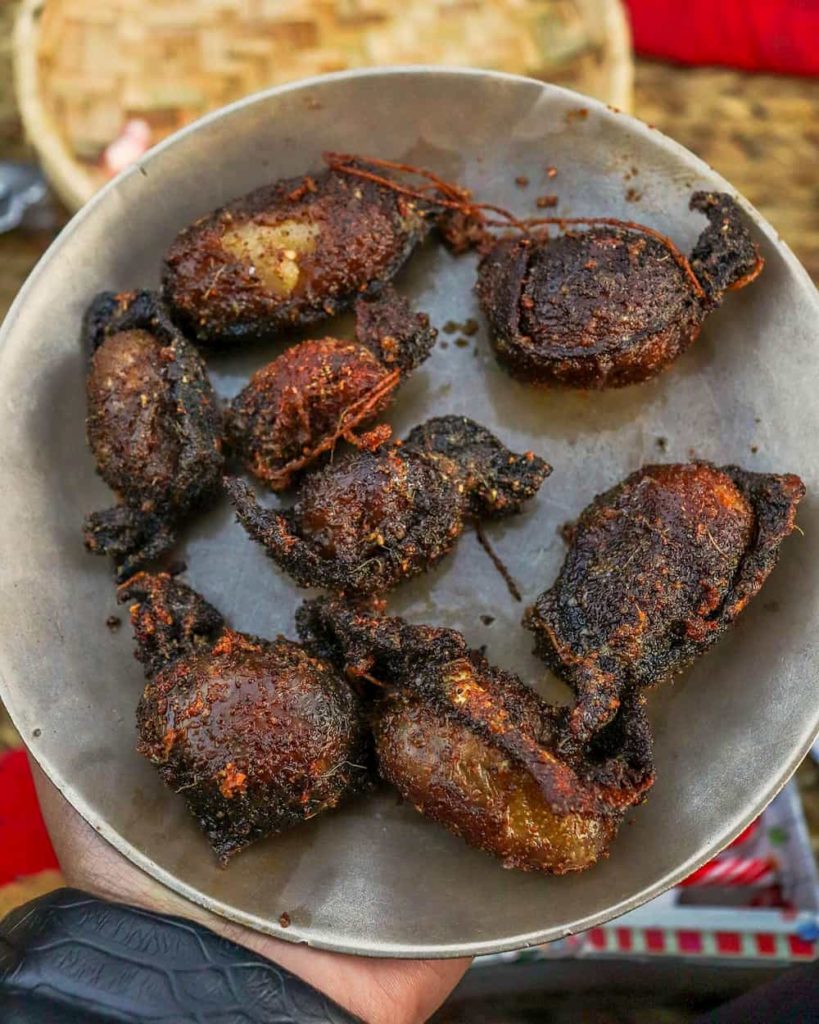 It looks like a small bag tied with a thread. First, it is boiled and then deep-fried in hot oil till it turns slightly black.
Sapu Mhicha is a special snack in the Newari culture prepared mainly for special occasions. The eater should stuff the whole Sapu Mhicha in the mouth, leaving the thread in your hand so that the bone marrow melts in your mouth.
It is usually available in any Newari restaurant but to make sure if they have Sapu Mhicha or not, ask them.
4) Bara
Bara is a delicious Newari snack that you can eat any time of the day. It is a lentil pancake that is round in structure and attractive too. The preparation process is slightly long and difficult.
The lentil beans are soaked in water for a whole night. The next day, it is washed several times till the bean peels off. Then it is grinded in a grinder to make a thick paste. Add ginger and salt according to preference.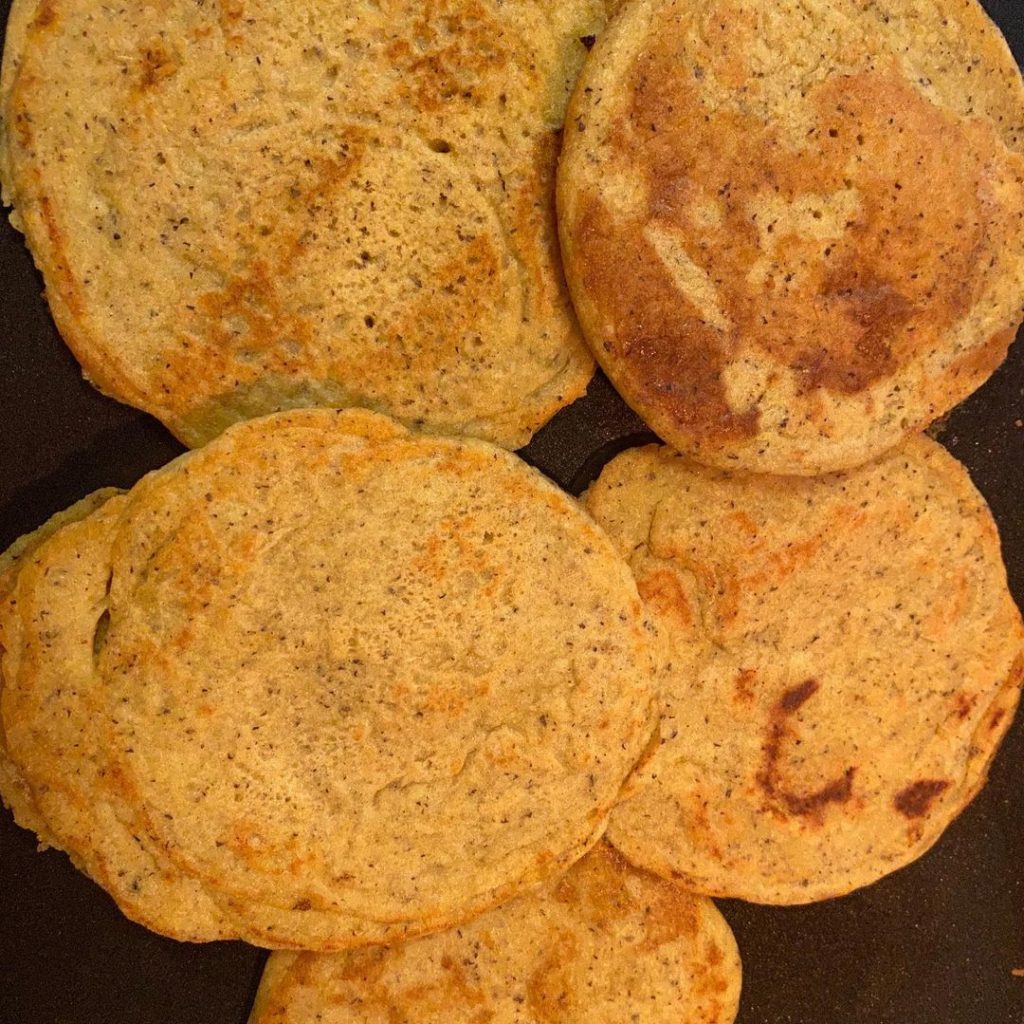 In a pan, put a teaspoon of oil. Take a scoop of paste and spread it in the pan like a pancake. You can add egg, meat, and vegetables as per your preference on top of the bara. Cook both sides, and the bara is ready. It has an amazing taste and is still prepared in several Newari households during special occasions.
You can try Bara at the Newari restaurant. It will definitely be on the menu because it is a part of Newari Khaja.
5) Chatamari
Chatamari is a pizza-like dish but with absolutely different tastes. It is prepared from rice flour. Water is mixed with rice flour to prepare a paste with a thick consistency. Salt is added for taste.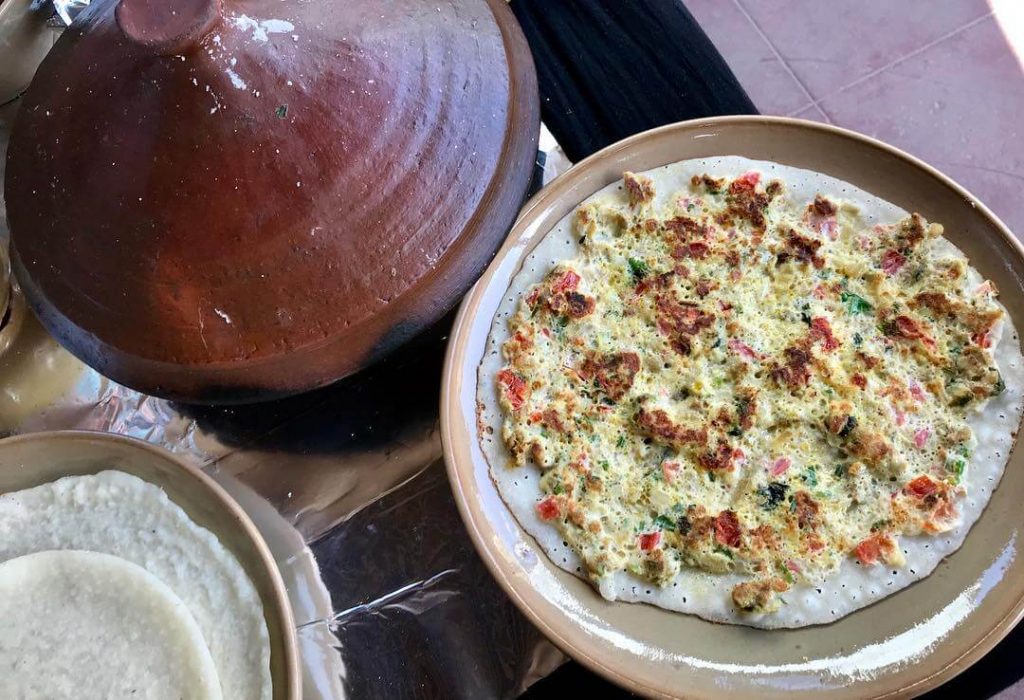 You can choose various toppings like meat pieces, eggs, cheese, and vegetables like mushrooms, paneer, corn, onion, tomatoes, etc for the embroidery. Chatamari is a healthy dish that is sometimes preferred by people on diet.
It is not available in all Newari restaurants. There is a chatamari outlet in Bhimsenthan otherwise Newa Lahana in Kirtipur is a popular restaurant that sells delicious chatamari with toppings of your preference.
6) Chhoyela
Chhoyela aka Choila is a heavenly dish for meat lovers. Its fragrance and appearance are enough to make your mouth water. On a fire created by burning straw, meat is smoked till it is cooked. It becomes soft and chewy with a smoky smell.
It is cut into small pieces, then mixed with pure mustard oil and a mixture of distinct spices.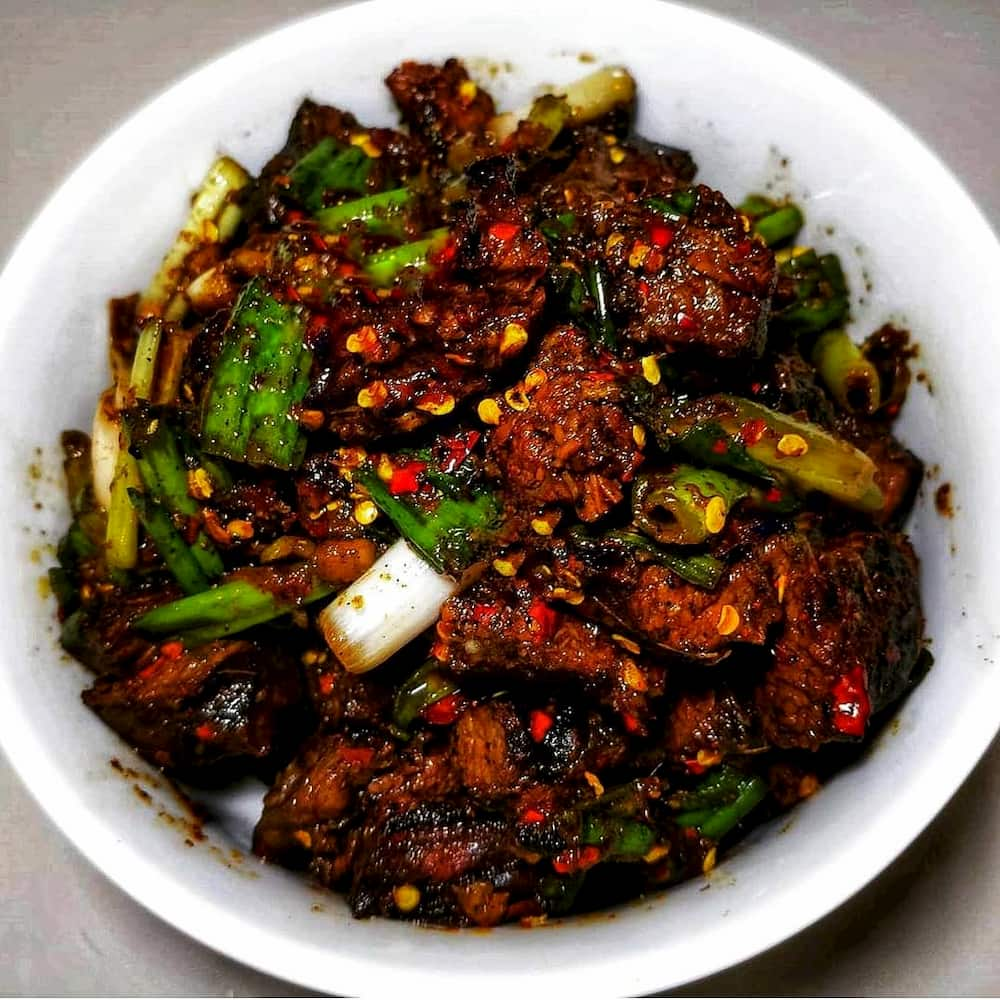 These spices and the texture of the meat play an important part in how it tastes. So you must try chhoyela in an authentic Newari restaurant rather than eating it at any common restaurant since it is readily available at nearby restaurants.
7) Dhau
Dhau means yogurt in English. Dhau is a popular dessert among Nepalese, but most people don't know that it is a Newari dish. A Newari feast always ends with yogurt. The tradition is still alive, but you can enjoy Dhau anytime, anywhere.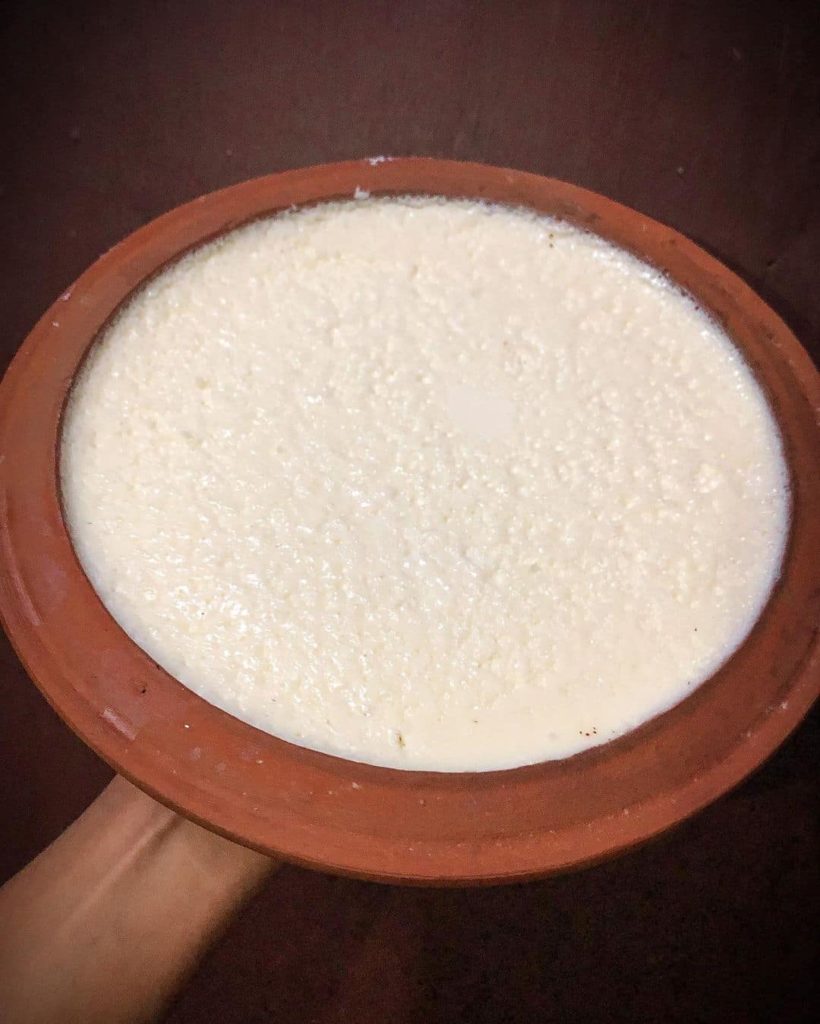 It is prepared from milk. Dhau is prepared in a clay pot and is suitable to enjoy mainly in summer as it cools the body.
Juju dhau is a popular dhau outlet in Bhaktapur. They sell the best dhau in Nepal so, don't forget to visit Juju Dhau when you're in Bhaktapur.
8) Lakhamari
Lakhamari is a Newari sweet that is available in two structures. It is a hard and crispy sweet that when enters into mouth melts like heaven.
It mainly consists of flour, sugar, and butter. A beautiful and large structured Lakhamari is used in Newari wedding ceremonials. Along with lots of things, Lakhamari is also sent to the bride's house from the groom's side.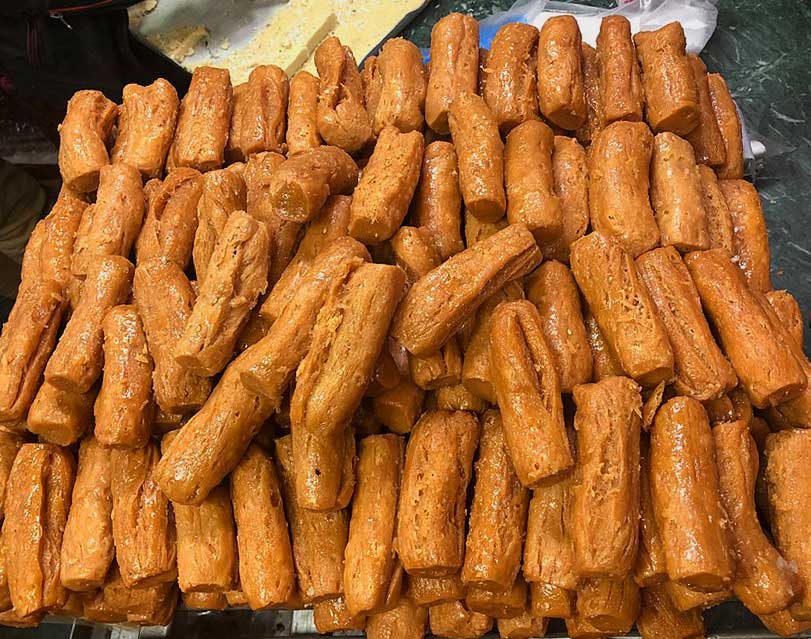 A small stick like Lakhamari is just a different shape but has the same taste. Lakhamari can be stored for days and eat it with tea as a snack. It is easily available at sweet shops.
9) Samayabaji/ Newari Khaja
Newari Khaja, also known as Samayabaji, is the signature dish of Newari culture. It includes several entities that are delicious even when savored individually. Varieties of beans, aalu, saag, chhoyela, egg, achaar, and baji are put together in a leaf bowl (bota) and served. When served in bota (leaf plate), the taste multiplies.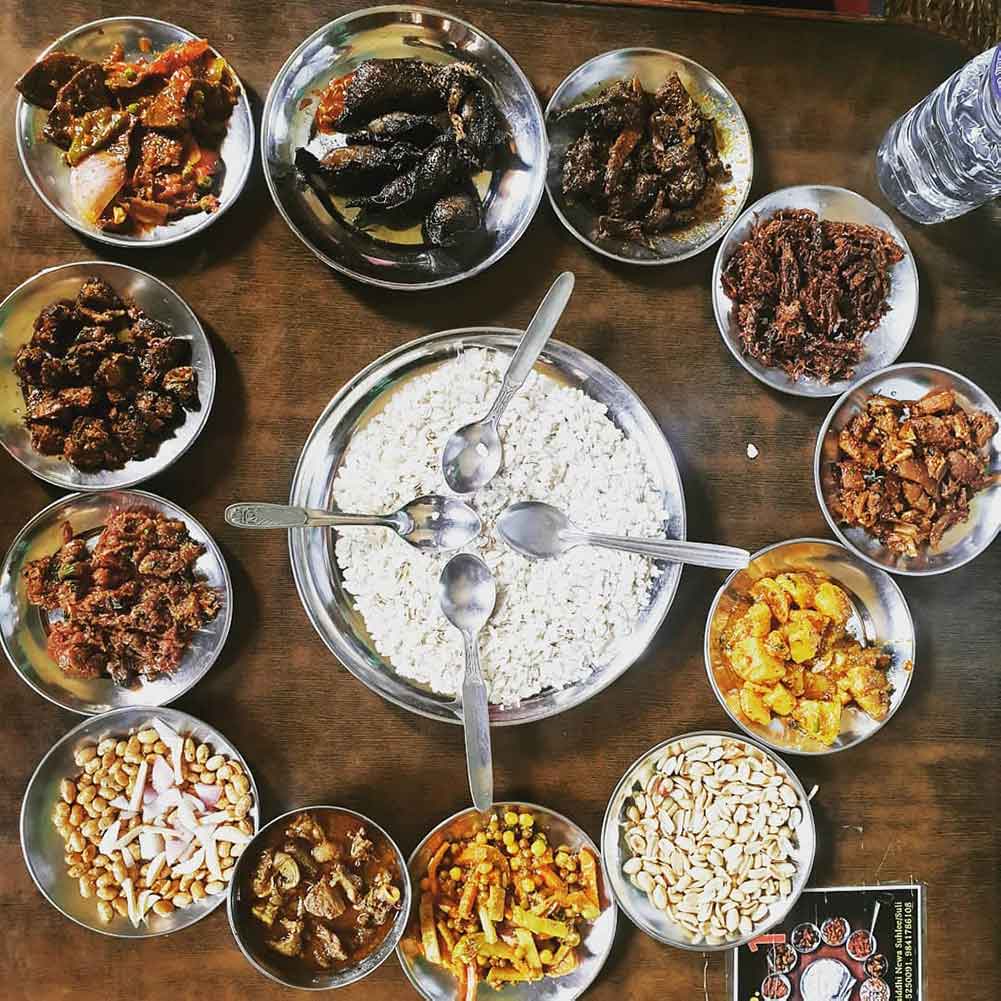 It is available in any Newari restaurant but to experience the ethnic ambiance, visit an authentic Newari restaurant like Sasa: Newa restaurant, and News Lahana in Kirtipur.
10) Momo
Momo is one of the most popular dishes in Nepal. There are a lot of momo hubs in city areas, and each seems to be filled with momo lovers all the time.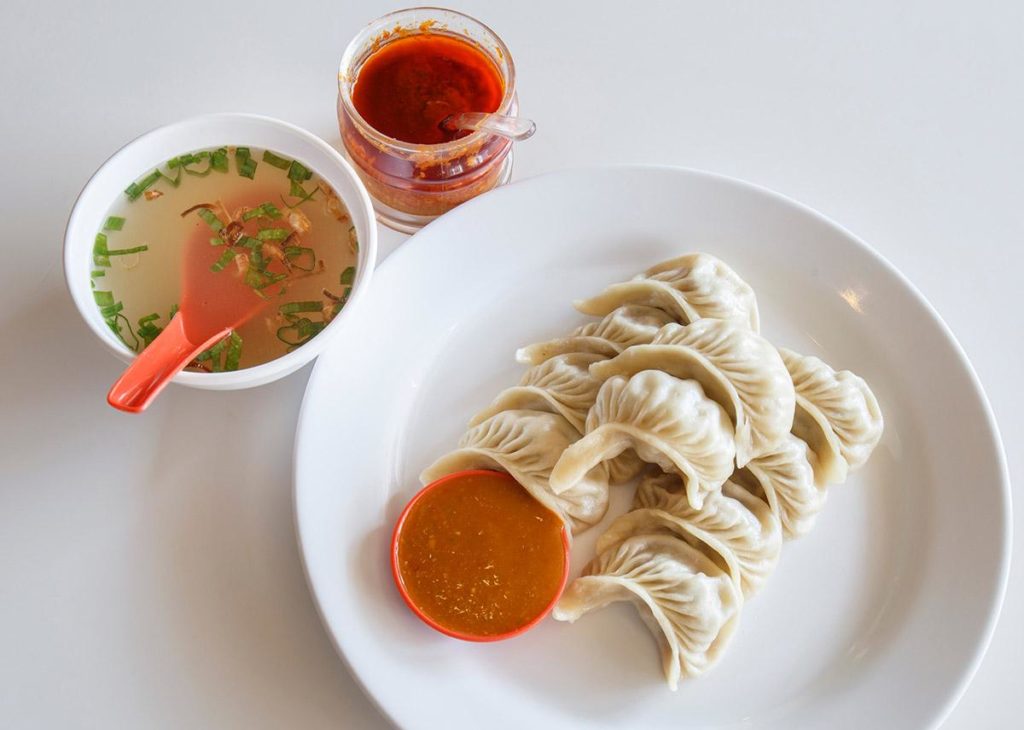 Momo is a small dumpling filled with buffalo and chicken meat, and vegetables for vegetarians. The dumplings are steamed and then served in varieties of forms like C momo, Jhol momo, Sandheko momo, open momo, Kothe momo, etc. The momo tastes best with the momo achaar.
Momo achaar is a mixture of spices that tastes distinct from momo outlet to outlet. Some popular momo hubs in the city are Bota momo, Narayan Dai ko Masangalli ko Famous Momo, Sinka Nepal, Everest Momo Center, and many more.
Newari Beverage
The best way to enjoy Newari Khaja is to fuse it with Newari Beverage. Two of the following beverages are quite popular and are made at home. They are not prepared in factories and sold in bottles. It would be best if you reached an authentic Newari restaurant to find these Newari Beverages.
1) Chhang
Rice beer, known as Chhang in Nepali, is prepared from rice. The rice is soaked and fermented in a huge barrel for a few days. The juice extracted from the barrel is the Chhang, which has a sweet and tangy taste.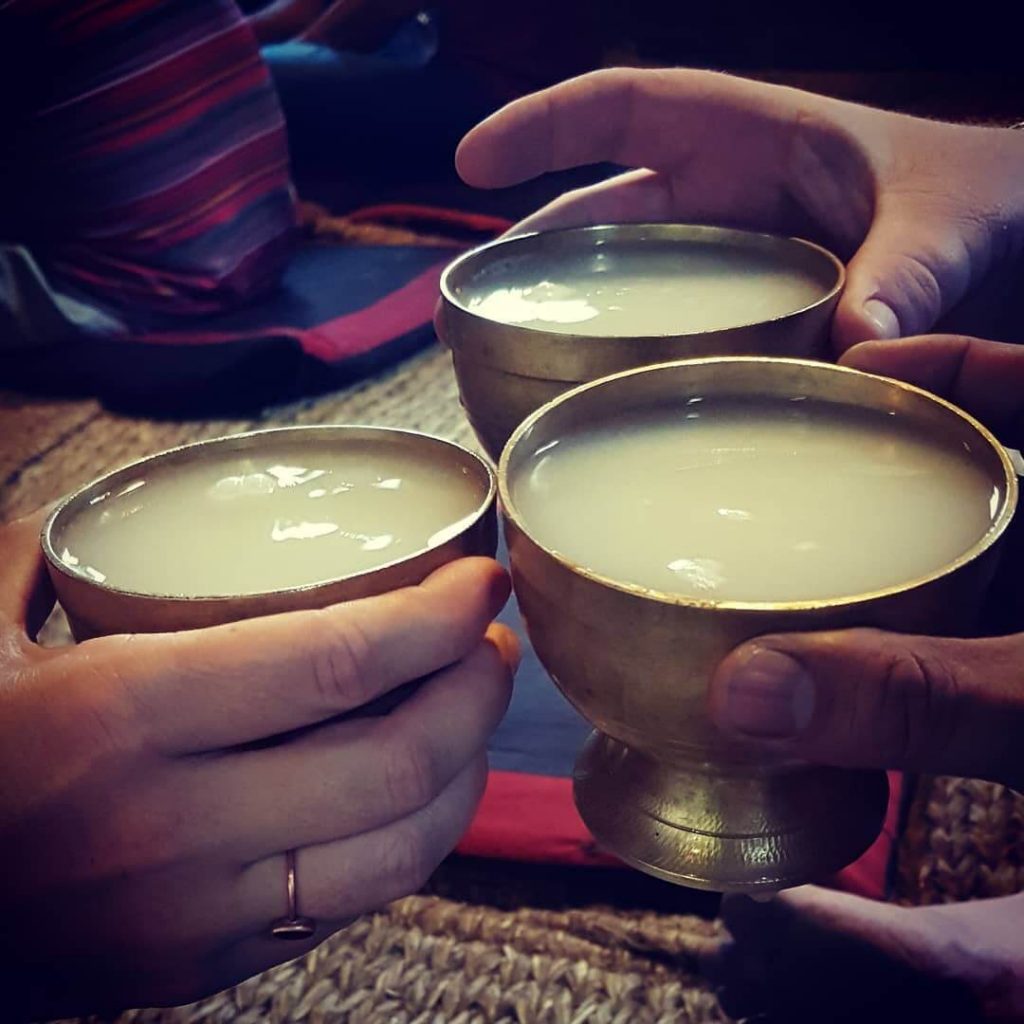 You can have it with any Newari dish. In Newari households, it is prepared on special occasions. If you want to observe the process of preparing it, you can ask at Newa Lahana. They may show you how they prepare Chhang by themselves.
2) Aila
Aila is an alcoholic beverage with a strong taste. It has a totally different taste from Chhang and has a lot stronger taste than Chhang. It is also made at home by Newar people.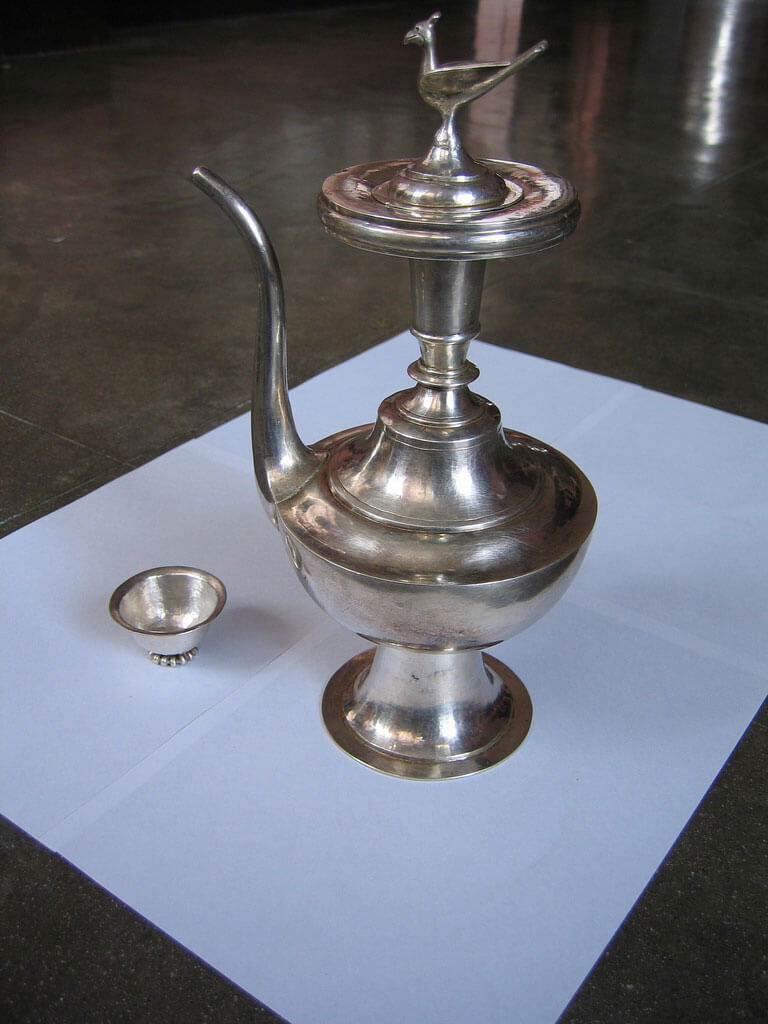 In an authentic Newari restaurant, Aila is poured into the glass from 'Anti'. 'Anti' is a traditional Aila pouring kettle-like structure container. It has a beautiful design and looks antique. Aila is also a part of the Newari feast during special occasions and festivals.
Aila has a uniquely delicious taste. That's why CNN has mentioned Aila in the list of "50 most delicious drinks in the world".
Conclusion
Newari food has taken an image of fast food nowadays, but it is healthy and hygienic. You can eat them anytime with family and friends. It is not heavy on the stomach so, you can even eat them every day. The pure and local ingredients of Newari food give the food the capacity to be a global dish.
Several restaurants in Nepal offer Newari cuisines at an affordable price but, you have to consciously decide where to eat to enjoy the authentic taste that a typical Newari food delivers. If you don't want to search for ethnic Newari restaurants in different places then you should visit Newa Lahana in Kirtipur.
It is a Newari restaurant operated by a group of Newari women for a very long time. From food preparation style to serving style, everything is ethnic here. The women serving you delicacies wear the ethnic Newari dress called 'Haku Patasi' and some ethnic ornaments that creates a local ambiance in the restaurant.
Don't forget to try the above Newari dishes in Nepal. If you have any queries, drop a comment below or start making plans with friends and families.
Have a delicious day!
Love this Post? Please Pin it to Read Later!