This blog is dedicated to providing you with everything you need to know about travel and trekking insurance and why it is important.
Trekking is an adventure sport that involves walking on mountains and hills. It is interesting but can be dangerous if you don't take the necessary precautions.
Trekking requires climbing high altitudes which exposes you to weather hazards, and climate change, and also encounters risks of animals and chance of medical emergencies.
Trekking also involves covering steep routes which have chances of accidents.
Trekking may lead to serious physical injuries which may cost a lot if not covered by sufficient insurance coverage.
Here in this guide learn to
Calculate the insurance cost.
Reasons to get insurance.
What's covered by the insurance?
Picking the right insurance, etc.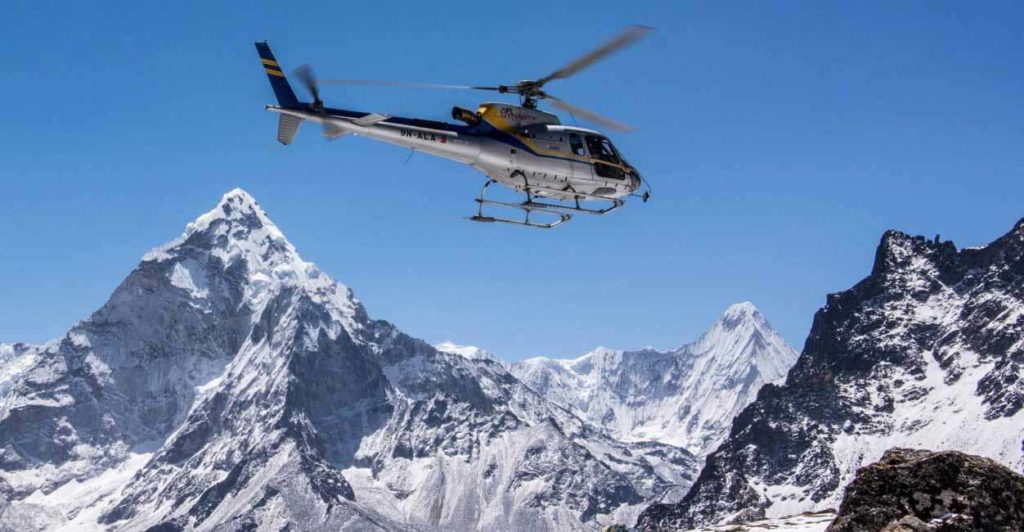 If you are visiting Nepal for the first time then you can read our Getting Around Nepal guide to get basic information.
What is Travel Insurance?
An insurance policy protecting against death, injury, sickness, theft, or loss of money, belongings, and more is called Travel Insurance. Its purpose is to protect travelers from the cost or consequences of certain risks.
Why Get Trekking Insurance while Traveling to Nepal?
Here are some benefits of trekking insurance
It can save you from financial ruin.
It'll protect your health and safety while traveling.
It'll help you reduce stress and worry.
It might save you money.
It can save you time and hassle.
If anything emergency happens during your trip then you can always return from your trip early and claim insurance.
Travel insurance might cover the cost of medical treatment or evacuation to a hospital that can provide the level of care you need should you fall ill while traveling.
Insurance may cover in case of hijack or theft of your belongings as long as you have evidence.
The main reason behind getting insurance is peace of mind if anything happens.
As always you can customize your travel/trekking/hiking insurance at additional cost. Always check the company policies before proceeding.
What is Covered In Trekking Insurance?
With World Nomads Insurance, the following things are covered:
For example purpose: I am choosing
Destination: Nepal
Journey From: United Kingdom
Time Frame: 1 Week
Age: 28
The plan price may vary concerning the time frame, country, age, etc.
| Policy List | Standard Plan | Explorer Plan |
| --- | --- | --- |
| Emergency medical expenses overseas | Yes | Yes |
| Local funeral expenses or repatriation | Yes | Yes |
| Out-of-pocket expenses in hospital | Yes | Yes |
| Coronavirus travel costs | – | Yes |
| Cancellation | Yes | Yes |
| Trip curtailment | Yes | Yes |
| Trip resumption | – | Yes |
| Accidental death or permanent total disablement | Yes | Yes |
| Travel Delay | – | Yes |
| Missed connection | – | Yes |
| Natural catastrophe | – | Yes |
| Hijack | – | Yes |
| Baggage | Yes | Yes |
| Money | – | Yes |
| Passport and travel documents | Yes | Yes |
| Personal liability | Yes | Yes |
| Rental car excess | – | Yes |
How to Calculate Travel Insurance Cost?
If you are searching for a trekking or travel insurance calculator before your trip then here are certain steps you need to follow to calculate the total insurance cost.
Step 1: Enter Travel Details
First, fill up all the travel details by giving more details about you or your travel group. The form is simple just fill in the following details…
Which countries or regions are you traveling to?
What's your country of residence?
When are you traveling?
How many people are traveling?
How old is the traveler?
Step 2: Get a Quote
After filling up the form, click on the "Get A Quote" button. Now, you will get redirected to the World Nomads website.
Step 3: Choose a Plan
Let's say you are visiting "Nepal" from the "United Kingdom" and your traveling frame is of 1 week.
Here you can see two plans one is Standard Plan and the other is Explorer Plan.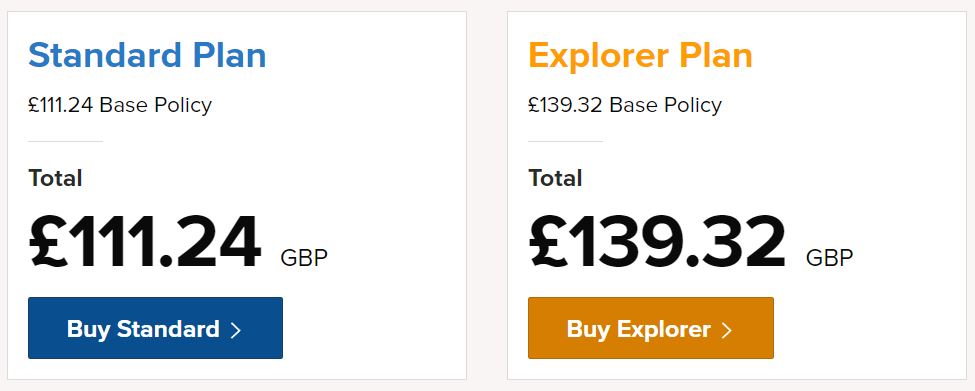 Here, you can also check what's covered in the Standard plan versus what's in Explorer Plan.
Also, in both plans, you can add an added insurance plan for High-Value Items, Sports & Adventure Activities, and Footprints Donation at additional cost.
Step 4: Final
Fill up all other necessary forms and finally get your plan that suits your travel. Check your email for further details. We wish you the best of luck on your journey.
How to Pick the Right Trekking Insurance?
If you are going trekking let's say you are visiting one of the popular destinations like Nepal then it is a good idea to get insurance.
You might get different options when it comes to getting insurance for your trekking activities. Here are the things you need to remember before picking the insurance.
The first thing to do is figure out what kind of coverage you want.
The second thing is how much coverage you want.
The third thing is what is your budget for insurance.
These are the basic things you need to figure out so that you don't end up with a big medical bill in case of an accident or injury while trekking or traveling.
Trekking Insurance – FAQs
Which is the best travel insurance for trekking in Nepal?
Among different travel insurance companies, World Nomads is one of the best companies for providing travel insurance for trekking in Nepal.
Can you get travel insurance for trekking to Everest base camp?
With an optional upgrade, World Nomad's cover-up to only 6000 meters if you are trekking to Everest Base Camp. so the elevation of the Everest Base Camp Trek is 7,598 feet (5,364m) above sea level.
Do World Nomads cover helicopter evacuation?
According to World Nomads, Helicopter evacuation is covered by the policy but before evacuation, you need to contact the WN Assistance team if you want to be fully covered by the insurance.
Is Travel Insurance mandatory for Nepal?
If you are visiting Nepal for Trekking purposes or some adventurous activities then it is mandatory to have trekking/travel insurance. Other than that you might not need any insurance.
Is there travel insurance for trekking above 4000m?
Yes with World Nomads, there are two plans: Standard and Explorer which cover travel insurance for trekking up to 4500 meters above sea level with the additional option to upgrade up to 6000 meters
Wrapping Up
By the way, Trekking Insurance is a very personal thing. Some people don't need it at all, while others see it as an essential part of any trip.
Ask your travel agent or book directly with a trekking company to find out if an insurance policy is included in the price of your trip.
Disclaimer: You should always check travel/trekking insurance policies carefully and understand fully what they cover before you set off. Also, check our resources page to get the latest deals