Teej Festival in Nepal is a holy festival of Nepali Hindu women celebrated with joy and hope. Teej, also known as Haritalika Teej, is a festival dedicated to Lord Shiva and Parvati. It is a three days long festival, in which women fast in the name of Lord Shiva for the long and prosperous life of their husband.
Teej is also popular as a Women's festival in Nepal. Both married and unmarried women celebrate Teej. The festival started as a sacred festival of Brahmin and Kshetriya castes and is now joined by women of other ethnic groups too.
Devotees of Lord Shiva come together on this auspicious day to worship Lord Shiva and Parvati. According to the Nepali lunar calendar, Nepali women celebrate Teej on the third day of Bhadra Shukla.
According to the English calendar, the festival occurs in late August and early September. It falls during the monsoon season, so there is a high rainfall probability during Teej.
A huge crowd is seen at Pashupatinath temple, a sacred temple for Lord Shiva's pilgrims. Women especially wear red attire and dance to folk music that adds flavor to traditional values.
Women decorate themselves with bangles, tika, and various ornaments on this day. To learn the significance of the color red and the rituals of Teej, keep reading.
Importance of Teej Festival in Nepal
Teej is a special festival among Nepali women. The day is declared a public holiday so that women can wholeheartedly enjoy the joy of Teej. This traditional festival is based on Hindu mythology and is said to take place in Satya Yug, the era of Gods.
A gorgeous daughter of Prajapati Daksha and Prastuti, Sati fell in love with Lord Shiva and wanted to get married to him. But, her father, being a King, wanted his daughter to marry a King.
Lord Shiva was someone who wore tiger skin and a snake around the neck. He would carry a 'Damaru' and would always meditate. Lord Shiva looked no less than a beggar to Sati's father. So, the King denied Sati's desire to marry Lord Shiva and arranged her marriage with a rich King.
Upon denial, Sati jumped into the fire. Lord Shiva grieved upon the death of his true love. Later, Sati reincarnated as Parvati to King Himalaya. Parvati prayed and took fasting to again unite with Lord Shiva.
Finally, Lord Shiva was impressed by her determination and sincerity. He realized Parvati is his true love and accepted her as his wife.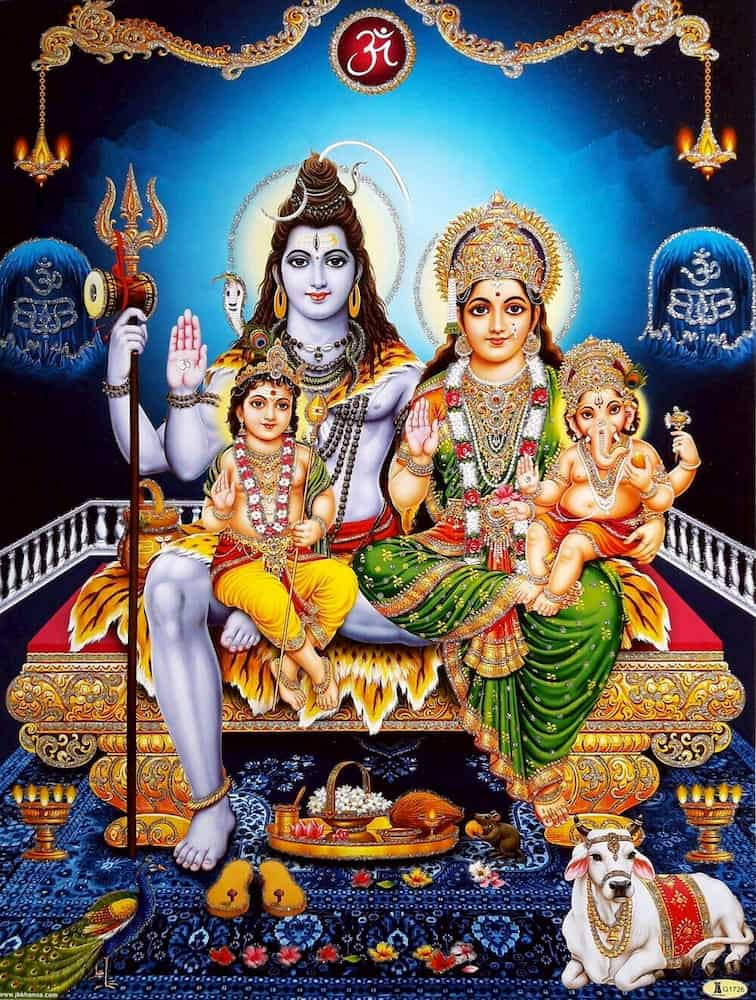 This mythology holds a significant place in the Hindu religion. Teej is celebrated as the day when Lord Shiva and Parvati reunited. It is the celebration of relationships and true love. It is believed that the blessing of Lord Shiva and Parvati strengthens our love and marriage.
Why do we celebrate Haritalika Teej?
With the hope that unmarried women get a husband like Lord Shiva himself and married women have their husbands to live a long and prosperous life, women fast on Teej and worship Lord Shiva. Teej has religious importance as it is the day of celebration of the reunion of Lord Shiva and Parvati.
A married woman worships their husband as God on Teej, and after the rigorous fasting, they take the first bite of food and drink the first drop of water from the hand of their husband. They bow down to the feet of their husband for blessings.
How do women celebrate Haritalika Teej?
Women are dressed in colorful traditional attire and wear heavy old ornaments to decorate themselves like a bride. Women call their women relatives, friends, and neighbors, and gather to eat the feast.
Then, they enjoy the festival by singing and dancing. They also exchange gifts to express their love and wrath to each other.
First Day – Dar Khane Din
Before the fasting day, women gather together for a heavy feast. This day is called 'Dar Khane din'. They prepare various food items of different tastes and spices. That feast is called 'Dar'.
They entertain themselves by singing Teej songs and dancing. They even exchange gifts. Such a gesture strengthens their bond and shows care to each other. With increasing modernization, the way women celebrate Dar Khane Din has also modernized with time.
Some like to book a hall and savor extravagant feasts and invite celebrity singers and dancers to hype up the atmosphere. The enjoyment may last till midnight. After midnight, their fasting begins.
Second Day – Fasting
The third day of the full moon day of Bhadra is the second day of Haritalika Teej when women fast. They wake up early in the morning and take a bath. It is a traditional culture in Nepal for married women to wear a red saree, pote, bangles, tika, and sindoor to get ready.
Unmarried women also wear colorful attire, but they do not wear sindoor and pote. Sindoor and pote signify a woman as a married woman.
Then, they prepare a platter to worship god. Most women usually visit Pashupatinath Temple in Gaushala, which is the largest temple of Lord Shiva in Nepal, but those who are unable to visit Pashupatinath temple, visit nearby small temples of Lord Shiva with equal sincerity and belief.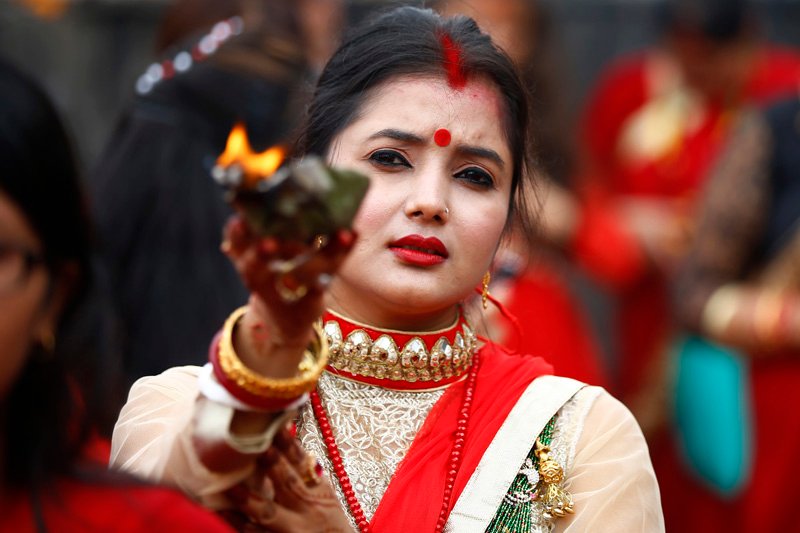 We can observe an enormous crowd of women at Pashupatinath on this day. They wait in a long queue to finally get to worship Lord Shiva. They pay homage to Lord Shiva by offering flowers and sweets, burning incense, and ringing bells.
After worshipping Lord Shiva, they sing and dance at the premises of Pashupatinath.
It is a sight to see women waiting in queue for long hours and then singing and dancing without a drop of water. Women sing and dance with so much joy and belief that they forget they are fasting.
Then, they chant Bhanjan and mantras dedicated to Lord Shiva and Parvati and feel content. They sing and dance and pay homage to Lord Shiva in the daytime, and at night, they listen to the story of how Lord Shiva married Parvati despite all the odds.
Third Day – Rishi Panchami
It is the last day of Haritalika Teej, which is known as Rishi Panchami. On this day, women end their fasting. Women pay homage to seven saints and would either take a bath on the holy river of Bagmati or at home with 'Datiwan' as a sign of removing sins.
Some women end their fasting by paying homage to the Sun in the morning, and some women visit a Brahmin who performs a specific ritual to end the fast to end it systematically.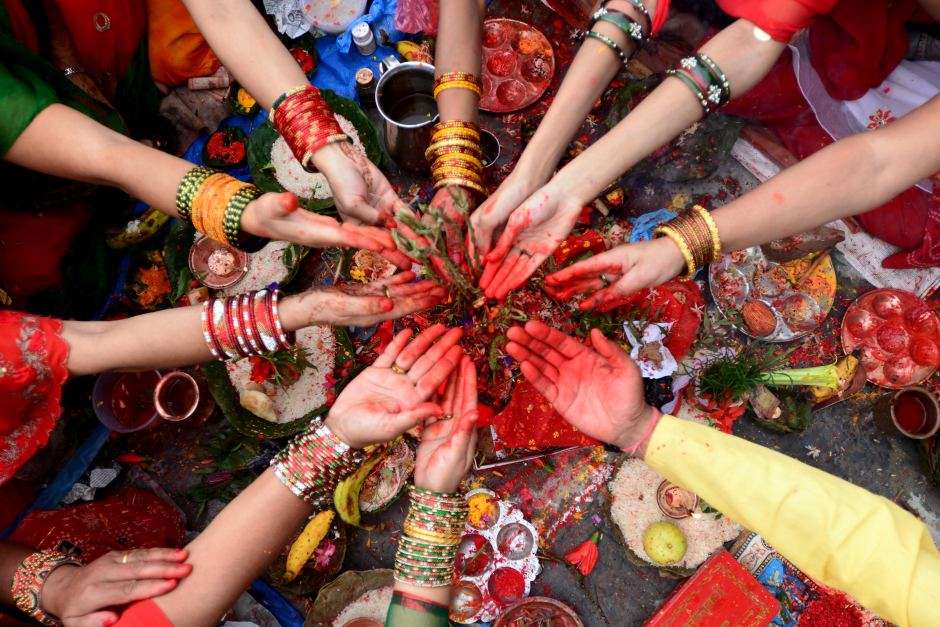 Women then offer money, fruits, and clothes to the Brahmin at the end of the ritual. After completing the fasting, they consume the food of their desire.
Learn about: Dashain Festival
Frequently Asked Questions
Get your answers to the FAQs about the Teej Festival in Nepal.
What is the meaning of Haritalika?
Haritalika is a synonym for the Teej festival. Teej is sometimes called Haritalika Teej.
Why Haritalika Teej fast is kept?
According to Hindu mythology, Parvati took a fast to fulfill her wish to marry Lord Shiva. Lord Shiva became impressed by her fasting and granted her wish. Similarly, women take fasting to fulfill their desire to live a happy married life.
What can I eat in TEEJ fast?
Most women do not even drink water during the Teej fast. We hear women fainting during their rigorous fast that includes no single drop of water, but it is not mandatory to have such an extreme fast. You can drink water to avoid dehydration. Consume fruits if you have low blood pressure. Except for bananas, savor other fruits like apples, mango, and grapes to keep your health stable. In this way, while avoiding grains and other meals that contain salt and other spices, we can still have enough energy for a full day.
During 'Dar Khane Din', avoid heavy meals. Eating heavy meals, the day before fasting is an unhealthy practice. Go for a balanced diet and stay healthy.
Can we drink water at Teej Festival?
Yes, we can drink water at the Teej festival, but most women do not prefer drinking water during fasting. They go for rigorous fasting by not even drinking water the whole day. It is an unhealthy practice, though. Our body needs water to function well. So, it is better to drink water even if we do not eat anything.
How is Teej celebrated at home?
Though most women celebrate the Teej festival in Nepal at Pashupatinath Temple, some celebrate at home too. After paying homage to Lord Shiva, you can gather with your friends and sisters at home where you can be comfortable. Married women receive an invitation to their maternal homes during Teej. It is like an excuse for the mother and daughter to enjoy their time together.
Sing folk songs, play instruments, and dance with them. Being with your near and dear ones at home during Teej brings joy and happiness to your heart. Enjoying with them will help you forget your stress and strengthen your relationship with them. Remember Lord Shiva and Parvati with them while you sing bhajans, and at night, listen to the religious Lord Shiva's stories that will make you feel calm and devoted.
Why do women wear red during the Teej festival?
Red is a special color for married women in Nepal. Though everyone can wear red whenever they want, red resonates with tradition and culture in Nepal. Red is considered as 'Shubha' or lucky color for married women. A woman gets married in red attire in a Hindu tradition. The man puts vermillion powder, which is red, on the forehead of the woman as a part of the marriage ritual during the marriage. In short, a married woman normally wears something red, be it a tika, bangle, or clothes after marriage.
So during Teej, they decorate themselves in red to look like a bride. Women are also keen to buy new attire and ornaments to wear it during Teej. They sometimes coordinate the colors red with green and yellow to enhance their beauty. They also prefer to put Mehendi on their hand, which is another decoration for both married and unmarried women.
Summary
Teej Festival in Nepal is a grand festival for Nepali women, celebrated on the very day when Lord Shiva and Parvati were united. The festival holds a religious significance as they pray to Lord Shiva for the prosperity of their husband and their married life.
Women offer prayer to Lord Shiva at Pashupatinath and enjoy the whole day by singing and dancing while also keeping fast.
Women, married and unmarried, gather at one place in their finest traditional outfits and celebrate Teej with utmost joy and sisterhood.
It is the best time for foreigners to explore the traditions and culture of Nepal. If you are intrigued by this article and want to participate in the Teej celebration here, you can visit Nepal in August/September during the festive season.
Share your queries and feedback with us in the comment box below.