Holi festival in Nepal is another most loved festival celebrated by Hindus from all around the world. Besides the biggest festivals, Dashain and Tihar, all age groups enjoy the festival of color in Nepal.
so, In this article, you are going to learn about
What is Holi?
Why Holi is celebrated?
The myth behind the Holi festival.
How to celebrate Holi festival in Nepal including Tips?
Why is Holi called the festival of colors?
If you ever visit Nepal during early spring, then don't ever miss the chance to celebrate the Holi festival.
Holi is famous among Hindus of all groups of people, especially the young ones. Holi is mostly famous in India and Nepal as these countries have the highest density of the Hindu population.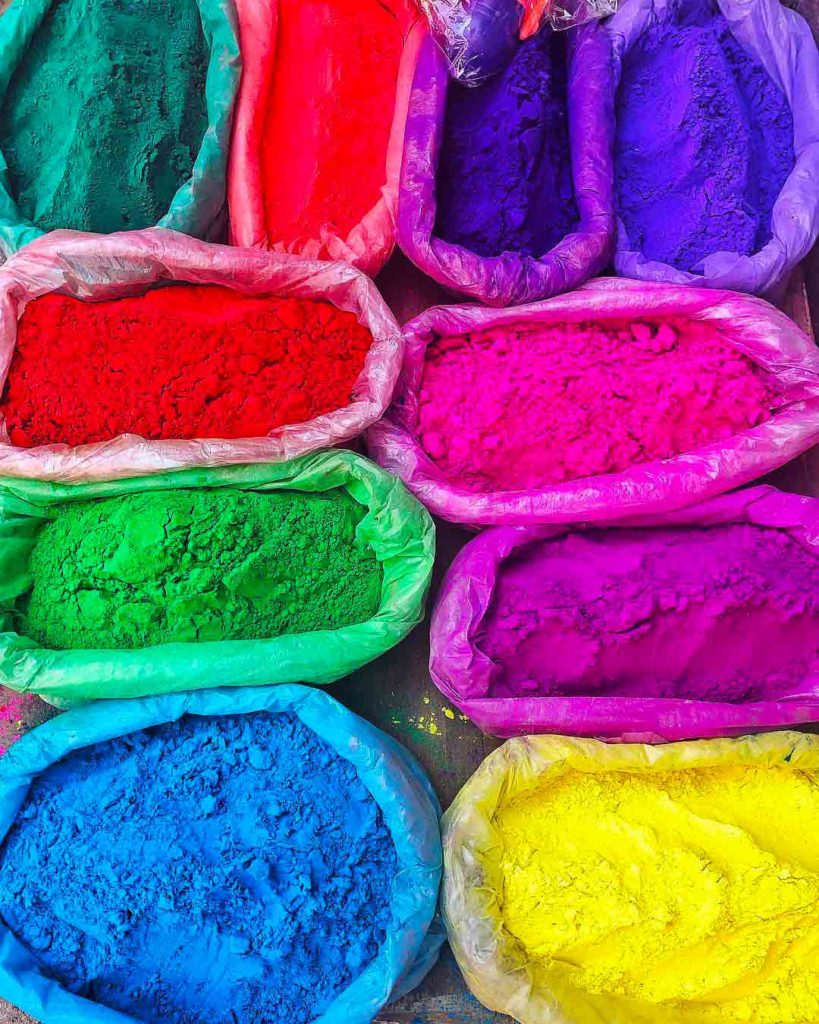 It is even becoming more popular among non-Hindus. The festival of color powder is loved by foreigners and people outside Asia are keen on this festival.
Besides celebrating the festival, on this day people love to dance, enjoy the concert, enjoy soft and hard drinks, etc.
People also collect firewood, light bonfires, add hemp to their food and drinks, and make fools of themselves.
The festival indicates the start of spring. In Nepal, the Holi festival is celebrated for 2 days.
Fagu Purnima – Holi Festival in Nepali
The Nepali name of the Holi festival is Fagu Purnima. Nepalese celebrate Holi on the Falgun (February-March) i.e. the 11th month of the Nepali calendar on the day of the full moon. so, Fagu is named after Falgun month and Purnima means a full moon.
Fagu Purnima is a festival celebrated by Hindus hailing the arrival of the Spring season. The festival is all about colors, love, joy, and excitement.
The Myth Behind Holi Festival
There are several legends describing how and why people started to celebrate the Holi festival.
The most popular story is between Lord Vishnu, Evil King Hiranyakashipu, the king's son Prahlad and his evil aunt Holika.
All the myth is connected to Prahlad who is a devotee to Lord Vishnu. Prahlad's father, King Hiranyakashipu who was the evil king. In the arrogance of his strength, he started believing himself as God.
He banned the name of God in his Kingdom but his own son Prahlad defied Hiranyakashipu and continued to worship Lord Vishnu.
King Hiranyakashipu tried to kill his own son Prahlad in different ways but the evil king failed. Finally, his sister Holika, who had received a boon that makes her invulnerable to fire.
One day Hiranyakashipu and Holika decided to take Prahlad to Pyre. Holika convinced Prahlad that she would protect him from fire. Holika who was invulnerable to fire entered the pyre with Prahlad so that he would burn to death.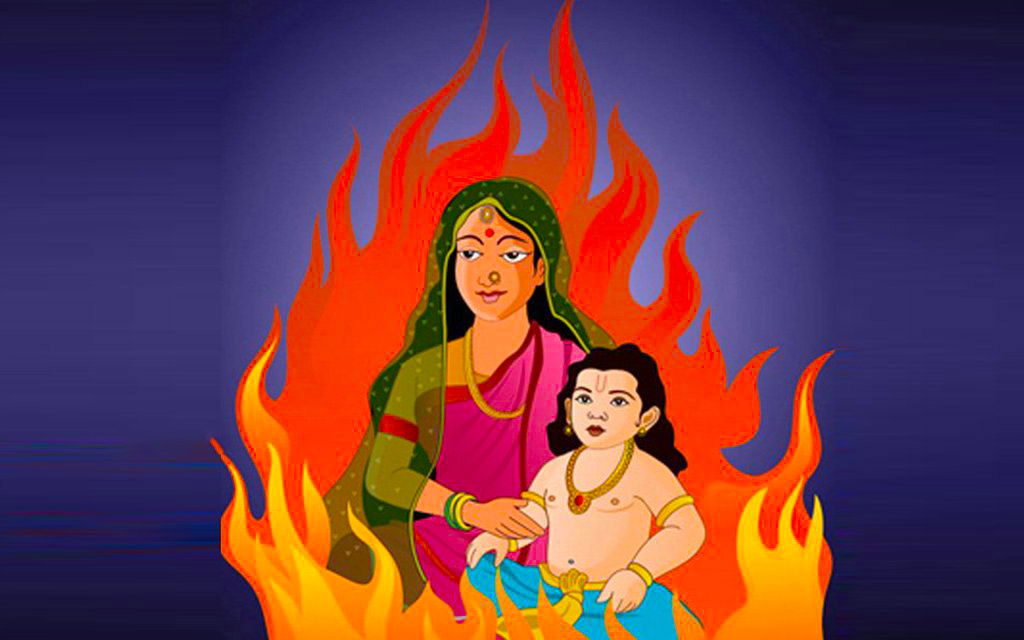 But, by the grace of Lord Vishnu, Prahlad was untouched by fire but Holika was burned to death. The next day, people smeared the ashes over their heads and body as a celebration of the victory of good over evil.
Later these days, people use colors instead and it becomes a tradition to play Holi between people as a celebration.
Why Holi is celebrated?
It is believed that Holi was originally celebrated to protect general people from different diseases that happen while changing the season from winter to spring.
Traditionally, the colors used in Holi were made using extracts of flowers and Herbs like Neem, Tumeric, Mehendi, Kumkum, etc. The natural colors used to work as Ayurvedic medicines.
The medicine was used to cure high fever, skin diseases, and in fact, the color is best for the skin.
But nowadays, synesthetic colors are used in the Holi festival which is made using dyeing agents and other chemicals. The synesthetic colors have lost the medical value of Holi. But nevertheless, people enjoy the Holi festival.
How Holi is celebrated in Nepal?
Children start to play with colors a week before the actual Holi festival begins. A lingo (a long bamboo stick) is raised in Basantapur Durbar Square in Kathmandu and wrapped in clothes with various colors (also known as Chir).
The day before Holi, the long bamboo log is taken down and the chir is burnt, signaling the start of Holi. This tradition is known as Chir Dahan or Holika Dahan, symbolizing the end of Holika.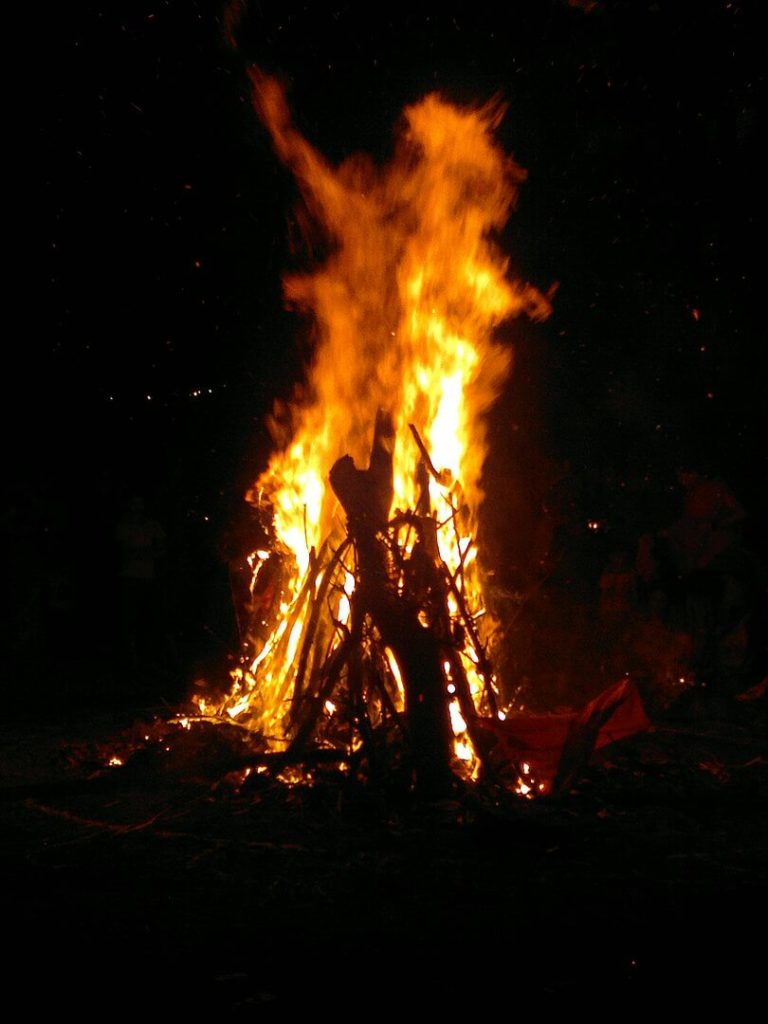 The Holika Dahan is also performed in different town squares and villages by burning wooden logs to celebrate the victory of good over evil.
Although Holi is mostly associated with colors and water games, this is an important part of the festival too.
In Nepal, the Holi festival lasts for 2 days. people in the hilly region celebrate the festival on the first day of Holi and followed by Terai region people on the second day.
On the day of Holi, people visit their friend's and relatives' houses and color each other, dance, and drink for the whole day. Nowadays people throw water at each other. so the Holi festival is all about color and water.
Families gather in one place and enjoy food, music, including hard and soft drinks.
Countdown to Holi: How many days to Holi?
Tips for Holi Festival in Nepal
Holi is a somewhat festival of freedom and celebrating it is free and open for people to play in Nepal. If you go out in the street, it is almost 100% sure that the people who are celebrating the Holi festival will get you into the colors and water. So be ready to get wet and colored.
If you are outsiders visiting Nepal during the Holi festival then we suggest getting involved in the Holi celebration. It is a one-time opportunity and you will get a lifetime experience.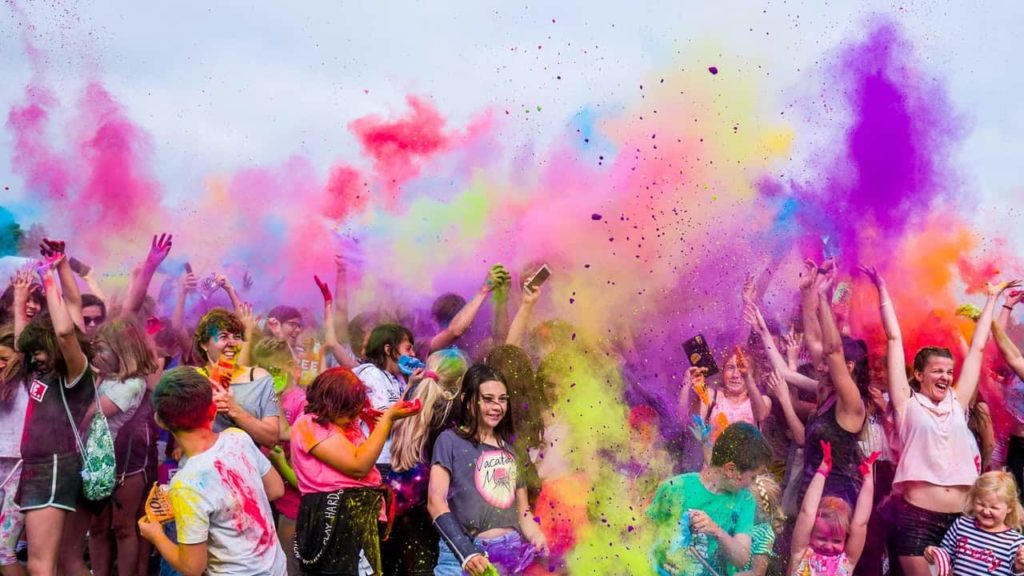 There are lots of venues where people celebrate this festival full of joy and excitement. Basantapur, Jhamsikhel, Thamel, Lainchaur, etc are the famous places where people get together and celebrate the Holi festival annually.
You can gather together with your friends, family and throw color and water. You can also play Holi with other participants and take part in parties too.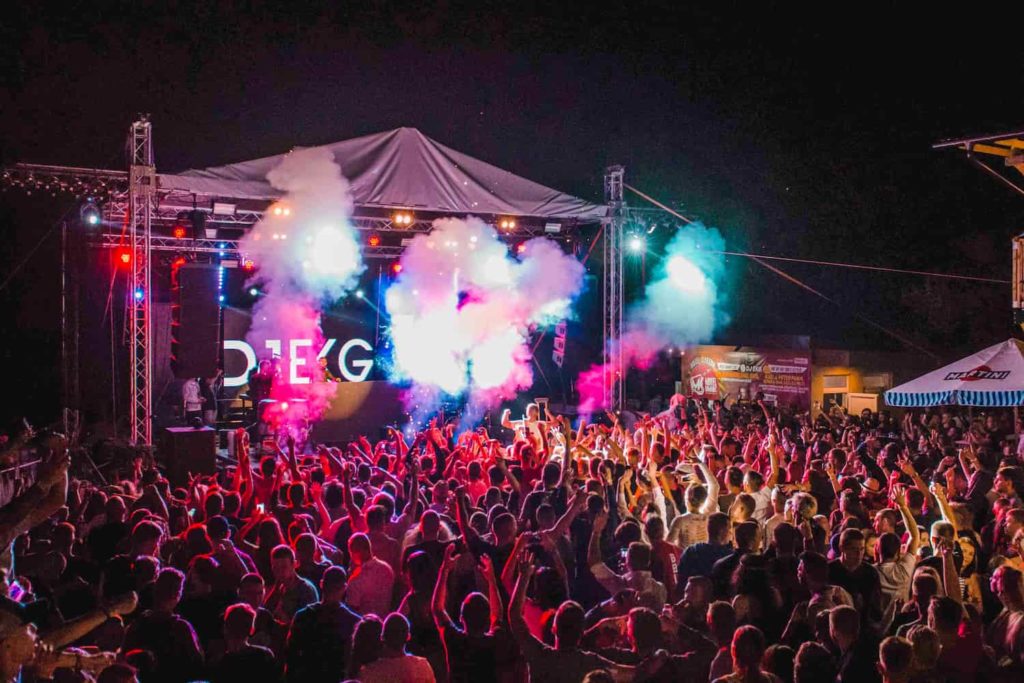 Moreover, you can enjoy concerts held in various places supported by local bands, Artists sponsored by different national and international brands.
Let's learn quick tips on how to celebrate Holi festival in Nepal.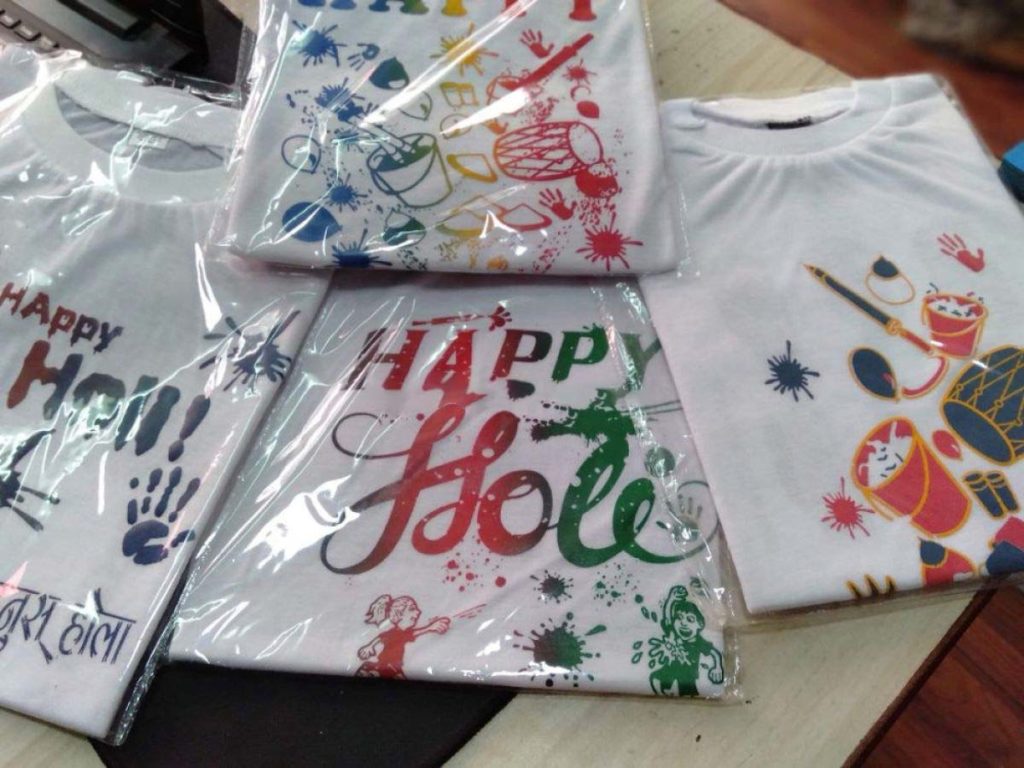 Buy white T-shirts. You can get cheap Holi-printed T-shirts that cost around 200-250 Nepalese rupees. so, after playing Holi, you can throw or keep it as a souvenir.
Wear old pants or half pants so your new clothes don't get ruined.
Don't wear leather or any new pair of clothes.
If possible wear goggles to protect your eyes.
Cover your ears with cotton.
Cover your mobile phone and camera with plastic so that it won't get wet.
Don't wear expensive ornaments.
Do not eat anything given by strangers.
People normally taste Hemp mixed with Lassi. Be aware of these kinds of stuff, you may feel Lightheadedness or Dizziness.
Better play Holi with your friends and family.
Better not to visit alone in the street during the festival.
If you are prone to color allergy then totally avoid the Holi festival.
If you are an outsider, get the guide with you.
Enjoy soft drinks only (If possible avoid them)
Don't drink and drive.
Frequently Asked Questions
What is Holi and why is it celebrated?
Holi is a festival of colors played full of joy and excitement. Holi is celebrated to welcome the spring season. Also, there is a story relating to Lord Vishnu, Holika, Prahlad, and King Hiranyakashiapu.
In which Nepali month does Holi mostly fall?
Falgun, the 11th month of the Nepali Calendar is where the Holi festival falls. According to the Gregorian calendar, the Holi festival falls in March but sometimes in late February and it last for 2 days in Nepal.
How many festivals are there in Nepal?
There are over 50+ festivals celebrated yearly in Nepal. Most of the festival in Nepal falls at fixed dates. Among them, Dashain and Tihar are the biggest festivals.
Is Holi safe for tourists in Nepal?
Yes, Holi is totally safe for tourists in Nepal. Holi is an inclusive festival and foreigners are easily welcomed. Moreover, Nepalese love to play Holi with outsiders. But always be aware of bad companies.
Conclusion
Are you interested to celebrate the Holi festival in Nepal? If the answer is YES then I hope this article helps to know more about Holi and how it is celebrated in Nepal including the valuable tips.
If you have feedback or comments please feel to post below in the comment box.
Read the post later. Pin it right now.