Annapurna Base Camp Trek also known as ABC Trek is undoubtedly one of the best high-altitude treks in Nepal. The spectacular range of Annapurna mountain lies in the Annapurna region, which is the western region of Nepal.
Nepal is home to 8 of the world's highest peaks in the world, and one of them is the majestic massif of Annapurna mountain. Standing tall at a height of 8,089m, Annapurna I is the world's tenth tallest mountain.
Annapurna Base Camp has been a significant attraction among trekkers around the world.
Annapurna is a massif that comprises six prominent peaks, and they are Annapurna I (8,091m), Annapurna II (7,937m), Annapurna III (7,555m), Annapurna IV (7,525m), Gangapurna (7,455m), and Annapurna South (7,219m).
The striking Machhapuchhre peak is also the southern part of the Annapurna massif. Trekkers can enjoy both Annapurna Base Camp Long Trek and Annapurna Base Camp Short Trek. The long trek is 12 days long, and the short trek completes in a week, i.e., 7 days.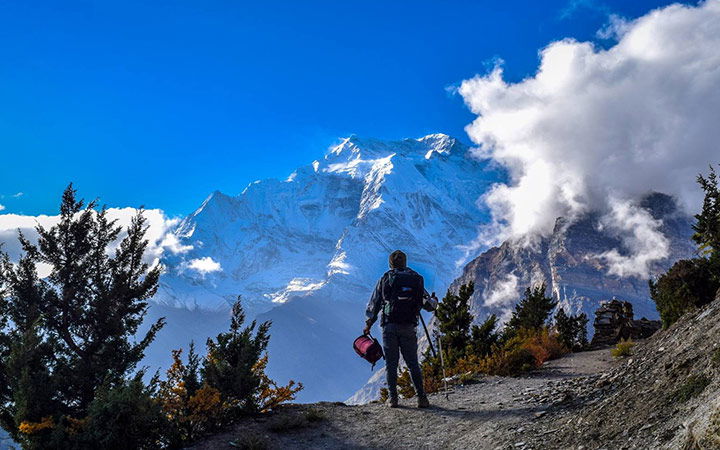 The Annapurna circuit takes you to the Annapurna Base Camp height of 4,130m. The circuit encircles numerous valleys, dense rhododendron forests, deep rivers, and mountain series.
The name of Annapurna mountain is derived from the name of the Hindu goddess 'Annapurna' which means 'full of grains' or 'provider of food.' Annapurna region has a thick settlement of Gurung and Magar ethnic groups.
| | |
| --- | --- |
| Trek Name | Annapurna Base Camp |
| Max Elevation | 4,130 meters |
| Difficulty Level | Moderate |
| Trek Duration | 7-12 Days |
| Best Season | March-May & September-December |
| Transportation | Local Bus/Private Jeep/Plane |
| Cost | $900 – $1500 |
| Group Size | Minimum 2 Person |
Annapurna Base Camp Trek Highlights
Spectacular view of the Annapurna range, Machapuchare, Hiunchuli, and other high peaks
Trekking across large waterfalls, rhododendron forests, bamboo forest
Varieties of animal species and distinct flora and fauna at different altitude
The local lifestyle of Gurung and Magar people
The traditional architecture of houses and temples
The best time to do the trek to Annapurna Base Camp is from March to May and from September to December. The weather during these months is stable and the views are amazing.
However, even during the best months, the weather can be unpredictable. It can be sunny in the morning and cloudy in the afternoon. It can also be the other way around. That's why it's important to be prepared for all kinds of weather.
Related: Best Season to Visit Nepal
Short Annapurna Base Camp Trek
ABC short trek completes in 7 days and is equally enthralling as the long trek. ABC short trek is a moderate trek to the lap of the Annapurna range.
The trek starts from Kimche where we will reach Pokhara after 3 hours of driving.
Check out the Annapurna Base Camp Trekking Video on YouTube.
From Kimche, we walk an hour and reach the beautiful village of Ghandruk. We follow a bamboo forest trail and reach Chomrong village, another lovely village with a breathtaking landscape.
The walk along the Modi Khola will take us to the Hinku cave. The trekking trail for the short trek then encompasses Machapuchare Base Camp and finally Annapurna Base Camp.
| Days | Itinerary |
| --- | --- |
| 1 | Kathmandu – Pokhara – Nayapul – Ghandruk |
| 2 | Ghandruk – Chhomrong – Sinuwa |
| 3 | Sinuwa – Bamboo – Dovan – Deurali |
| 4 | Deurali – Machapuchare Base Camp – Annapurna Base Camp |
| 5 | Annapurna Base Camp – Machapuchare Base Camp – Bamboo |
| 6 | Bamboo – Sinuwa – Chhomrong – Jhinu |
| 7 | Jhinu – Nayapul – Pokhara or Kathmandu |
Annapurna Base Camp Trekking Cost
Among many reasons for the question of why choose ABC Trek, one of the accountable factors for adventure lovers to go for is the cost.
ABC trek is reasonable and every penny of yours will be worth the episodes. Your total Annapurna base camp trek price will range around $900 – $1500. The price fluctuates in peak seasons.
Annapurna base camp trek 7 days cost is comparatively cheaper than 10 days. The pay for the guides and porters may range from $20 to $30 per day.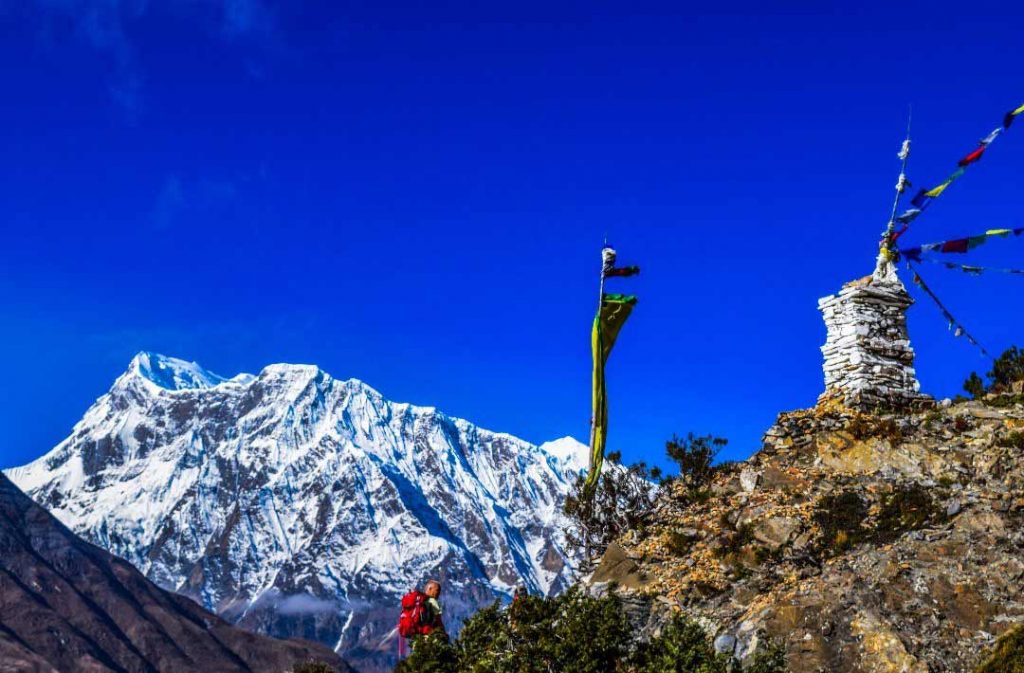 It is cost-effective if you eat your meal where you stay. Dal Bhat is probably the cheapest meal and most filling option too. Around $25 will cover three meals per day, regardless of what you choose to eat, and adding hot beverages.
Annapurna base camp trek cost from Pokhara reduces the cost of the flight from Kathmandu to Pokhara, which merely costs NRs. 9,000 to 10,000.
It takes 30 minutes from Kathmandu to land in Pokhara. The tourist bus fare may take 800 to 1200 rupees, and a local bus may cost 400 to 600 rupees, but it will take you 5 to 7 hours to reach Pokhara.
Permits
First of all, you need to fill out and submit TIMS (Trekker's Information Management) form and ACAP (Annapurna Conservation Area Project) Permit form to receive the TIMS card and ACAP card.
These two forms will cost 5000 rupees, i.e., the TIMS permit costs 2000 rupees, and the ACAP permit costs 3000 rupees. Without a TIMS card and ACAP card, you won't be able to enter Annapurna Conservation Area.
Accommodation
The accommodation costs around 200-400 rupees per room in teahouses. Solo travelers can plan 1500-2000 rupees expense each day while it reduces for group travelers.
The Annapurna base camp trek cost for Nepali and Indians is the same except for foreigners.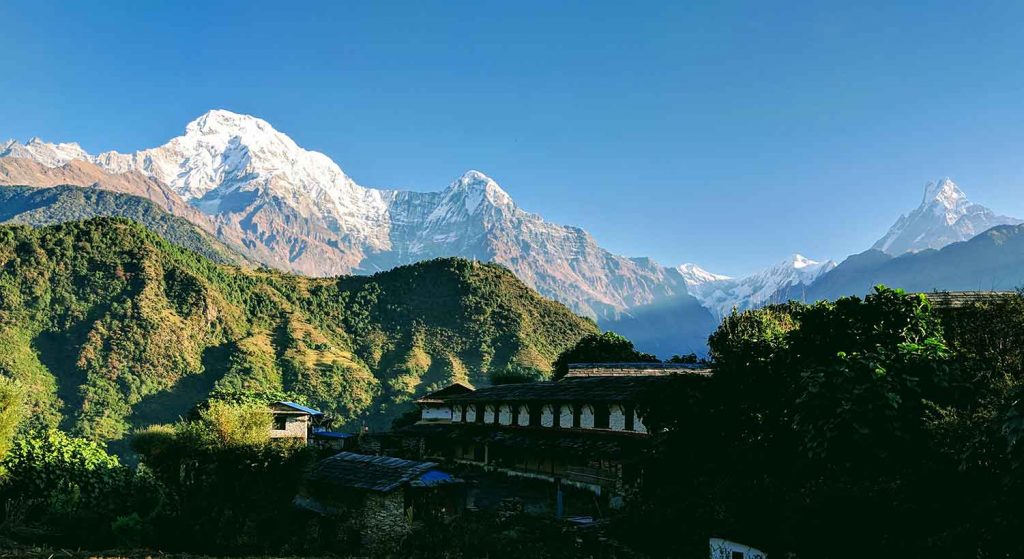 Annapurna Base Camp Trek Difficulty
Regarded as a moderate trek in Nepal, Annapurna Base Camp Trekking does not require tough physical fitness as demanded by other adventurous treks in Nepal.
ABC Trek gives you an excellent opportunity to try various traditional cuisines of Gurung and Magar ethnic groups as well.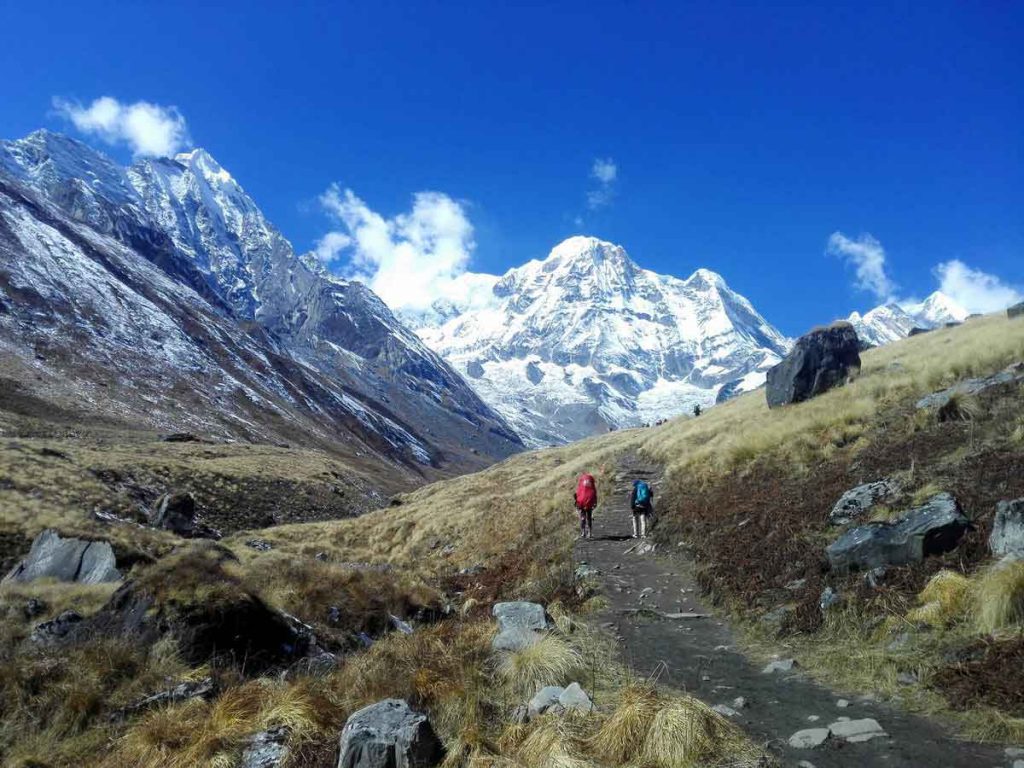 It's lovely to see Annapurna mountain covered with a snow blanket and most importantly, the fantastic view of sunrise from the hill. The best time to enjoy the Annapurna Base Camp trek should be considered if you want the weather to favor you.
Related Reading: Why is Annapurna so Deadly Mountain?
Trekking Tips for Trekking ABC
1. Prepare yourself physically and mentally
Annapurna Base Camp is a moderate type of trek as it doesn't demand a high level of physical fitness, but it does require a certain level of fitness and enduring strength to complete the trek.
You need to train your body so you can endure the high altitude. Intense training and exercise are recommended 3 months before you head for the trek.
Muscle strength will help you walk for long hours during the trek. Training continuously will also help you prepare mentally. Try to run small uphills nearby and train your breathing.
2. Keep yourself hydrated
Trekking for long hours will definitely make you dehydrated, so you should carry a water bottle with you and drink it frequently. High altitude may cause you to suffer from AMS.
Drinking enough water will prevent you from feeling nauseous. While you train, drink enough water. Keep yourself hydrated daily. Eat lots of fruits and avoid junk foods.
3. Carry Annapurna Base Camp Trek Detailed Map
It is better to be aware of the paths, villages, trekking trails, places, rivers, and temples of Annapurna Base Camp beforehand. So carry the Annapurna trekking route map with you, and you'll be on track while trekking. You'll know where to go, and there will be less chance of getting lost for solo trekkers.
Also Read: Kathmandu to Annapurna Base Camp
Essential Trekking Gears and Packing List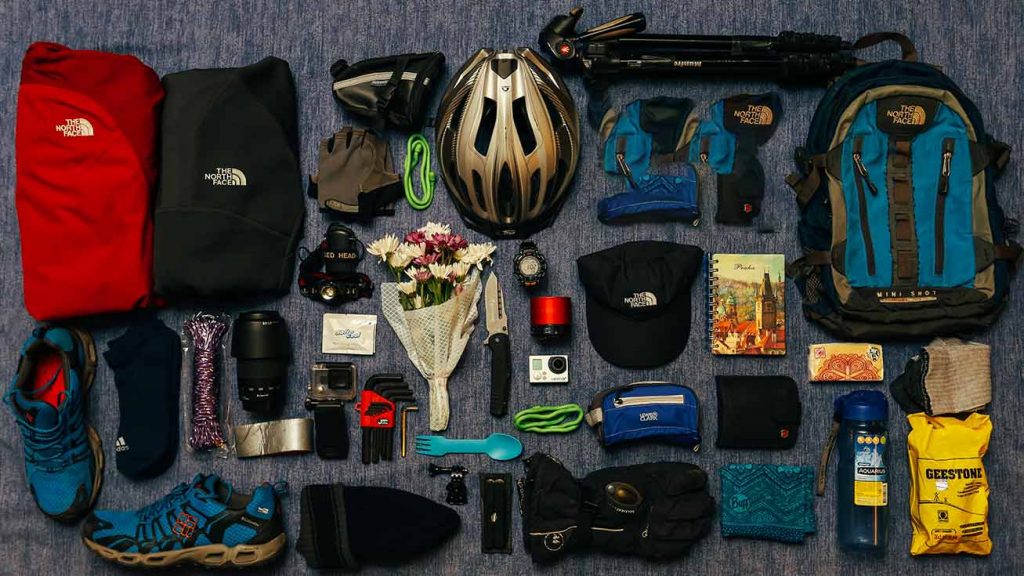 Annapurna Base Camp Trek Route Map
Spare battery, Power Bank
A pair of gloves
Warm clothes
Down jacket, Down Pant
Sunglasses, hat
Few pairs of socks and underwear
Trekking boots
Torchlight
Energy bars and snacks
First aid kit and essential medicines
Toiletries, towel
Check out: Annapurna Base Camp Itinerary 10 days
Annapurna Base Camp Trek Altitude Profile
You start from the elevation of 1345m (from sea level) at Kathmandu. You fly from Kathmandu to Pokhara(820m) and trekking basically starts from Nayapul. The Chomrong village is at an elevation of 2170m. Machapuchare Base Camp is at an elevation of 3700m and finally, you reach an elevation of 4130m at Annapurna Base Camp.
That's the highest elevation you'll reach. After that, you'll trek downhill to Bamboo at 2310m. Then, to Jhinu Danda at 1780m, back to Pokhara, and finally to Kathmandu.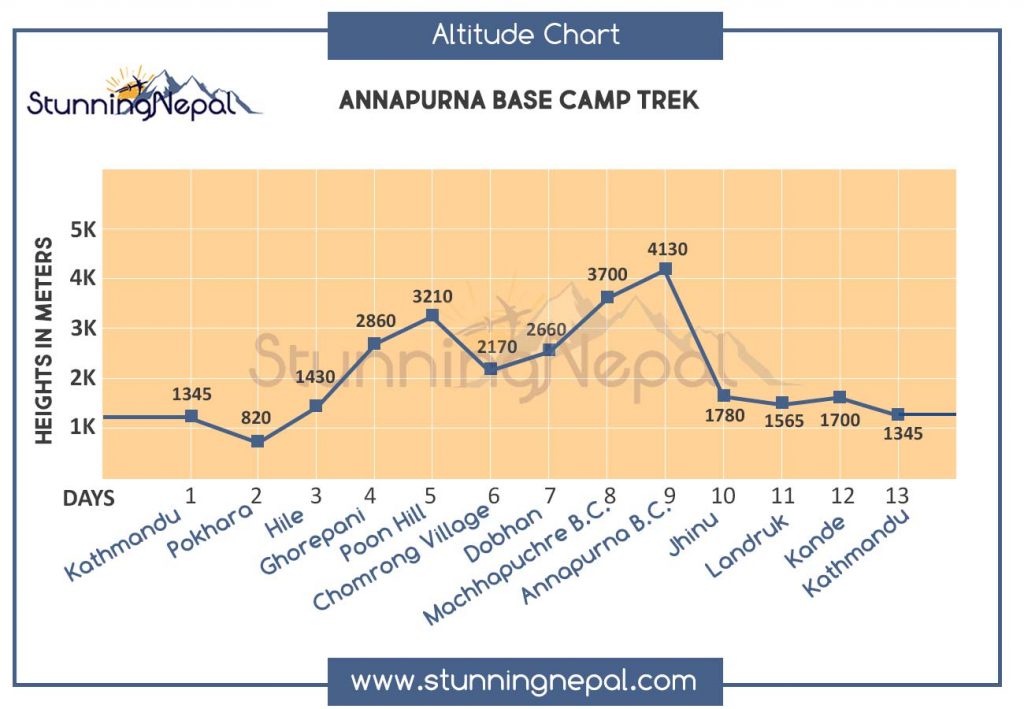 Frequently Asked Questions
Read Annapurna Base Camp Trekking Frequently Asked Questions by Visitors. Here you can view a video or read about it.
How long is Annapurna Base Camp Trek?
ABC trek is designed in such a way that the trek embraces the beauty of the Annapurna region's landscape, forest, and mountain series. ABC short trek can be completed in 7 days if you stick by the itinerary of the Annapurna Base Camp short trek.
Annapurna Base Camp's long trek can be completed in 12-13 days if there occurs no kind of delay in between. The altitude of 4130 m is the destination of Annapurna Base Camp. There are various trekking packages that you can choose according to your convenience.
How to go to Annapurna Base Camp from Pokhara?
If you want to go to Annapurna Base Camp from Pokhara, then it's very easy. You can even apply for permits upon arrival in Pokhara. From Pokhara, we will take a ride to Nayapul, from where our adventurous trek begins to Annapurna Base Camp.
How difficult is the Annapurna base camp trek?
Annapurna Base Camp trekking can be categorized as a moderately easy high-altitude trek in Nepal. The Annapurna circuit is moderately difficult.
The trekking paths are not offbeat making it one of the chosen trekking destinations among first-timers. First-time trekkers can garner a pleasant experience without much toil.
ABC trek does not require tough physical fitness. Anyone with an average level of robustness can reach the base camp within the expected duration.
The difficulty also depends upon which time of year you go for the trek. It might not be difficult for experienced trekkers. Annapurna Base Camp trek can be quite easy for experienced trekking lovers.
Is Annapurna Circuit dangerous?
Annapurna is one of the 8000s whose beauty attracts a vast number of trekkers every year. Trekkers choose Annapurna Base Camp to observe the heavenly beauty of Annapurna mountain and other striking mountains in the vicinity, but the rewarding destination costs lots of difficulties.
Yes! You might encounter problems in the Annapurna Circuit while passing the dangerous Thorung La, which is the world's highest mountain pass.
The climate of Annapurna is a bit unpredictable. The climatic condition may bring difficulties at times. You should be well-equipped and Eveready to turn back if you see potential danger while crossing Thorung La (5416m).
The bad weather, massive snowfall, or storms can block the Thorung La Pass. You don't want to challenge your life at that time. It's wiser to return to the lodge.
Many trekkers might suffer from altitude sickness. The trekking trails might not be conventional for first-timers. The high altitude of Annapurna may cause Acute Mountain Sickness (AMS), which brings difficulties in trekking. Once you elevate 3,500m, you'll probably find difficulties in breathing.
Where is the Annapurna Base Camp?
Annapurna Base Camp basically lies in Annapurna in the Western region of Nepal. The Annapurna Trekking starts from Pokhara to its North. Annapurna is easily accessible by road and air. This region is abundant with beautiful villages which you'll be exploring during your trek in the Annapurna region.
Annapurna region is geographically rich and blessed with some majestic high peaks which you can witness with your own eyes with a closer glimpse. The Annapurna Conservation Area Project has conserved the Annapurna region since 1992 which is being managed by the National Trust for Nature Conservation.
Annapurna Conservation Area covers various districts of Nepal such as Kaski, Manang, Mustang, Myangdi, and Lamjung of the Annapurna region. The trekking route of various Annapurna trekking packages falls within Annapurna Conservation Area.
Annapurna Base Camp trek, Annapurna Circuit Trek, Ghorepani Poonhill Trek, and Jomsom Muktinath trek are some of the famous and most preferred treks in Nepal. These treks in the Annapurna region promise you spectacular panoramic mountain views and an unforgettable experience of the journey to the lap of the mountains.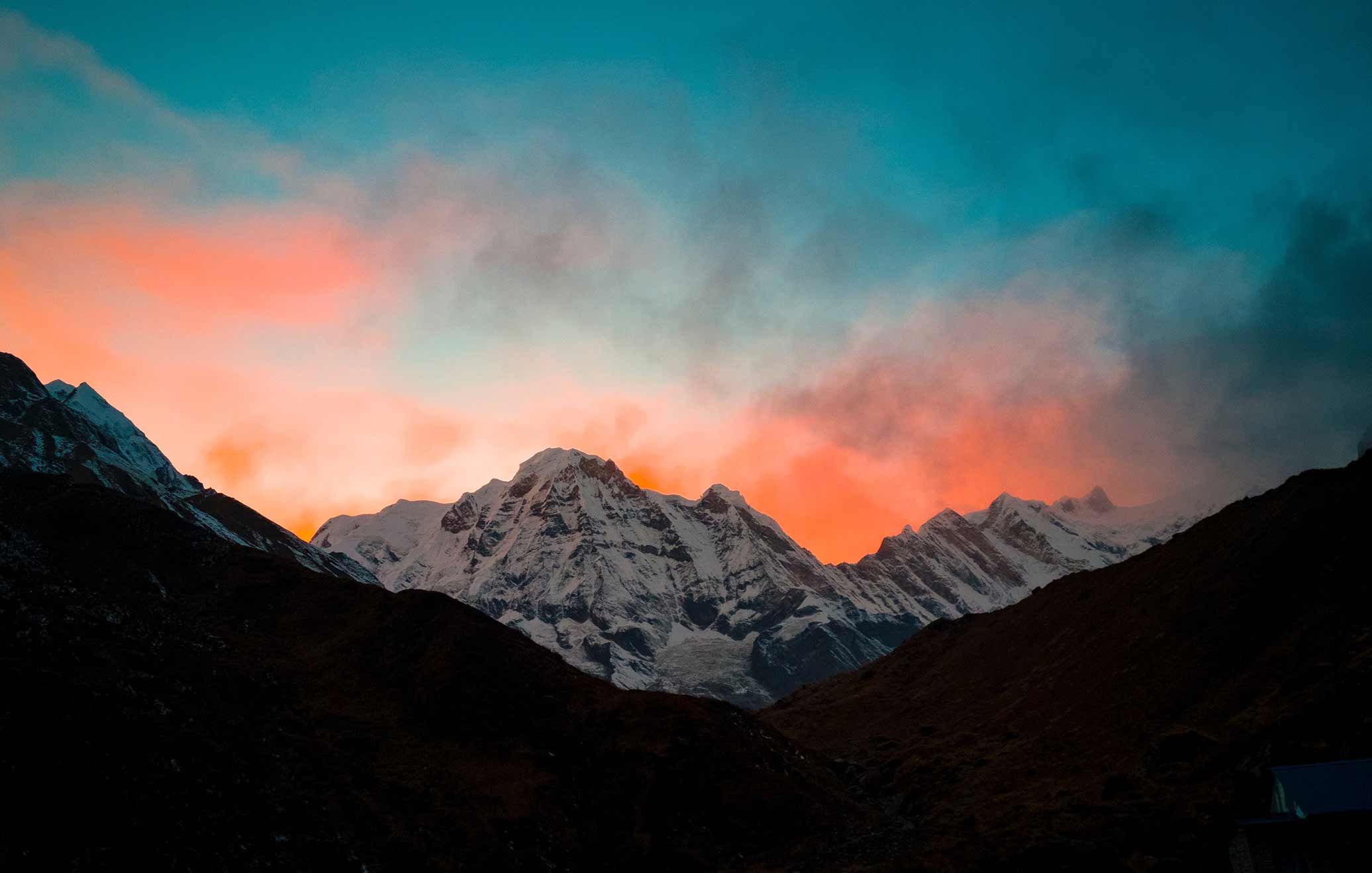 Is the Annapurna Base Camp trek safe?
Yes, Annapurna Base Camp is safe depending on the climatic condition. ABC can be attempted independently as it is safe. It is popular among solo trekkers too.
It is a personal preference to go for a solo traveling to Annapurna Base Camp but traveling in a group is recommended.
Traveling with a group has more benefits than traveling independently. The climatic condition of Annapurna is uncertain, so the uncertainty may bring difficulties while trekking.
During such situations, being alone in the absence of networks can be dangerous.
Are there ATMs available on the way to ABC?
No, there are no ATMs on the ABC trek route. There are many ATMs in Pokhara and Kathmandu city. You can withdraw and exchange cash in Pokhara or Kathmandu as credit cards won't work in the Annapurna Base Camp route. Don't forget to carry enough Nepali currency.
Are the internet and charging accessible at ABC?
Yes. You will have enough internet access in some places but would cost you Rs. 200 a day for internet access. It is uncertain whether internet access in towns will be available and fast. Internet access may be slow and might shut down if the electricity goes out.
If you are making an Annapurna base camp trek blog or vlog, then you are recommended to carry spare batteries for the camera. Do not depend on the electricity at ABC.
Is it necessary to hire Guides for Annapurna Base Camp trekking?
If you stick to the Annapurna Base Camp itinerary from the start till the end, it might not be necessary to hire a guide, but it solely depends on you.
Annapurna Base Camp trek without a guide is appropriate for experienced trekkers but not strongly recommended for first-timers.
The trekking guide will be sharing lots of facts and information during the trek. It would be a fun and exciting trek with the guide, and you would have to worry less about getting lost.
The guide will be there during a problematic situation. An experienced guide will take care of your adventurous trek very well.
What about Annapurna base camp solo trekking?
Annapurna base camp solo trekking is on the wish list of so many trek lovers. Many trekkers find peace in solo trekking. For solo trekkers, hiring a guide is highly recommended.
For solo trekkers, book the Annapurna base camp trek package beforehand and be certain about the trekking permit, trekking cost, altitude profile, and trek map because you don't want to face problems once you head for the trek.
Do prepare yourself for the worst case and carry your essentials with you during the trek.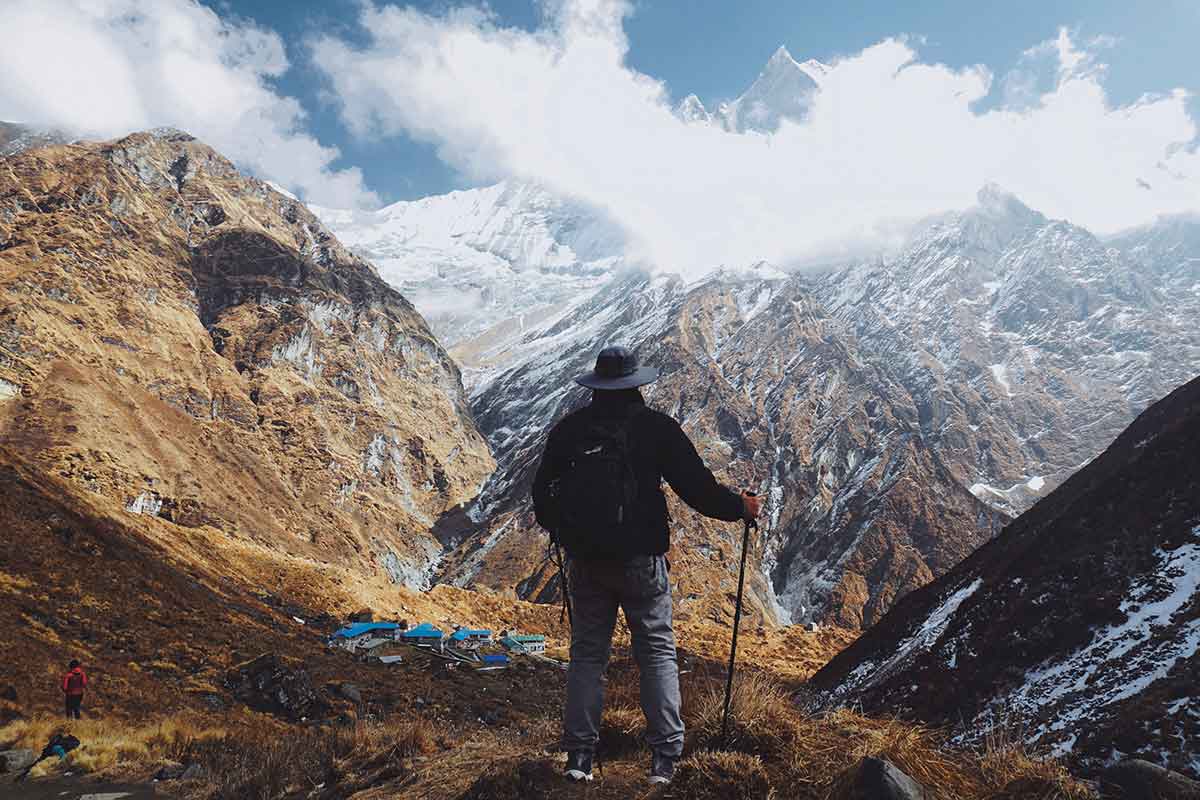 How much is Annapurna Base Camp Trek Budget? 
Annapurna base camp trekking price ranges from USD 1,000 to USD 1,200 for a 12-13 days trek. USD 500 might be enough for solo trekkers excluding other miscellaneous expenses. The price also depends upon the month you choose.
What are Annapurna Base Camp trek permits and cost requirements?
You are required to acquire a TIMS card and ACAP card to be able to go trekking in Annapurna. TIMS costs NRs. 600 and ACAP cost NRs. 200 for SAARC nations whereas TIMS permit costs 2000 rupees and ACAP permit costs 3000 rupees for foreigners.
Without a TIMS card and ACAP card, you won't be able to enter Annapurna Conservation Area.
For the process, you should submit two copies of your passport, 4 your passport-size photos, two for TIMS, and two for ACAP. You are required to submit information about the Annapurna base camp trekking package you chose.
You can apply for the permits at Nepal Tourism Board at Thamel, Kathmandu or Pokhara, or Lamjung. Nepal Tourism Board accepts only Nepali currency.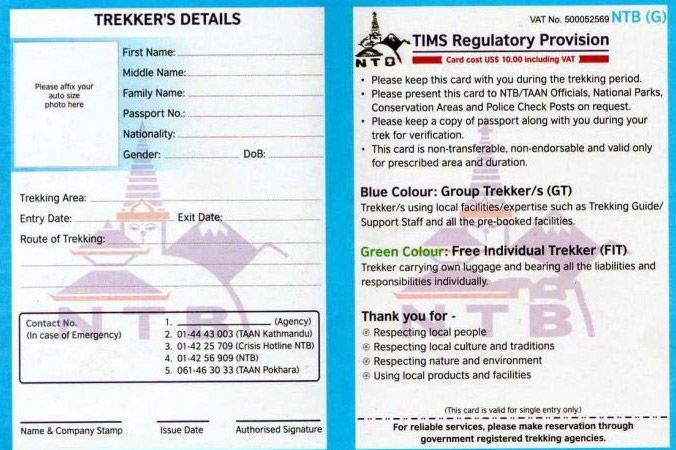 Conclusion
At last, we are going to share quick tips, Annapurna Base Camp trek can be the best choice to utilize your holidays with nature. Annapurna Base Camp is also the most preferred trekking in Nepal due to its unmatched beauty and adventure.
There are numerous trekking agencies in Kathmandu, Nepal that provide various ABC trek packages with various trekking routes and itineraries so one can get confused about finding the best trekking agency in Nepal.
Many trekking agencies have Annapurna base camp trek travel blogs on their website for your convenience. You can check out and solve some of your queries.
When choosing a travel agency in Nepal, do check their authenticity. Review their packages, accommodation facilities, budget, reliability, etc., and if you're satisfied, only after then book the packages.
Be aware of the trekking map of the package you pick. You can contact travel agencies via telephone or other social media and gain information.
While inquiring, learn about the trek that you'll be dealing with. You should feel comfortable and have a good rapport with them.
Moreover, if you are considering trekking at Annapurna Base Camp then this guide is definitely going to help you. Also, please leave a comment/feedback if you have any regarding ABC Trekking.
Happy Trekking and Traveling.
Love this post? Pin it for later