Are you excited to know about Everest Base Camp Trek Accommodation? Here is a complete guide for trekkers who wants to know about EBC Trek Accommodation and many more things.
Finding a temporary place to nap while trekking is a vital aspect as you always need sound sleep. Staying in a remote/hilly area is somewhat complicated compared to your house or hotel.
Visiting different parts of the world and finding suitable accommodation is always a difficult task for travelers.
As Nepal is a naturally and culturally beautiful country. It is a gift from God, and you can't visualize the beauty of Nepal with one visit. 
Roaming around the globe is everyone's dream and trekking to Everest Base Camp is one of the lifetime dreams for many trekkers.
Nepal is famous for the tourism and generosity provided by local people with diverse cultures.
You can visit different parts of Nepal, and you still can find the same kinds of hospitality with simplicity in living their lives.
You can find most Nepalese people are down to earth. We welcome our Guests with our hearts and serve them well with what is available within our places.
Read Complete Guide: Everest Base Camp Trek
Everest Base Camp Trek Accommodation Types
Now let's dive into Everest Base Camp Trek accommodation. There are different types of places where you can stay for food and take rest during trekking to EBC trails.
Hotels/Lodges Accommodation
Generally, you will find Tea Houses for basic accommodation to a highly luxurious hotel. You can choose the service according to your budget. Usually, people called it lodges rather than hotels in these hilly areas.
Lodge will offer you excellent service with healthy & hygienic food. They will provide an electric blanket, WiFi, hot water showers, etc. with an additional charge.
This is best when you have enough budget to spend. These types of accommodation are more luxurious with excellent facilities.
Tea Houses Accommodation
Tea Houses are often said to be the best place to stay while trekking to Everest Base Camp (EBC). There are basic types of tea houses accommodation facilitated by local people with rich in the local culture. Moreover, prices may vary according to the altitude and facilities provided by Tea Houses.
Rooms & Toilets
Often the rooms available in EBC Trails have two beds in a room mostly wooden style beds. There will be a sheet, cover, pillow, etc. All the tea houses are similar.
Houses that are at lower elevation offers you better rooms and toilets rather than at a higher altitude. Toilets at these places are almost of western-style while at some places there are of typical styles.
You can sleep properly on those beds available at tea houses. Rooms are properly clean and hygienic. They are affordable & it is better if carry sleeping bags with you.
Sleeping bags help you to avoid extreme coldness at a higher altitude. They also come in handy while you are trekking during a peak season.
Check Out: Beginners Guide to Trekking in Nepal
Accommodation at Everest Base Camp Trek
In this section, we will try to list almost all the places where you will spend at least a night. It is good to know about the services and places around EBC Trails.
Here you can check the Everest Base Camp Trekking Route Map to find out more about various places.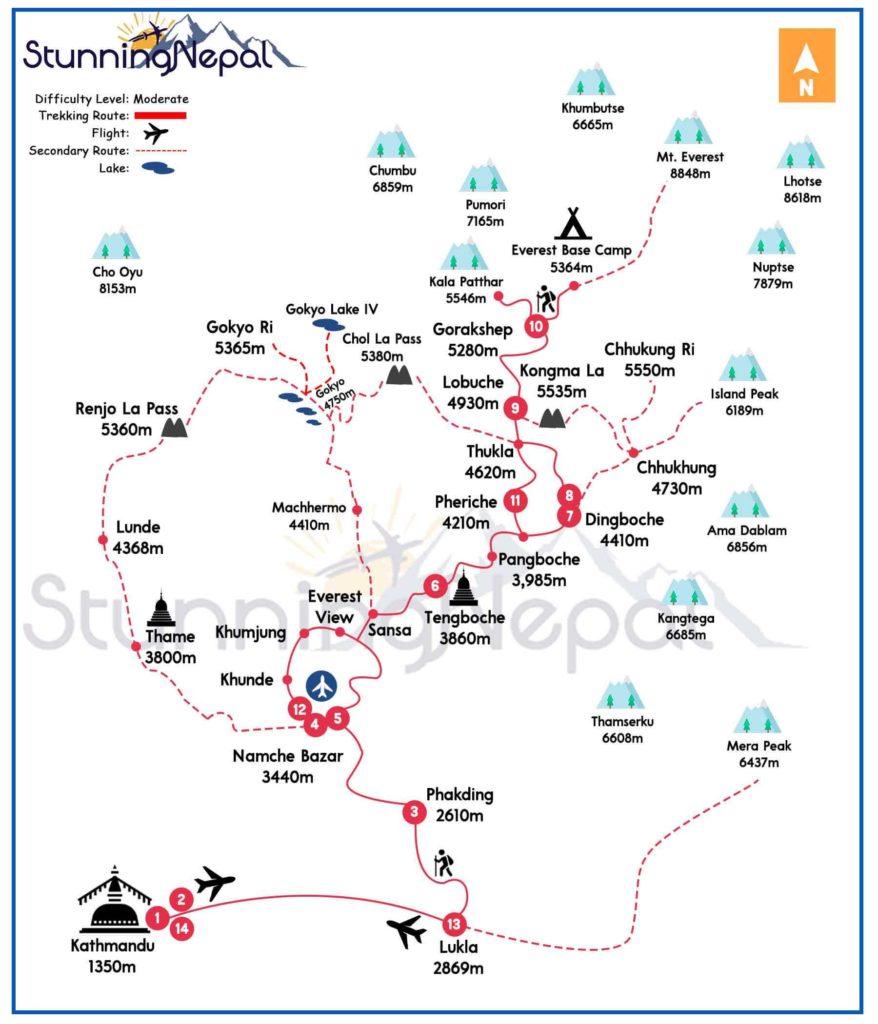 Accommodation at Lukla
Lukla is the main gateway to Everest Base Camp. It is one of the attraction points while trekking to EBC. Lukla's airport is rated as the most dangerous airport in the world.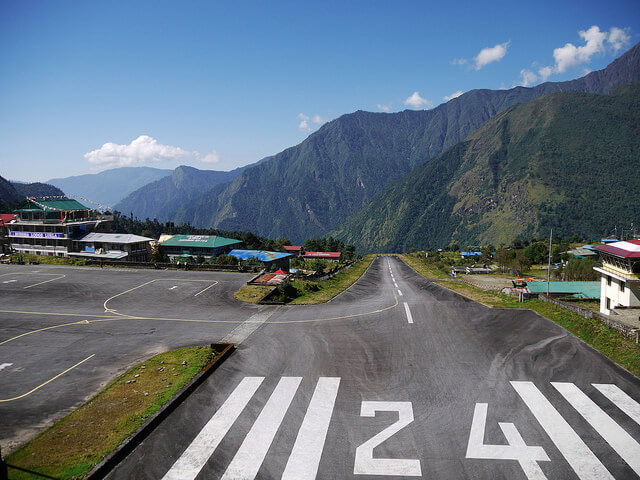 This airport is the most extreme as you will feel a bit uneasy while landing. You will know how this Tenzing–Hillary Airport, also known as Lukla Airport, is, reaching out there.
You don't have to worry all about these things as pilots are much more experience and they are doing well at this airport. Sometimes the weather condition is too bad as you have to stay there for more days and you need to be prepared for that also.
Hotels available at this place are highly facilitated. It is the best place for Everest base camp trek accommodation. You can enjoy the excellent view of this place, especially the structure of the Lukla Airport.
Accommodation at Phakding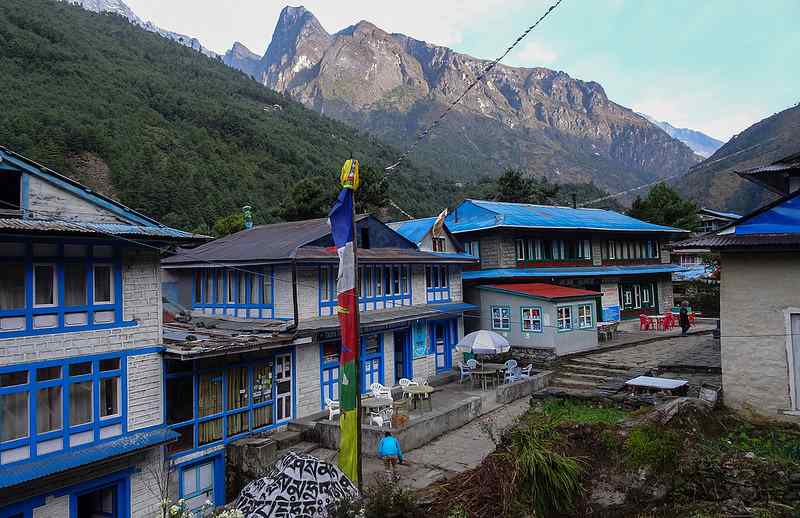 Next, to Lukla, Phakding will be your next destination. After 04-05 hours of walking, you can reach Phakding(2650m/8,695ft).
There are enough places for accommodation as most of the trekkers stay in this place rather than at Lukla since flights from Kathmandu to Lukla are in the morning.
Accommodation at Namche Bazaar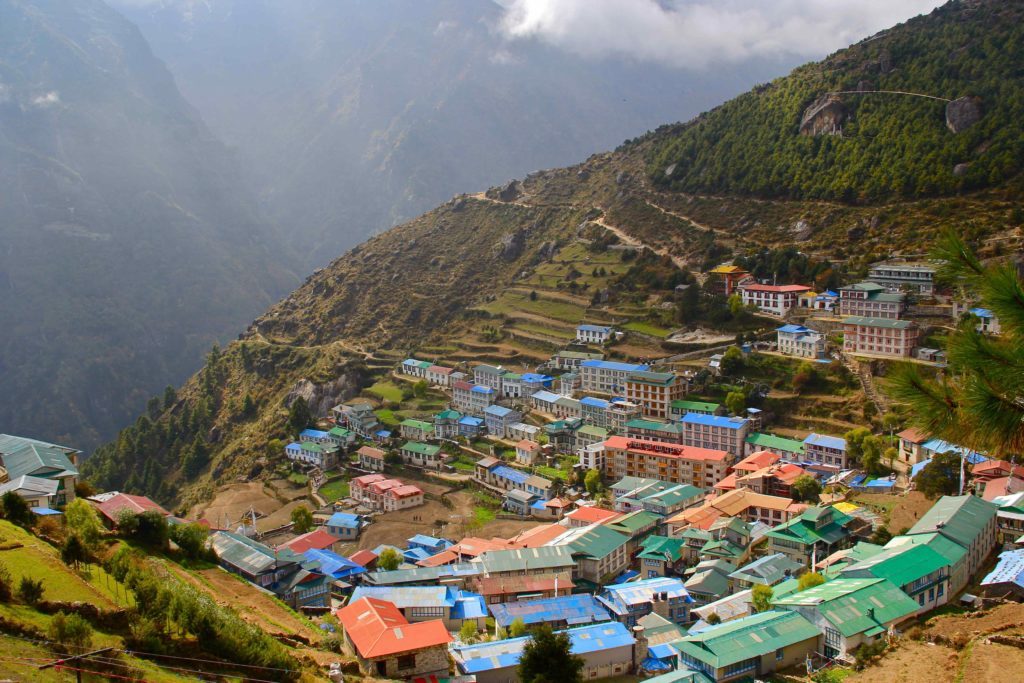 After 05-06 hours of walking, you will reach Namche Bazaar (3440m/11,287ft). It is known as the tourist hub and land of Sherpa.
After reaching this area, you can feel the unique landscapes, and climate, and offers lots of natural attractions.
Trekkers generally take rest for 2-3 days here for acclimatization before marching to Tengboche.
You can also find good food and luxurious accommodation at various price ranges. Moreover, Bakeries and cafes are also available in this place. You can spend quality time at Namche Bazaar.
Accommodation at Tengboche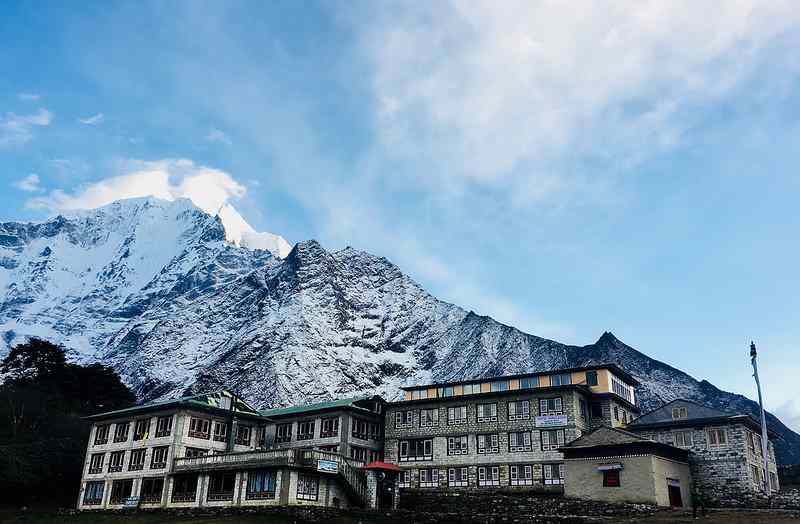 Trek to Tengboche(3,860 m), it's a 05-06 hike from Namche Bazaar. Tengboche is famous and renowned for Tengboche Monastery. You can find a few hotels there. During peak season, this place is a bit crowded.
There is a place called Deboche where you can see the astonishing view of Mount Ama Dablam. People often stay at this place when hotels at Tengboche are packed.
Accommodation at Dingboche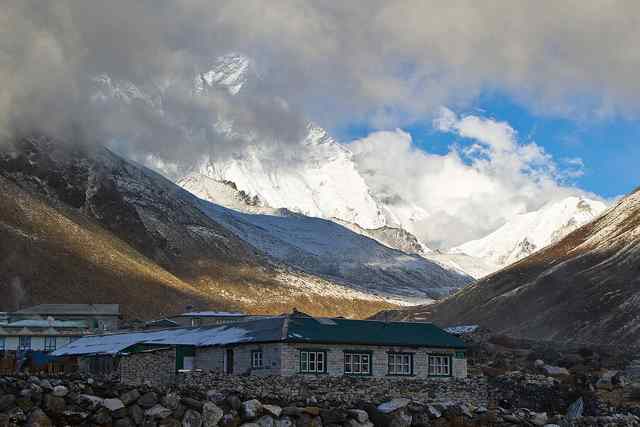 Dingboche is yet another place where trekkers stop for accommodation. The altitude of this place is around 4,400m. It is the highest residential area in Khumbu Region.
You can find good numbers of hotels opened all over the year. It is one of the best places for trekkers for Everest Base Camp Accommodation.
Accommodation at Lobuche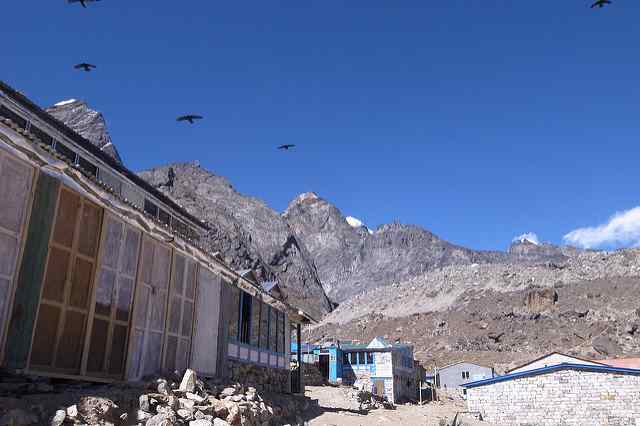 In this Lobuche, you will find the basic style of the teahouse & the accommodation. You should adjust what is available.
Don't get surprised if you are sharing the room during peak season since it will be full of trekkers.
Accommodation at Gorak Shep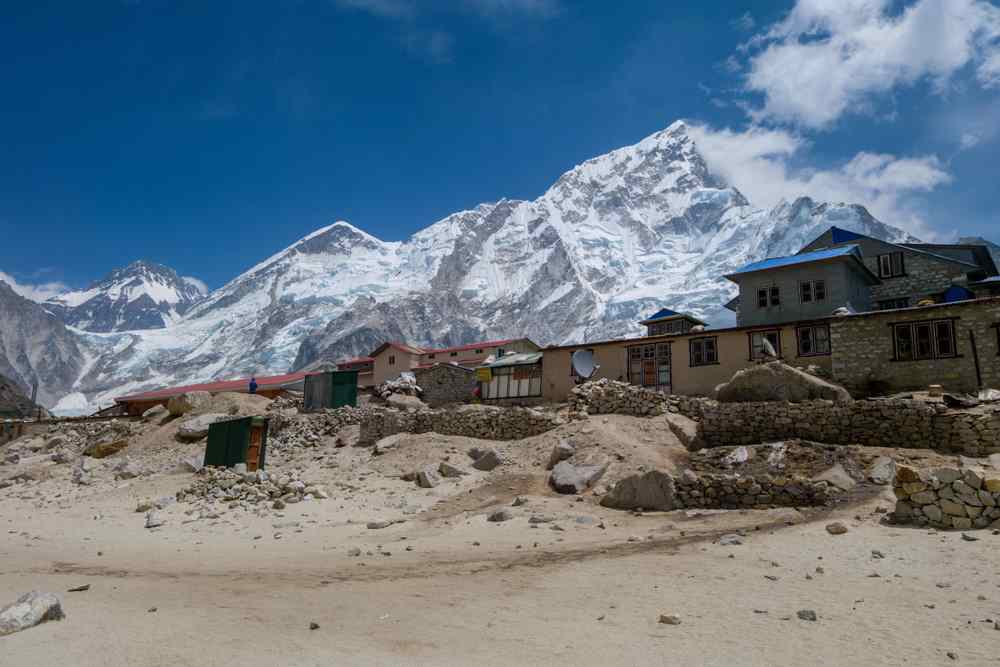 Gorak Shep is the most crowded place since there are only a few hotels. During peak season, you may find it difficult to find hotels, and you have to manage the shared rooms. It is the last hotel before heading to Everest Base Camp(EBC).
Food and Accommodation on EBC FAQs
Read frequently Asked Questions about food and accommodation at Everest Base Camp.
How much does it cost for Accommodation at Tea House on Everest Base Camp Trails?
The price of accommodation at a tea house on EBC Trails differs upon the various seasons. Usually, Pre-Monsoon (February, March, April, and May) and Post-Monsoon (September, October, November, and December) are the best seasons to trek Everest Base Camp.
The cost of lodging usually goes high during this peak season. Typically, the price of Everest Base Camp Trek Accommodation is between $2-$5 per night. If you choose the off-season to trek EBC, then the rate of rooms can be dropped up to 50%.
The daily budget of the traveler trekking to Everest Base Camp should be around $35-$40 per day for food and accommodation.
Are showers and washing facilities available on EBC Trail?
Normally, The lodges at EBC Trail offer a gas shower. A bucket of hot water may cost $2-$5. But hot water may not be available every time for the shower. It is always best to carry wet wipes to clean yourself at higher altitudes.
At the lower elevation, you can get an opportunity to wash, but it may not be available at a higher elevation. You need to carry extra pairs of clothes while trekking as they will get dirty quickly.
What are the popular meals available on Everest Base Camp Trek?
On the way to EBC Trek, you will get your favorite dishes mostly on the higher altitude that includes Dal Bhat for energy, Garlic Soup to prevent altitude sickness.
You can also find bakery items that you can enjoy on Everest Base Camp Trek. Moreover, you can find Mo: Mo, Yak Cheese, Roti, Yak Streak, etc.
Breakfast
Mostly you will get tea, juice, toast, pancake, egg, potatoes, etc. for breakfast. The cost of breakfast at Everest Base Camp ranges around $10-$15. It is best to avoid the use of alcohol and coffee on the trail.
Lunch and Dinner
For lunch and dinner, you can get various options including Dal Bhat(Veg, Non-Veg), Mo: Mo, Noodles, Macaroni, Pasta, Pizza, Sandwich, Spaghetti, Soup (Mushroom, Garlic, Tomato), Fried Rice, etc. The cost of lunch and dinner at Everest Base Camp ranges from around $10-$12.
The price of breakfast, lunch, and dinner may vary due to location. Sherpas are the people who live in the Everest Region and they follow Buddhism. This region is butchering-free.
Mainly, Meat is supplied from the lower elevation without freezing, so it is better to avoid it although it is edible. If you are health conscious, then please prefer egg, cheese, and vegetarian items.
Final Thoughts
You are almost at the end of the Everest Base Camp Trek Accommodation Guide. As you know, Nepal is a country where the flow of tourists is high every year. At peak season, it is often difficult to find a suitable arrangement of services.
Moreover, Everest Region is the number #1 destination for trekking & number of tea houses is being increased due to its popularity.
Your expectations should not be that much high in these top tourist areas. You can get the necessary facilities with awesome people out there.
It is helpful if you book your accommodation earlier and finally, if you don't have ideas regarding services out there about Everest Base Camp & all other kinds of stuff then please contact your travel agency or we are happy to assist you.
Like this Post? Pin it for later