Here are the top 25 best food places in Nepal where you can enjoy the unique and tasty delicacies of Nepalese. Expect some mouth-watering food that you have never tasted before.
Nepal is one of the best places to try some distinct and amazing cuisines. Nepal is known for its variety of delicacies that vary with ethnic groups, geography, and creativity.
Why do Food lovers need to visit Nepal?
While you visit Nepal, experience the authentic local food in different places in Nepal to really enjoy the cultural diversity and lifestyle. Nepalese are proud of their unique identity that is given by the world's highest mountain, Mount Everest, the Birthplace of Lord Buddha, Lumbini, 10 UNESCO world heritage sites, and many more. Moreover, Nepal is also known for its love for food.
People of different ethnic groups have their own ethnic food, and those foods are incredibly delicious. You cannot find such taste anywhere in the world except in Nepal. It is not a fake claim. These foods have an authentic taste when enjoyed in the local place.
Check Out Best: Nepalese Food
Top 25 Food Places in Nepal
Here in the food list, we are also going to include some popular Nepali fruit items too like Apple, Strawberry, and Avocado that is famous all around the world.
| Food Items | Places in Nepal |
| --- | --- |
| Dal Bhat | Kathmandu |
| Dhido | Dhulikhel/Nayabazzar |
| Momo | Jhamsikhel/New Baneshwor |
| Curd | Bhaktapur |
| Newari Food | Kathmandu/Bhaktapur/Lalitpur |
| Sekuwa and Sukuti | Basantapur/Kirtipur |
| Fish | Dolalghat/Markhu |
| Yak Cheese | Jiri |
| Chhang | Kirtipur |
| Tongba | Taplejung |
| Strawberry | Kakani/Jhapa |
| Laphing | Boudha |
| Khuwa | Dakshinkali/Hetauda |
| Fulki | Butwal |
| Peda | Bhairahawa/Barmajhiya |
| Sherpa Stew | Solukhumbu |
| Chicken Biryani | Maitidevi/Naxal |
| Thakali Food | Mustang Region |
| Thukpa | Pokhara/Everest Region |
| Apple | Mustang |
| Khoo | Manang |
| Pork Thukpa | Dharan |
| Avocado | Dhankuta |
| Tass | Chitwan |
List of food places in Nepal with food items
1) Kathmandu – Dal Bhat
Dal Bhat is a traditional meal of Nepalese that they enjoy every day. Nepalese savors Dal Bhat in their lunch and dinner accompanied by some vegetable or meat or achaar as a side dish.
It is a heavy meal that fuels our body to do heavy work. That's why Dal Bhat is the most preferred meal during trekking in Nepal.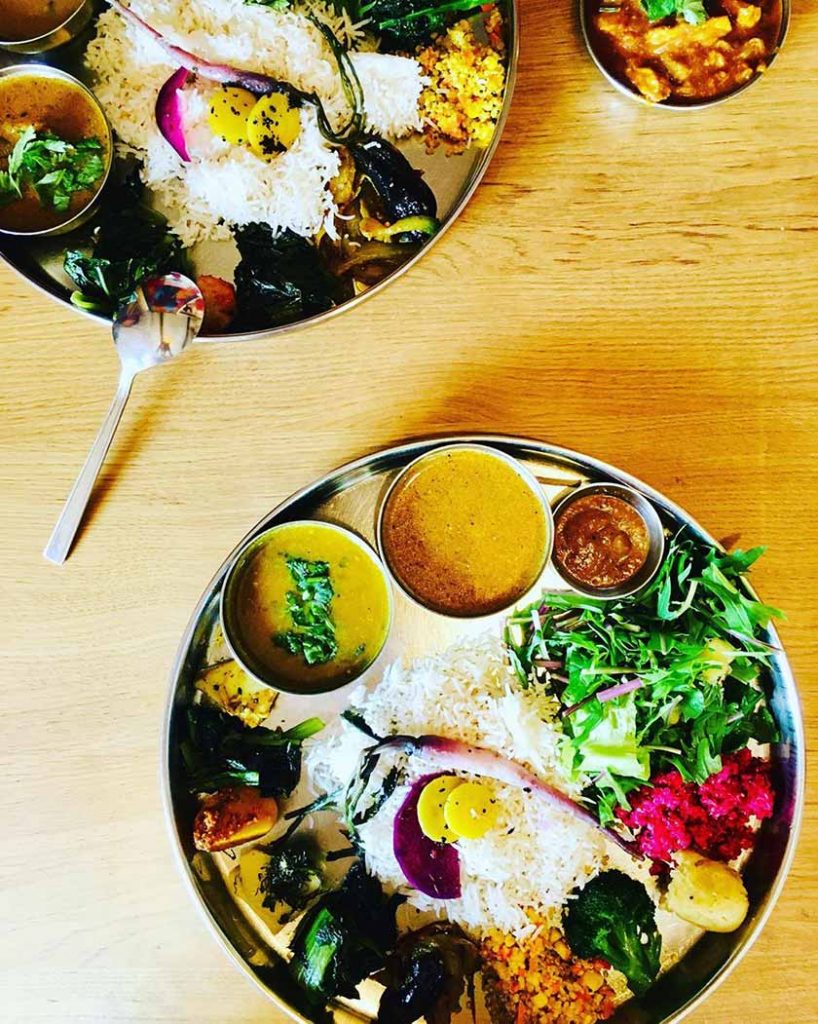 Dal Bhat simply means Rice and Lentils. Dal Bhat is a source of energy during trekking to walk long and rough trekking trails. It fulfills our appetite and sustains stamina for a long time.
The taste can vary from place to place, depending upon the rice and vegetables they serve. Dal Bhat is generally consumed with the hand, unlike other meals. You can also eat with a spoon, but with your hand, you'll have a unique experience.
Dal Bhat automatically falls in the trekking packages such as Everest Base Camp, Annapurna Base Camp, Manaslu Base Camp, Langtang Valley Trek, and so on.
Moreover, the capital city of Nepal, Kathmandu is the favorite place for Dal Bhat since you can find distinct tastes across different restaurants around the valley.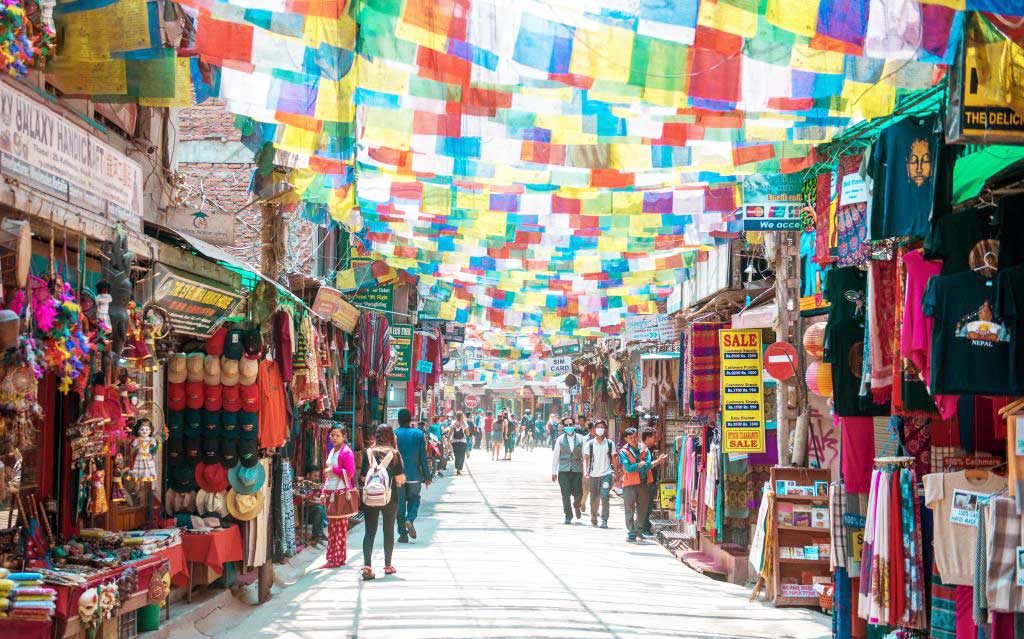 2) Dhulikhel/Nayabazzar – Dhido
Dhido, a Nepali staple food, has a separate fanbase among food lovers. It is a soft and squishy dough that is either prepared from cornflour (makkai ko pitho) or millet flour (Kodo ko pitho).
The platter of Dhido is the same as Dal Bhat since it also consists of various items of vegetables and meat. Dhido is beneficial to our body from a nutritional point of view too.
If you want to taste an authentic Dhido then, you are highly recommended to visit Nayabazzar and Namobuddha. NamoBuddha lies in the Kavre district and can be reached within 3 to 4 hours from Kathmandu.
It is a holy place for Buddhist pilgrims. You will see massive and attractive monasteries painted artistically inside and out.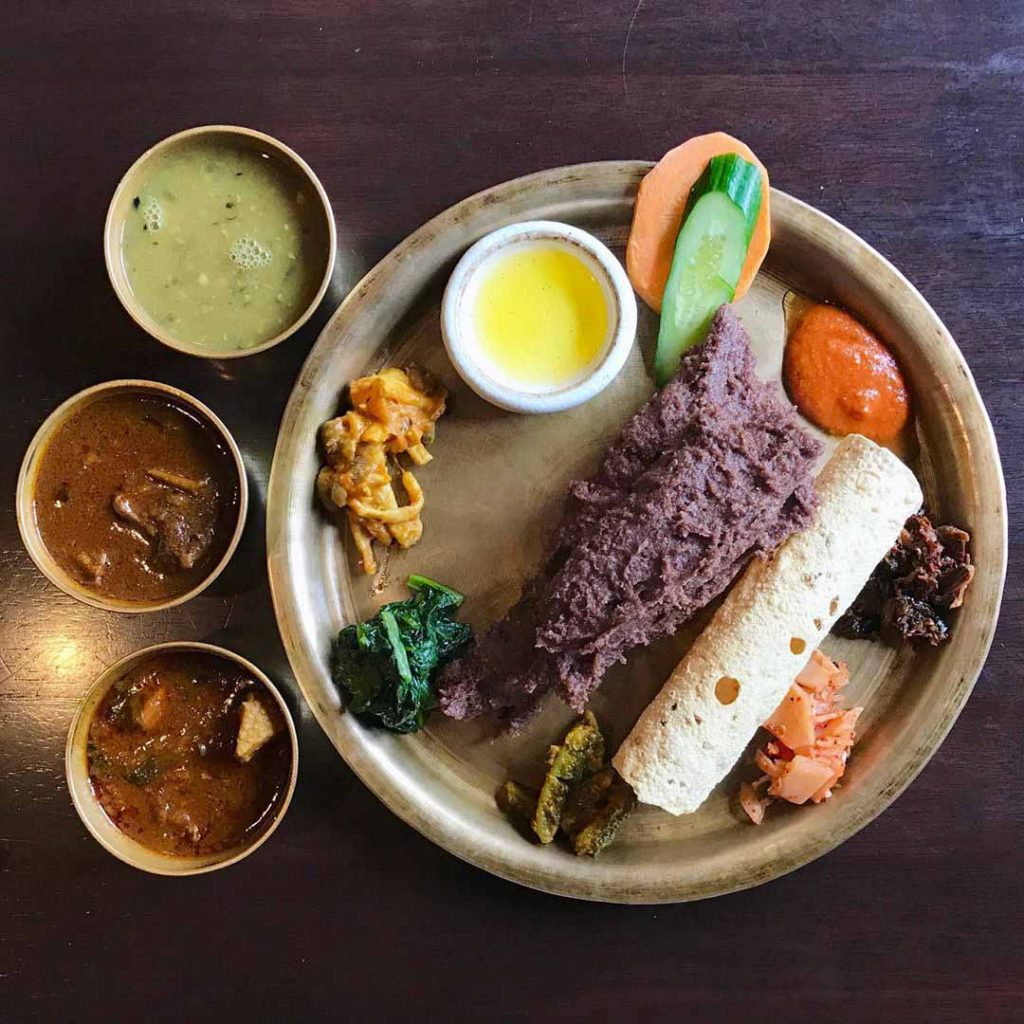 Just a few distances away from NamoBuddha is the popular hiking destination, Dhulikhel. Observe the majestic ranges of Langtang, Manaslu, Gaurishankar, and Mahalangur from the Dhulikhel viewpoint.
So next time when you visit NamoBuddha and Dhulikhel's viewpoint, do not forget to try Dhido, a local delicacy of Nepal.
3) Jhamsikhel/New Baneshwor – Momo
After Dal Bhat, the most popular food among Nepalese is momo. People of all ages adore momo dumplings here. Momos are small white dumplings made of flour. The dumpling is stuffed with various ingredients.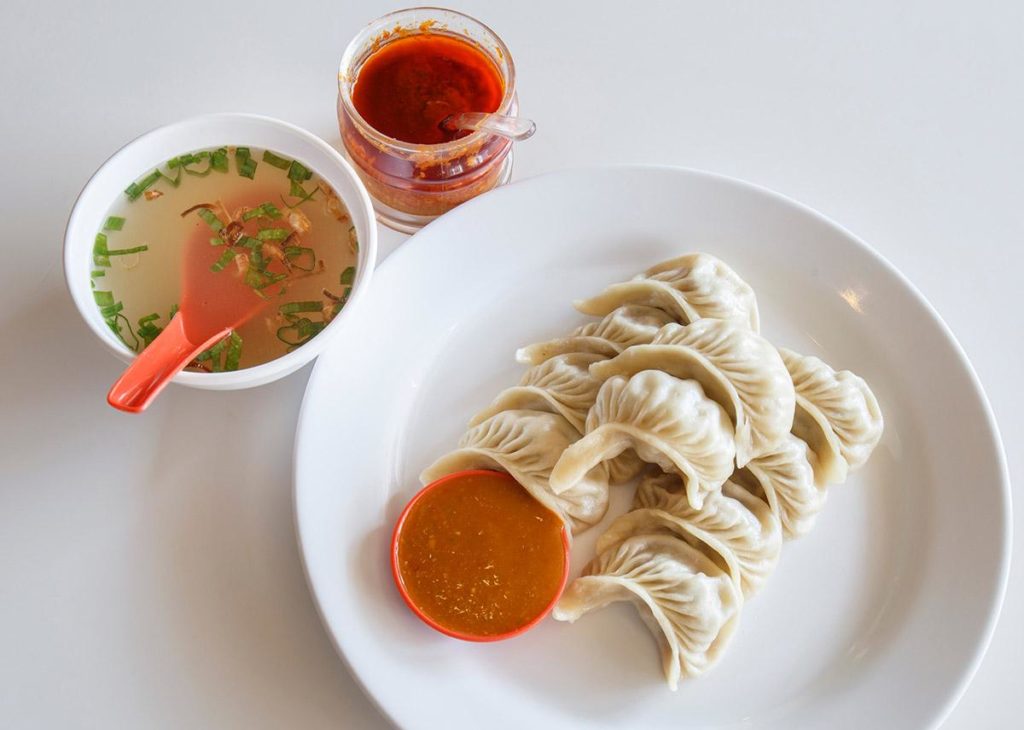 Basantapur, Jhamsikhel, Putalisadak, and New Baneshwor are some places in Kathmandu that have momo restaurants in abundance.
You can find Buff momo, chicken momo, pork momo, and veg momo, mostly on the menu of restaurants in different cities in Nepal.
These momos are further categorized according to serving styles such as Jhol momo, steam momo, c momo, open momo, Tandoori momo, Dhapu momo, and much more.
4) Bhaktapur – Curd (Juju Dhau)
Bhaktapur curd, also known as 'juju dhau' is a sweet yogurt, that is prepared by the locals manually. It is a delicious dessert in Newari culture. A Newari feast mandatorily ends with a scoop of yogurt.
The curd of Bhaktapur is especially popular among Nepalese. It is prepared in an earthen pot, and it is distributed in Kathmandu too. The curd made in Bhaktapur is available in Kathmandu but not in any shop.
The shops in Kathmandu that sell these curds particularly put a notice outside their shop so that people would know they are selling 'juju dhau'.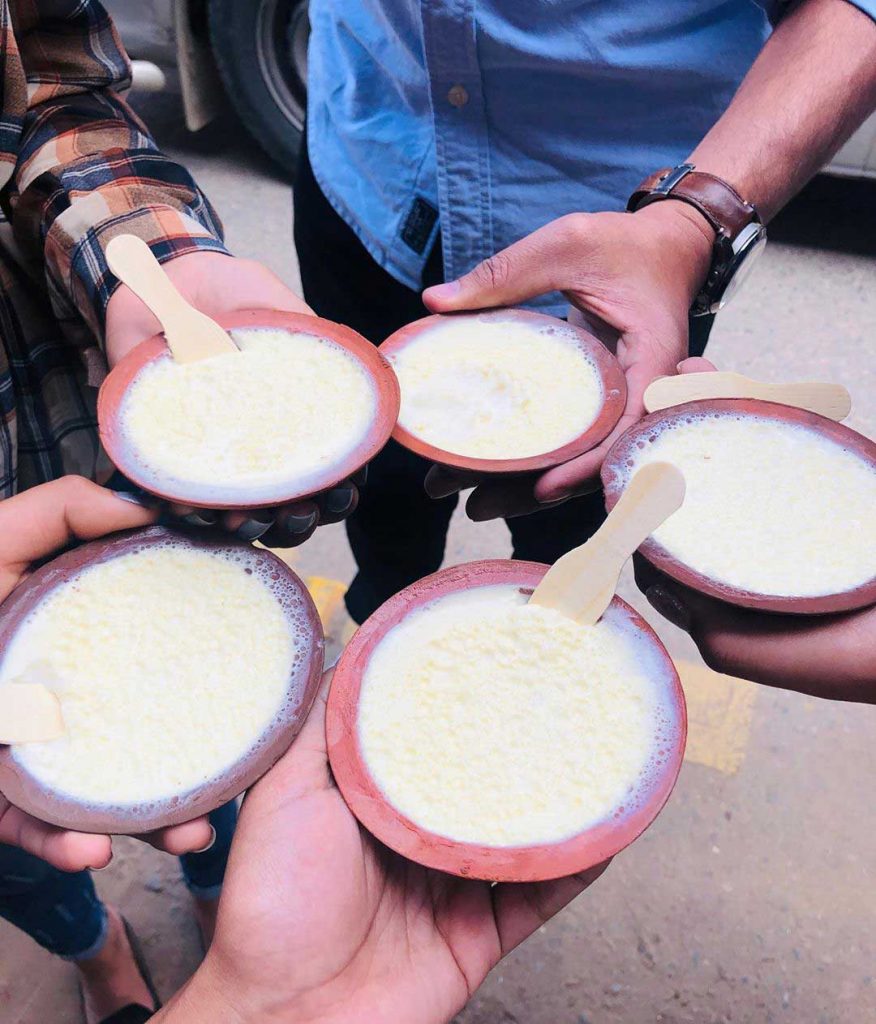 While in Bhaktapur, enjoy the curd during sightseeing. Explore the ancient temples and architecture of Bhaktapur that have Newari influence.
Bhaktapur Durbar Square is the main attraction there, which is a cultural heritage listed by UNESCO. There are several stalls around that sell curd. You don't have to search for it like in Kathmandu.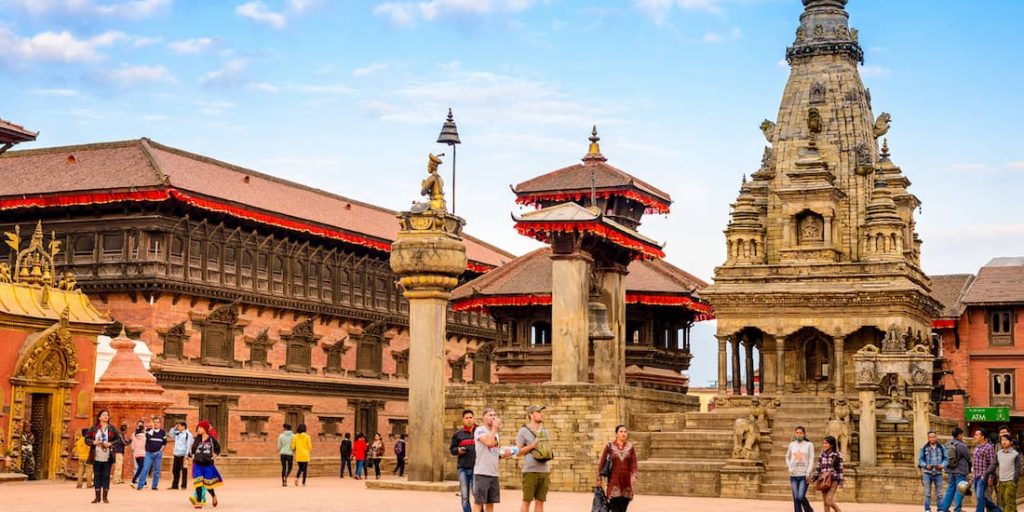 5) Kathmandu/Bhaktapur/Lalitpur – Newari Food
You are highly recommended to try Newari food when in Kathmandu. It is a compound dish of some distinct items such as chhoyela, baji, bara, aalutama, achaar, etc. that can be enjoyed either altogether or separately.
Each item has a separate fanbase, and when served on a single platter, it is called 'Newari Khaja' or 'Samai Baji'. It is a special dish of the Newar community that is prepared only on special occasions and festivals.
But now, we don't have to wait for special occasions to enjoy Newari food. It is easily available in different corners of cities.
Kathmandu, Lalitpur, and Bhaktapur are three old cities of Nepal where a thick settlement of Newar ethnic groups reside. There are numerous hotels in these places where you can find authentic Newari Khaja.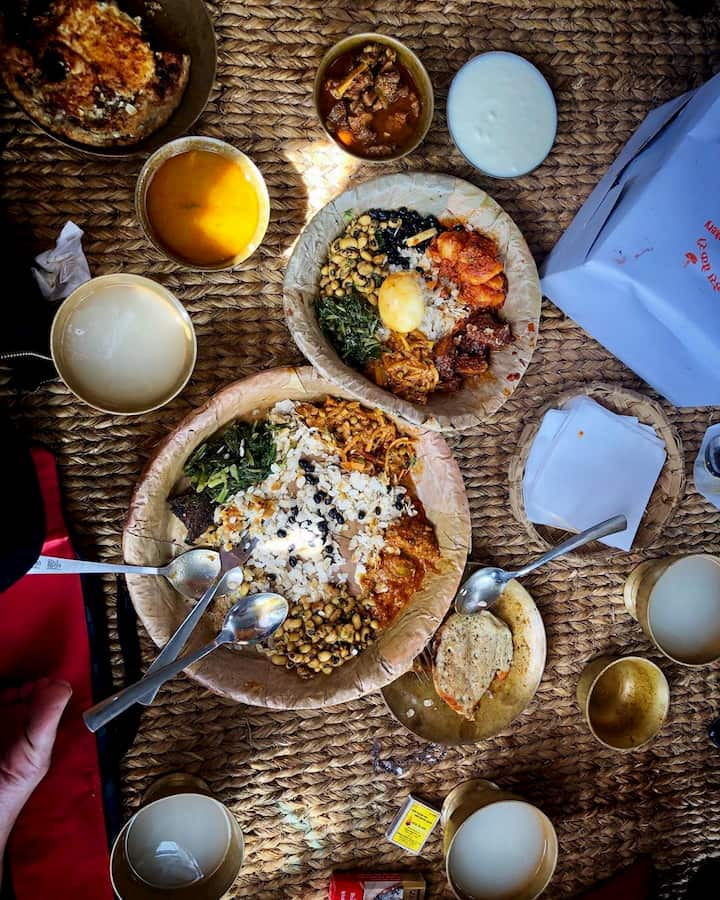 In Kathmandu, a popular place to find authentic Newari Khaja is at Kirtipur. A restaurant called 'Newa Lahana' serves Newari Khaja in a traditional Newari style. The lady staffs there wear Newari attire called 'Haku Patasi', and they serve you Newari Khaja in Lapte (Plate made of leaves). Customers enjoy the food in sukul (mat) and experience the Newari culture with a closer glimpse.
6) Basantapur/Kirtipur – Sekuwa and Sukuti
If you have a fetish for meat dishes, then you would probably love both sukuti and sekuwa. Sekuwa is a roasted piece of meat, also called barbeque, whereas sukuti is smoked dried meat.
Though both are meat items, they are prepared in a whole different way giving a distinct taste to the meat.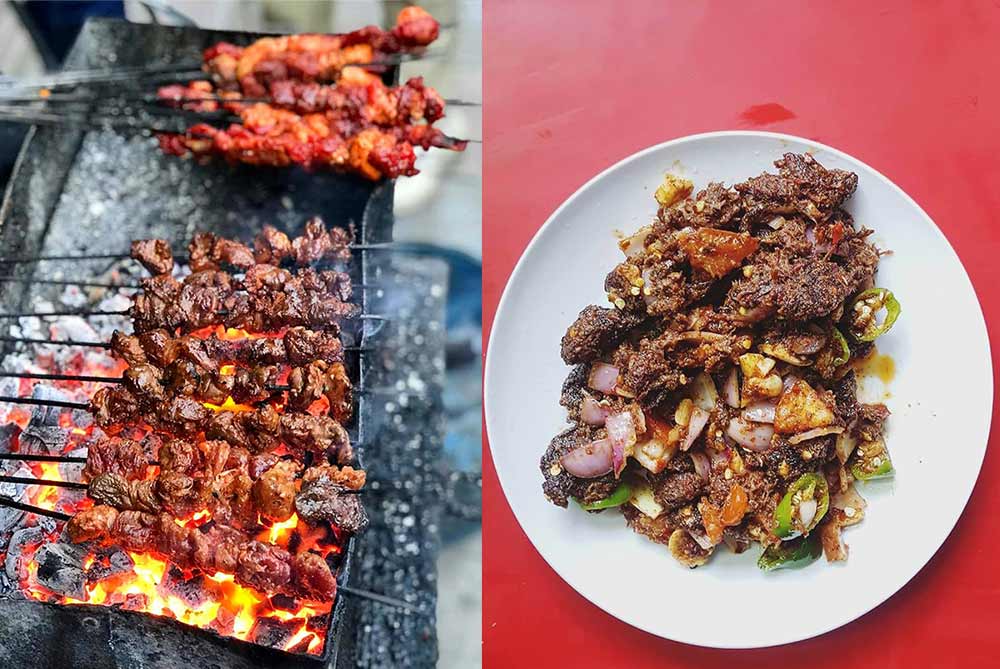 Some popular places to try sukuti and sekuwa in Kathmandu are Bajeko sekuwa, Newa Lahana, Basantapur, etc. Buff sukuti and sekuwa are more popular in Nepal.
7) Dolalghat/Markhu – Fish
Fish may not be everyone's cup of tea, but the fresh fish found in the serene rivers of Nepal tastes like heaven. Various places in Nepal are popular for fresh and delicious fish servings.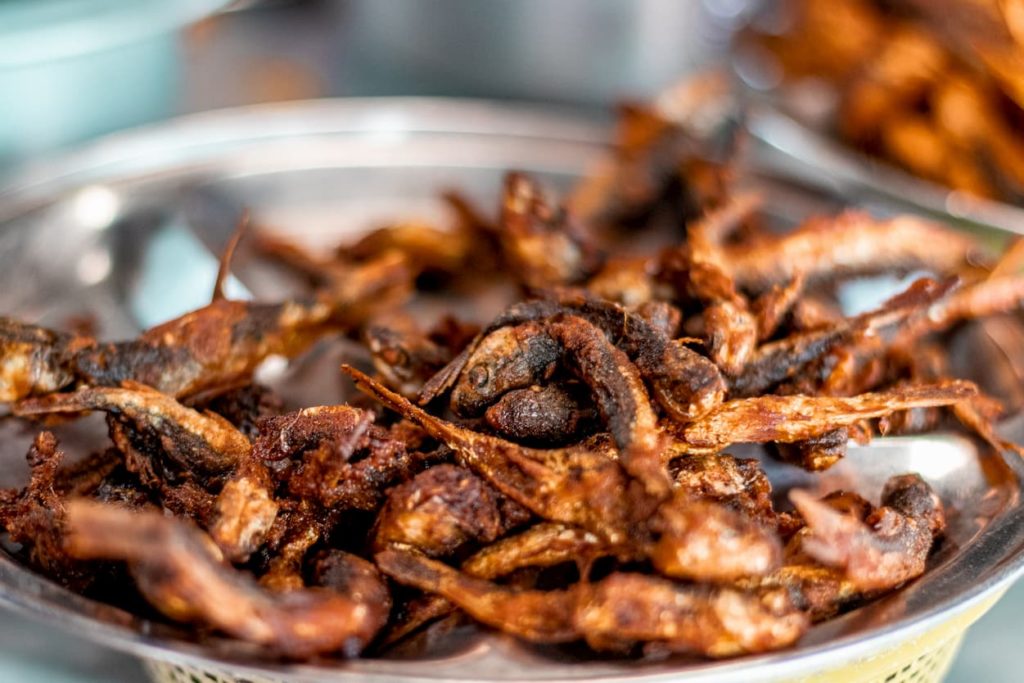 Markhu village near Kulekhani of Makwanpur district is a popular place among fish curry lovers. You can reach Markhu from Kathmandu within 2 hours. This place is suitable for spending 1-2 days on a short vacation. There is a huge Kulekhani dam, where you can enjoy boating. Across the Kulekhani dam are restaurants that serve mouth-watering fish cuisines.
Another destination to find restaurants that serve delicious fish curry is Dolalghat. Located in the Kavrepalanchowk district, Dolalghat is a common holiday destination among locals during the summer season, mainly to enjoy the coolness of the Sunkoshi River. The restaurants here sell fresh fish from the Sunkoshi River that is genuinely flavourful.
Begnas is yet another place that is blessed visually by mother nature. It lies on the way to Pokhara in the Kaski district. You must experience boating in Begnas Lake. Witness the Himalayan ranges in the vicinity and the heavenly atmosphere while boating. Thereafter, try the fish barbeque in Begnas. You can spend a short vacation of 1-2 days at Begnas, which is not more than 2 hours of drive from Kathmandu.
8) Jiri – Yak Cheese
If you're fond of cheese, then you should visit Jiri to taste pure cheese made up of yak milk. Jiri used to be a destination among trekkers during the Everest Base Camp trek, but with alteration in the trekking route to Everest Base Camp, there is less crowd in Jiri.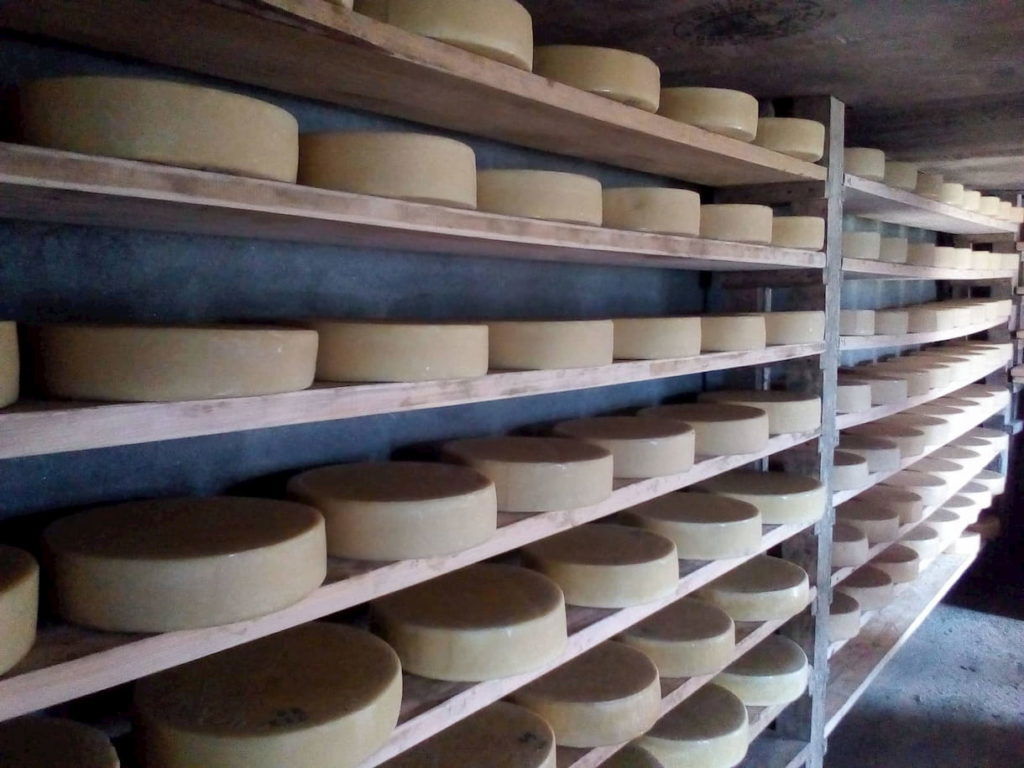 Jiri, a stunning location surrounded by the Himalayas in the Dolakha district, is one of the best holiday destinations to enjoy hiking and sightseeing. You can hike up to a Chordung cheese factory on the top of a hill from where you can observe the entire landscape of Jiri. The hiking route is filled with the charm of rhododendrons of different colors.
The yak cheese of Jiri is so delicious that you would crave more. You can buy as much cheese as you want and also try chhurpi. Chhurpi is also a dairy product prepared from Yak milk. Cheese is a soft loaf, whereas chhurpi is a solid loaf.
9) Kirtipur – Chhang
Chhang is a homemade alcoholic beverage of Newari culture. It is a part of Newari Khaja, so it is served with the Newari Khaja.
It has a sweet yet tangy taste that is prepared from fermented rice. It is not manufactured on a large scale but is prepared in huge jars in Newari restaurants.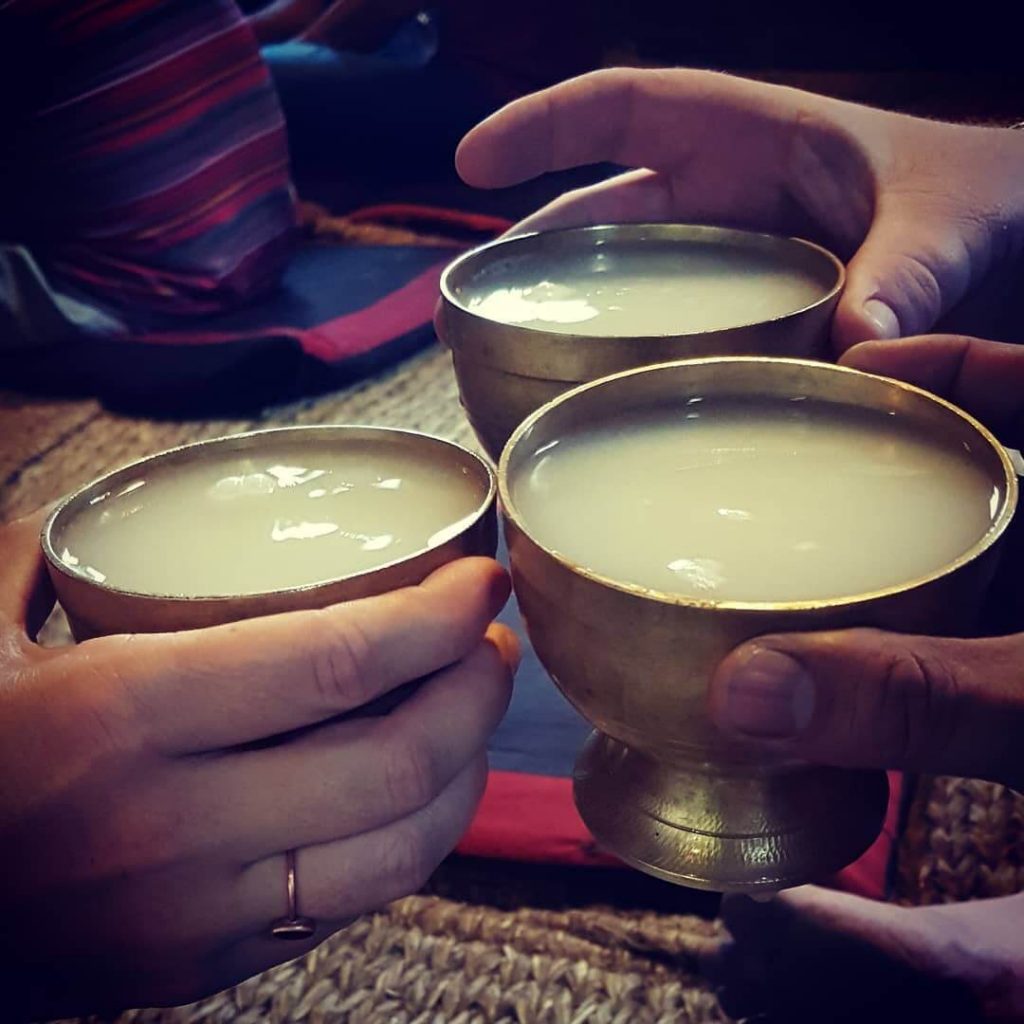 You can try authentic Chhang at Newa Lahana Restaurant and SASA Restaurant of Kirtipur. These restaurants serve authentic Newari food and beverage.
Similarly, there are a few small Newari restaurants in Jhochhe if you do not want to travel to Kirtipur, but you won't experience the Newari culture like in Kirtipur there.
10) Taplejung – Tongba
Tongba is a Tibetan beverage that is served hot. It keeps your body warm at a lower temperature, so it is best preferred during winter. Fermented millet is served in a distinct large jug.
Hot water is provided separately. We pour hot water inside the large jug and sip the beverage from a straw. You can keep on adding hot water until the flavor of the millet disappears.
Trekkers usually enjoy Tongba on their way down from the trekking trail to celebrate the completion of their trek. Tongba has health benefits too. It will release fatigue and exhaustion from your body after the long and tiring trek.
Though it is an alcoholic drink, it does not have an impact like other alcohols. It is delicious and healthy. You can try Tongba during the Kalinchowk trek, Makalu Base Camp trek, Classic Jiri Everest Base Camp Trek, etc. but Taplejung, the eastern part of Nepal is a famous place to try Tongba.
11) Kakani/Jhapa – Strawberry
Nepal is one of the largest producers of strawberries. The tasty and organic strawberry is what you need to try while in Nepal. Strawberries are harvested on a large scale in places like Kakani and Jhapa.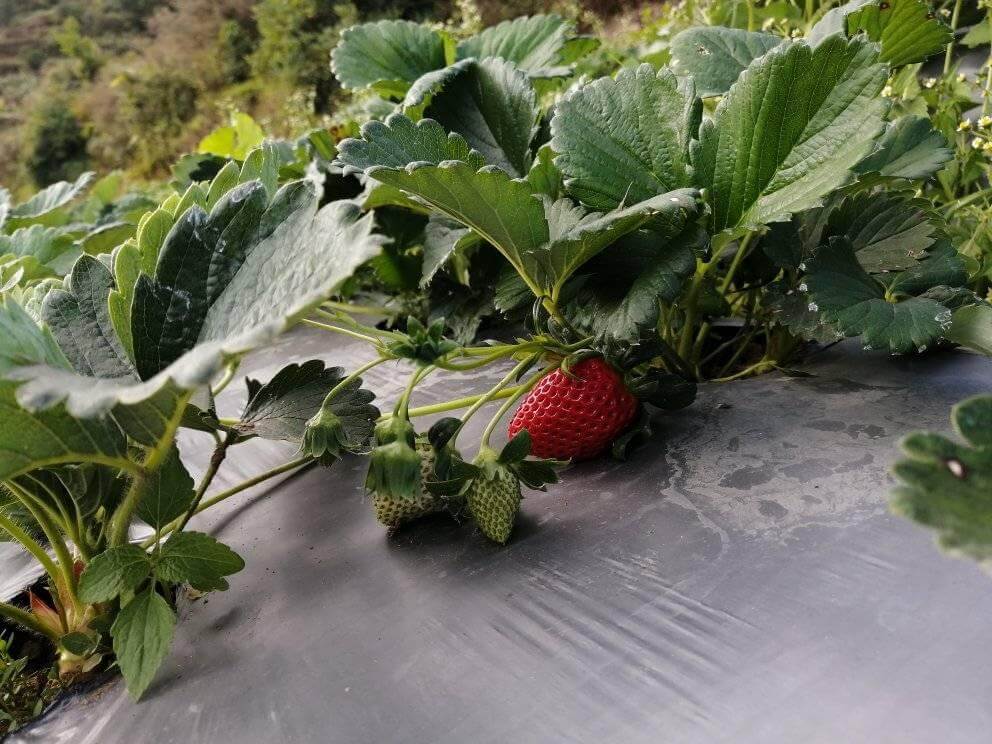 Kakani, located in the Nuwakot district, is also a holiday destination to spend a short vacation. Kakani day tour is suitable for Himalayas sightseeing and short hiking experience through dense rhododendron forest. Observe the strawberry farm of Kakani and explore how local people harvest strawberries on a large scale.
Similarly, strawberry cultivation is one of the sources of income for people in Jhapa. Jhapa district of the Terai region is slowly gaining tourist attraction due to its unspoiled beautiful landscape. When travelers visit Jhapa, they are awestruck by the unique way of strawberry farming.
Indigenous communities of Jhapa are indulged in strawberry farming. They are utilizing the lowlands to harvest strawberries. They don't use advanced technologies to cultivate strawberries, instead, they use traditional methods. You should taste the delicious and organic strawberries of Jhapa and also explore strawberry farming during your visit.
12) Boudha – Laphing
On a Kathmandu tour, Boudha is a must-visit place where you get to explore Buddhism with a closer glimpse. The huge white stupa with Buddha's eyes resides in the middle of Boudha where Buddhist pilgrims rotate the stupa murmuring prayers. The giant stupa is surrounded by several shops and stalls that sell a variety of stuff and foods.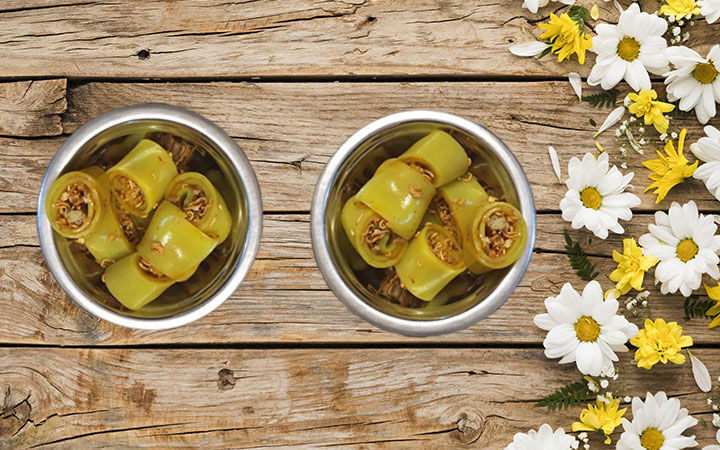 One of the significant foods that Boudha is famous for is a Tibetan street food called Laphing. Boudha is a hub for Laphing lovers where Laphing is served with varieties of ingredients.
Laphing is a slippery noodle drenched in cold soy sauce, garlic water, chilies, and other added flavors. You can order Laphing as per your choice of ingredients such as peanuts, dry Nepali noodles, potato chips, etc. You can also determine the spice as people usually love to eat it really spicy.
13) Dakshinkali/Hetauda – Khuwa
Khuwa is a Nepali item made up of milk and sugar. It is sweet in taste but not found conveniently. Some sweet shops in the city area sell Khuwa, but the Khuwa of Dakshinkali and Hetauda is considered authentic. People do not return from Dakshinkali or Hetauda without purchasing or trying Khuwa.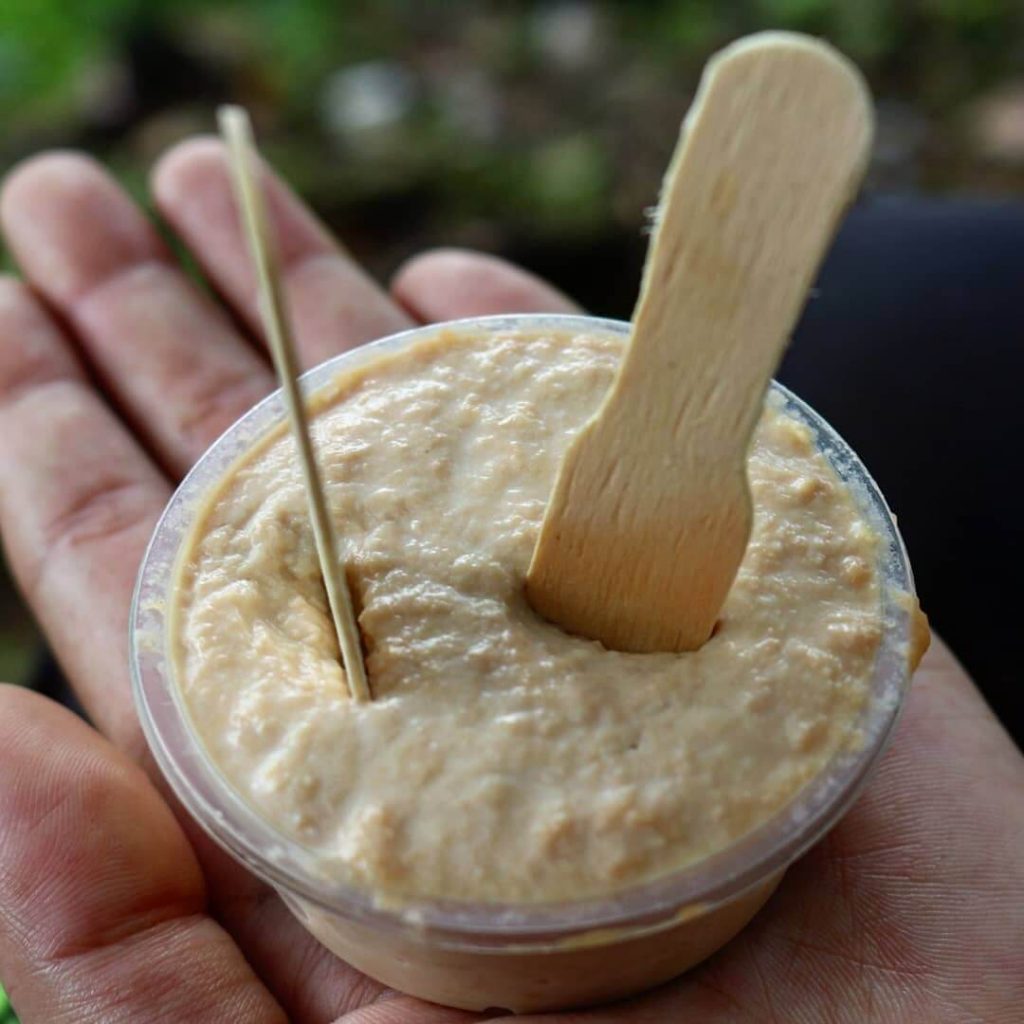 Dakshinkali is a sacred goddess worshipped by Hindu pilgrims. Dakshinkali is reachable within 45 minutes from Kathmandu. You can find a few people selling Khuwa on the way to Dakshinkali. You can buy it in kgs.
Besides Dakshinkali, Hetauda is also known for its delicious Khuwa. Hetauda is a beautiful city in the Makwanpur district, which is reachable within 3 hours. Khuwa is prepared by boiling milk and sugar for a long time until the consistency is thick and is left to rest in a cool place. Do not miss to taste them and tell us if you liked them or not.
14) Butwal – Fulki
A beautiful city lies across the Prithvi Highway named Butwal. Butwal is quite famous for Fulki. Fulki is a popular street delicacy of western Nepal, which is also called Tato panipuri.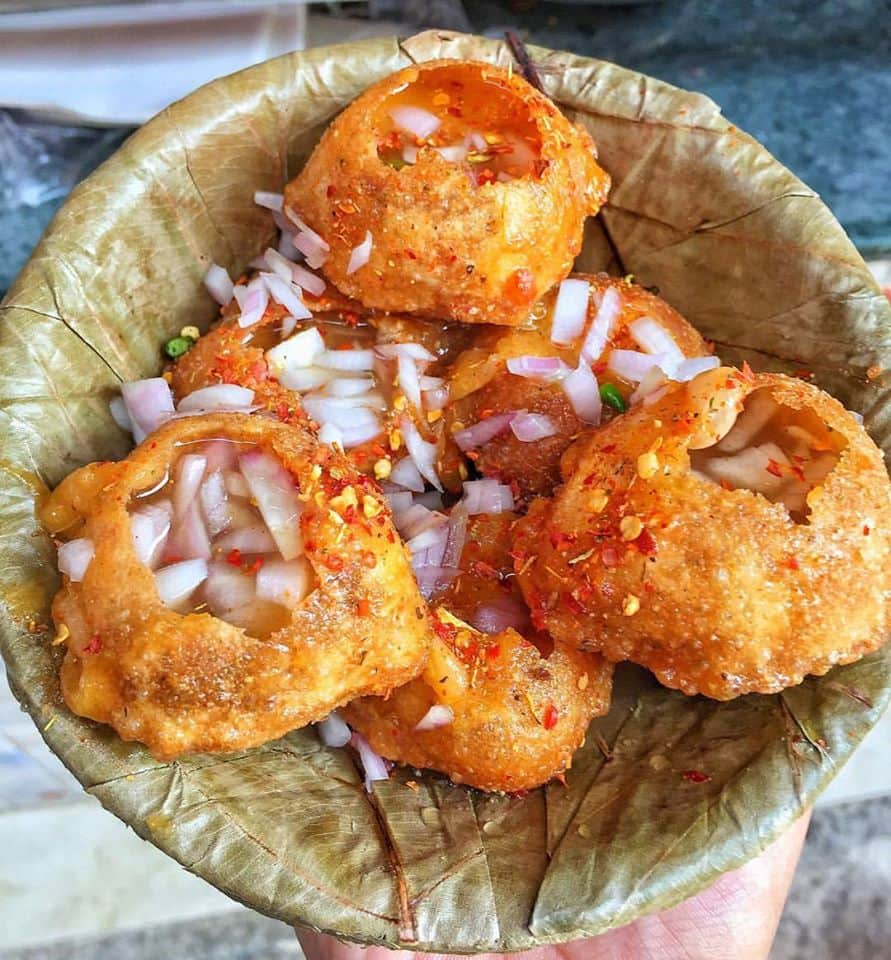 Fulki has a spicy and tangy taste due to the different ingredients and spices used to prepare it. It is the same recipe as the panipuri but with a twist. Revealing the twist will spoil the excitement. You should try the fulki of Butwal to find out why it is one of the beloved street food of Nepal.
15) Bhairahawa/Barmajhiya – Peda
Peda is a traditional sweet that is easily available in sweet shops, but the taste varies with the shop. If you want to taste the most delicious peda ever, then you should try the peda of Bhairahawa and Barmajhiya.
Though these places are located at two opposite poles from Kathmandu but share the same love for sweets.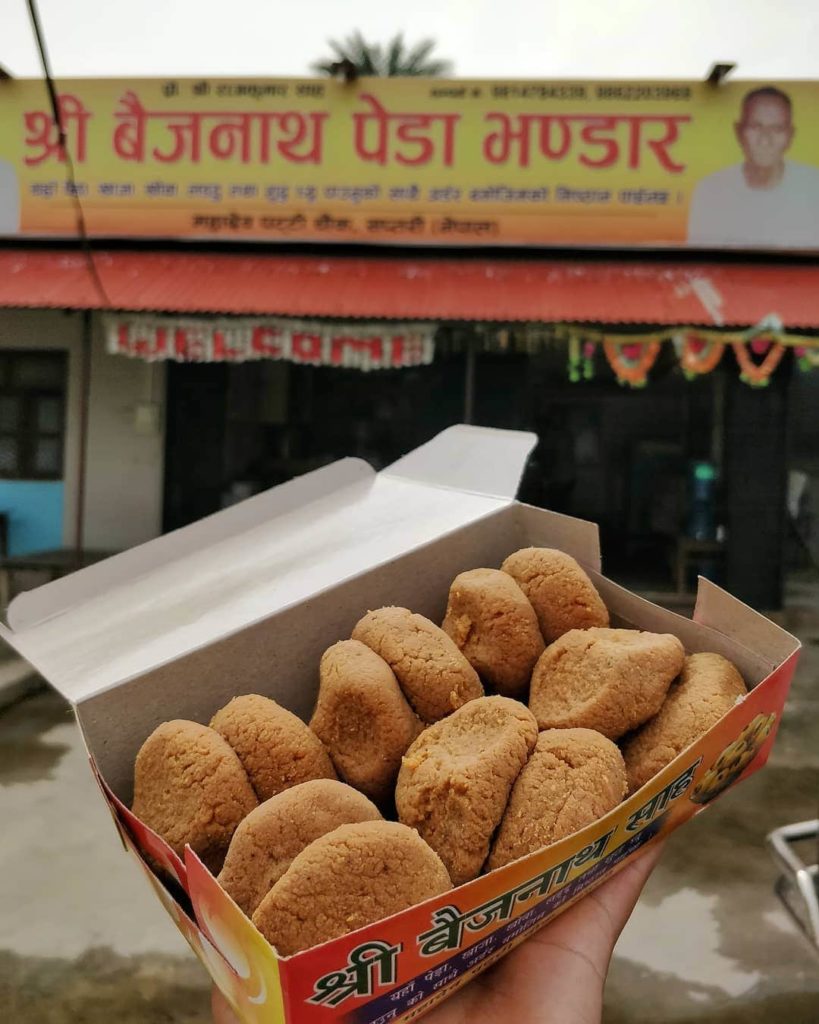 Pawan Misthan Bhandar is a vegetarian restaurant in Bhairahawa that is quite popular for the peda they sell. People purchase kilos of pedas when they are in Bhairahawa as the peda here is unique in taste.
Similarly, the Barmajhiya of the Saptari district is a small town famous for peda. There is a two-decades-old sweet shop that sells authentic peda.
These mouth-watering pedas are slightly bigger in size than the usual peda and have a sweet taste. People with a sweet tooth would definitely love the pedas of Bhairahawa and Barmajhiya.
16) Solukhumbu – Sherpa Stew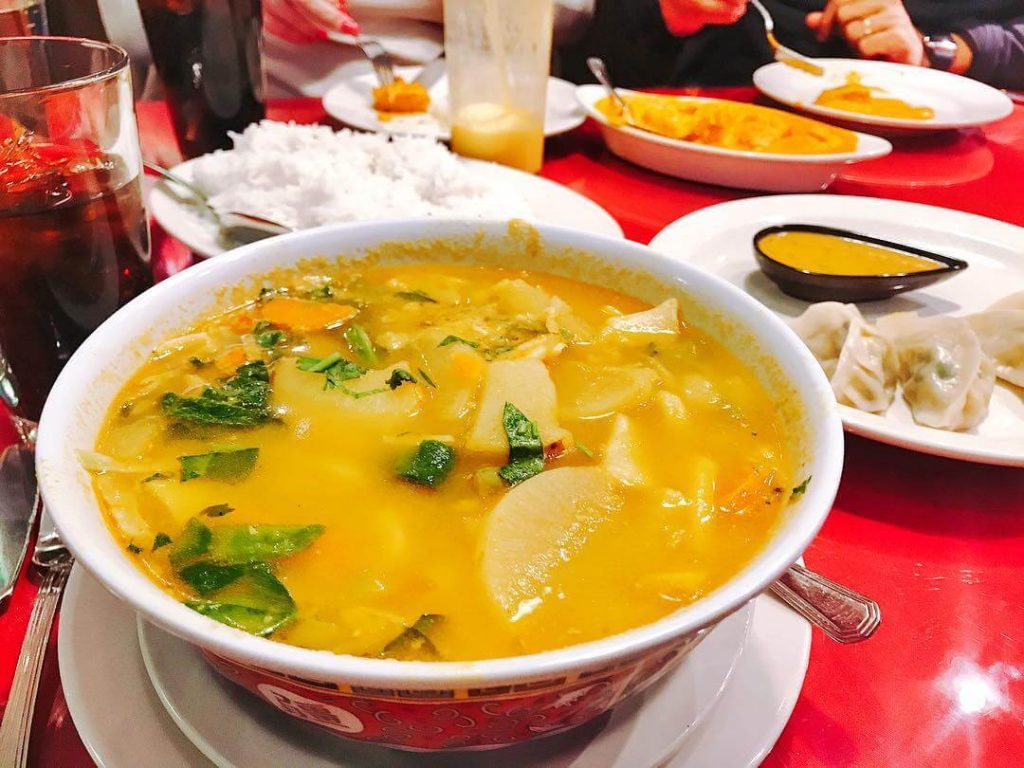 Another ethnic dish with a strong taste is Sherpa stew. It is a traditional dish of the Sherpa community. This ethnic food of the Sherpa people will be amazing to try in the Himalayan region where it's cold.
Sherpa stew is a hot soup that warms our bodies during low temperatures and keeps us healthy. Try the Sherpa stew of Solukhumbu district, which lies the popular Everest Base Camp Trek. There is a thick settlement of Sherpa people in Solukhumbu.
There are several restaurants run by Sherpas that sell authentic Sherpa stew. They put some distinct ingredients in the soup that have been passed down from generation to generation. Also, try Rildok of Solukhumbu. It is mashed potato soup. They prepare food on a wooden fire. It would be a great opportunity to explore the Sherpa lifestyle too.
17) Maitidevi/Naxal – Chicken Biryani
Nepali people's undying love for chicken is not a new thing. They love chicken dishes, and Chicken Biryani is one of their favorite chicken cuisines.
Chicken Biryani is an Indian dish, which is a mixture of rice, chicken, and some enriching spices. The chicken Biryani of Bamboo Biryani stands out from the crowd of several chicken Biryani restaurants. It is a restaurant in Maitidevi, Kathmandu.
The restaurants have a unique structure made up of Bamboo. The place has a calm ambiance perfect for families and friends to enjoy Biryani. Here, the chicken Biryani is prepared in Bamboo, so the taste of the Biryani is amazingly different.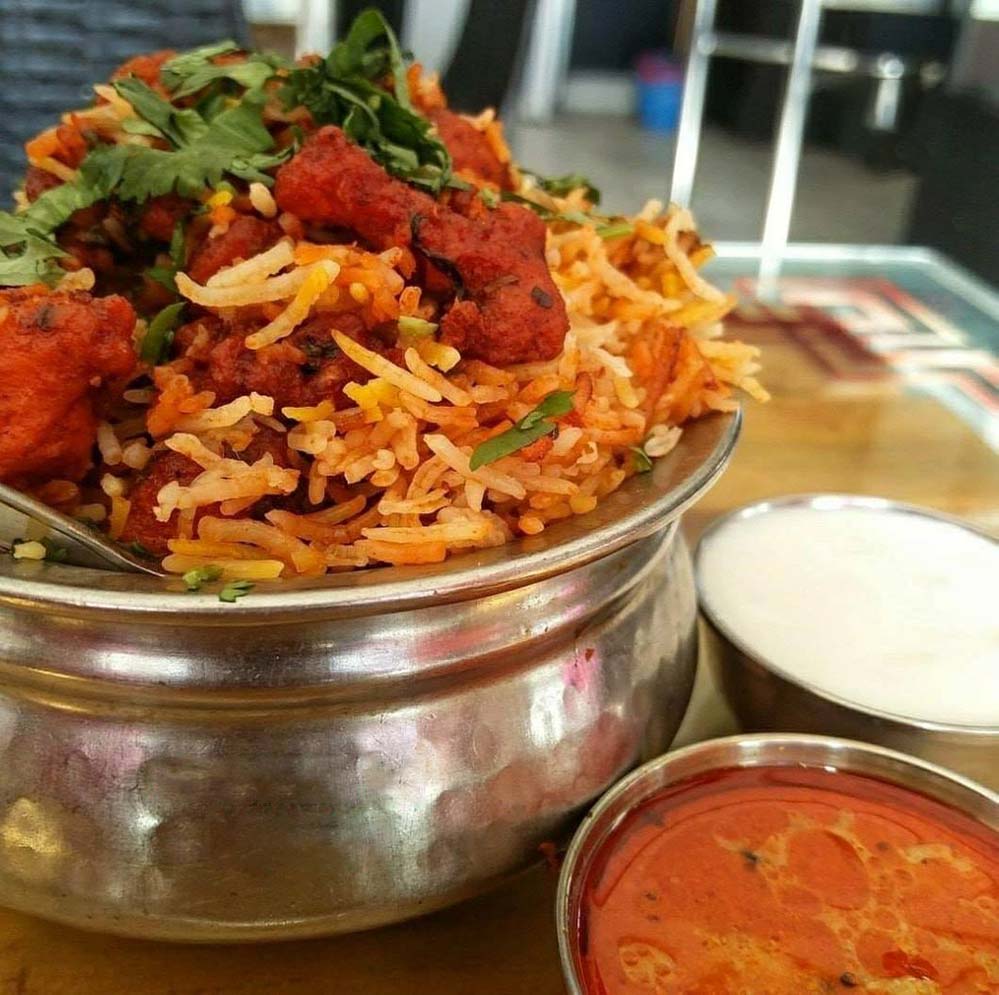 Try the Chicken Bhindaloo. It is spicy chicken pieces with some unique flavorsome spices. Moreover, you can try biryani in Hyderabad House located at Naxal, Jhamsikhel. It is one of the oldest and best biryani houses. Also, try Haadi Biryani too located at Dillibazzar.
18) Mustang – Thakali Food
Thakali food is similar to Newari Khaja and Dal Bhat. Thakali dish is the ethnic cuisine of the Thakali ethnic group. Try the Thakali food, also called Thakali Khana, from the kitchen of Thakali people to experience authenticity.
You are highly recommended to try the Thakali food in Mustang. Mustang is a popular trekking destination in Nepal that lies on the bucket list of almost all avid Nepalese adventure lovers.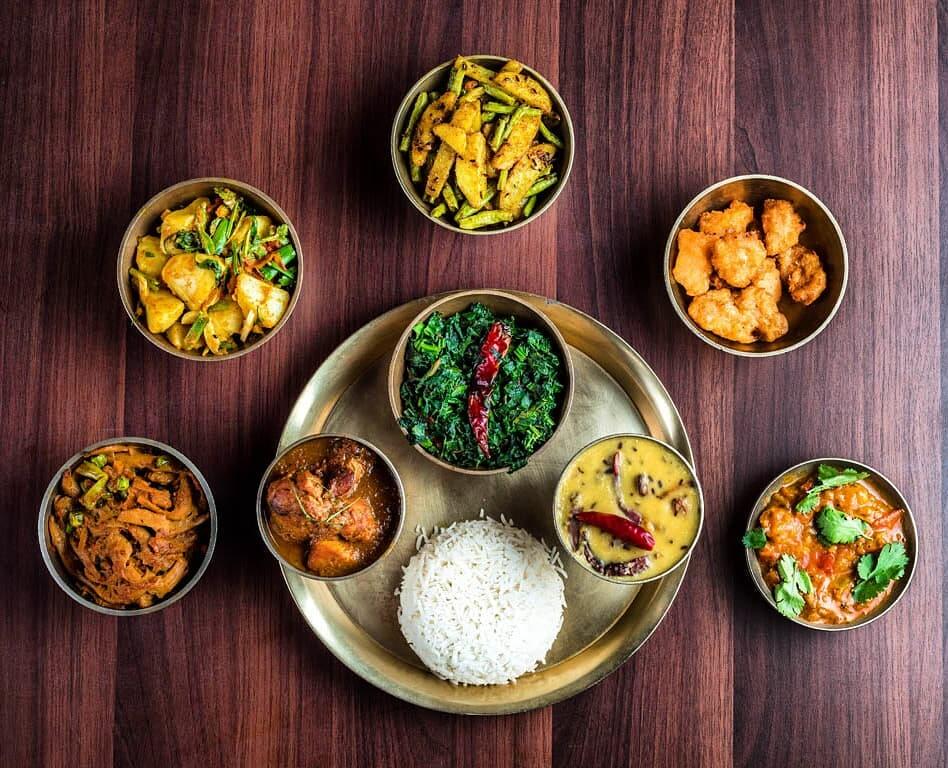 The adventurous off-road to Mustang and the spectacular Himalayan view make the Mustang trip worth memorable. The Thakali food of Mustang is also worth trying. One plate of Thakali Khana is enough to fulfill your appetite and energizes you for further adventure.
19) Pokhara/Everest Region – Thukppa
Thukpa is a hot soup of noodles suitable to enjoy during winter. It is a Tibetan dish and is present on the menu in restaurants of high-altitude trekking destinations such as Everest Base Camp Trek, Annapurna Circuit Trek, Manaslu Circuit Trek, and many more.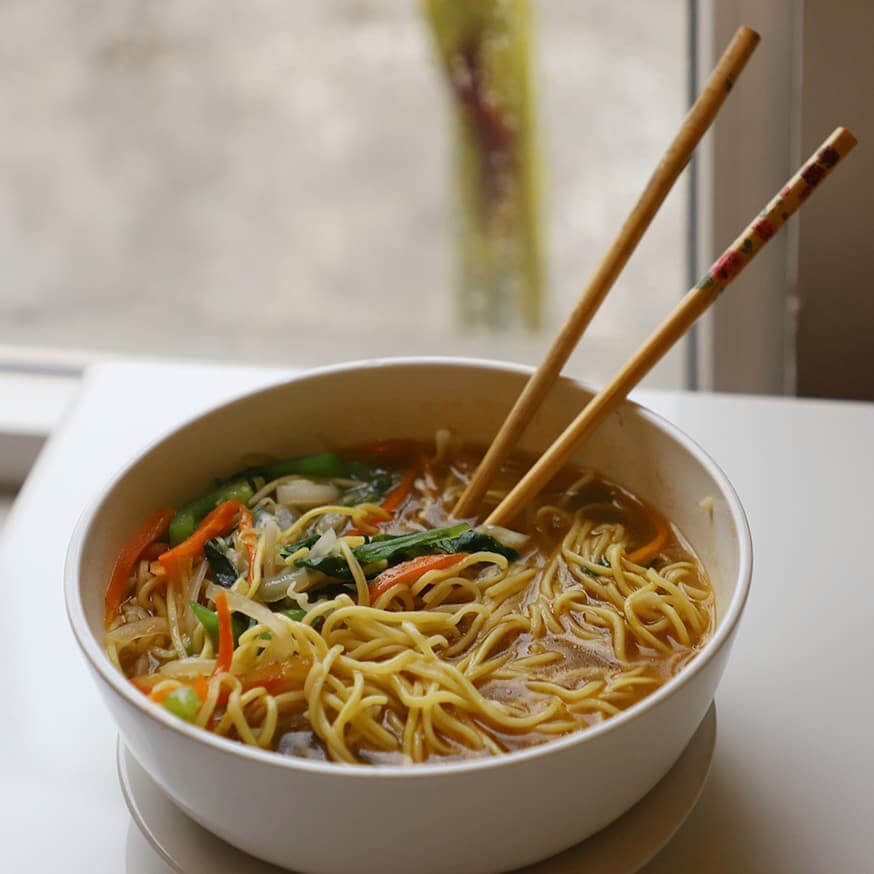 It is served in a large bowl with various vegetables and meat mixed in it. It fights the cold and keeps our body warm during low temperatures in the Himalayan region.
20) Langtang Valley – Porridge
Langtang Valley Trek is one of the most adventurous and exciting trekking in Nepal. The food served in Langtang Valley Trek is equally exciting. The Porridge is available with various items there.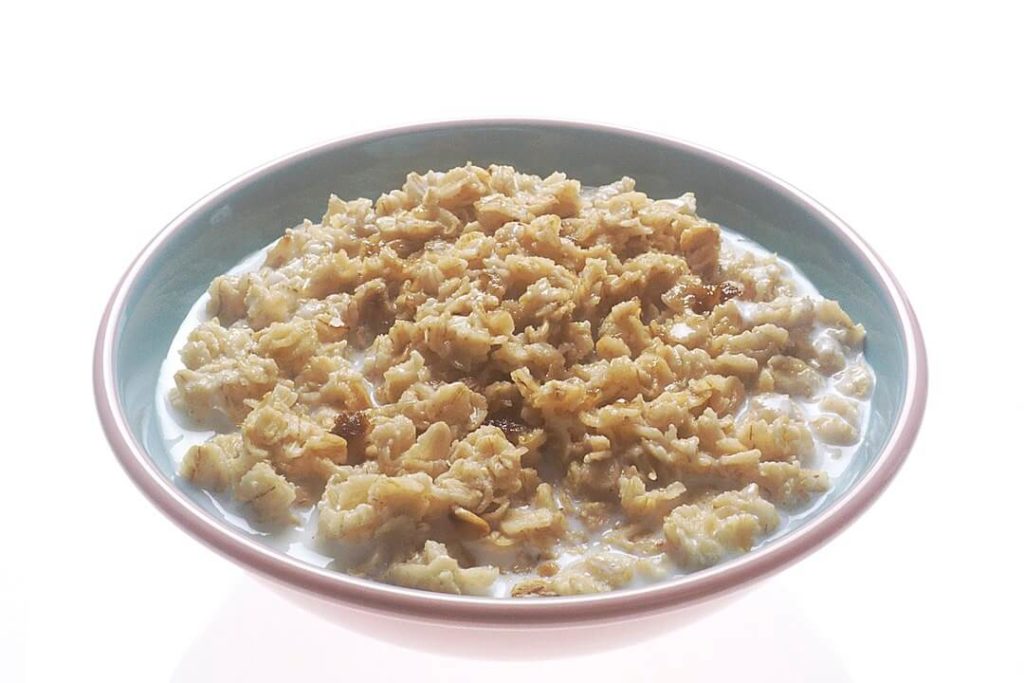 Try various Porridges such as Apple Porridge, Oat Porridge, Tsampa Porridge, Honey porridge, and Cinnamon Porridge. The Porridge is thick and warm, so it keeps us full for a long time.
21) Mustang– Apple
Jomsom, a popular destination for trekking in the Mustang Region is famous for the apples it produces. Jomsom produces some exotic and juicy apples on a large scale. The major source of income for people in Jomsom is apple production. Most people harvest apples and make apple wine. These apple wines are exported to various countries too.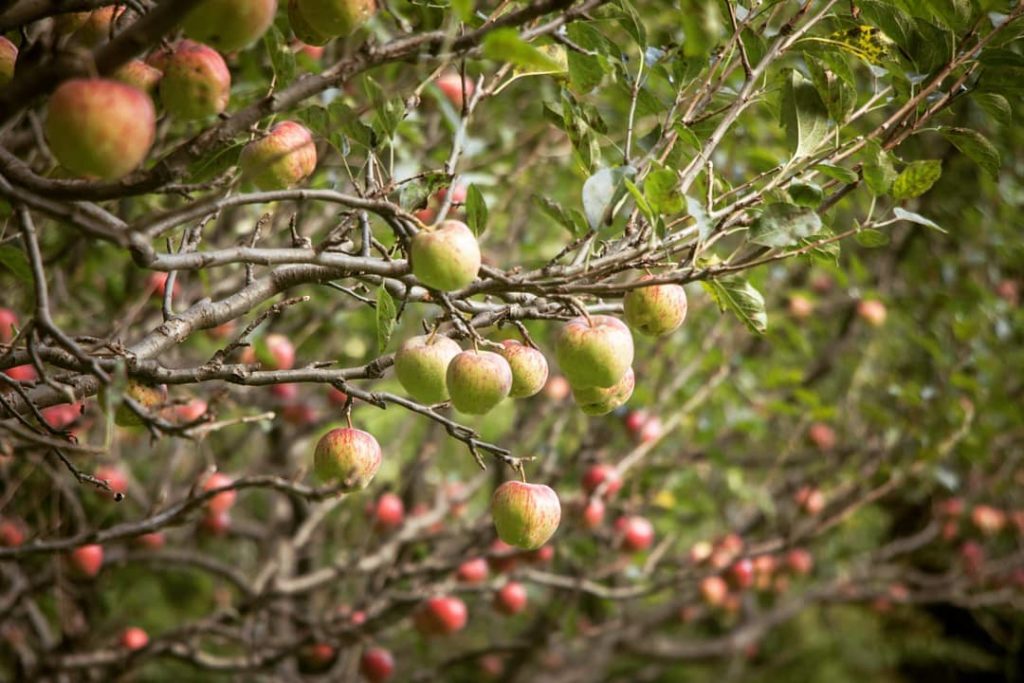 Try the delicious apple of Jomsom directly from the apple farm and fresh apple wine from the barrel. Once you taste the apple wine of Jomsom, you will not settle for any other wine after that.
22) Manang – Khoo
Try the delightful Khoo of the Manang region. Trekkers prefer Khoo during Annapurna Circuit Trek to experience something unique and different. It is the authentic soup of Manang made up of rice and potato. It is a thick broth with a strong flavor of garlic.
23) Dharan – Pork Thukpa
Dharane pork Thukpa is a pork broth in a Dharane style. Found in several restaurants in Dharan, Dharane pork Thukpa is a blend of Tibetan and Nepali cultures. Dharan is located in the Sunsari district, which is a scenic town across the Sapta Koshi River.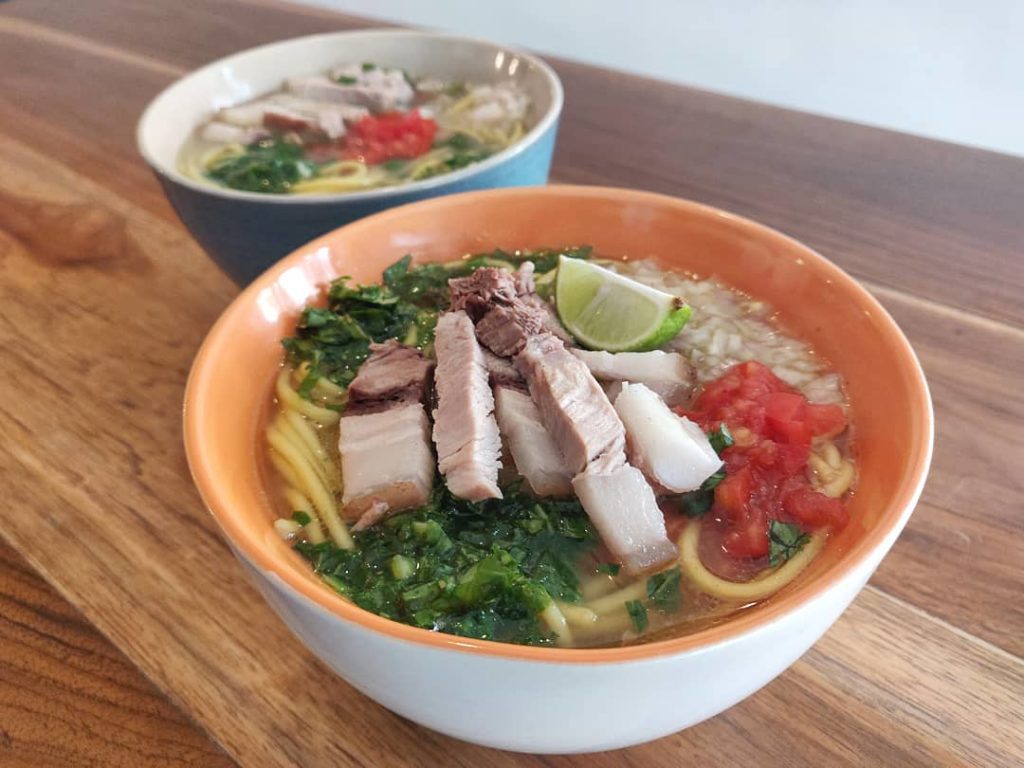 Explore Eastern Nepal by visiting Dharan, and do not forget to try the flavorsome Dharane pork Thukpa as you delve into the natural beauty of Dharan.
24) Dhankuta – Avocado
Avocado is gaining popularity as a fruit with many health benefits. As the demand for avocados increased, the production of avocados increased in Dhankuta, and now Dhankuta is called the 'Avocado Capital'.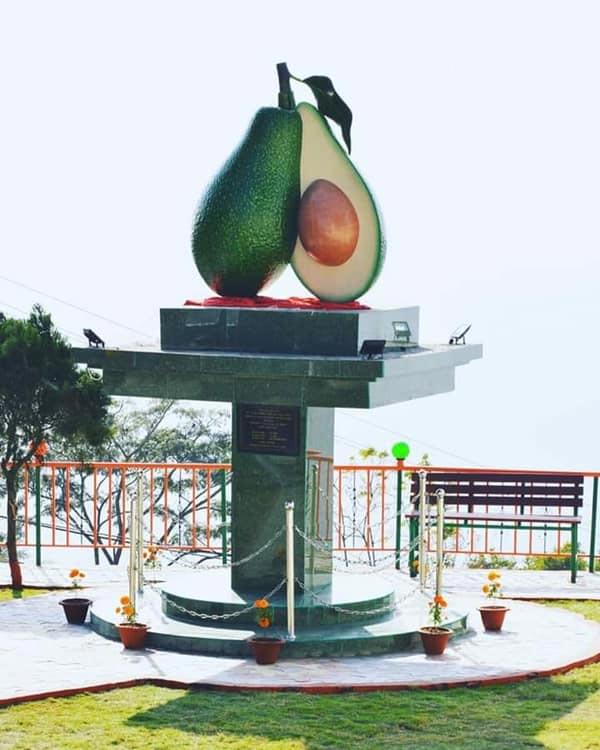 Previously known for Orange farming, Dhankuta is known to produce various fruits on a large scale such as orange, avocado, and dragon fruit. Dhankuta is popular among travelers as they prefer to visit Dhankuta to spend short vacations. Try fresh and organic Avocado from Dhankuta and stay fit.
25) Chitwan – Tass
Chitwan is best known for exploring wildlife in Chitwan National Park. What many people don't know is about the delicious Tass of Chitwan.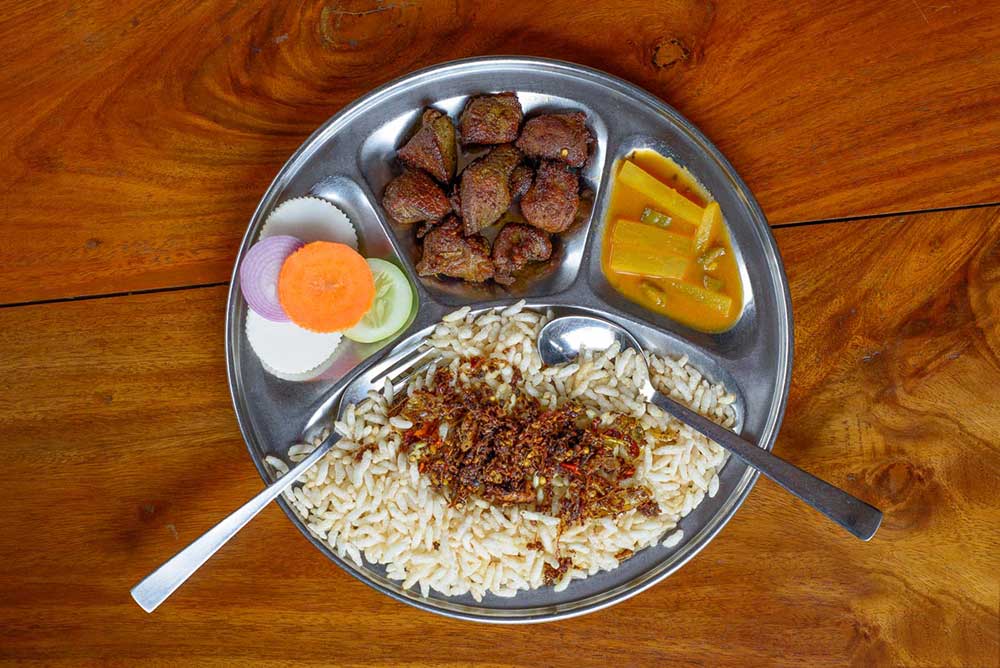 Tass is cooked mutton meat. Mutton pieces are first marinated with a number of traditional spices and then fried in oil.
Bhetghat Restaurant is best for tass and also there are various restaurants in Sauraha where you can enjoy Tass. Tass is best suited with some alcoholic beverages. You can try the Nepali local beverage Aila with Tass.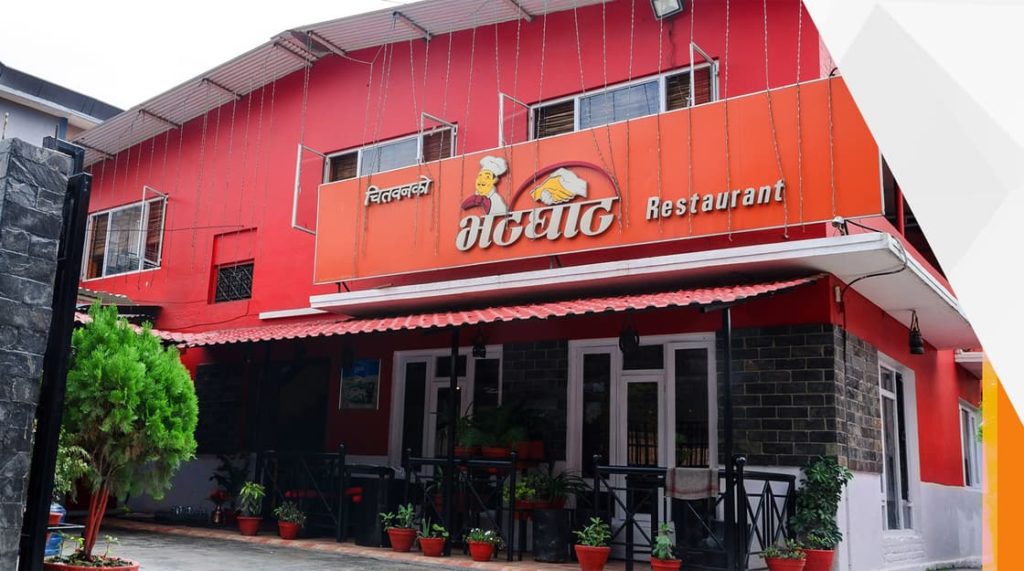 Frequently Asked Questions
Which is the best street food place in Nepal?
Kathmandu is the best street food place in Nepal. You can find each cuisine that comes from different corners of Nepal in Kathmandu.
What is the most famous food in Nepal?
Dal Bhat is the most famous food in Nepal. Dal Bhat is the daily meal of Nepalese people. For lunch, momo is the most preferred dish. Apart from Dal Bhat, people visit different places and restaurants to try Newari Khaja, Momo, and street food on weekends. 
What is the famous food in Kathmandu?
Momo is a famous food in Kathmandu. You can find several momo hubs in Kathmandu that have franchises in different parts of Kathmandu. Momo restaurants like Narayan Dai ko momo pasal, Bota Momo, and Dalle Momo have restaurant branches at various places in Kathmandu.
Which food is Bhaktapur famous for?
Bhaktapur is famous for Newari cuisines and especially for King Curd. Several traditional restaurants in Bhaktapur serve delicious Newari Khaja and Juju Dhau.
How much does food cost in Nepal?
Food in Nepal is inexpensive compared to continental foods. The restaurants in Nepal are packet-friendly. NRs. 300-500 is enough to eat as much as you want in a restaurant. Street foods are even cheaper. NRs. 100-200 is enough to fulfill your appetite with street food. The price of the meal at trekking destinations in remote areas is a bit expensive compared to cities.
Is beef eaten in Nepal?
No, Nepalese do not eat beef, but they do eat buff (buffalo meat). Cow is the national animal of Nepal and is also considered to be an avatar of God. Nepalese worship cows during the Tihar festival. So, you cannot find beef dishes in Nepal.
Conclusion
Nepal is heaven for food lovers. The spices and various ingredients that Nepalese use to upgrade a dish is what make it different from other countries.
Nepalese foods are rich in flavor and authentic. The Nepali culture and their fondness for festivals have given ample space to preserve traditional cultural food to date.
Visit these top 25 best food places in Nepal and experience the authenticity of food on a whole new level.
Love this Post? Pin It