Manaslu Circuit Trek is categorized as one of the most amazing remote area treks in Nepal. Embark into an adventurous trek to the lap of mountain Manaslu, also known as the mountain of the spirit.
Regarded as World's eighth highest mountain, standing high at a height of 8,163m, the hypnotic view of mount Manaslu has been alluring avid trekkers and the number increases every year.
Manaslu region is a beautiful location with a spectacular landscape and diverse geography. Trekkers are struck by the captivating scenario of the trekking trail which is surrounded by mesmerizing snow-capped mountains from all directions.
The trekking trail of Manaslu circuit encompasses some naturally enriched forest, gorges, rivers, waterfalls, flora, and fauna.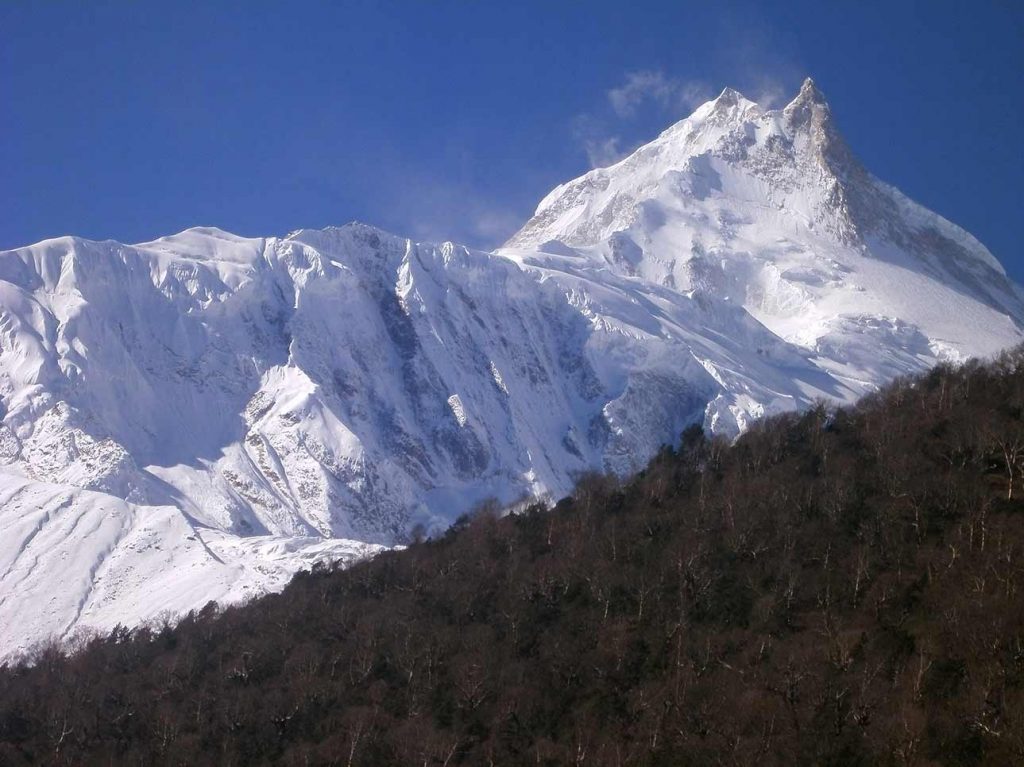 Manaslu circuit trek is the blend of both adventure and solace that's why it has become one of the favorite trekking destinations for trekkers in Nepal. This trek is suitable for those trekkers who want to take the adventure to the next level.
The spiral trekking route of Manaslu circuit takes around 16-22 days to complete if you stick to the itinerary. To complete the trek in time, the trek that demands tough physical fitness.
Manaslu circuit trek is slowly grabbing trekkers' attention due to its unmatched beauty and the serenity it offers. Located in Manaslu region Tibetan influence blend of both Nepalese and Tibetan culture.
Manaslu Circuit Trek Highlights
Spectacular view of the world's eighth highest mountain Manaslu
Exploring the unique lifestyle of people of Manaslu region
Trekking through dramatic Larkya La Pass (5,106m)
Experience the blend of Nepalese and Tibetan culture
Manaslu Trekking Overview
The challenging trekking trail of the trek takes you to the maximum height of 5,106 m. Manaslu circuit trekking package is designed in such a way that the trek can be completed in around 16-22 days. Gaining popularity as one of the best trekking destinations in Nepal, this rural area trek is challenging yet exhilarating.
| | |
| --- | --- |
| Max Elevation | Larkya La Pass (5,106m) |
| Difficulty Level | High |
| Days | 16-22 |
| Best Season | March – May & September – December |
| Transportation | Local Bus/Private Jeep |
| Permits | ACAP, MCAP, and RAP |
| Group Size | Minimum 2 Person |
How to Get There?
Kathmandu is the main point for the entry and your journey starts the capital city. There are two options to start a Manaslu Circuit Trek. One is by private jeep and the other one is by Public Bus but it is not possible to start the trek by foot.
Private Jeep
If you want to begin the trek to be smooth and friendly then reserving private Jeep is the best way. You will get 4wd jeep which is designed for an off-road drive. Your journey starts Kathmandu to Dhading Besi and from Dhading Besi to Sotikhola.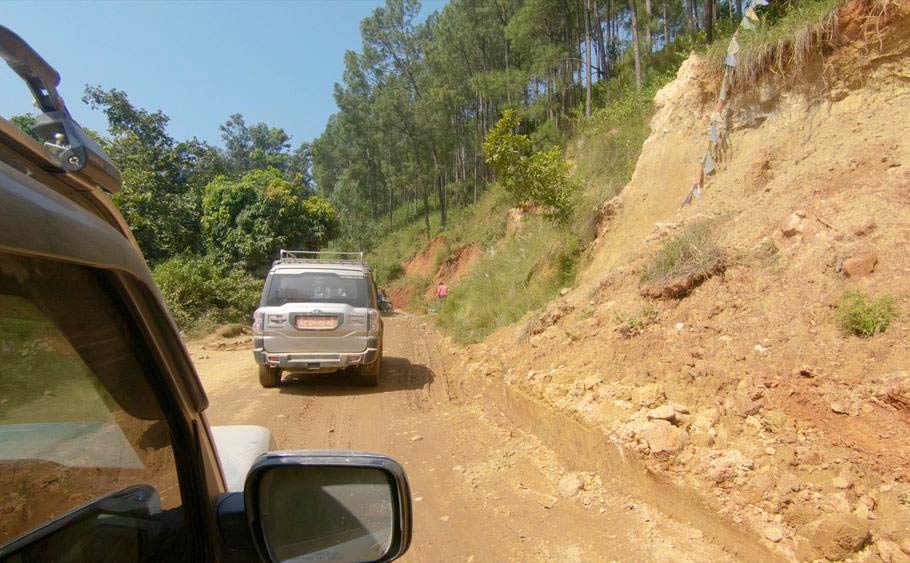 It takes around 7-8 hours to reach Sotikhola from Kathmandu depending upon the traffic it may take additional time. You can share the same jeep by 7-8 people so, reserving a jeep will be cheaper if you book with a group. The estimated cost of a jeep is around $150-$200.
Public Bus
The public bus ride is an adventurous ride but it is safe as the bus drivers are more experienced. As there is no direct public bus service from Kathmandu to Sotikhola. so, you have to take transit to reach Arughat. There is a local bus or jeep service from Sotikhola to Arughat.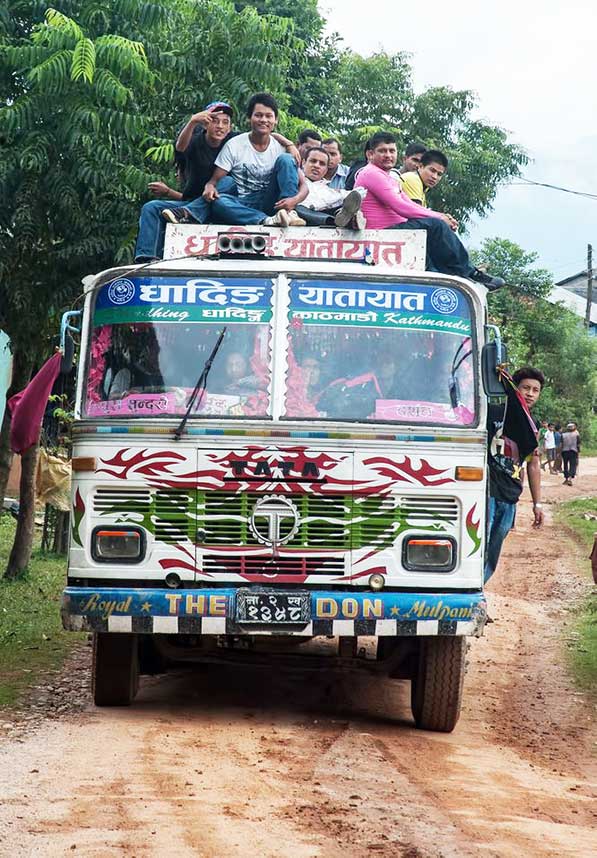 The distance between Kathmandu to Sotikhola is 138 km and it takes around 8-9 hours to reach Arughat but it also depends upon the road conditions.
Where to stay?
There are quite several places in Manaslu region where you can stay during the trek. Being a remote area trek, it doesn't assure superior quality but your comfort and needs are addressed.
On the first day, you can stay in Soti Khola where many teahouses are running. You can expect Wifi and hot shower services but you have to pay extra. Then, as you go uphill, you'll find teahouses in abundance in Jagat. You'll also encounter the first check-point in Jagat.
Next, you can find teahouses in Deng. You can also enjoy local dance there. Your staying point during Manaslu circuit trek will certainly be in Namrung, Lo village, Sama Gaun, Samdo, Dharmasala, Bimthang, and lastly Dharapani. Two beds and a common bathroom are available in the teahouses.
Accommodation and healthy food is rarely a problem in Manaslu trek. Trekkers mostly prefer Dal Bhat after a tiring long walk. It gives them instant energy and strength to walk long. Wooden fire can also be available in teahouses. You can inquire at the teahouses.
How to prepare for Manaslu Circuit Trek?
You should train your body and mind for such type of trekking. It requires a high level of preparation and few experiences in high altitude trek. So first-timers are not recommended.
Tough physical fitness is required. It is a long trek in a rural area so, a high level of adjustment is required. The completion of the trek also depends on your capacity to acclimatize with the changing elevation and weather.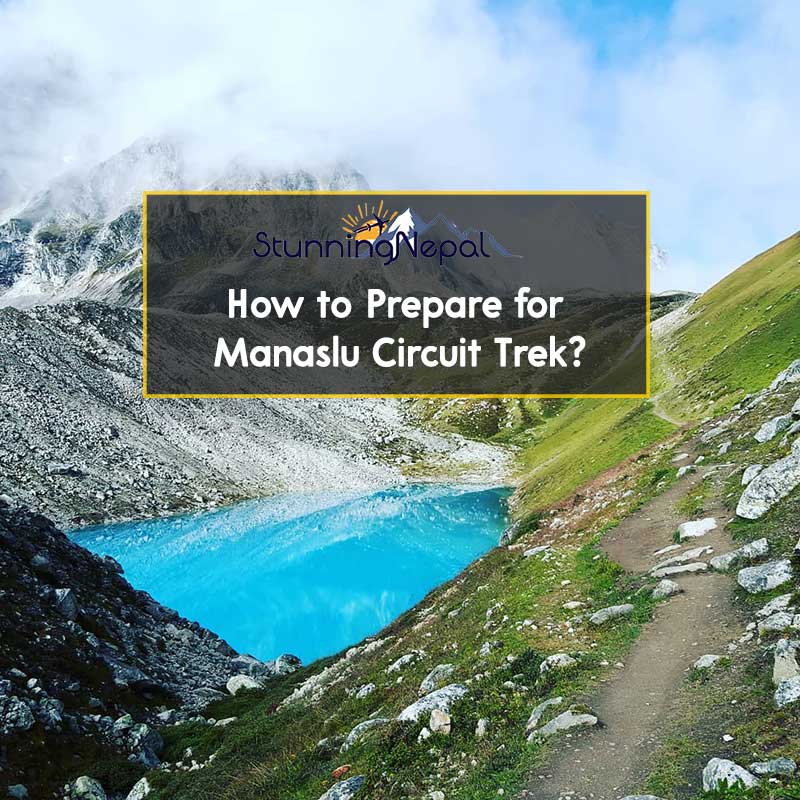 You should strengthen your hiking and breathing ability. Exercise daily. Spend your morning time in building your stamina.
It is better to have some knowledge of first-aid. Carry your essential medicines with you. If you have a breathing problem then this trek is not recommended.
Carefully pack your bag. Equip yourself with trekking gear and essential clothes. Carry enough Nepali currency. Carry water to keep yourself hydrated throughout the trek.
Weather
Before you head for Trekking, you should grab some ideas about the Manaslu Circuit Trek weather condition. Then, you can decide the best time to trek the Manaslu circuit.
Winter
Winter is not suitable for the Manaslu circuit trek. The winter season extends from December to February. The trek route is icy. The frozen trekking trails can be dangerous. There is a high chance of slipping while walking.
There is not much flora and fauna to explore during winter. Snowfall is high during winter. The beautiful landscape of Manaslu is covered with a snow blanket. Trekking trails are blocked during heavy snowfall.
At that time, we would need to wait for the snow to stop. The oxygen will be extremely low making it difficult to survive the high altitude of 5106m during winter.
Spring
Spring is considered the best season for the Manaslu circuit trek. The spring season extends from March to May. The weather is neither too hot nor too cold.
It is the time when the rhododendron forest is dense. Rhododendron of various colors can be seen blooming and distinct species of animals come out of their hibernation period.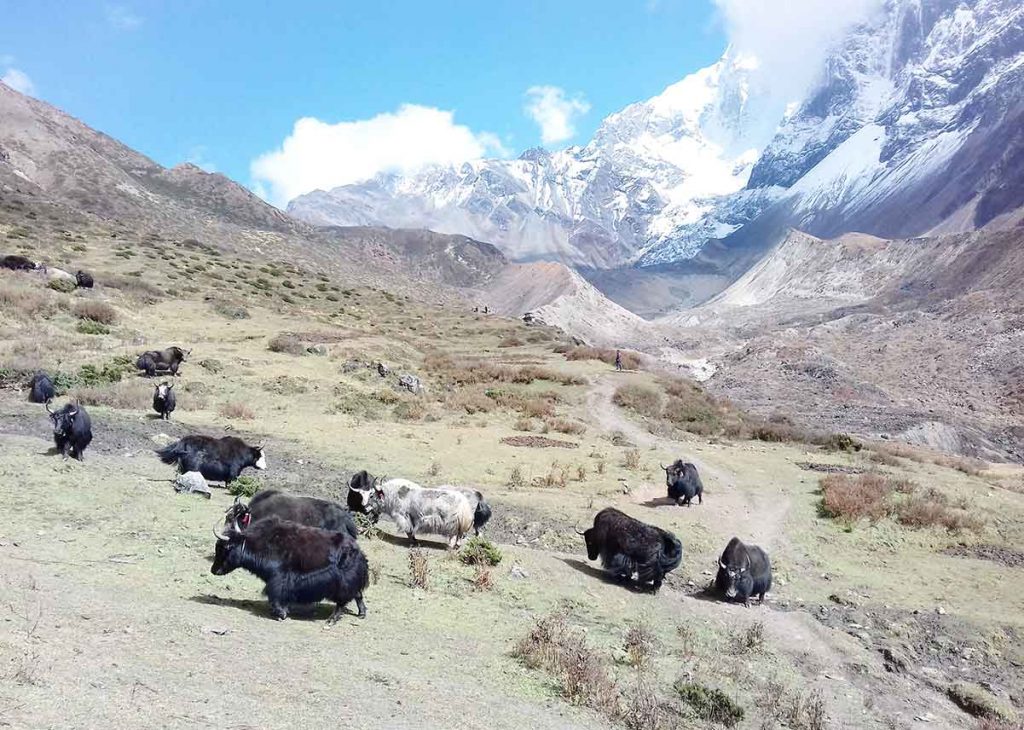 Spring season greets us right after the winter season. The sky becomes clearer so the mountains can be seen clearly.
The chilly weather turns warm so the bundle of heavy clothes decreases. The frozen lakes melt. The trekking trails are not steep so the level of difficulty reduces.
Summer
The hot Summer days of June, July, and August are not suitable for long trekking trails. During summer, it will be difficult to walk in the scorching heat. It will be difficult to walk 6-7 hours a day under a scorching sun. The weather will be dry in summer.
Frequent rainfall can occur due to the mountainous area. The rainfall is high where forests are nearby. It is again difficult to walk during rainfall as the trekking trails will get slippery. Even during summer, you would have to carry raincoats and boots.
The temperature is high during the summer. So, you will not encounter snowfall. If you want to play with snow, its better you avoid visiting Manaslu circuit trek during summer.
Autumn
Trekkers consider Autumn as the best season for Manaslu circuit trek because the weather is neither hot nor cold. Autumn occurs in September, October, and November. Autumn turns up between summer and winter season.
The weather is wet and pleasant during autumn. The temperature is suitable for treks that require walking for long hours.
Manaslu Circuit Trek Route Map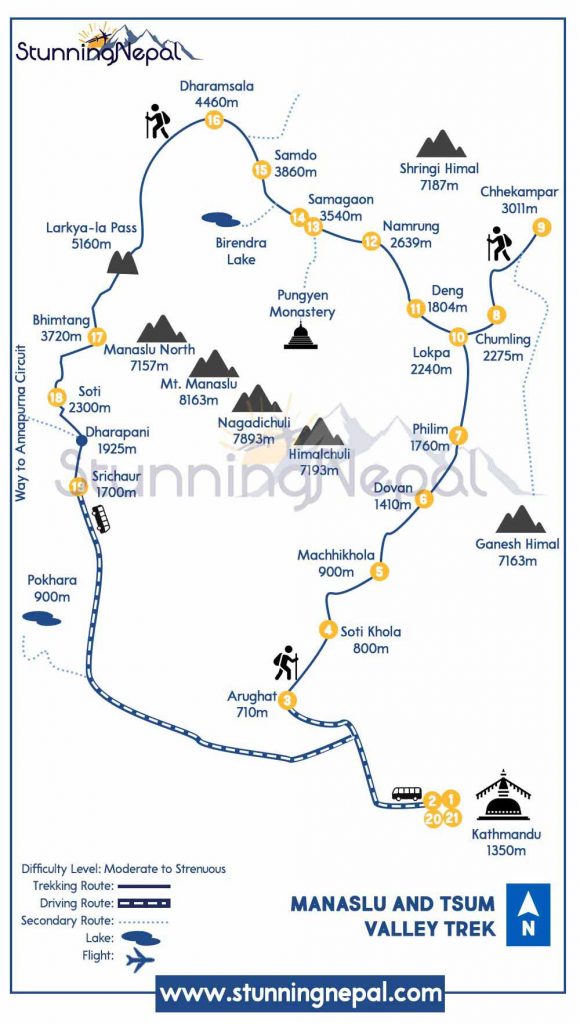 Manaslu circuit trek route map is essential for completing the trek. The trekkers should carry it with them during the trek. Trekkers should be familiar with the various trekking routes, symbols, landmarks, marked on the map. Consulting experienced local guide will help you better understand the Manaslu circuit trekking map.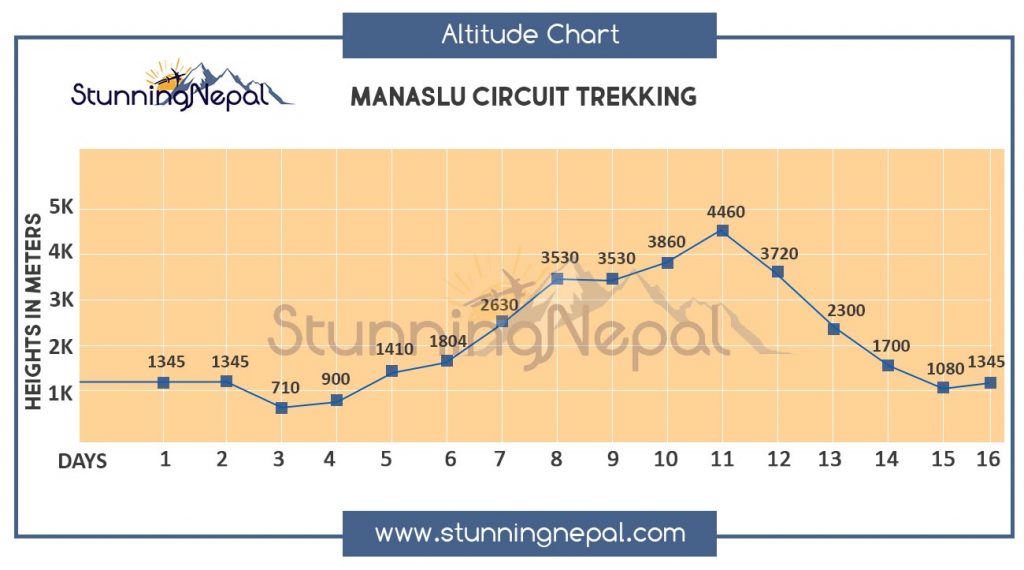 A trek route map will help you organize itinerary. You can plan where to stay on a trek. Acquiring Manaslu circuit trek altitude map will help you know the altitude of each place on the trek. You can then prepare well to avoid altitude sickness.
16 Days Manaslu Circuit Trek Itinerary
People are often curious about the number of days required to finish the Manaslu trek. It takes around 16 days to complete the trek. Below is the Manaslu circuit trek itinerary for your convenience. You can go this trek for during your long vacations.
| Days | Itinerary | Hours |
| --- | --- | --- |
| 1 | Arrival at Kathmandu (1,345m) | |
| 2 | Preparation Day (1,345m) | |
| 3 | Kathmandu to Arughat, Drive to Soti Khola (710m) | 7-8 hrs |
| 4 | Soti Khola trek to Machhe Khola (900m) | 5-6 hrs |
| 5 | Machhe Khola trek to Jagat (1,350m) | 6-7 hrs |
| 6 | Jagat Trek to Deng (1,804m) | 6-7 hrs |
| 7 | Deng trek to Namrung (2,639m) | 6-7 hrs |
| 8 | Namrung Trek to Lho Village (3,180m) | 4-5 hrs |
| 9 | Lho village trek to Samagaon (3,540m) | 2-3 hrs |
| 10 | Acclimatization at Samagaon (3,540m) | |
| 11 | Samagaon Trek to Samdo (3,860m) | 4-5 hrs |
| 12 | Samdo Trek to Dharmasala (4,460m) | 2-3 hrs |
| 13 | Dharamsala Trek to Larkya La Pass/Bimthang (5,160m/3,720m) | 7-9 hrs |
| 14 | Bimthang trek to Tilje (2,100m) | 6-7 hrs |
| 15 | Tilje trek to Dharapani & Drive to Besisahar (800m) | 6-7 hrs |
| 16 | Besisahar drive to Kathmandu (1,345m) | 5-6 hrs |
Manaslu Circuit Trek via Tsum valley
Tsum valley was not open for trekking till 2008. It is a remote valley in a restricted region. Tsum valley is located in the northern part of Gorkha. The name Tsum derived from an ancient word 'Tsumbo'. The literal meaning of Tsum is vivid.
Untouched by modernization, Tsum valley still holds the traditional architecture, culture, and lifestyle. Tsum valley is a peaceful village enriched with centuries-old architectural beauties.
The local people of Tsum valley, known as Tsumbas, follow Buddhism and uses a distinct dialect to communicate.
Tsum valley existed as Tsum kingdom in history. It is a beautiful valley with a stunning landscape. The atmosphere here is breathtaking. You would enjoy the natural beauty and the warm hospitality of Tsumbas here.
Tsumbas celebrate different Buddhist festivals like Lhosar which is celebrated as Tibetan New Year. The monasteries of Tsum valley are one of the major attractions of the trek.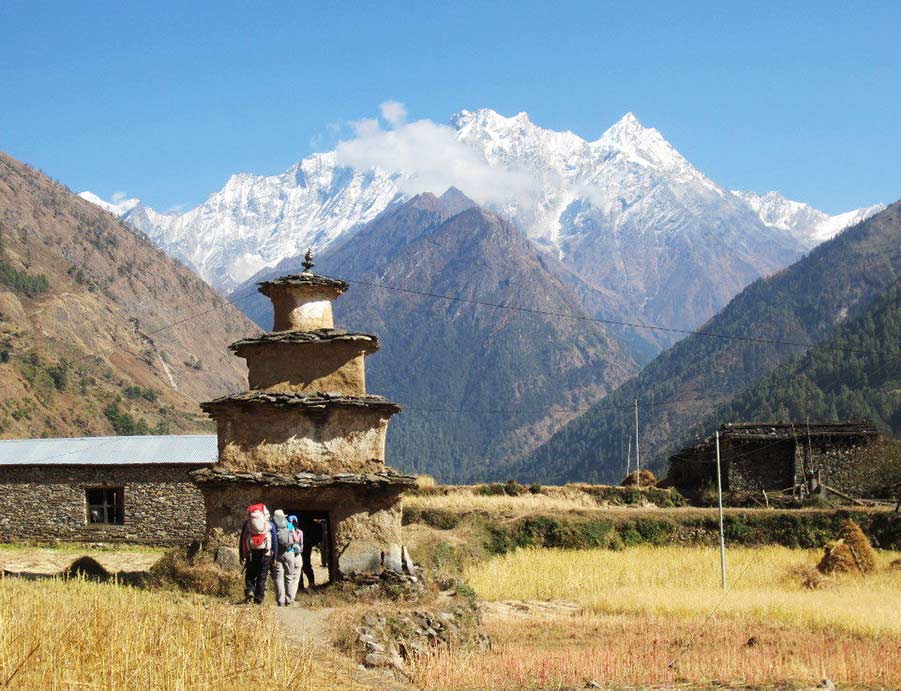 Residing in the lap of the Himalayas, Tsum valley offers a spectacular view of high peaks. That's why lots of trekkers prefer Manaslu trek via Tsum valley. This trek is slowly gaining popularity and trekkers don't regret the journey.
Tsum lies in the high altitude of hilly part of Nepal. So, the village is cold most of the time. The best time to visit Tsum valley Tsum valley is during spring and autumn. The weather is clear during this time and the view of the mountain range and the distinct landscape is clearly visible.
Manaslu circuit trek via Tsum valley can be completed within 20-24 days depending upon the routes you take and your physical strength. The less time you take to acclimatize, the less time you'll take to complete the trek.
Manaslu Circuit with Tsum valley trek Highlights:
Enriched with Buddhist culture
Teahouses, lodges, guesthouses in abundance
Stunning view of Ganesh Himal, Manaslu Himal, Lamjung Himal
Beautiful Rhododendron forest
20 Days Manaslu Circuit with Tsum Valley Trek Itinerary
| Days | Itinerary | Hours |
| --- | --- | --- |
| 1 | Kathmandu to Arughat Bazar by Bus/Jeep (710m) | 7-12 hrs |
| 2 | Arughat to Lapubesi (880m) | 5-6 hrs |
| 3 | Lapubesi to Tatopan (1,350m) | 4-5 hrs |
| 4 | Tatopani to Philim (1,760m) | 5-6 hrs |
| 5 | Philim to Chumling (2,275m) | 5-6 hrs |
| 6 | Chumling to Chhokang-Paro (3,011m) | 3-4 hrs |
| 7 | Chhokang-Paro to Nile (3,361m) | 3-4 hrs |
| 8 | Nile to Mu Gompa (3,700m) | 1-2 hrs |
| 9 | Mu Gompa to Rachen Gompa (3,240m) | 3-4 hrs |
| 10 | Rachen Gompa to Gumba Lungdang (3,200m) | 5-6 hrs |
| 11 | Day trip to Ganesh Himal Base Camp (5,000m) | 7-8 hrs |
| 12 | Gumba Lungdang to Lokpa (2,240m) | 7-8 hrs |
| 13 | Lokpa to Ghap (2,160m) | 4-5 hrs |
| 14 | Ghap to Lho (3,020m) | 5-6 hrs |
| 15 | Lho to Samagaon (3,540m) | 2-3 hrs |
| 16 | Samagaon to Samdo (3,860m) | 2-3 hrs |
| 17 | Samdo to Dharamsala (4,460m) | 2-3 hrs |
| 18 | Dharamsala to Bimthang (3,720m) | 7-9 hrs |
| 19 | Bimthang to Dharapani (1,925m) | 7-8 hrs |
| 20 | Dharapani to Kathmandu (1,345m) | 6-7 hrs |
Trekking Gear
While you prepare yourself for Manaslu circuit trek, you have to consider even small things. Don't neglect the essentials that will actually help you survive the cold and the difficulties of Manalu.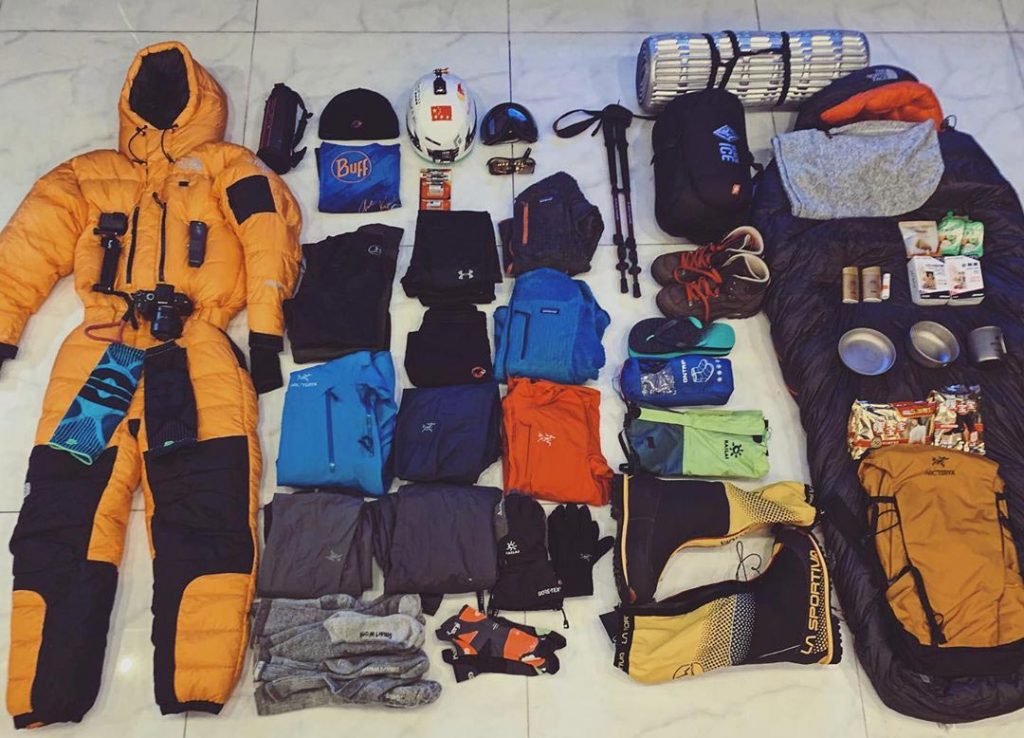 Here are some trekking gears that you would probably require during Manaslu circuit trek:
Base Layer, an Insulation Layer, Outer Layer
Trekking trousers and shirts
Waterproof jackets and trousers
Underwear and socks
Hat and Gloves
Trekking shoes
Sleeping Bag and duffle bag
Sunglasses, towel, water bottle
Portable charger
Learn: Manaslu Circuit Trek Route Tips
Frequently Asked Questions
Get the answer about frequently asked questions about Manaslu Circuit Trekking that our visitors have been asking us.
Is Manaslu Circuit dangerous?
Manaslu Circuit Trek is considered to be dangerous by the trekkers because of its offbeat route and high altitude. The altitude begins to cause problems as it increases.
The trekkers normally show symptoms of altitude sickness above 3,500 m and in Manaslu trek, trekkers have to trek up to 5,140 m. So, there is a high possibility of trekkers to suffer from altitude sickness.
Manaslu lies in the west-central region of Nepal. The trekking trail is quite long and rough. The rocky trail makes it difficult to walk at a fast pace.
Larkya Pass being the highest point of the Manaslu region is not easy to pass. Trekkers have to be careful while crossing Larkya Pass. Trekkers should acquire an experienced guide to cross the Larkya Pass.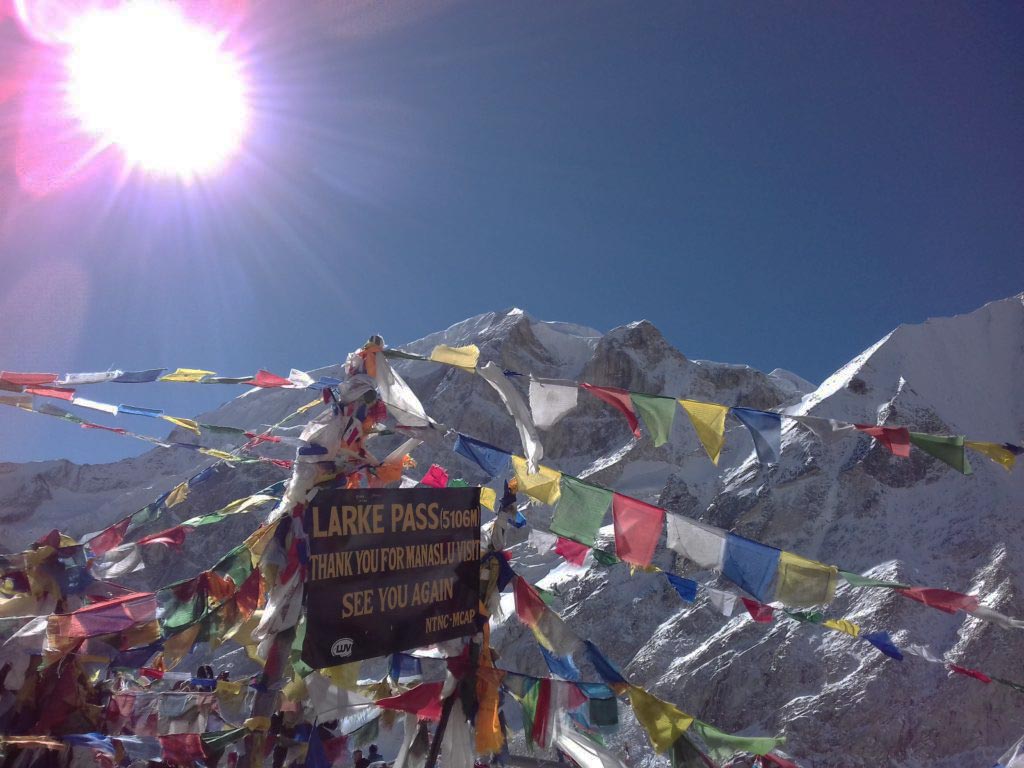 How long is Manaslu circuit trek?
The Circuit Trek is the most visited remote area trekking in Nepal. The trek starts from the historical place of bravery and strength, Gorkha, and ends at Bhimphedi. The main attraction of Manaslu trekking is the dramatic Larkya Pass which extends to 5,140m.
The Manaslu circuit trek distance is quite prolonged compared to other treks in Nepal. Manaslu circuit trek length is around 177 km. It is a long trek that requires at least 15 days to complete and the days vary depending upon the stamina of the trekker.
Is it difficult to trek Manaslu Circuit?
Manaslu Trek is not a piece of cake. Before you go for the circuit trek, you should be aware of the difficulty level of the trek and the problems you might face in the worst case so that you can prepare well.
Manaslu circuit trek difficulty level is high. It requires tough physical fitness and a lot of experience in trekking to Manaslu. The trekking trails are circular and offbeat.
Not only physical fitness, but you also need to train your mind as well. Balancing the body and mind is key to a successful trek. Be mentally prepared to go for a difficult but exciting trek.
The trekking trails are quite long so you have to walk around 15-20km a day. The high altitude will cause nausea making it difficult to walk in elevation. Altitude sickness may cause trekkers to slow down.
Manaslu circuit trek is in a remote area so you cannot expect many facilities there. Facilities like the internet, telecommunication, good accommodation, warm water, medical help, etc are rarely available.
Are the internet and charging accessible at Manaslu?
The lodges are comfortable for accommodation but it is difficult for the lodges to provide good internet and charging accessibility after a certain elevation. Some lodges have solar power and may provide wi-fi and communication facility.
But, as the altitude increases, the facilities start fading. CDMA has better coverage in the Manaslu region. You should not depend on the internet and charging facilities of the Manaslu region. Carry extra batteries and power banks for charging purposes.
As you climb up, you won't be able to connect with your family and friends so you should inform them in advance about the telecommunication.
What are Manaslu Circuit trek permits and cost requirements?
As Manaslu circuit trek lies within the Manaslu Conservation Area, you are required to carry permits to enter the restricted region. You would require ACAP and MCAP to enter the Annapurna Conservation Area and Manaslu Conservation Area respectively.
If you're visiting the Manaslu circuit via Tsum valley, then another necessary permit is required that would cost about $35.
Can I go to Solo Trekking?
Manaslu circuit is regarded as a trek with a high level of difficulties. It is a remote area trekking so the trekking trails are rocky and dangerous.
Trekkers require a certain level of physical fitness and a high level of enthusiasm to complete such an unconventional trekking route. This trekking package has some limitations and mandatory requirements and one of them is no solo trekking.
A group of two or more trekkers is required to continue trekking. A solo trekker is not granted permits to go solo trekking.
Since the circuit trekking is quite unpredictable, there is a possibility of facing problems either during trekking through the rough path at a high altitude or during trekking through Larkya Pass.
Larkya Pass is usually windy and too snowy. Trekkers sometimes lose the trekking path at Larkya Pass. Solo trekking can be life-threatening. Trekking in the group with guides and porters is recommended.
Can you trek Manaslu without a guide?
Manaslu circuit trek without a guide is a bit of a difficult job. Having a Manaslu trekking map is not enough to complete the trekking trail of the Manaslu circuit.
It is definitely necessary to have a map and understand the map thoroughly but to fully depend on it and proceed without a guide is a bad idea.
Taking a guide is highly recommended as the guides are highly experienced. They will come up with a solution any you face any problem during trekking.
What is the best season to visit the Manaslu Region?
Autumn and spring are deemed as the best season to visit the Manaslu region because it is the best time to witness the stunning view of the mountain range. The view of the Tsum valley in Manaslu dazzles the trekkers during Autumn and Spring season.
Manaslu region is stunning throughout the year. The trek lovers appreciate its spectacular landscape and unique natural beauty more during the spring and autumn season.
How much does the Manaslu trekking cost?
You can choose the mode of transportation. If you choose to travel on the local bus, that would possibly cost you around USD $10 per person. If you choose a jeep journey, then it would probably cost you between USD $150-$200.
The isolated environment of Manaslu is expected to be expensive. The single meal will not cost more than $5-$6. Estimating $20 expense a day would be enough probably. The cost of a single bedroom and double bedroom would normally range from USD $6 – $9.
The total cost of the Manaslu circuit trek permit would be around USD $110 per person from September to November and US $90 per person from December to August. Moreover, the circuit trek and Tsum valley trek permit would cost USD $145 per person from September to November whereas the only USD $105 per person from December to August.
Since this circuit trek is located in the remote area of the Manaslu region, trekkers will definitely require an experienced guide and porter to complete the difficult trek within the estimated duration. The cost for guide and porter is not more than $25.
At the End
I hope this ultimate guide for the Manaslu circuit trek would be of your help. This guide includes all the necessary information you should know before you go for the Manaslu trekking.
If you have any queries, please leave a comment. Have a nice holiday!
Love this Post? PIN Me!!!