Embarking on an adventurous trip from Kathmandu to Annapurna Base Camp is easy and convenient. There are several routes you can take according to your choice.
You have to take into consideration the amount of time you have to complete the trek, the amount of money you will be investing and the level of your enthusiasm to take the trekking route.
Kathmandu to Annapurna Base Camp Itinerary
Here we are going to include 12 days itinerary from Kathmandu to Annapurna Base Camp Trek. Also, check the Annapurna Base Camp Trek Route Map from Kathmandu.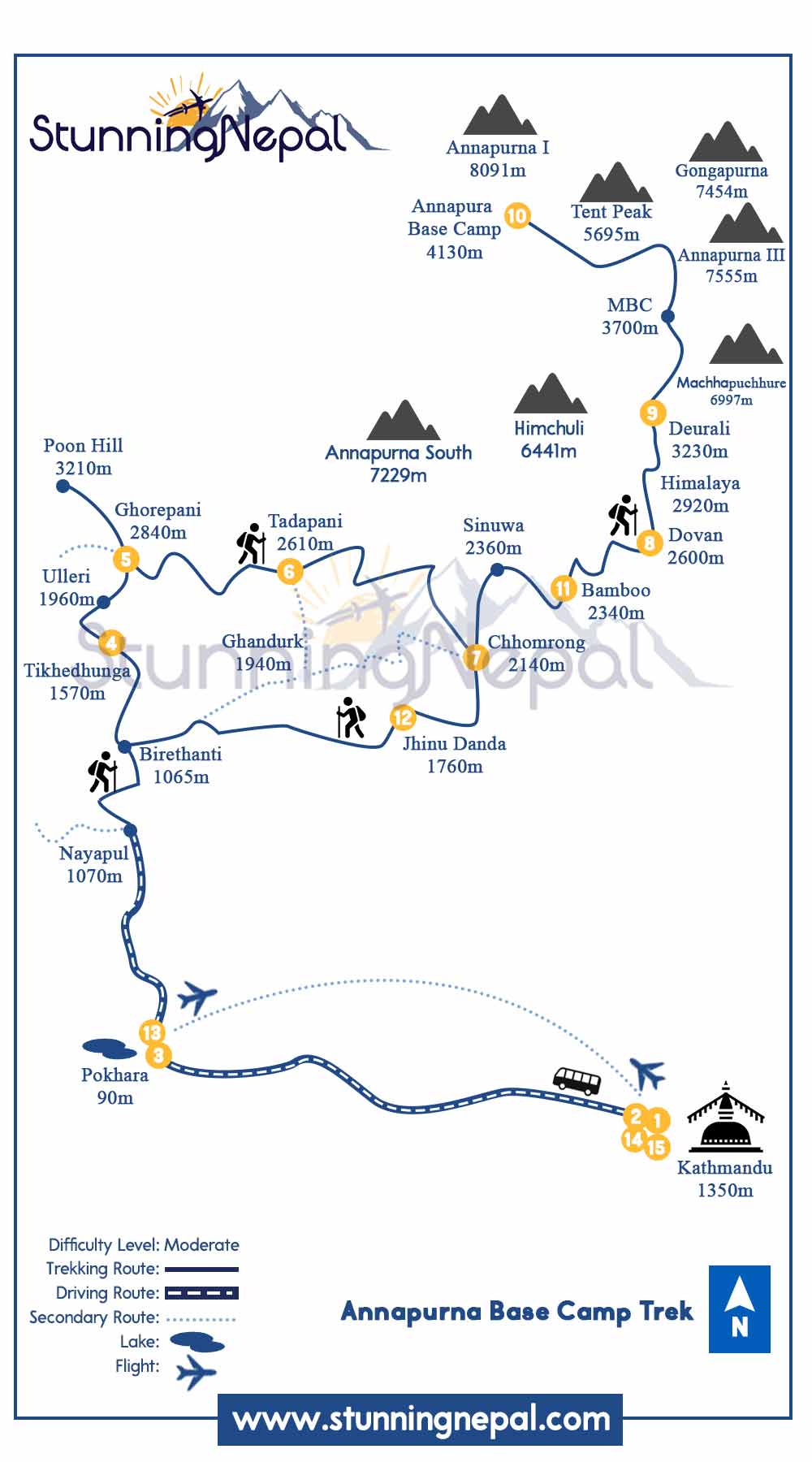 Day 1: Kathmandu – Pokhara – Nayapul – Ulleri (1940 m) 6-7 hours
On the first day, you will be received by the Trekking Agency representative at TIA. After a quick rest, you will be given a short briefing about the plans and tips about the trek that you'll require during the ABC trek.
If you're short on time, you can take a quick 30 minutes domestic flight from Kathmandu to Pokhara else traveling by road will take you around 6 hours. One and a half-hour drive from Pokhara will take you to Nayapul.
Nayapul is the place from where our actual trek starts. You will cross the Seti Gandaki river, and after an hour of walking, you will come across the welcoming signboard that says 'Welcome to Annapurna Conservation Area.'
It is also the first checkpoint. 6-7 hours of trekking from Nayapul will bring you to Ulleri which will be the final destination of your first day at Annapurna Base Camp.
Day 2: Ulleri (1940 m) – Ghorepani (2874 m) 5-6 hours
Our second-day trekking starts from Ulleri to reach Ghorepani by the end of the day. The trekking trail from Ulleri to Ghorepani is a stone-paved path penetrating the rainforest. You will encounter some beautiful small waterfalls in between and sheep grazing.
The enthralling yet dreadful 4000 steps to Ghorepani will be a fantastic experience. Your leg day will be 5 to 6 hours long depending upon your walking pace and will end at the foot of the Poonhill at 2874m. Have a meal and take a rest at a nice hotel.
Day 3: Ghorepani (2874 m) – Poon Hill (3210 m)
This is the day you've been thrilled about the previous day. To watch the spellbinding Poonhill sunrise, get up before dawn. Put on lots of warm clothes as the weather at Poon Hill is next to freezing. You will forget the struggle once you witness the beautiful sunrise over the mountain.
Poon Hill viewpoint offers a panoramic view of mountain ranges such as Annapurna I, Annapurna Fang, Tukuche peak, Machapuchhre, Dhaulagiri, Manaslu, Hiuchuli, Nilgiri, Gangapurna, and so on.
From Poon Hill, we will descend down to Tadapni (2650 m). We walk 5-6 hours downhill to reach the beautiful village of Tadapani where we will settle for the day.
Day 4: Tadapani (2650 m) – Chomrong (2170 m) 5 hours
The fourth-day trekking starts from Tadapani all the way to Chomrong. The trekking trail encompasses bamboo forests and farmlands. We will take a rest and have lunch at Jhinu Danda.
It will be a 5-6 hour trek, and you will reach the beautiful village of Chomrong where you'll be staying overnight. You will get a prominent view of the majestic Machapuchhre from Chomrong.
There are lots of teahouses, shops, and lodges at Chomrong that are mainly built of wood.
Day 5: Chomrong (2170 m) – Dovan (2600 m) 6-7 hours
Start your morning with a glorious view of Chomrong. Have a quick breakfast and head to the destination for toda, i.e., Dovan. The trekking trail to reach Dovan is quite steep.
Cross a suspension bridge, and an uphill climb will take you to Sinuwa Danda. After one and a half-hour of walking, we will reach Dovan. Stay overnight at a nice teahouse at Dovan.
Day 6: Dovan (2600 m) – Machapuchare Base Camp (3700 m) 7-8 hours
On the sixth day, we move ahead from Dovan. Moving along the steep and rocky trails, we reach Deurali. This is where we have our lunch and take some rest. Again trekking along the rocky trails uphill, we will reach Machapuchare Base Camp.
Getting closer and closer to the Mountain is exciting, and you get to observe a view of the mountains from different altitudes.
The breathtaking view of waterfalls, crossing the suspension bridge, and passing deep gorges will be an amazing experience. Stay overnight at Machapuchare Base Camp.
Day 7: Machapuchare Base Camp (3700 m) – Annapurna Base Camp (4130 m) 3 hours
On the seventh day, we will be reaching our most awaited destination. Gentle uphill trekking from Machapuchare Base Camp and we reach Annapurna Base Camp.
Annapurna Base camp is at around 3 hour of trekking distance from Machapuchare Base Camp.
The majestic mountains now surround you; Annapurna I, Annapurna Fang, Annapurna South, Hiunchuli, Gangapurna, Machapuchare, and many more.
We will take ample time to enjoy the view and settle at Annapurna Base Camp that day.
Day 8: Annapurna Base Camp (4130 m) – Bamboo (2310 m) 7-8 hours
While returning from ABC, we will take a route to Bamboo. A rigorous walk of 7-8 hours downhill and we will reach Bamboo. The abundance of varieties of bamboo in this place gave it the name Bamboo.
The trekking trails penetrate the bamboo forest where various species of bear inhabit. There are sufficient accommodations, meals, and telecommunication facilities in Bamboo.
It is like a small hub. Stay overnight at a beautiful teahouse.
Day 9: Bamboo (2310 m) – Jhinu Danda (1780 m) via Chomrong 7 hours
We will depart from Bamboo after a quick breakfast and head towards Jhinu Danda. We will cross Chomrong and also enjoy hot springs which will relieve your exhaustion and tired legs.
After a rejuvenating hot spring bath, we will continue our trek to Jhinu Danda. The total of 7 hours of trekking downhill and you'll be at Jhinu Danda where we'll be staying overnight.
Day 10: Jhinu Danda (1780 m) – Pothana (1870 m) via Landruk 7 hours
We will descend downhill from Jhinu Danda to reach Himal Panj. Crossing a few rivers and forests, we stretch out to Landrunk, which is a beautiful village with a thick settlement of Gurung and Magar people.
You can have a clear view of the Mardi Himal from Landruk. Trekking further downhill, we reach Pothana where we stay overnight.
Day 11: Pothana (1870 m) – short trek to Kande via Australian Camp, drive 1 hour to Pokhara
From Pothana, we trek towards Phedi from where you go to Dhampus village. It is a beautiful village which amazing landscapes and offers a clear view of the Annapurna range.
From Dhampus to trek towards Australian Camp which is set on a hilltop.
Our Annapurna Base Camp trek ends here. You'll watch the Himalayan ranges in the vicinity here. From Australian Camp, we'll trek towards Kande. From Kande, we'll move towards Pokhara.
It will be an hour's drive. We will stay overnight at Pokhara.
Day 12: Flight Pokhara – Kathmandu, or drive 7-8 hours
It is the last day of our trekking. You can either take a flight from Pokhara to Kathmandu or drive to Kathmandu. It will be a 7-8 hours long drive.