Langtang Valley Trek offers a majestic view of mountains with panoramic landscapes. It is the top 3 most visited trekking destinations in Nepal alongside Everest Base Camp Trek and Annapurna Base Camp Trek.
This trek is exciting with picturesque views of the beautiful village within the Langtang National Park. Langtang is the best vacation spot for regular and novice trekkers, and I am sure it will be your unforgettable lifetime experience.
Langtang Valley is a hidden gem with a wild rural landscape, and most people follow Tibetan Culture. Moreover, in the peak season, you can get spectacular views of pine forests, rhododendron, snow-capped mountains, magnificent glaciers, etc.
Furthermore, this will be a very long and ultimate guide about Langtang Valley Trek, so if you want to know about specific things about Langtang trekking, then you can follow the quick navigation.
Langtang Trekking Overview
Langtang Valley Trekking is the nearest region from Kathmandu for trekking located on the north side of Nepal. It is a classic and pleasing trek that lies between Nepal and China (Tibet) border. Langtang Valley is also named the "Valley of Glaciers."
| | |
| --- | --- |
| Max Elevation | 4,984 meters (Tserko Ri) |
| Difficulty Level | Moderate |
| Trekking Days | 8-12 Days |
| Best Season | March-May & September – November |
| Transportation | Local Bus/Private Jeep |
| Cost | Starts from $600 |
| Group Size | Minimum 2 Pax |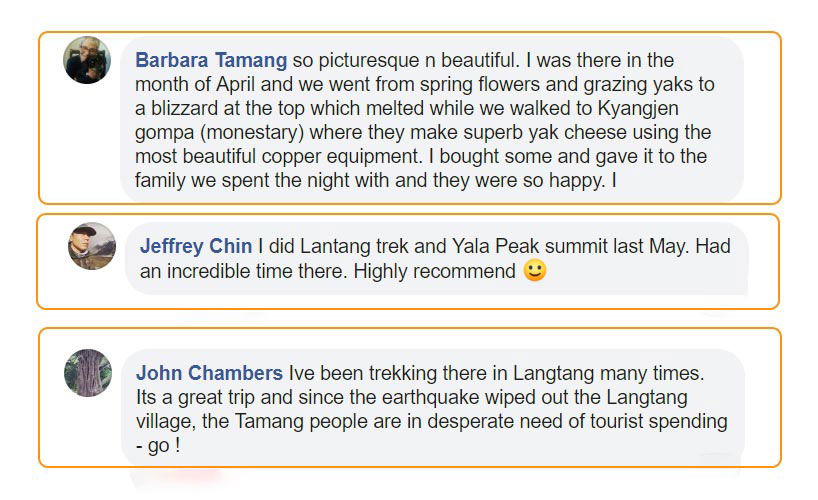 The popular international news website The New York Times has listed Langtang Valley as the top 52 places to visit in the year 2017. I have snapped some Langtang Valley trek reviews from New York Times Travel Facebook Page.
Getting To Langtang Valley
The trek begins from Kathmandu to Syabru Besi. The distance between the capital city and Syabrubesi is roughly 122 km. It takes around 9-10 hours by Public bus and 8-9 hours by Jeep.
1) By Foot
It's not recommended to trek from Kathmandu to Langtang Valley on foot as it's a long distance and not a safe option. Instead, the trek usually starts from either Syabrubesi or Dhunche, which can be reached by road transport.
2) By Private Jeep
Hiring a private jeep for transportation to Syabrubesi or Dhunche is more expensive than taking a public vehicle. However, if you're traveling to Nepal through a travel agency, they can arrange private transportation for you, so you don't have to worry about it.
If you want faster and more comfortable service, you can opt for a private jeep instead of a public bus. A 6-7 seater private jeep service usually costs around $150-$200 for a one-way drive to Dhunche, the starting point of the trek to Langtang Valley.
3) By Public Bus
Taking a public bus is a much cheaper option compared to hiring a jeep for transportation to Syabrubesi or Dhunche. The cost of a public bus is around $7 – $8 per person. The bus service is available at Macha Pokhari, Kathmandu.
The road condition of Pasang Lhamo Highway, which leads to the Langtang Valley trek starting point, is generally okay, but there are some areas where the road can be a bit scary.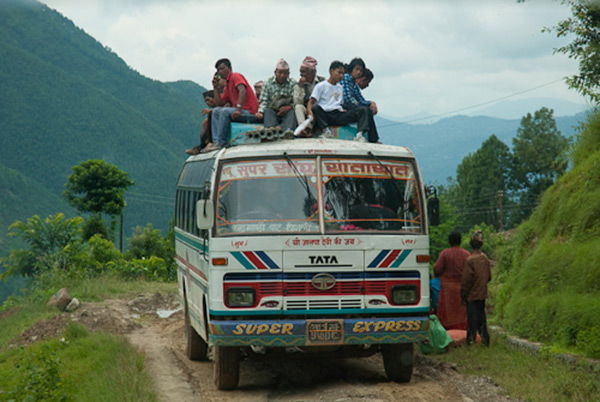 Start Here: Getting Around Nepal
Highlights of Langtang Valley Trek
Scenic Drive from Kathmandu to Syabrubesi with breathtaking views of the landscapes.
Explore the unspoiled beauty of Langtang National Park, located between the Nepal-China (Tibet) border.
Learn more about Tibetan Buddhist culture and their way of life.
Experience the extended diversity of flora and fauna, including rare species like the red panda and snow leopard.
Enjoy stunning views of towering peaks like Dorje Lakpa (6,990 m), Langtang-II (7,227 m), Langtang Lirung (7,200 m), Ganesh Himal (7,429 m), and more.
Immerse in the unique culture and lifestyle of the Tamang community by visiting typical Tamang villages.
Get the chance to climb Chorko-Ri and witness a panoramic view of the Langtang range.
Walk through an unimaginable Rhododendron forest, especially during the spring season when the flowers are in full bloom.
Langtang Necessary Permits
Permits are generally required for entry and exit from the Langtang Valley trekking route. Make sure to obtain the necessary permits from the Nepal Tourism Board (NTB) in Kathmandu. You will need to carry your passport and photos for the permit application process.
1) TIMS Card
Trekker's Information Management System (TIMS) is a card that you get as a permit. These permits must be shown at checkpoints in different places.
The TIMS Card for Langtang Trek is a record that helps trekkers in case of an earthquake, or extreme weather, and for finding lost trekkers.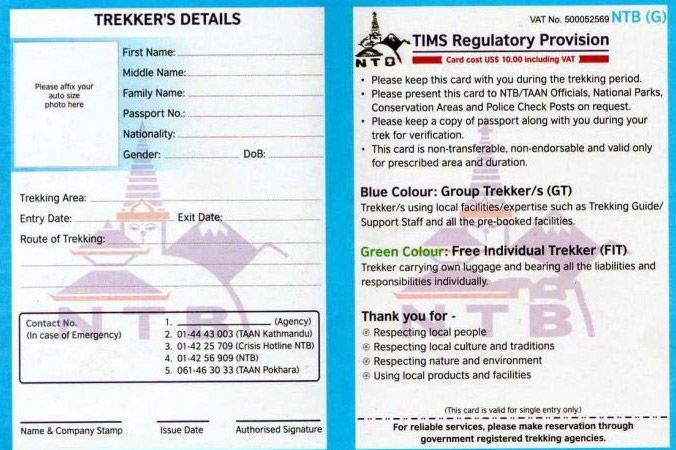 For independent trekkers, it cost around Rs. 2000 ($20), and for group trekkers with a guide, it cost around Rs. 1000 ($10). But if you are traveling through Travel Agency, then they will manage TIMS Cards for you.
2) Langtang National Park Fee
The entrance to Langtang National Park will cost you around Rs 3000 (~$30). You need to ask for this permit at Tourism Board Kathmandu, or you can get it from the Dhunche (Starting point of Langtang Valley Trekking)
Langtang Valley Trekking Itinerary
If you are searching for a good itinerary about Langtang, then this is a new itinerary route after the earthquake in 2015.
This is just an outline itinerary of Langtang. Find the days, hours, heights, and different places in Langtang Valley Trek Itinerary.
| Days | Itinerary | Height |
| --- | --- | --- |
| 1 | Drive from Kathmandu to Syabrubesi (6-7 hrs) | 1,460 m |
| 2 | Trek from Syabrubesi to Sherpa Gaon (5-6 hrs) | 2,563 m |
| 3 | Trek from Sherpa Gaon to Langtang Village (5-6 hrs) | 3,430 m |
| 4 | Langtang Village to Kyanjin Gompa (3-4 hrs) | 3,830 m |
| 5 | Acclimatization Day: Hike to Tserko-Ri (7-8 hrs) | 4,984 m |
| 6 | Trek from Kyanjin Gompa to Lama Hotel (6-7 hrs) | 2,470 m |
| 7 | Trek from Lama Hotel to Syabru Besi (5-6 hrs) | 1,460 m |
| 8 | Drive from Shyafru Besi to Kathmandu (5-6 hrs) | 1,345 m |
The level of the trek starts from easy, and furthermore, you get more challenges, and the journey will reach moderate difficulty as the height rises.
Normally, Pro trekkers want to finish the trek quickly, but novice trekkers need to acclimatize to the surrounding. So, it may take more than a week to complete the full trek.
Langtang Valley Food Guide
For meals, you can get different delicious items. As always you are far away from your home, therefore, don't expect the food to be of your choice instead adjust with the items in the guesthouse.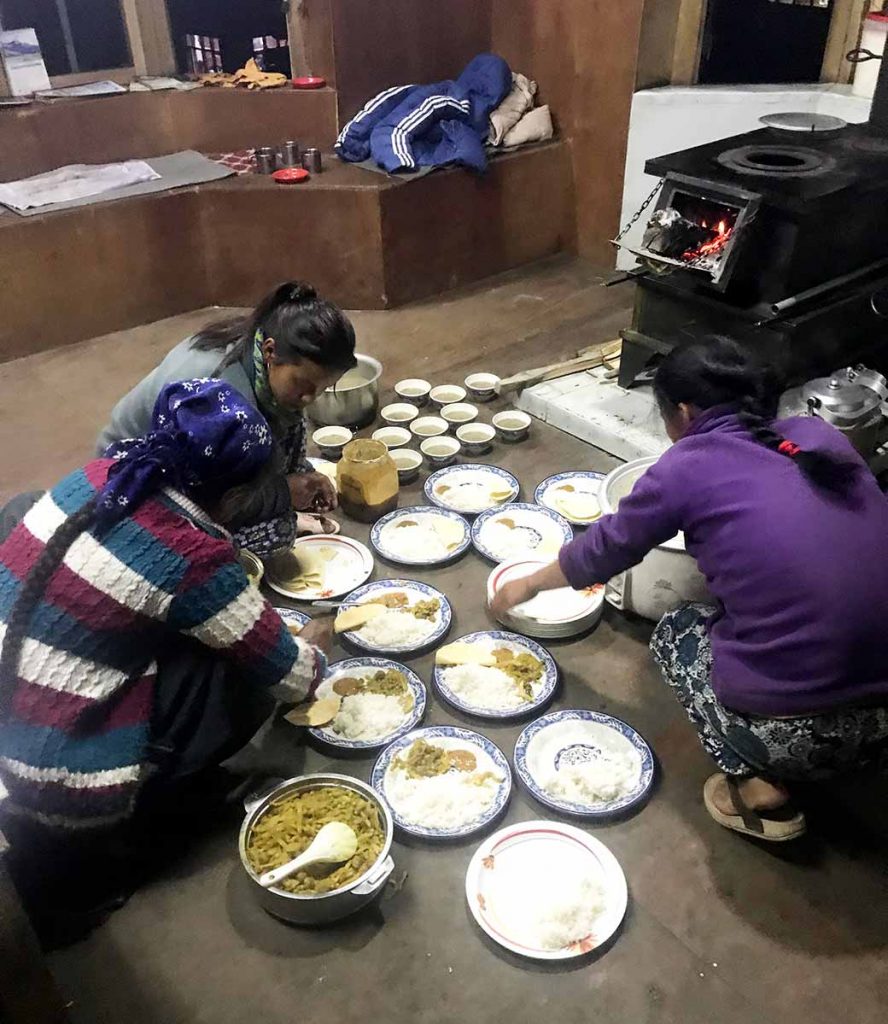 1) Breakfast
At Langtang Route, you can get tea, juice, toast, pancake, egg, potatoes, mo: mo, etc. for breakfast. The cost of breakfast at this route starts at $2-$3. Higher the elevation the price may increase up to $4-$5.
2) Lunch and Dinner
For lunch and dinner, the best food to eat is "Dal Bhat" which provides you with lots of calories and proteins. There is a saying about it, "Dal Bhat Power 24 Hours". You can also find several items beside it like salad, pickles, etc. The price for lunch and dinner is around $4-$5 and may go up at the top.
3) Water
Water is yet another most essentials thing to consider while trekking around the Himalayan region. Most trekkers neglect this thing, but it is good to carry an extra bottle with you to avoid spending an additional amount. You can always refill a bottle of water at hotels for free or for a lesser amount.
If you want to buy a bottle of water, then it may cost you from $1.5 at a lower elevation to $3.5 at a higher elevation. And also, don't forget to drink hot water at the stop to prevent Acute Mountain Sickness (AMS).
Accommodation
Langtang Valley is a much-loved destination, and you can find plenty of tea houses and hotels for accommodation. Don't expect the guesthouse to be luxurious, but there will be enough clothes to keep you warm.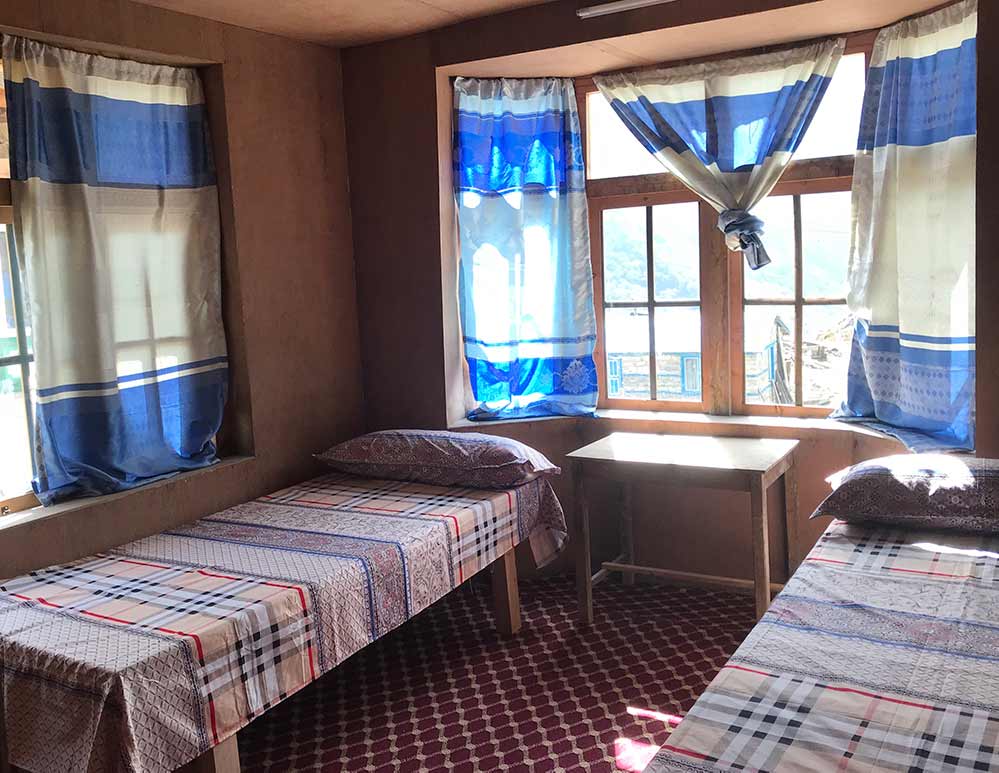 You can find a clean room, decent beds, and toilets, which will be kind enough to stay at teahouses. In peak season, you may have to adjust the beds and clothes. It is best to contact your travel agency to book excellent accommodation out there.
Langtang Circuit Trekking Route Map
You can find the Langtang Circuit Trekking Route Map that covers the whole valley and basically, the journey starts from Kathmandu. The highest point you will see is Langtang II and Langtang Lirung.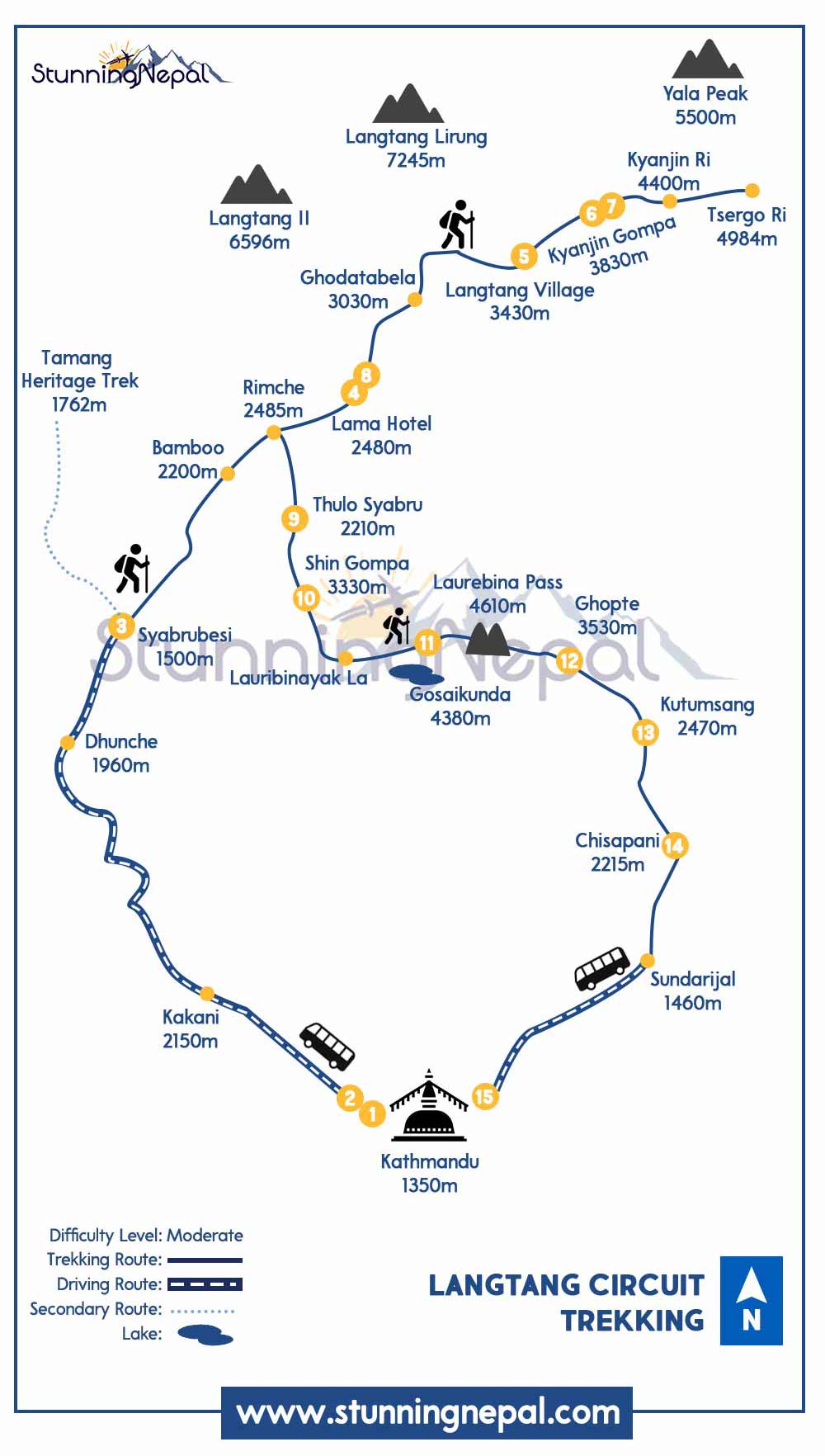 Langtang Trek Altitude Graph Map
There are various itineraries available for the Langtang Valley trek, and each may have a different altitude graph map. However, for the itinerary mentioned above, we will provide the altitude graph map accordingly.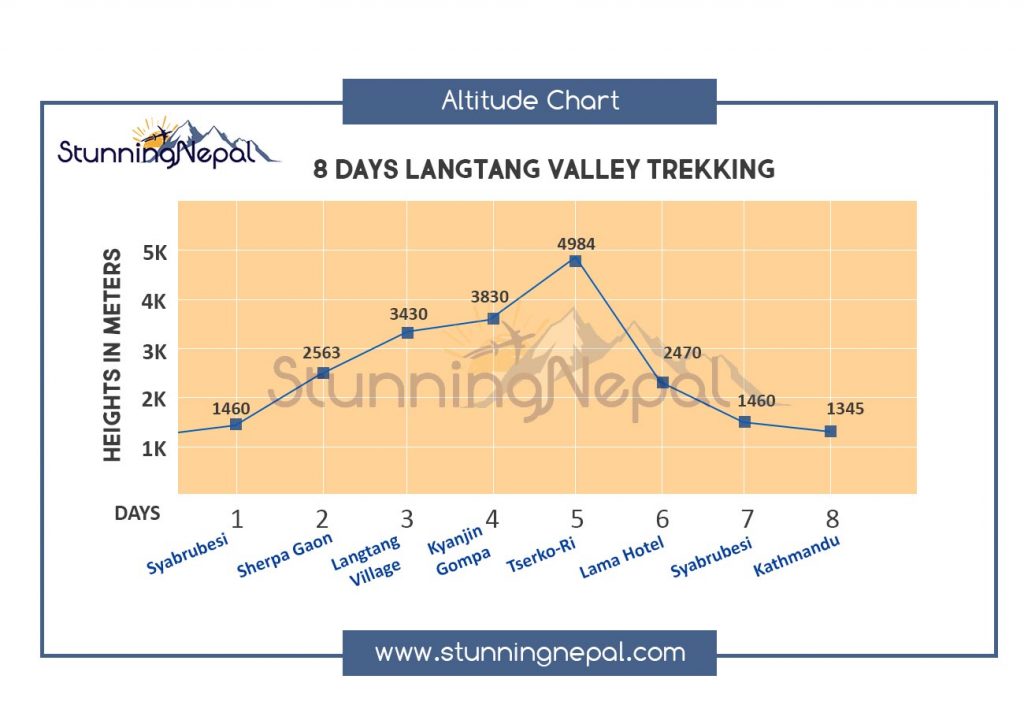 Langtang Trekking Map
If you prefer a hardcopy trekking map of Langtang, you can easily find it in Kathmandu. Numerous shops sell different trekking route maps.
Maps are essential items that you need to carry while trekking. Additionally, you can find the Langtang Geographic map on Amazon.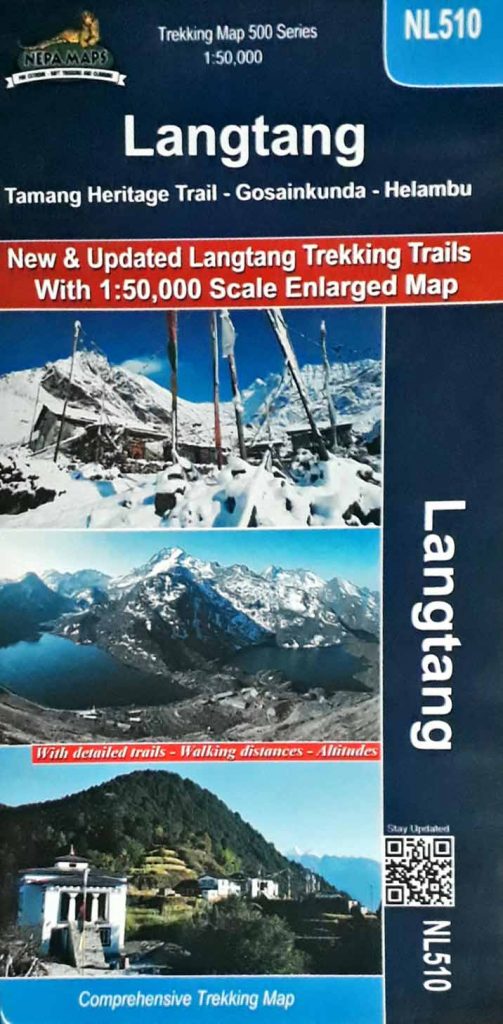 Famous Langtang Trekking Route
Apart from the Langtang Valley trek, there are other famous trekking routes in the Langtang region that you can explore while in Nepal. These include the Helambu Trek, the Gosaikunda Trek, and Tamang Heritage Trail. You can choose to trek to these places individually, or you can opt for a joint Helambu-Gosaikunda-Tamang Heritage trek.
1. Helambu Valley Trekking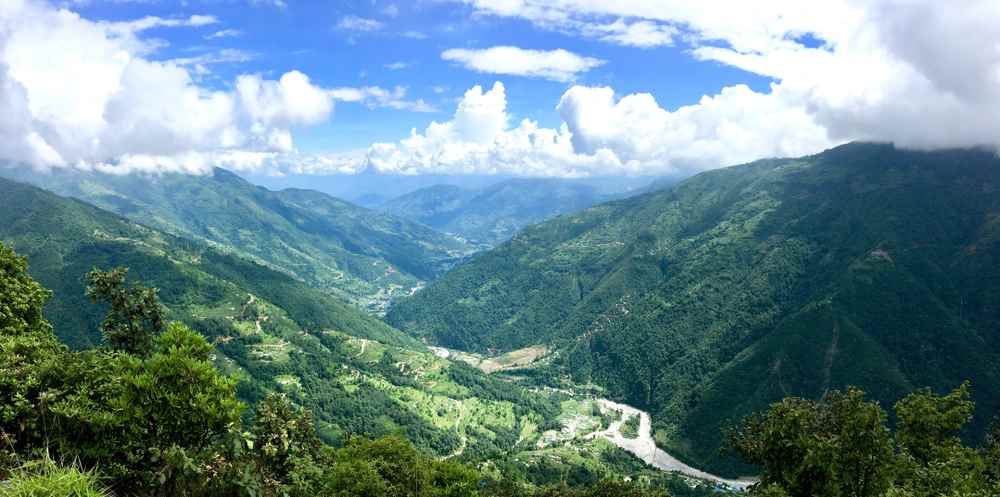 Helambu region is a great and nearby place to visit from Kathmandu for a short trek. This place remains unspoiled despite being close to the Capital City. Helambu Trek is a glorious opportunity to explore the culture and tradition of the Sherpa community.
At peak season, you will get to see Rhododendron Forests, Snow-Capped Mountains, Waterfalls, Bamboo Forests, etc. The trek to Helambu starts from Sundarijal located at the eastern end of Kathmandu.
| | |
| --- | --- |
| Trip Duration | 6 Days |
| Accommodation | Tea House |
| Maximum Elevation | 3,870 meters |
| Difficulty | Easy |
| Best Season | March-May & September-December |
Helambu Trek Highlights
Explore Buddhist Monastery.
A glimpse of Snow-capped Mountains.
Sunrise and Sunset over Mountains.
Pass through dense rhododendron forest.
Find unique Sherpa Culture and Lifestyle.
2. Langtang Gosaikunda Trek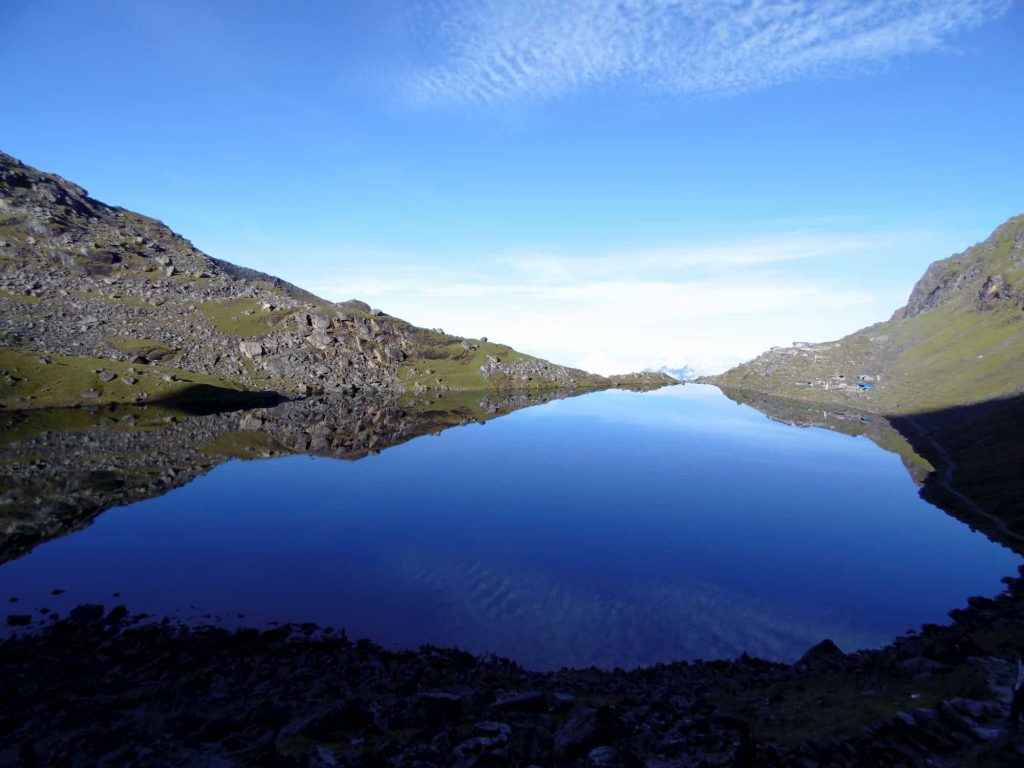 Langtang Gosaikunda is an easy trek that is best for a picturesque view of the mountains and is famous for Gosaikunda Lake. Starting from Dhunche to Syabru Besi, Gosaikunda can be reached within 3-4 days.
This sacred lake is one of the holiest lakes famous among Hindus and Buddhists. Thousands of domestic and international travelers visit Gosaikunda Lake every year.
| | |
| --- | --- |
| Trip Duration | 5 Days |
| Accommodation | Tea House |
| Maximum Elevation | 4,380 meters |
| Difficulty | Easy |
| Best Season | March-April & September-November |
Gosaikunda Trek Highlights
Beautiful Mountains Ranges.
Gosaikunda Lake is one of the holiest lakes.
Astonishing evergreen forests and landscapes.
Flora and Fauna.
Explore Lake like Nagkunda, Suryakunda, Saraswatikunda, and, Bhairabkunda.
3. Tamang Heritage Trail
Tamang Heritage Trail is an easily accessible trek from Kathmandu Valley. You will find beautiful Tamang village and tourism in this area has helped to uplift the lifestyle of the people.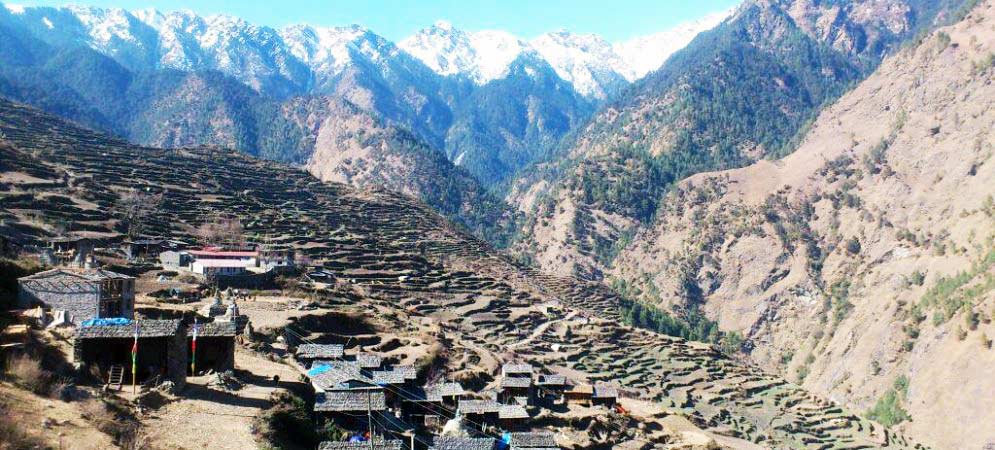 Tamang Heritage is a moderate-difficult trek, and after the earthquake, the route was closed. But now, the route is re-opened, and also hire a local guide to explore more about this heritage trail.
Tamang Heritage Trail Highlights
Explore traditional houses.
Culture and Lifestyle of Tamang and Sherpas Community.
View the highest point Nagthali Pass (3,165 meters).
View snow-capped mountains Ganesh Himal (7,429 meters), and Langtang Lirung (7,245 meters).
Trekking Gear
This is the most crucial section of this guide. Gears are vital aspects if you are going for short or long trekking. Sometimes backpacking is difficult if you are unfamiliar with the weather condition of a particular place.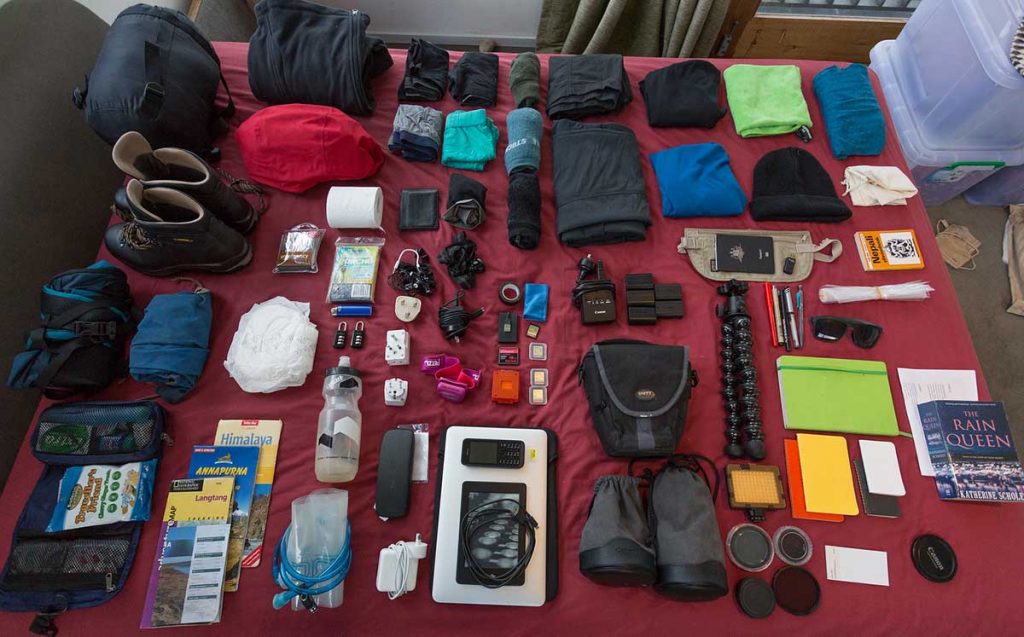 Actually, You don't have to carry all the trekking gear from your hometown. You can find hundreds of trekking shops in Kathmandu. The shop generally sells or rents the gear items at a low price.
But bring the basic stuff like a hiking boot, Trekking Bag, etc. from your country. Trekking Shop in Kathmandu commonly rents gloves, jackets, Sleeping Bags, etc.
Hiring a Guide and a Porter
Most people love to go hiking or trekking with a guide and a porter. A porter helps to carry your goods so that it will be easier for longer hiking at a higher altitude. Generally, a guide helps to make you more comfortable in a newer place.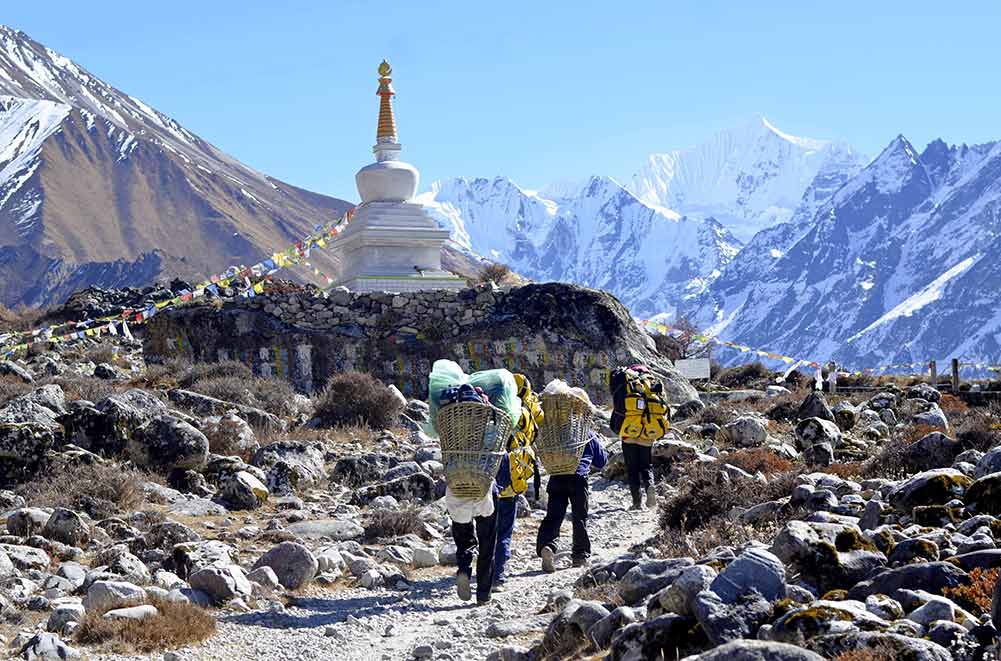 Make sure that your travel agency is registered with the Nepal Tourism Board (NTB) and Trekking Agencies Association of Nepal (TAAN). Besides that, you also need to make sure that your agency has a certified guide.
Langtang Trekking for Female Travelers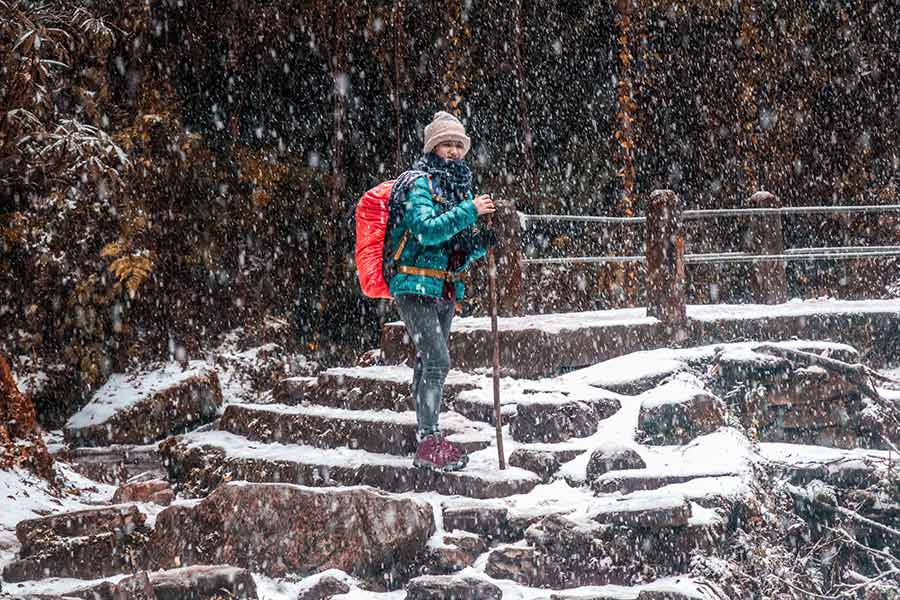 Nepal is safe for both male and female travelers. For female trekkers, you need to be extra careful while exploring different places.
Sometimes, it will be different situations as every country has its own culture, languages, and lifestyle. So always respect it and be sure you follow them.
Always be careful about the dress code while in Nepal. Also, don't forget to hire a guide and never go outside alone in the evening time.
Additionally, if you feel uncomfortable with a male guide, then you can hire a female guide too in Nepal and also read our guide for Female Travelers.
Langtang Valley Trek Without Guide
It is always true that you need to hire a guide and porter to be safe while trekking the Langtang region.
Moreover, if you don't have any prior experience with solo trekking, then this trek might be much more challenging.
Actually, Solo traveling means gaining more experience and knowing the place better. Although, It is best to hire a guide with a porter so that they can carry your luggage and make trekking much more fun.
But, if you are thinking of trekking Langtang without a guide, then be sure about everything, including routes, weather, hotels, and other things.
Then, it is good to explore the Langtang Trek independently starting from the capital city, Kathmandu.
Moreover, most travelers don't know the Nepali language, but if you have a little bit of experience with it, then it will be much easier. Though, most of the people here at hotels can understand the standard English Language.
Langtang after Earthquake
In the year 2015, Nepal was hit by a devasting 7.8 Magnitude earthquake. Among various affected areas, Langtang was one of them, and her home and the lives of people were deeply affected.
The earthquake hit some parts of this trekking route and moreover, teahouses and guesthouses were destroyed. The avalanche buried the entire village. Therefore, the trekking route was closed for a long time.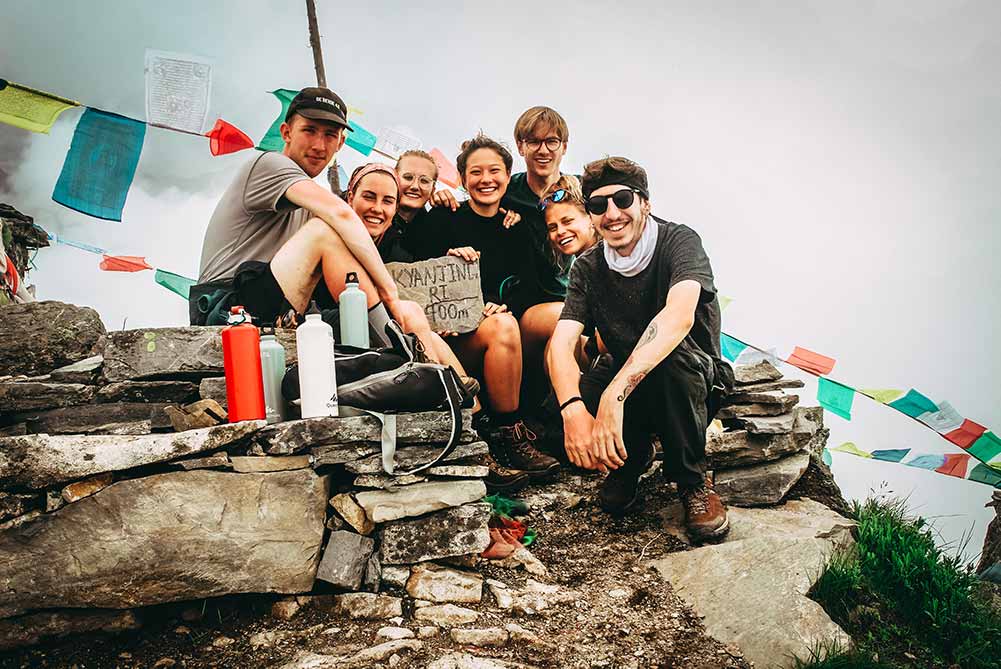 But, now the Nepal Government has reopened this route for trekking. Presently, the Lives of People at Langtang have recovered from the earthquake. The route is good, and you don't have to worry about it. Also, you can contribute economically to revive the life of the local people.
Nepal Trekking Insurance
While traveling in any part of the world, insurance is a must because no one knows the future. It is essential to have insurance while trekking and traveling to Nepal. Most insurance is necessary when you are going hiking, trekking, climbing, or on an expedition.
Is it necessary to have trekking insurance while visiting Nepal?
Trekking insurance is one of the crucial things while traveling. Nepal is best for hiking and trekking as you can find various routes with easy to hard difficulty levels. So, if you are unfamiliar with hiking and trekking, then we advise going for insurance.
There are different types of insurance policies, and you can take benefits from them. So if you are a solo traveler, then you can go for personal insurance. Also, if you are a group of travelers, then you can also go in bulk too.
Langtang Valley Trek Cost for Nepali
If you want to know the price for the Langtang Valley trek then the cost of the trek ranges from Rs. 15,000 – 20,000. But the cost may vary depending upon the group size, food, and accommodation you take during the trek. Be sure to carry extra money, it will be helpful in case of emergencies and other stuff.
The duration of the trek is 5-7 days that starts from Kathmandu. It is best to manage a group of up to 10 people so that it can be comfortable going for the trek.
So, if you are your friends are looking for a unique trekking experience, be sure to put the Langtang Valley Trek at the top of your list!
Frequently Asked Questions
Which Nepal trek is best?
There are many attractive places in Nepal for trekking. Some of the popular trekking destinations are Everest Base Camp and Annapurna Base Camp. Besides, this Langtang Valley Trek is another popular trekking destination in Nepal. It is the magical and unspoiled trek of Nepal.
How long is Langtang Trek?
Normally, if you have less time, then you can go for 7 days trekking, but if you are searching for an extended version, then you can go for 20-22 days trekking.
Can you trek without a guide?
Basically yes, you can go Langtang trekking without a guide. As said by a local guide, the level of this route starts from Easy to Moderate. So, it is possible without any guide. But we recommend you hire a guide for safekeeping.
How safe is Langtang Trek?
After the devasting earthquake in 2015, the route was closed by Nepal Government, but now the route has been completely changed and re-opened for trekking moreover, it is much safer for trekking.
How much does it cost to trek to Langtang Valley?
It depends upon the trekking days and the travel agency itself. There are lots of factors behind the cost. The estimated cost for the Langtang Valley Trek is between $600-$1000.
How difficult is the Trek?
Trekking Levels are generally graded in 4 parts: Easy, Moderate, Difficult, and Strenuous. The Langtang Valley Trek is a moderate difficulty trek. Most trekkers can finish the Langtang route easily.
How many hours a day do I have to walk during the Trek?
The average walk time is around 5-6 hours a day. So, be prepared mentally and make yourself stronger physically to finish the Langtang Trek.
Do I need a permit for the Langtang Trek?
Yes, you need Trekker's Information Management System (TIMS) card which must be issued by the Tourism Board. TIMS card must be presented at the entry point at Langtang Gateway.
Will I get altitude sickness on the trek to Langtang?
The range of this trek is moderate. So, there is a low chance of getting altitude sickness, but be sure to take precautions while advancing to a higher altitude.
Can I charge my phone and camera battery during Langtang Valley Trekking?
For electricity, solar panel powers the village, and you get an opportunity to charge your camera battery or cellphone, but you have to pay an extra charge of around $1-$3 per hour. But be sure to carry a portable power bank during the trek to charge up small devices like phones. Also, you can use a portable led USB light using a power bank that comes in handy during the journey.
Is there WiFi on Langtang Valley Trek?
There are WiFi services available in different guesthouses/teahouses. There is around 90% of the area where can use WiFi but you have to pay extra money to use it.
Can I use the ATM during Trek?
Usually, in Langtang Areas, it is difficult to find an ATM lounge. You can use an ATM and Credit Card in Capital City, Kathmandu. It is the best idea to take cash with you if you are exploring rural areas.
Can I hire a local guide during Trek?
Basically, the Travel Agency will arrange a local guide and porter for the whole trek to make your trekking fun and colorful.
Conclusion
We almost have mentioned all the details like the best time to visit, routes, itinerary, Price, Altitude Graph, Trekking Map, etc. So I hope you liked our ultimate guide to Langtang Valley Trek.
If you have a long holiday to spend in Nepal, then you can go for an extended Langtang tour but if you have short vacations then keeping the itineraries tight you can go for 7 days trekking.
If you have any questions/feedback regarding this trek, then please feel free to comment or contact us.
Love this post. Pin it for later