Tihar Festival in Nepal, also known as Deepawali and Yamapanchak, is the second-biggest festival after Dashain. It is a five-day-long festival mostly celebrated by Hindu all around the world.
This festival falls in the month of Kartik (October or November). Tihar festival is not only about people's celebrations but also about how people honor certain animals, including crow, dog, cow, ox, etc.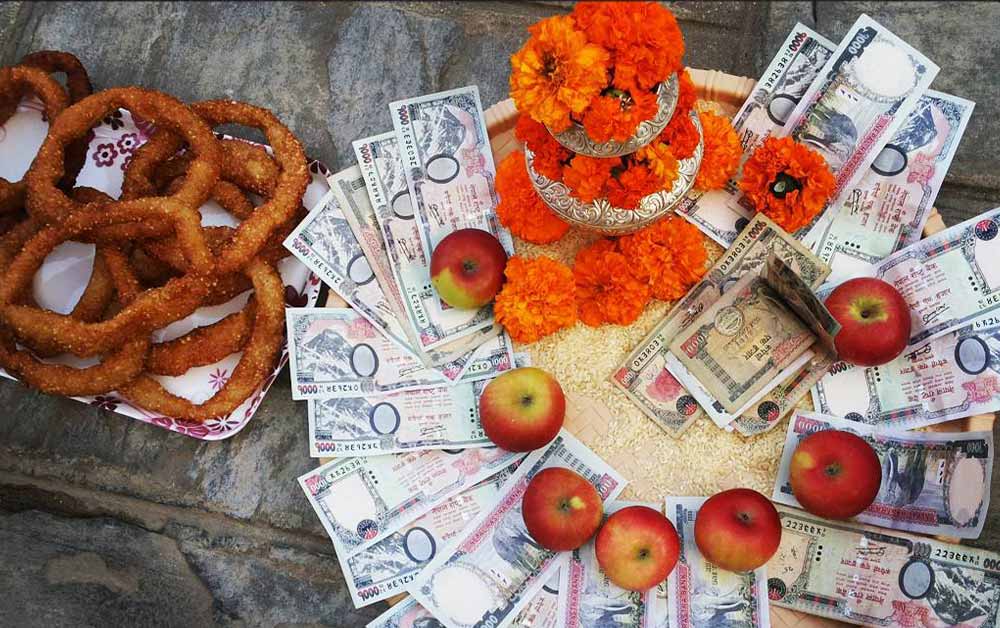 The Story behind Tihar Festival
There are many stories about why and how people started celebrating the Tihar festival. One of the famous stories is about Tihar is related to Yama, the God of Death and his sister Yamuna.
Yamuna and Yama were staying apart from each other for a long time. Desperate to meet her brother, Yamuna used to send messages through crow.
She used to wait for her brother's news. Finally, she met her brother. After meeting Yama, she worshipped him with five colored tika and flowers.
Yamuna also circled Yama with mustard oil, flowers, and Dubo ( Cynodon Dactylon) and asked Yamaraj not to leave till oil, flowers, and dubo gets dried.
So, every year, sisters follow the same ritual using Makhamali flower, Mustard Oil, Common Walnut, etc. for the longevity, the prosperity of their brother's age and wealth.
Tihar Festival in Nepal – Five Days of Diwali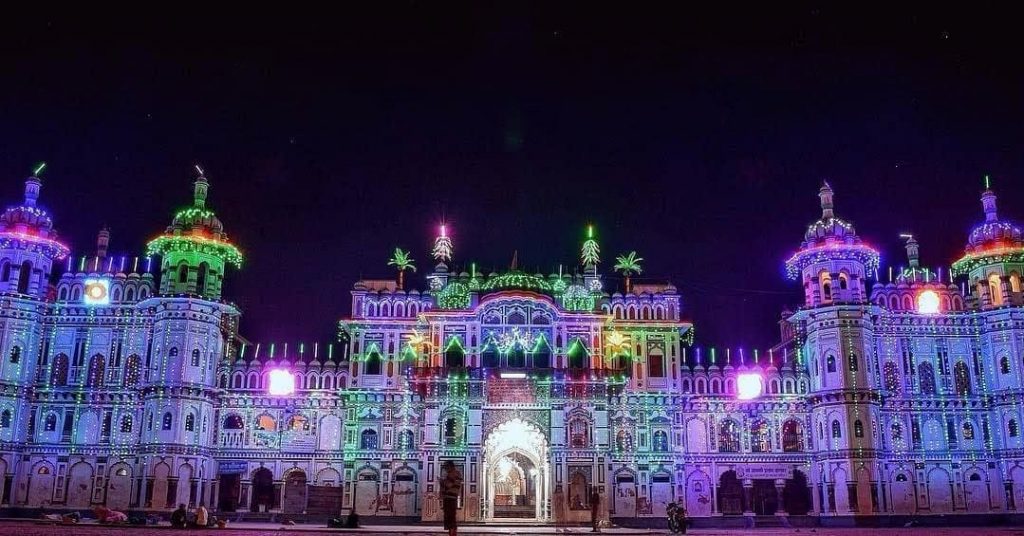 Tihar festival is also known as the festival of lights. The five days of Tihar have their own significance.
First Day is Kaag Tihar: Honors Crow as it symbolizes as the Messenger of Deaths from God Yama.
Second Day is Kukur Tihar: Honors Dog for their loyalty towards human beings.
Third-Day is Gai Tihar & Laxmi Puja: Worships Cow as they are sacred and National Animal of Nepal. Also, worship the Goddess of wealth, Laxmi.
Fourth Day is Goru Tihar & Mha Puja: Honors Ox as they are also sacred animals. Newar community celebrates Mha Puja: The Self Worshipping Festival.
Fifth Day is Bhai Tika: Brothers and Sisters exchange gifts and money offering Tika on each other's forehead.
Day 1: Kaag Tihar
On the first day of Tihar, People worship crow also known as Kaag in Nepali. Crow is regarded as "Messenger of Death" in Nepali society and people worship crow by offering rice and sweets on the roof of the house.
The cawing of the crow is said to symbolize the prediction of hearing some bad news in the near future. So, to prevent various serious things for the whole year, people feed crow on the first day of the Tihar Festival.
Day 2: Kukur Tihar
The second day of the Tihar festival is Kukur Tihar also known as Dog Tihar. On this day, Nepali worship Dog for their loyalty towards human beings. People put Tika, calendula garlands and offer good meals on this Dog Festival in Nepal.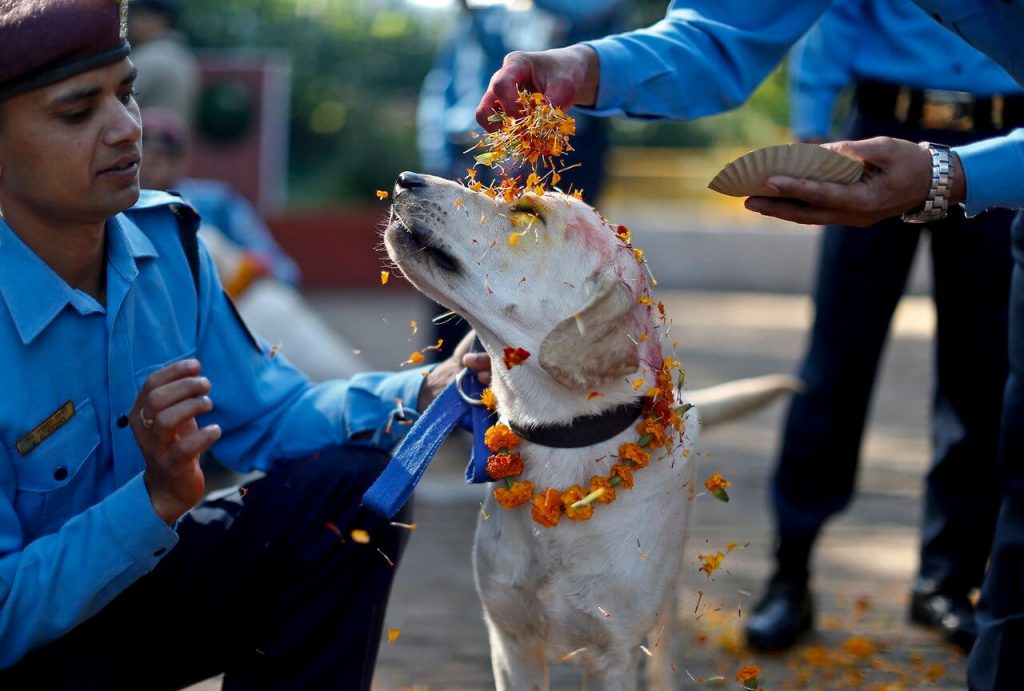 The dog festival in Nepal is being famous around the world, mostly in western society as this shows the respect and bond between Dogs & human beings.
Nepal Police, too do the same kinds of the ceremony on this day of the Tihar festival as dogs contribute lots during the investigation and bring security in our society.
On the other side, The dog (Kukur) Tihar is also known as Khicha Puja which is celebrated by Newars (Local people of Kathmandu Valley).
Day 3: Gai Tihar and Laxmi Puja
The third day of the Tihar festival is Gai (Cow) Tihar and Laxmi Puja. People worship cows and Goddess Laxmi on this day. Cow is the national animal of Nepal. Cow is sacred to Hindus.
People can take lots of benefits from Cow as it helps in our daily life. You can get good benefits from Cow milk, ghee, etc. People worship cows by putting Tika, calendula garlands, and offering their favorite grass.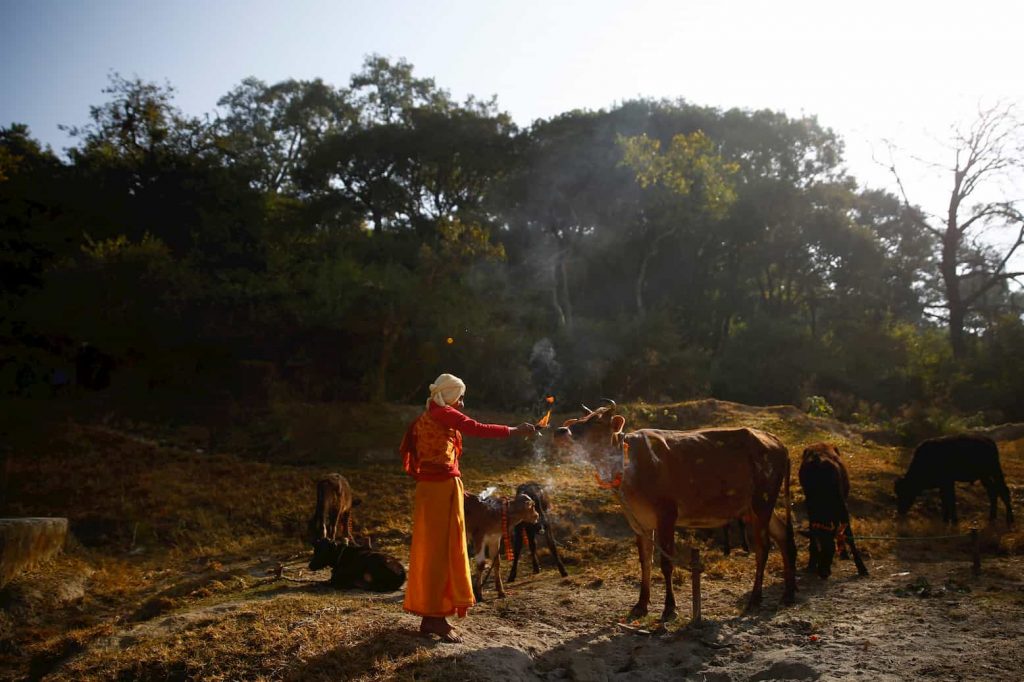 Also, on this day, people usually clean their houses and surroundings, especially the windows, doors are decorated with Marigold flowers.
In the evening, People worship Laxmi, The Goddess of Wealth by lighting the Oil Lamps (Diyo) and Candles all over the house.
People worship Laxmi to thank for all the wealth and benefits given to them and their families. Also, they ask for more wealth on this day to Goddess Laxmi.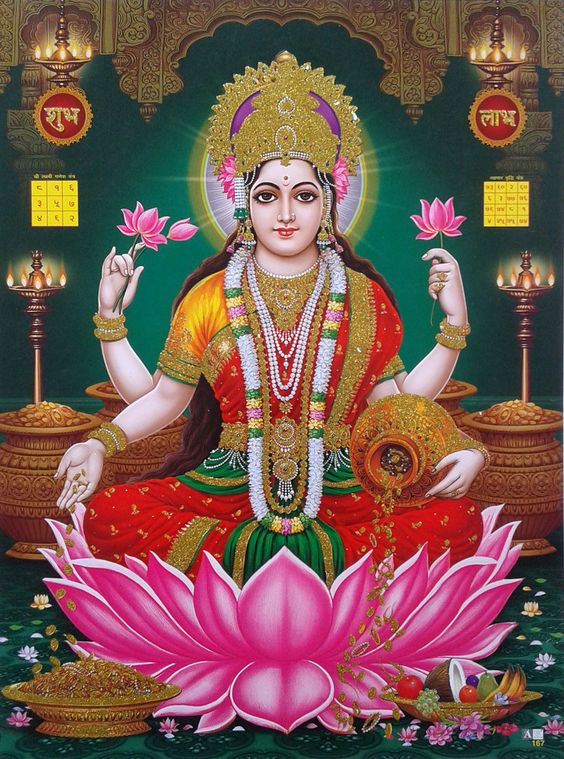 During the night time, the girls from the local community visit each house on the neighborhood to play Bhailo (Cultural Program during Tihar Festival) the whole night.
The house owner provides money and sweets in return. And after almost finishing the night, the girls share money and goods received from people among themselves.
Day 4: Goru Tihar and Mha Puja
On the fourth day of Tihar, people celebrate three different pujas. People all over Nepal mainly worship OX also known as Goru Tihar.
People who are devoted to Vaishnavism use cow dung to make goverdan mountains and worship it which is known as Govardhan Puja.
On the other hand, the Newar community in Kathmandu performs Mha Puja, the self-worshipping festival in Nepal. Also, this day is the beginning of the Nepal Sambat Calendar, the national lunar calendar of Nepal.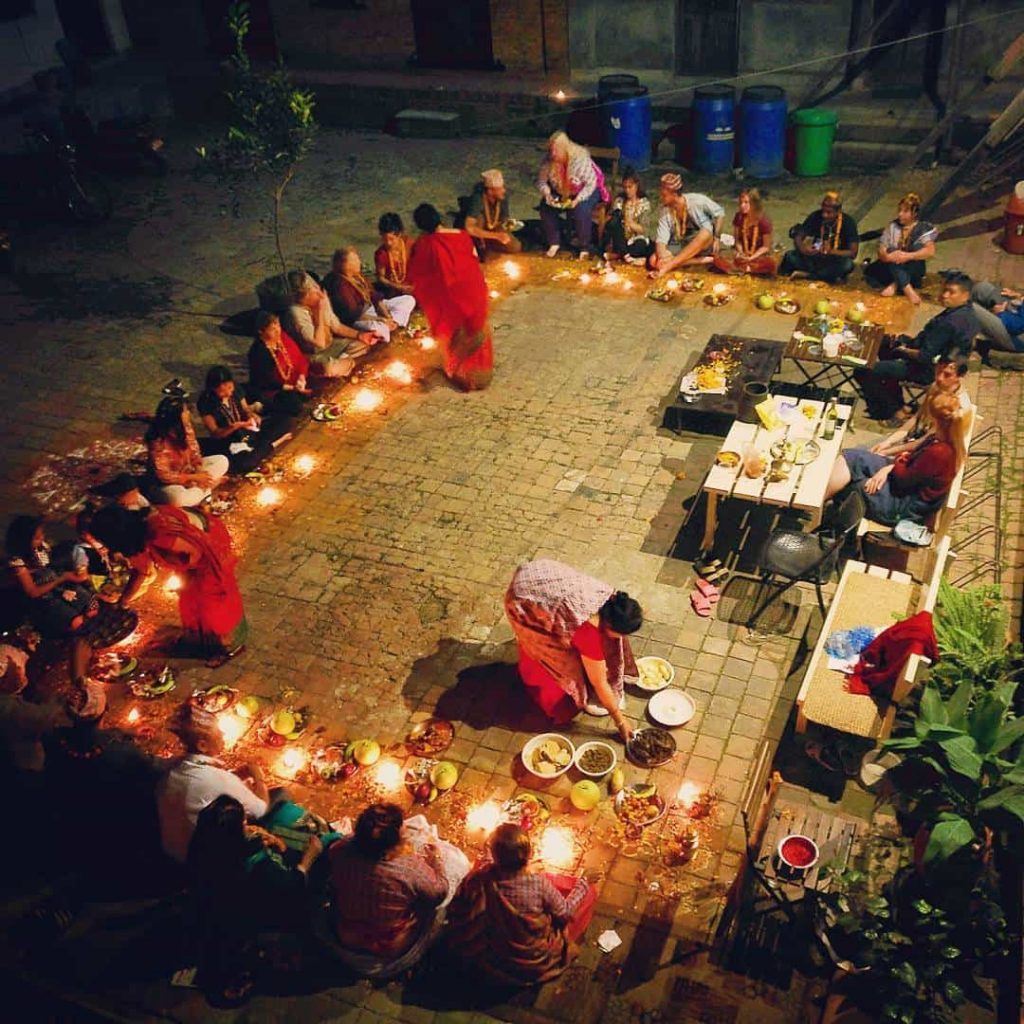 Moreover, at night, Boys gather together to play Deusi by visiting the neighborhood like Bhailo played by girls. Usually, a boy chants some story about the Tihar festival, sings a song supported by a group of people as a chorus.
They visit all the houses in the community for a whole night and collect some funds and divided the fund among themselves or the collected fund is used for some social welfares.
Day 5: Bhai Tika
Bhai Tika, the fifth and last day of the Tihar festival. It is the most awaited and important day of the whole festival.
Here, Bhai means Brother in Nepali, sister puts Tika on the brother's forehead praying to Yama, The God of Death for the success, growth, and longevity of the brother's health and age.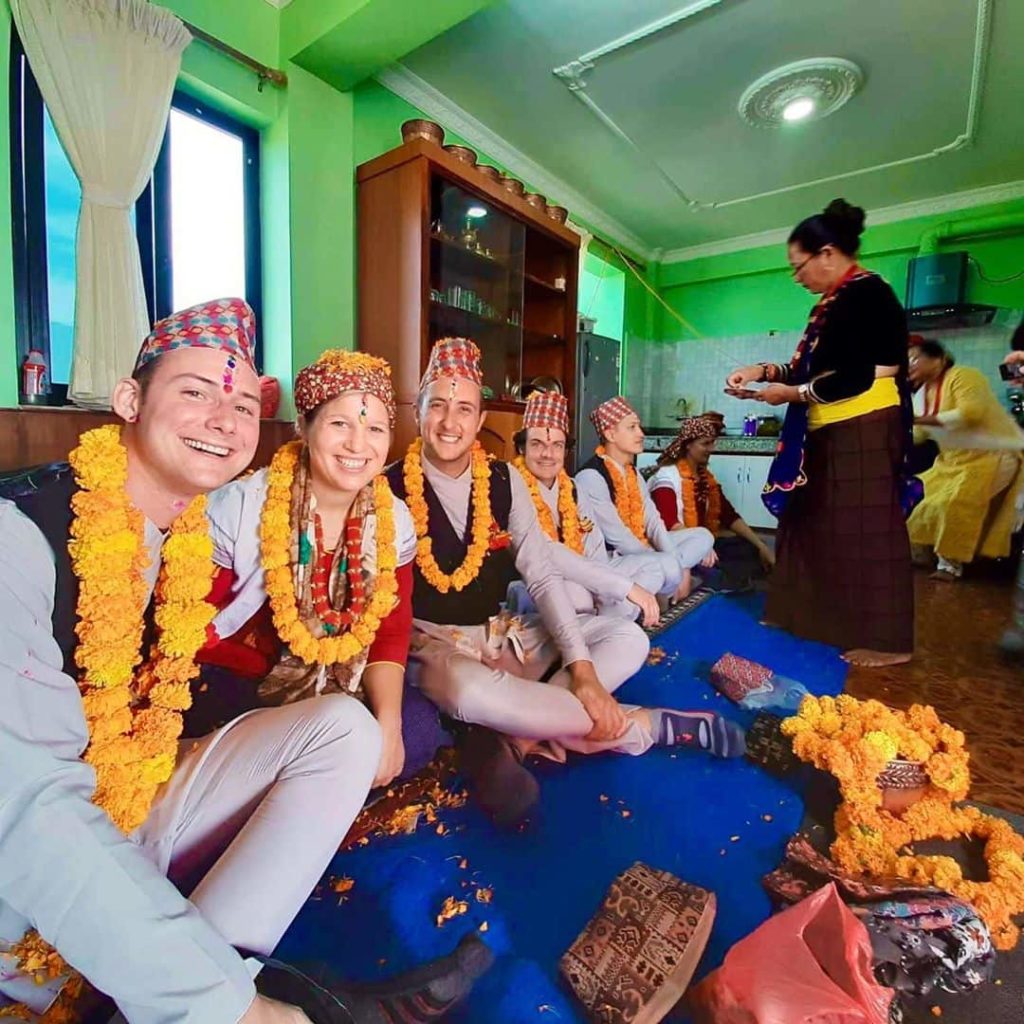 After Tika, sister brings the gift for brothers including roti, fruits, sweets, etc. In return, the brother also puts tikas on his sister's forehead and hands over the gift, the gift may be the things or a good sum of money.
People celebrate the last day by singing, playing cards, playing deusi (Cultural Program during Tihar) in local communities, and also lighten up the sky with firecrackers. The house owner blessed Deusi Team with blessings, money, and goods in return.
Yampanchak – Tihar Celebration in Nepali
The other name of the Tihar festival is Yamapanchak. Here "Yama" means the god of death and "Panchak" means five. So, the festival is celebrated for five days worshipping crow, dog, cow, ox, etc.
Rani Pokhari Temple: It is the only temple in Nepal that opens once a year on the fifth day of the Tihar festival in Nepal. Usually, people who don't have their brother or sister visit Rani Pokhari Temple to celebrate Bhai Tika.
They find a brother or sister over the temple, and make siblings and celebrate this famous festival in Nepal.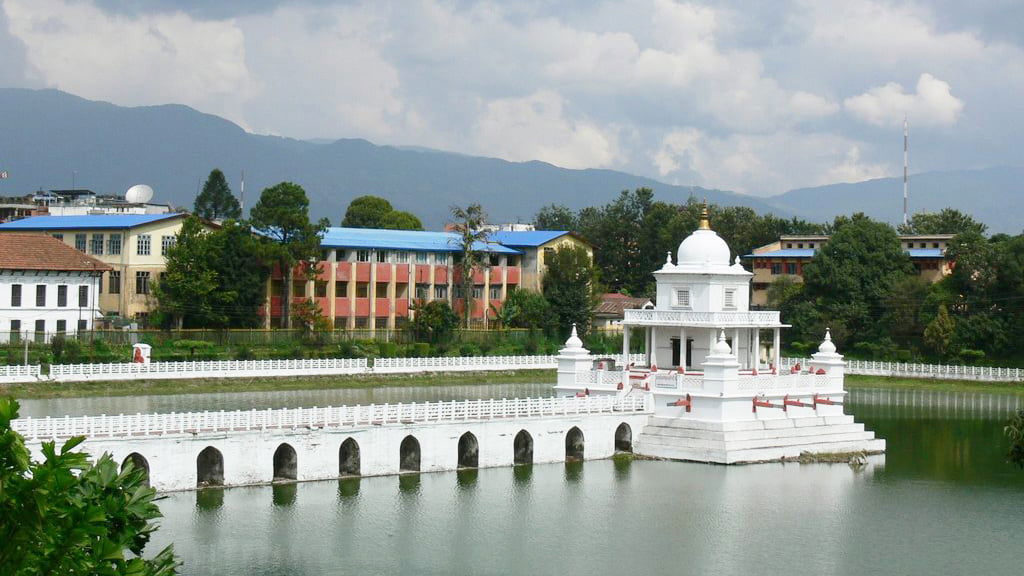 Also Read: Holi Festival in Nepal
How People celebrate Tihar Festival in Nepal?
There are a few things people usually do as a celebration during Tihar. we are going to list some of the popular things here.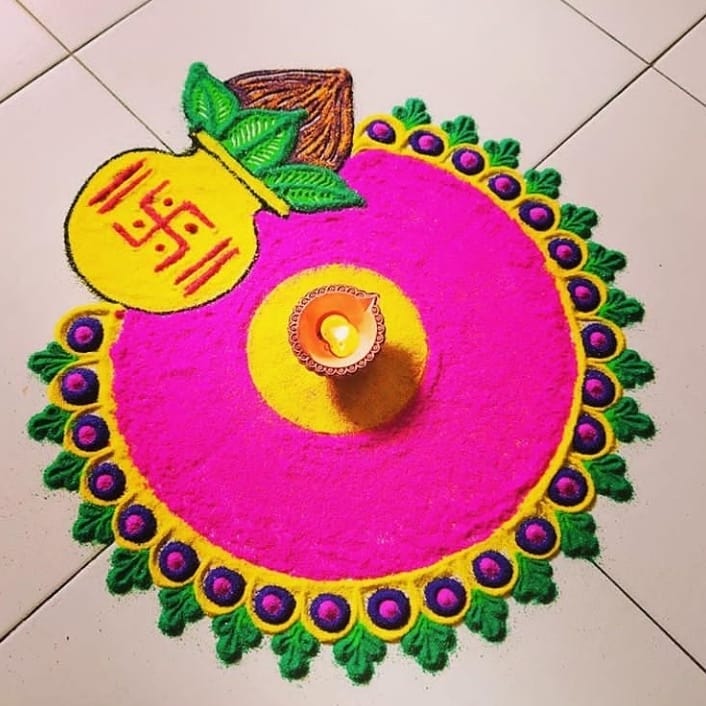 Deusi Bhailo Programs: Deusi Bhailo is a cultural entertainment program celebrated by a group of people who sings a song, dance and collect gifts and money by visiting the local houses. Deusi Bhailo is famous among children where they roam around the local community and collect money and gifts.
Firecrackers: To welcome the goddess Laxmi, people light firecrackers on their house. It is a tradition all over Nepal.
Playing Card: Especially Adults and Old People prefers to play a card in the Tihar festival. People spend the whole night playing cards placing bets for fun. This is one of the ways people celebrate Tihar Festival in Nepal.
Playing Dice: Yet another thing people prefer to play is Dice. It is famous among young ones. They spend lots of money on this activity. Some win a huge sum of money while others may lose.
Swing: After the Dashain Festival, the swing is kept the same and continues to enjoy in Tihar Festival by everyone, especially by young ones.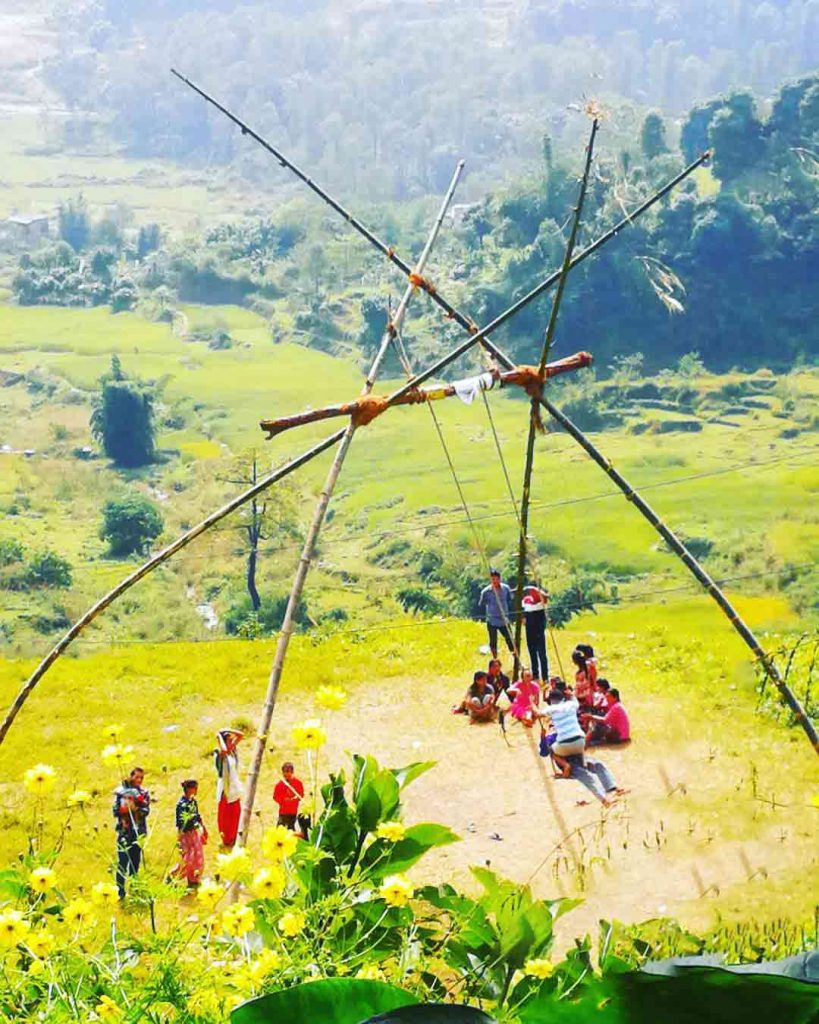 Frequently Asked Questions
What are the 5 days of Tihar?
The 5 days of Tihar are Kaag Tihar, Kukur Tihar, Gai Tihar and Laxmi Puja, Govardhan Puja, and Bhai Tika.
Is Tihar the same as Diwali?
Yes, Tihar and Diwali are the same festival. People from India called it Diwali or Deepawali, and Nepalese people called it Tihar.
Why is Dashain and Tihar celebrated?
Dashain is celebrated as the victory of Good over Evil and In Tihar Festival we worship Goddess of Wealth Laxmi and Animals which share close bond with Human Being.
At the End
I hope this guide helps to know more about the Tihar Festival in Nepal.
Besides Tihar, there are more than 50 festivals celebrated in Nepal on fixed dates.
Among that, Dashain and Tihar are the biggest festivals celebrated by Nepali Hindus all over the world.
At last, if you have any comments/feedback, please leave a comment below.
Love this post? Pin Me!!!