If you are a vegetarian traveling to Nepal, you will absolutely need this vegetarian guide to Nepal. This guide will provide you with sufficient information about vegetarian foods, places, and restaurants available in Nepal.
Nepal is known for its richness of delicacies. Each ethnic group has its original dish representing its culture and uniqueness. That's why you will never get bored with Nepalese food.
Being a vegetarian or Vegan is easy in Nepal since it has varieties to offer. The local cuisines of Nepal include both vegetarian and non-vegetarian foods. Meat-free cuisine is not a new concept in Nepal.
People turning vegetarian/vegan is increasing these recent times, and Nepal is no less than a paradise for vegetarians and vegans. You will need this vegetarian guide to Nepal because non-vegetarian restaurants are more crowded than vegetarian restaurants.
Vegan restaurants are even less. So if you are aware of vegetarian foods and where to find them in Nepal, you won't have to starve yourself during your visit to Nepal.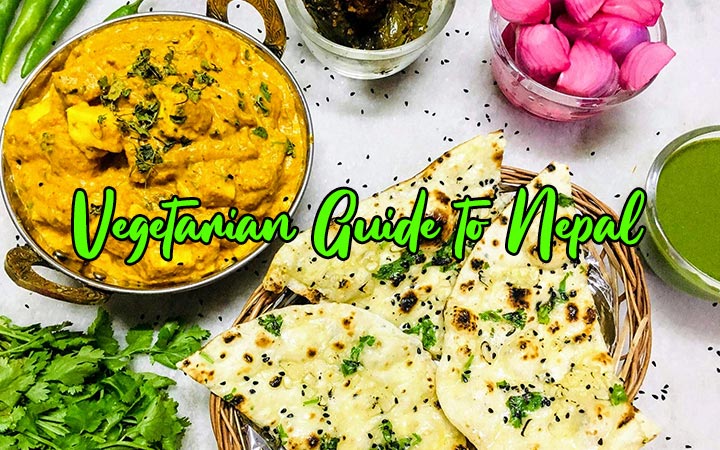 Popular Vegetarian Foods in Nepal
The significance of Nepali food is that it represents Nepali culture. These foods carry the generation-long tradition and unique spices that have now taken the shape of commercialization.
Here are vegetarian foods that you may try while you visit Nepal.
1) Dal Bhat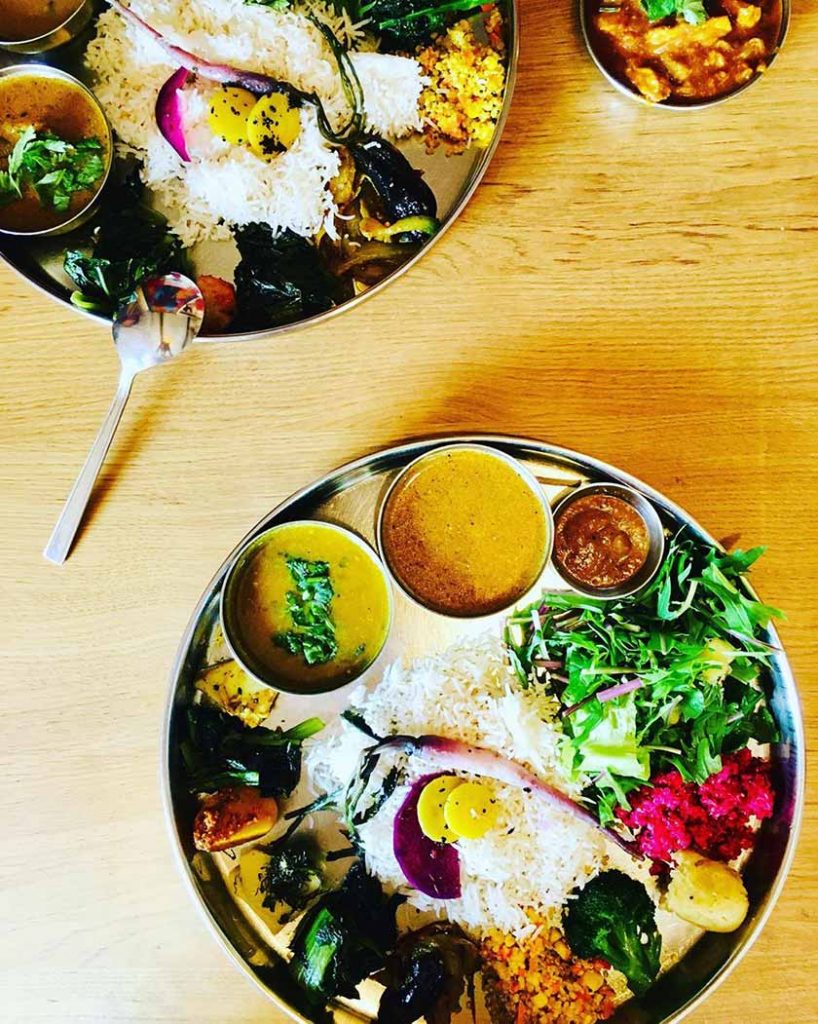 Dal Bhat is the most common and basic meal in Nepal. Nepalese eat Dal Bhat twice a day during lunch and dinner. Dal Bhat is the powerhouse that provides energy to our body for long hours.
Dal Bhat is high in carbohydrates and is also a popular dish at trekking destinations. Trekkers savor Dal Bhat during the trek so that they can walk for long hours without getting hungry.
Dal Bhat includes several food items such as rice, lentil, achar, and tarkari. Rice and lentil are the main items whereas other side items which you can select as your desire.
Non-vegetarians prefer meat dishes as side dishes with Dal Bhat. Similarly, vegetarians and vegans prefer vegetables with Dal Bhat such as cauliflower, spinach, beans, potato, etc.
Several restaurants in Nepal serve Dal Bhat. So, it won't be a problem for you to find one in Thamel, Kathmandu.
2) Roti Tarkari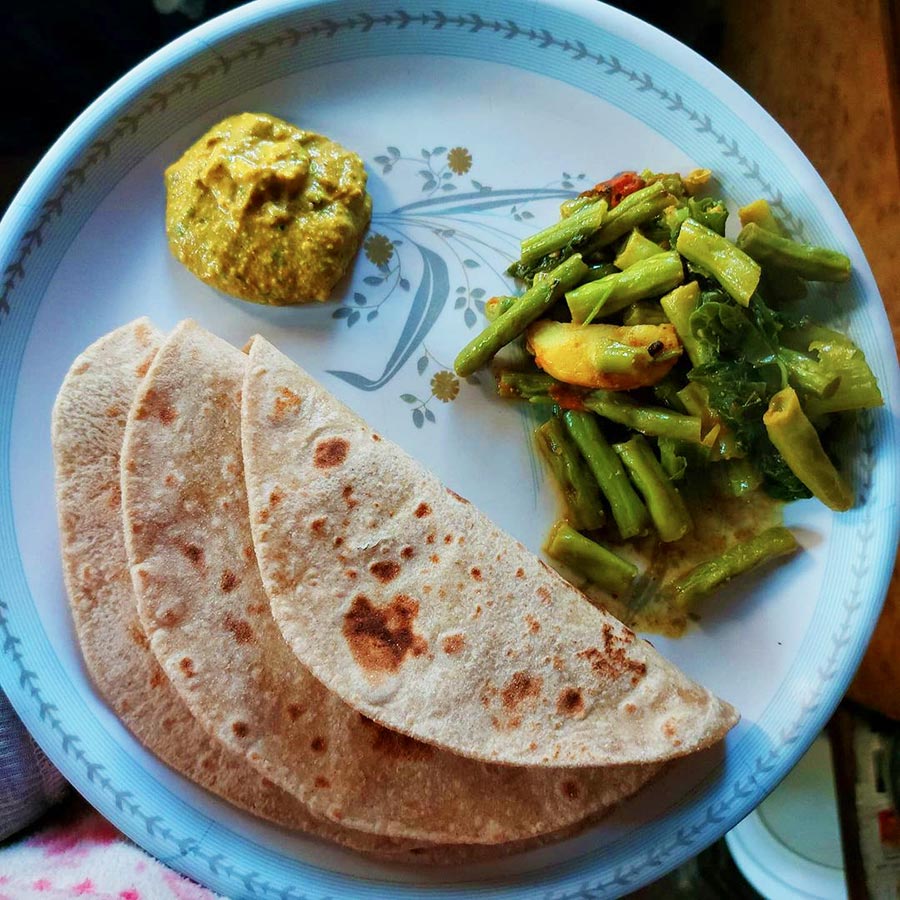 Another healthy vegetarian food that is occasionally a lunch or dinner of Nepalese is roti tarkari. Roti is a round thin bread prepared from wheat flour. It tastes best when eaten with some vegetables and yogurt.
People generally mistake Naan for roti. Though both look similar, they are different in taste and ingredients. Roti is rich in minerals as it is prepared from wheat flour.
Various vegetarian restaurants here serve roti with vegetables like soy, beans, potato, cauliflower, and many more. You can choose any vegetable dish from their menu and savor it any time of the day. It is suitable for vegans too.
3) Veg Momo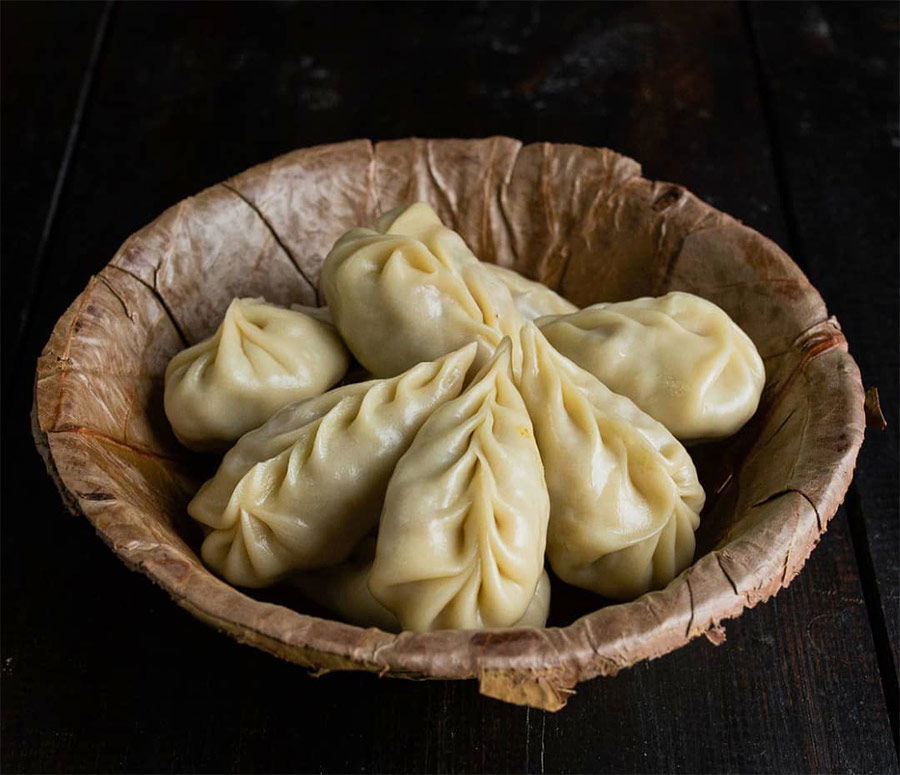 Another vegetarian food to splurge on is Veg momo. Momo is one of the most celebrated foods in Nepal. Kathmandu, Bhaktapur, and Lalitpur are the best food places in Nepal where veg momo is available at almost any corner around. Hotels and restaurants at trekking destinations also have momo on their menus.
Steamy hot momos dipped in spicy momo sauce is a heavenly dish that you won't be able to resist. There are varieties of Momo dishes to choose such as c momo, jhol momo, sadeko momo, stem momo, and so on.
Veg momo usually has a mixture of ingredients like cabbage and paneer. Similarly, the mouth-watering momo achar enhances the taste of momo dumplings.
The momo achar varies with restaurants. They use their own recipes to prepare the momo achaar. There are several momo hubs in Kathmandu. You can find Momo stations at Thamel, Basantapur, Baneshwor, Bouddha, and Jhamsikhel easily.
4) Jeri Swari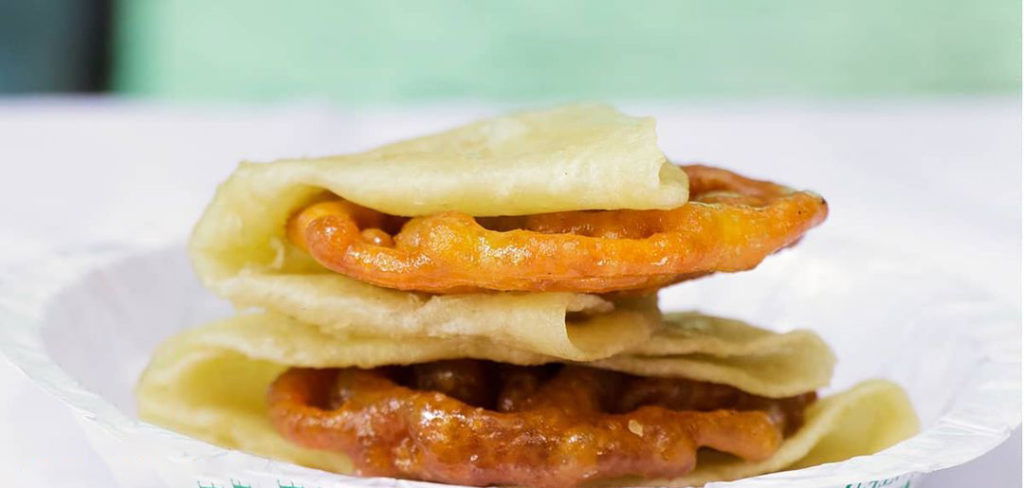 If you have a sweet tooth then you will certainly love Jeri Swari. Jeri Swari is counted as sweet though they are different from regular sweets.
Nepalese people normally desire Jeri Swari for breakfast. Jeri has a distinct shape. It looks like a beautiful mandala and Swari appears like a regular roti but it's white in color.
Trekkers can also choose Jeri Swari as their morning meal with tea as it keeps you full for long hours. It is a healthy and delicious food item that is easily available in sweet shops in Kathmandu, Bhaktapur, and Lalitpur. You can even store it for a few days and eat it whenever you're hungry.
5) Chatamari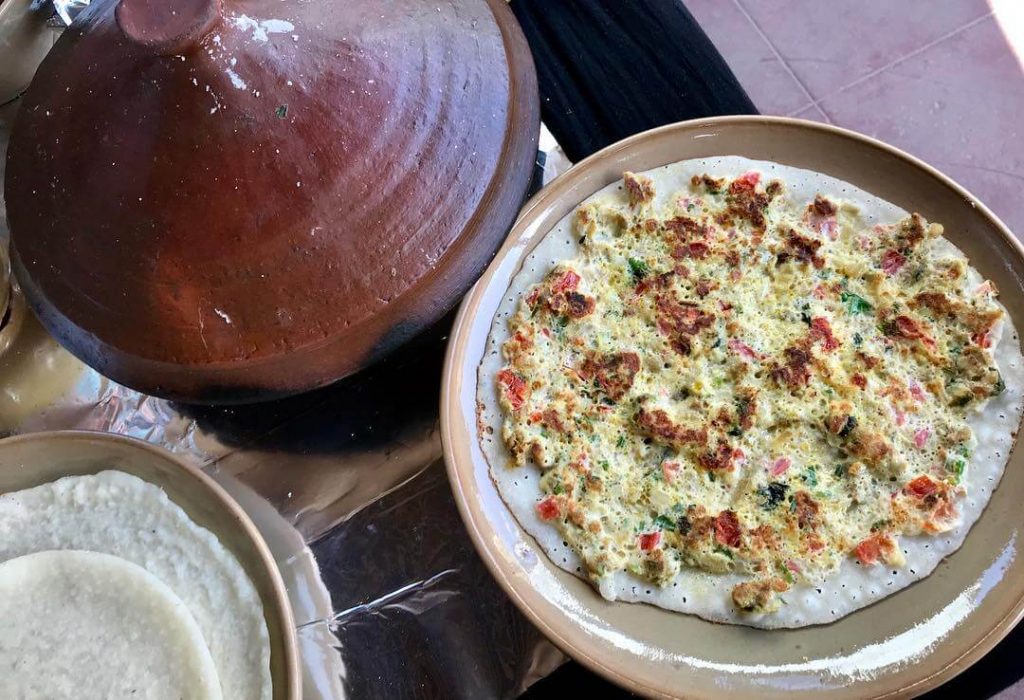 Chatamari is a simple and healthy food item that is perfect for vegetarians. It is prepared from rice flour. A thick paste of rice flour is steamed for a few minutes then it is ready to serve.
Chatamari is garnished with various vegetables such as onions, tomatoes, potatoes, carrots, coriander, corn, etc. It can be savored at any time of the day. Due to its richness in taste and health benefits, Nepalese prefer it during their everyday meals too.
If you want to try chatamari, then you can visit chatamari outlets at Bhimsensthan, News Lahana, Basantapur, Om Bahal, and so on. They serve veg as well as non-veg chatamari so do let them know your preference when you order your chatamari.
6) Dhido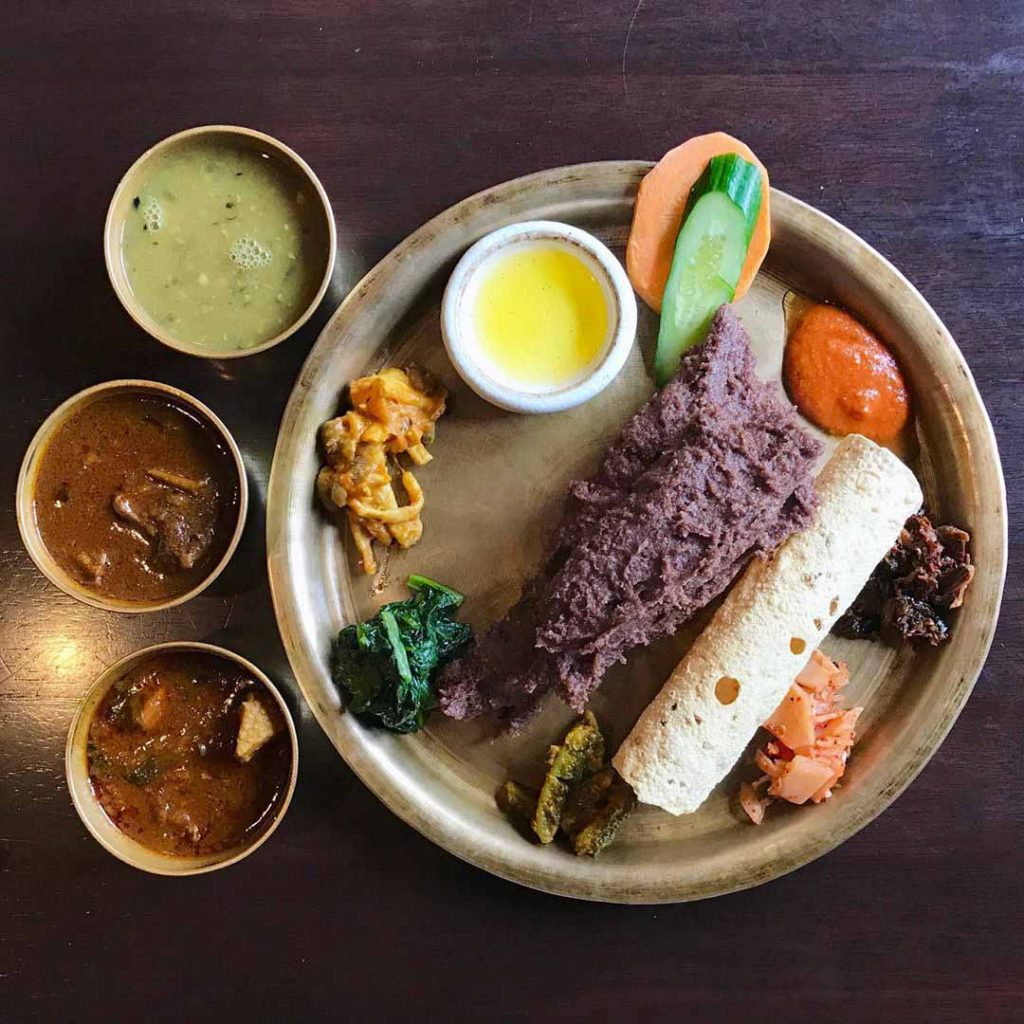 Another healthy and flavorsome vegetarian dish in Nepal is Dhindo. Vegans can try it too. You can select Dhido as a substitute for Dal Bhat when you want to reduce your carbohydrate intake. Nepalese people even include Dhido in their diet in order to lose weight.
You can eat dhido with vegetables and prickles. Trying dhido with gundruk ko achar is highly suggested. It just elevates the taste.
You are recommended to dine dhido at restaurants that traditionally serve traditional foods. You can find such restaurants in abundance in the Thamel area.
It is usually available at trekking destinations too. Hotels and restaurants at trekking destinations also include dhido in their menu. So, even if you're at high altitudes, you can have a chance of trying dhido.
7) Newari cuisine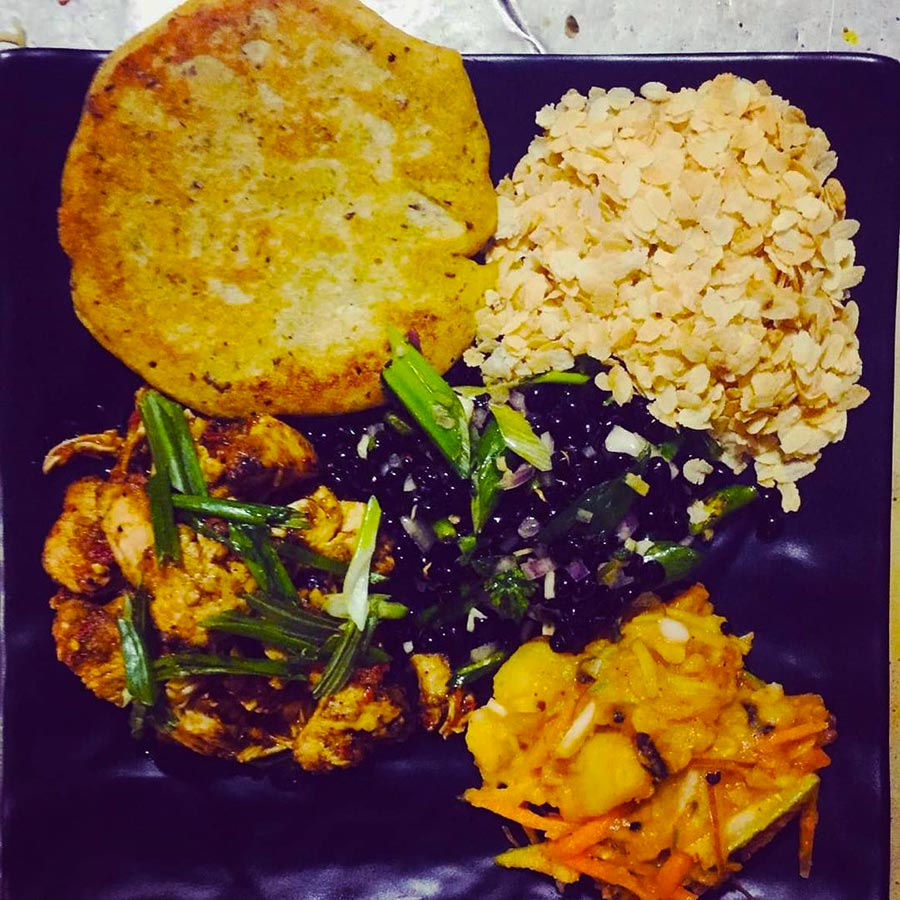 Though Newari food is an extensive platter of non-veg items, it can also be enjoyed including just veg items. You can exclude those non-veg items from the composition and enjoy Newari food, also known as Samaya Baji.
In a vegetarian Samaya Baji, you will find items like Baji (Beaten rice), Bara or Wo, Achhar (prickle), soybeans, spinach, Aalu Tama, and a side drink, Chhyang, which is totally optional.
Newari cuisine is a part of the Newari culture which is prepared during special occasions and festivals of the Newar community. The Newari food has unique ingredients and preparation processes that have descended from generation to generation.
Many people from the Newar community have opened Newari restaurants to serve authentic Newari food that is present in the majority of Kathmandu, Bhaktapur, and Lalitpur.
Some of the Newari restaurants that serve authentic Newari foods are New Lahana, Sasa Restaurant, Lohsha Ghasha, Harati Newari restaurant, and many more.
8) Dhau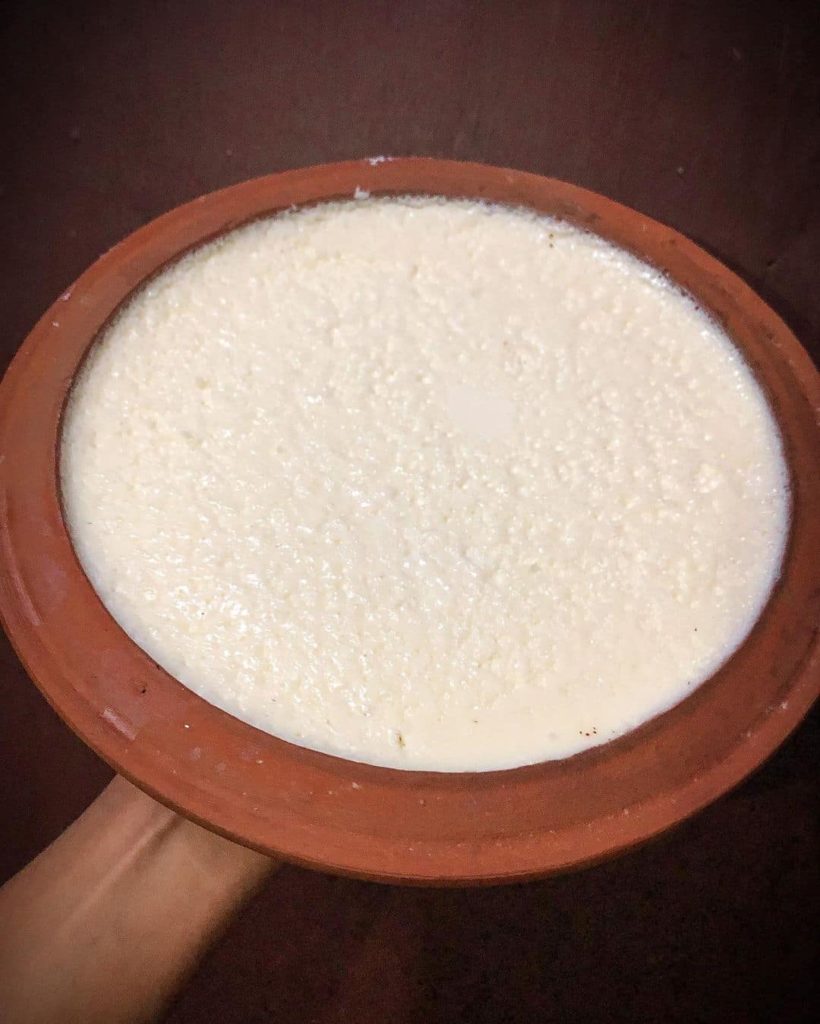 Dhau is a Newari term for yogurt. It is a milk product so dhau is suitable for vegetarians but not for vegans. Dhau is prepared in a unique process. The milk is boiled with some sweetness then it is left in a mud pot to freeze.
Dhau carries a traditional significance. Dhau is included in every festival and occasion as the presence of dhau is believed to be auspicious. Dhau is also served after meals in the form of dessert.
Though Dhau is savored at the end of the meal, it can also be enjoyed at any time. It is mainly suitable to eat during summer as it is cooling in nature. The best dhau is found at Bhaktapur. 'Juju dhau' is a famous dhau in Nepal.
9) Yomari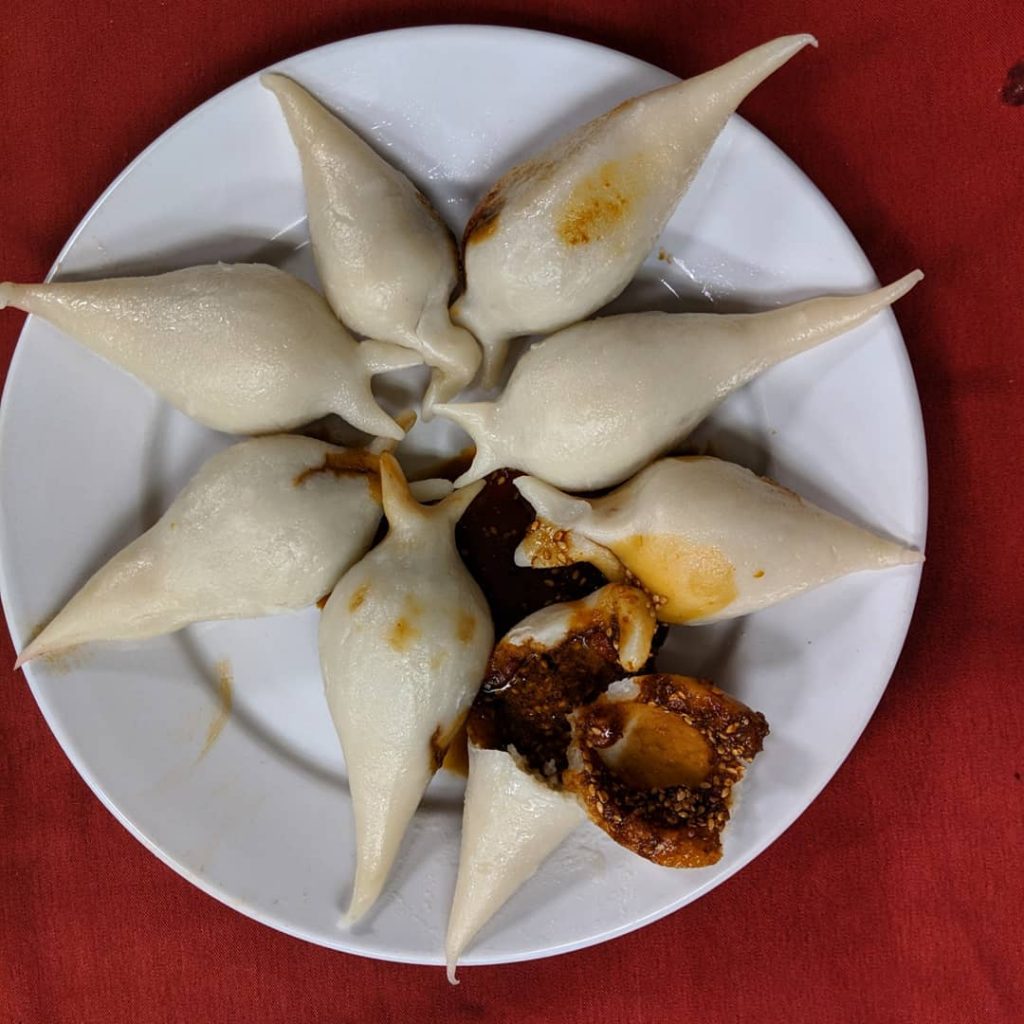 Yomari is a special Newari item that is prepared specially during 'Yomari Punhi'. It falls during December/January. Yomari is said to produce heat in the body, making our body warm in the winter season.
It is made up of rice flour and filled with chaku. A unique shape is given to yomari making it more interesting and appealing.
Vegetarians and vegans with a sweet tooth will certainly love to try yomari as it is sweet in taste. Apart from Chaku, Khuwa is also used as a filler in yomari.
Only Newari restaurants serve yomari. You can find joints around Basantapur and Thamel that serve yomari. You can add aloo achar as a side dish with yomari for some spiciness.
10) Laphing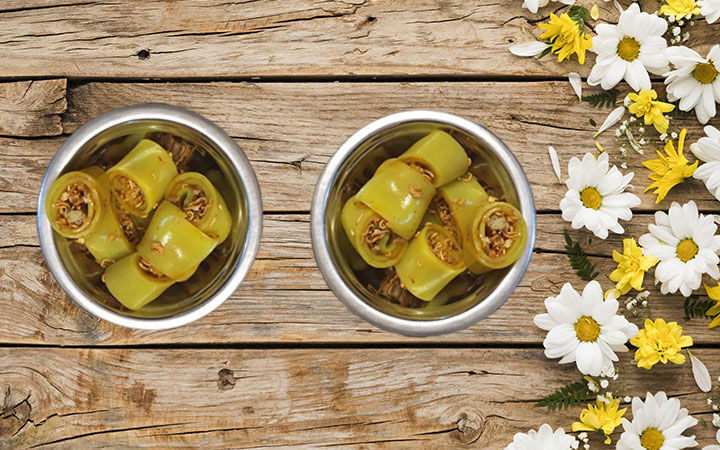 If you love spices, then you will definitely love the mouth-watering laphing. Laphing is a Tibetan dish that gained popularity due to its unique taste.
It is a thick noodle-like structure soft and spongy food item that is dipped into sesame oil and garlic water. Then, salt and spice are added according to desire. You can increase the hotness by adding more spice in winter.
Laphing is quite popular among vegetarians and several outlets of laphing can be seen at Swayambhu and Bouddha.
People prefer laphing in their lunch when they crave for a spicy dish. Vegans will also love the taste of laphing and one plate won't be enough.
11) Sel roti and Aloo achar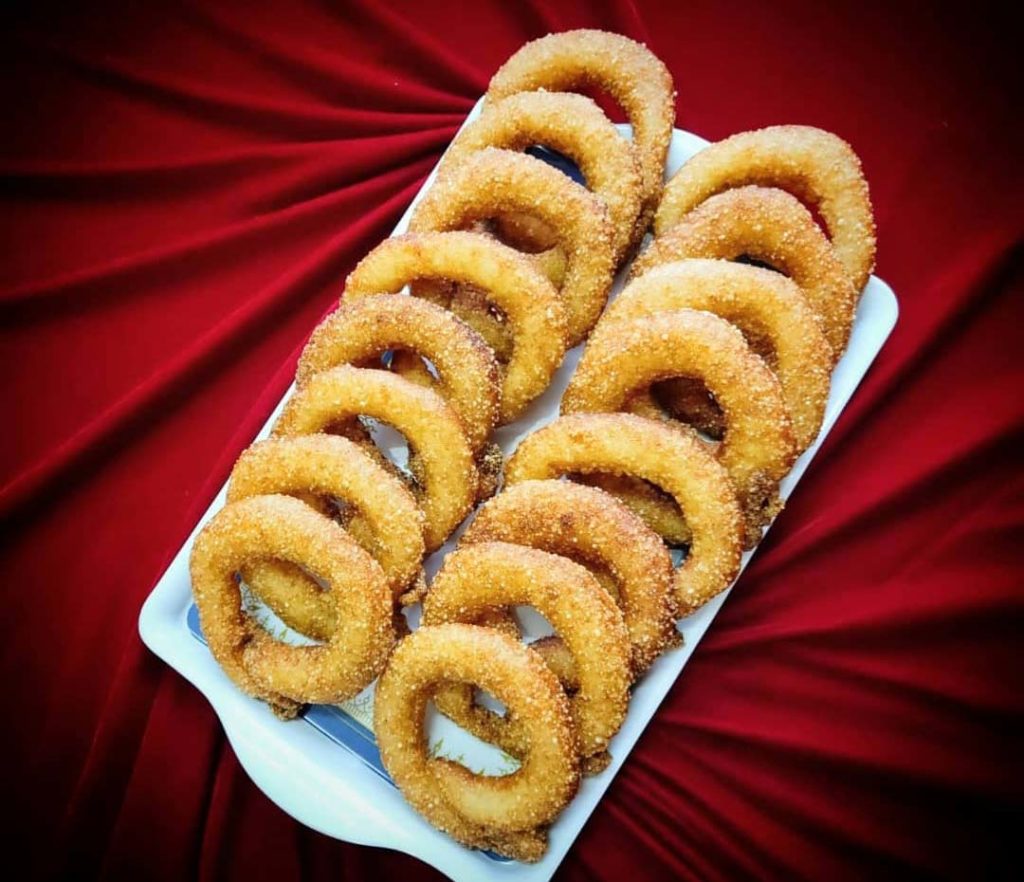 Another breakfast snack suitable for vegetarians and vegans is sel roti and aloo achar. Though it is suitable to savor any time of the day, people prefer it for breakfast with tea.
Sel roti is a ring-shaped soft doughnut prepared from rice flour. Aloo achar is a slightly spicy potato prickle that balances the sweetness of sel roti.
Sel roti and achar are easily available at hotels and restaurants that open early in the morning for people to have breakfast. You can check small hotels around Basantapur for hot and fresh sel roti and achar.
12) Potato chips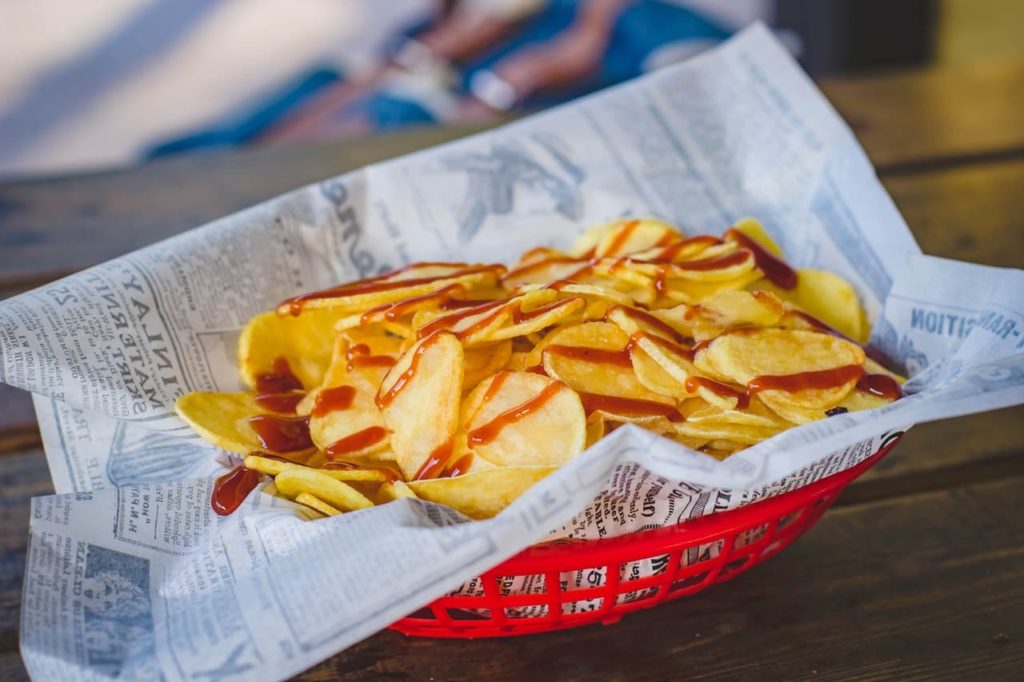 Who doesn't love potato chips? If you are someone who adores potato chips then, you must visit Lalitpur when you're in Nepal.
Pimbahal fresh potato chips, located in Lalitpur, sell some amazingly flavorsome potato chips. They have varieties of chips such as spicy cheese, onion chips, tomato chips, mixed chips, salted chips, and hot and sweet chips.
They've been operating the potato chips store for decades and decades. They prepare chips by themselves and sell them. Those mouth-watering chips are crunchy and delicious.
Vegetarians and vegans are highly recommended to try those potato chips at least once. You will crave more.
Vegetarian street foods in Nepal
The following food items are vegetarian food items that are popular as street foods. These snacks have their own fan base in Nepal. So, they make it up to this list.
1) Pani Puri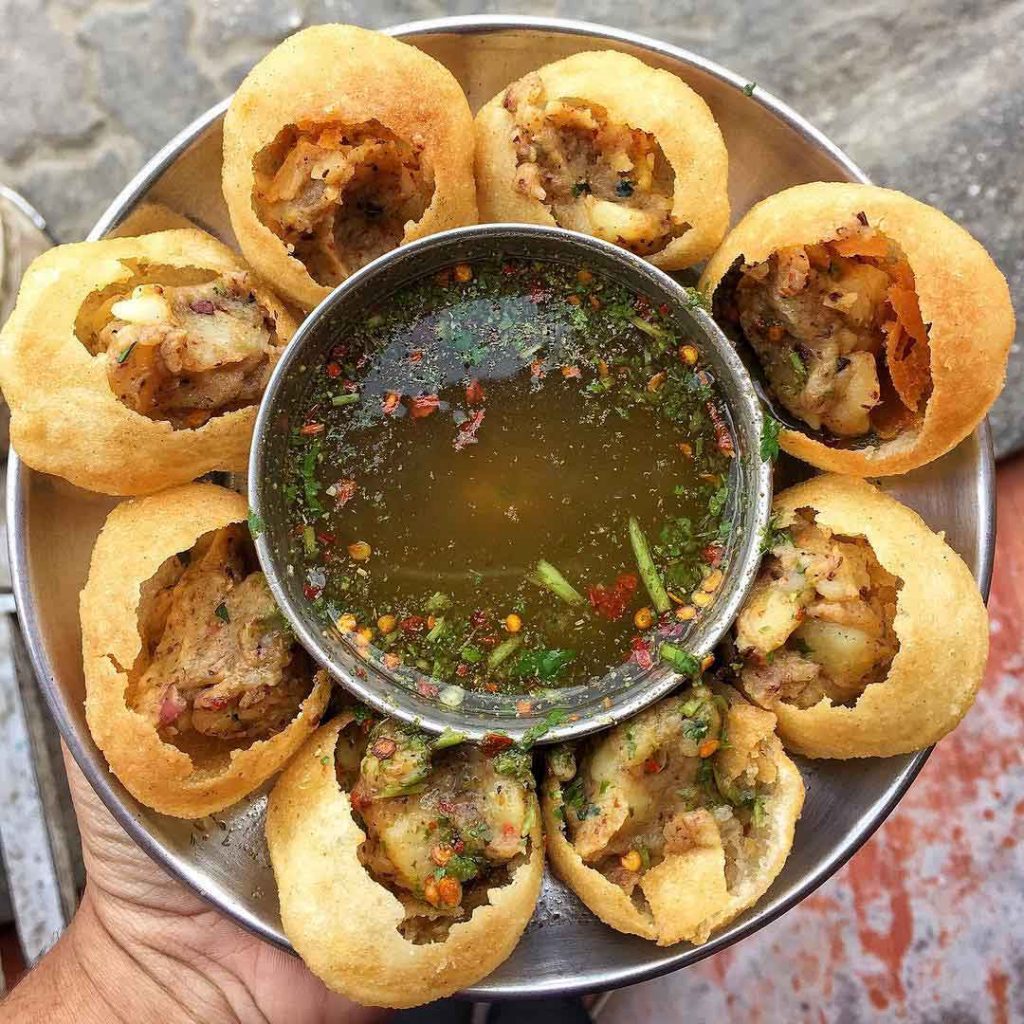 Though Pani puri is famous as street food, you can find it being served in the street as well as in restaurants too. Pani puri has become a beloved dish among vegetarians and vegans due to its spicy and tangy taste.
When you put a single piece of pani puri in your mouth, you will experience a carnival of spices that will excite your taste buds making you crave more.
2) Chatpate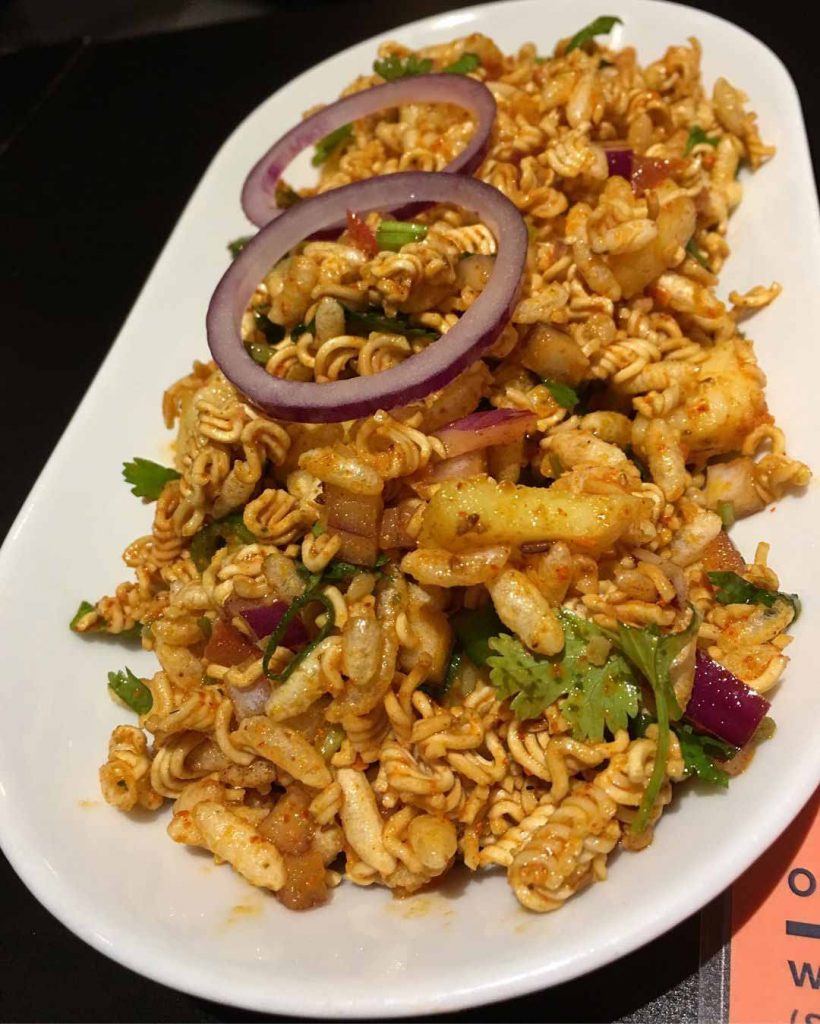 Chatpate is a spicy vegetarian food item that originated as street food. You can find various outlets around Kathmandu that serve chatpate.
Chatpate is a mixture of spices with vegetables like onion, potato, tomato, coriander, beans, and lemon put into raw noodles, and beaten rice.
It is usually enjoyed during lunch with friends and families. They even prefer eating at picnics, gatherings, etc. So, chatpate is suitable for vegetarians and vegans who love eating spicy foods.
3) Pakoda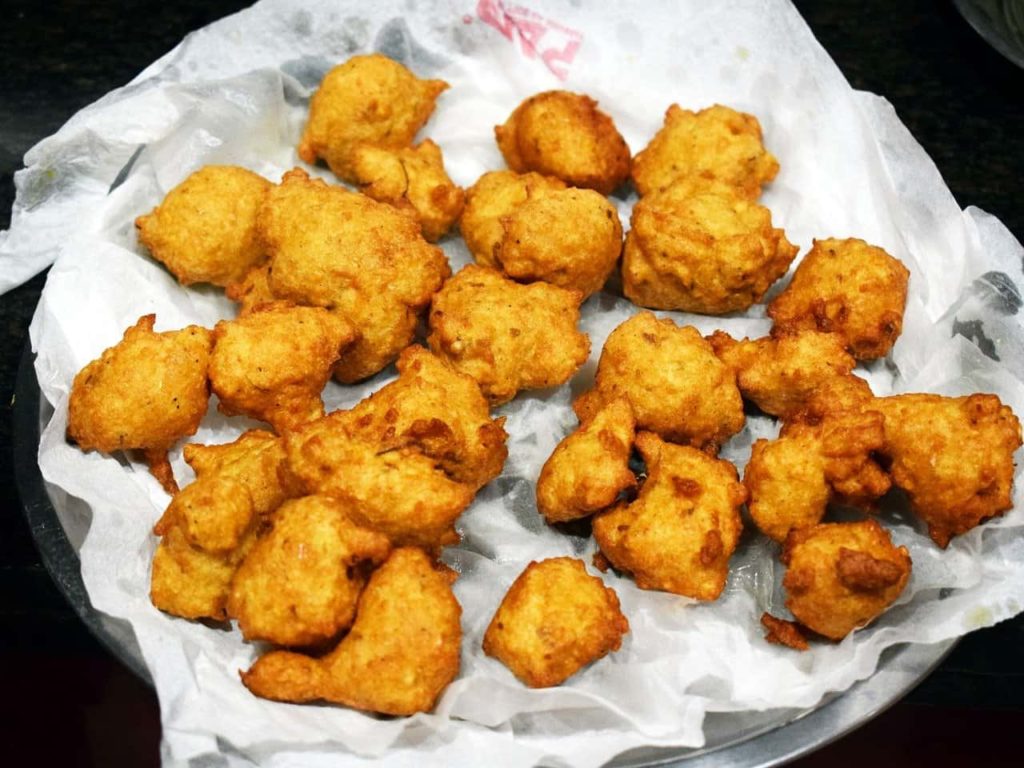 The popularity of pakoda is so much among Nepalese that it is available not only as street food but you can find it in fine restaurants too. It is deep-fried dumplings filled with vegetables.
Various vegetables like cauliflower, carrot, cabbage, onions, potato, tomato, etc are mixed with various spices and then mixed with besan flour. A thick paste is prepared out of it. Then a scoop of it is poured into the hot oil one by one.
People usually prefer to have pakoda as a snack in the daytime with tea. You can find pakoda at small hotels and restaurants in Basantapur, Newroad, Bouddha, Thamel, etc. You can check the snack section of their menu to find various types of pakodas.
Are most Nepalese Vegetarian?
The ratio of vegetarians and non-vegetarians differs highly. There are fewer vegetarian people than non-vegetarian people.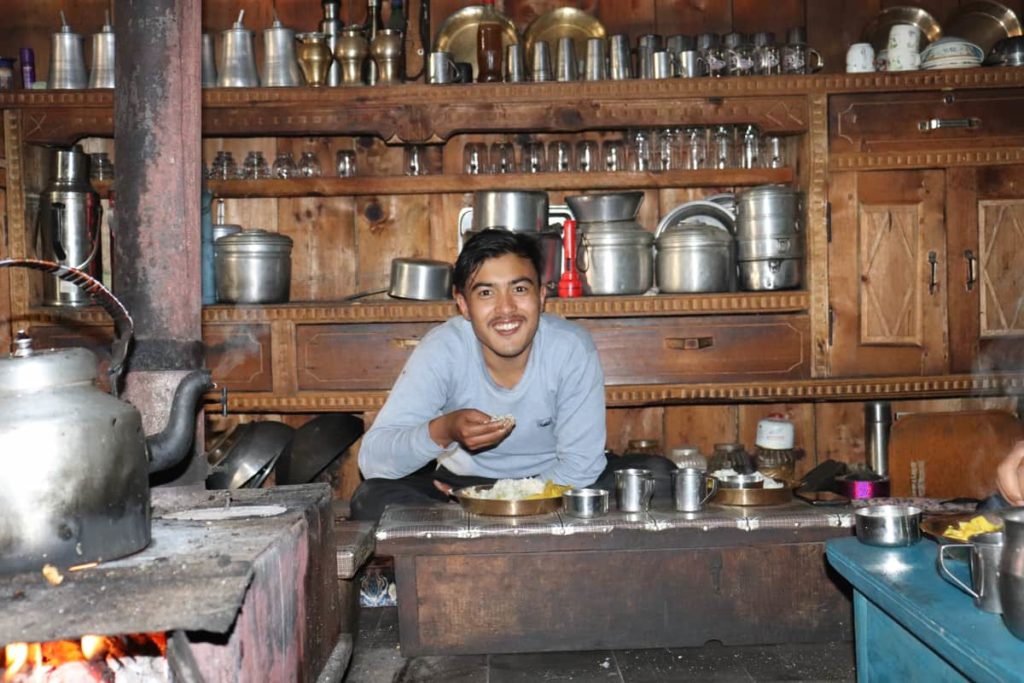 In history, the culture of eating meat was apparently based on the caste system. Newar people used to be the people who would eat meat the most. Chhetri people who eat certain meat products like chicken and goat meats.
The Newar community would have several festivals and occasions throughout the year and they would include various food items in their feast. Meat food items were an integral part of those feasts.
Dashain is the biggest festival in Nepal in which people sacrifice animals in the name of the goddess Durga till date. Gadhimai puja also involves sacrificing hundreds of buffalos.
Similarly, Brahmin people didn't even touch meat in those times. But the time has changed. People of all castes and religions are vegetarian and non-vegetarian according to their preferences. It is not a traditional thing nowadays.
Vegan foods in Nepal
People normally tend to believe Nepal is all about Dal Bhat. Though Dal Bhat is the common food in Nepal, it doesn't wholly represent the food lifestyle here.
Vegan is not a Nepali concept yet it is a popular concept in Nepal.
Vegan food is a healthy lifestyle towards which Nepalese are attracted nowadays. So there are a lot of restaurants open for vegan lovers out there.
We'll see the list of vegan foods in Nepal in a bit. First, let's discuss a few things about veganism.
You must have heard people saying they are going vegan or they only eat vegan food. So, what are vegan foods?
Vegans are those people who do not eat meat products as well as dairy products. The difference between vegetarian and vegan is that vegetarian-only rejects meat food while vegan rejects meat and dairy food products.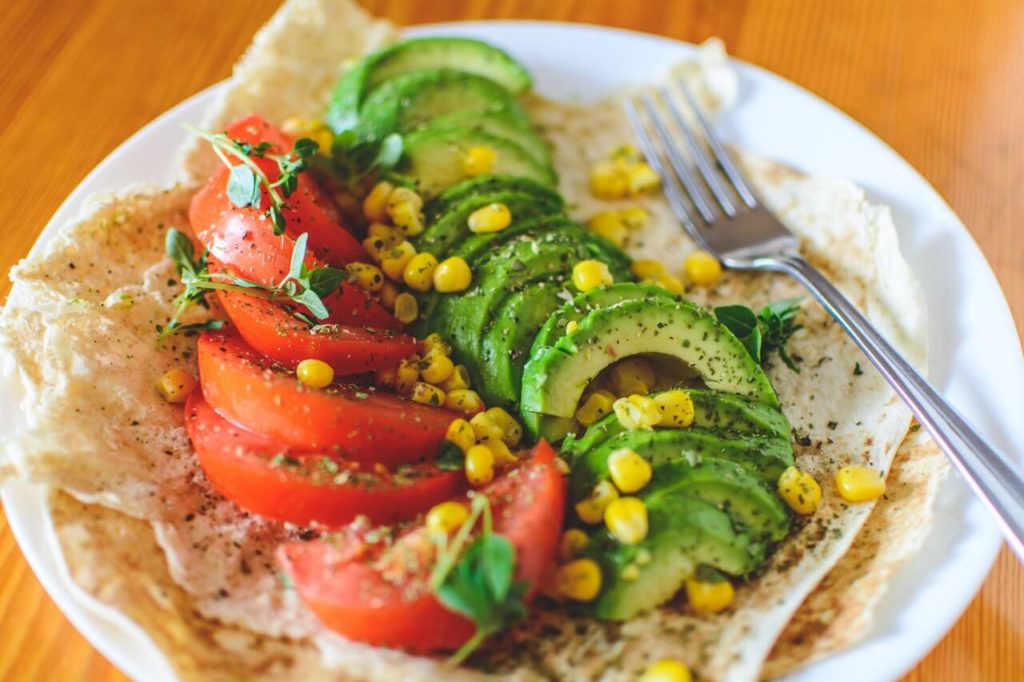 Vegan foods are apparently gluten-free and have zero calories. Not to forget all vegan foods are vegetarian foods but all vegetarian foods are not vegan foods.
Vegan foods generally include plant-based foods, fruits, and seeds. So, a vegan lifestyle is very much healthy for us.
The most popular vegan dish that people love to eat is a vegan salad. It is healthy and easy to prepare too. The ingredients are fresh and raw which keeps our body fresh and fit.
Various restaurants in Nepal serve vegan foods. Vegan salad is one of the healthy dishes that are delicious too.
Various herbs and plants like carrots, corn, cucumber, lemon, Broccoli, pomegranate, dates, beetroot, Avocado, spinach, sprouts, and many more.
You can easily find vegan restaurants in the Thamel and Bouddha areas. Take a look at the menu first. They have a variety of vegan salads to serve you.
Besides salad, you can make your own vegan meals by combining only vegan food items such as chatamari, Bara, vegan momos, sel roti and achar, dal bhat, roti tarkari, and so on.
Tips for Vegetarian Travelers to Nepal
Here are some tips for vegetarian and vegan travelers to make their trip hassle-free.
Bring your own vegetarian or vegan snacks during trekking.
Have Dal Bhat as your trekking meal. Vegans can skip the yogurt.
Bring your own cruelty-free/vegan toiletries.
Vegetarian Guide to Nepal: FAQs
Is Nepal a vegetarian Country?
No, Nepal cannot be considered a vegetarian country since the majority of people eat meat products. Non-veg foods are a part of their daily life and festivals. Having said that, not all Nepalese are non-vegetarian. There are a lot of people who are vegetarians in Nepal.
What you cannot eat in Nepal?
You cannot eat cow meat in Nepal. It is the national animal of Nepal and holds some religious significance. Similarly, you cannot hunt conserved animals. Do not drink direct tap water. Drink either mineral water or boiled water.
What are Nepal's famous vegetarian foods?
Dal Bhat, Dhido, veg momo, sel roti and achar, laphing, roti tarkari, Jeri swari, yomari, pakoda, Pani puri, and chatpate are some famous vegetarian foods in Nepal.
Conclusion
Nepal is known for its varieties of distinct foods that vary with hundreds of ethnic groups that have been preserving their tradition through food and their recipes. Explore the food culture in Nepal even if you are a vegetarian or vegan. The options are limitless.
Hope this vegetarian guide to Nepal helps you to find your kind of food in Nepal. If you have any queries, you can leave a comment.
Love this Post? Pin it now & Read it later