Here is a list of 10 Nepali food recipes with detailed instructions to prepare them. Learn to cook 10 Nepali dishes that are easy to cook and taste delicious.
The recipes are quick and simple, so it is suitable for beginners who want to learn Nepali food cooking with ease.
Nepali food items are traditional foods, the recipes of which have been blessed down from generation to generation.
Nepalese use authentic spices and cooking methods that result in a mouth-watering dish. Though several restaurants in Nepal serve Nepali food, it is hard to find authentic restaurants.
If you can cook them at home, then why struggle to find the restaurants in the street, right? So, let's begin with the list of 10 dishes to cook for beginners.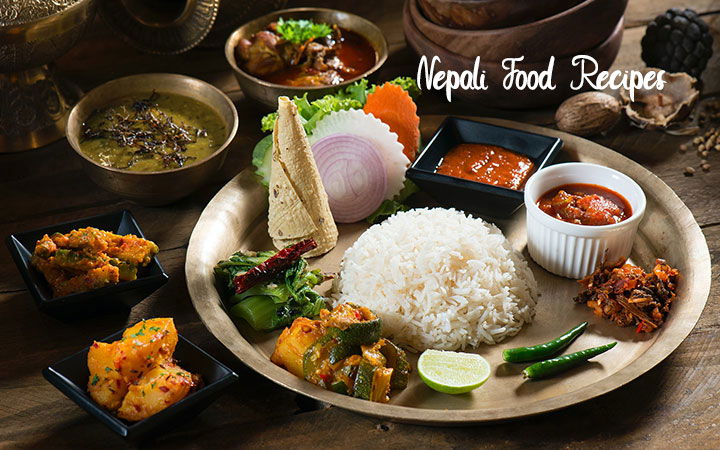 List of 10 Nepali Food Recipes
Out of unlimited Nepali foods that range from various cultures, traditions, geographies, and homes, here are only 10 of them for you to start cooking with.
These dishes are easy to prepare, and finding the recipes in one place will save you valuable time while searching for them all over the internet. So, let's begin!
1. Dal Bhat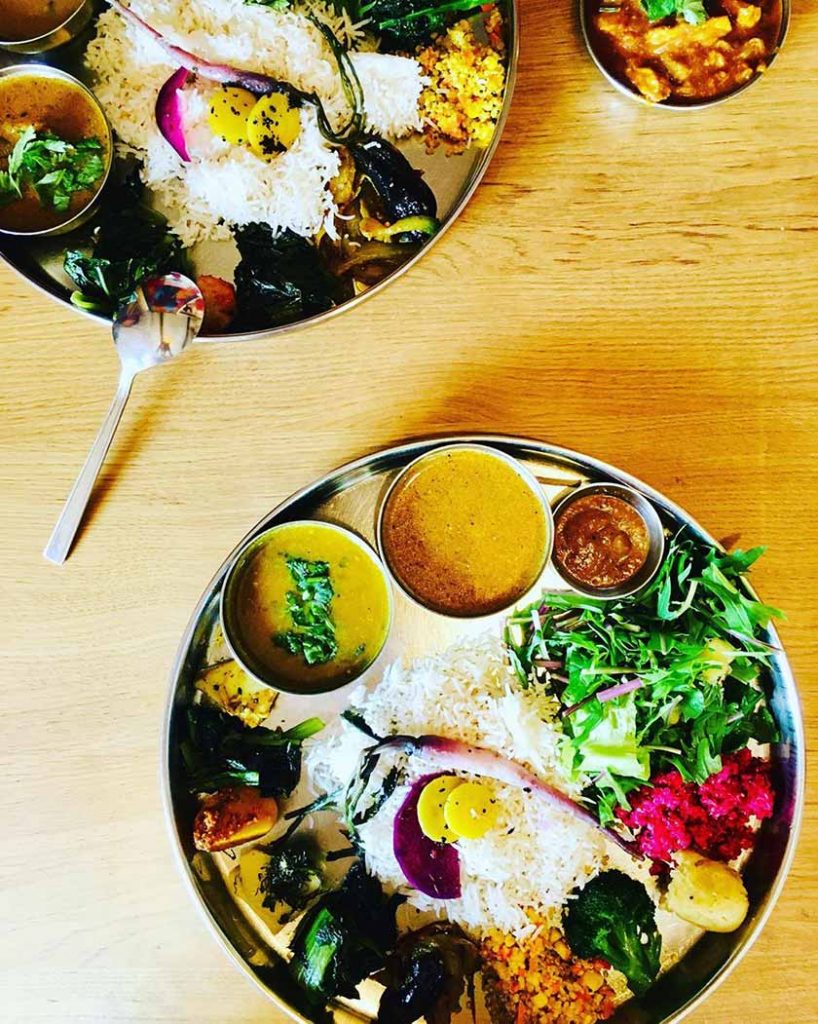 Dal Bhat is the most beloved Nepali food of the Nepalese. It is a traditional yet popular Nepalese food you will find prepared in almost all Nepalese households daily.
Dal Bhat is a combination of steamed rice and lentil soup. This meal is usually combined with several unique food items eaten collectively on a single platter. So, Dal Bhat is a heavy meal that provides lots of energy and diet to our body.
Dal Bhat is normally accompanied by a few side dishes. These side dishes enhance the taste as they are of different flavors.
Dal Bhat is suitable for both vegetarian and non-vegetarian people as you can choose the side dishes according to your preference. In this article, you will learn to cook vegetarian Dal Bhat.
Read the easiest way to cook simple Nepali Food Recipes listed down below for Dal Bhaat.
To cook Bhat, take 2 cups of rice and wash it thoroughly.
Then, put it in a pressure cooker and add 4 cups of water to it.
Shift the cooker on the stove and wait for 1-2 whistles to turn off the stove.
Similarly, to cook Dal, take 2 cups of lentils and wash them.
Pour it into a pressure cooker and add 3 cups of water, salt, turmeric, and ginger into it.
Wait for 4 whistles and turn the stove off.
For the side dish, let's prepare tomato pickle and cauliflower.
Take two tomatoes and cut each of them in half.
Now, take 1 teaspoon of oil in a pan and put tomatoes in it. Cover them for 2 minutes and take them off the pan.
Now put those tomatoes, salt, chili, and cumin powder on a grinder and grind them. Your tomato pickle is ready.
Now cut a cauliflower, a potato, and an onion.
First, put onion pieces in the hot oil.
Fry them for 1 minute then put the potato into it.
After another 1 minute put cauliflower followed by turmeric, salt, chili, cumin powder, ginger, and garlic paste.
After a quick toss, cover it and cook for 5 minutes. You can add some water for the cauliflower to cook faster.
These are the basic ingredients for this recipe. Instead of cauliflower, you can pick any other vegetables such as beans, mushrooms, spinach, etc. It can vary with the choice of vegetable you would choose to eat the side dishes.
2. Yomari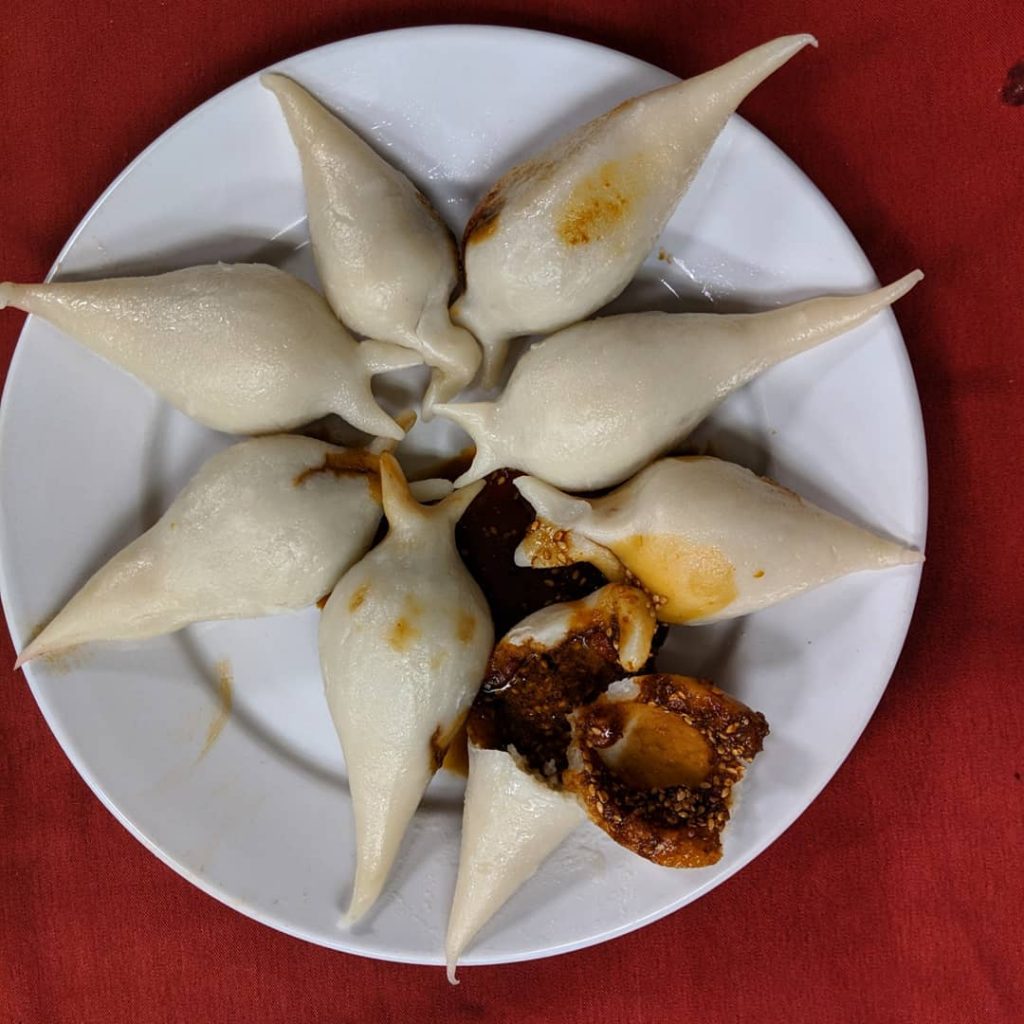 If you have heard about Newari food, then you definitely have heard about yomari. It is an authentic Newari food item prepared specially during a festival of the Newar community called Yomari Punhi.
Yomari has an attractive appearance and tastes really sweet, but it is quite difficult to prepare. If you follow the instructions sincerely, then you will definitely prepare a perfect yomari.
Take 4 cups of Rice flour in a bowl.
Create a dough by adding hot water to it.
Now comes a tricky part. The dough has to be warm while you are preparing yomari.
So use hot water and also cover the dough with a towel.
If you keep it open, the dough will become cold and hard.
Prepare a filler out of Chaku by melting it.
You can add Coconut powder to it to enhance the taste.
Then, take a small piece out of the dough and roll it in your palm to make it like a ball.
This time roll the same ball in a way that you create a cone-like structure out of it. Dig a hole in the cone by using your index finger.
Now, insert the chaku paste inside the cone and close it at the edge
3. Chatamari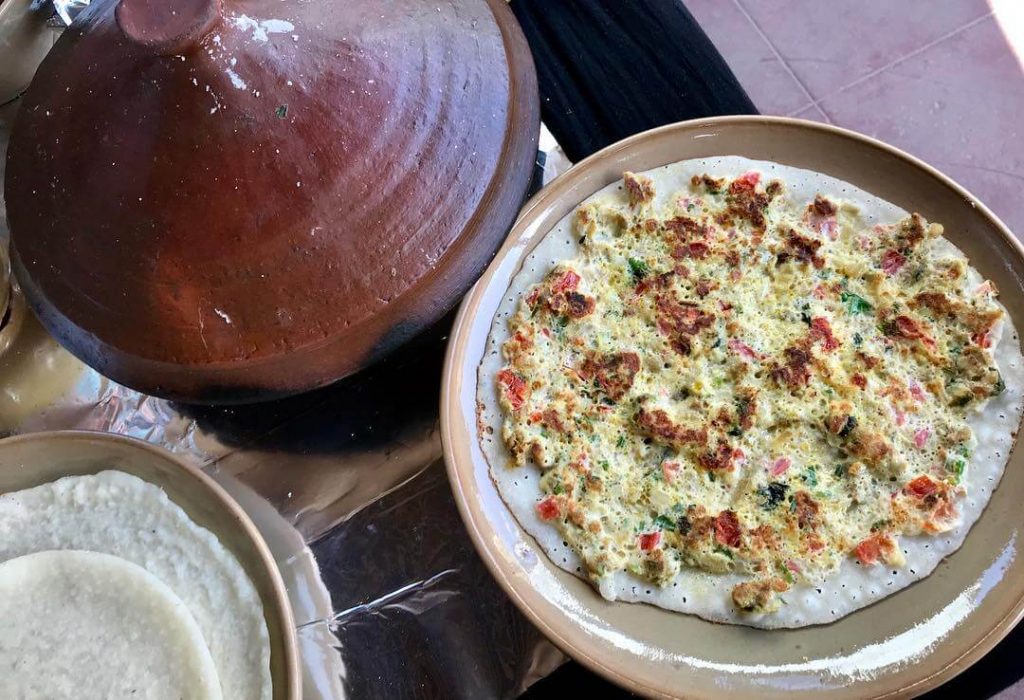 Another mouth-watering Newari item that you must try to cook at home is Chatamari. It is easy to cook and is healthy as well. You can have it on your lunch or dinner on a daily basis for a balanced diet.
Chatamari appears like a Western pizza visually and in structure, but let me tell you, it is nothing like pizza in taste and preparation technique.
To prepare chatamari, take a cup of Rice flour in a bowl.
Then, prepare a thick batter by adding water to it.
Afterward, heat a pan. Pour the batter onto it and spread it out till it becomes thin.
Then, garnish it with some vegetables or eggs, or meats as per your preference.
Cover it for a minute, and it is ready to be served.
4. Bara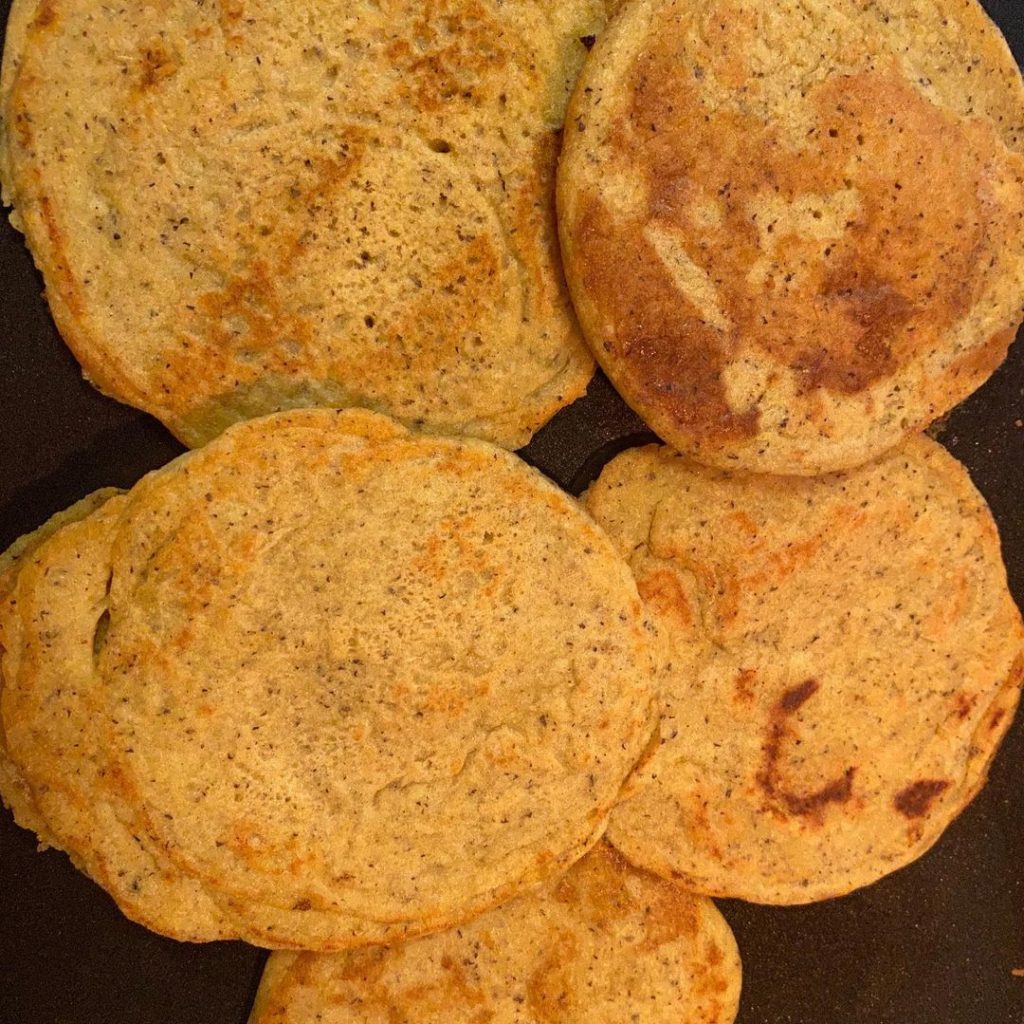 Bara is a delightful Newari food item that is made specially during Dashain by the Newar community. It can be enjoyed on regular days during lunch and breakfast.
To prepare Bara, you have to soak the black gram overnight.
The next day, take out the black cover of the black gram and grind it into a thick paste.
Alternatively, you can buy the flour from the market to avoid the hassle.
Add water to the flour to make a thick paste.
Mix salt and ginger paste into it and let it sit for half an hour.
Then, heat a pan at medium heat.
Take a scoop of the paste and spread it slowly on the pan in a circular motion.
Do not make it too thin or too thick.
Now, put a few drops of oil around the bara and let it cook for a minute.
Then, flip the bara and add a few drops of oil.
After a minute of cooking, the bara is ready to be served. Enjoy it with aalu achar to enhance the taste.
5. Thukpa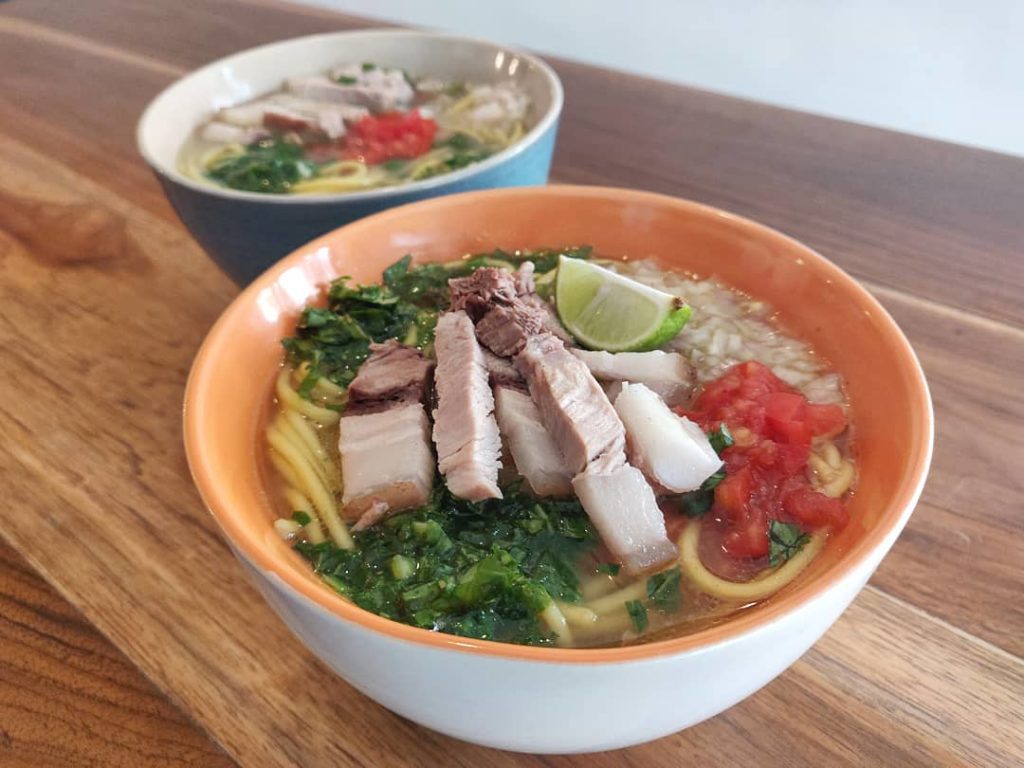 Thukpa, a combo of noodles, vegetables, and lots of soup, is a Tibetan-influenced Nepali food item. It is mainly preferred in the winter season as it keeps our bodies warm and healthy.
The cooking method of Thukpa is quite simple. You can either make vegetarian Thukpa by using vegetables as ingredients or make non-vegetarian Thukpa by putting meat as ingredients.
Firstly, boil the noodles.
Add a little salt to it to avoid the noodles sticking in the pan.
Drain the water and let the noodles cool for a while.
While the noodles rest, chop the vegetables.
You can take veggies like onion, mushroom, green onion, carrot, capsicum, beans, tomatoes, etc.
Then, heat the oil in a pan.
Add onion and fry it till it becomes slightly brown.
Then, add mushroom, carrot, and capsicum and cover it for 2 minutes.
Now, add some tomatoes and spices like turmeric, salt, chilies, pepper, cumin powder, and coriander powder.
Toss it slightly and again cover it for a minute.
Let the spices cook, and then add the boiled noodles to the mixture.
Again, give a final toss to the mixture and add 2-3 cups of water according to the amount of soup you would like. Let it cook for 2 minutes.
Finally, thukpa is ready to be served.
If you are making non-vegetarian thukpa, instead of mushrooms and carrots, add meat pieces and cook. All other steps are the same.
6. Momo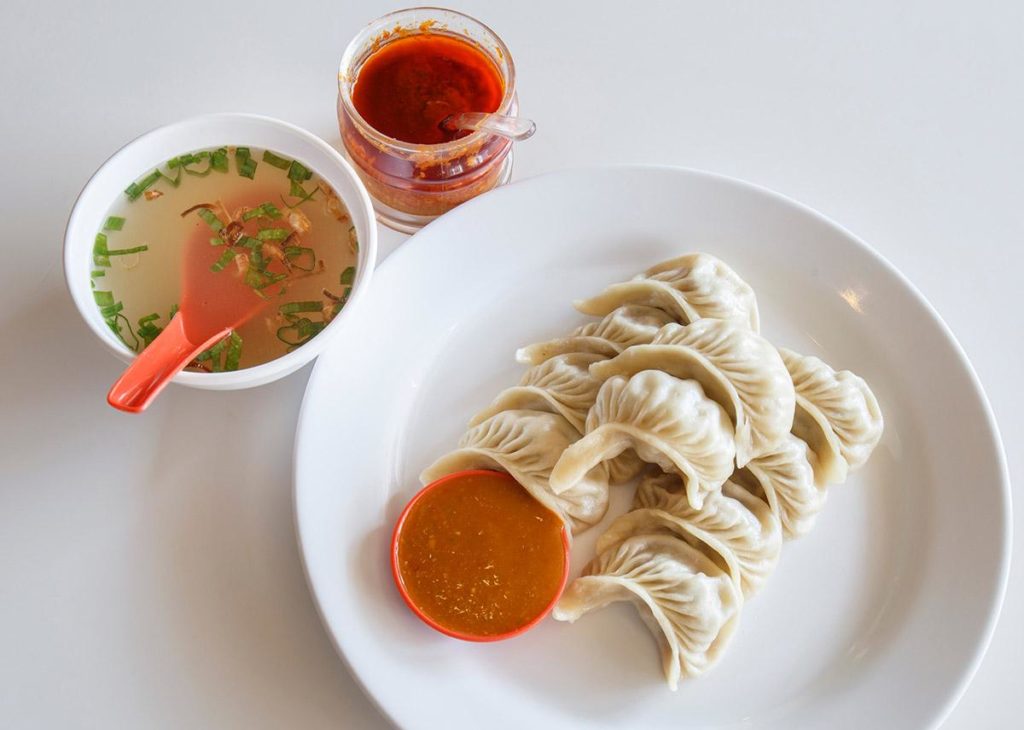 After Dal Bhat, the second most loved Nepali food item has to be momo. Momos are small dumplings filled with various ingredients.
Nepalese prefer momo in their lunch and hangouts. There are hardly any restaurants in Kathmandu that do not serve momos.
You can find vegetarian, non-vegetarian, and vegan momos in various momo outlets in Kathmandu. These momos are not that hard to make but require a bunch of ingredients and time.
To make vegetarian momos, first, make dough out of all-purpose flour.
Then, cover it and leave it till you prepare the fillers.
To prepare the momo fillings, take some oil in a pan.
Then, put chopped onions in it, followed by potatoes and cabbage.
You can also add carrot, paneer, and cauliflower as per your preference.
Cook it for 15 minutes, and the vegetable is ready for momo making.
Now, make small balls out of the dough.
Make thin circular roti of the balls with the help of a roller.
These thin circular roti will be used to wrap the vegetables.
Put a spoonful of vegetables over the roti and wrap it by twisting the edges.
Now, to steam the momos, boil the water and polish the steamer with some oil to avoid sticking.
Put those momos in the steamer in small gaps and steam them for 10 minutes at medium heat.
After 10 minutes, take out the momos as they are ready to be served.
Momo is incomplete without the momo achar. So, let's make momo achar too.
For momo achar, roast some sesame seeds and cumin seeds in a pan till it turns brown.
Then, add a little oil to it and heat it. Now, add chopped tomatoes to the frying pan.
Thereafter, put turmeric, salt, red chili powder, and ginger garlic paste to it.
Cook the mixture for 5 minutes. Turn off the heat and let it cool down for a while.
Then, put the mixture into a blender and blend it into a thick paste.
Take out the paste in a bowl.
You can add some water for a smooth consistency.
Squeeze a little bit of lemon juice, and lastly, garnish the achar with coriander leaves.
7. Selroti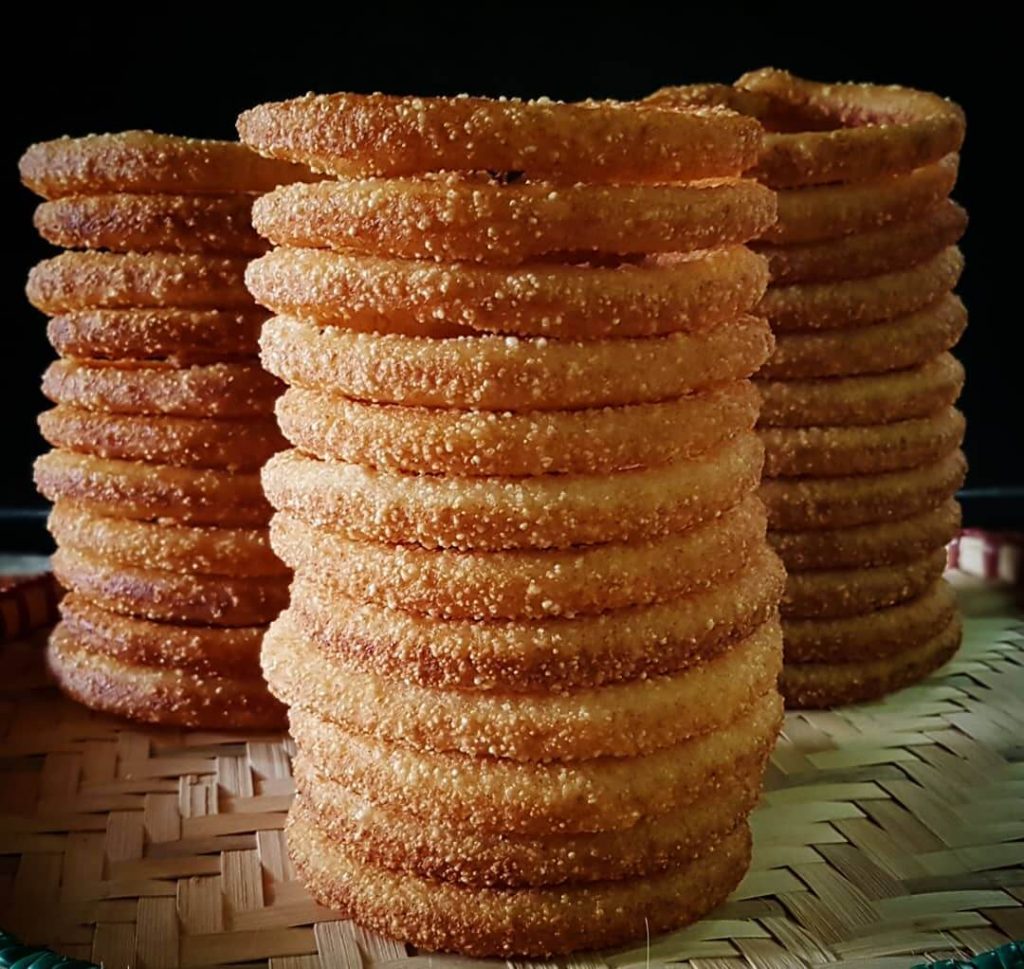 Selroti is a sweet Nepali food item, which is made with warmth and joy, especially during Tihar. Nepalese offer selroti to goddess Laxmi in Tihar.
But you can consume selroti whenever you want as it is healthy and fulfills your appetite for long hours. Selroti is a ring-like structure made up of rice four.
It is best served with tea for breakfast. Vegetarians love to eat selroti with alu ko achaar.
To make selroti, take 4 cups of rice flour in a bowl.
Add 2 spoons of ghee, 4 spoons of butter, and black pepper powder to it.
Boil some sugar water to melt the sugar.
Then, pour the sugar syrup into the mixture and make a thick paste out of it.
Cover it with a plate and it for half an hour.
In hot oil, pour the paste making a ring-like structure.
You may not be able to make a ring for the first few attempts but, don't give up. You'll get it right after a few tries.
Once the white paste turns brown in hot oil, pull the selroti out of the hot oil. Your hot and delicious selroti is ready to be served.
8. Sapu Mhicha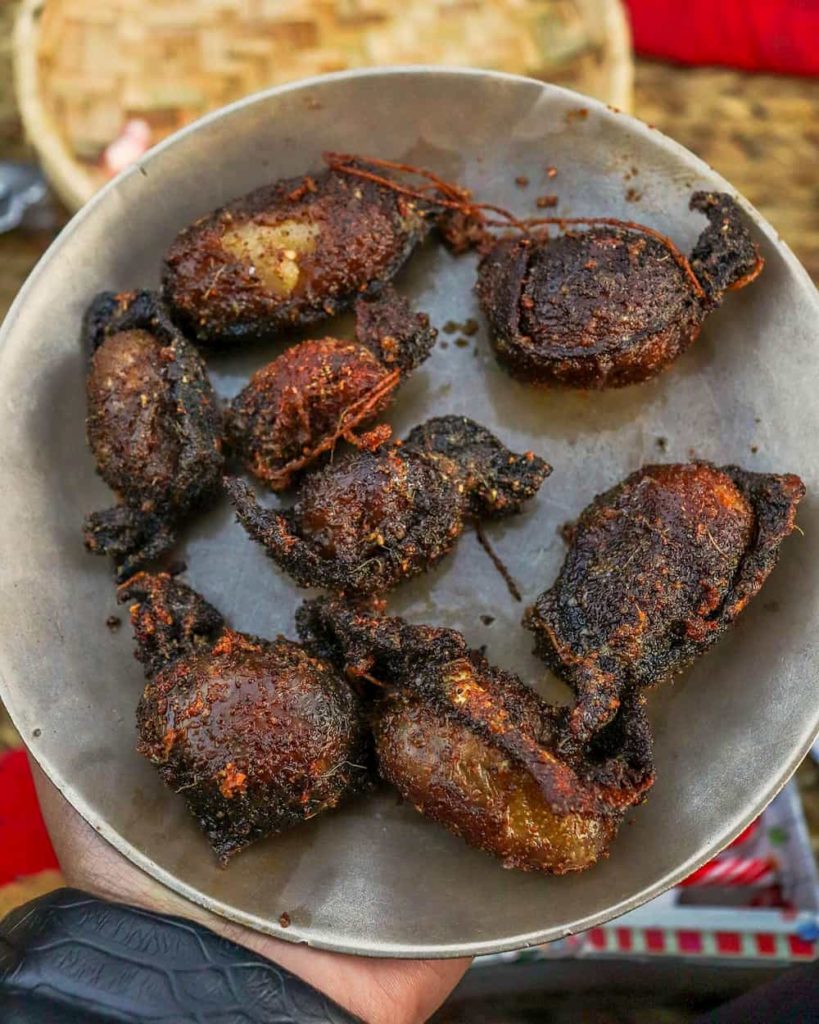 Another exquisite Newari food item that is simple to cook at home is Sapu Mhicha. It is a unique dish of Newar, which is prepared on special occasions.
Though Sapu Mhicha is made up of bone marrow, it is soft, chewy, and juicy. It is made up of buffalo leaf tripe stuffed with bone marrow.
To prepare Sapu Mhicha, first, cut the buffalo leaf tripe into small rectangular pieces.
Secondly, separate the leaf layers to form thin bags.
Now, insert a piece of bone marrow into those bags and tie the opening with a thin thread so that the bone marrow does not leave the bag.
Thereafter, boil Sapu Mhicha for 12 to 15 minutes.
Now, drain the water and leave Sapu Mhicha to cool down.
Then, fry them in hot oil till it turns slightly black.
Add some turmeric, salt, and cumin powder for taste.
Your Sapu Mhicha is ready to be served.
Not only is the preparation method unique, but savoring Sapu Mhicha is also unique.
Stuff the whole Syapu Mhicha into your mouth, leaving the thread on your hand.
As you chew, you will feel the delicious bone marrow melting in your mouth.
9. Gundruk ko Achar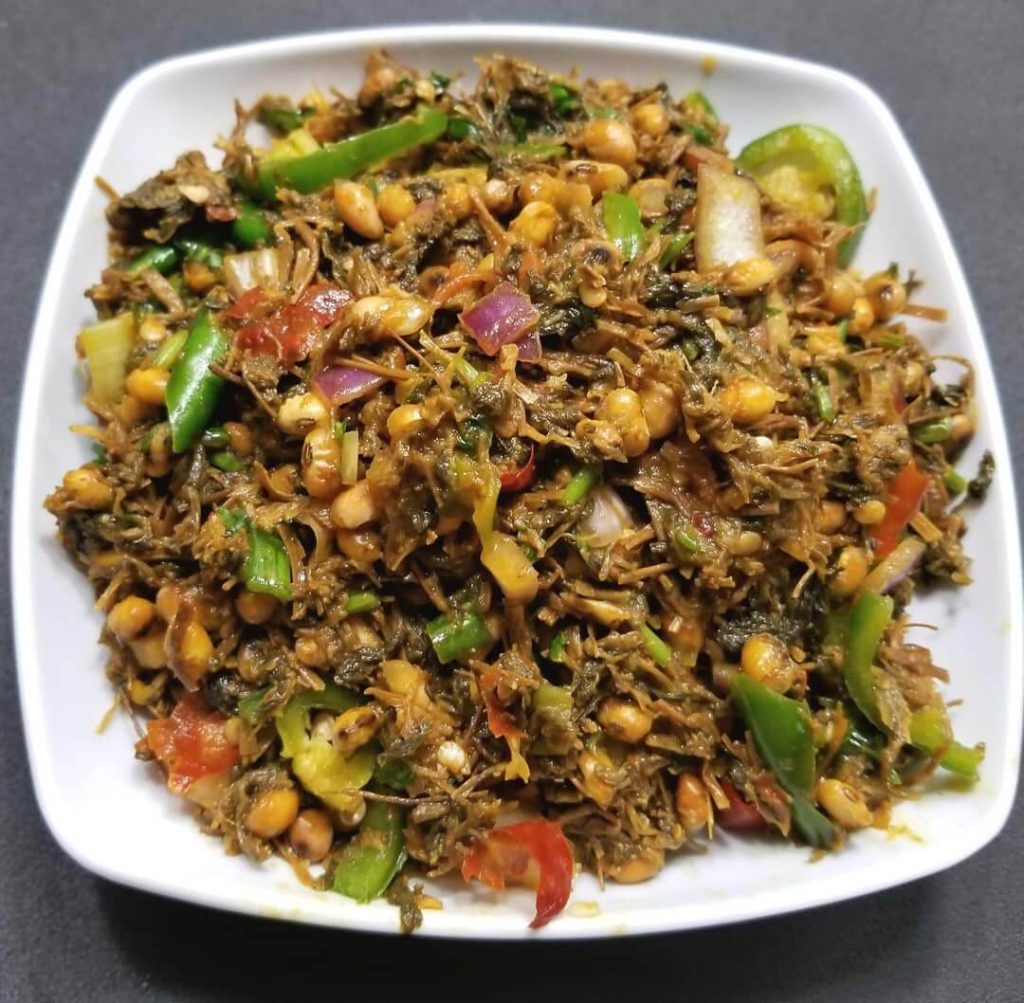 Gundruk is one of the beloved food items in Nepalese households. It is the fermented spinach that can be kept in a jar for several months. The achar of Gundruk is tangy, spicy, and delicious.
To prepare Gundruk ko achar, first, shred the gundruk into small pieces.
Then, soak the gundruk in hot water.
Then, drain the water and add chopped onion, tomatoes, green chilies, ginger, and garlic paste, coriander leaves, and toss it.
Now, add salt, turmeric, mustard oil, and lemon to it.
Add some roasted bhatmas and elevate the taste of gundruk ko achaar. Your mouth-watering Gundruk ko achaar is ready to be served.
You can enjoy it with Dal Bhat, Dhido, Samay Baji, and roti.
10. Alu Tama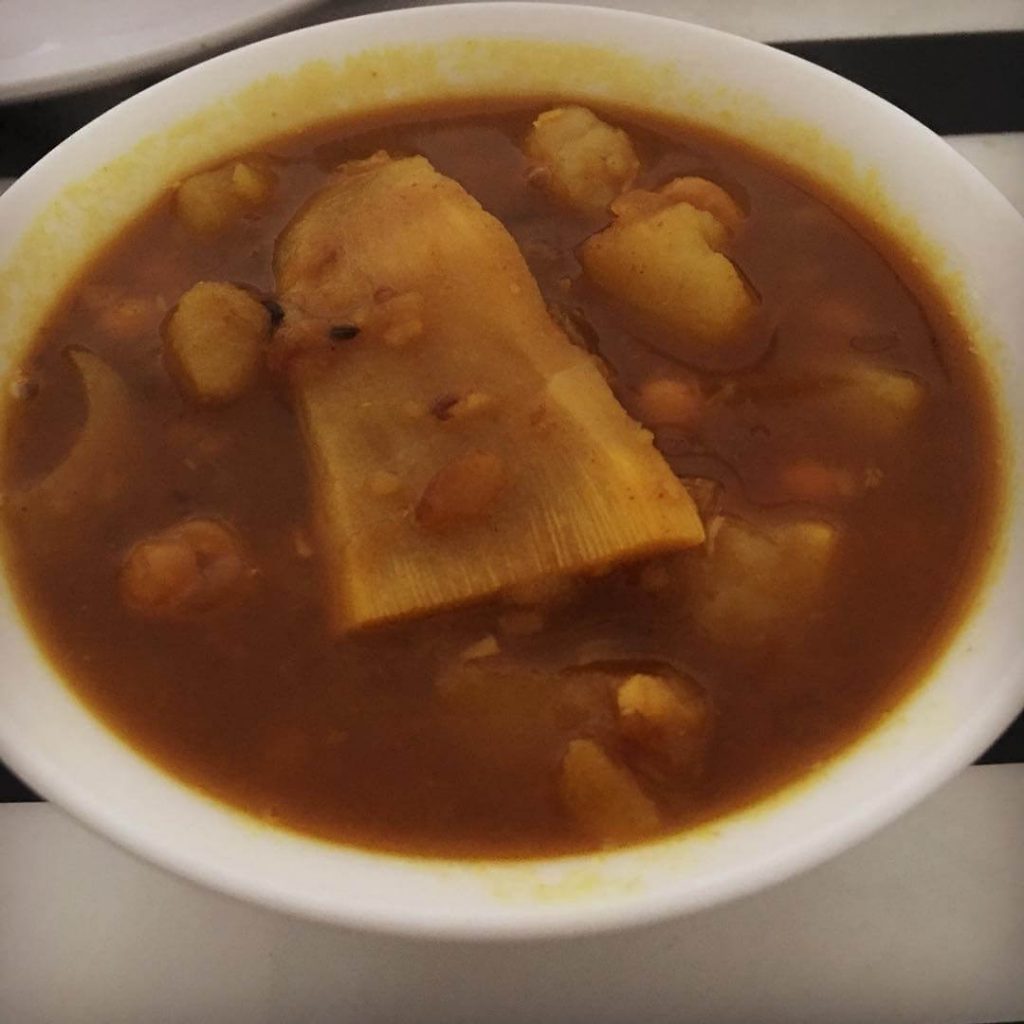 One of the delicious Nepali soups to cook is Alu Tama. Those who love the combination of tanginess and spiciness would love Alu Tama.
It is also included in the Newari khaja but can be savored separately as well.
You can have it either with Dal Bhat or Newari Khaja. To make Alu Tama, you would need some Tama, white beans, onions, and potatoes. You can buy Tama from a nearby grocery store.
First, soak the white beans overnight.
The next day, boil some potatoes.
Now, add oil to a pressure cooker.
Then, add onions followed by potatoes and white beans.
Fry it for a few minutes and put turmeric, salt, cumin powder, chili powder into it.
Afterward, add tama to it.
Now, add water as much as you want the soup to be and lock the cover of the pressure cover.
Wait for 2 whistles, and your alu tama is ready to be served.
FAQs
Is Nepali Food Recipes easy to cook?
Nepali food is unique in its ingredients and simple to prepare. Even though the recipes are simple, the flavors will touch your heart and fill you with nostalgia.
Is Nepali Food similar to Indian Dishes?
No, Nepali foods are totally unique and different from Indian Dishes. Nepalese Cuisines are totally underrated and have a lot to offer.
Can I prepare Newari Food Recipes at home?
Yes, you can easily prepare Newari dishes at home but first, you need to collect all the ingredients and prepare them for your friends and family.
Conclusion
I hope the given instructions are helpful for beginners. Try cooking these 10 Nepali Food Recipes at home and surprise your near ones. The recipes are relatively simple and easy to follow.
At last, don't forget to share your experience of cooking Nepali food with us in the comment section below.
Love this post? PIN it Now!