If you are curious about the nightlife in Kathmandu, then here are the top spots for every night owl in the capital city. These places are highly preferred by the locals as well as foreigners in Nepal to spend quality time.
Kathmandu, the capital city of Nepal, is the most happening town that hardly sleeps at night. It has incredible historic places to visit in the daytime and some amazing nightclubs to visit at the night.
Nightclubs have been a prominent spot to enjoy music, food, drinks, and dance floor, all in the same place. A perfect place to hang out with friends, become social and make new friends.
Thamel is a dominant place in Kathmandu that houses most of the leading nightclubs. The number of nightclubs in Thamel has increased exponentially in the last decade.
Similarly, another vibrant place to visit at night is Durbarmarg. It is occupied with fancy shops, nightclubs, restaurants, hotels, and so on.
Thamel is a popular tourist area and Durbarmarg is one of the busy streets in Kathmandu. It is a cool place to hang out in the daytime as well as at night. Nepalese, as well as foreigners, are seen hanging out at Thamel and Durbarmarg nightclubs.
Durbarmarg is also known as King's Way where you can also see Narayanhiti Palace Museum.
The nightclubs are crowded on the weekends usually. Also, during some festive occasions like Valentine's day, New years eve, Christmas, etc, people show up at these nightclubs with their friends and families.
To elevate the ambiance on such festive occasions, the nightclubs also organize special performances of musicians, singers, and celebrities that would keep the energy hyped all night.
If you are planning to visit nightclubs while in Kathmandu, then here are some noteworthy, easily accessible, and reasonable best nightclubs for night owls to experience the happening nightlife in Kathmandu.
List of places for Nightlife in Kathmandu
Kathmandu, the capital city of Nepal is one of the most happening places in Asia when it comes to nightlife.
There are several options for fun and entertainment, ranging from traditional dances and musical performances to rock music and karaoke, from dining on delicious local cuisine to sipping cocktails with your friends.
Here are 20 places for nightlife in Kathmandu Valley.
1. LOD – Lord of the Drinks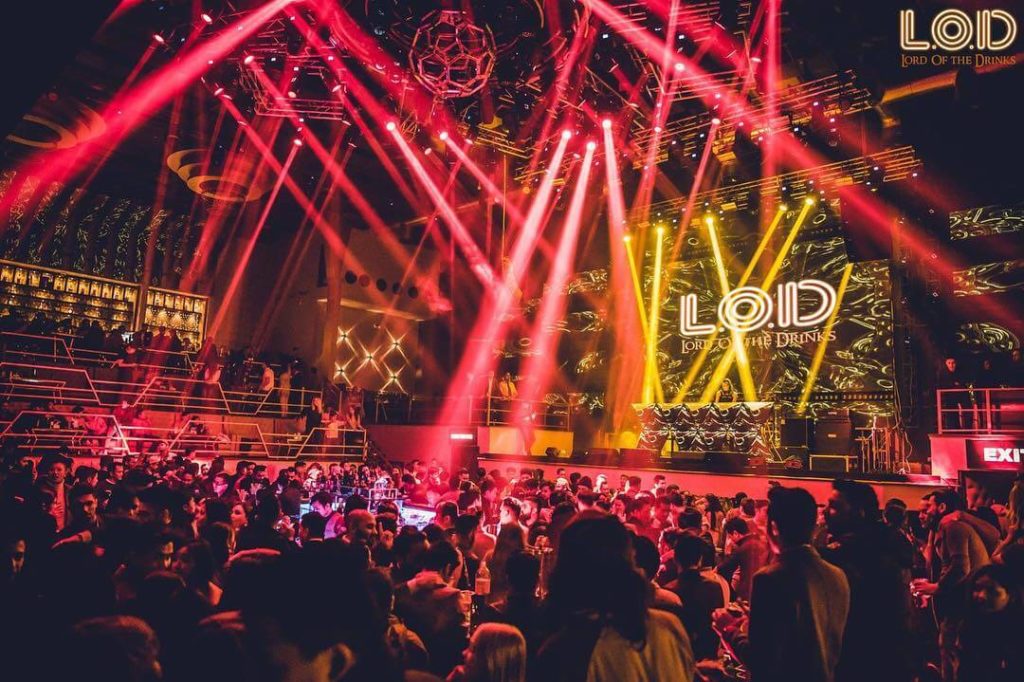 LOD: Lord of Drinks is one of the best nightclubs loved by the crowd in Kathmandu in recent times. People even consider LOD the biggest and the best nightclub in Nepal.
Housed in Bhagwatistan, Thamel, the club has ample space for hundreds of people to enjoy in a single spot and has a great ambiance for party lovers.
Some of the best DJs in town can be found at LOD making the people groove to their amazing music. This place is popular not only among youths but also among families.
LOD has a great ambiance for the family members to join their children in the club. This club is technically firm, has a great lighting and sound system, an amazing interior, exotic drinks, and meals.
LOD also offers reservation services and accepts credit cards and digital payments for cashless payments. They may charge NRs. 1000 for entrance and the parking area will be available all night.
2. Club Fahrenheit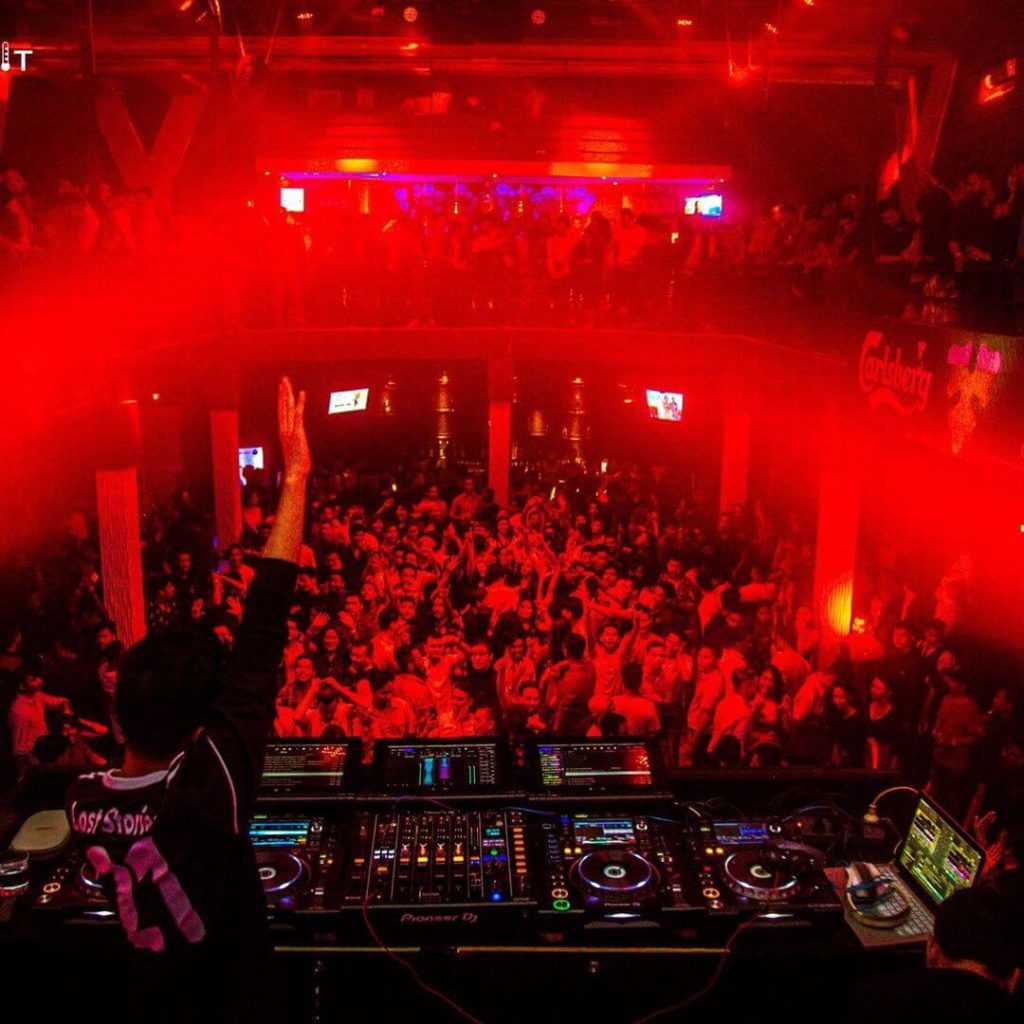 Another incredible place to spend a whole night in Thamel is Club Fahrenheit. It is one of the top-rated nightclubs in Kathmandu.
Opened in 2018, Club Fahrenheit quickly caught the attention of party lovers with its quality service. Its cuisines such as Chinese, American, European, Asian, and Nepali are highly recommended.
Experience great hospitality from staff and a cozy ambiance with Live music. You can reserve seats beforehand if you have a group of friends.
The spacious floor is suitable to dance and enjoy loud music. The sound system at Club Fahrenheit is amazing and so is the lighting.
The latest trending DJs are invited on special occasions to hype the crowd. People experience top-class DJ music as the club occasionally invites celebrity DJs and musicians.
Club Fahrenheit opens every day from 6 pm to 2 am. You can enter anytime between this duration. The entry fee is NRs.1000 per person with beer complimentary.
3. Prive Nepal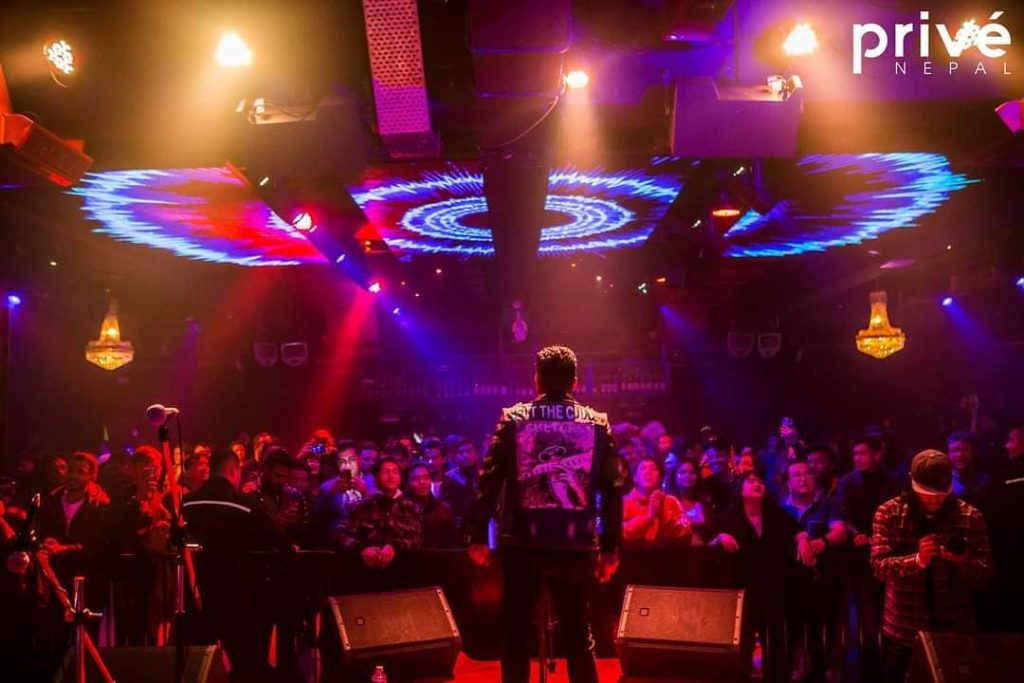 Another sensational nightclub in Kathmandu is Prive Nepal. It is located on the ground floor of Soaltee Crown plaza in Tahachal Marg.
It is a massive nightclub occupying a 26,000 sq. foot area with a parking area available. The parking area reduces the hassle of parking your vehicle somewhere else and walking to the venue.
Prive Nepal is a one-floor club with a small yet attractive bar that lies on a corner of the dance floor. The professional bartender serves some amazing drink options.
Similarly, the nightclub serves a variety of food items to suit your appetite. Try those cuisines with their extraordinary cocktails.
Prive Nepal often invites popular Nepali bands and DJs to perform in front of the crowd. The crowd loves to enjoy their music at Prive Nepal.
The club is open all night and may charge from NRs. 1000 to 1500 per person. Similarly, the parking is free of cost.
4. Club Deja vu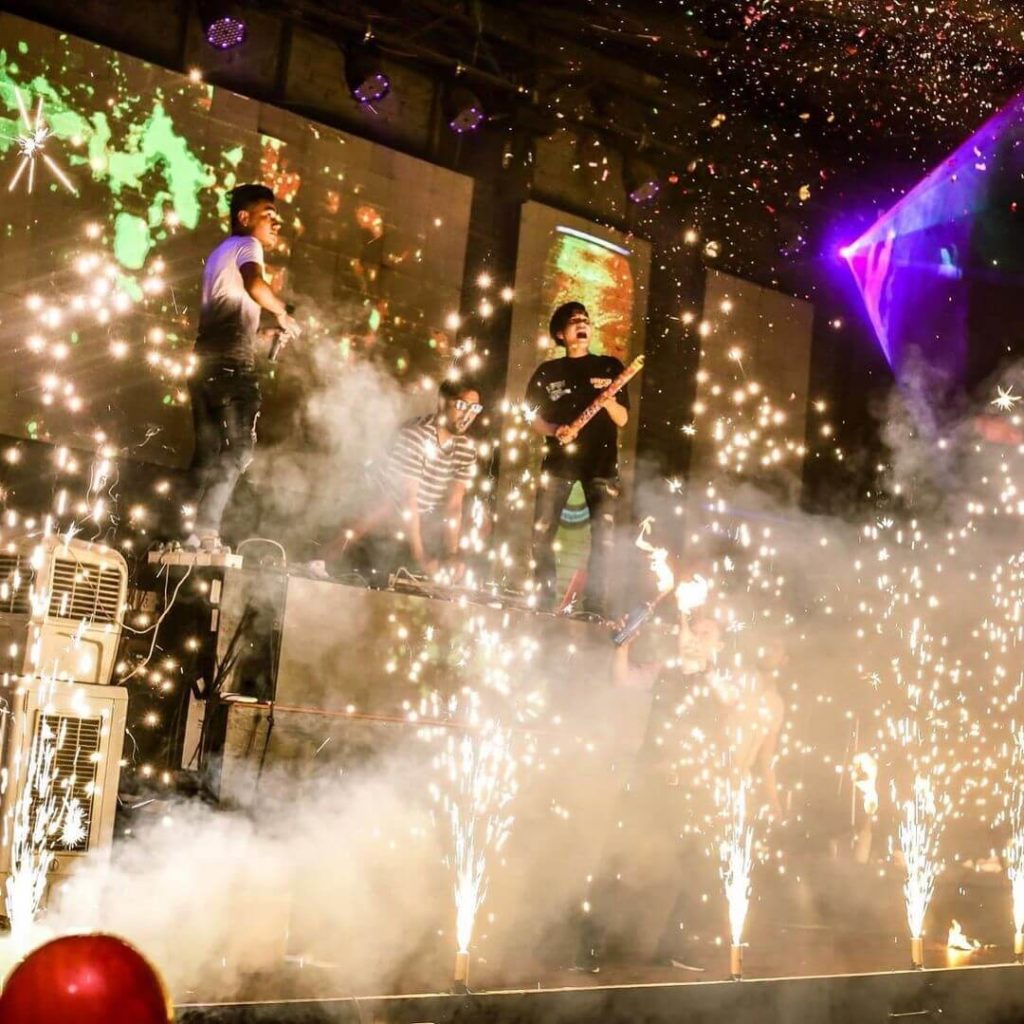 One of the coolest clubs in town has to be Club Deja Vu. With an area of 20,000 sq ft, the club has a unique and fascinating interior.
Club Deja Vu has a two-floor structure with three high-end bars. Usually, a nightclub has one bar, but here you get three bars, which perhaps handle a crowd of thousands.
The first floor of Club Deja Vu is decorated with separate seating for 2500+ people. It has a separate lounge and two exclusive VIP rooms, which are accessible to only special members with cardholders.
You can also book seats and rooms as the club gets packed easily. You can host private parties and events here if you book early.
The attractive interiors of this club, amazing sound system, and eye-catchy lighting system entice a huge number of party lovers every night. Located in Durbarmarg, the club is open from 6 pm to 4 am every night.
They have an extended menu for food and drinks. Professional bartenders serve you some exotic cocktails while showing off their stunning skills.
5. Sam's Bar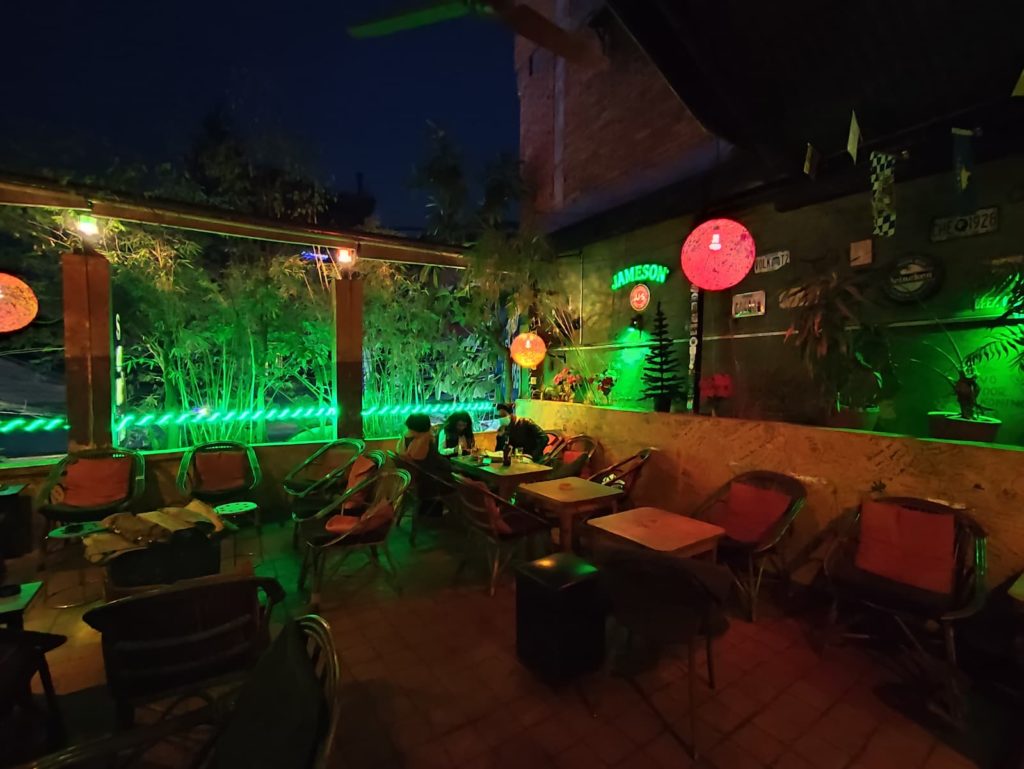 Sam's Bar is a cozy place that aims to provide a platform for people to socialize. Spend a quality evening and meet your friends over drinks at Sam's bar.
It is located in Thamel on the rooftop of a building. For people who want to catch up at a comfortable place with privacy, Sam's Bar can be a suitable place.
Sam's Bar is dedicated to the idea of hanging out. As the name suggests, Sam's bar is a bar and not a restaurant.
It offers no wifi facility so that people can actually focus on socializing with other people while at Sam's bar.
Similarly, it serves only popcorn as a food item. There's not much variety in food like in drinks here.
A good playlist of songs will continuously keep the ambiance light and cheerful. Located at the heart of Thamel, Kathmandu, Sam's bar is open from 4 pm to 12 am.
The entry is free of cost. A stamp will be pasted on your wrist at the entrance then you are ready to start the party.
6. Purple Haze & Rock Bar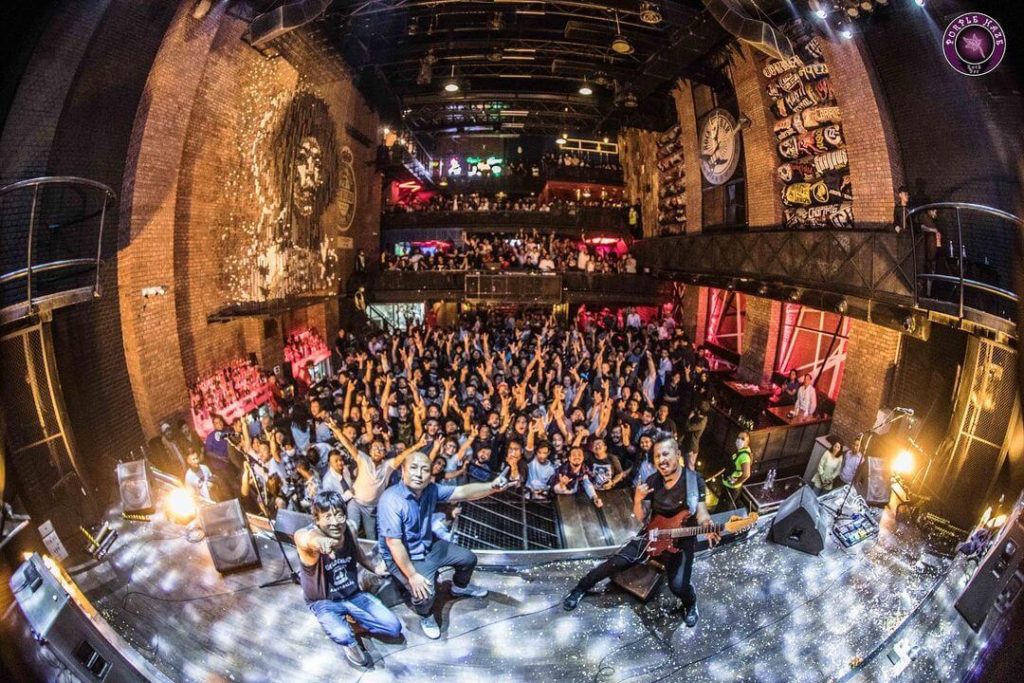 Purple haze Rock Bar is one of the best rock bars in Kathmandu. With an aim to strengthen the rock music industry among Nepalese, Swapnil Sharma and Ashok Sen came together in 2011 and founded Purple Haze rock bar.
Purple Haze gives a platform to Nepali rock bands every night. It has been giving exposure to emerging rock bands who needed a platform to showcase their talent.
One of the best features of this nightclub is that it always offers live music to music lovers. Bands who are just given to corner to perform at other clubs are at the center of the stage here.
Moreover, good music is accompanied by good food, exotic drinks, an amazing ambiance, a great sound system, and friendly staff members. The club is open 7 days a week between 6 pm and 1 am.
The entry is usually free but may charge during special occasions. The foreigners love spending time at Purple Haze because they get to know and enjoy Nepali rock music every night.
7. Ibyza Lounge & Disco Theque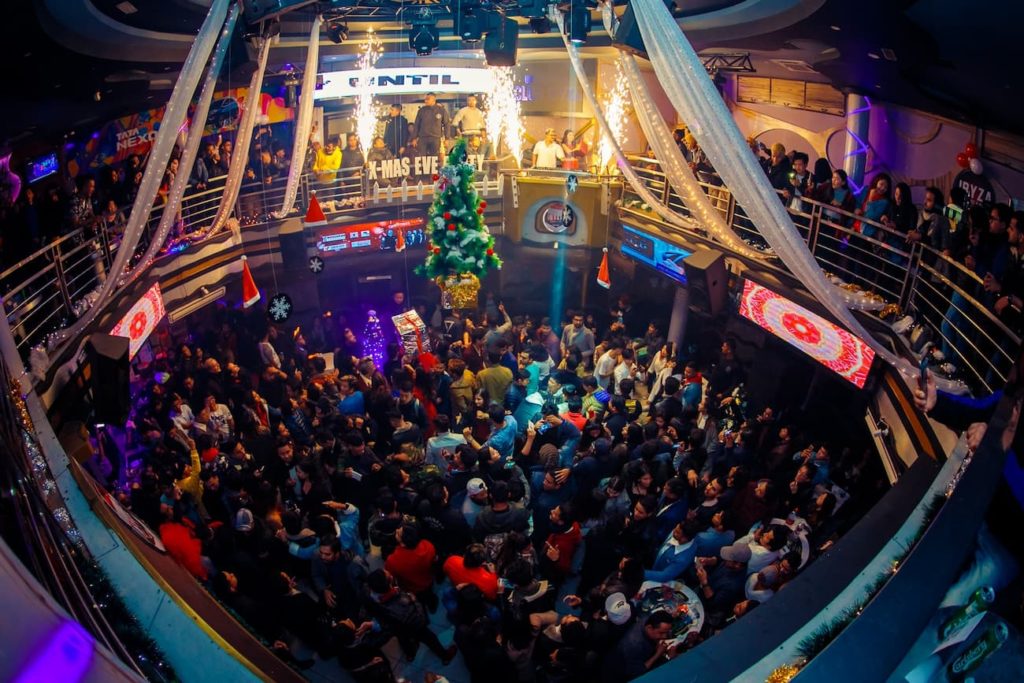 If you like to go club to move your body, then head to Ibyza Lounge & Disco Theque. Located at Thamel, Kathmandu, Ibyza is one of the people's favorite venues to party.
Excellent place to socialize over a drink, Ibyza has a large dance floor and lounge to relax and have drinks. The DJs drop some crazy beats all night for you to groove.
Eye-popping LED and mind-blowing music systems will escalate your dancing experience. The entry charge is NRs. 1000 per person and once you enter you can spend the whole night dancing and enjoying.
In the evening, the live music will entertain you, and as the night gets darker, the EDM music will make you move your body to the beats. It is a two-story club. The ground floor is where the live music stage and dance floor are. And, on the next floor is the lounge where you can sit, eat, drink, and enjoy the music.
8. Irish Pub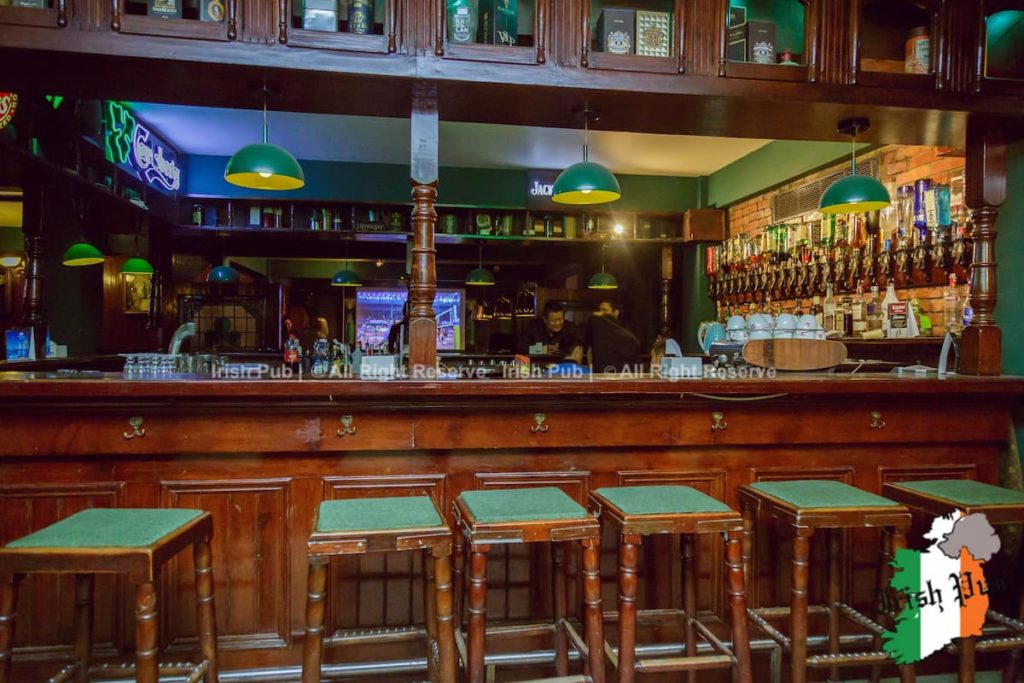 If you want to watch your favorite game on a big screen while sipping your favorite drink with your favorite people, then Irish Pub should be your top pick. It's one of the cool places in Kathmandu where people can either hang out or watch sports.
The pub is a two-floored cozy space that is suitable for private parties. So, you can book a place for gatherings and parties too.
Located on Lazimpat Road, the Irish pub is open from 3 pm onwards. They charge NRs. 1500 for couples and NRs. 1000 for a single.
A unique feature of the Irish pub is that it relishes Irish vibes with the music, food, drinks, and sketches on the wall. This bar has a friendly environment with reasonable food and drinks.
9. Kings Lounge

Kings lounge is more of an elegant and classy lounge focusing on providing a family environment to eat and enjoy music. It is a two-floor venue with bars, a dance floor, a stage, and VIP compartments located in Durbarmarg.
The interior of Kings lounge is incredibly stunning. All the lights, decoratives, and designs can act as a great background for your selfies and pictures.
Ideal to spend quality family time, Kings lounge is an 8,000 sq ft venue that can accommodate over 300 visitors at a time. You can enjoy live music while you engage in chitchat on a comfortable couch. It is also an absolute place for sports freaks.
During the season of crickets and football league, they tune in to the game on the big screen at the lounge. For those who want to enjoy music, there's live music for them, and sports lovers can watch the TV screen.
Kings lounge has also been able to impress its visitors with its affordable food. They serve delicious cuisines with great hospitality.
They have good management, and the service is also quick. And, the entry is free of cost.
10. Karma Bar and Lounge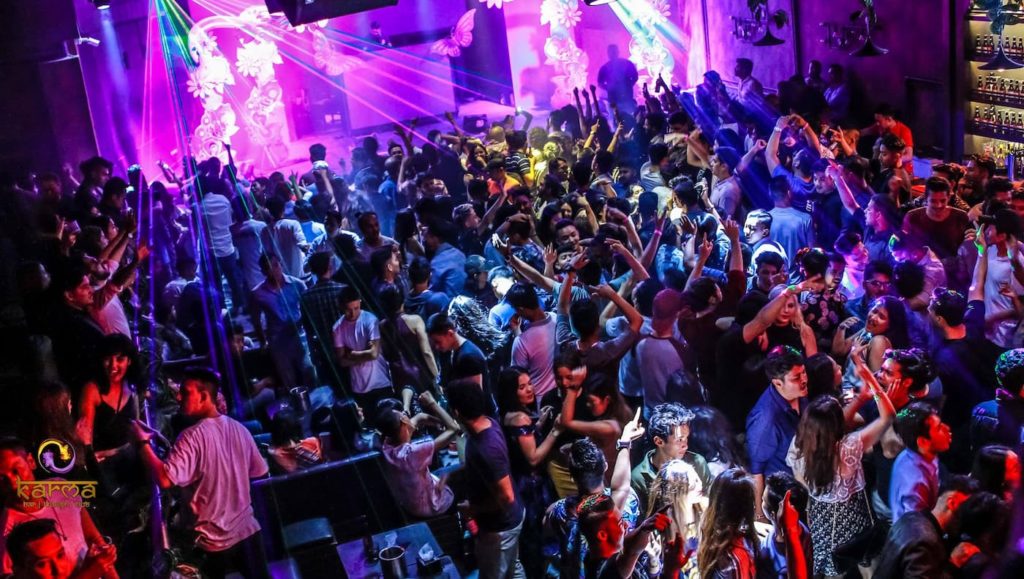 It won't be wrong to say Karma Bar is one of the best dance bars in Kathmandu. It is a popular place to party and enjoy live music.
Founded in 2016, Karma Bar has been an ultimate destination for party-goers. Karma Bar & Lounge is open 7 days a week during which the weekends are the happening ones.
Located in the building of WTC in Tripureshwor, this nightclub is active from 7 pm to 2 am. It covers an area of 6500 sq ft that includes a dance floor, lounge, bar, stage, and, so on.
Parking is convenient at Karma Bar as the basement of the WTC building is available for parking. The view of Dashrath Rangshala and the Kathmandu valley from the nightclub is also stunning.
It has reasonable food and drinks, a booming sound system, striking lights, professional DJs, and exclusive exotic drinks. Karma bar is also known for organizing private parties at a reasonable price.
It also hosts special events during festive seasons like Christmas, New year, Valentine's day, Holi, etc. Apart from festive events, it also offers a platform for fashion shows, live shows, concerts, and international celebrities.
They usually charge NRs. 1500 during events. Head to Karma Bar and Lounge when you feel like grooving to crazy beats or arrange a private party, or socialize over a drink.
11. Senate Club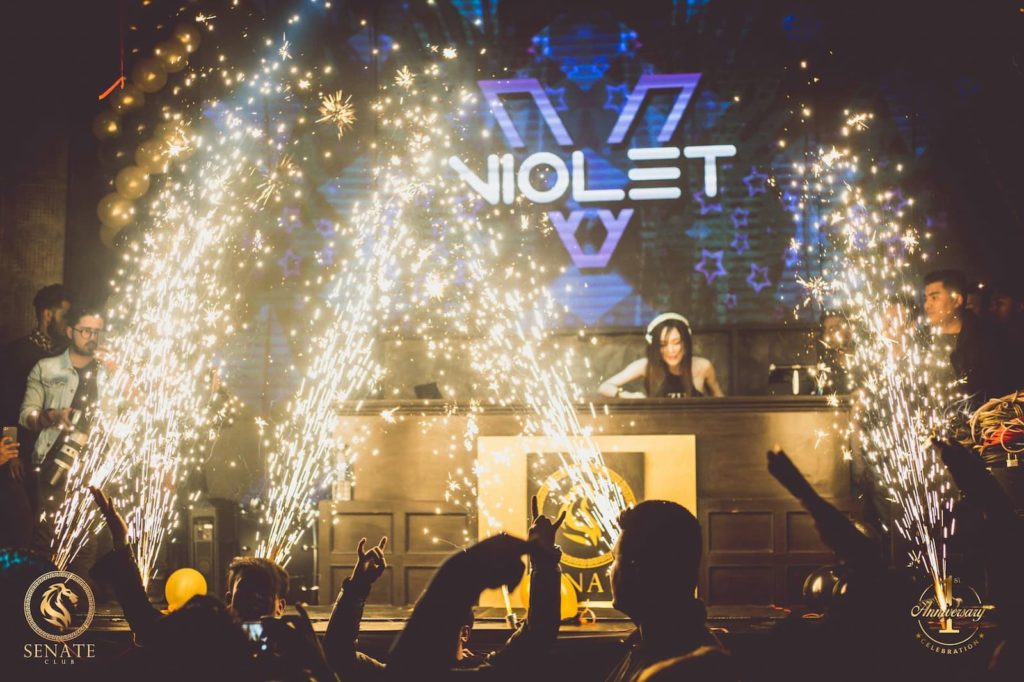 Senate club is another hot and happening club in town. This two-story club situated in Thamel has an interior that is simple yet classy.
Show off your dance moves to some rocking music by amazing Nepali and international DJs. They have some cool and amazing DJs that know how to pump up the crowd with their Edm music.
The upper floor is like a lounge where you can sit down, drink, and socialize. Another place to socialize is the ground floor, which is a dance floor where you can dance your heart out all night.
If you think music is only the good thing in Senate club, then you are wrong. The scrumptious cocktails and foods, the fantastic energy of the crowd, the bar, special events, and everything they do are on point.
The entry is free till 11 pm, and they are also offering a 15% discount on foods and drinks before 11 pm. Furthermore, the food is available till 2 am but the bar is open throughout.
Though the entry is free normally, they may charge during big acts when a high-profile celeb comes to put fire on stage. The live music is always followed by DJs. To know, who is performing when you can check their social media account.
12. Iclub Discotheque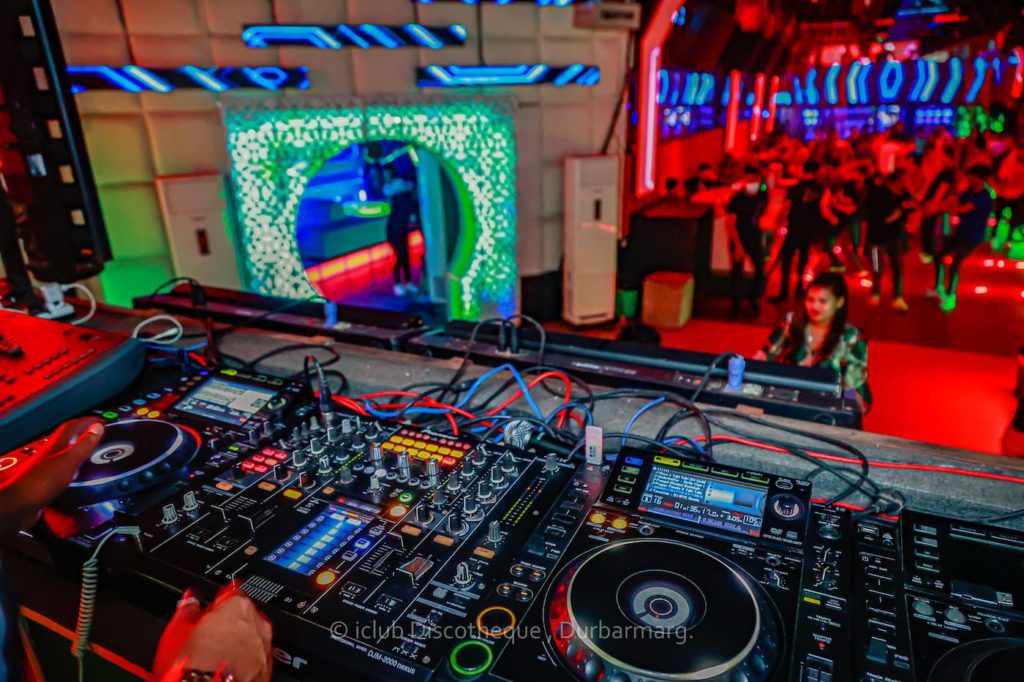 Inside Iclub Discotheque is another world. Forget the restless city and energize yourself on the dancefloor at Iclub Discotheque.
Based in Durbarmarg, Iclub Discotheque boasts a good mood, a great ambiance, and incredible food options.
The dance floor at Iclub is the favorite spot for party lovers. Once the DJ drops the beat, people are drawn to the dance floor. Iclub also hosts some fantastic events now, and then that pulls a good amount of crowd.
Better try the foods and drinks of Iclub before you head to the dance floor as you may not want to dance empty stomach. You only need to pay for drinks and food and can stay as long as you want.
Iclub Discotheuque may charge NRs. 2700 for a couple as an entry fee. The nightclub arranges private parties too so, next time you know where to host a private party, right?
13. Club Platinum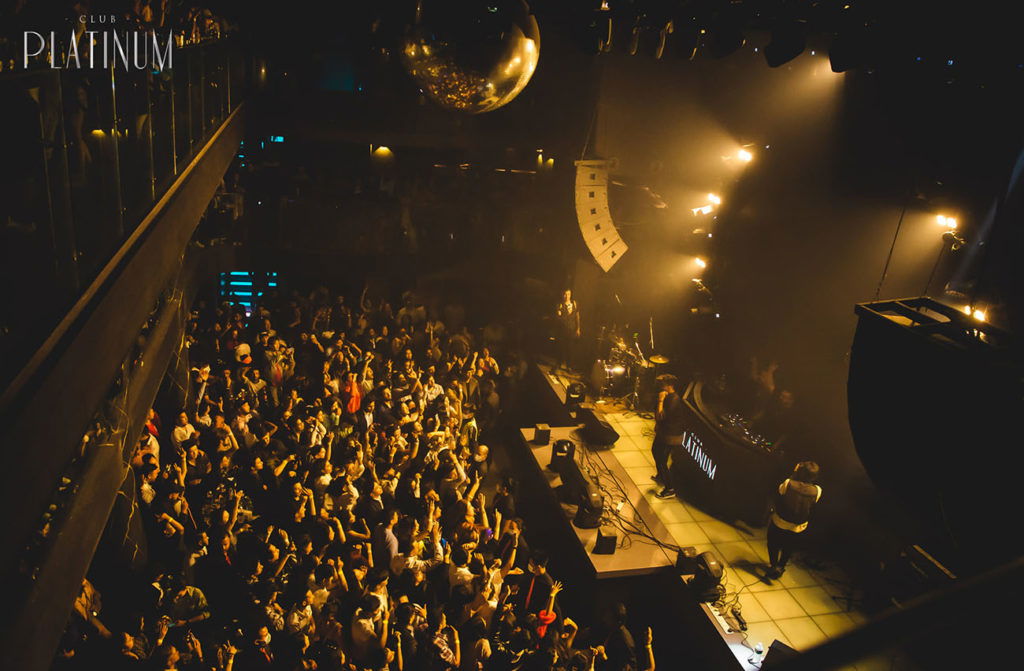 One of the latest and most happening clubs in Kathmandu has to be Club Platinum. Club Platinum first opened its door in 2020.
Residing in Classic Complex, Durbarmarg, it is one of the technically advanced nightclubs having fully air-conditioned, remarkable sound system, CCTV surveillance, and big LCD screens. This newly opened nightclub has already gained quite a buzz among celebs and youngsters.
Ample parking space at Club Platinum makes it easy for party hoppers to slack the hassle of parking their vehicle. The doors open at 7 pm. First, the ambiance is warmed up with live music then some amazing DJs come up to increase the energy.
The club has a superior interior and decor that is quite pleasing to the eyes. Furthermore, the banging sound system, spacious dance floor, and dazzling lighting system attract party lovers to host private parties and special events.
Club Platinum has become a common hub among celebs. Big artists are often seen making appearances and performing on the stage of Club Platinum.
The club may charge NRs. 1000 for entry and the price may vary according to the event and the artist performing. Club Platinum usually houses an amazing crowd, cocktails, music, and food.
14. Playboy Lounge & Club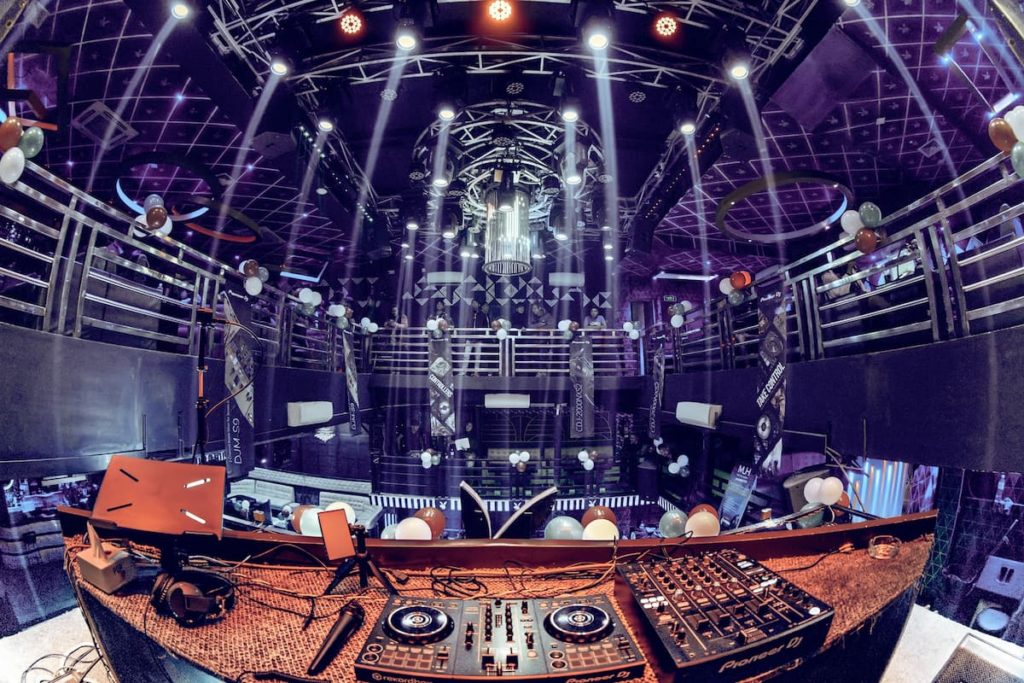 Playboy Lounge & Club, founded in 2019, is located in the Chhaya complex, Thamel. With a world-class sound system, cutting-edge lighting, and eye-catchy mechanical interior design, it is an ideal place for night owls.
It is a three-story venue with a bar on each level. These bars serve some of the best liquor and cocktails that go hand in hand with mouth-watering food items.
If you want to have a fun-filled night with an incredible crowd, make your way to Playboy Lounge & club where the professional DJs on a hydraulic stage serve you EDM music to groove.
The club is fully air-conditioned and has CCTV surveillance. So, you can throw private parties and have a wild and fun night.
They even have a spacious parking space free of cost. They charge nothing for entry, and the club is active all night.
15. H2O Club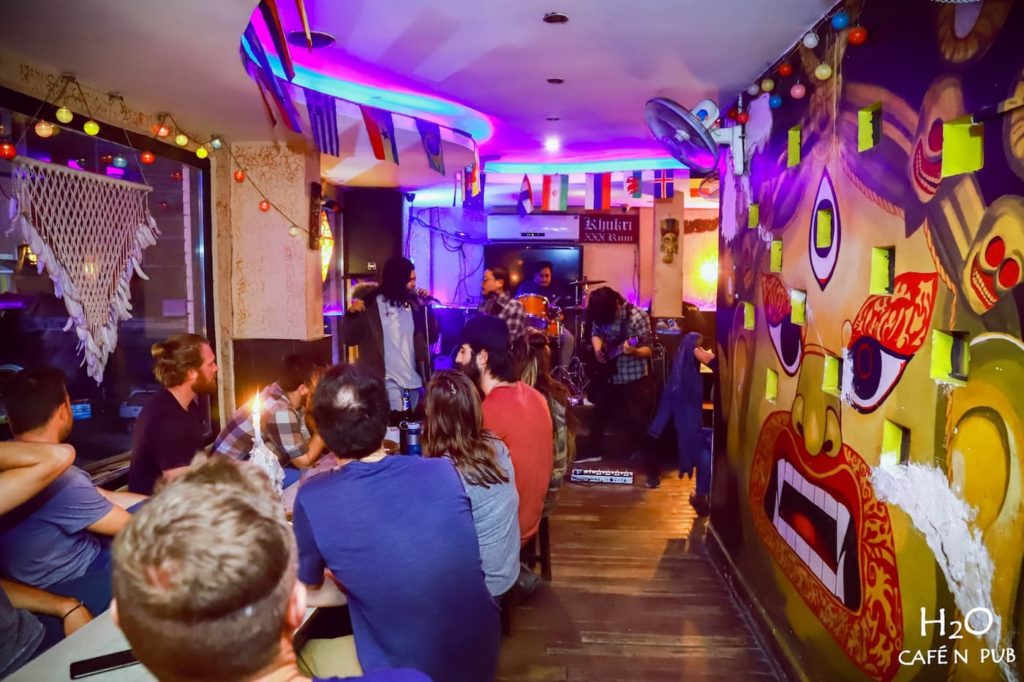 H2O is a vibrant place for clubgoers located in Thamel. It has been a popular club among celebs and locals due to its exceptional interior, High-end bar, affordability, comfort, etc.
The club has two floors. The ground floor includes a well-equipped bar, pool, lounge, and dance floor for dance lovers. Skilled bartenders are also seen showcasing their skills and talents to the people.
The common room even gives you options to sit and relax. You can either sit on the couch or the floor.
The upper floor has more of a quiet ambiance than the ground floor. There's an array of dining tables.
You can enjoy candlelight dinner here. Similarly, right next to the dining tables, at the corner, is an exciting foosball table.
They offer a range of food items to try. Enjoy it with booze while the DJ is spinning hits.
With comprehensive choices of food items and booze, H2O is a sophisticated nightspot with varieties of choices for enjoying and relaxing. They do not charge for entrance.
16. Reggae Bar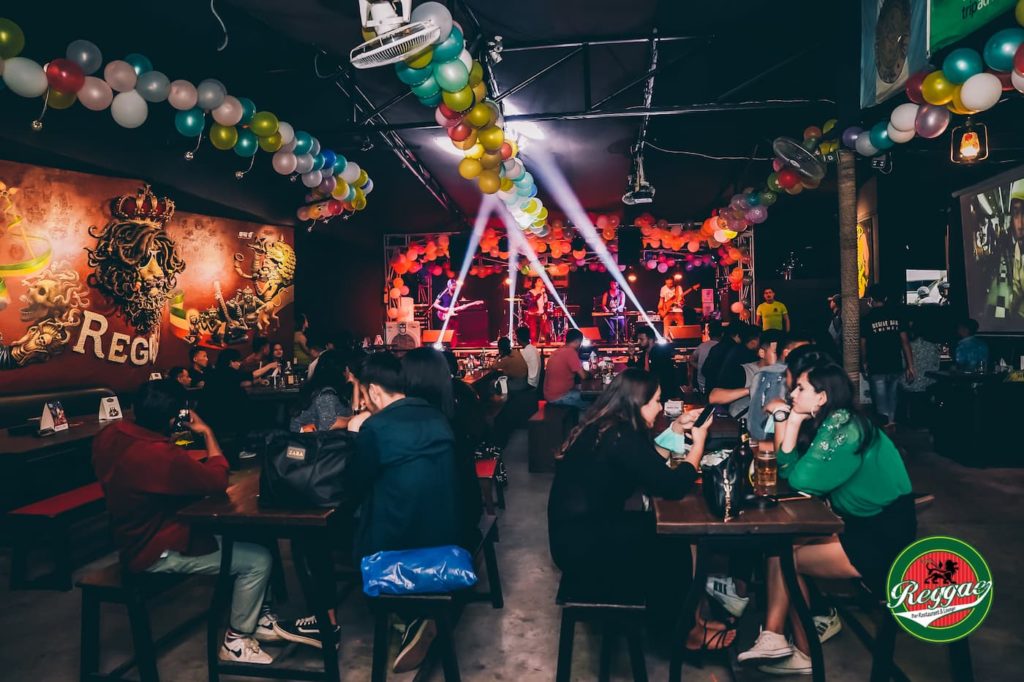 Reggae bar, located in Thamel, is one of the top-notch bars that offer flavorsome cocktails as well as rocking live music. It is one of the best places in Kathmandu to hang out at night.
Foreigners and local loves to spend time at Raggae bar due to its amazing decor, cool ambiance, chilled beverage, rocking music, and great service. You will always get quality food and drinks accompanied by live performances by various artists.
The gate opens at 5 pm and entry is free. It has been a popular hangout hub in Thamel for decades.
As you go inside, you will see wooden decor that passes on a cool ambiance. The attractive interior, features performances of underground as well as big artists allure a huge number of night owls.
Mostly, the foreigners who want to explore Nepali rock music in a friendly and funky place, are seen here in Raggae bar. So, Reggae bar is also a common tourist hub in Nepal.
You can socialize with foreigners and locals over a drink. They serve high-quality food, various cocktail options, and rocking music without any compromise. It is a must-visit place for night owls.
17. Jazz Upstairs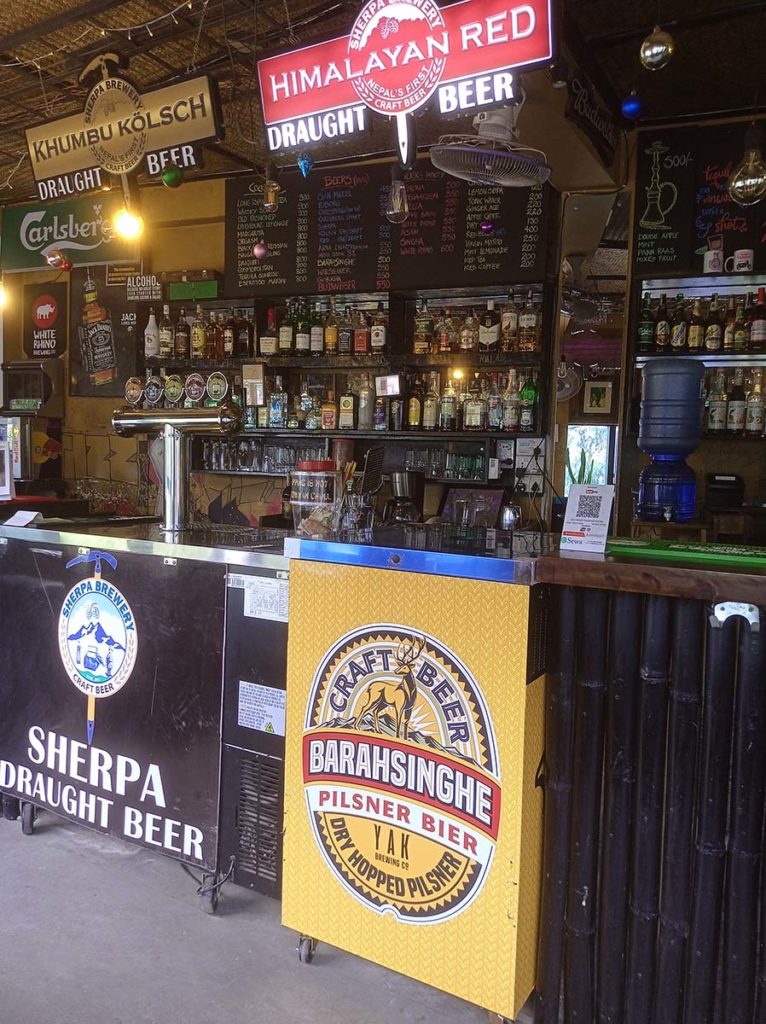 Another cozy place with a peaceful environment for night owls in Kathmandu is Jazz Upstairs. Keeping the Jazz music alive in gigs, Jazz Upstairs plays live jazz music on Wednesdays.
A tiny upstairs bar located in Lazimpat is not just a bar. It has much more to offer in a small space.
There is both open and closed space for visitors. Inside space includes a pool table, dart game, bar, dining, etc. Similarly, the outdoor terrace with plants offers an open and cool ambiance.
The menu here unlike other bars is online. They offer both veg and non-veg items at a reasonable price. Pork momo, aalu dum, shyapta, and keema roti are some mouth-watering delicacies you must try at Jazz Upstairs.
The entry fee is just NRs. 400. Come up with some friends, grab a drink, and enjoy a jazzful night at Jazz Upstairs.
18. Club 25 hours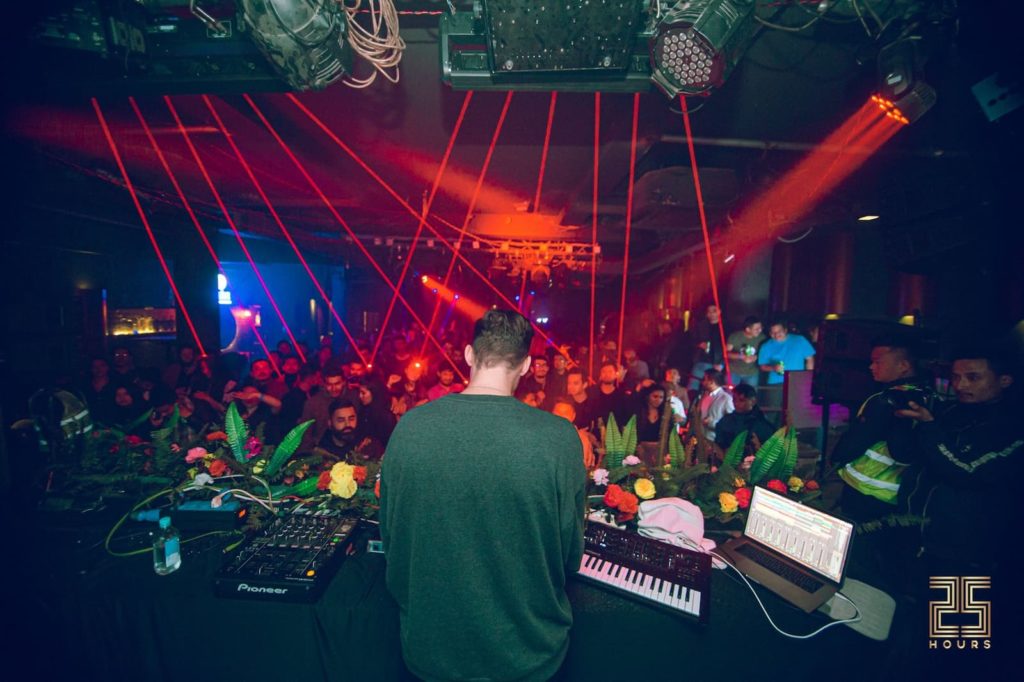 If you are a night owl who likes a chilled vibe at a club, then Club 25 hours can be one of your picks. Situated at Tangal, Naxal, Club 25 hours have the coolest ambiance and delightful interiors.
Opened from 7 pm till 2 am, you can enter the club free of cost. It is one of Kathmandu's most famous clubbing spots with Prominent DJs.
Though it is comparatively a small club, it is air-conditioned, well-equipped with gadgets and technology with an attractive lighting system. A glowing disco ball hung in the ceiling reflects amazing lighting while the DJ plays his mixes.
The club is open only on Friday and Saturday. The entry fee is usually around NRs. 1,000 with a complimentary drink.
It is an underground club and above it is a Calm Restaurant and Bar. Calm Restaurant and Bar is also popular among local artists and tourists. The entry here is free of cost.
They play live music, serve some amazing flavorsome food and cocktails, and is also available for private gathering and parties 7 days a week. The place has chilled vibes liberating peaceful environment.
19. Shisha Lounge and Bar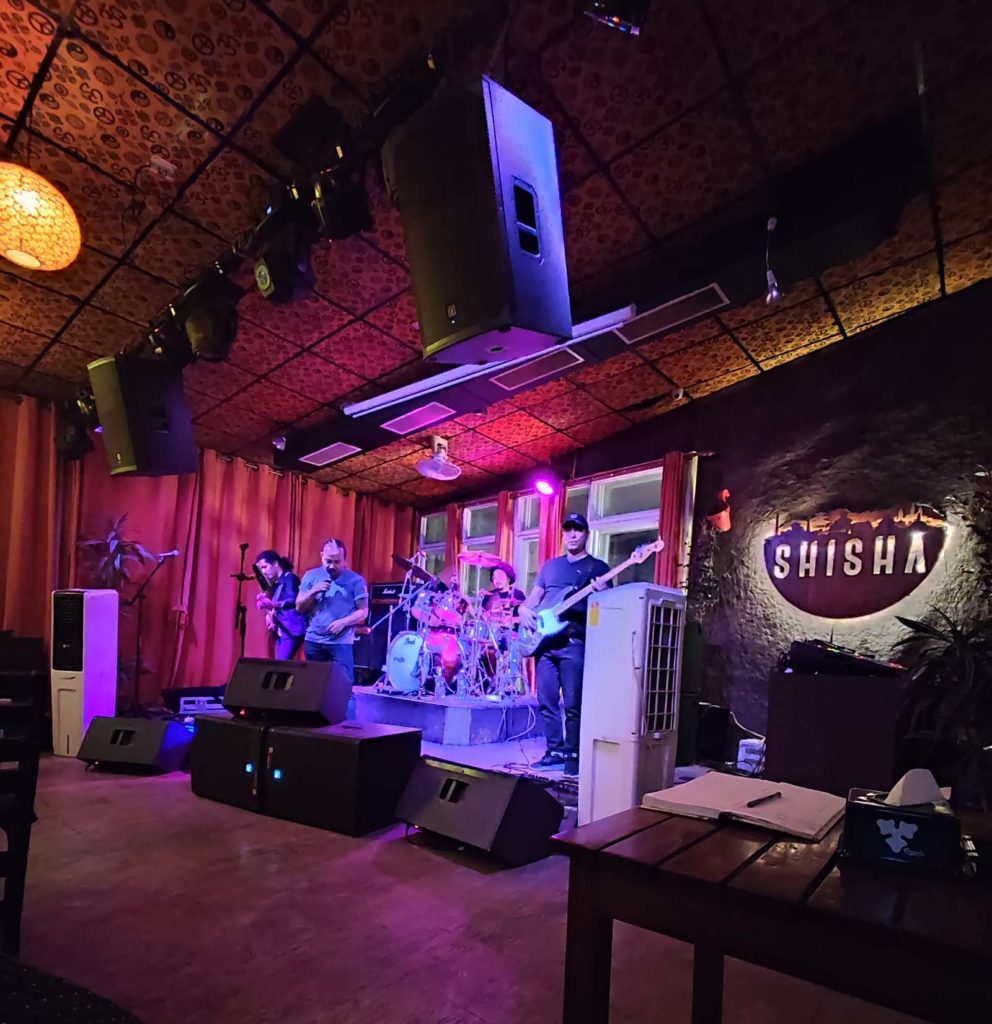 If you are all about good music and drinks, then a Shisha lounge and bar can be an ideal place to hang out. With live performances and varieties of platters to serve you, Shisha has also known for its 20 varieties of Dubai imported hookah.
Located in Thamel, Shisha is a heavenly place for music lovers. Most people come here to try different flavors of hookah and to listen to pure music.
Even after 15 years of its commencement, it hasn't lost its authenticity and the commitment to offering good music and hookah. Some of the best underground bands of Nepal perform here every night and startle the audience with their music.
Not only hookah, but the food here is also applaudable. The food is utterly good and pocket-friendly. Shisha lounge and bar have also been in the sight of many celebrities as it embodies glitz and glamour but subtly.
It opens from 6 pm onwards and entry is free. With a couple of friends, spend quality time at the Shisha lounge and bar. You'll definitely fall in love with this place.
20. Buddha Bar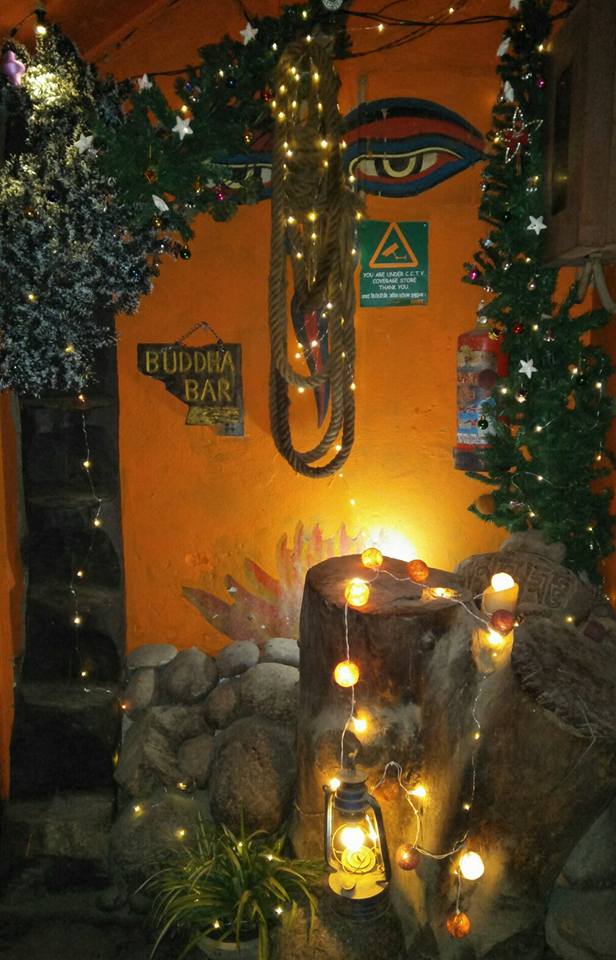 With more than 20 years of bustle, Buddha Bar is Kathmandu's classic and most exciting Bar. Opened in 2000 in the Thamel area, Buddha-Bar has unique theme decor exhilarating dark ambiance.
As you start walking upstairs, you see the place decorated with unique masks and antique statues. The deam lights and candles on the tables keep up with the theme.
As the Bar is named after Lord Buddha, you will notice the place decorated with Buddha's paintings, statues, and sketches. A huge Buddha statue attracts a lot of visitors who are fond of antique pieces.
Buddha-Bar is mostly known for its specialty cocktails, hookah, and skilled bartenders. Not only the diverse music, but the skilled bartenders will also entertain you with their charismatic skills.
They offer some unique cocktails available only at Buddha Bar and some flavorsome food items that go perfectly with the drinks. Buddha Bar is open since the afternoon. The entry is free and the service here is reasonable.
Things to Remember at Nightclub
A nightclub is a place where, for one night, you can feel like a celebrity. You're surrounded by flashing lights, booming music, and incredible people, and the world just fades away. And all of that starts to fall apart the minute you break these rules:
Before you head to the nightclub in Kathmandu, make sure you are well-dressed. Security is tight in most nightclubs, and they make sure they do not allow ragged people into the nightclub.
Similarly, they do not allow someone who is already drunk and cannot stand straight. You should be sober before you enter the nightclub, and thereafter you can drink as much.
If you are a group, then you are recommended to book the seats early. Usually, the nightclubs are packed and they do not allow people more than their capacity. Mainly during some occasions, the nightclub gets full quickly. So, it is better to be an early bird than a sad bird.
Do not fight or make a scene inside the nightclub, or else you will be shown the exit door right away. Nightclubs in Kathmandu are meant to bring joy and fun to those who try to ruin the ambiance and are kicked out of the venue immediately.
Related Reading
At Last
Nightlife in Kathmandu can be exciting and enjoyable if you choose to spend the night at some top-notch clubs and bars.
Also, Nightlife in Kathmandu is an absolute delight. The city never sleeps and countless pubs and bars turn on lights bright till the wee hours of the morning.
The majority of these pubs, bars, and nightclubs are located in Durbarmarg, Basantapur, Patan, Thamel, Lalitpur, and Kirtipur just around the Ring Road.
Those clubs and bars make sure you have a great time at an affordable price. The above-mentioned are some top spots for every type of night owl searching for an ideal place to hang out. Do visit them and share your experience in the comment section below.