Paragliding in Kathmandu is yet another adventure activity and thing to do in Nepal. In this article, you will find the best time, itinerary, cost, route, and location for Kathmandu Paragliding.
Kathmandu, the capital and the largest city of Nepal is one of the major tourist destinations. There are many things to do in Kathmandu just as shopping, visiting temples, visiting heritage sites, buying souvenirs, etc. Among these exciting things, paragliding is one of the adventure activities to do in Kathmandu, Nepal.
Kathmandu Paragliding was established in 2007 with the motive to promote paragliding in Kathmandu Valley and it is operated by well-experienced pilots and instructors.
The paragliding company is certified by the Civil Authority of Nepal (CAAN) and is affiliated with Nepal Paragliding and Hang gliding Association (NEPHA).
Paragliding in Kathmandu Highlights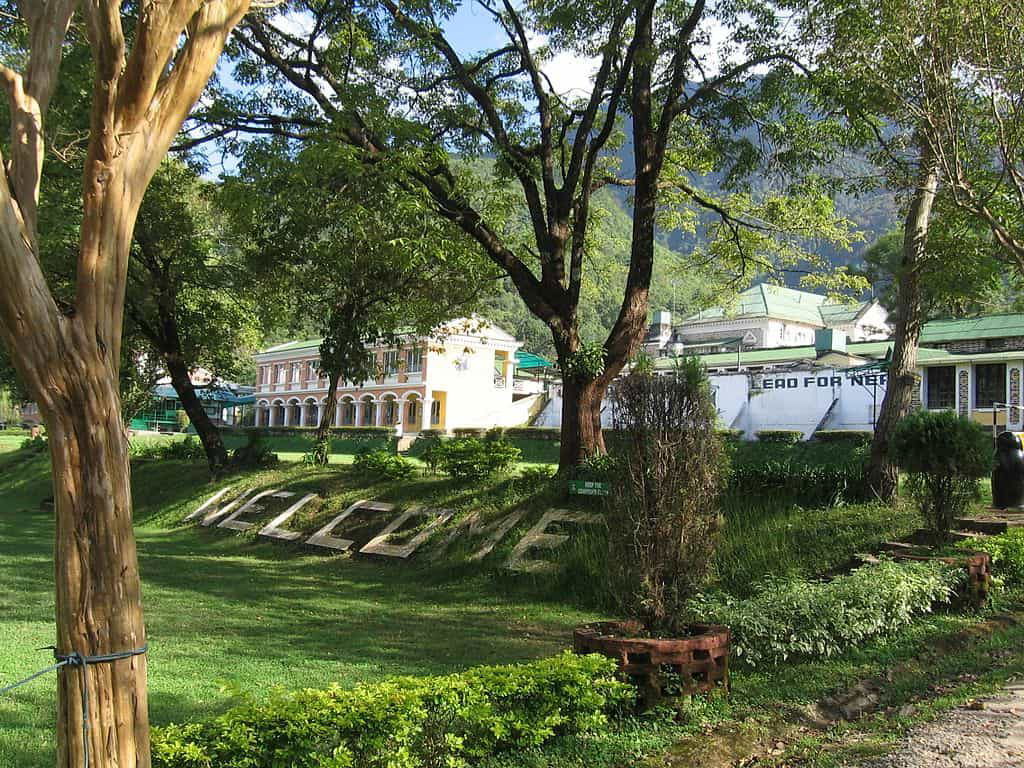 Get refreshed out of your busy schedule.
Enjoy an astonishing view of Langtang, Jugal, and Ganesh Himal.
Visit Godavari National Botanical Garden. Godawari – Nepal's famous dating spot among teenagers.
Take off at an elevation of 2100 meters
Reach the highest elevation – 2400 meters.
Enjoy the view of Kathmandu Valley.
Kathmandu Paragliding is also known by another name Phulchoki Godawari Paragliding. The paragliding spot is located at the Godavari, Lalitpur which is 15km from Thamel, Kathmandu.
It is almost a 30-45 minutes ride by vehicle from Kathmandu valley to reach the paragliding viewpoint which is situated at the height of 2100 meters from the sea level. Chapakharka is the place where you will start your gliding. You can enjoy the astonishing view of mountains like Jugal Himal, Ganesh Himal, and Langtang.
The flying duration is around 15-20 minutes and you can enjoy the view of Godavari Village, Kathmandu Valley, etc. You can also take breathtaking photos and videos with the help of your pilot.
Paragliding in Kathmandu Itinerary
You have to separate the time around 5-6 hours for the trip. You can book and visit the viewpoint and enjoy the day without rushing.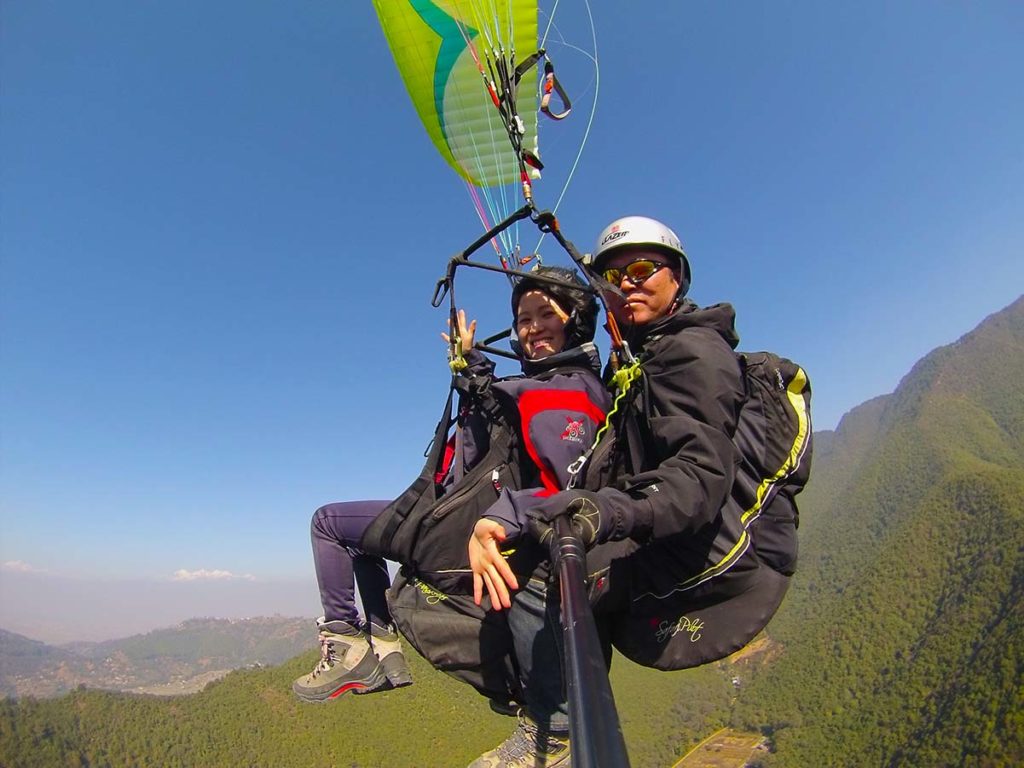 Drive from Kathmandu to Godavari and back to Kathmandu: You will be picked up by office vehicle at your favorite location/hotel or you will get picked up at a possible point within the following areas listed below.
After almost a 30-45 minute drive you will reach the Godavari. You need to fill up all the necessary forms before the entrance. After a few minutes walk, you will reach the paragliding viewpoint.
The company staff will help you to get ready and the instructor will brief you about everything needed before flying. After that, you are ready to take off with your pilot.
Almost after 15-20 minutes of flights, you will get landed at Rachantar, well managed and smooth runway. After finishing everything company vehicle will drop off you at your location or at the dropoff point as mentioned below.
Possible pickup and drop off point for clients
Inside Ringroad
Inside Ringroad
Kantipath
Ratnapark
Chabahil
Thamel
Also Read: A Guide to Paragliding in Pokhara
Best Season for Paragliding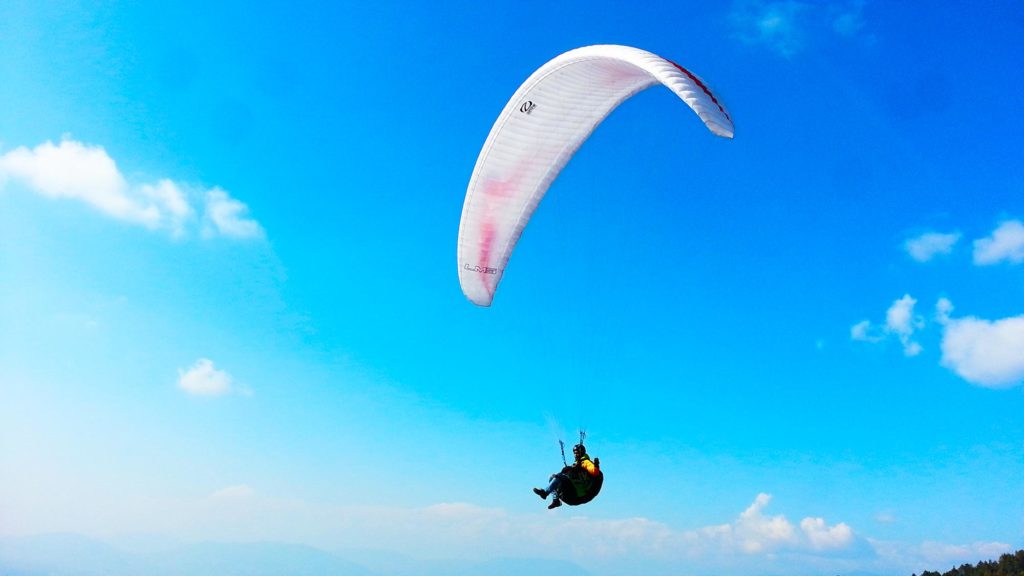 In clear weather, you can fly over the sky in any season. There is no limit to flying and enjoying gliding but the best seasons to experience the Kathmandu Paragliding are January, February, March, April, May, June, and September, October, November & December.
Paragliding Cost in Kathmandu
If you are searching for paragliding in Godawari, Kathmandu cost then here is the complete price list in detail. Also, know what the paragliding cost includes and excludes. The cost for photos & videos and transportation is optional.
Cost Includes
Two-way Transportation from your Hotel.
Escape from busy life and drive to a paragliding point.
15-20 minutes flight.
Stunning Photos and Videos.
Paragliding Flight Insurance.
Refreshment Drinks.
Cost Excludes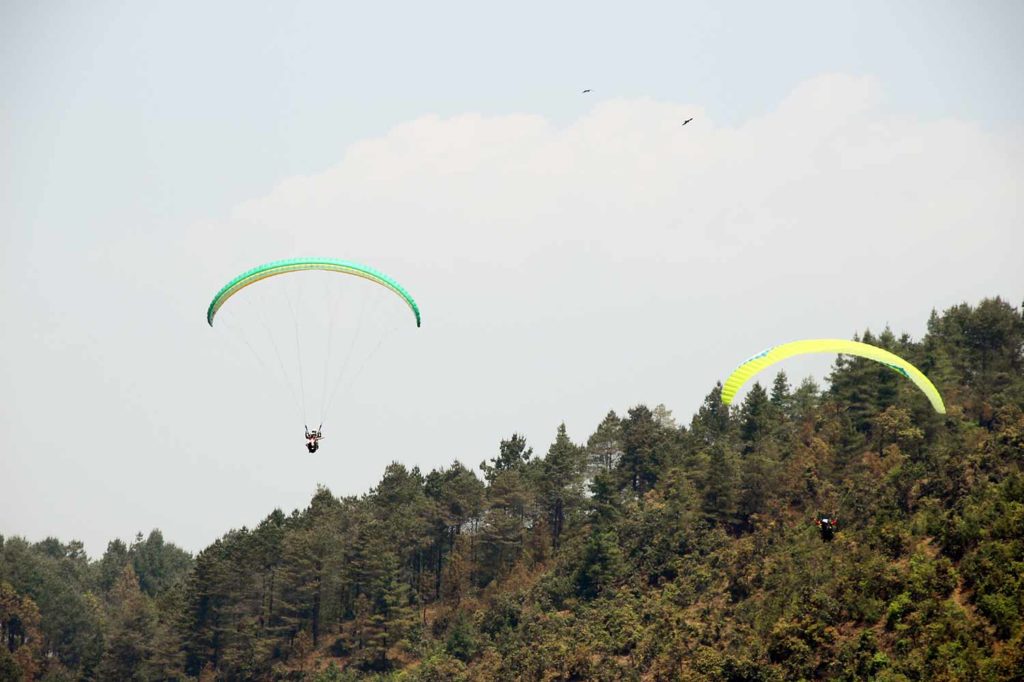 Paragliding in Kathmandu Price for Nepalese
The total cost for Paragliding in Kathmandu for Nepali is Rs. 8000 including photos, videos, two-way transportation, and taxes.
| | |
| --- | --- |
| Nationality | Price (NPR) |
| Tandem Flight | Rs. 5500 |
| Photo/Video | Rs. 1500 |
| Transportation | Rs. 1000 |
| Total | Rs. 8000 |
Paragliding in Kathmandu price for SAARC/Chinese
The total cost for the Kathmandu Paragliding for SAARC and Chinese is Rs. 10,000 including photos, videos, two-way transportation, flight insurance, and taxes.
| | |
| --- | --- |
| Nationality | Price (NPR) |
| Tandem Flight | Rs. 7500 |
| Photo/Video | Rs. 1500 |
| Transportation | Rs. 1000 |
| Total | Rs. 10,000 |
Kathmandu Paragliding cost for Foreigner
The total price for Paragliding in Kathmandu for foreigners is Rs. 11,300 including photos, videos, two-way transportation, and taxes.
| | |
| --- | --- |
| Nationality | Price (NPR) |
| Tandem Flight | Rs. 8500 |
| Photo/Video | Rs. 1800 |
| Transportation | Rs. 1000 |
| Total | Rs. 11,300 |
Check out: Is Nepal safe to Visit?
Paragliding in Nepal Tips
Fear of heights? Go for paragliding, first, you may get fear before flights but later you will enjoy the whole flight. Here are the safety tips to remember before going paragliding.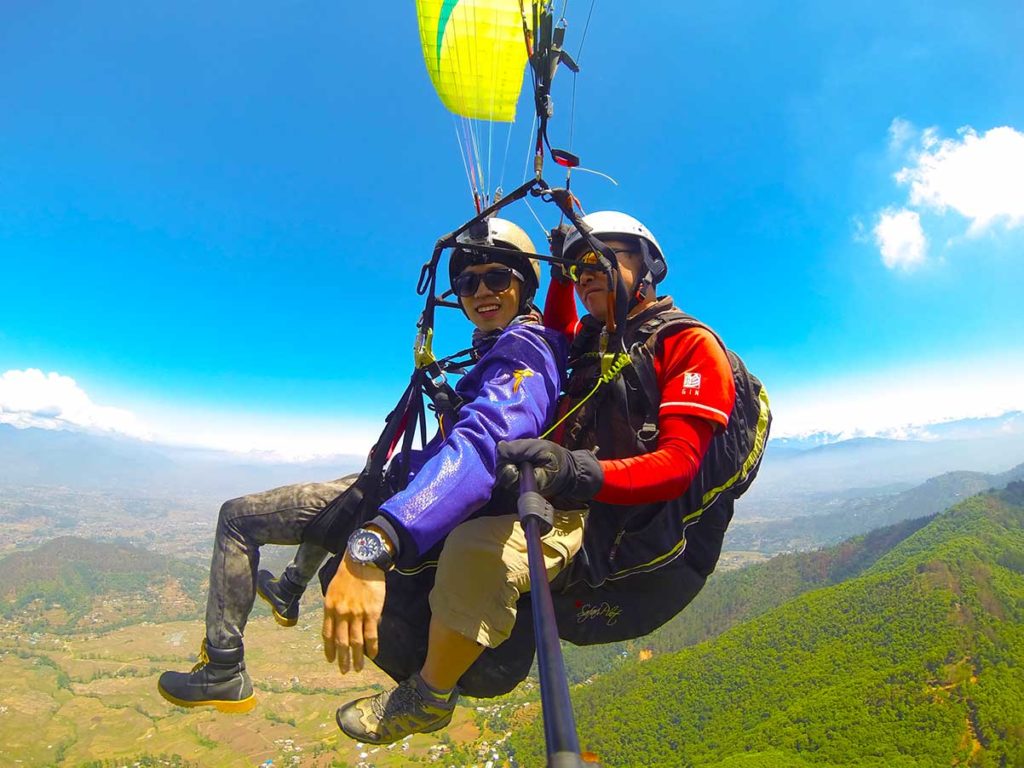 Always book a flight in perfect weather.
Trust yourself and your pilot.
Stay calm and cool.
Wear long pants, long sleeve shirts, tight shoes, and sunglasses.
If you have any medical conditions then inform the paragliding team.
If possible go with your close ones.
Ask your pilot to manage every flight gear.
Safety
When it comes to adventure activities like paragliding, bungee, etc. there is always a risk. With these kinds of extreme activities, the paragliding company needs to have insurance.
Here, Kathmandu Paragliding covers the insurance for both passengers and pilots. You don't have to worry about anything, the company handles everything for the client's safety.
FAQs
How much does paragliding cost in Kathmandu?
The cost for paragliding in Kathmandu for Nepali nationals is NPR 8,000 per person, For SAARC and Chinese is NPR 10,000 per person and for Foreigners is NRP 11,300 per person. This includes 2-way transportation, 15-20 minutes flights, photos & videos, insurance, and refreshment drinks.
Is paragliding safe in Kathmandu?
Paragliding is totally safe in Kathmandu, with the experienced team and pilots it is easy to fly and no one has encountered accidents till date.
What should I wear while paragliding in Kathmandu?
While Paragliding, you need to wear comfortable shoes, long shirts, long pants, sunglasses, etc. Note: There is no specific dress code so wear something that you feel comfortable in.
How long is a paragliding flight in Kathmandu?
The paragliding flight lasts for 15 to 20 minutes in the sky of Kathmandu. It is a tandem paragliding and you can enjoy free flying with your pilot.
Is there a weight limit in Kathmandu Paragliding?
The minimum weight for Kathmandu paragliding is 15 kg and the maximum weight is 100 Kg.
Is there an age limit in Kathmandu Paragliding?
Yes, the minimum age is 3 years and the maximum age is 100 years for paragliding in Nepal. However, please note that all participants must be in the good physical condition and not suffer from any medical conditions that may affect their ability to safely participate in the activity. Children under 18 years old must be accompanied by a parent or guardian.
Wrapping Up
Trust your pilot, fly like a bird, take good photos and videos and enjoy paragliding in Kathmandu, Nepal. And last, don't forget to scream.
Happy Paragliding!!!
Pin Now. Read it later