Yeti Airlines is a privately owned domestic airline in Nepal and is among the oldest and most reliable ones. With a fleet of 5 aircraft, it is also the leading domestic airline operating in Nepal.
In this blog, we will cover everything you need to know about flying with Yeti Airlines, from booking your flight to their frequent flyer program and more. Let's dive in!
Sure! Here's a table summarizing the facts about Yeti Air:
| Fact | Details |
| --- | --- |
| Established | 1998 |
| Ownership | Privately owned |
| Largest Domestic Airline in Nepal | No |
| Number of Flight Routes | 43 |
| Destinations | Approximately 12 domestic and no international destinations |
| Fleet Size | 5 aircraft |
| Aircraft Models | ATR 72-500 |
| Years of Operation | Over 25 years |
| Website | https://www.yetiairlines.com |
Yeti Airlines is a privately owned airline based in Nepal.
It was founded in May 1998 and started operations in August 1998.
Its parent company is Tara Air.
Yeti Airlines is the second-largest domestic carrier in Nepal, after Buddha Air.
The airline has a fleet of 5 aircraft i.e. ATR 72-500 with an average age of 14.4 years.
The airline's domestic destinations include Kathmandu, Pokhara, Bharatpur, Bhairahawa, Janakpur, Nepaljung, Simara, Bhadrapur, Biratnagar, Dhangadi, Tumlingtar, etc.
The main hub of Yeti Airlines is Tribhuvan International Airport, Pokhara International Airport.
Yeti Airlines Ticket Price in Nepal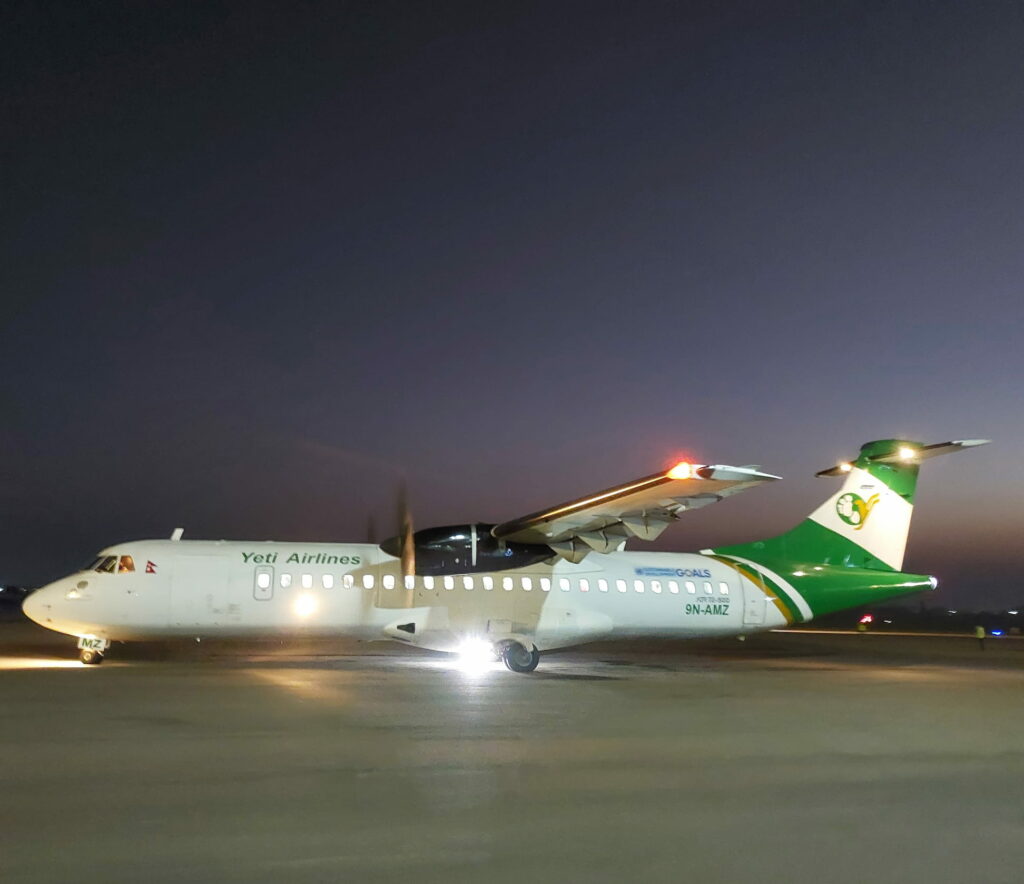 The average ticket price for a flight on Yeti Airlines can vary based on several factors such as the time of the year, the airline, location, distance, and the booking method.
During peak tourist seasons, ticket prices tend to be higher, while during off-peak seasons, the prices may be lower.
On average, a one-way Flight Ticket Price for Nepali is between NPR 3000 to NPR 12000, depending on the location and time of booking.
On average, the one-way ticket for foreigners is between USD 70 to USD 150, depending on the distance and time of booking.
Related Reading:
Yeti Airlines Flight Booking
If you are a domestic traveler then it's always best to check with the official Yeti Airlines website or local travel agent. The best way is to use Online Payment Services in Nepal like esewa, Khalti, IME Pay, etc.
If you are an international traveler then booking a flight ticket can be done quickly through online booking portals or travel agents.
One of the best ways to book a ticket is using Skyscanner which offers travelers to compare prices and book the best deal.
If you are with your guide or travel agent then they can also assist you the provide the best deals possible and also other information about the flight and the destination.
Flight Routes
Yeti Airlines and Tara Air offer the widest range of domestic flight options in Nepal. They fly to more destinations than any other Nepali airline, including remote areas that are difficult to reach by road.
These routes include only domestic flights. Yeti Airlines covers you whether you want to explore Nepal or travel to the mountains.
Flight Status & Cargo Tracking
Flight Status
To check the flight status of Yeti Airlines, you can follow these general steps:
Visit the official website of Yeti Airlines (URL: https://www.yetiairlines.com/).
Look for Flight Info on the homepage.
Click on the flight status under the flight info menu to access the flight status page.
On the flight status page, you will typically find a table or search form.
Enter the "From" and "To" locations or select them from the available options.
Submit the search flight request to retrieve the flight status information for the selected route.
The results will display the status of the flights, such as Flight No., Departure, Arrival, Flight Time, Revised Time, Flight Status, Flight Remarks, etc.
Cargo Tracking
To track cargo shipments with Yeti Airlines, you can generally follow these steps:
Contact Numbers
Here is the all contact information including telephone numbers, and email of Yeti Airlines.
Tilganga, Kathmandu-08, Nepal
+977-1-5970074
ecommerce@yetiairlines.com
Reception Desk
+977-1-4465888
Kathmandu Airport
+977-1-4493901
Yeti Reservation
+977-1-5970074
Tara Reservation
+977-1-5970074
Bag Allowance
Yeti Airlines has specific regulations regarding baggage allowances for both the cabin and check-in baggage. For cabin baggage or hand carry, the maximum weight permitted is 5 kg.
However, the check-in baggage allowance varies depending on the fare class you have chosen. The allowed weight for check-in baggage ranges from 25 kg to 20 kg, depending on your fare class.
It's important to refer to your ticket or contact Yeti Airlines directly to confirm the exact weight allowance for your check-in baggage.
Keep in mind that there are additional charges for exceeding the allowed baggage weight.
Also, check the official website to find detailed costs on baggage information on certain routes.
FAQs
How do I book a flight with Yeti Airlines?
You can book your flight directly through the Yeti Airlines website, Khalti, esewa, IME Pay, etc, or alternative booking platforms like Skyscanner.
What destinations does Yeti Airlines fly to?
Yeti Airlines operates flights to almost 12 destinations, mainly within Nepal. They also offer scheduled flight tours between Kathmandu and Mount Everest.
What aircraft does Yeti Airlines operate?
Yeti Airlines operates 5 aircraft of the models ATR 72-500 with an average age of 14 years.