In this guide, we are going to explore about top 10 popular hill stations in Nepal. If you are looking for the best hill stations in the world, Nepal is the place to pay a visit. Nepal is naturally gifted for high ranges Himalayas with plenty of wonderful landscapes.
Also for your information, Nepal is the home of the top eight out of the ten highest mountains on earth. Therefore, you can enjoy breathtaking views with options to do lots of activities while traveling and trekking in Nepal.
As stated by Wikipedia, Hill Stations are at an elevation between 1,000 to 2,500 meters and very few of them are outside this range furthermore in the table below you will find the similar altitude of different hill stations.
List of Top 10 Hill Stations in Nepal
There are lots of hill stations around Nepal and we'll try to highlight the top 10 random in order in this article.
| Hill Stations in Nepal | Height |
| --- | --- |
| Dhulikhel Hill Station | 1,550 meters |
| Daman Hill Station | 2,322 meters |
| Nagarkot Hill Station | 2,195 meters |
| Bhedetar Hill Station | 1,429 meters |
| Bandipur Hill Station | 1,030 meters |
| Kanyam Hill Station | 1,677 meters |
| Jomsom Hill Station | 2,743 meters |
| Ghandruk Hill Station | 2,012 meters |
| Kakani Hill Station | 2,030 meters |
| Chitlang Hill Station | 1,833 meters |
During your time in Nepal, you can spend quality time in the hill stations of Nepal and you will be blessed and amazed by the natural beauty of it.
1. Dhulikhel Hill Station
Dhulikhel is just 32 km away from Kathmandu Valley and offers spectacular views of the Himalayas. It is famous for trail riding towards Namobuddha. Moreover, Dhulikhel is a recognized place for viewing sunrise and sunset.
You can find the local bus from Ratna Park Bus Station(Kathmandu) to Dhulikhel. This place is also famous for walking 1000 steps, big stones, etc.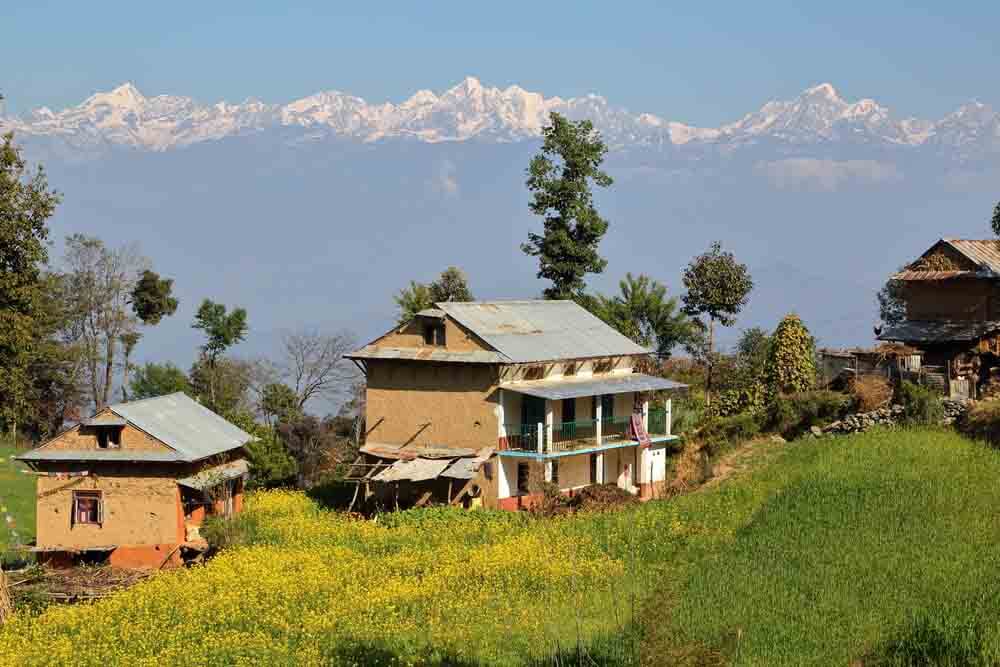 You can also hike or mountain bike trip to Namobuddha. It almost takes 2-3 hours if you want to hike and is just 13 km from Dhulikhel.
It is said that Buddha allowed consuming the flesh of his body to a hungry tigress and her cubs. Therefore, Namobudhha is an important destination for Tibetan Pilgrims as there is a Buddhist Monastery.
2. Daman Hill Station
Daman (2,322m above sea level) is yet another place where you can stop for the best view of Himalayan ranges including Mount Everest in the East to Mount Dhaulagiri in the West.
Daman is eighty kilometers (80 km) southeast of Kathmandu following the Tribhuvan Highway. The main specialty of Daman is that you can view eight out of the 10 top mountains in the world.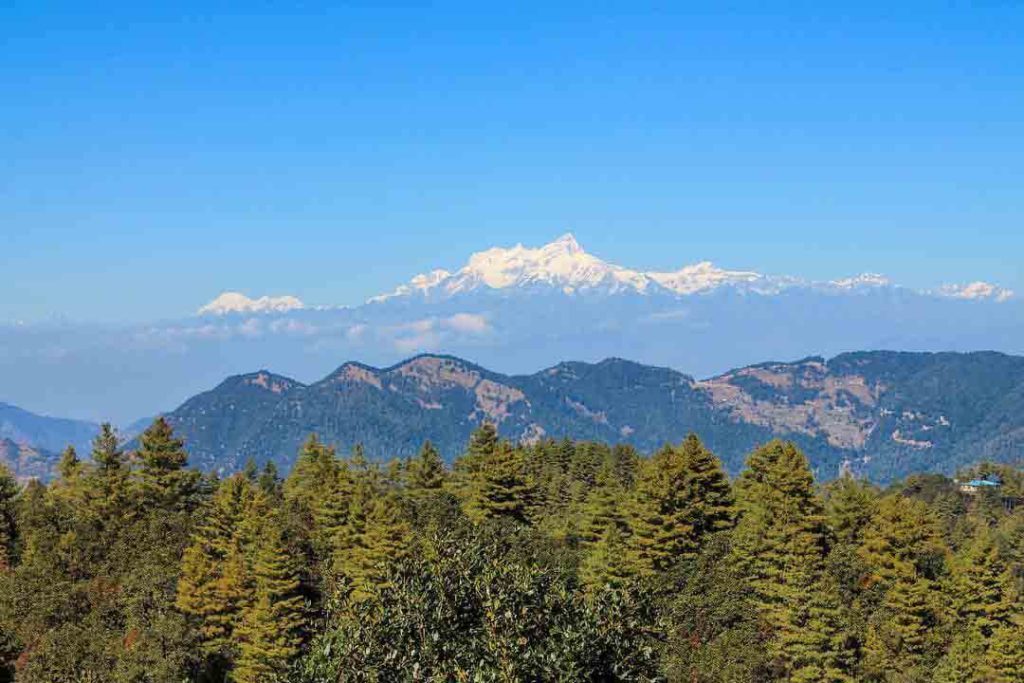 The best time to visit Daman Hill Station is March, April, May, June, July, August, and September. Daman valley is an engaging place for hiking, biking, fishing, etc. You can also see snowfall in Daman once it rains in the winter season.
3. Nagarkot Hill Station
Nagarkot is also the nearest hill station to Kathmandu. It is 2,195 m above sea level and just 32 km away from the capital city. Most of the travelers drive to Nagarkot to spend a night so they can view the early sunrise the next morning.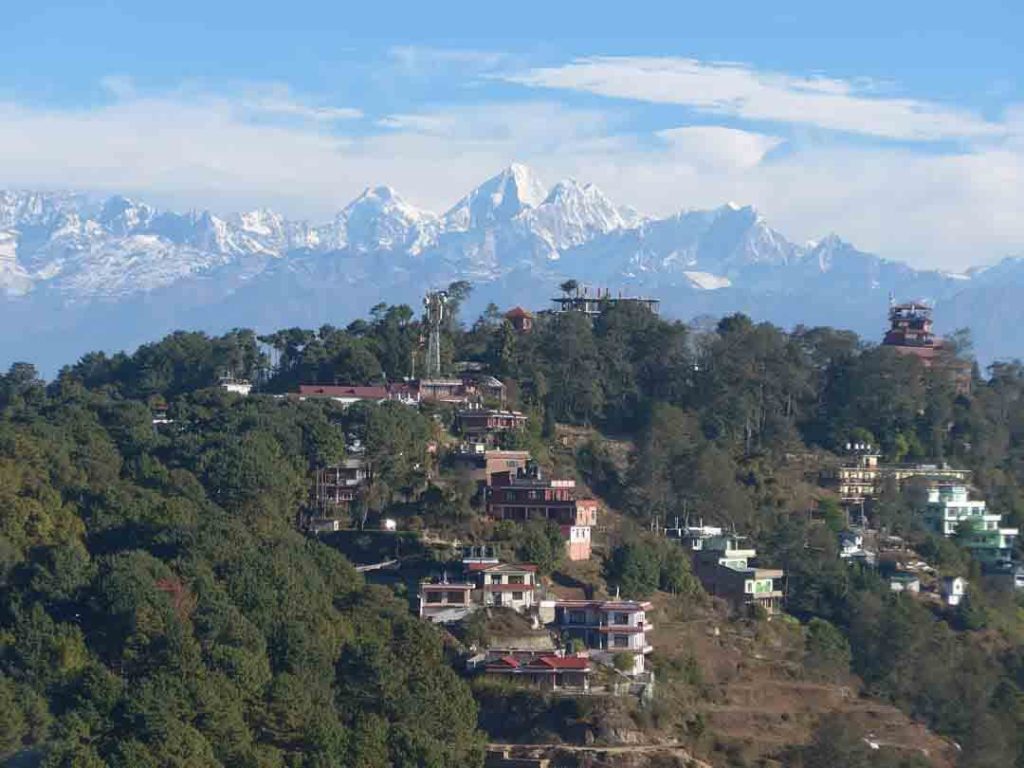 October and March will be a special treat for your eyes if you are visiting Nagarkot Hill Station. Moreover, June and September are also great times to tour this place. After spending a night, travelers prefer to hike to Sundarijal, Sankhu, or Changu Narayan.
4. Bhedetar Hill Station
Bhedetar is a less-known hill station, that lies in the Dhankuta district, in the eastern part of Nepal. Dhankuta district is the nearest place to Dharan which is only 17 kilometers far away.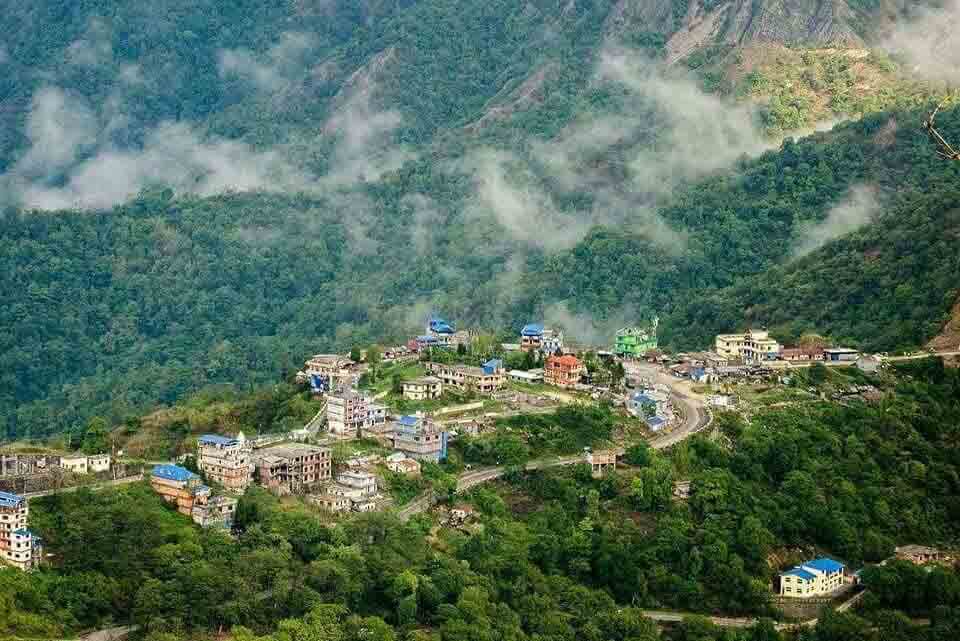 The main reason to visit Bhedetar is due to its weather. In the summer season, it is the perfect place to spend your holiday located at 1,429 meters above sea level.
Bhedetar offers several adventures like you can visit Namaste Waterfall, Flag Hill Hiking, etc. Namje is yet another place in Bhedetar for the homestay.
CNN listed Namje among the '12 best places you've never heard of, in 2011, as the best-undiscovered tourism destination in the world.
5. Bandipur Hill Station
Bandipur is a peaceful place surrounded by traditional Newari houses. It is said that 60-70% of the houses are classically made with wooden windows and slate roofs.
Bandipur is 148 km away from Kathmandu and one can drive by private vehicle or tourist bus.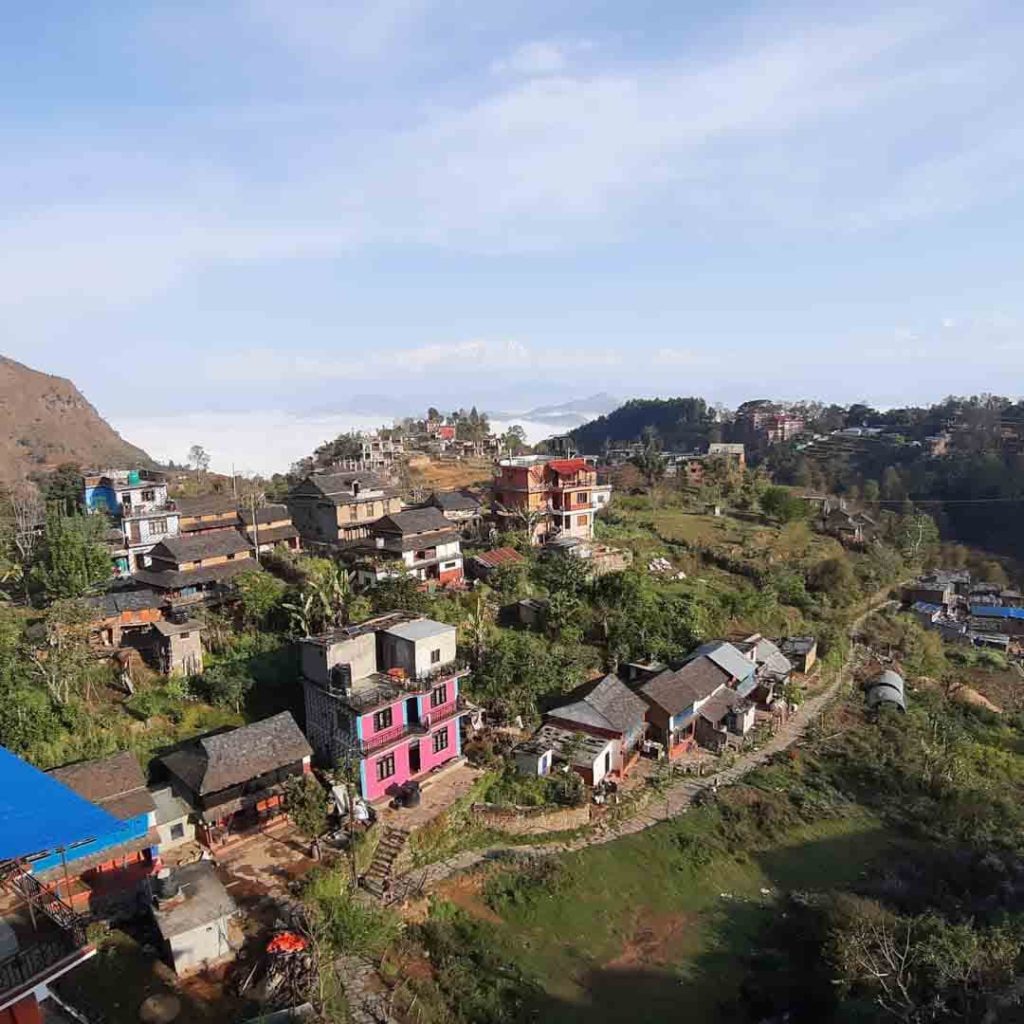 Bandipur offers a wide variety of adventurous activities like Paragliding, Rock climbing, Hiking, etc. Also, you can visit places like Siddha Gufa, the largest cave in Nepal.
6. Kanyam Hill Station
Kanyam is a popular tourist destination in the Illam District, which lies in the eastern part of Nepal. This place is mostly famous for domestic tourism. Kanyam is well-known for its Green Tea Garden and Picnic spot. Kanyam is the largest tea-producing region in Nepal.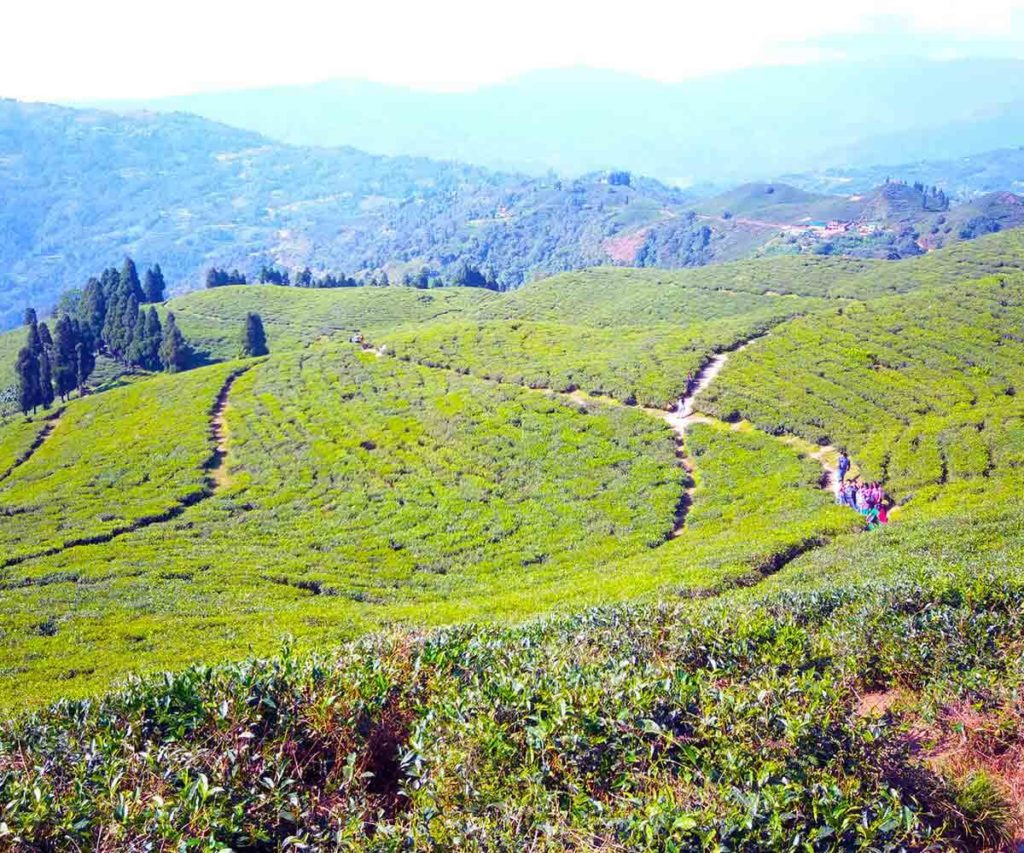 September, October, and November are the best time to visit this picturesque place. Since Kanyam is approximately 70 km away from the Indian Border. So, this place is also famous among the Indian people and people traveling to Darjeeling.
7. Jomsom Hill Station
Jomsom is a great place to start trekking lies under Annapurna Region. You can start a trek with a bike, bus, or Private vehicle. Jomsom is a diverse place with dazzling landscapes featuring magnificent mountains.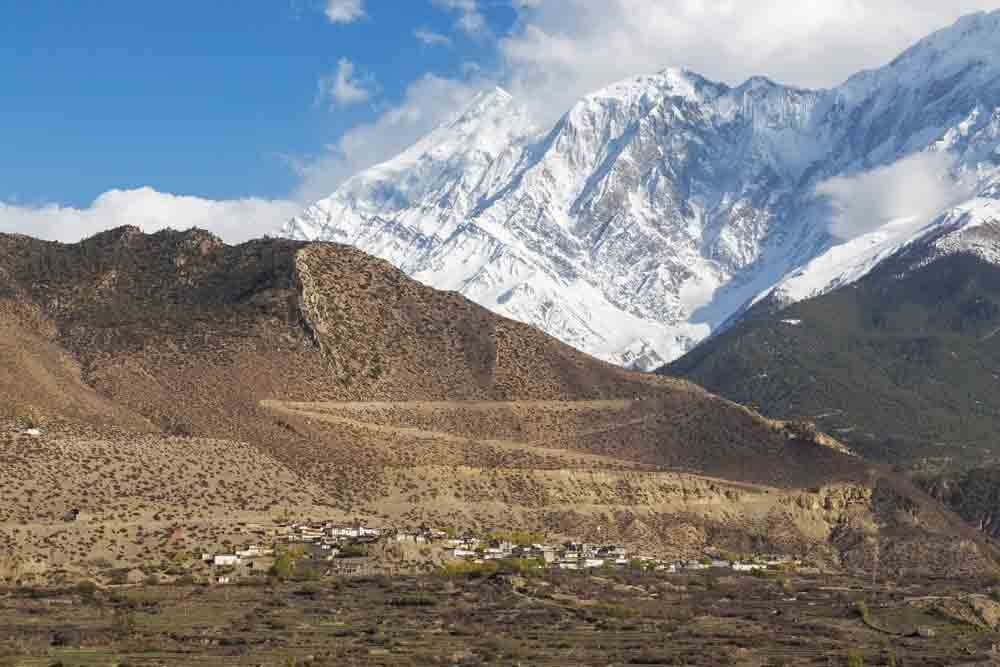 The main highlights of Jomsom are
Kaligandaki, the deepest gorge in the world
Mountain Biking
Rock Climbing
Kagbeni, a Unique village in the Mustang district
Nearby place: Muktinath, the famous pilgrimage site for Buddhists and Hindus.
8. Ghandruk Hill Station
Ghandruk is a must-visit place while traveling and trekking in Nepal. It is a pleasant station with an elevation of 2,012 meters above sea level.
Ghandruk is also known as the "Switzerland' of Nepal". Annapurna Base Camp is one of the preferred destinations of travelers and Ghandruk is one of its parts.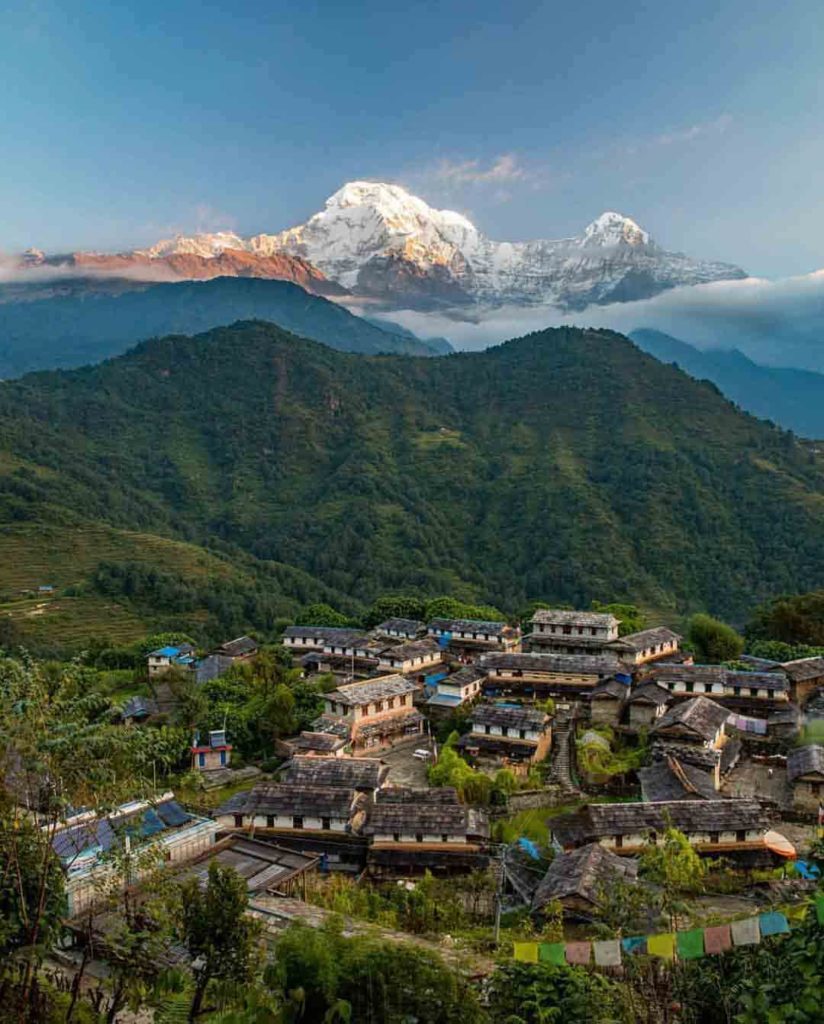 It is situated in the northwest of Pokhara also known as the home of the Gurung Tribes. The main attraction of this place is the perfect view of Annapurna South, Annapurna III, Hiunchuli, Gangapurna, and Machhapuchhre.
Besides Ghandruk, there are other many specialties of Pokhara like paragliding, Sunrise & Sunset view, Boating, Zip Flyer, Cave Visit, Trekking, Ultra Flights, etc.
9. Kakani Hill Station
Kakani is another nearest hill station to Kathmandu. If you want to beat the heat then Kakani is a perfect place to visit. You will enjoy the great mountain scenery of Ganesh Himal to the Annapurna and Dhaulagiri ranges with open landscapes.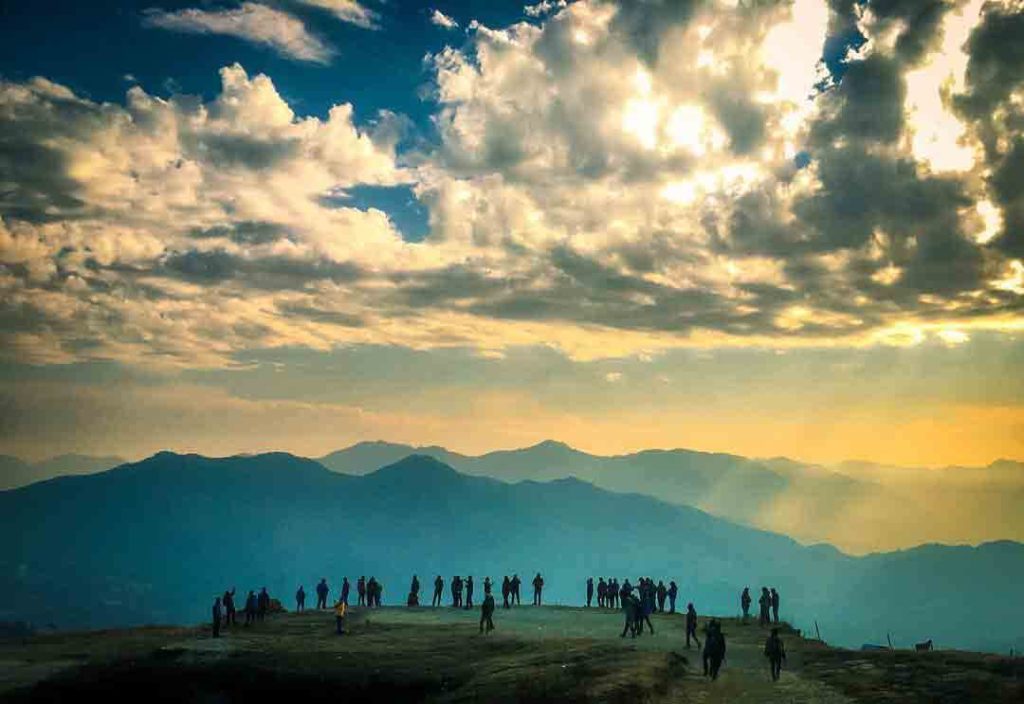 Kakani is 2,030 m above sea level and it is one hour drive from the capital city. You can also hike or mountain bike to this place. This place is popular for strawberries too.
10. Chitlang Hill Station
Chitlang Village is a marvelous sight to visit for adventure seekers. This place offers an opportunity for a homestay and you can learn about the culture and lifestyle of the rural areas of Nepal.
Chitlang is 27 km from Kathmandu. Travelers can reach this place by hiking 4-5 hours from the place called Thankot.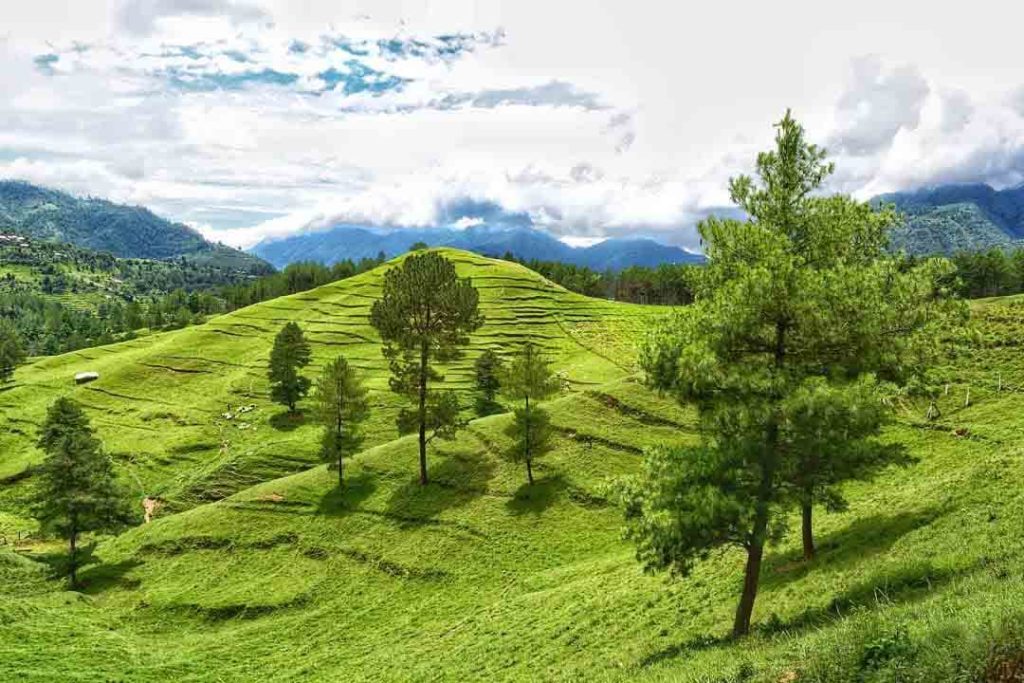 You can also enjoy adventurous activities like boating, camping, biking, etc. Further, you can visit well-known places like Bhairab temple, Chitlang falls, Goat cheese factory in Chitlang.
Reasons to Visit Hill Stations in Nepal
There are various reasons to visit hill stations in Nepal while planning your holidays. If you are searching for reasons then here are the top reasons:
1. Freedom
You may feel dull while doing the same task day by day in your office or home. You need a break from work. So, it will be a better idea if you plan your holiday to travel away from noisy places.
You will be relaxed since traveling helps to boost your energy. It will help to gain the freshness needed for your body and mind.
2. Beauty offered by Hill Stations
There are lots of things your village or city does not offer you. Hill Stations offers scenic beauty and help to bring back the excitement in your life. Besides that, the flora and fauna help to chill out in the hill station. It will be a real treat for your eyes.
3. Snowfall
The winter season is the perfect time to explore hill stations in Nepal if you are a snow lover. You can explore places like Chandragiri, Daman, Kalinchowk, Nagarkot, etc. which are places nearby Kathmandu, the Capital city of Nepal. If you explore more upper elevations then you can see snowfall often regularly.
4. Local People
You will meet new people who are local to the place. You can learn more about the local language, culture, etc. It is always exciting to meet new people as you can get a positive feeling and it will boost your confidence.
If you are a food lover then hill station can be a good place to taste new things. Nepali Food is the best food in the world. Dal, Bhat, and Gundruk are the traditional foods and besides that, you can taste Mo: Mo, Sel Roti, Dhindo, etc. in Nepal.
Likewise, you can celebrate multiple festivals whole out the year as Nepal is a country with diversified cultures and ethnic groups. Most of the festivals are colorful like Dashain, and Tihar, Holi.
Moreover, Holi is known as the Festival of colors. Travelers get most attracted to this as it is the most exciting festival of all.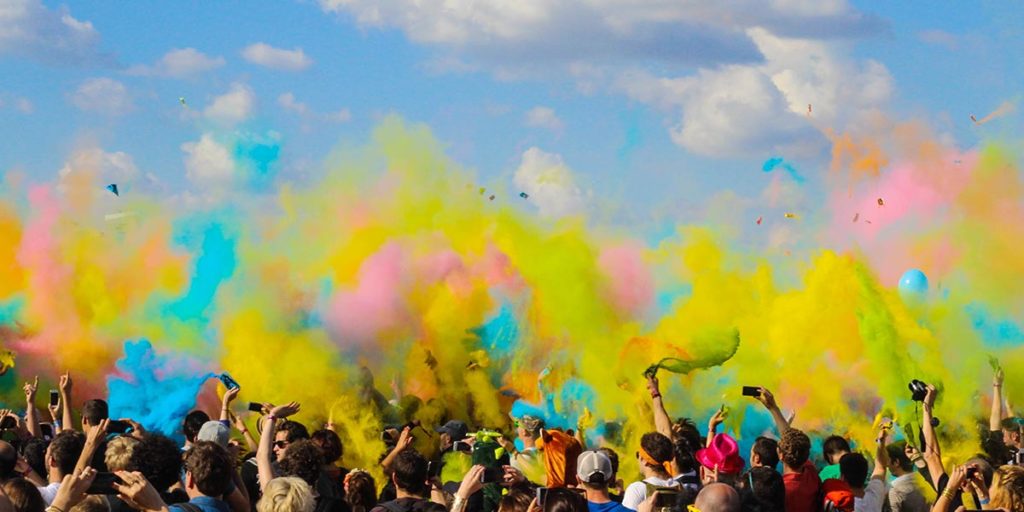 Frequently Asked Questions
How many Hill Stations are in Nepal?
There are over 32+ hill stations in Nepal including famous places like Pokhara, Nagarkot, Jomsom, Kathmandu, etc. As a country of the highest mountain in the world, Mount Everest, you can call Nepal a hilly country.
Can we call Pokhara and Kathmandu a Hill Station?
Yes, we can call Pokhara and Kathmandu hill stations as both of the places offer breathtaking panoramic views of giant mountains standing tall.
Which is the best hill station near Kathmandu?
Chandragiri Hills (Within Kathmandu), Nagarkot, Daman, Dhulikhel, Shivapuri, and Kakani are the best hill stations near Kathmandu. You can reach these places within a few hours of driving the vehicle.
Which is better Kathmandu or Pokhara?
It's up to the people's choice both Kathmandu and Pokhara are the best cities for tourists. Kathmandu is known as the city of temples and Pokhara is famous for paragliding, Bungee Jumping, Boating, Sky Diving, etc.
Which is the coldest place in Nepal?
Many places go beyond negative temperatures like Everest Region, Annapurna Region, and Langtang Valley. As you ascend upward above 3500 meters then the temperature goes extreme. We can call the mountain part the coldest place in Nepal.
Which is better Pokhara or Nagarkot?
Pokhara is a better place compared to Nagarkot because Pokhara is a tourist hub and offers much more than Nagarkot.
Is there snowfall in Nepal?
Yes, most of the time you can see snowfall in Nepal in the higher elevation in the winter season. Generally, December and January are the best months to feel snowfall in Nepal, especially in the mountain region.
Can I see the Himalayas from Kathmandu?
Yes, you can see the Himalayas from Chandragiri Hills which is located on the southwest side of Kathmandu Valley. Chandragiri Hill Stations provide scenic views of the Annapurna Range and Mount Everest Range.
Can you see Mt Everest from Nagarkot?
On a clear day, you can see Mount Everest from Nagarkot. Nagarkot is itself a hill station and is not far away from the capital city of Kathmandu.
You can also see other Himalayas range like Annapurna Range, Jugal range, Rolwaling range, Langtang range, etc from Nagarkot.
Final Words
Lastly, if you are willing to pack your bag and explore more then don't miss visiting one of these hill stations in Nepal.
Also, if you are interested in different tour packages in Nepal then don't miss to trek Everest Base Camp, Annapurna Base Camp, Jungle Safar in Chitwan National Park, etc.
Moreover, check this guide to find the best time to explore Nepal, and don't miss reading the amazing facts about Nepal.